We celebrated my husband turning another year older over the weekend. One of the things he wanted to do on Saturday (his actual birthday) was to go check out a tile store so we can wrap up what we want to do with the kitchen. We visited a really cool showroom in Omaha, Sunderland's. The tile selection was insane and they even had some really gorgeous concrete tiles like I was looking for in this post. It got me motivated to start moving forward on this project!
This weekend, I also worked some more on some online courses I am taking through Shoot Fly Shoot. I have learned so much about how to use my camera much more effectively, but this weekend I focused on Layla's Photoshop Room Makeover Course. I still have more of the course to get through, but as you can see below, I think I'm definitely starting to get the hang of it! The first image is a 'before' of our kitchen and the second is an Photoshop-ed 'after' with the look we are going for.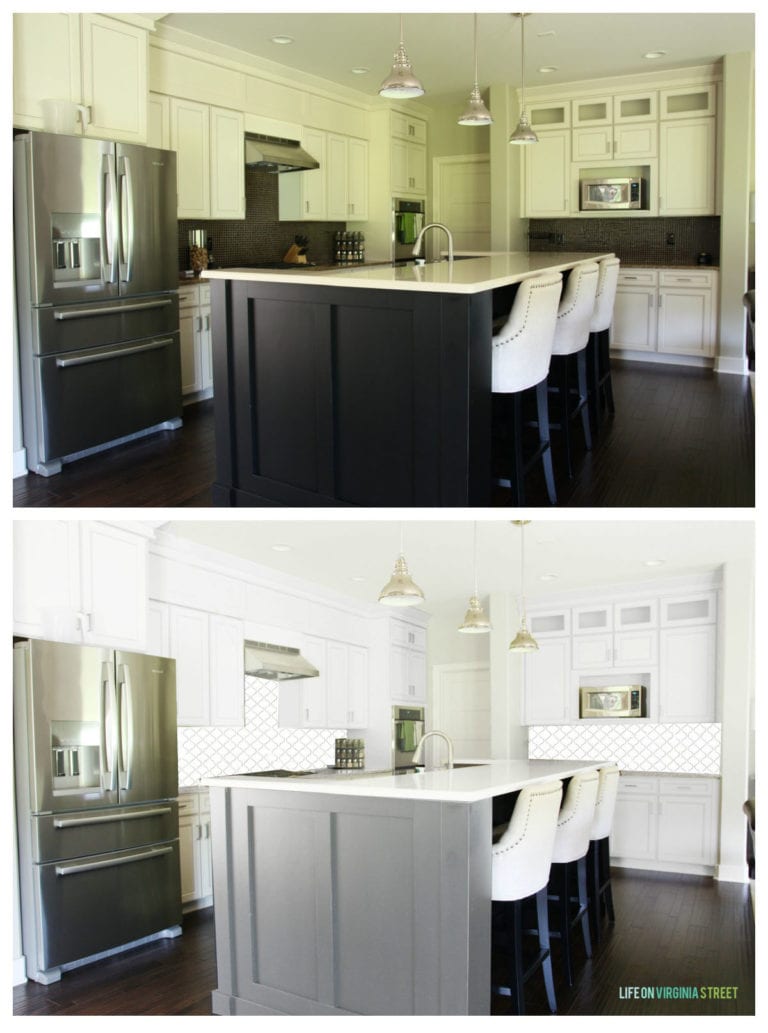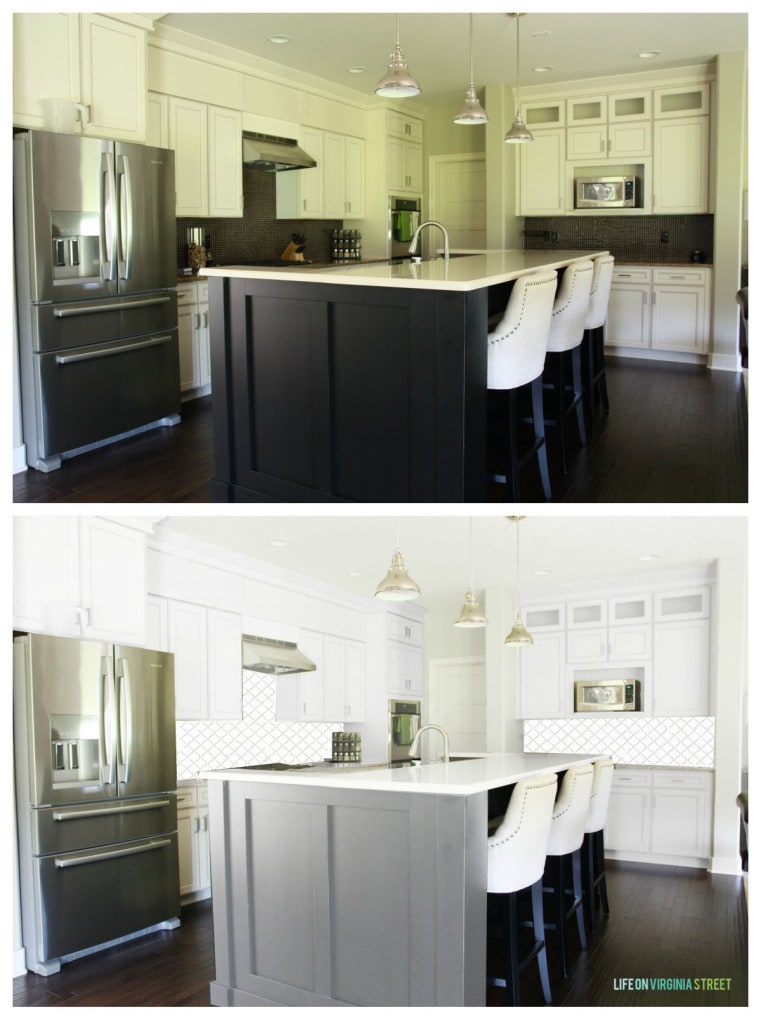 I also made this one, trying to add in the remove of two of the cabinets to fit a large built-out range hood in the space, like I mentioned doing in this post.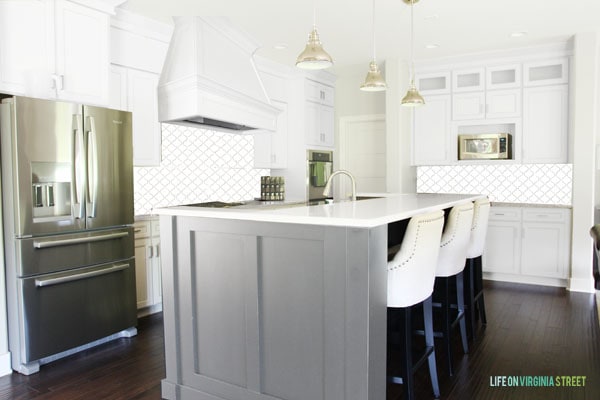 I feel like the range hood alone completely changes the look of our kitchen, making it so much more custom. Not sure if I mentioned this previously or not, but after several consults, it sounds as though our existing exterior cabinet doors can't be painted. I got a bid from a local carpenter to build all new doors (a simple shaker style) and the range hood and the entire project wasn't much more than what I expected to pay just to have the existing doors painted.
There is also a very strong possibility, as I mentioned in this post, that we'll move the microwave permanently to the pantry. We'll then have two full-length doors built in place of the microwave cut-out. This one you have to squint a little more to see, but it still gives you a pretty good idea 😉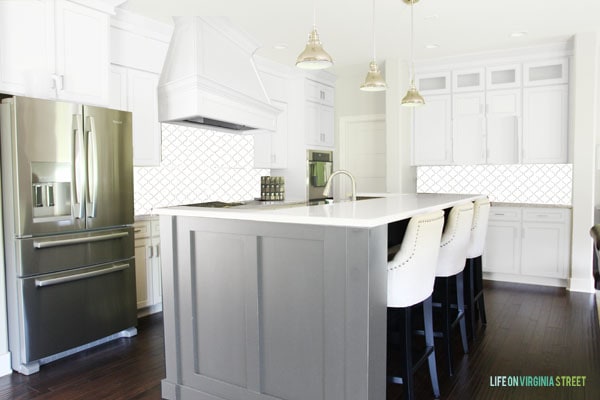 The countertop decision is still stressing me out a little. I would really love Carrara marble but my husband has vetoed it for durability purposed. Which is understood, but I am really struggling to find anything with a similar look. If I go with the Moroccan white backsplash, I worry the Frosty Carrina Caesarstone (which was originally my favorite) may be a little too white to go with. I am also worried the Caesarstone London Gray may be a bit too muddy (although I hear its the closest lookalike). This decision in the kitchen is the one that has placed me in paralysis over the past year so I need to get it figured out!
Because the space butts up so closely to our living room and dining room, I'm okay with there being very little color in the space.  I also know it won't come across as stark white since there are no direct windows in the space, only the accompanying living room and dining room. I think the gray island and the white Moroccan patterned backsplash will give just enough depth to make it not feel like a totally flat, white space. I plan to add a fun, colored runner in front of the sink and add a blingly faucet (likely this one), plus I know I'll be changing out the pulls on the cabinets and drawers (likely a mix of knobs and pulls). So many decisions!
Regardless, of the decisions, it will be so much closer to my lighter, brighter style from the time we walked into the house for the first time. It's will hardly be recognizable as the same space! I'm definitely getting excited for the possibilities.
Here's where we started: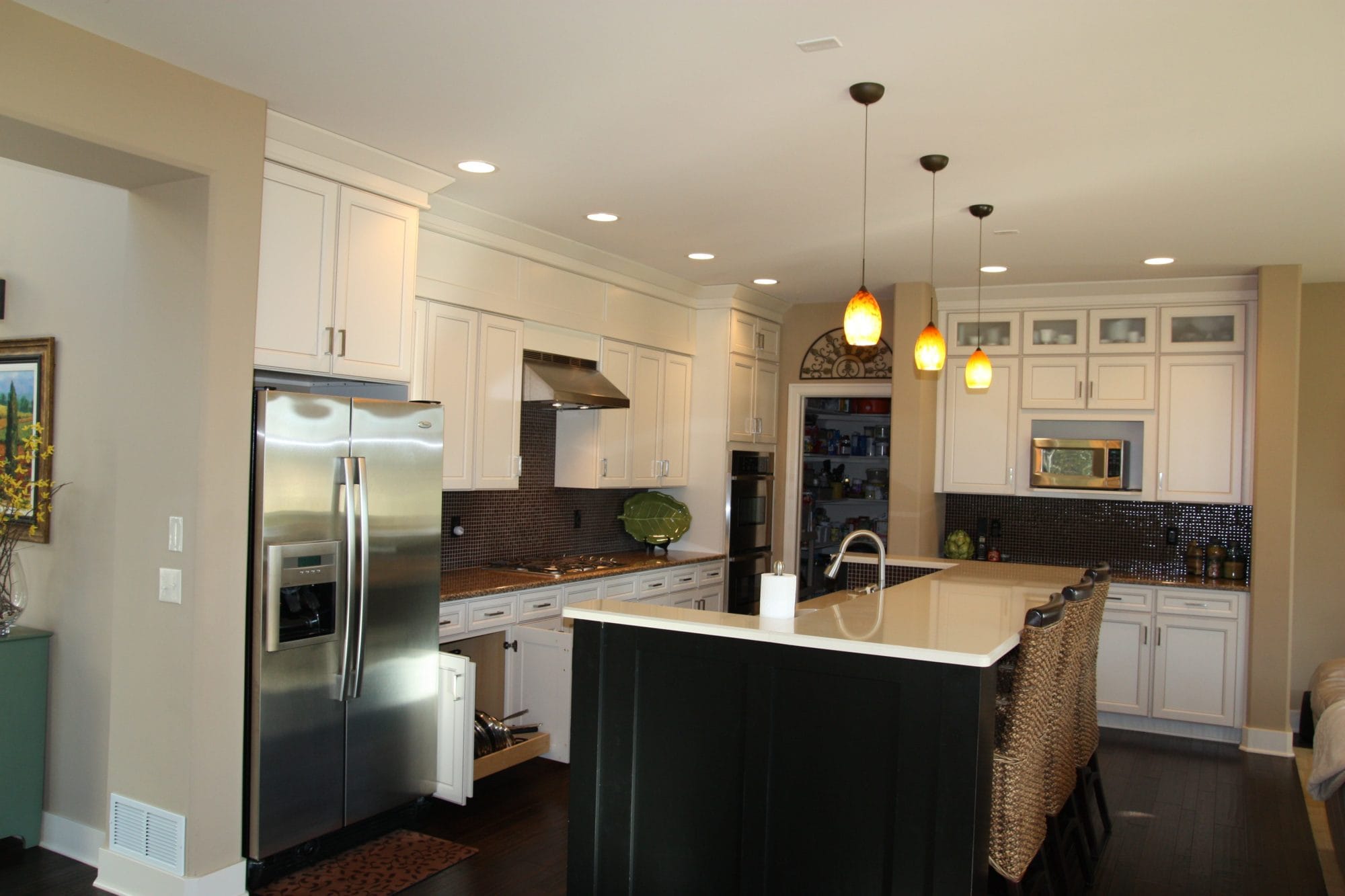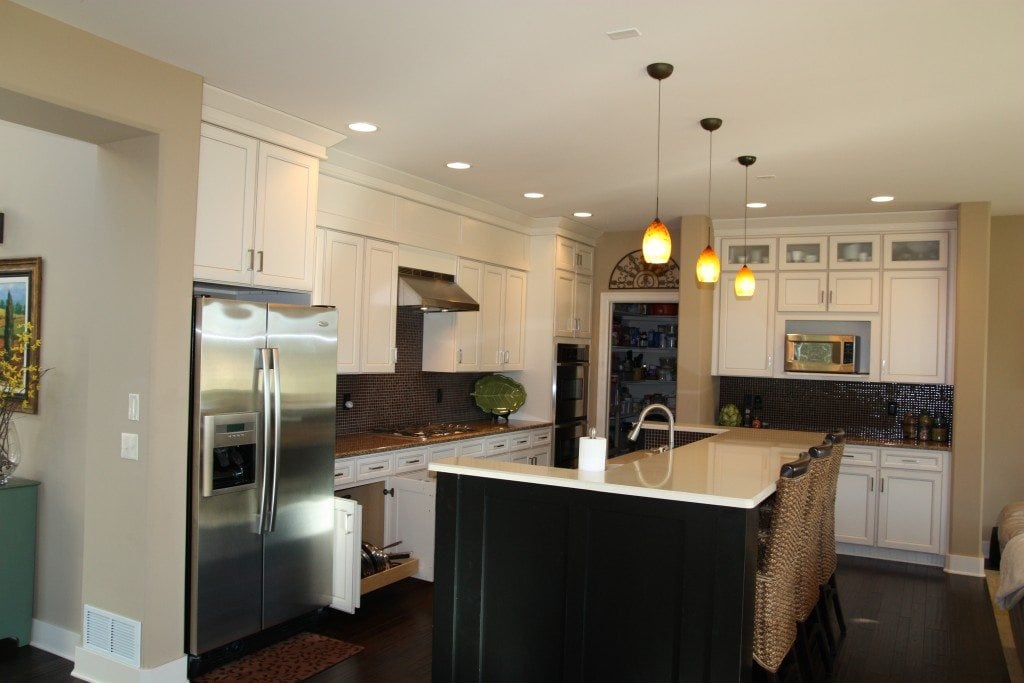 Updated to add that here is where we are in 2016: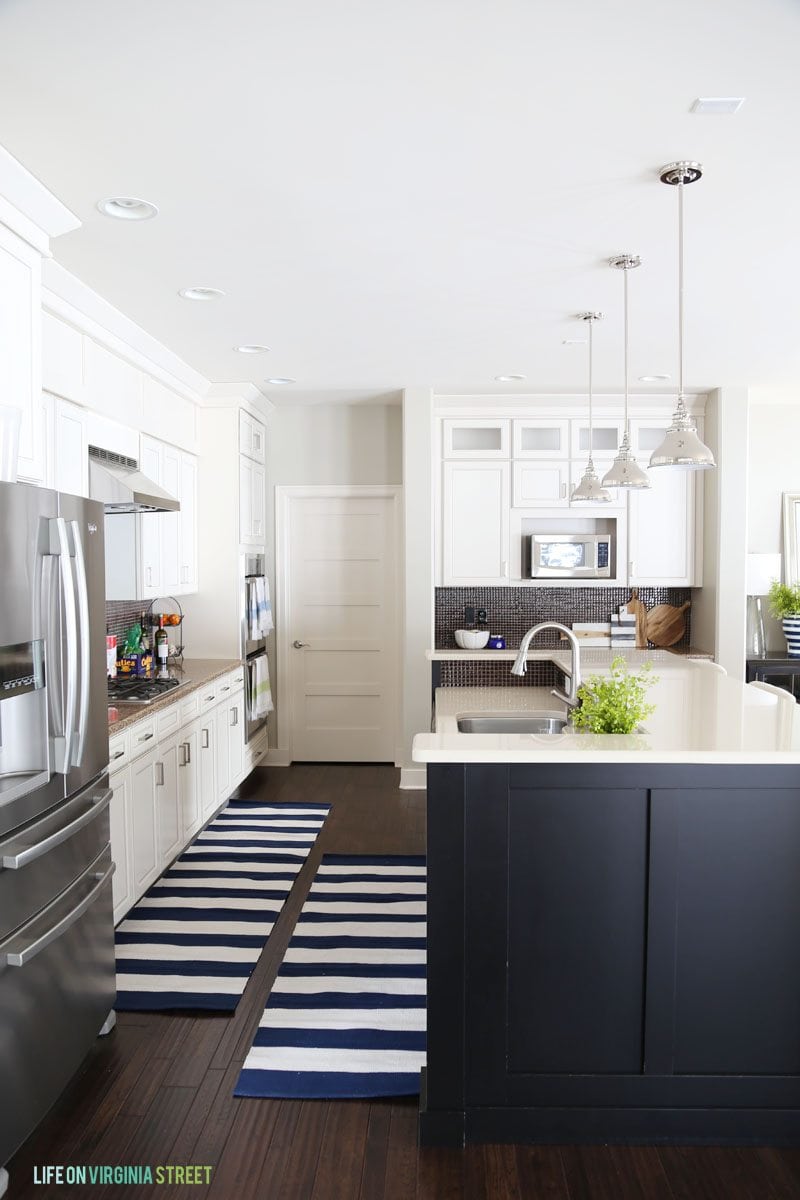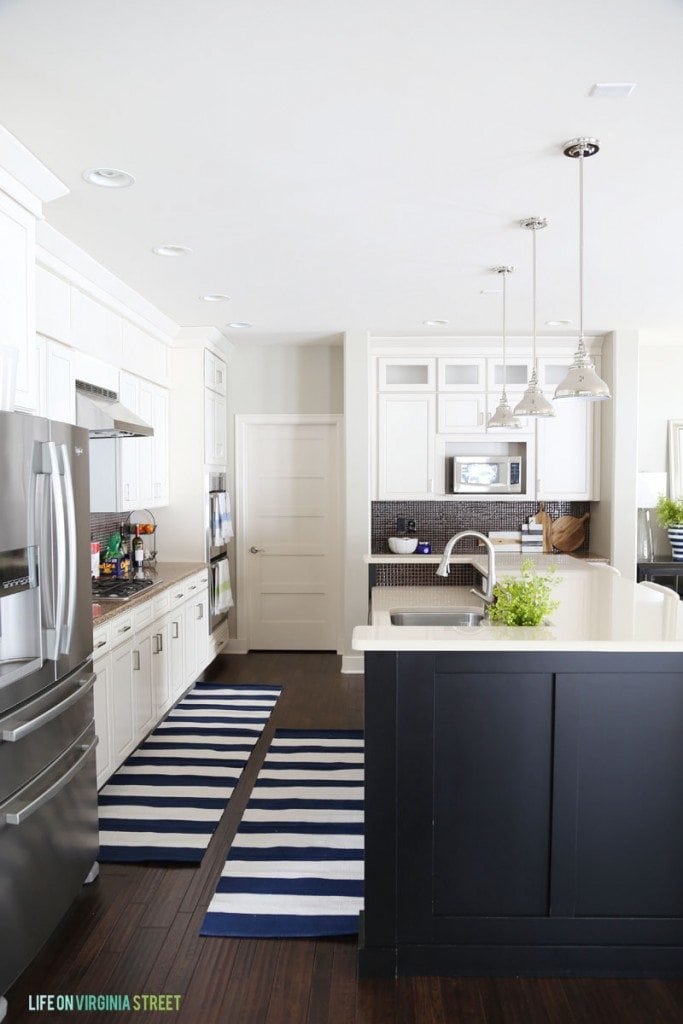 As you can see, since we moved in, we changed out the lighting, painted the walls, found some affordable linen barstools, added some striped runners to the space and styled things closer to our beachy style.
Shop our current kitchen:

I'm excited for this before and after to be a reality!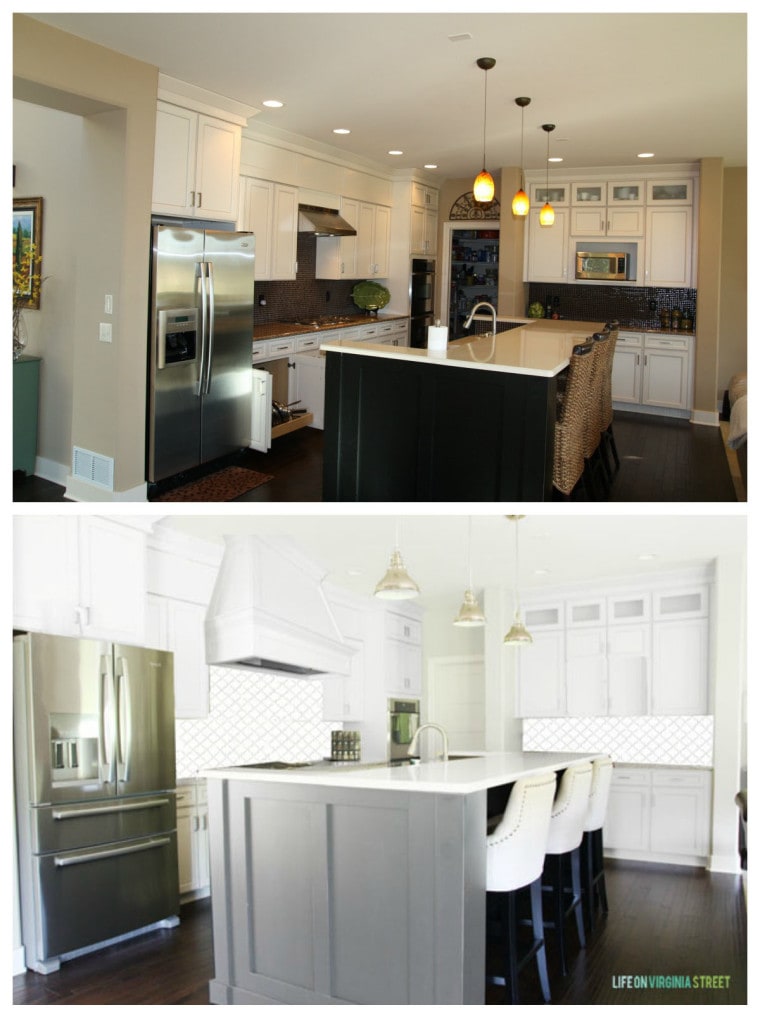 If you would like to follow along on more of my home decor, DIY, lifestyle and other posts, I'd love to have you follow me on any of the following:
Pinterest / Instagram / Facebook / Twitter / Bloglovin' / Google
disclosure: affiliate links used