This past weekend, I spent four days in Atlanta for the Haven Conference, a design and DIY blogging conference. This was my second year attending and once again, I had such an amazing time once again. At the bottom of this post, I'll be sharing a few of my limited photos I took with fellow blogging friends/idols (you can also check out my 2014 Haven Recap post).
This year I was asked to speak for two of the sessions at Haven. Public speaking is definitely not one of my strengths, but I accepted because I knew it was a great opportunity and it was a topic I was comfortable with. Plus, I spoke with Amy from The Blissful Bee and Camila from Effortless Style so the joint session made it a little easier 🙂 Our topic was how to personalize a catalog look (or magazine page/Pinterest image) to really make it your own space that you will love to live in.
Today I'm going to share a few of our slides, and more specifically a portion of my presentation.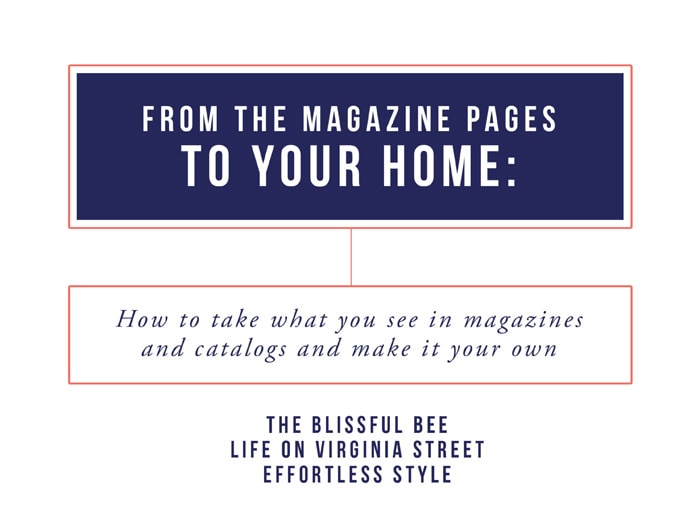 As you can see, Amy with The Blissful Bee did a beautiful job designing our slides for us. We basically gave her all of our content and she made it all even prettier!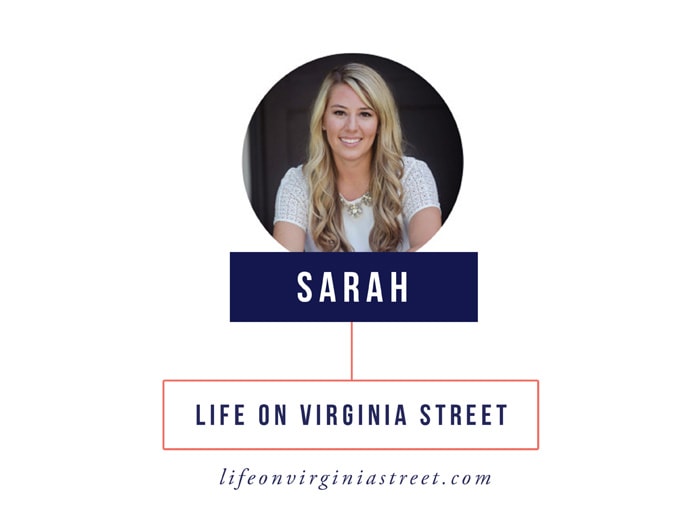 During the presentation, we all discussed the inspiration image below, found in an old Pottery Barn catalog. We all loved the space, but we could all easily agree that it is clear this is a 'catalog' living room, staged for the masses, intended to sell the most items possible from the space. And granted, most of us would be happy if it was turned over to us for free, it may never feel like 'home' without a few personalized touches.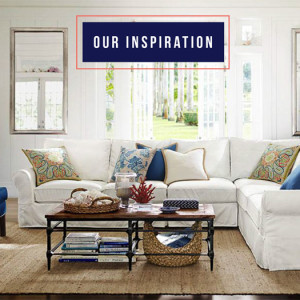 During the presentation, we each designed our own mood board and included items we would remove and add to the space to make it feel perfect for our own personal tastes.
I would make the following changes to the inspiration room. The numbers listed are indicative of the item in the image below that. All sources are found below the image.
No. 1: As you all likely know, my personal style is relaxed and beachy with a touch of glam (I talk more about that it in my Signature Style post). I love neutrals, blues and greens and try to mix both high-end and affordable pieces in a space.
No. 2: I would remove the mirror on the left, all the throw pillows pillows and items on the window ledges and top of the coffee table.
No. 3: Add in throw pillows shown below. I love to use high-end designer fabric and sew the pillows myself to save a little money. Texture and pattern are key.
No. 4: I always add organic elements to my rooms, so the baskets, driftwood, glass vessels and greenery are a must in any of my spaces.
No. 5: I would add artwork in place of the mirror that was on the left. I tend to steer towards beachy abstracts that don't feel too themey.
No. 6: Add statement lighting. For me, this is the one spot I like to add some bling in a room.
No. 7: Add simple window coverings to add some depth to the back wall. I prefer white linen (IKEA panels works great!) with 3″ grosgrain ribbon trim.
No. 8: Add layers on your coffee table with books that have a personal meeting or that you are visually drawn to.
Following is what my space would look like: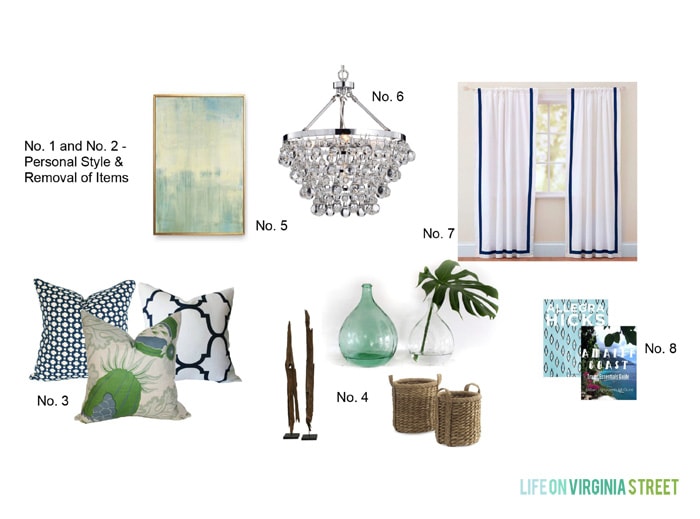 SOURCES: Pillows (Indigo Betwixt, Indigo Riad, Christopher Farr Carnival) / Glass Vessels (similar) / Baskets (similar) / Driftwood (similar) / Art (scaled for purposes of this presentation) / Chandelier / Drapes / Books (Allegra Hicks, Amalfi Coast)
With that, I offered some general tips on how to personalize a catalog look that would apply to any space, not just the one we discussed.
Find an inspiration photo you love. Identify what you love about the space and what isn't necessarily your style. Add and subtract as necessary.
Remove clutter and/or items you don't love before starting to decorate a space to help give you a fresh perspective on the room.
Invest in furniture you love, even if that means collecting items over time. Don't buy just to fill a space if it isn't something you love.
Add art that personally speaks to you. I tend to be drawn to abstract beach-vibe art, which can also be an easy DIY.
Add accessories with caution. Find pieces that are interesting to you or that can create conversations with your guests (interesting coffee table books, pieces from travels, sentimental items, etc.).
Do not decorate in a day! You want your spaces to feel well-curated, interesting, and to be a space that feels like "you" not the store you bought it from. This can be SO hard to do, especially when you want to share your new space with the world, but you'll ultimately regret it in the end. A slowly collected space will typically make you so much happier in the long-run.
Hopefully you found all these tips helpful for creating a space you love! Be sure to check out The Blissful Bee and Effortless Style to see their tips and design boards. Although all of our styles are different, I think you'll love each and every space designed and the tips that are provided. I had such a great time working with both of these ladies! And for those reading this post that attended our sessions – THANK YOU! Your support meant the world to us and we loved your interaction!
I've rounded up a few other items below that will help you achieve this look (simply use the arrow to scroll through or click on an image if you want more information):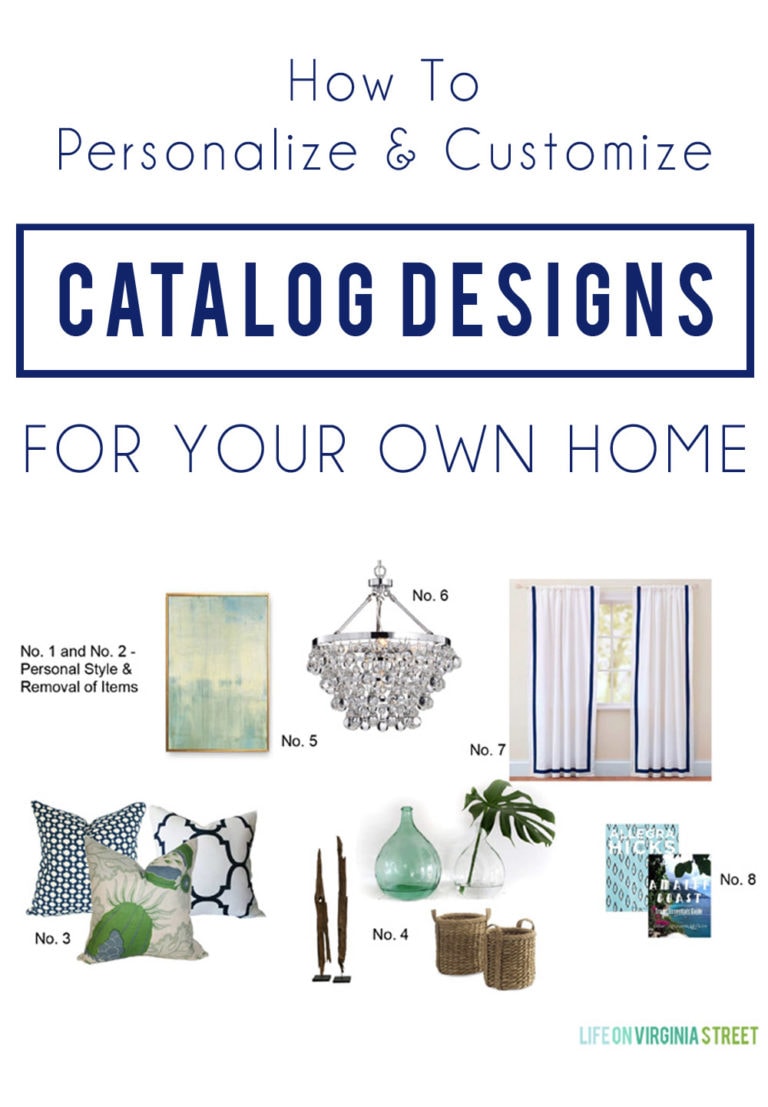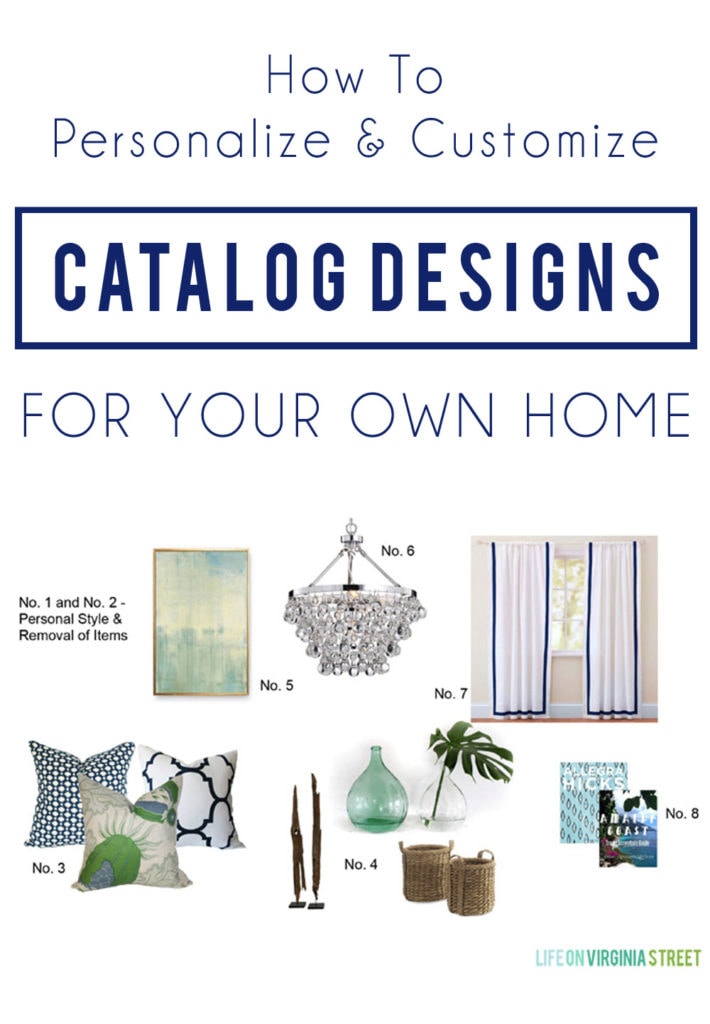 Now, I want to share a brief look into my time at Haven. I had an amazing time with old friends and met so many new friends as well. Blogging is definitely a different world, so when you find others that share your same passions, it feels amazing to connect face-to-face! I love that I got to connect with my old-school friends as well as members from my Pretty Preppy Party and Year of Change crew. Like I said, I didn't get a ton of photos (in fact, most of these are from other people's cameras), but I love each and every one of these ladies (and everyone else I was fortunate enough to meet). Unfortunately, there are so many photos I didn't capture, and friends I wish I had pics of. Until next time. Such a great event!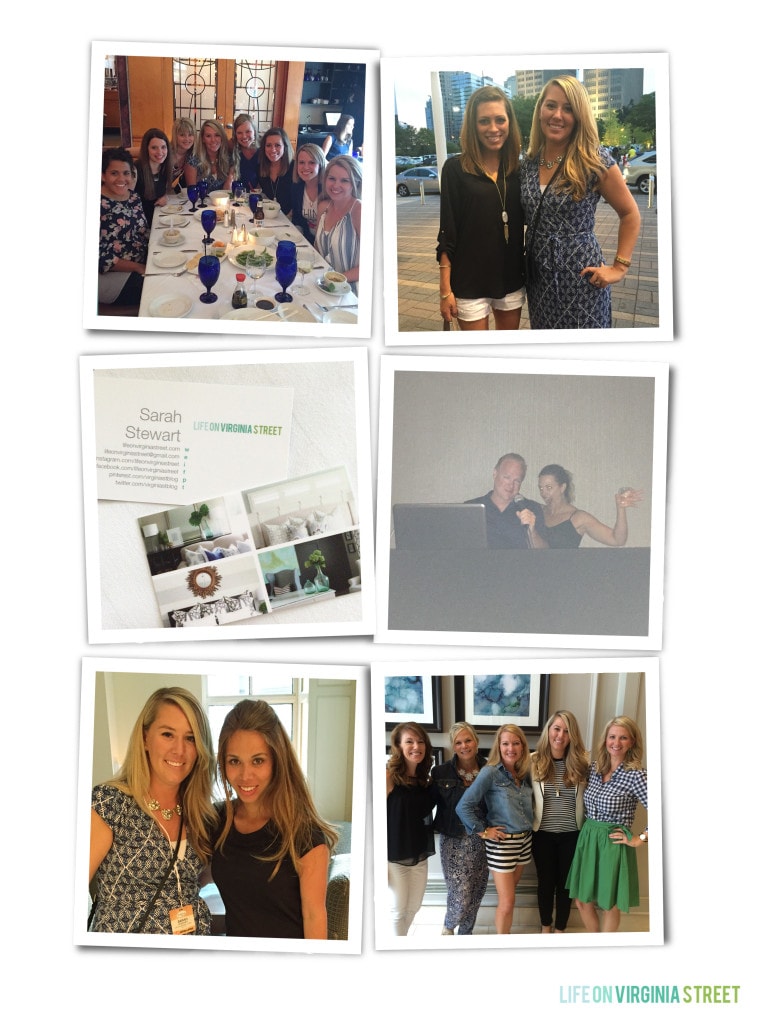 If you would like to follow along on more of my home decor, DIY, lifestyle, travel and other posts, I'd love to have you follow me on any of the following:
Pinterest / Instagram / Facebook / Twitter / Google+
disclosure: affiliate links included