The husband left to Chicago yesterday for work and whenever he leaves town, I take the opportunity to indulge in my favorite things. I had the whole night planned and then we ended up in another tornado warning so I was in the basement for 2 1/2 hours – needless to say, I got nothing accomplished.  I am so sick of these things, and I am sure you are all sick of reading about them, but I had to show this picture before I go on to my favorites. After the last few active weeks, I finally packed a "tornado bag" full of books, magazines, water, snacks, all the essentials. I also bought Bailey & Bearcat a new home (they don't need to know it is a dog kennel) for these dangerous times so they can't go near the windows (too bad Bearcat figured out how to open it which defeats the entire purpose). Here was our setup last night (I brought couch cushions over so I didn't have to sit on the concrete):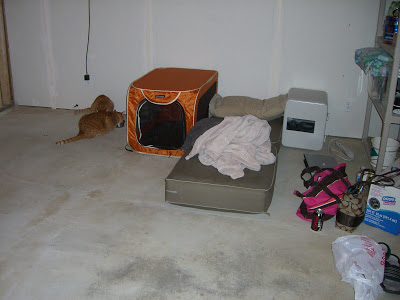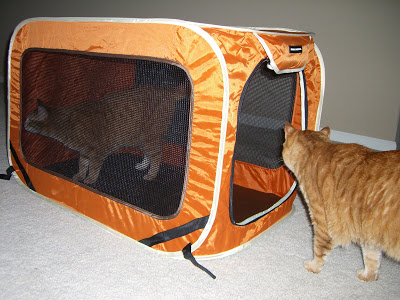 Hopefully – no more warnings for the summer!
Well, like I said the husband is out of town and since there are no storms tonight, I am spoiling myself (not like I don't all the time, but at least now I have an excuse). Here are some of my recent favorites!
I was at Target last night and they had raspberries on sale – I knew what I would be having for dinner. Raspberries w/sugar and cream ~ nothing is better in the summer!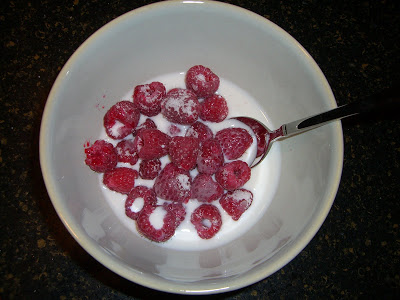 My new recipe box is just the cutest thing ever. I made it last weekend at my friend's scrapbook store. It's hard to believe I could get excited over a recipe box since I did not cook the first two and a half years we were married. However, the last few months as I have become more domesticated I have actually cooked quite a bit and I thought making this box would give me another boost to keep cooking. There are dividers for different categories of food, book marks (the items on the left) and the recipe cards. I was pretty proud of myself for making all of these ~ now hopefully I will put it to good use!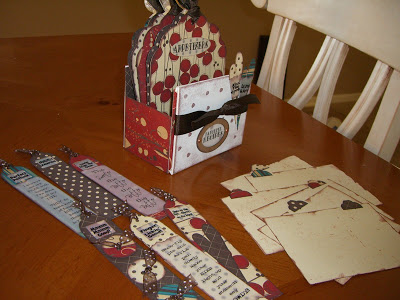 I am an avid reader and usually finish a book a week. After the tornado warning last night, I finished reading my latest book, "The Host" by Stephanie Meyers. I highly recommend this book – it moves even faster than the Twilight series and I personally liked the story line even more.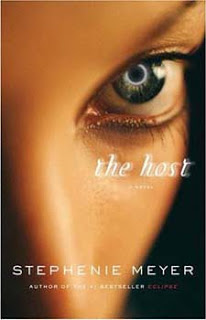 My new favorite smell ~ Thymes Indigenous White Persimmon candle. These candles come with a hefty pricetag but they all smell so good and the smell definitely lingers. This particular scent smells very clean and has a hint of citrus. You can buy these here.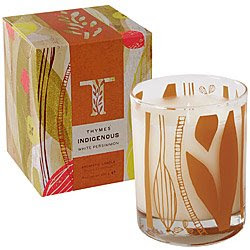 I've said it before and I'll probably say it for the rest of my life: There is nothing better than sushi at Blue or baby Blue. If you come to visit me in Omaha, make sure I take you there!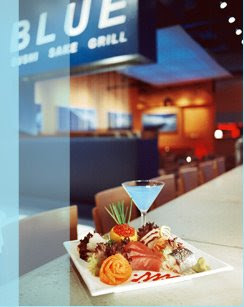 Anyone that knows me knows that I am a complete lip gloss junkie. I hate lipstick ~ love lipgloss. On any given day I have a minimum of 15-20 lip glosses in my purse, because I never know what flavor I'll be in the mood for. The all time best lip gloss is the Beauty Rush collection at Victoria's Secret. My new favorite flavor is Cupquake (it tastes like vanilla cupcakes and I love the hint of pink color):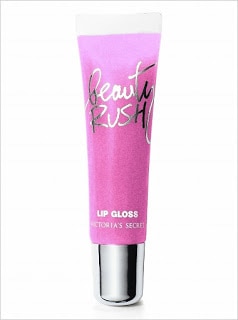 My sister-in-law got me hooked on this face wash (philosophy's purity). I will probably never use anything else again. Your face just feels so clean and it has the best scent to it. You can buy this at Sephora, or in our case, have your sister-in-law buy it in bulk from QVC!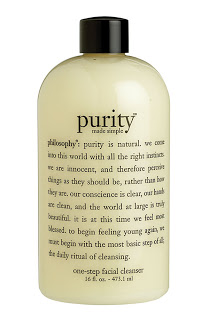 6/13/08 update: I had to add this update after watching this movie again tonight (only my third or fourth time). I just love this movie ~ it may very well be one of my all-time favorites. There is just something so charming about British men…maybe their accent? I have never found Jude Law attractive (I think he fake-bakes more than any woman I know), but he is very Hugh-Grantish in this movie and from the second you see him in this film you love him, and I must admit, he does look pretty dang good looking! It is obviously a total chic flick, but even the husband liked it (probably because Jack Black is in it). I highly recommend watching this if you haven't yet!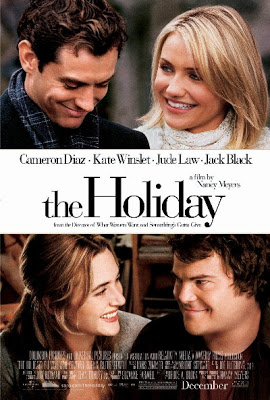 Next favorite: my Joe's Jeans. Again, anyone that knows me knows that I hate shopping for pants/jeans more than anything in the world ~ nothing ever fits me. Thankfully Von Maur puts these on clearance once in awhile or I would not own a pair today. The Honey fit works well for us curvier girls with hips and butts and they are made long. Since I do not have to dress up for work all summer, these are the best. Here is their official site: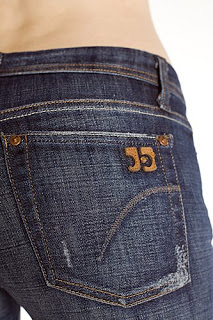 And now, for my favorite all-time favorite, a Starbuck's Venti Skinny Vanilla Latte. Yes, this has been around for a while, but I would personally like to thank the creative geniuses at Starbucks for finding a nickname for Non-Fat Sugar-Free syrup combos and shortening it to skinny. What was once a comedic event ordering my coffee (I'll have a Venti Non-Fat Sugar-Free Vanilla Latte), has now become much easier. This is my daily $4.02 slice of heaven!