I'm back with our next round of DIY Summer School (you can see our first round of projects here).  But first, I want to mention if you are here for the Pretty Preppy Party, that post will also go live today at it's normally scheduled time (7 am CST) so I am actually co-hosting TWO link parties today: the PPP and this thrifted edition of our DIY Summer School.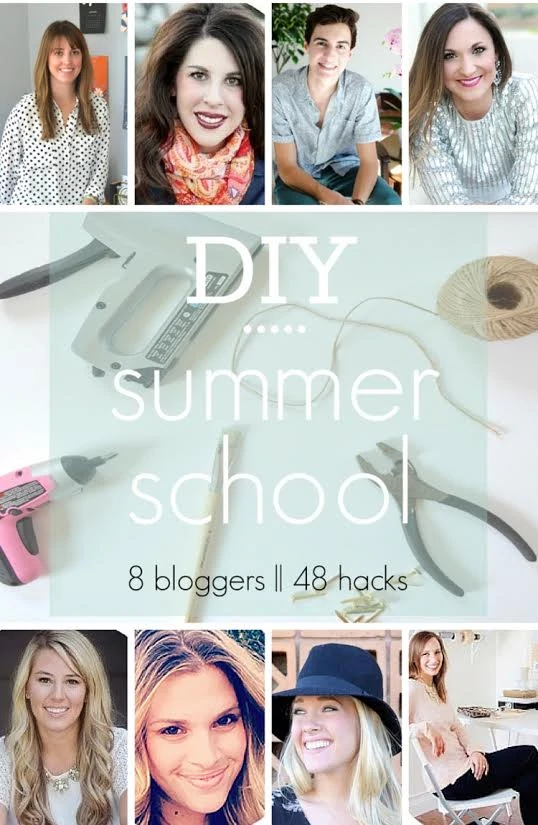 Today I'm sharing a fun and easy project I cranked out over the weekend. I had found this large piece of art and substantial frame at Goodwill last fall. I liked the print but it had some damage and dings and it was actually just a piece of foam board or plastic that had the print on it, so it certainly wasn't of the highest quality. But, I loved the scale and the frame was in decent shape, so I decided to modify it into a chalkboard.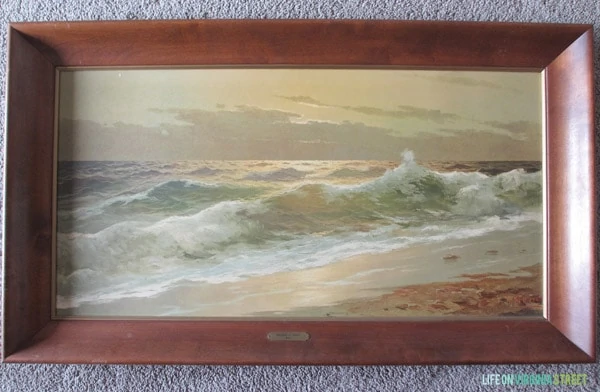 I started off my taping off the frame with painters tape.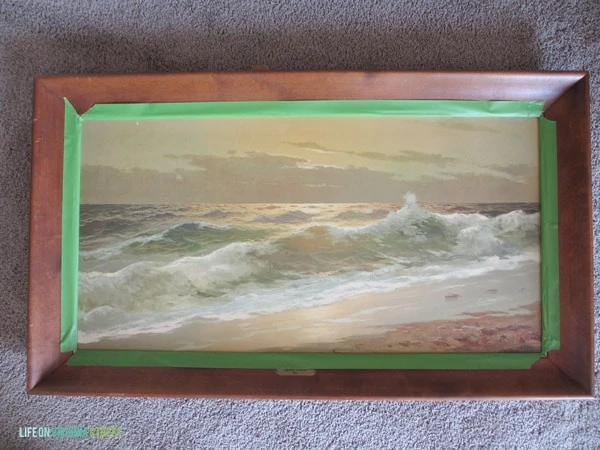 I've done a number of chalk paint projects in the past, and I'm fairly certain I've had the quart of black chalkboard paint from Lowe's for at least five years – and it's still 80% full! I simply used a foam brush and painted the chalkboard paint on event all over the board.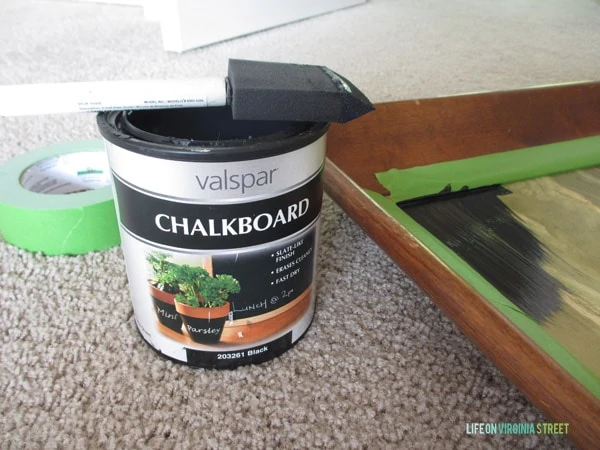 By the time I got to the end, my starting point and virtually dried so I applied another light coat all over the piece again. I let it cure for a solid 24 hours before removing the tape or using any chalk on the surface.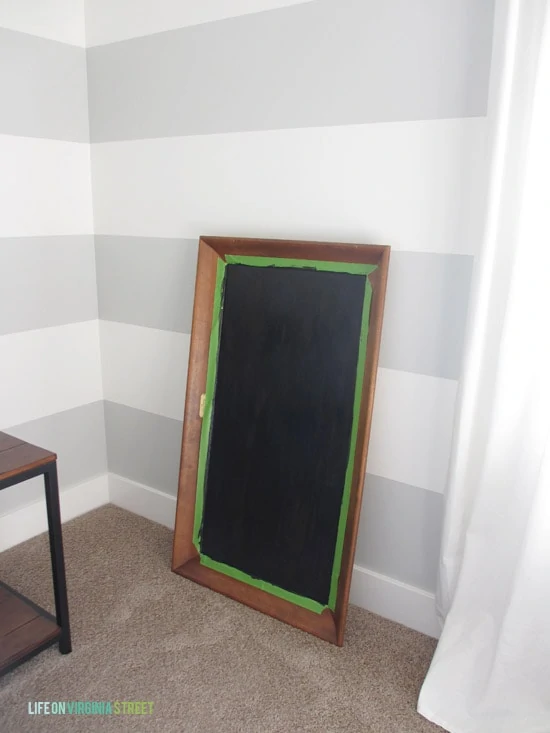 The next evening, I used my favorite chalk markers to free-hand some summery words onto the board. I did not prime the board with chalk as is usually recommended, since the markers will actually wipe right off with a damp cloth. Pretty much the most genius invention ever. (I used the art in Mallory's fall home tour as inspiration but just thought of summer words I loved on my own).
I continued to add words in various fonts until the board was full. There are likely areas I will redo at a later date, as I don't love some of the handwriting styles I used in various areas, but overall I think it turned out really cute! At this point, I also popped the metal tag off the frame using a screwdriver.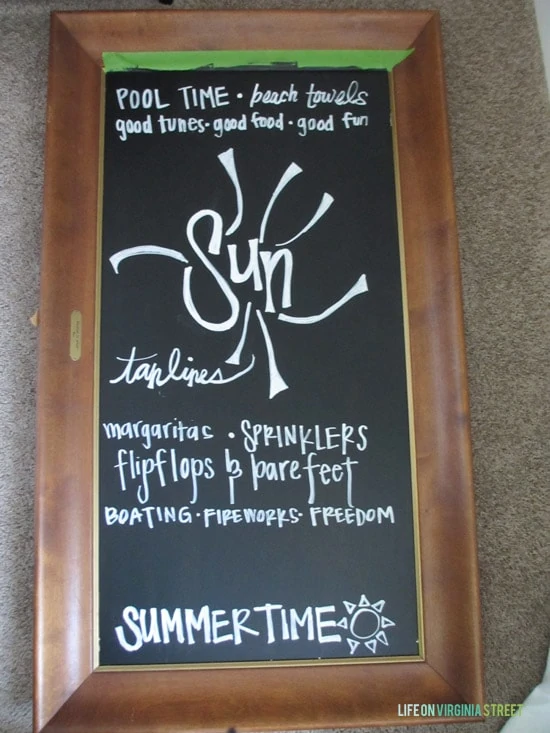 This is a fun summer addition to our guest bedroom and I love the graphic punch it adds to the space!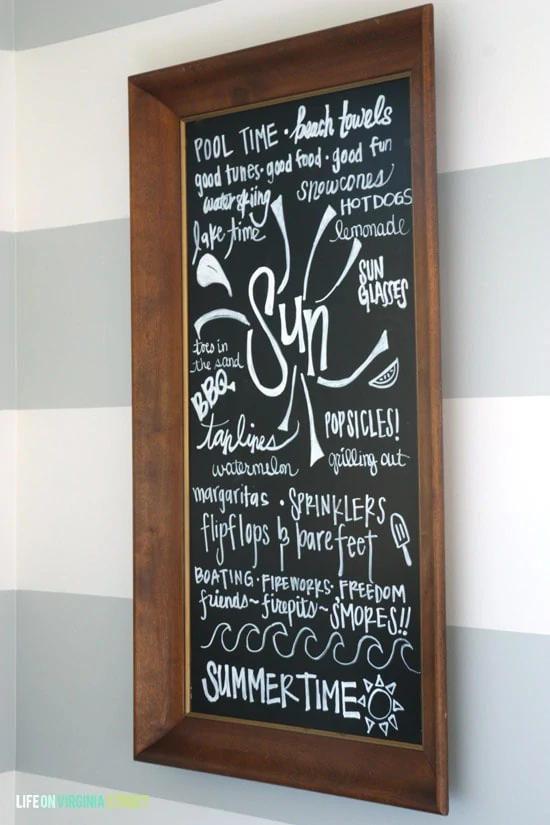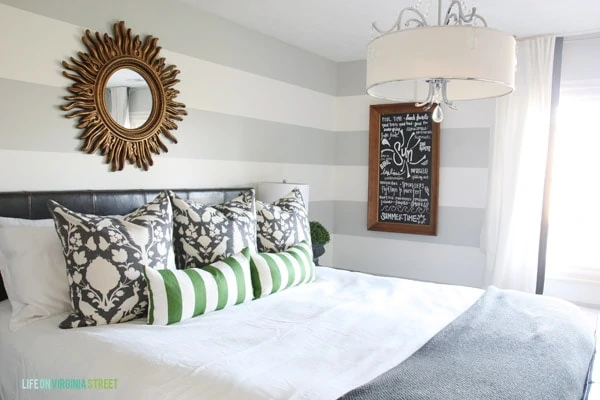 Easy, right? Be sure to check out the other fun thrifted proejcts from all of my co-hosts:
Now it's your turn! Link up any of your projects you've done using a thrifted item! Can't wait to see all the projects!

We'll be back on July 9th with our next round of projects. If you want to play along, here is the schedule for the summer:
July 9th
: wildcard (use anything you want!)
August 20th
: found in nature
See you then!
If you would like to follow along on more of my home decor, DIY, lifestyle and other posts, I'd love to have you follow me on any of the following:
Pinterest / Instagram / Facebook / Twitter / Bloglovin' / Google
disclosure: affiliate link used