These corn on the cob cupcakes are absolutely adorable, perfect for a get together!
My office goes completely overboard for people's birthdays. A girl at work has her birthday Friday so we are celebrating tomorrow with picnic-themed food. So, I made these corn-on-the-cob cupcakes tonight that I had seen a while back on Martha Stewart's website. And I say "made" in the loosest of cooking terms.
My sister-in-law had recommended I buy cupcakes at the grocery store, scrape the frosting off and then make the corn-on-the-cob (rather than do everything from scratch). It was such a great faux baking idea so that is exactly what I did!
They turned out pretty cute for not really paying attention (and using mini-cupcakes that had confetti candy all over them – hence the pops of pink, purple, green, etc. every once and awhile). I also bought four colors of Jelly Belly's (coconut, buttered popcorn, lemon & banana) to get the multiple colored "kernels" and I used lemon Starbursts for the "butter." I was actually watching American Idol while making these so I have to admit I wasn't giving the baking project my full attention. Not as cute as Martha's (especially since I couldn't find the black sugar sprinkles for the pepper ~ they also would have worked better if I didn't use mini-cupcakes) but they turned out cute for a 20 minute job!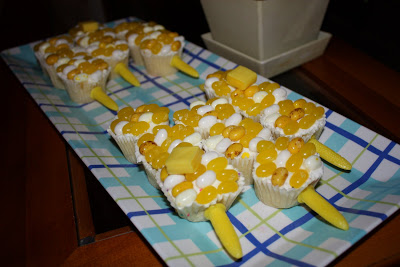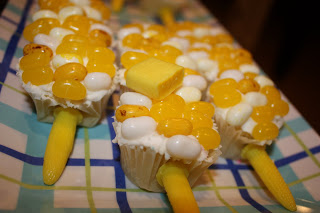 If you would like to follow along on more of my home decor, DIY, lifestyle, travel and other posts, I'd love to have you follow me on any of the following:
Pinterest / Instagram / Facebook / Twitter / Bloglovin' / Google