A curated collection of coastal modern console tables that work well with so many decorating styles! Includes natural wood, metal, and grasscloth options to help you find the perfect console table for your home!
I mentioned in this week's Weekend Recap, that I ended up selling a few pieces of furniture (along with a bunch of accessories) over the weekend! When we were moving all the furniture around to accommodate the new carpet, I was in a purging mood and finally sold two items I've been meaning to replace for several years. And while I haven't found new pieces yet, over the past few months, I've been looking at various console tables to replace them. Today I thought I would share some of my favorite coastal modern console tables with you that I found in my search. I've tried to include a variety of price points and styles, but also stuck with ones that work well with the modern coastal style that I love so much! You'll find sources for all of these option, along with a few dozen more, at the end of this post!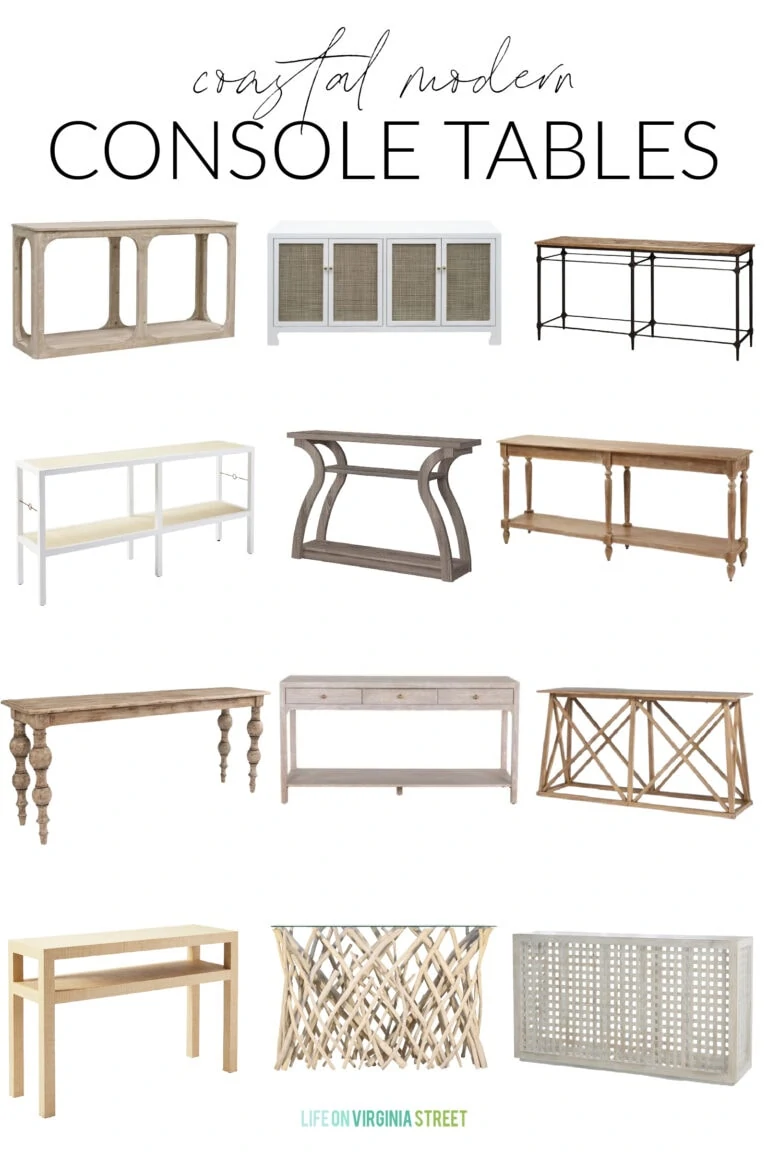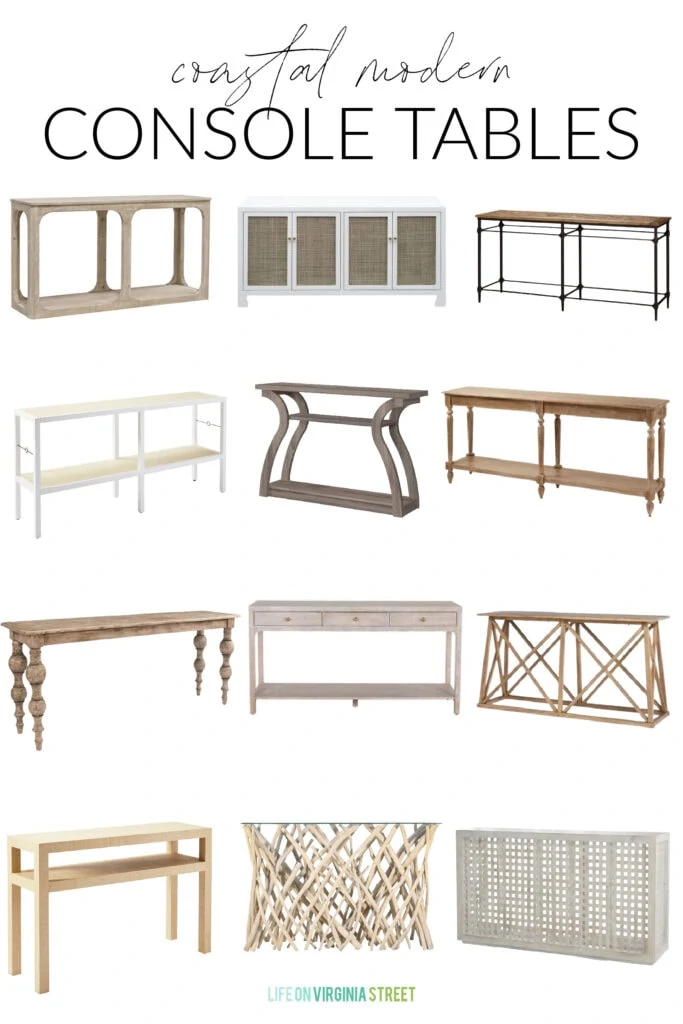 This post was originally published March 8, 2018 but was updated today with current product selections and updates from around our home. This post also contains affiliate links for your shopping convenience. Click here to read my full disclosure policy.
The Furniture We're Replacing
Before I jump into my top picks for replacement, I want to quickly show you the pieces we sold over the weekend.
The first was this gorgeous black cabinet that was about ten years old that we specifically bought for a long wall in our last house. Our living room now is much smaller than our last home, and all though it "fit" in the space, it didn't really fit the scale we needed. We actually could barely walk between the cabinet and the sofa and the doors wouldn't fully open. But, since it takes three men to move it (it was 7.5′ long and solid), we left it for the past eight and a half years. We used the cabinet to store seasonal throw blankets, and to house our lamps which we use almost nightly. However, we don't need anything near this large in the future.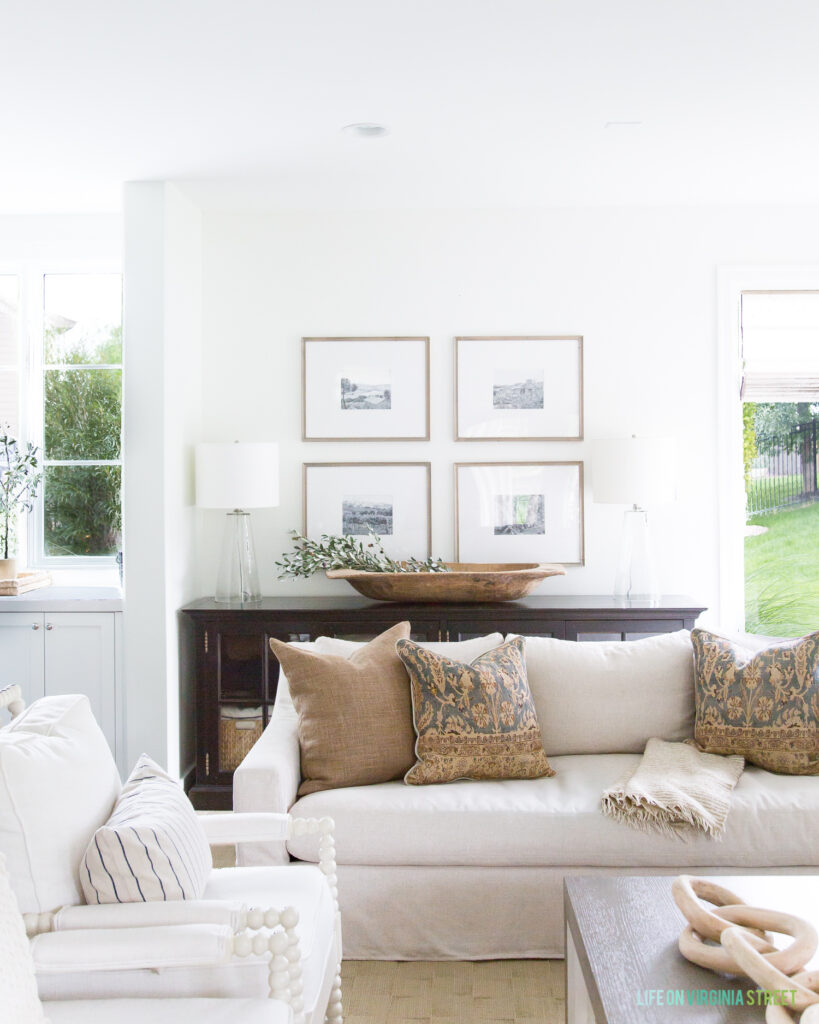 FALL LIVING ROOM SOURCES: Linen Sofa | Spindle Chair | Chunky Knit Blanket | Gallery Wall Frames (similar here) | Lamps | Similar Black Cabinet | Wood Dough Bowl | Bronze Linen Pillow | Patterned Pillow | Coffee Table | Similar Oversized Wood Chain
Something like the raffia console table that we have in our entryway would probably be perfect here! It's a bit more compact and there would be room underneath for baskets to fill with our seasonal blankets!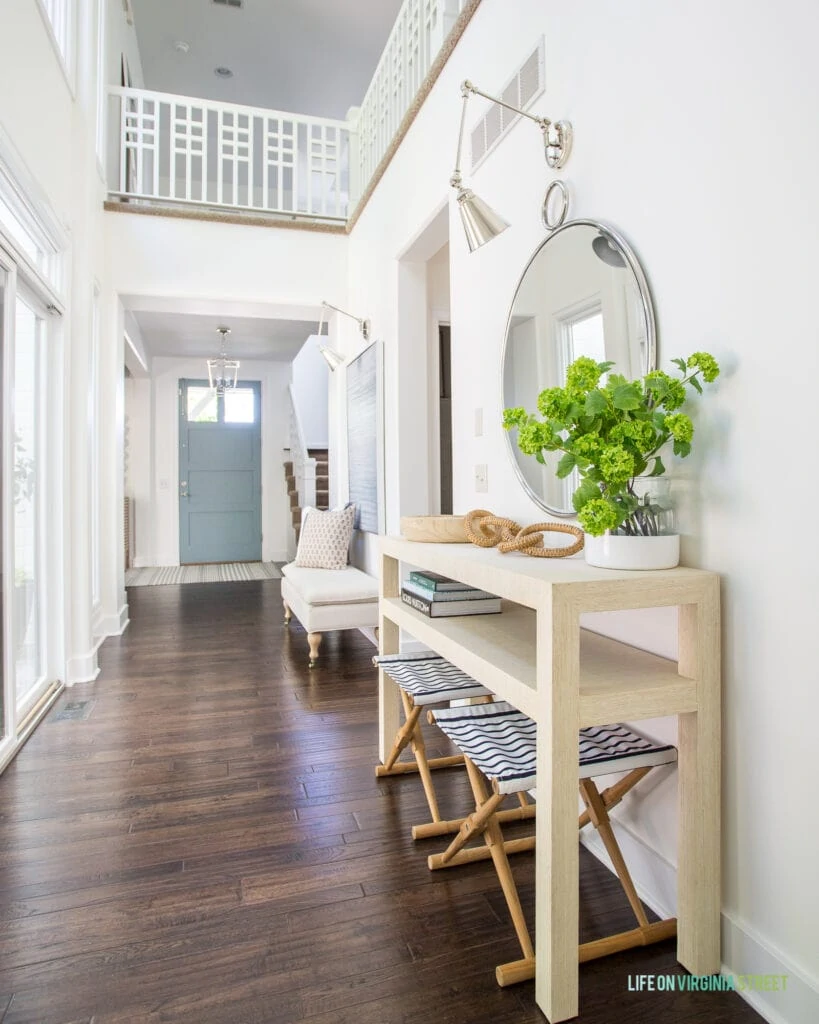 ENTRYWAY HALLWAY SOURCES: Pillowtop Bench | Striped Pillow | Block Print Pillow | Console Table | Striped Stools | Similar Mirror | Wicker Chain | Dipped Vase | Faux Viburnum Stems | Swing Arm Sconces | Abstract Art (HomeGoods – old)
The other piece we sold was also left over from our last home. It was a buffet table we had used for our TV and we had been using it in this house to store all of our Wi-Fi components. It hadn't really been a priority to swap it, regardless of the fact it's been on my Home Goals list for probably at least five years now! I found this photo from my 2020 Home Goals post. I literally never photograph this area at the top of our stairs because it pretty much was where we dumped junk we didn't want to put away. I'm pretty sure most of that stuff was still on the lower shelf when we went to move the cabinet last week 😉 I wish I were kidding!!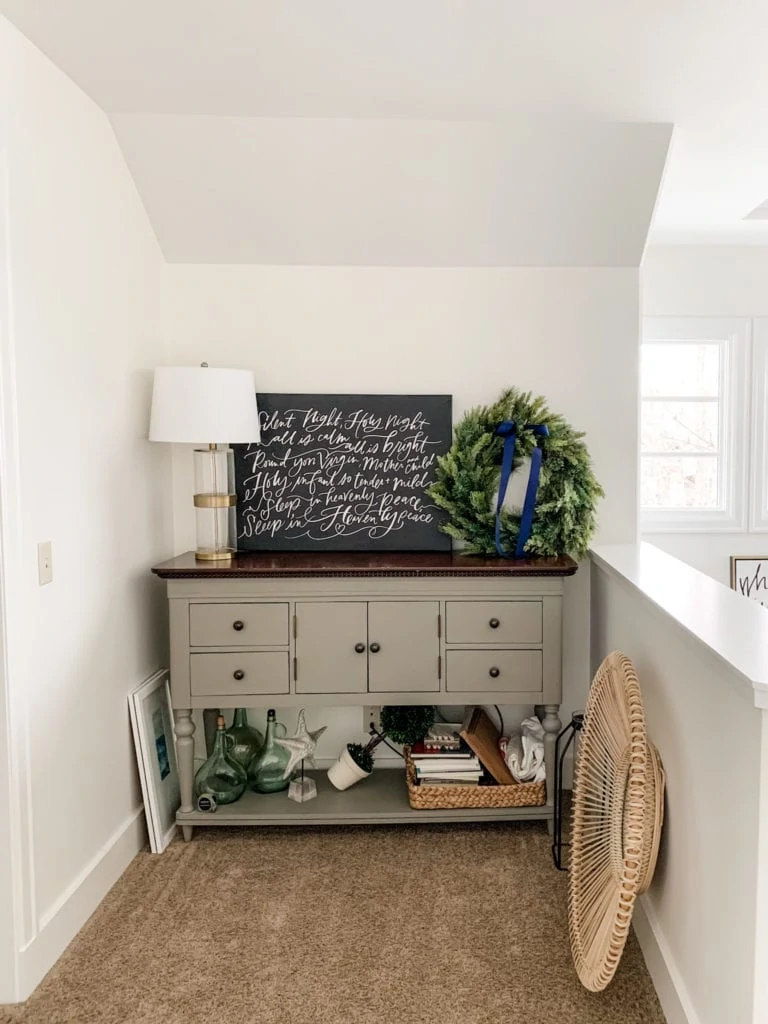 As we continue to contemplate how we handle the home office situations, I may hold off on ordering something for our Wi-Fi station area. If we do add some sort of built-ins, I'll just use this cane front cabinet to the space upstairs. The cane front would be perfect for the Wi-Fi components, and I think it would help add some much needed personality to this area! For now though, all the components will sit on the carpet until we figure out what to do!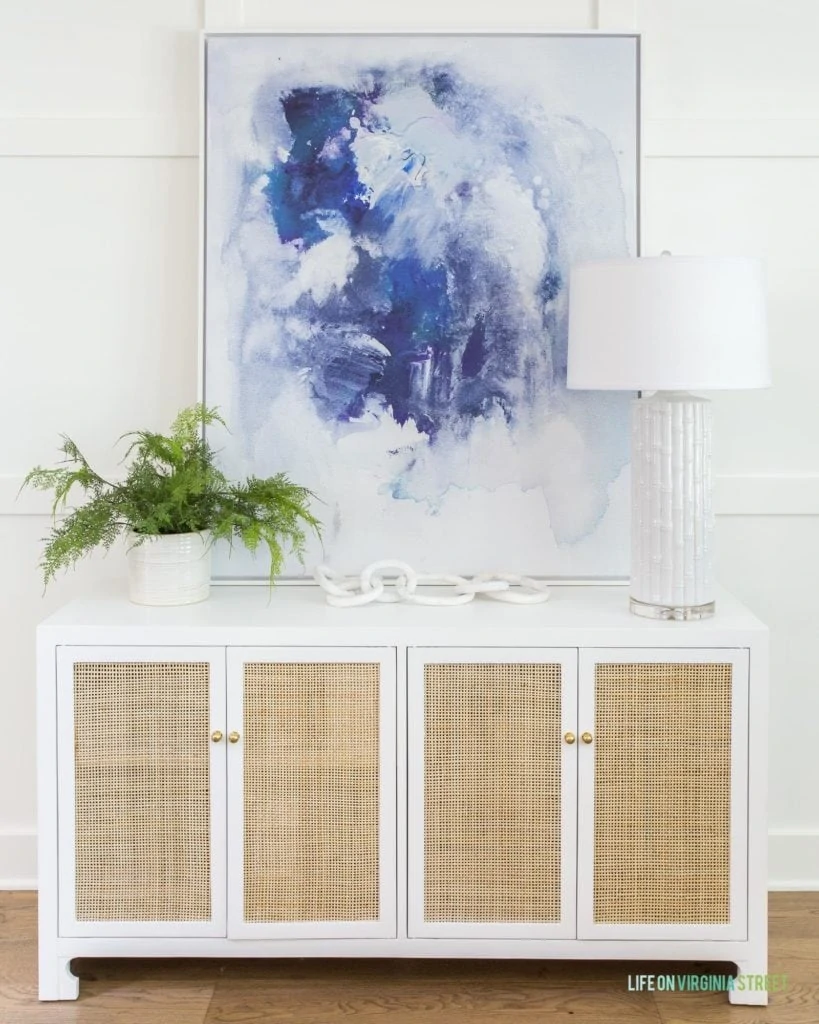 HOME OFFICE SOURCES:  Cane Cabinet | Faux Fern Pots | Abstract Art | Marble Chain | White Bamboo Lamp
Coastal Modern Console Tables
We know in our living room, we would prefer a more slim console table, but in the upstairs area, we'd prefer something larger with storage. Which means I was looking at virtually all options out there when I started my search for the perfect coastal modern console tables! That includes sideboards, buffet tables and traditional console tables that all could fulfill what we were looking for.
Following are some of my top console table picks at various price points. They would all look great whether in an entryway, a living room, or other space in your home. Simply click any of the images below to learn more about each of the items shown. You may have to double-tap on mobile.

I've seen this simple console table in person, and I think it's one of the best values out there! I probably wouldn't order it though unless I had something else that required freight shipping, to help alleviate some of the shipping costs!
My Prior Console Table Search in 2018
Below is this article as it appeared prior to today when I was also on the hunt for a console table in March 2018 if you're interested in reading about that search!
Here is how the space currently looks as of a few weeks ago.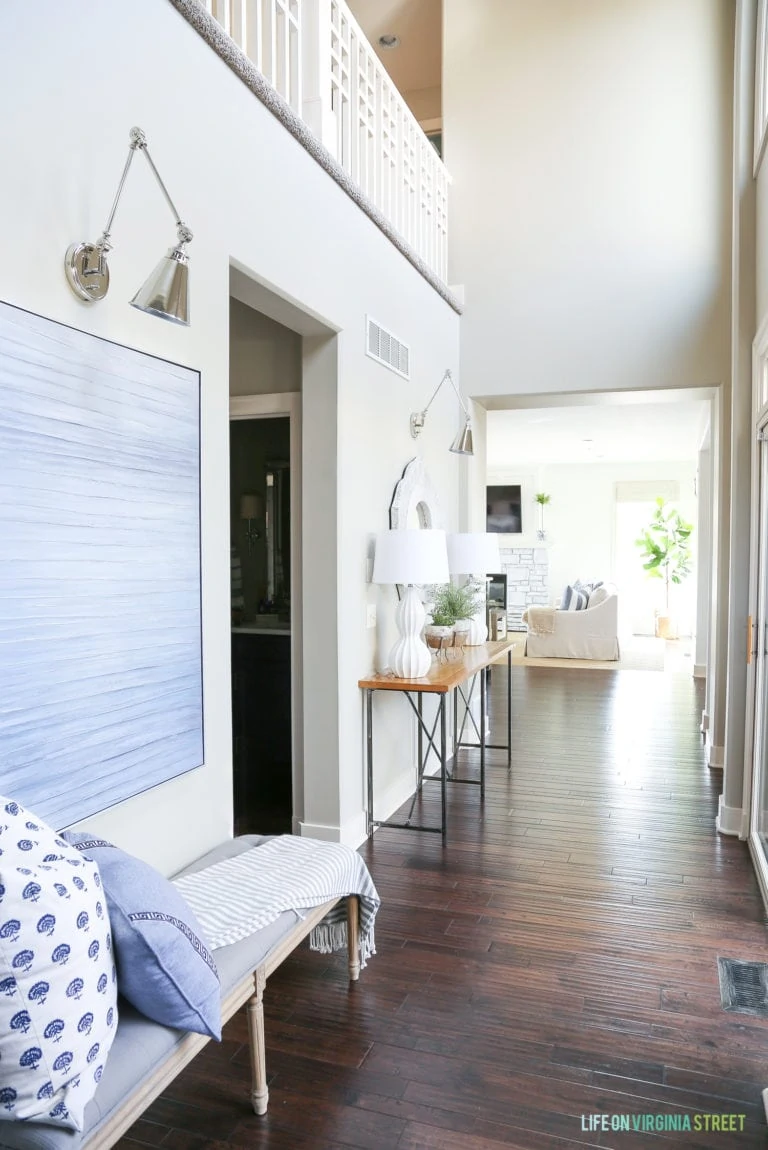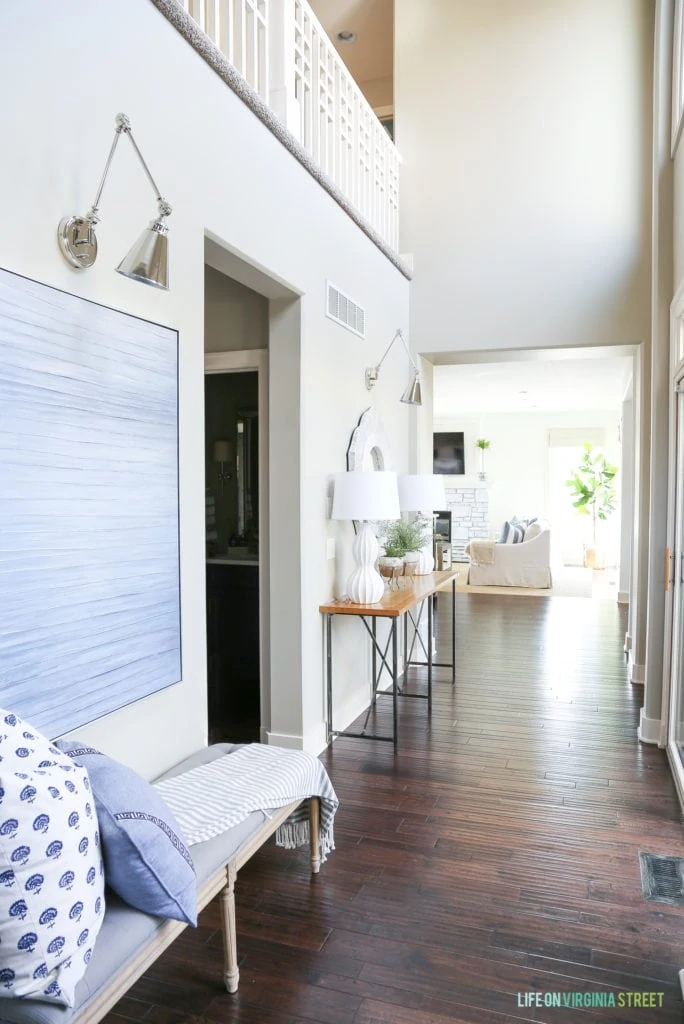 I got our entryway console table shortly after we moved in and have loved it for the past five years. But, it's basically a fur magnet (the cats rub all over the metal frame) and I'm ready for something a bit more substantial.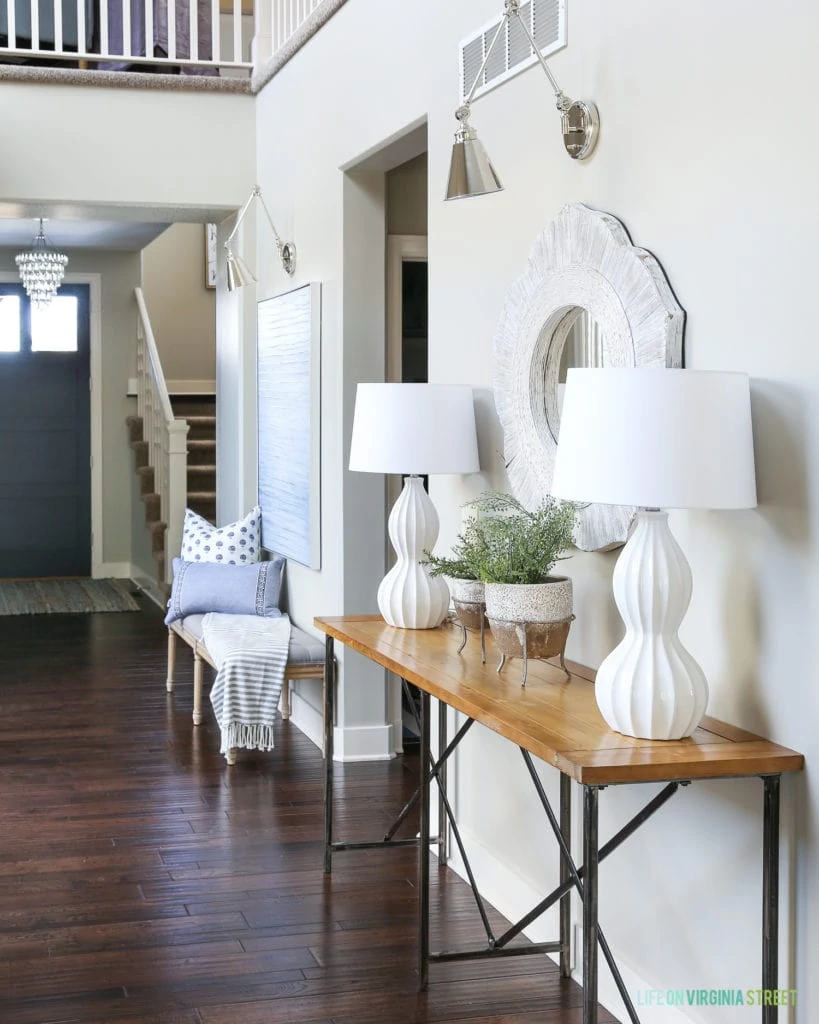 ENTRYWAY SOURCES: Console Table | Swing Arm Sconces | Bench | Faux Maidenhair Fern | Block Print Pillow | Similar Lamps | Mirror & Art: HomeGoods
This area is one of my favorite features of our home, but I feel like it needs a bit of tweaking to make it as amazing as I have it in my head 😉 Sometimes the space feels a bit choppy and disconnected from other areas in our home. I'm also contemplating adding trim work around the doorways to make it look more like an architectural feature.
Following are a few looks (and a console table) I've loved for some time. I love the mirror (I prefer round)/lamp/basket/table/accessories combo and have really been wanting to go that direction lately. But our current console table doesn't allow for the baskets below. Interestingly enough, I found that Restoration Hardware also carries this table (under a different name and a higher price).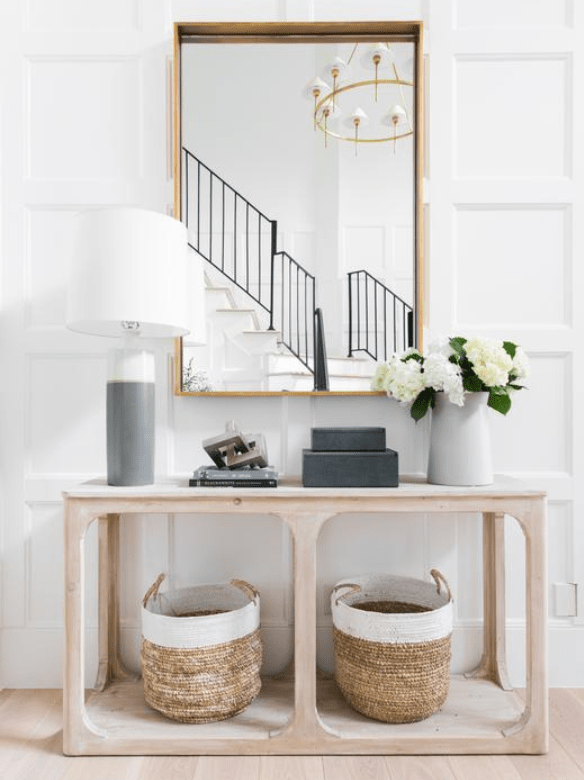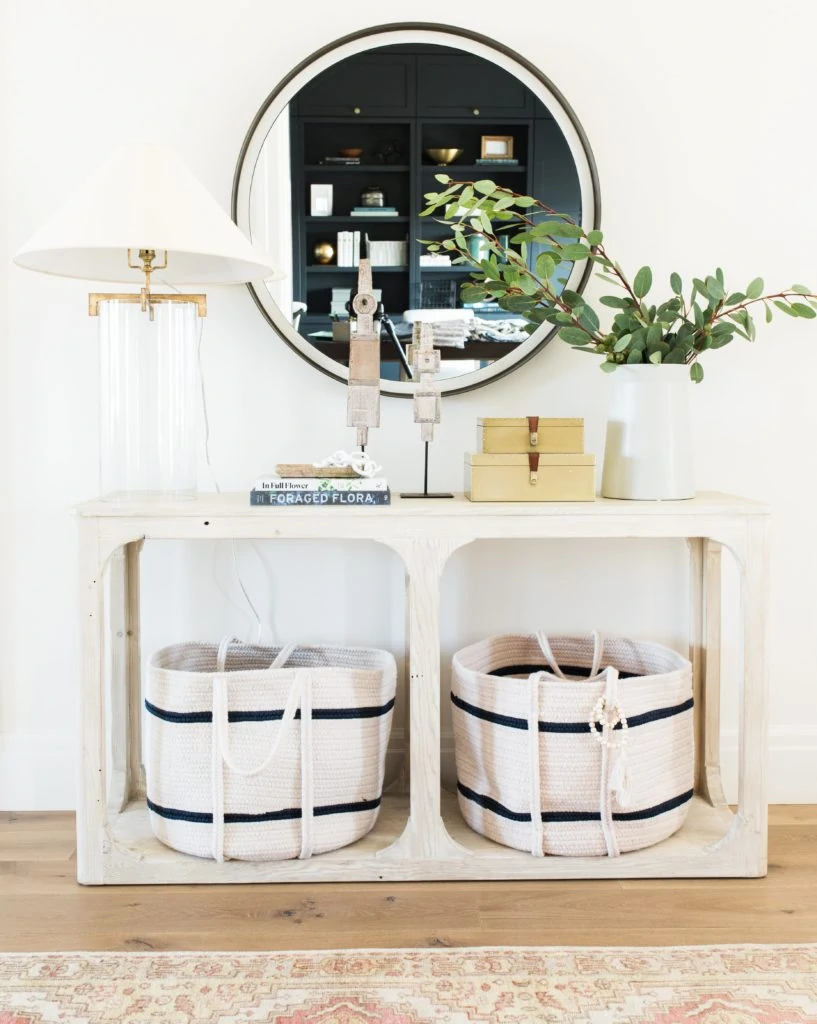 As much as I loved the console table shown, I'm trying to consider a few other options because of the price. I love how that particular style has the solid bottom would break up the sea of really dark hardwood floors down our hallway (and would allow for the baskets). But I need to keep length and depth in mind. I also want something with a bit of an airy feel (not a solid cabinet) so it doesn't feel cramped in the entryway.
I'm really loving this streamlined option (in the driftwood finish) for just inside a front door or other small area! It comes in four finishes but I love the driftwood version!
I'm really trying to take my time on this decision, since it isn't a "must" update. However, I'd really like to get something finalized by summer when we have a lot of visitors staying with us. Which coastal modern console table option is your favorite? I'd love to hear!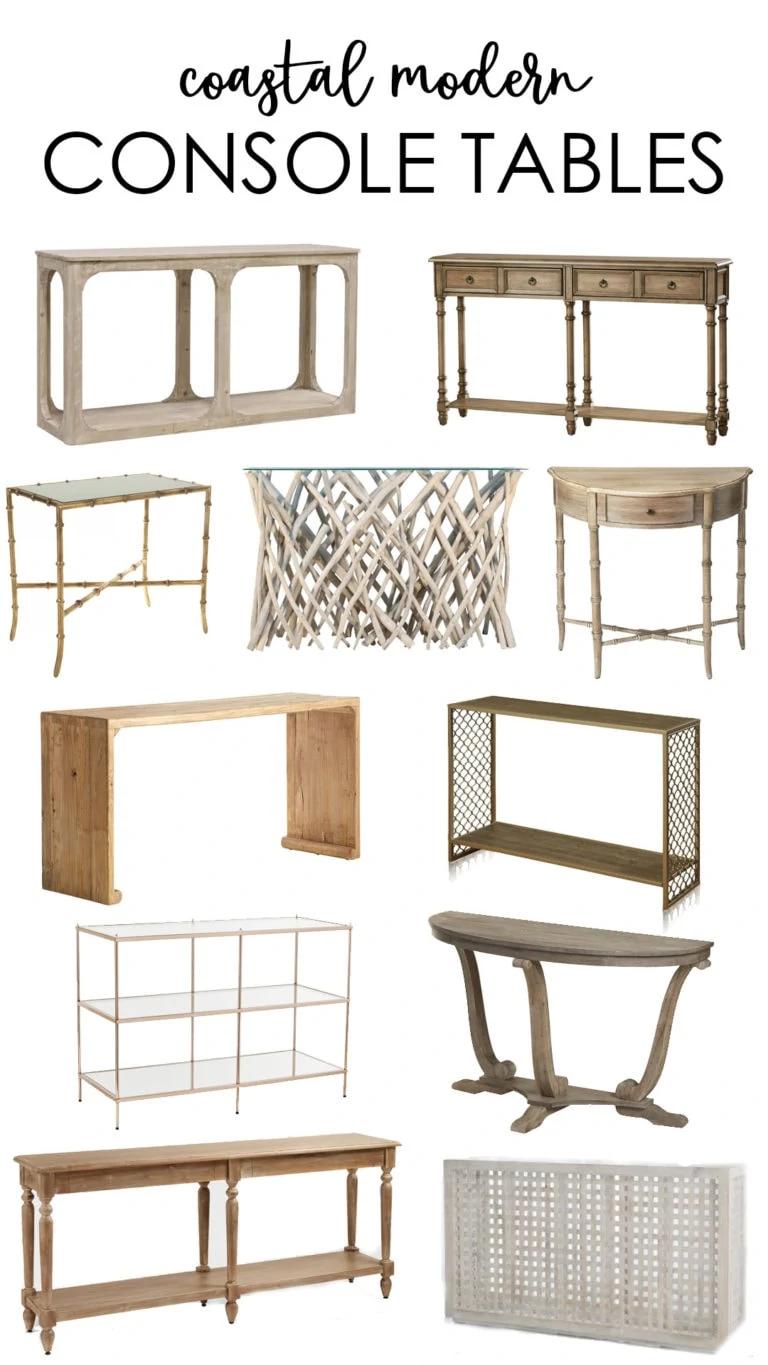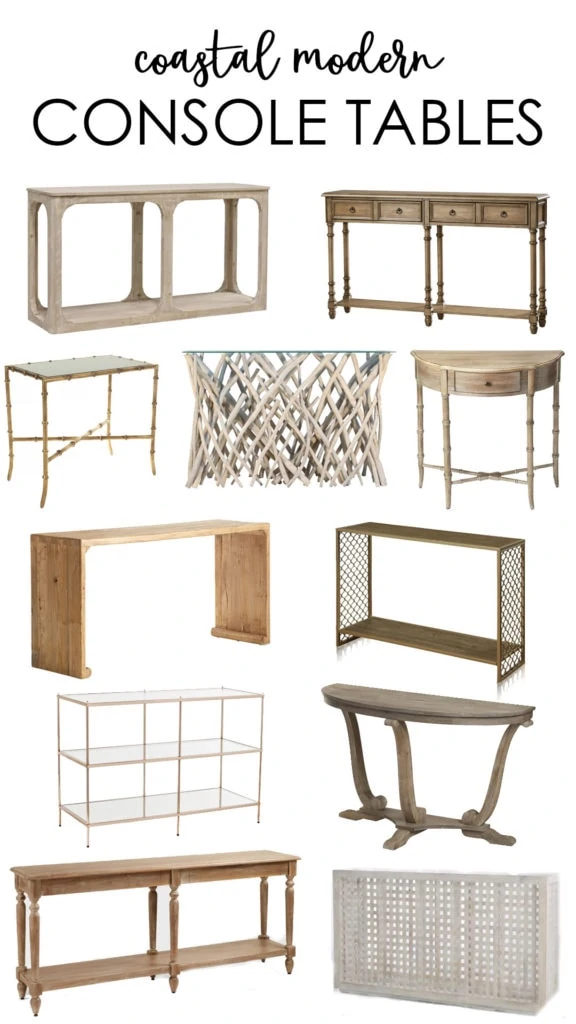 If you would like to follow along on more of my home decor, DIY, lifestyle, travel and other posts, I'd love to have you follow me on any of the following:
Pinterest | Instagram | Facebook | Twitter
disclosure: some affiliate links used