I hope everyone had a great weekend! My husband was out of town for most of it, so I was able to put in a lot of hours behind the computer to work on the blog. And if you follow me on Instagram, you saw that I managed to sneak in some shopping as well, including the crazy Lilly Pulitzer sale at Target.
So, in regards to the blog updates, I made a lot of changes, most of which are likely not visible to the eye. However, you may now note that my menu bar is slightly different, combining the former DIY Projects and Room Makeover tabs into a new tab called 'Room Makeovers, DIY Projects & More'. A lot of my time was spent in organizing my posts into categories, a field I had never utilized in the past (I used the tag field regularly, instead). For the non-bloggers, basically I now have a gallery of all my project categories, making it easier for you to read by topic if that is more your thing. It is also a great way to easily find old projects that you may have never seen before!
I'm still in the process of fully updating all the posts on my blog and figuring out additional categories I may want to use in the future (I'm open to suggestions!) but I think I'm off to a great start! Here's a little preview of the new page – essentially an image gallery of my projects: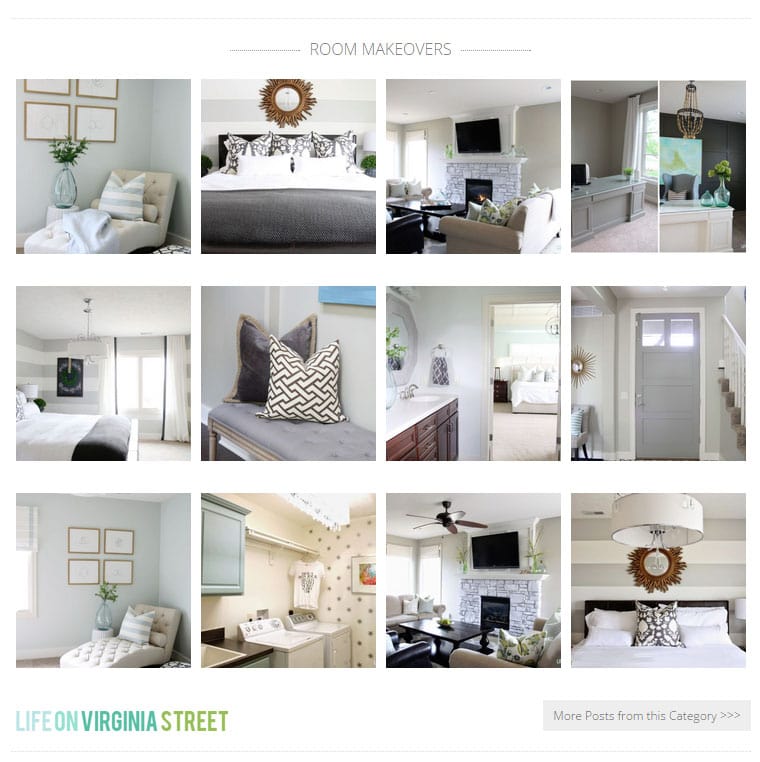 I also found a widget for recipes. Although I don't post recipes frequently on my blog, the ones I do post get a lot of traffic from Pinterest and I wanted to make it easier for the end users. The tool I'm using now (EasyRecipe) allows you to print the recipe right from the post to make it easier to use at a later date, without a lot of formatting on your part. So, for example, if you want to access my World's Best Crockpot Mashed Potato recipe (because they really are the best), you'll now see an area like this within the original post where you can print just the recipe, perfectly formatted for printing! P.S. If you're interested in pinning the recipe, I suggest going to the original post for a much pretty image to pin than the example below: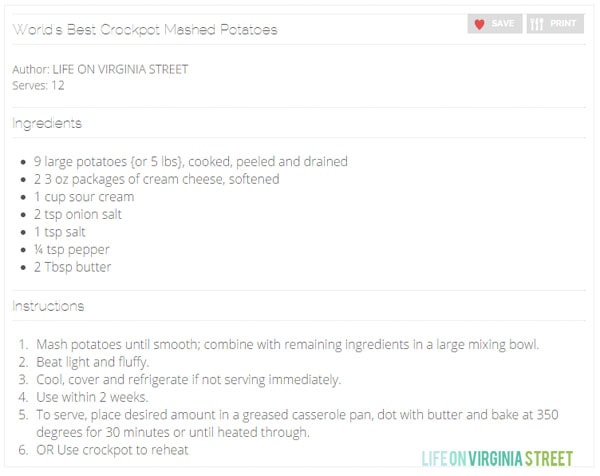 For those that subscribe to my newsletter, you'll also note that now you get an image from the most recent most, in addition to the post excerpt. It helps to make those emails just a tiny bit prettier than they used to be! If you don't already subscribe for updates, you can enter your email address in the bar at the top of the screen. That way, you'll be notified everytime I have a new post!
Another project I tackled was cleaning up my Pinterest page. I reorganized my boards, changed cover images and consolidated and split boards as necessary. The overall vibe is now so much prettier! I'm still majorly obsessed with Pinterest even with all the changes in recent months and it's a huge source of my inspiration. So, having better organized boards that are easier to navigate and prettier on the eyes makes it all worth it.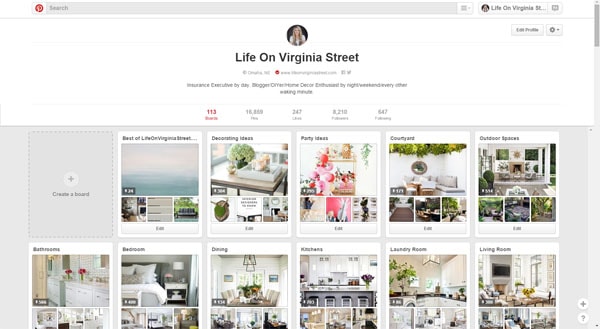 You may also have noticed I've made some changes to the Life On Virginia Street Facebook page as well! I've created a new cover image and I've finally figured out how to link my Instagram to my FB business page thanks to help from some friends! I likely won't be posting all of my Instagram photos to Facebook, but occasionally I'll plan to have some images in both locations.

As you can see, not a lot of major changes, however, they are projects I've been needing to tackle for some time and it feels great to have them mostly completed. Hopefully you will find value in all of these updates. I'd love to hear your feedback and/or any other suggestions for updates I can make.
Lastly, don't forget to enter my giveaway from Z Paint Studio. You have until midnight tonight to enter to win some free art!
If you would like to follow along on more of my home decor, DIY, lifestyle and other posts, I'd love to have you follow me on any of the following:
Pinterest / Instagram / Facebook / Twitter / Bloglovin' / Google