Thank you to Kohl's for partnering with me on this post today. As always, all thoughts and opinions are my own. Be sure to check out the giveaway at the end of this post!
'Adding Life Through Decor in the Dead of Winter'. How's that for a dramatic title? 😉 But here's what I'm talking about. Shortly after I take down all our Christmas decor the first week of January, I crave completely neutral spaces. Once the red and green is packed away, I tend to leave our everyday pillows, art and pretty much all signs of color packed away for several weeks. It feels so refreshing to start with a fresh slate.
With that being said, by the end of January, I need some color! Greenery starts to make an appearance again, and I typically settle into a new color scheme for the year (or, in reality – some variation of blue and green with our neutral decor). I've always been a fan of stripes, as you likely know, but this year the navy stripes are calling my name badly!
A month or so back, Kohl's contacted me to see if I would be interested in hosting a giveaway with my readers, and in turn, be offered a gift card to shop their home decor options. I'll be honest – I was a bit skeptical that I would find much to work with. I tend to think of Kohl's as more of a clothing store, so imagine my surprise when I quickly filled my shopping cart online. I was actually blown away by the selection (as a side note – did you know that you can shop Wayfair products through the Kohl's site as well?!).
Today, I want to share all of my amazing finds and offer you a chance to win a $100 Kohl's gift card so you can freshen up your home for early spring as well! These changes are all really easy – just a few minor swaps, and an instant refresh to your spaces! I was careful to select items that would transition well from late winter well into late spring/early summer.
Three key factors: new throw pillows, throws and greenery can change everything! And they're affordable updates!
First up, we'll start with my office. I started with these Jonathan Adler reversible pillows. Since they had a zip closure, I actually used some of my down pillows I had on hand in lieu of the poly versions that came with them (the beauty of zippered covers)! I loved that they were reversible and a bit bolder than the blues I tend to decorate with. I then found these cashmere-like plaid throws that coordinated perfectly! They are super soft and great to curl up with. Add in some additional greenery on the side table, and the room was instantly refreshed!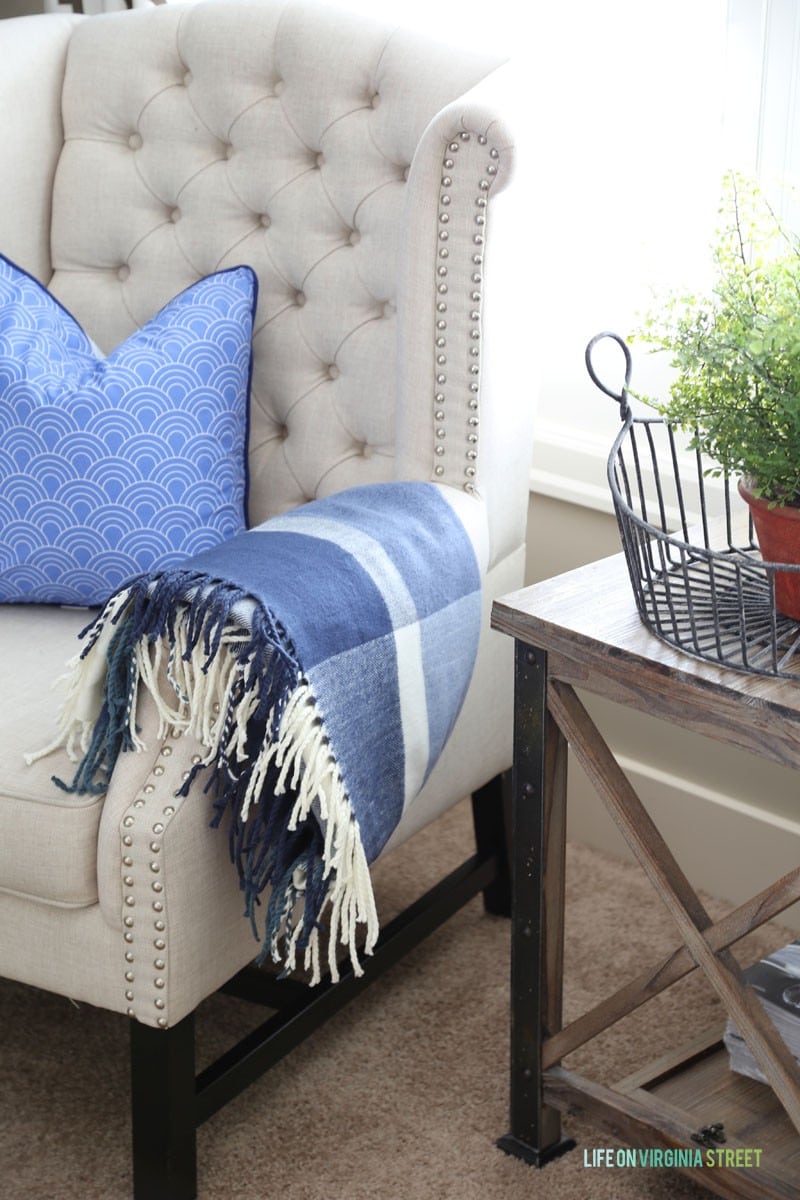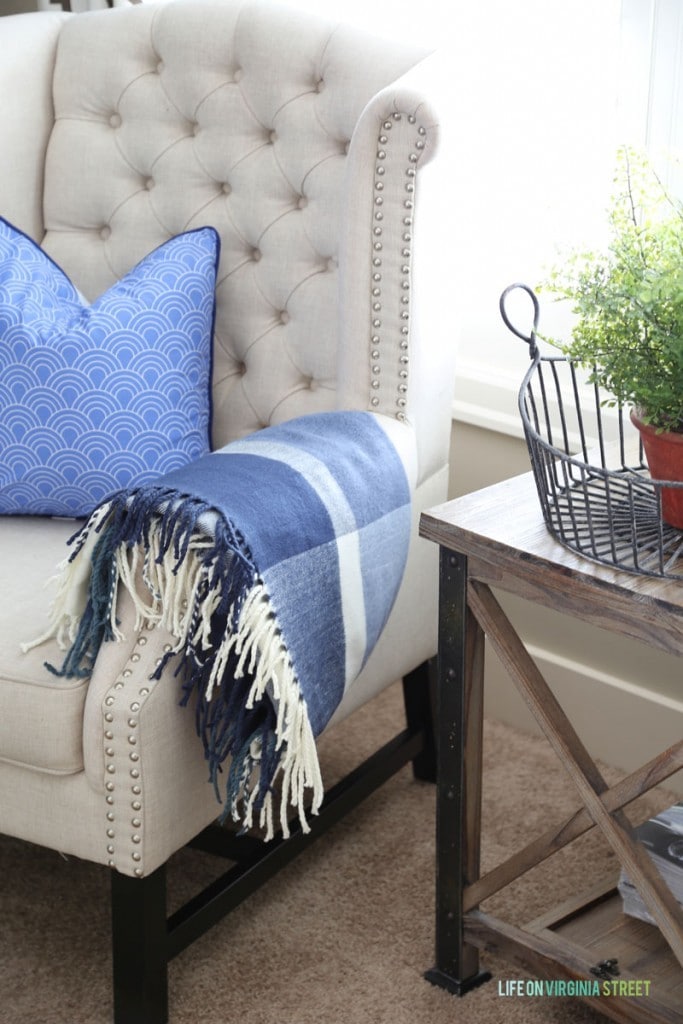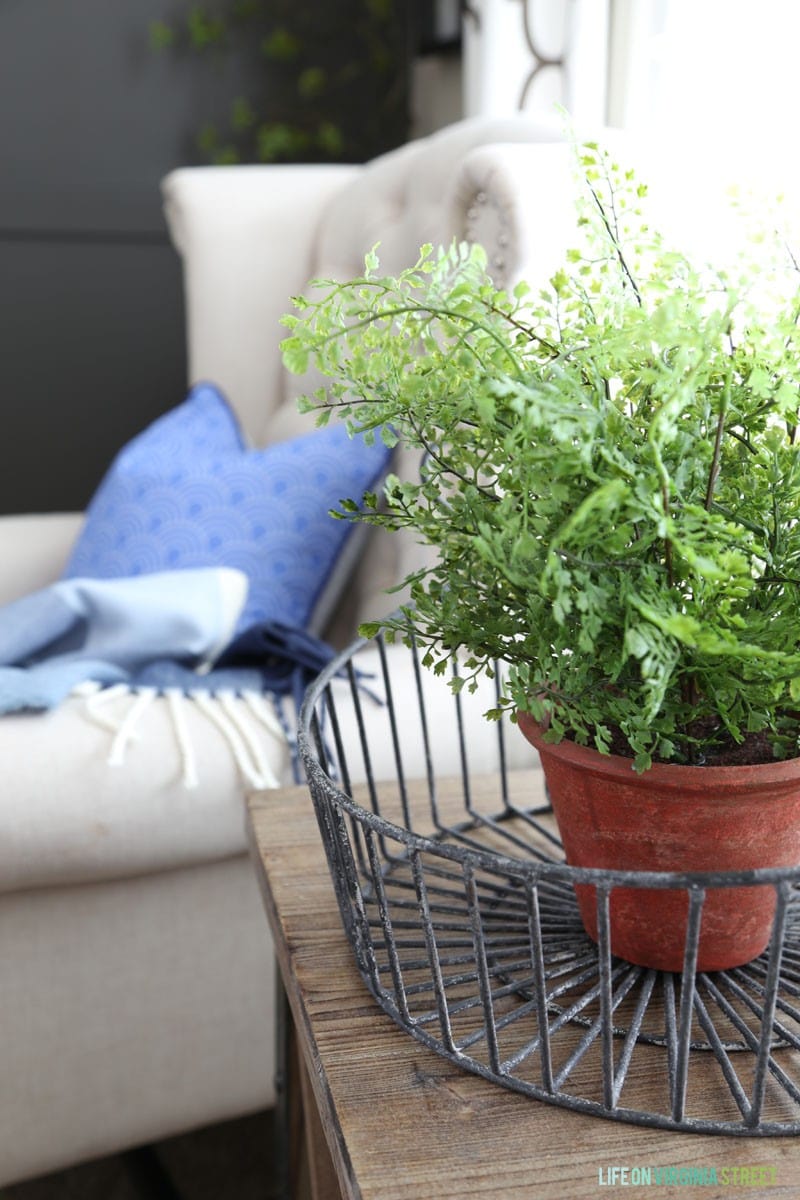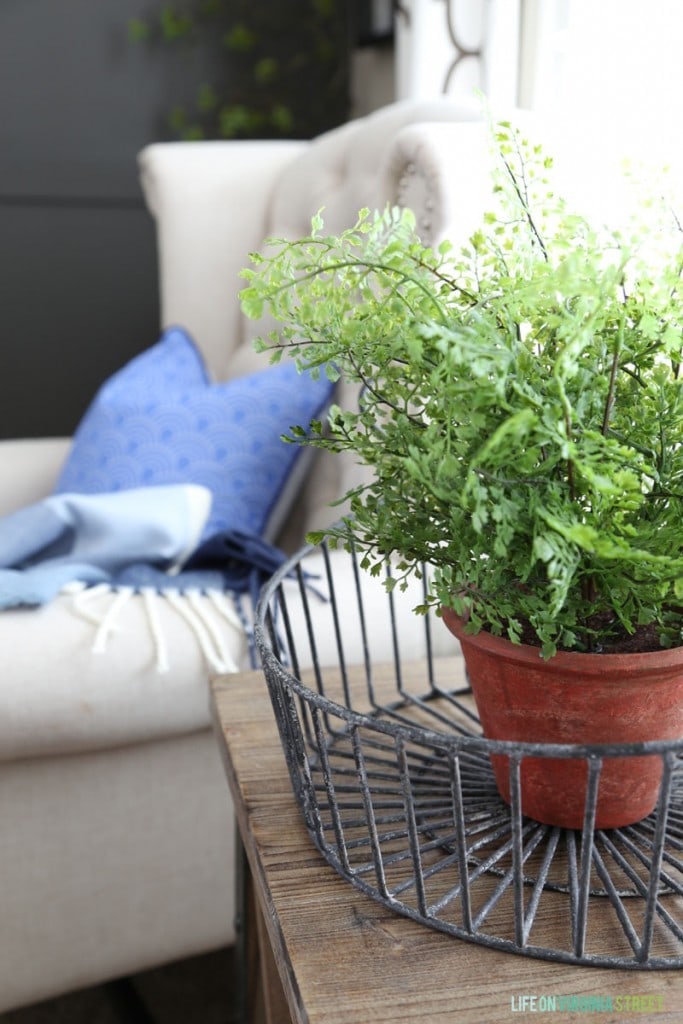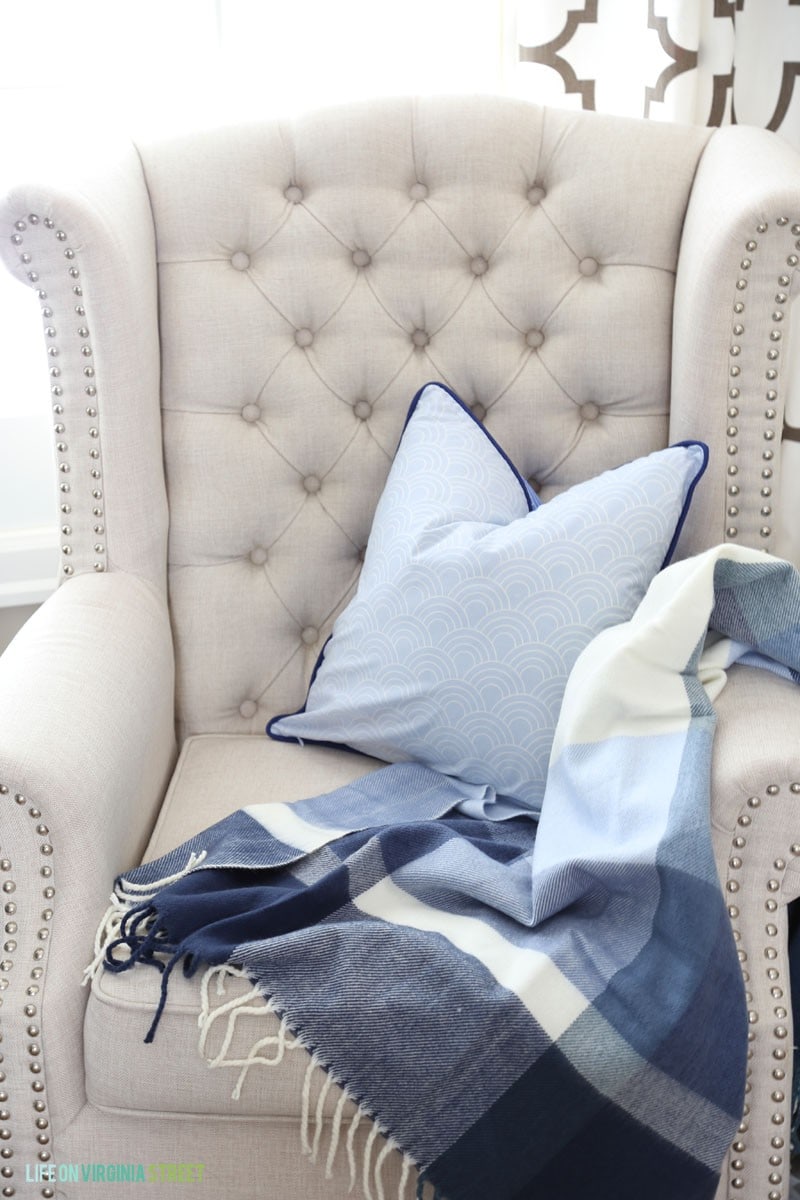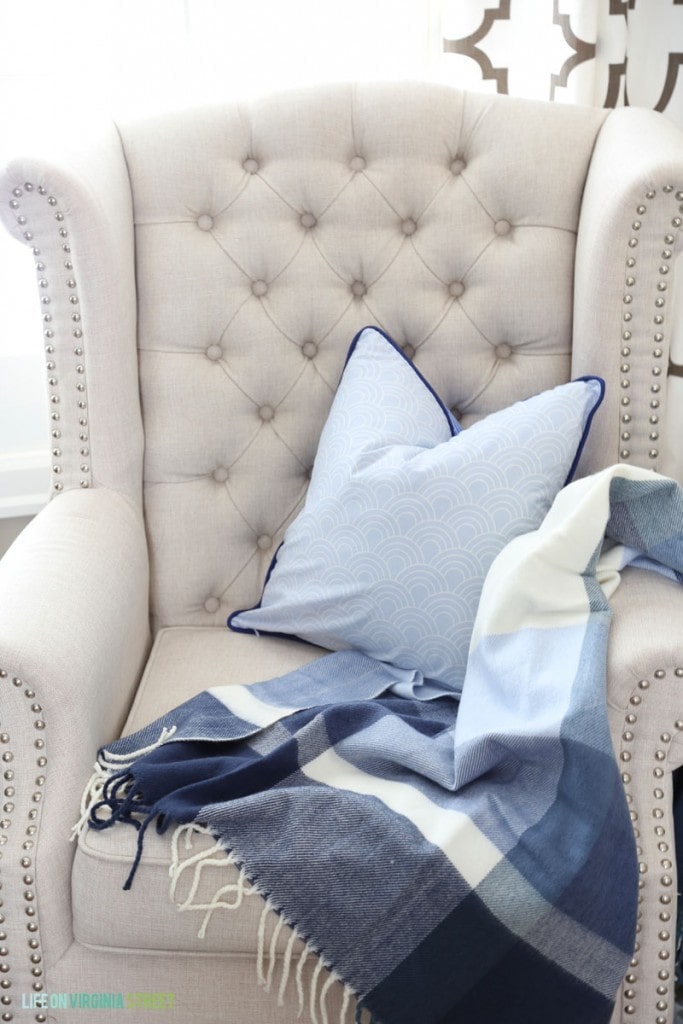 And, although I didn't show it in the pictures (because it's not all that glamorous), I added this filing cabinet to the office closet. The drawers in my desk don't seem to be keeping pace with the mounting paper we've been accumulating lately. I can promise you, though, this cabinet has made as much of a positive impact in my office as the decor updates have!
Get the look of the office:

In the kitchen, I added these gorgeous navy and ivory striped runners. Because of the shape of our kitchen, I ordered one in the 7′ length and the other in the 9′ length. It had always bothered me that we only had one 2'x3′ rug in front of the sink previously. Although they aren't perfectly aligned, we love having rugs in front of both the sink and the stove now! The pop of green from the faux maidenhair ferns might be my latest obsession and I'm glad I scooped them up when I was in Utah last week! Now I just need to get some rug tape/pads so they consistently lay flat on the hardwood. Suddenly, I'm in love with my kitchen again!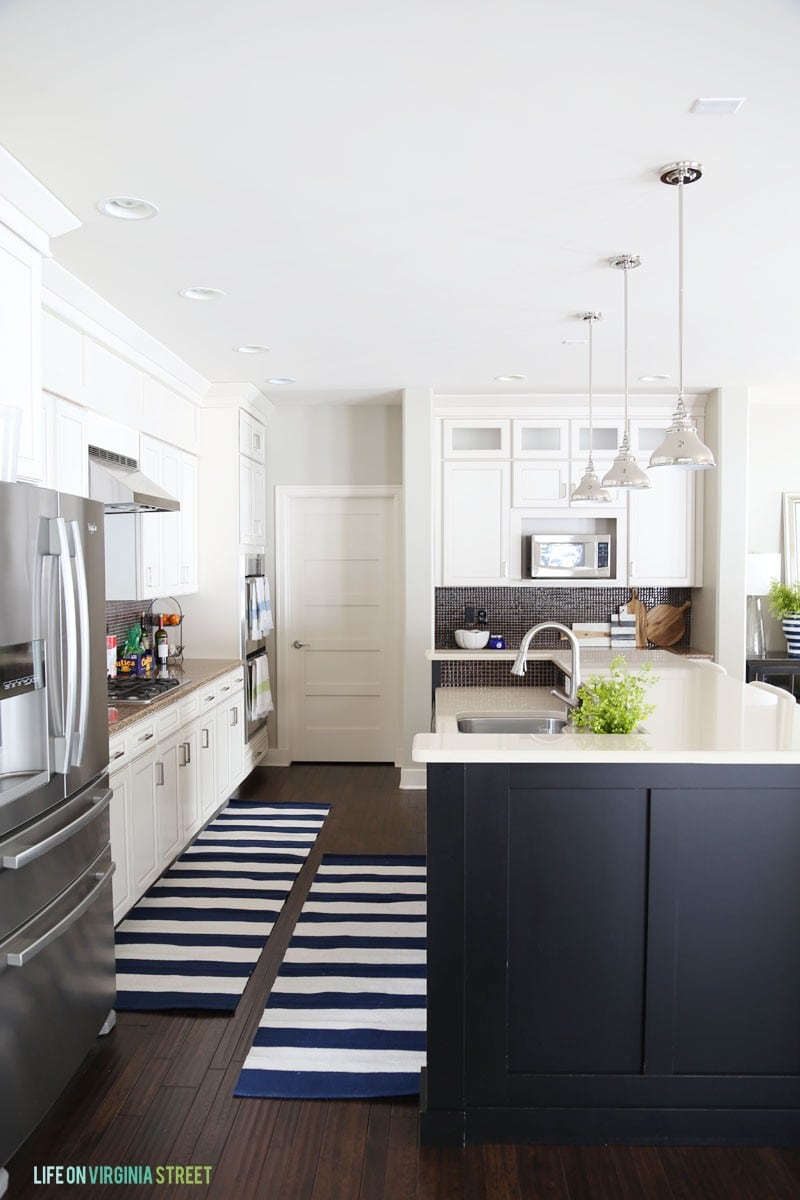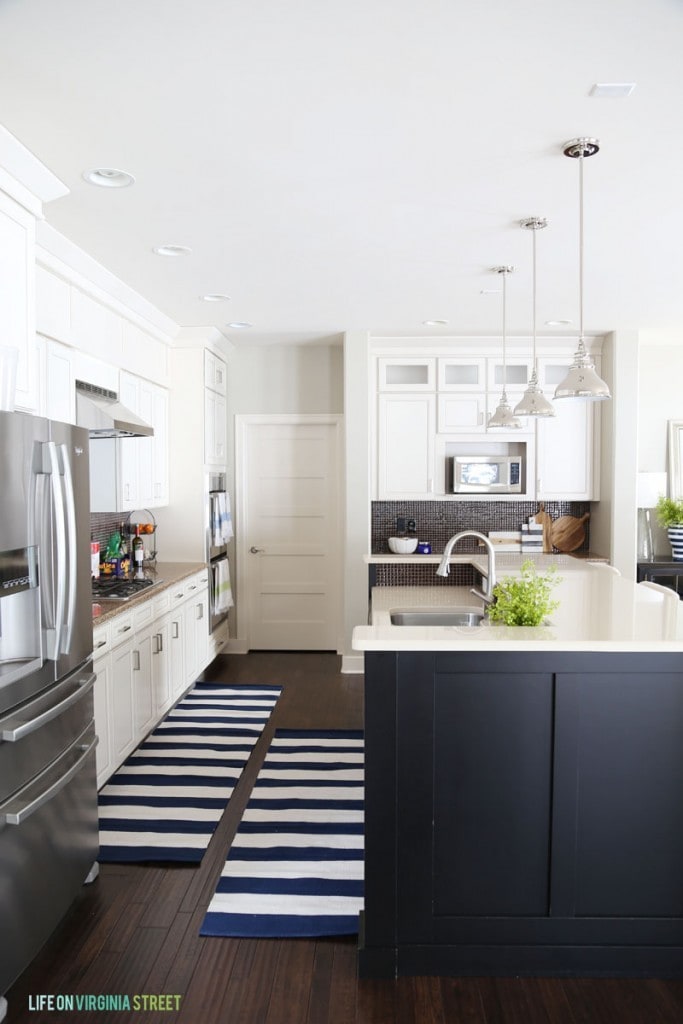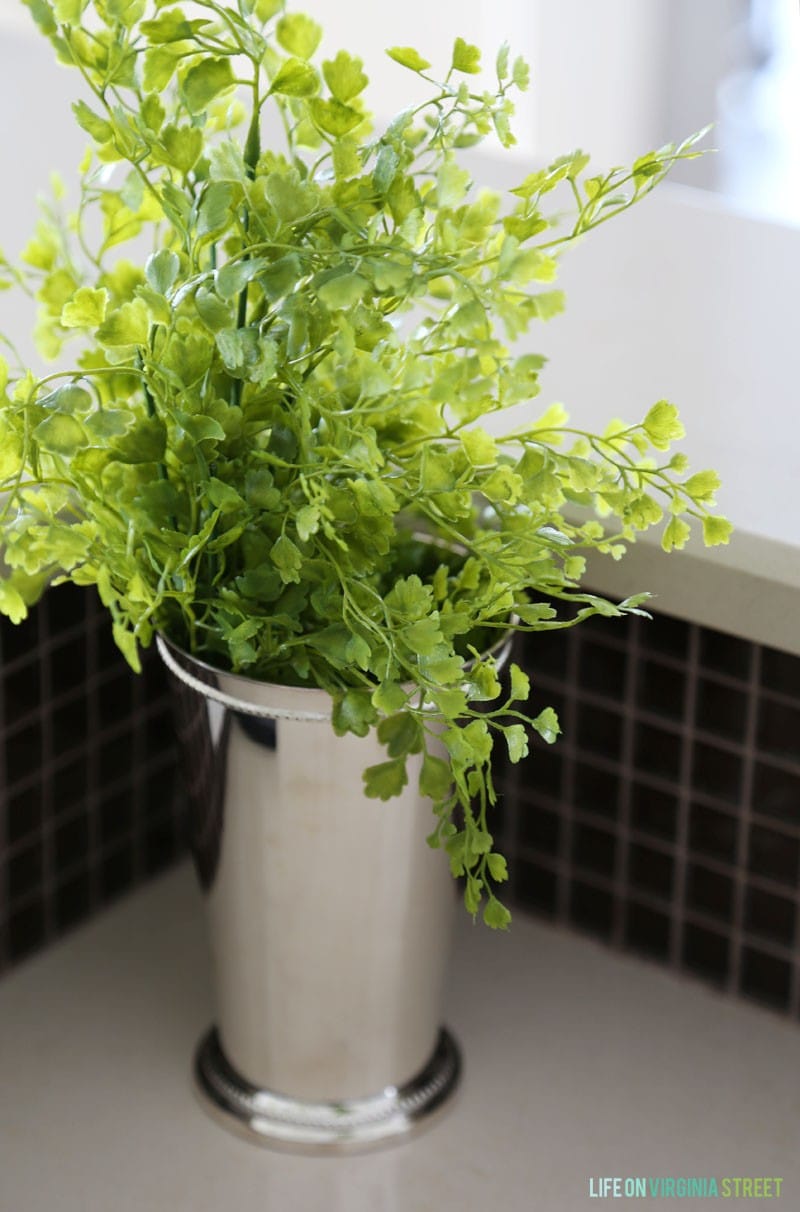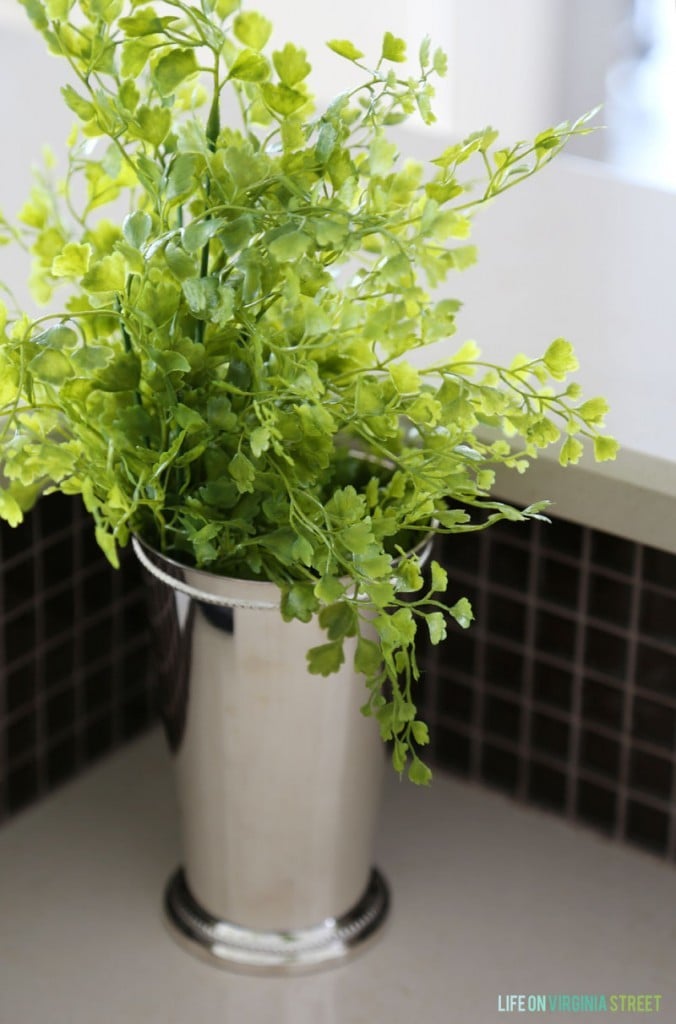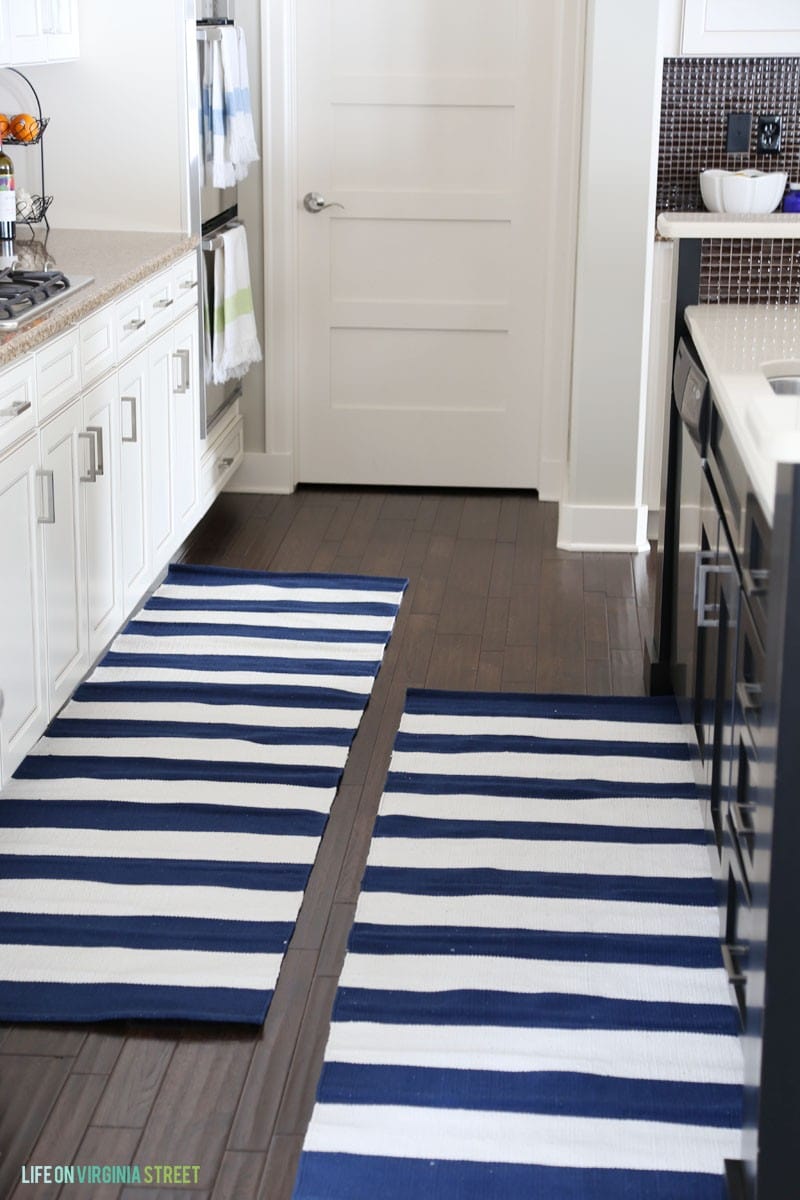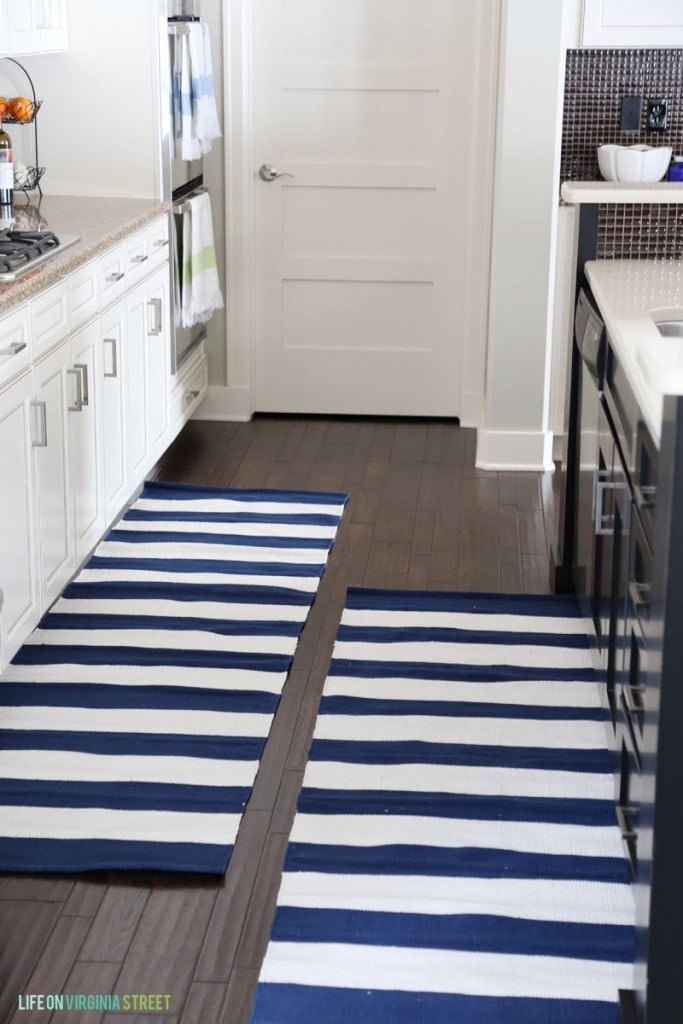 Get the look of the kitchen:

Lastly, in the dining room, I really didn't change much. I simply added these chunky navy striped throws and these wool blue pillows to each of the head chairs. The stripes tie in well with the rugs in the nearby kitchen, and I really loved the dusty blue color and texture of the pillows.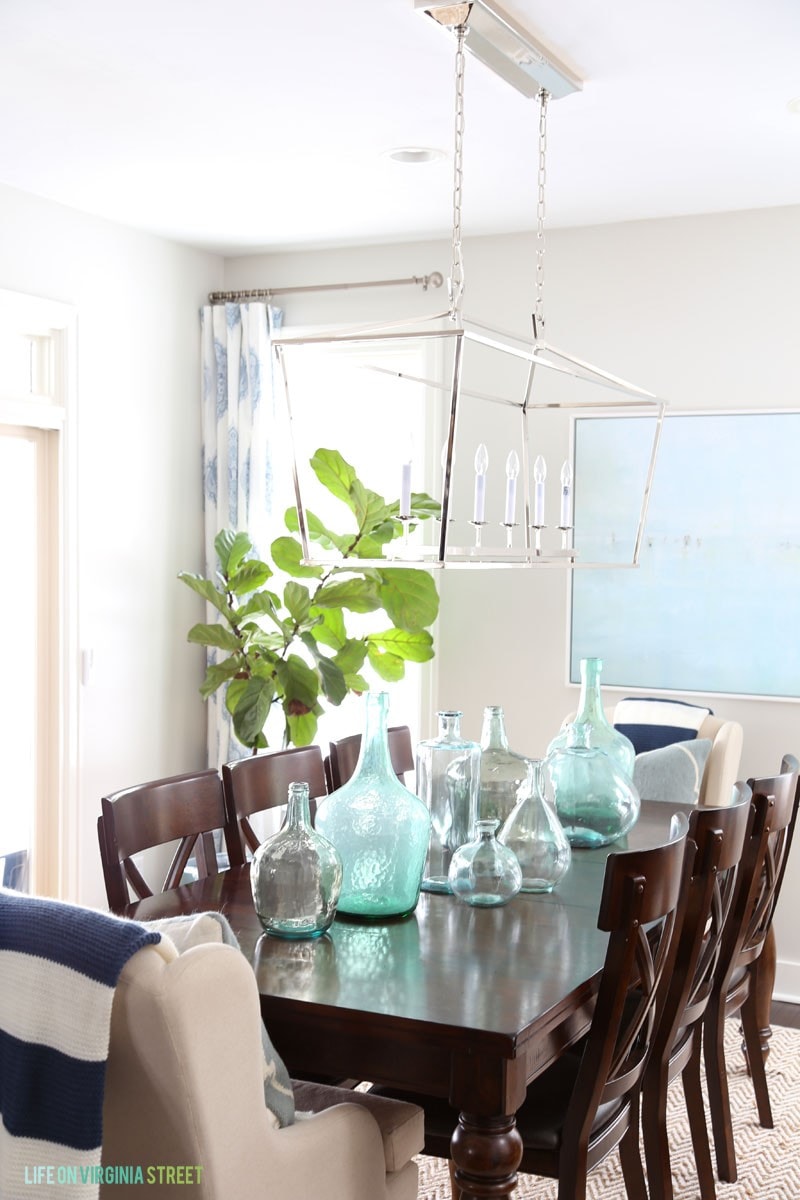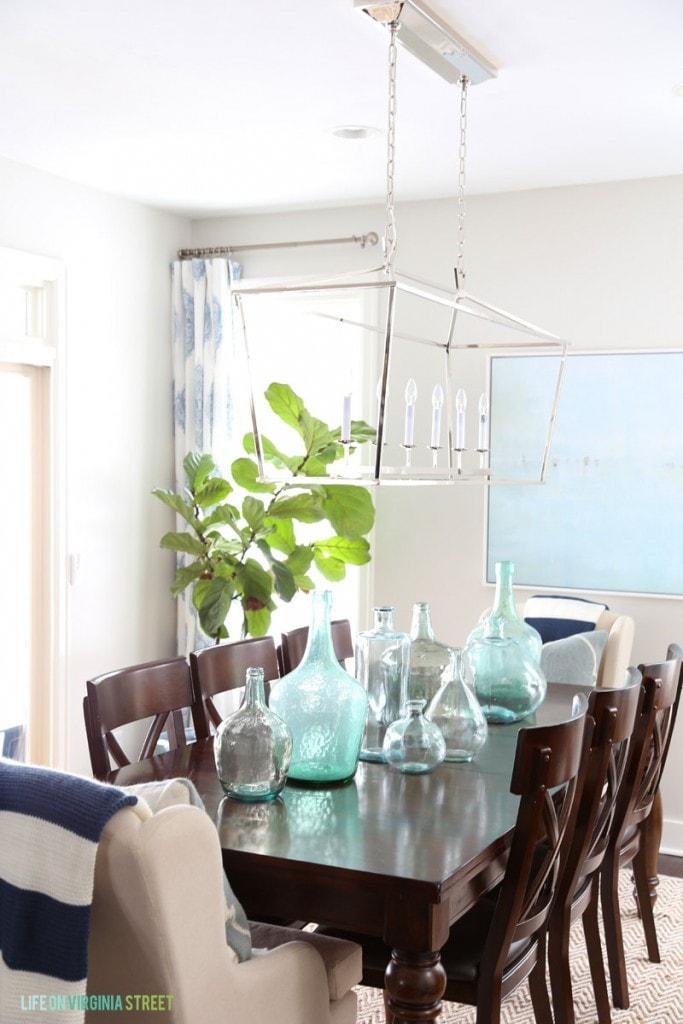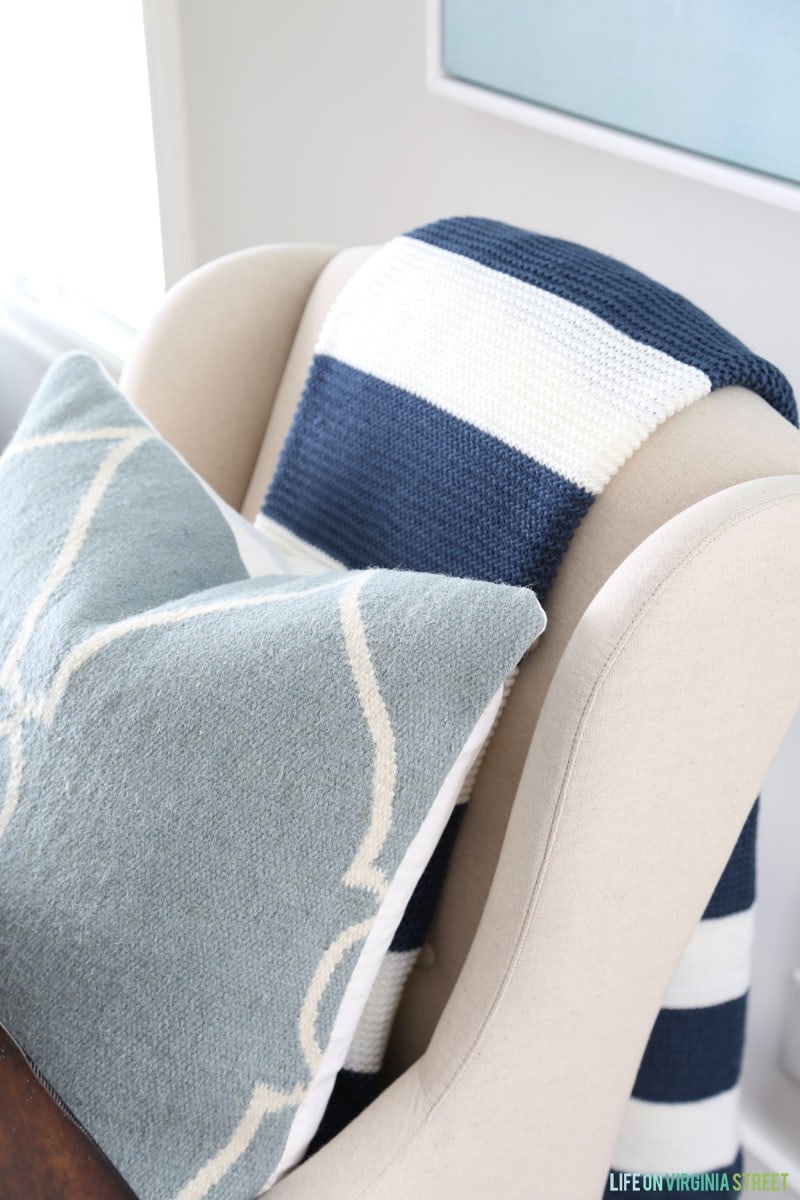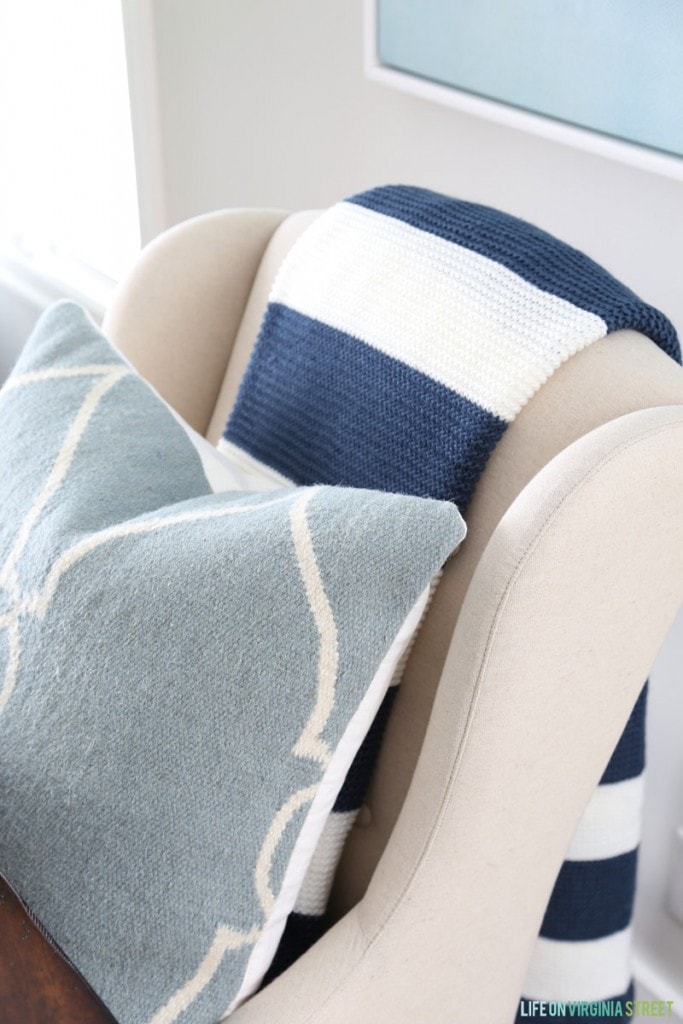 Get the look of the dining room:

So, what about you? Do you change up your decor slightly in the dead of winter?
Now, on to the giveaway! On winner will receive a $100 Kohl's gift card, to be used on anything you wish (although I secretly hope it's on decor)! Here's the details. You must be 18+ years old and a US citizen to enter. I will personally mail the gift card to winner after the contest has entered. To enter, simply use the rafflecopter widget below (you have multiple ways to enter and the option to get bonus entries)! Giveaway ends at midnight Central on 2/8/16. Good luck!
If you would like to follow along on more of my home decor, DIY, lifestyle, travel and other posts, I'd love to have you follow me on any of the following:
Pinterest / Instagram / Facebook / Twitter / Bloglovin' / Google
Thank you to Kohl's for partnering with me on today's post. As always, all opinions are my own. Some affiliate links are used within this post.