Do you ever get so overwhelmed by the idea of decorating a room that you end up doing absolutely nothing? The walls stay that ugly color. The boob light stays on the ceiling and you never actually figure out which window treatment to hang. Believe me, I have been there.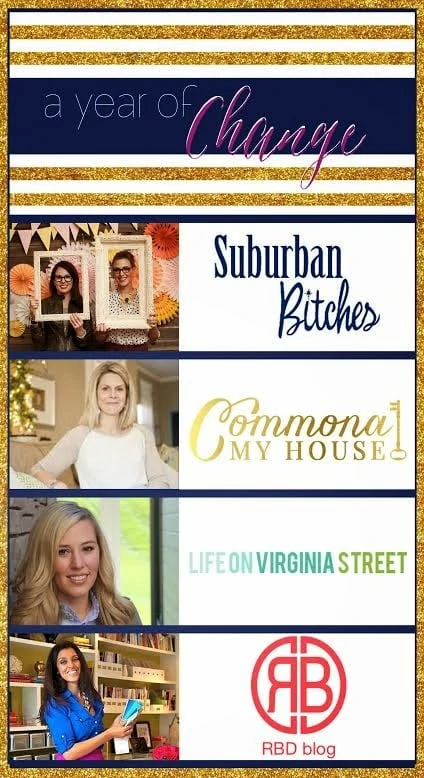 Fast forward to Alt Summit 2014 where the Suburban Bitches and Commona My House were chatting about design inertia and how sometimes, if you just tackle one little project in a room you can get the ball rolling. After a couple glasses of wine that notion began to take root and became the basis for a year long project that could lead to total room transformation – the Year of Change.
I was fortunate enough to be asked to join this project known as A Year of Change by these fabulous bloggers. On the first Friday of each month Commona-My House, Rosa Beltran Design, Suburban Bitches and I will present that month's challenge. Then on the last Friday we'll each show you how we took on that month's challenge and how it looks in our homes. We've designed each project to be easily completed within the month and a to act as a change that will bring noticeable change to our homes. It's all about taking small steps to make your home more your own without getting overwhelmed. Now to introduce you to this month's challenge – stenciling! We're very excited to be teaming up with Cutting Edge Stencils as this month's challenge sponsor.
Stenciling is one of those projects that people avoid because it sounds hard. But, if you can paint a wall you can stencil. Plus, Cutting Edge Stencils has great video tutorials that will walk you through each step. Check back with us on Friday March 28th to see how Amy, Rosa, Erin,Tricia, and I add a little change to our homes with the help of Cutting Edge. It will prove to be an exciting and fun ride! I know this may all come as a shock to you, but I selected the Hacienda stencil. It may or may not look exactly like my beloved Windsor Smith Riad fabric I have used all over our house. I can't wait to get started on this challenge!
Lastly, the winner of the $50 Home Depot Gift Card Giveaway is…. Jennifer Kimball! Please send me an email to lifeonvirginiastreet@gmail.com with your mailing address so I can have your gift card shipped ASAP. Congrats!


And remember, there is still time to enter to win our $300 Pottery Barn gift card giveaway! Also, be sure to check in later today for this week's Fabric Friday offering. Have a great weekend!