Here is a real-life guide to swimsuits all modelled by me!
This post is sponsored by Nordstrom and ShopStyle and contains affiliate links for your shopping convenience. As always, all thoughts and opinions are my own. Click here to read my full disclosure policy.
It's that time of year again! Now that spring has officially arrived, we're quickly approaching bathing suit season. While we were in the Bahamas a few weeks ago, I had multiple DMs on Instagram asking for real life photos of bathing suits (rather than the flatlays I usually share). Unfortunately, I didn't read most of the messages until we got home. So today I'm back with a follow-up (and lots of photos)! I'm sharing a real-life guide to bathing suits, and in particular some swimsuits for curvy women, all from Nordstrom!
Bathing Suit Body
My body is far from perfect in a bathing suit. However, at the end of the day, I want to spend my time having fun and thoroughly enjoying myself and the company around me rather than worrying about how I look. I've also learned over the years (especially now that we have a pool), that I'm wearing a bathing suit regardless, so I may as well slap on a happy smile, some cute big earrings, get a spray tan and have some fun! Today I'm going to share a variety of swimsuit styles from Nordstrom to help you find one that may work for your own body type this summer!
Swimsuit Shopping
So often, I shop for swimsuits online because I tend to get frustrated if I go in person. I'm much more comfortable in the comfort of my own home where I can examine everything from all angles! But, it can be so hard to gauge how bathing suits worn by models will look when it arrives in your own home. I'm hoping that by sharing these "real-life" photos, you can examine how these various gorgeous suits fit (from all angles) and find one that you'll feel confident in on vacation and during the summer months!
Before we jump into the suits, a little background on my body composition for reference. I am 5'8″ and a size 12 on bottom and size medium or large on top in clothes, and have a longer torso than average. With bathing suits, it's usually suggested to size up one size for the best fit. However, most of my size 12 on bottom is in my hips and booty, I usually don't have to size down for swim (since my hips aren't part of the bathing suit equation). I didn't do any altering to the photos other than to lighten them up and get the colors right. It's all real-life around here! Clearly I need to text some of my fashion blogger friends for some posing tips too 😉
Swimsuit Quality
I tend to look for bathing suits that are fairly conservative, yet also don't look "mom-ish". I prefer a more structured material since I find it a bit more forgiving. I actually ordered a lot of budget swimsuits this year and returned every single one because I found most were wildly unflattering. I've gotten to the point I'd rather invest in four or five quality suits a season since I know they'll get a lot of wear. They can then be used for years to come versus some of the trendy cheap finds that likely won't make it even until August! Nordstrom always has a huge selection of bathing suit styles and brands and are one of my go-to's year after year! Not to mention, they have free shipping and free returns, which makes swimsuit shopping from the comfort of your own home so much less stressful!
Let's jump into the suits I tried! I'm showing each suit from the front, side and back so you can get an idea on cuts and overall fit. Although a few of these aren't perfect for me, I feel like they were worth sharing since they may work for some of you!
One of my favorite finds is this strapless laser cut one-piece! It also includes straps that can be worn traditionally or halter style! I was torn between this color and the dark navy but both are such fun options for summer! The laser cut pattern couldn't be cuter and adds a fun twist to an otherwise basic style. I'm wearing a size 12 in the suit and love that it's fully lined. And side note: I feel my face make-up can fall a bit flat when I get tan, so I've been loving this highlighter to add a bit more contrast and bright spots!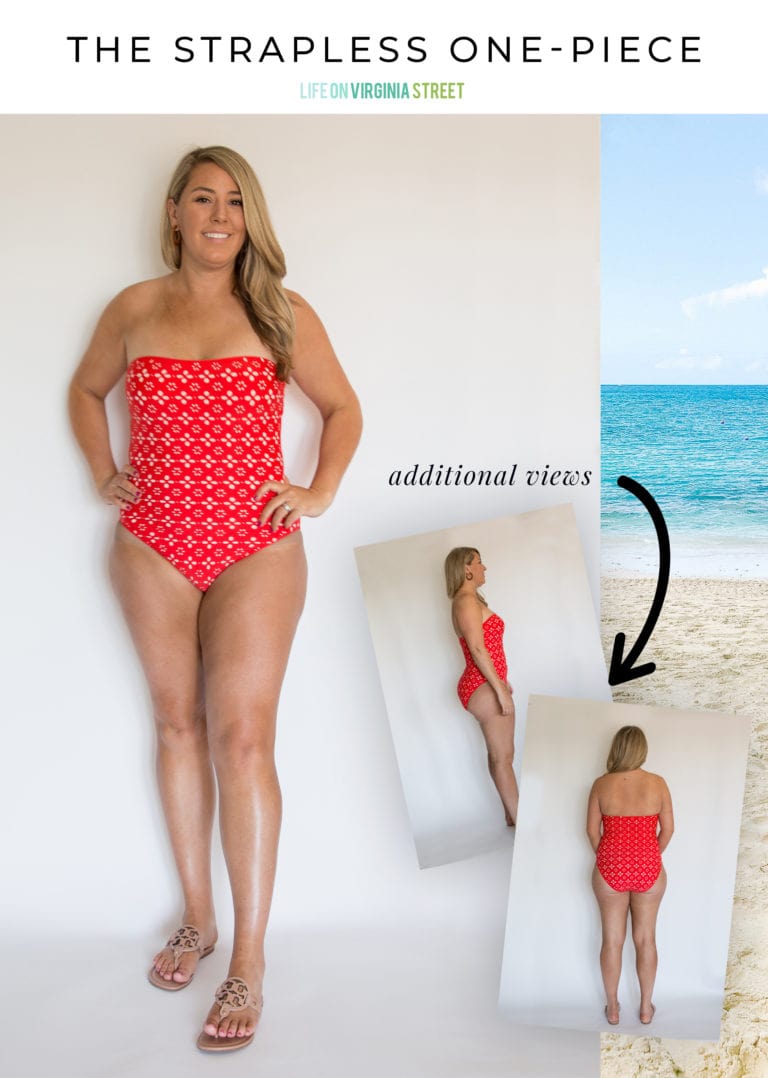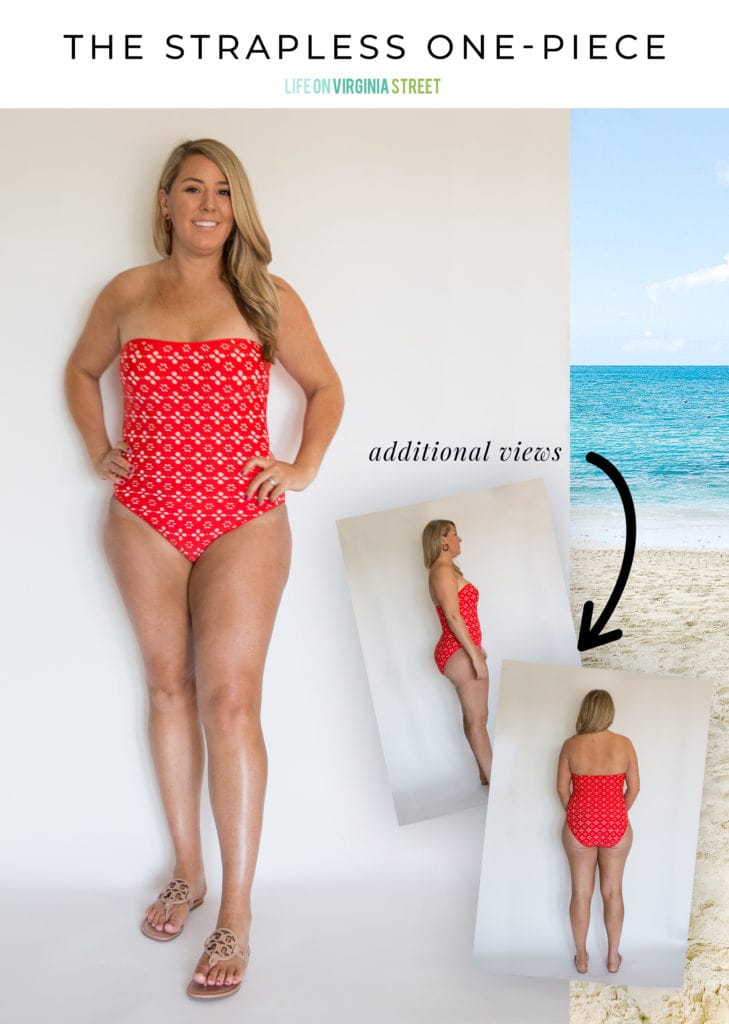 Strapless Laser Cut One-Piece | Leather Flip-Flops (Makeup color) | Wood Hoop Earrings
This darling scalloped one-piece was a favorite but, I think it would be better suited for someone with a slightly shorter torso. I feel like the v fell about an inch lower than it was intended. But the suit couldn't be cuter! I'm shown in a size 12 below.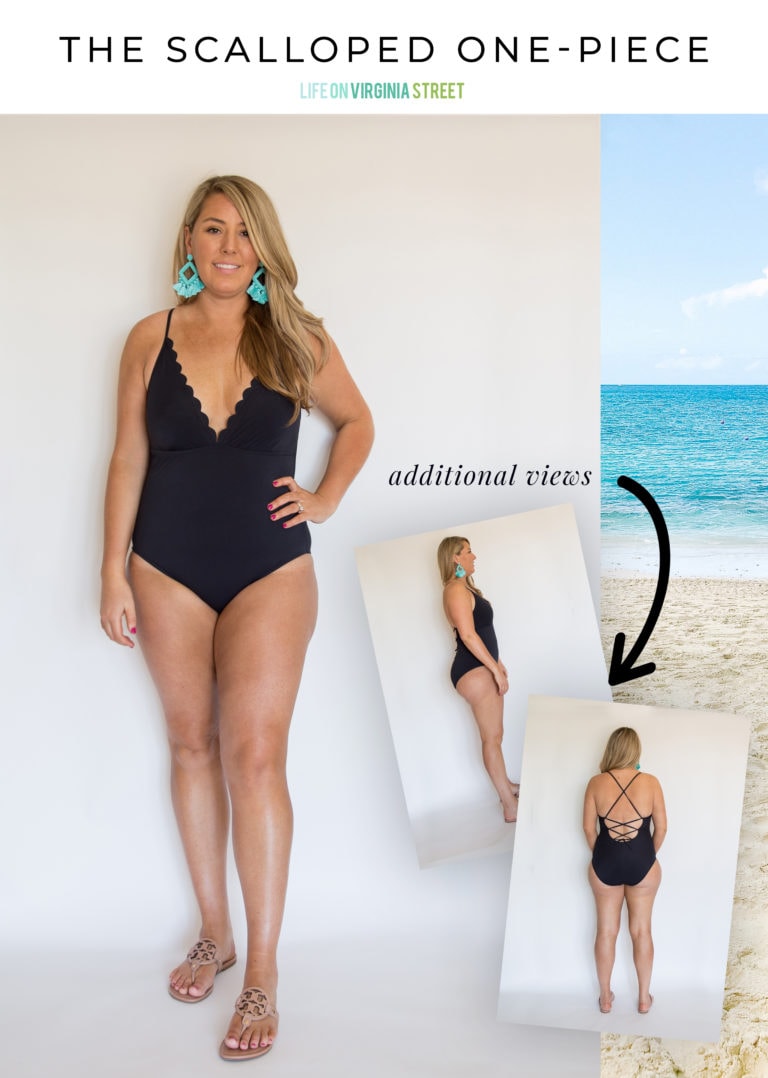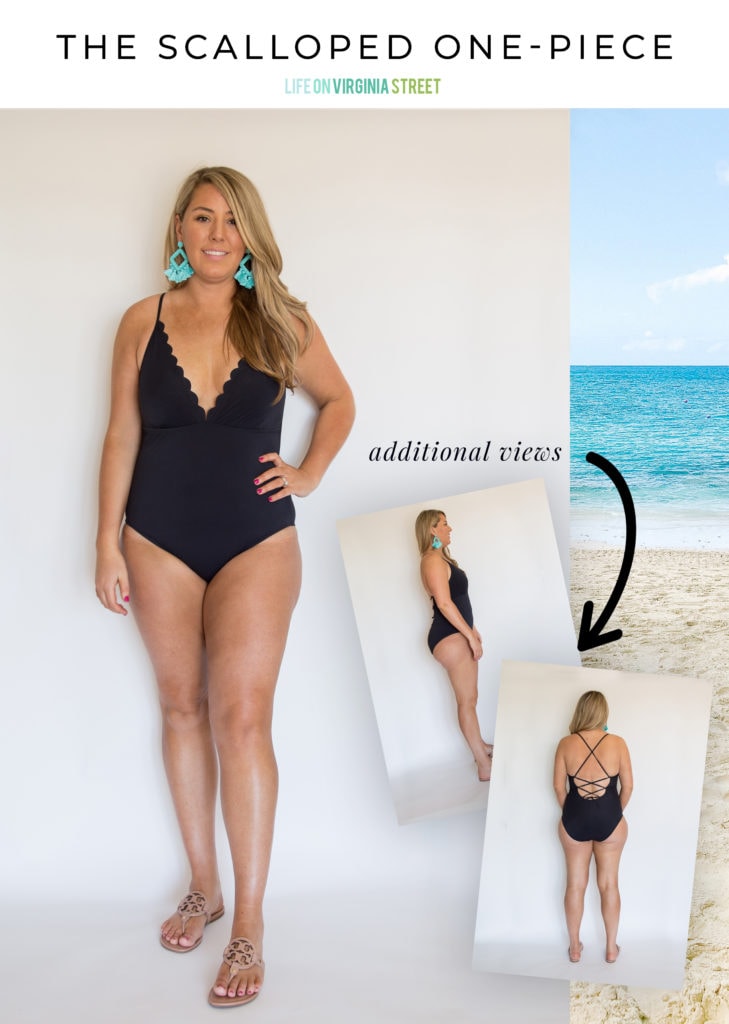 Scalloped One-Piece Swimsuit | Leather Flip-Flops (Makeup color) | Turquoise Earrings
Although they're pricey, I decided to give this Miraclesuit a try to see if they lived up to the hype! I actually really like this one on (but feel like I'm posing weird in all of the images). I liked the unique crisscross front! I followed instructions online and ordered up to a size 14 and it's still pretty snug (but also much more comfortable this way). It definitely doesn't feel like body shapewear with a larger size. However, I do feel like it pushes the fat around the openings (since it's sucking you in everywhere else under the suit). But I do feel like it "shaves off" some pounds and making you overall less wide! The back has the fullest coverage on the booty, as well.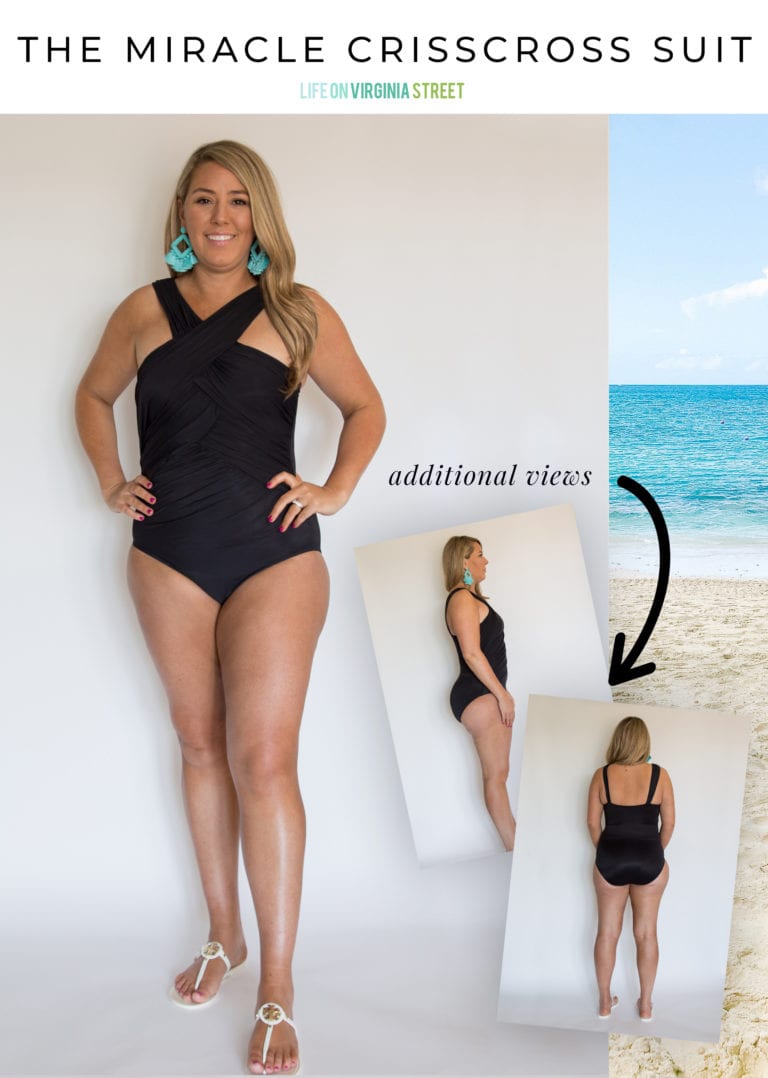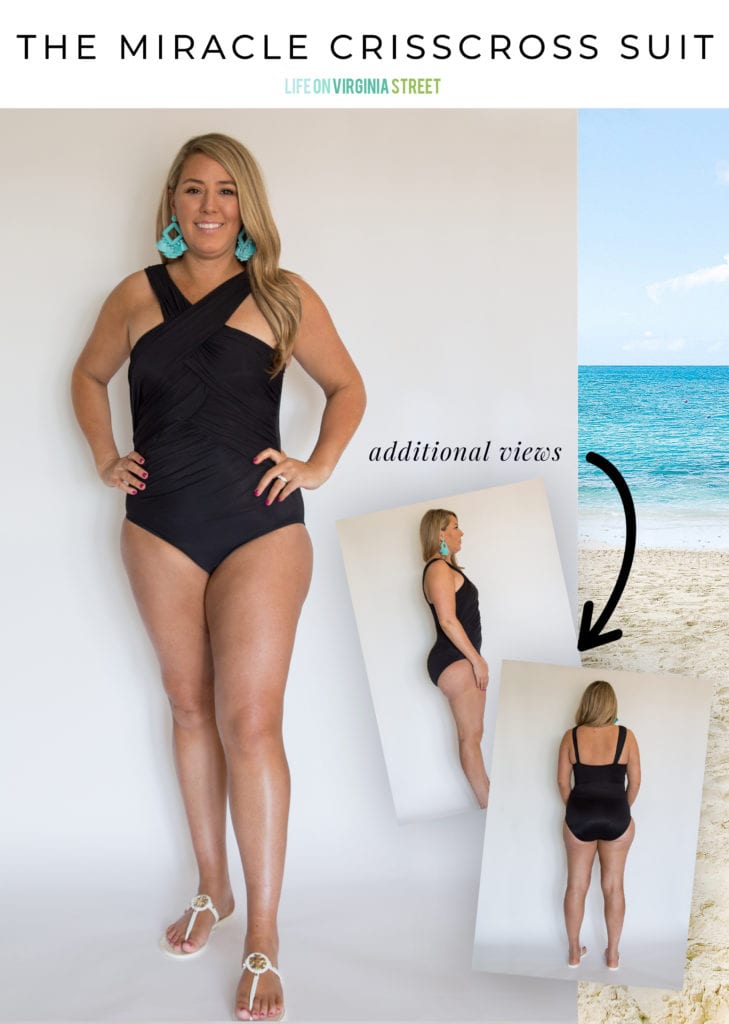 Crisscross Miraclesuit | White Sandals | Turquoise Earrings
This red ruffled one-piece has the highest cut legs and cheekiest fit of the suits I ordered, but it is also one of my favorites! I also ordered it in black in a size 12 (shown after this image). I love that it has hidden adjustable straps so it should work well with nearly any torso! The material is also very structured and hides a lot! I'm wearing a size 14 below.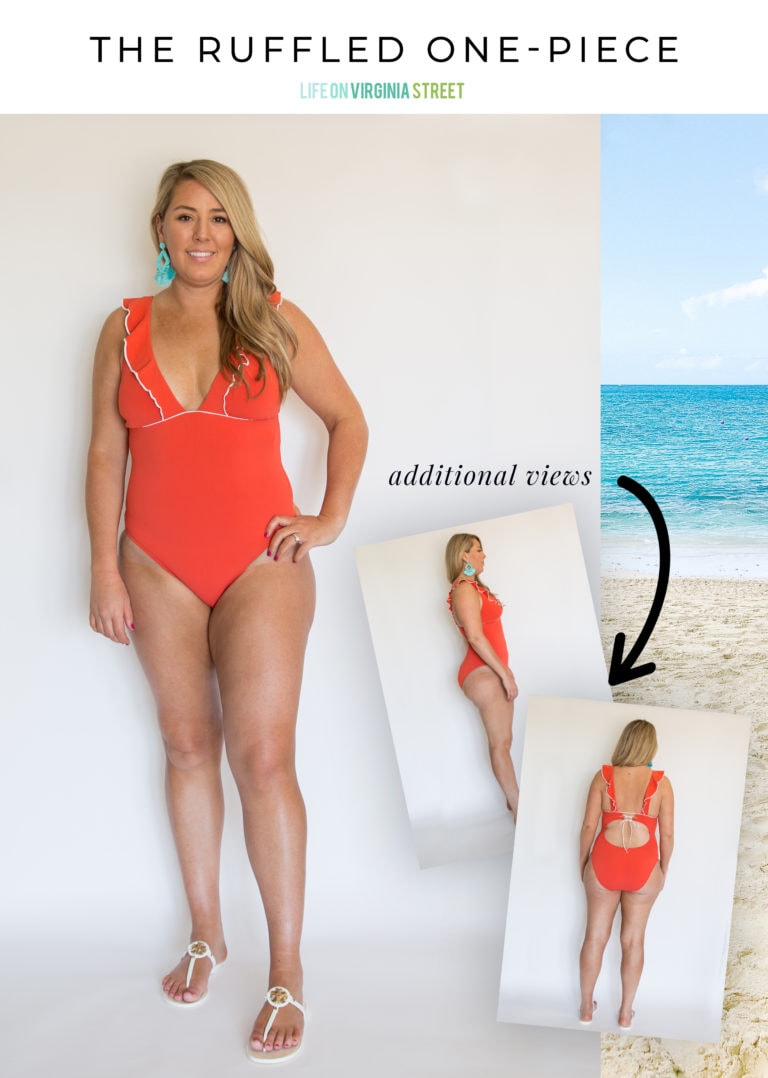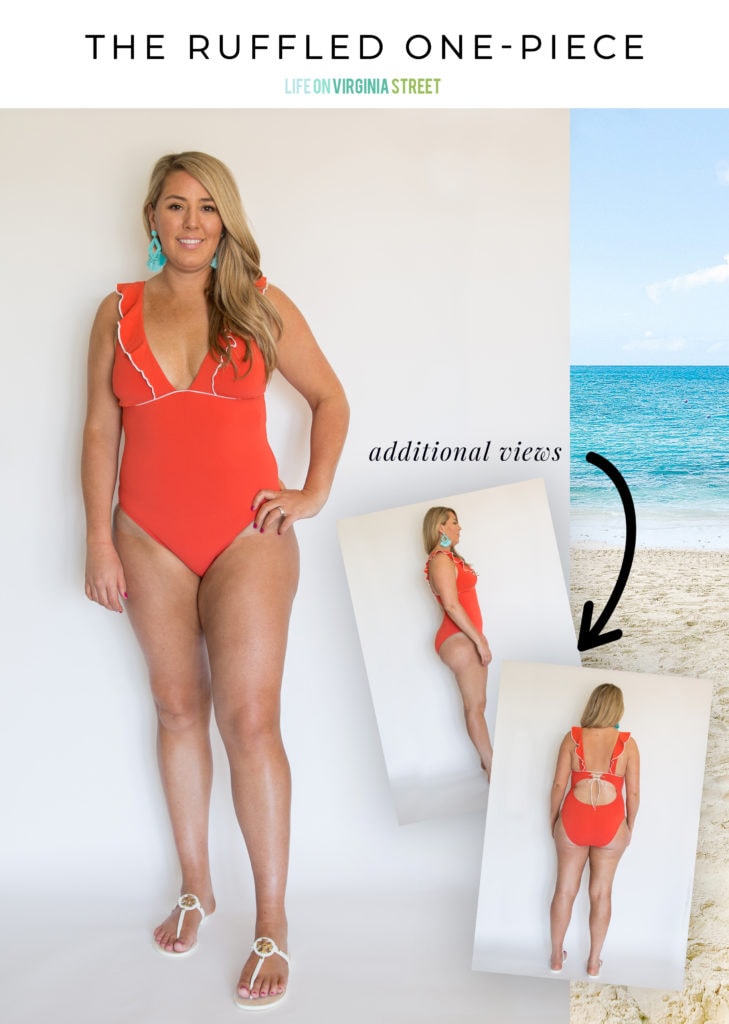 Red Ruffled Bathing Suit | White Sandals | Turquoise Earrings
And here's the same suit in a smaller size in black. They also offer a beautiful ivory option with black piping! Either suit felt like they fit well but comparing the views from the back, the size 12 was a little too cheeky for my liking! You can see this one was also tighter in the chest.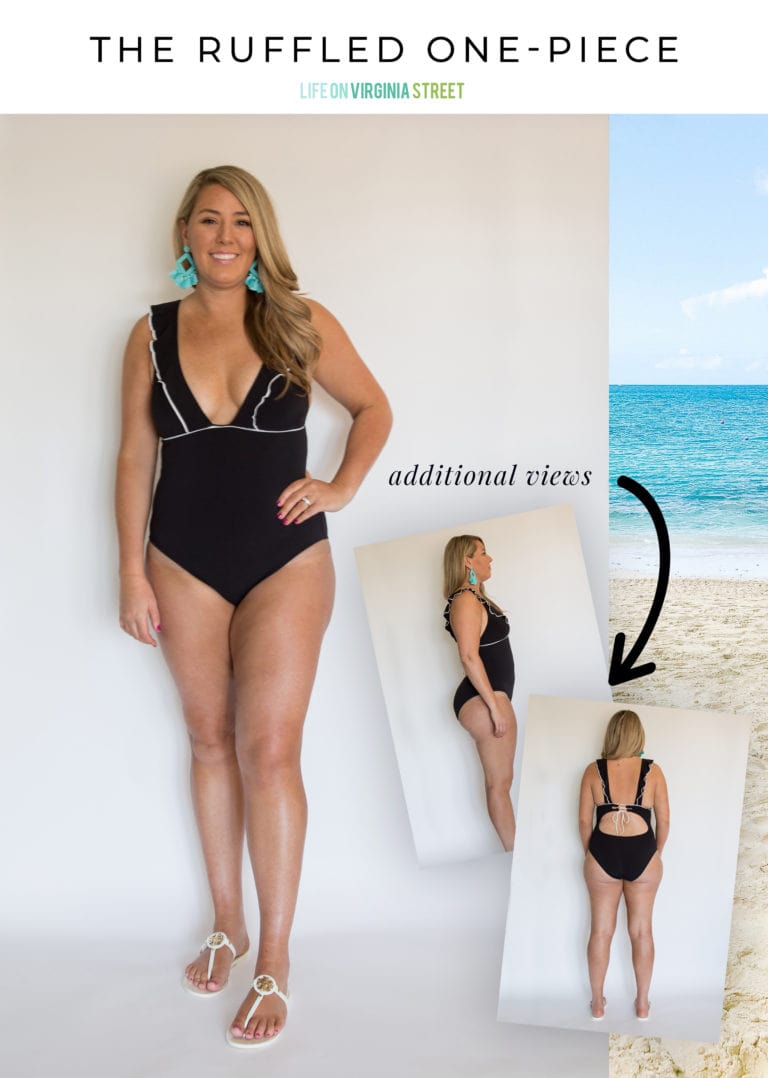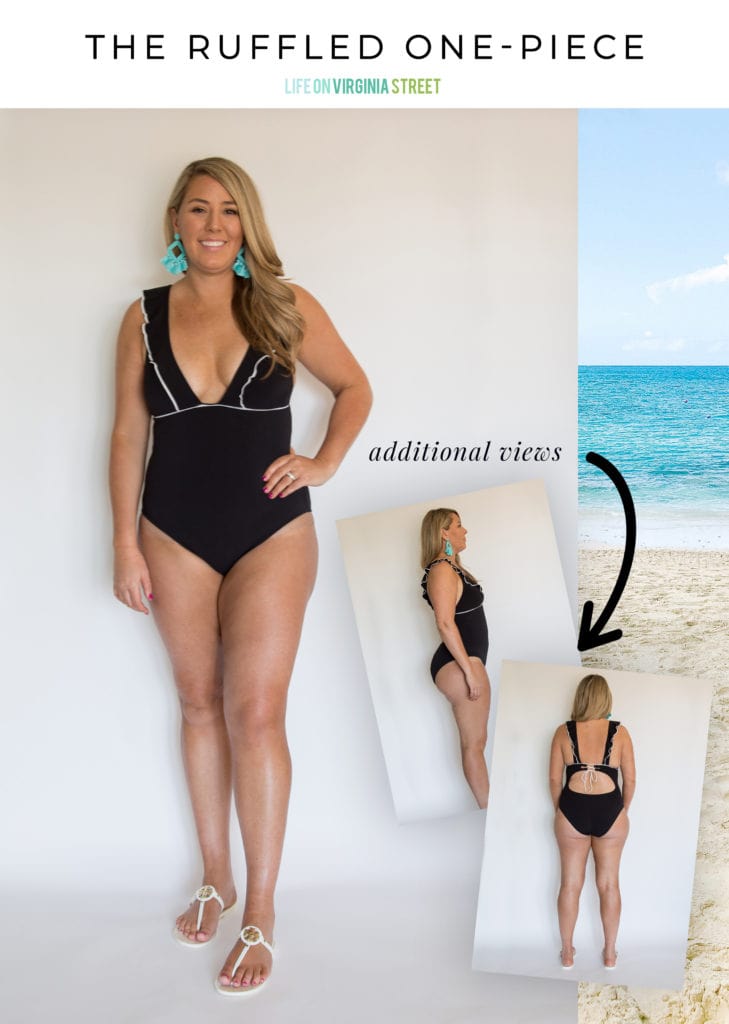 Black Ruffled One-Piece | White Sandals | Turquoise Earrings
If you're on the hunt for a classic sporty feel, this rainbow crossback one-piece is super cute! The material and look are very old-school to me. I loved everything about the suit but wished it had some padding in lieu of a shelf bra, and was a bit heavier material so it were more forgiving. And if you haven't tried these rubber Birkenstocks, you're missing out! I loved my white pair so much last year I bought this coral pair to use this year! I'm wearing size large in the suit.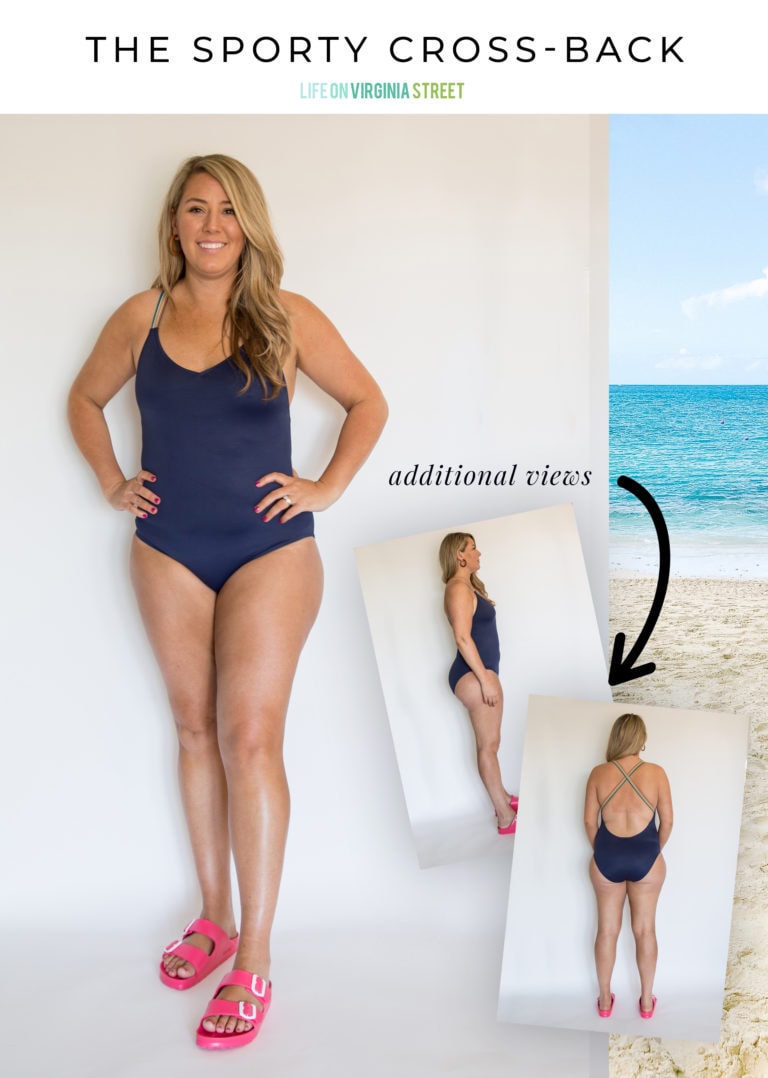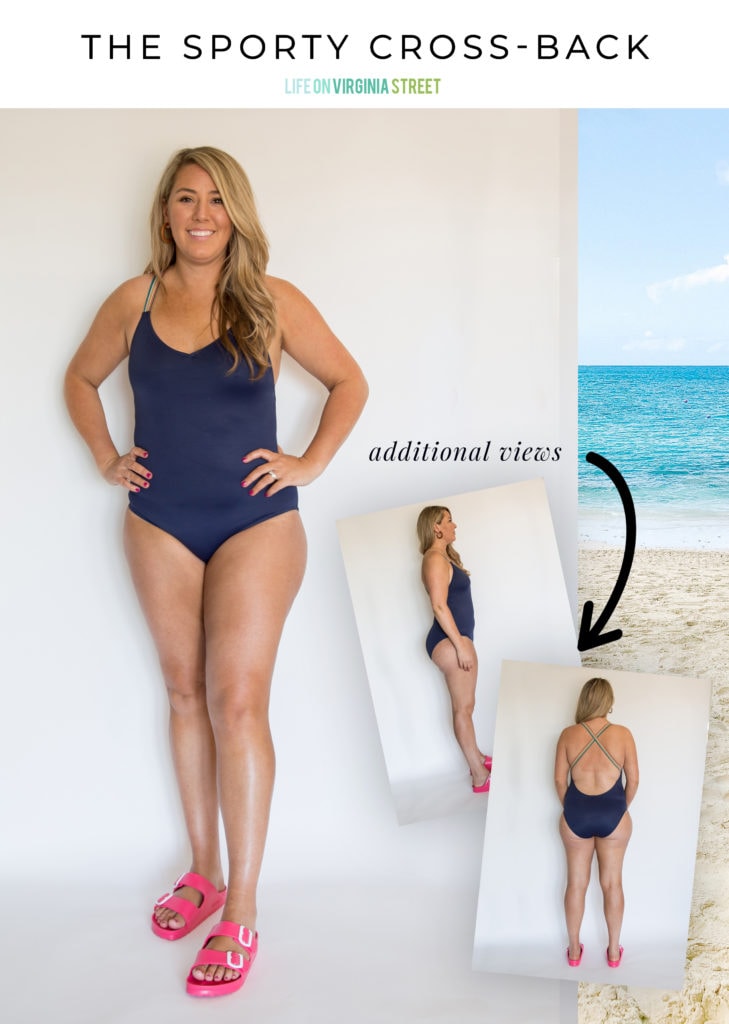 Madewell One-Piece Rainbow Swimsuit | Rubber Birkenstocks (Coral color) | Wood Hoop Earrings
I decided to give the high-waisted bikini trend a try. And I'm still not sure it's for me. But, it's a great option if you have curves and want to rock a cool two-piece. I do love that I don't feel like I ever have to suck in though (it definitely hides a lower belly pooch). And this bikini top is so cute in person! I love the embroidery detail. I'm wearing a size 12 in the bottoms (but should have sized up in this brand) and a large in the top.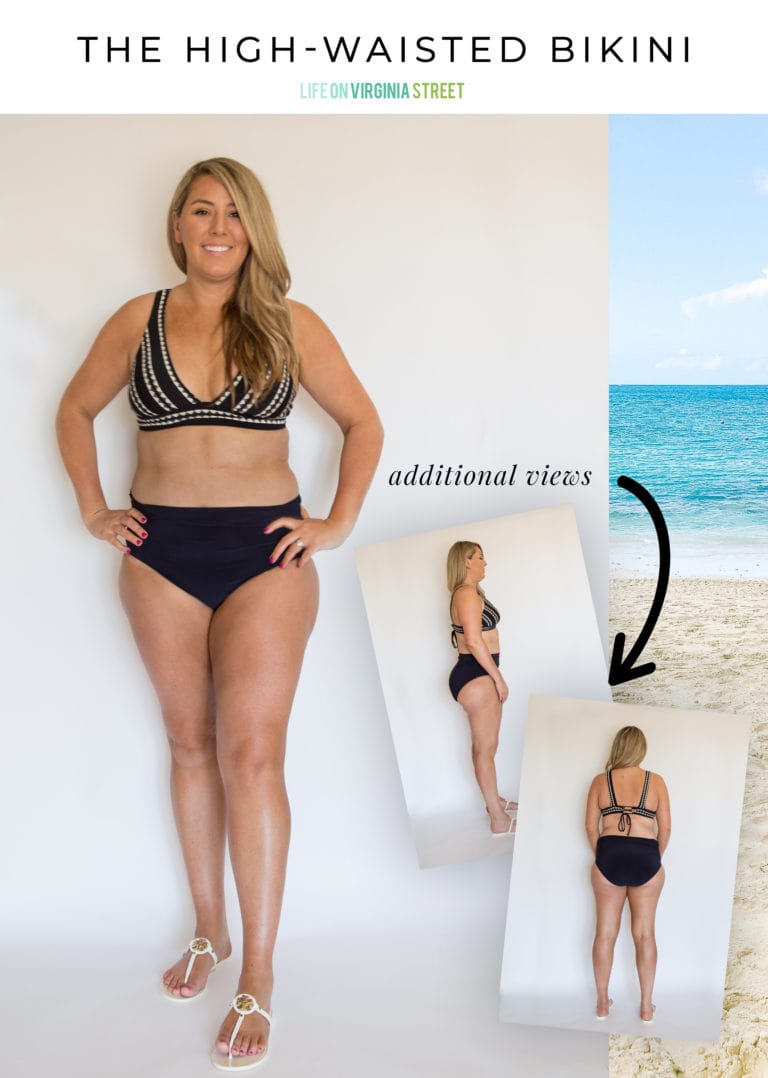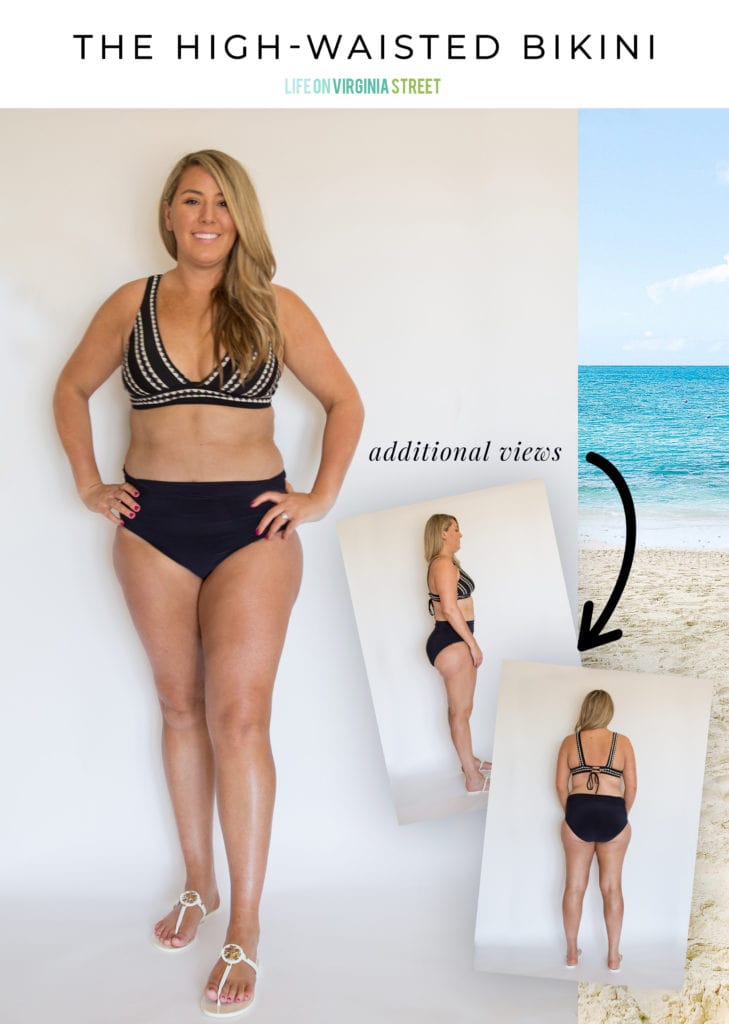 Bikini Top | High-Waisted Bikini Bottoms | White Sandals
I ordered this crocheted one-piece suit simply because it was one of the hottest suits of last summer. Honestly, I expected to hate it on me because it felt a bit scandalous. However, it's actually really cute on and feels a lot less revealing than I expected it to! I'm wearing a size large but because the material doesn't stretch a ton, I should have sized up in this one. You can find very similar options here, here and a tankini version here.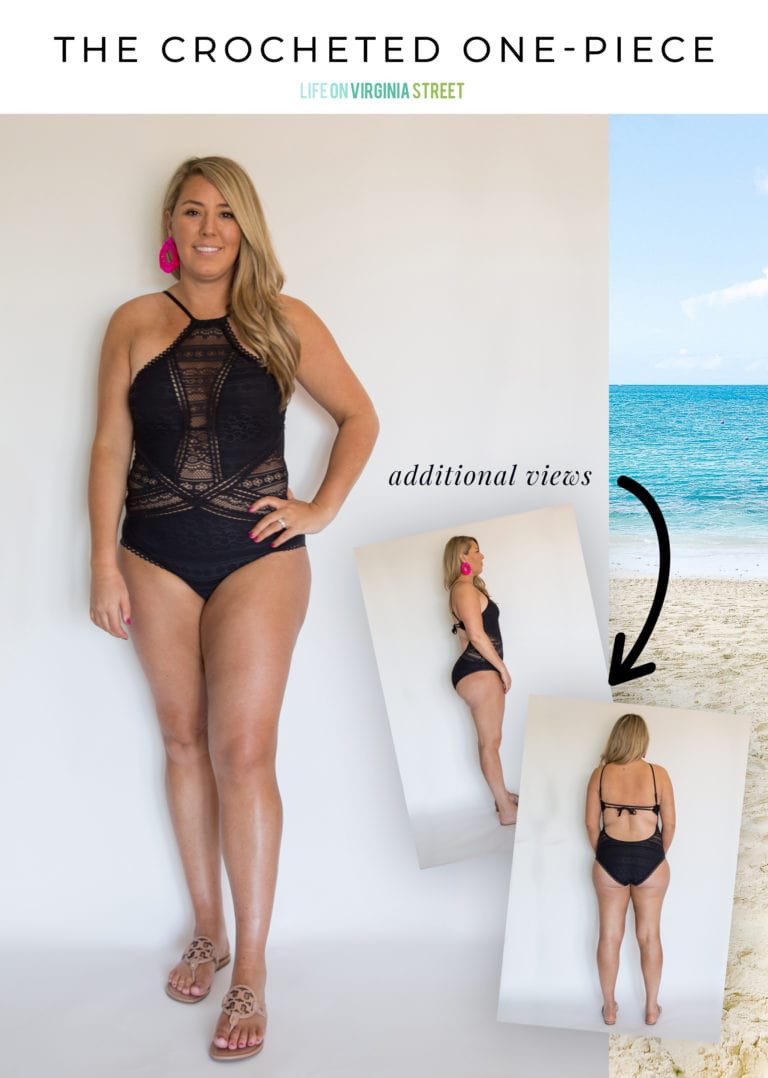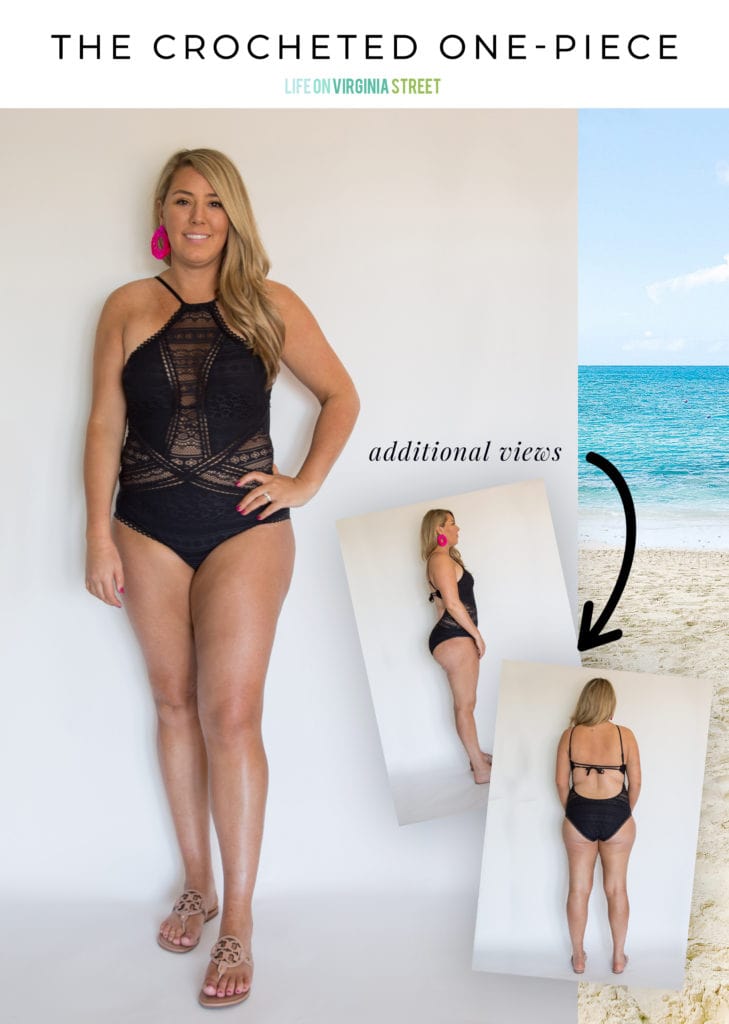 Crocheted One-Piece Suit | Pink Bead Earrings | Leather Flip-Flops (Makeup color)
I'm a huge tankini fan (likely because my longer torso works better with them). This reversible striped tankini is one of my favorite finds ever! The colors are so flattering, the fit is super comfy and it's basically two suits in one since it reverses to a solid! Unfortunately the matching bottoms didn't arrive in time for the photos, but these reversible bottoms actually look so cute with it! I also bought the matching bikini top and love both for pool days in the summer. The bikini set is a bit skimpier but such a cute set! I'm wearing a large on top here and the extra-large in the bottoms.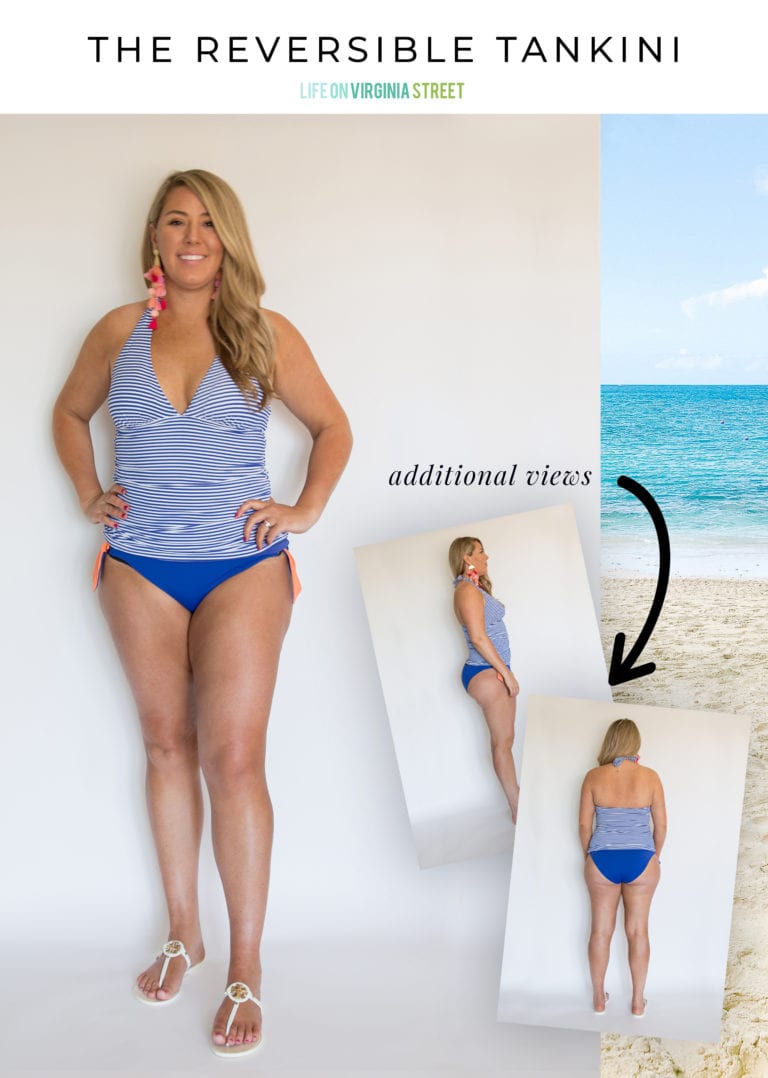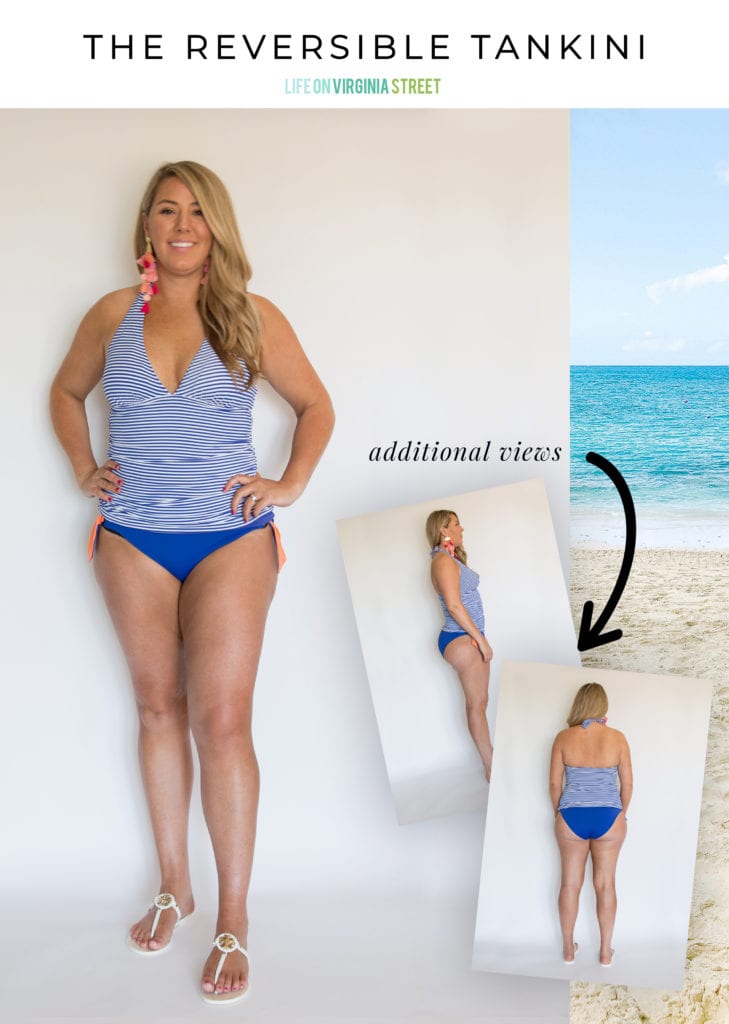 Tankini Top | Bikini Bottoms | White Sandals | Pom & Tassel Earrings
I have several more suits I ordered that didn't quite make it in time for this post, so I'll let you know if there are any other winners! Following are a few other stunning options I love!

I hope you found this guide helpful and can find a swimsuit you think will work well for your own body! Now, let's bring on the sun and warm weather!
If you would like to follow along on more of my home decor, DIY, lifestyle, travel and other posts, I'd love to have you follow me on any of the following:
Pinterest | Instagram | Facebook | Twitter 
disclosure: some affiliate links used