Thank you to Del Mar Fans & Lighting for sponsoring this post and providing the great giveaway for my readers!
If you follow me on Instagram Stories, you saw a few weeks ago some of the prep work as we did a mini porch makeover. Today I'm going to share the result of the work we did!
So, here's the thing. I've hated the front porch lights that came with our house since we moved in. Cobwebs aside, the existing lights just didn't feel right for the style of our house and the glass was an amber color, which cast a creepy orange glow on the entire porch at night.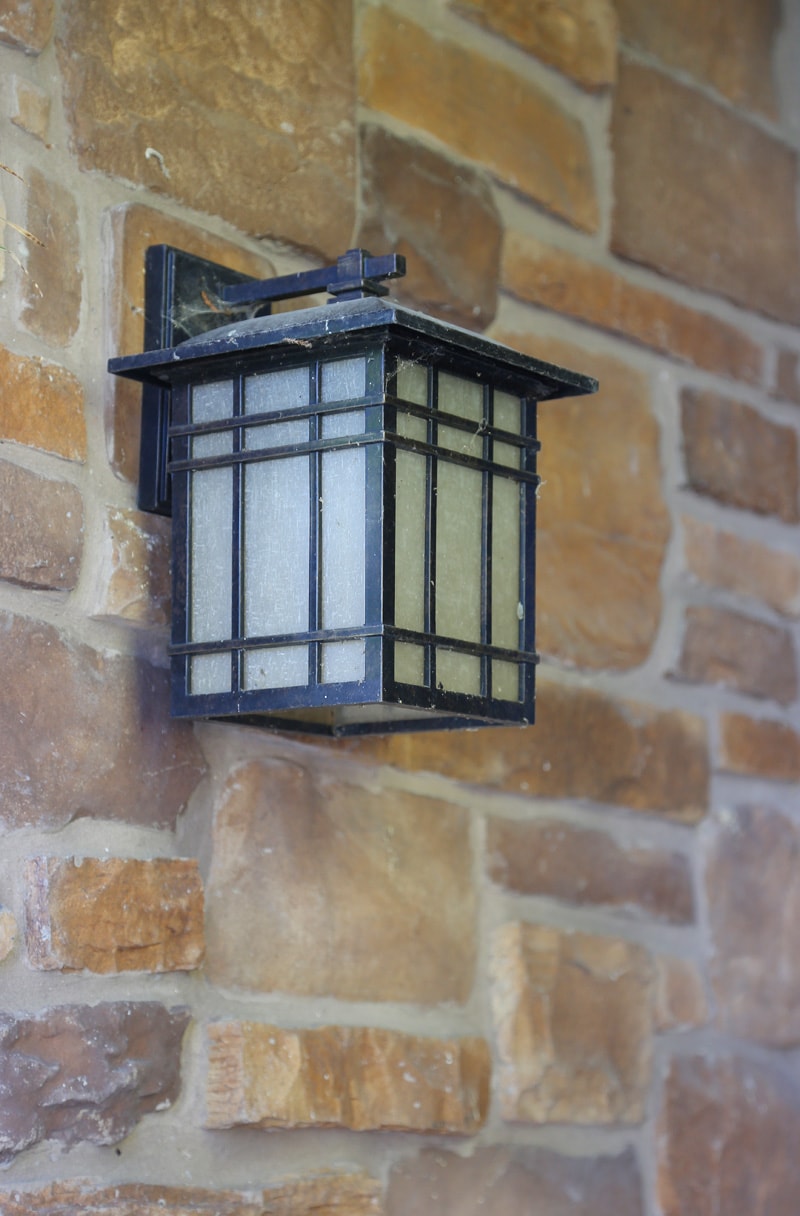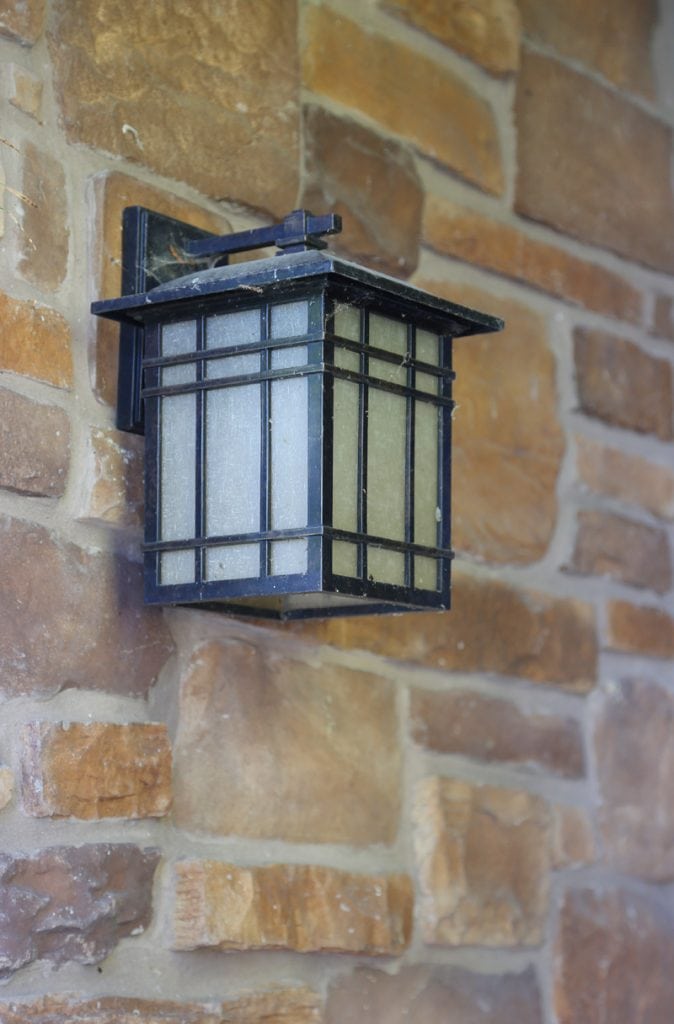 We actually bought some replacement light fixtures to match those by our garage doors a few years back, but we had one small problem. With the stacked stone on the face of our house, our options were super limited (partly because I like big light fixtures). The wall plates on most fixtures was too large to accommodate the stone.
When Del Mar Fans reached out to me to see if I wanted to try some of their outdoor lights and offer a giveaway, I couldn't resist! The ugly lights needed to go. Honestly, they had so many outdoor lights for me to pick from that I had a really hard time deciding. I ultimately ended up selecting the large Minka Lavery Irvington Manor Sconce. It actually comes in three sizes, which I love, and I selected the largest version. I like big lights and I cannot lie. The original light really wasn't all that small in comparison to some, but check out this new bad boy.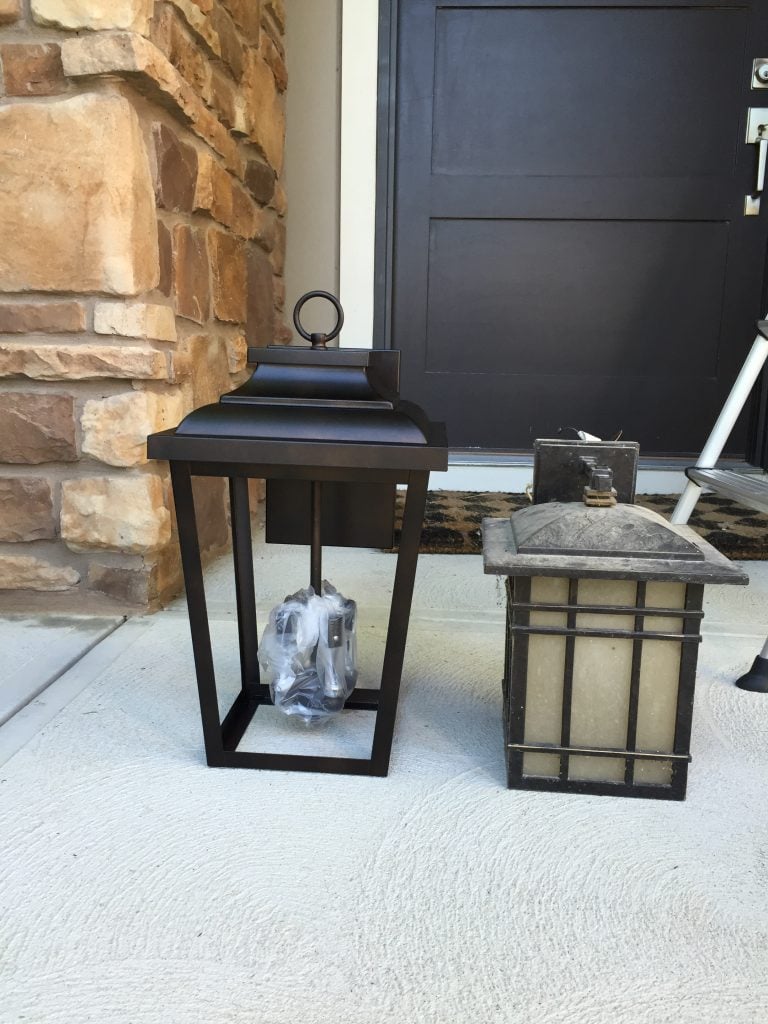 The reason I could go big is because Kurtis bought an angle grinder to work on our retaining wall this past summer. It allowed us to grind out the stone that was jutting out on the left side of our porch. #gamechanger. If you look closely below, you can see the area we ground out of the stone veneer. It went super quick (even though it was really messy and dusty). We're kind of kicking ourselves for not trying this sooner.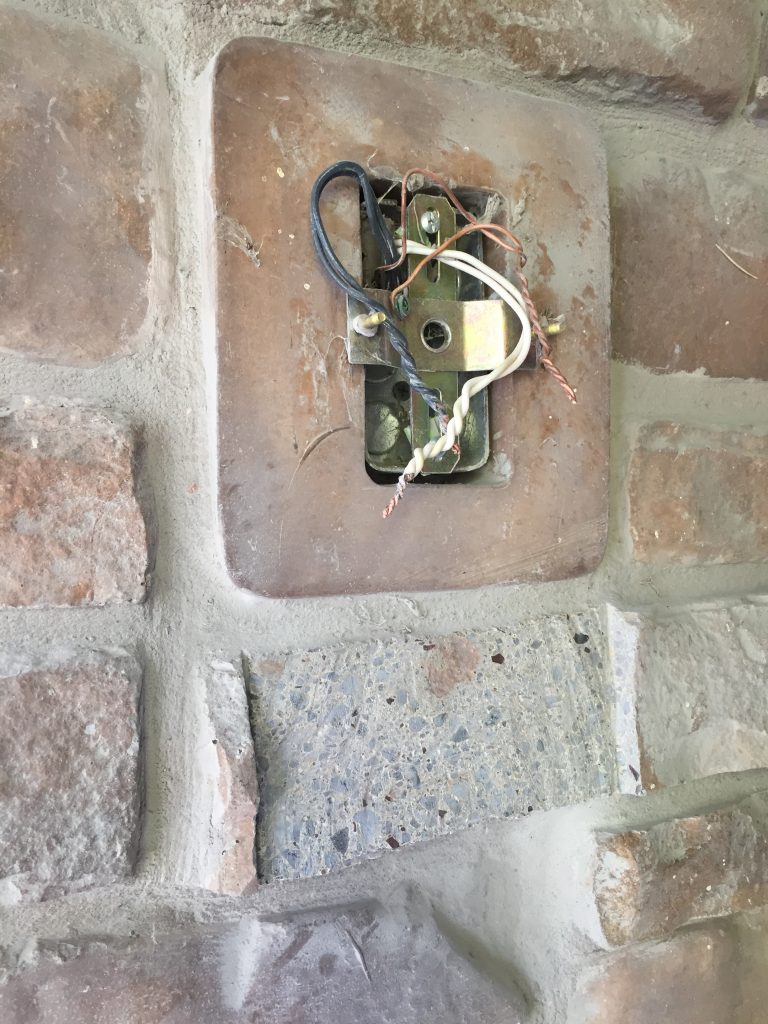 And here is one of the new lights installed. So beautiful! I love seeded glass light fixtures for outdoor use because they hide dirt so much better when used outdoors. You don't see every speck of dust and water drops.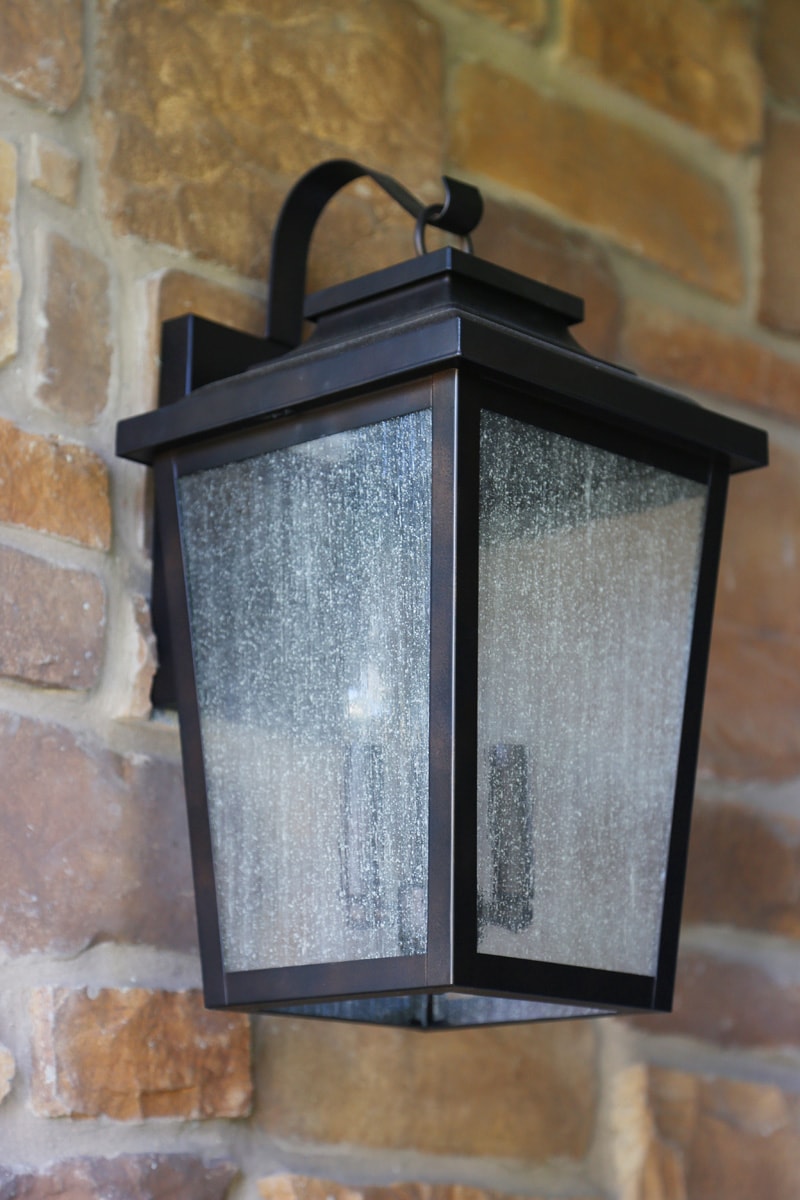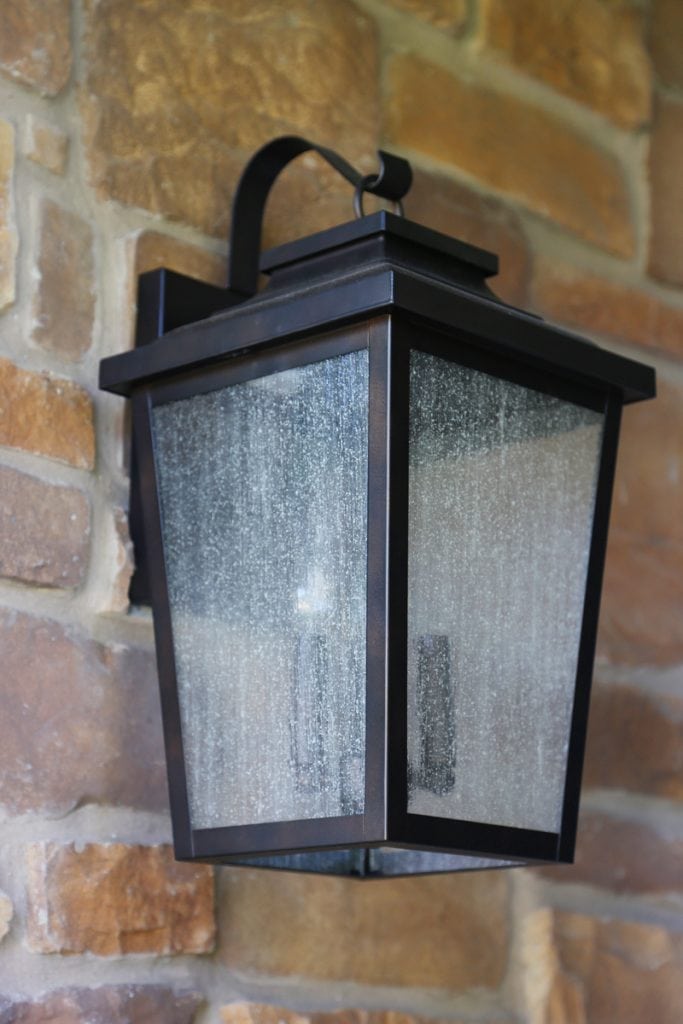 And here's the difference with one of each! Wow, right? Our front porch has a really high ceiling and the door is 8′ tall so the scale of the new light fixture just seems so much more appropriate!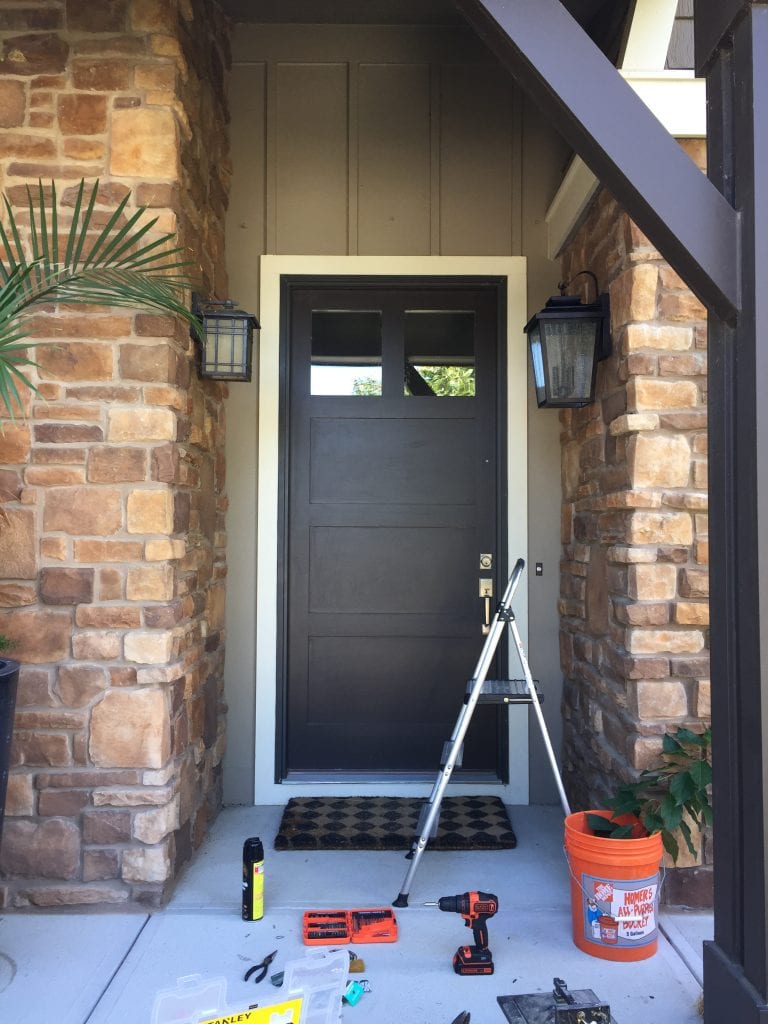 I also ended up cleaning a lot of spider webs, dead leaves, washing the glass on the door and the door itself, etc. It may not be super noticeable in pictures, but everything just felt so much more fresh and the light fixture update made such a difference!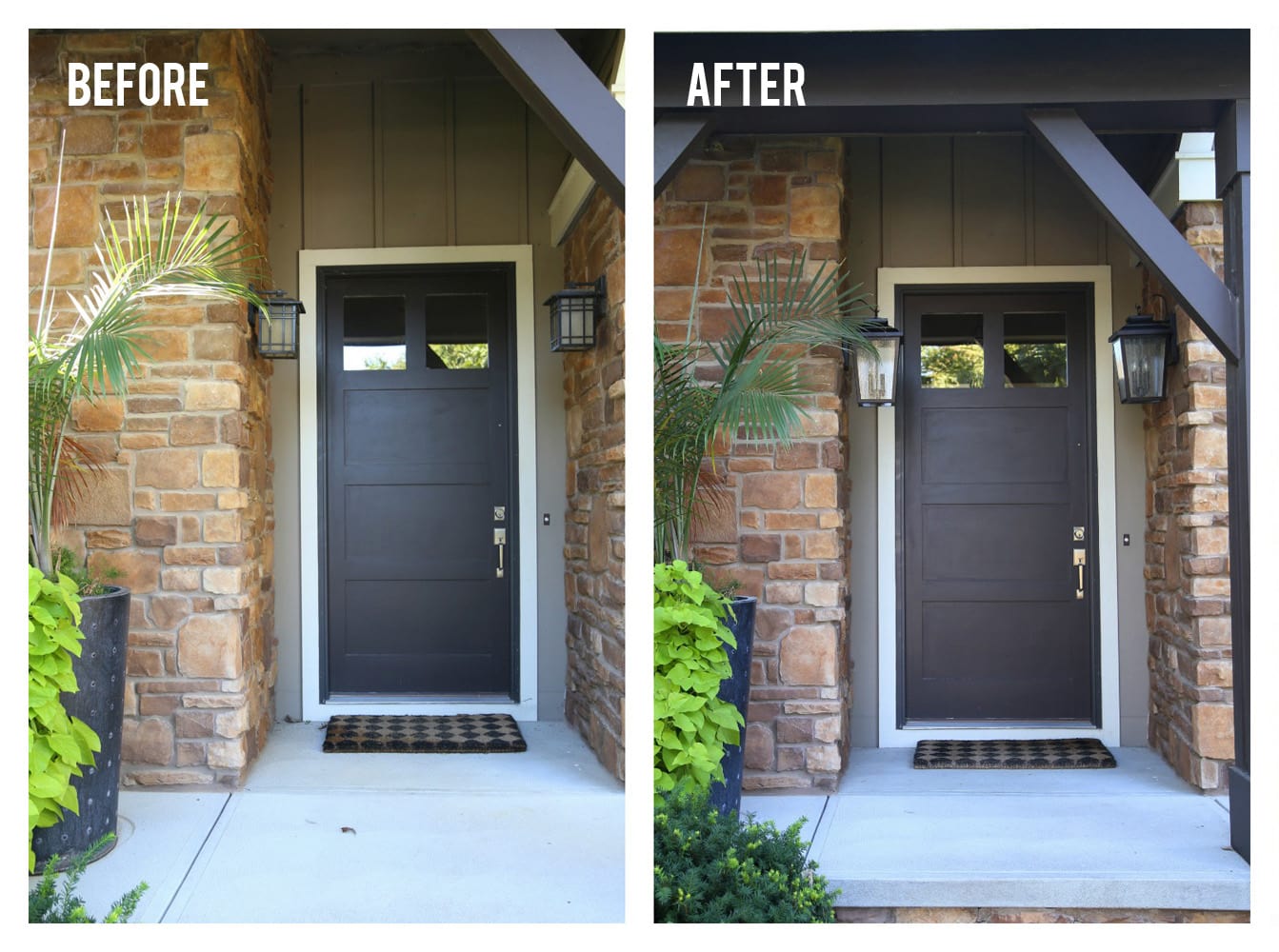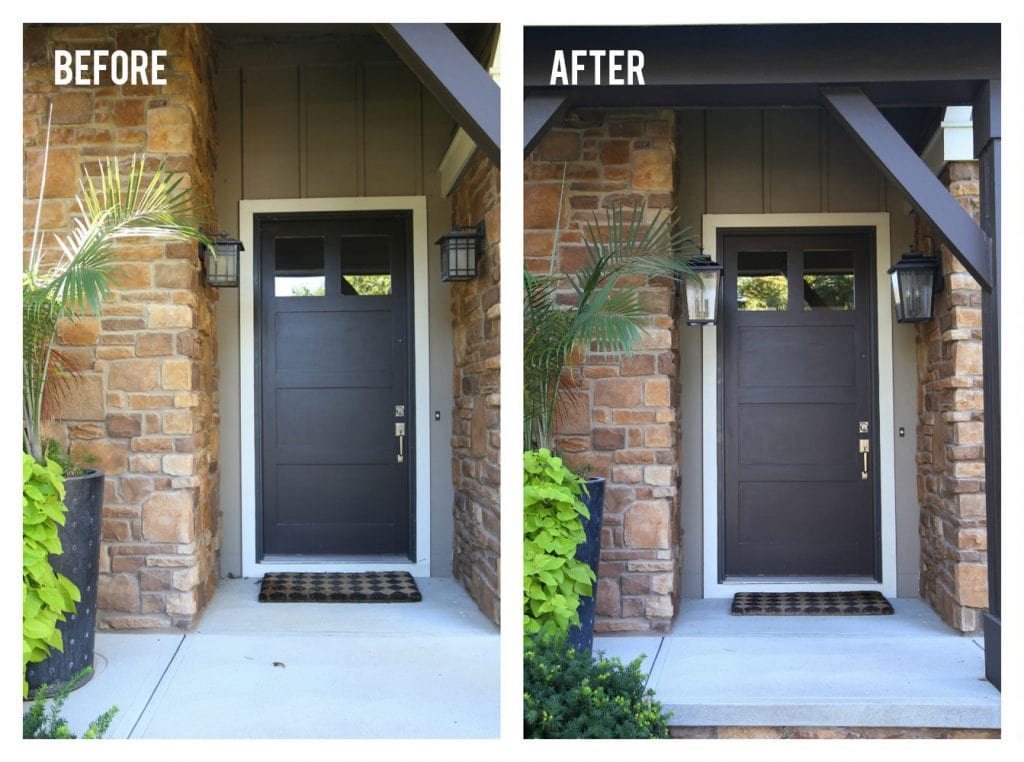 Such an improvement right? And if I were a better photographer at night, I'd be able to show you just how much better the difference is! Instead, you'll have to admire the street view of our lights during daytime hours.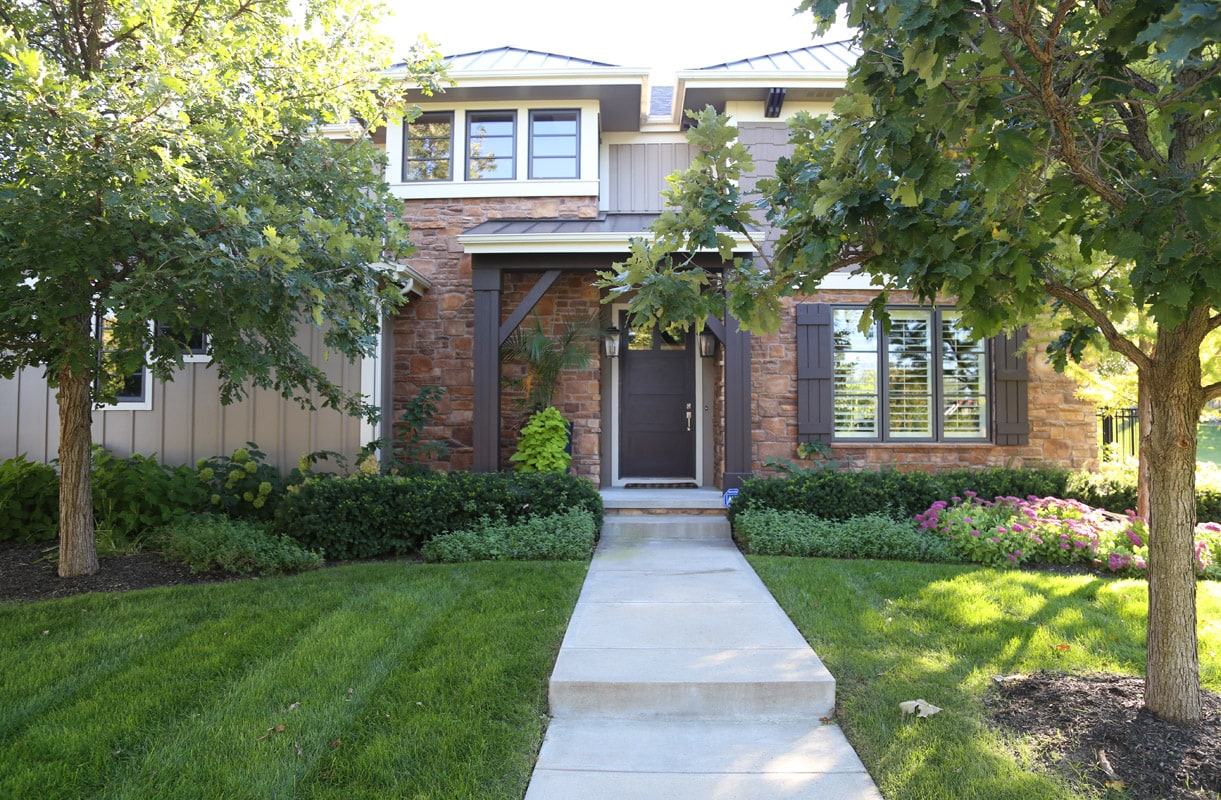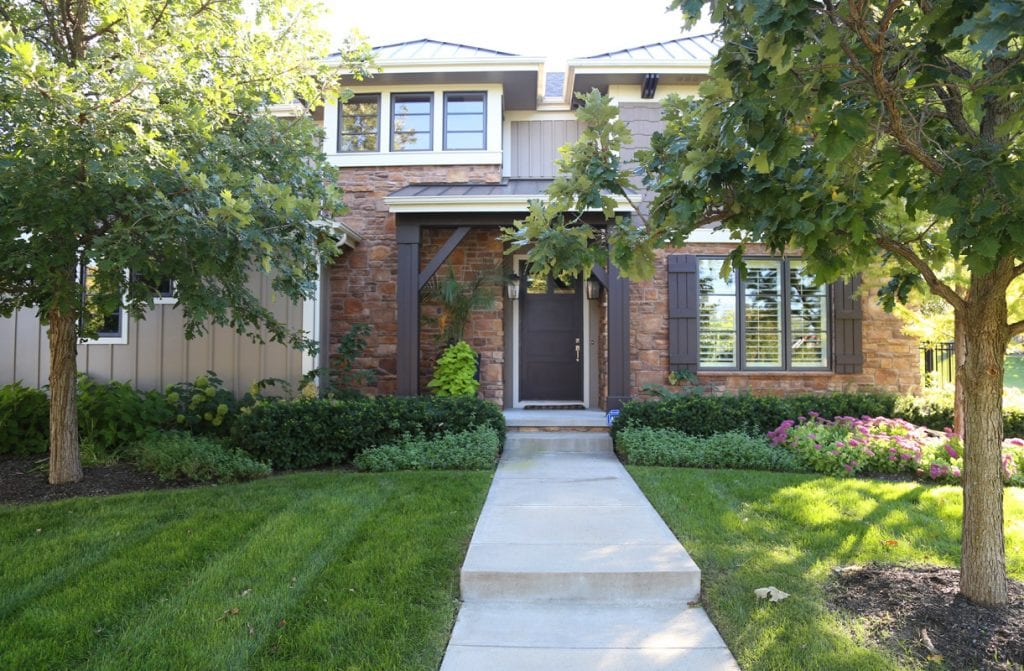 Earlier this week, it was finally dark enough when I got home that I could truly appreciate the pretty new glow from these lights! No more super warm orange light. I can't believe we waited this long to make a change, but I'm so happy with the result of our porch refresh! Now that I have the bug, I may be searching for a few more updates for our porch area over the coming weeks. I'd love to find a larger door mat and possible new hardware for the door.  The door also really needs a fresh coat of paint, but I'll likely wait on that until we paint the exterior of our home (next year?).
UPDATED: I apologize, but the giveaway is being postponed until Friday, October 21st, as Del Mar Fans was impacted by Hurricane Matthew. I will let you all know once the giveaway is live on their Facebook page. Thank you for your understanding.
Now for the giveaway for you! Del Mar Fans is giving away one of these same sconces to one of my readers on their Facebook page! All rules, as well as the announcement of the winner, will occur on their FB page, so be sure to follow along. Thank you to Del Mar Fans for sponsoring this post and providing the giveaway!
If you would like to follow along on more of my home decor, DIY, lifestyle, travel and other posts, I'd love to have you follow me on any of the following:
Pinterest / Instagram / Facebook / Twitter / Bloglovin' / Google