It's been a long time since I gave an official pool update (you can read the last one here), but we're getting a lot closer to finalizing everything and I wanted to share some updates (since we may be breaking ground really soon)! The funny thing is, I keep calling it the "pool project", when in reality, the pool is the easy part. It's the landscaping decisions that are requiring the most time and focus!
Okay, so below is the closest we have to finalized plans. I think I've showed you this one before but I've turned it so the orientation makes more sense for the photos below. After our meeting on Saturday, and after a wall specialist coming on site, we think we actually need to go with two rows of retaining walls to hold the hill. This isn't shown in the plans below so you'll have to use your imagination.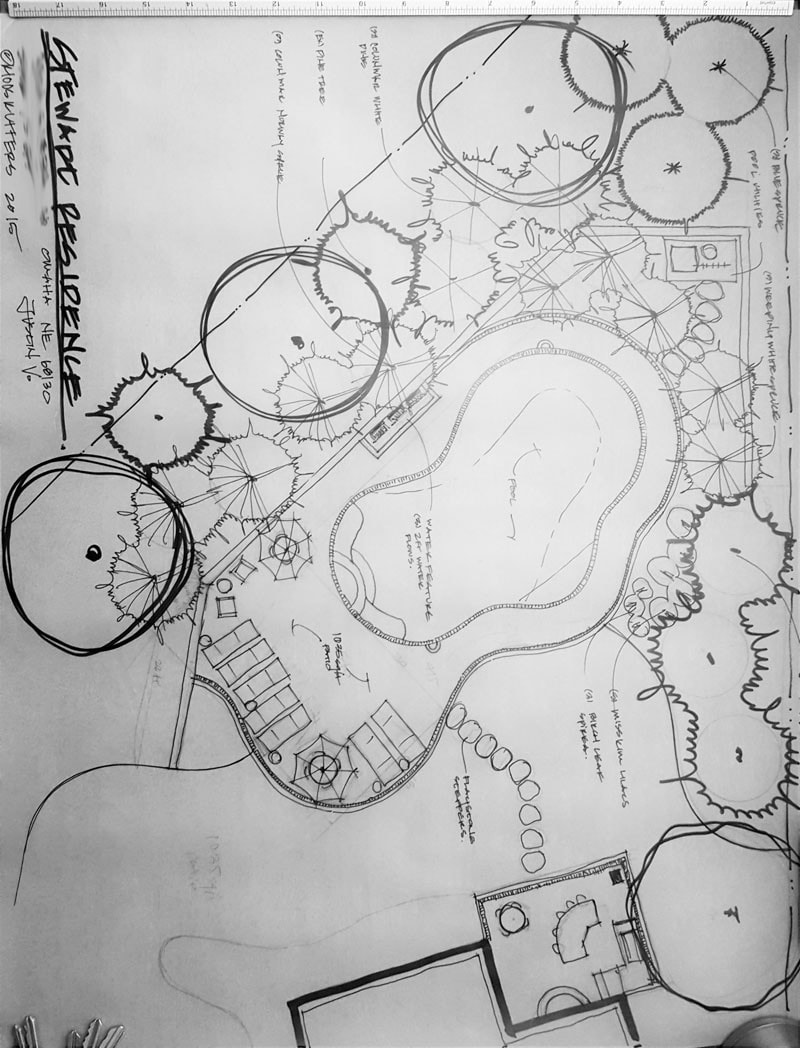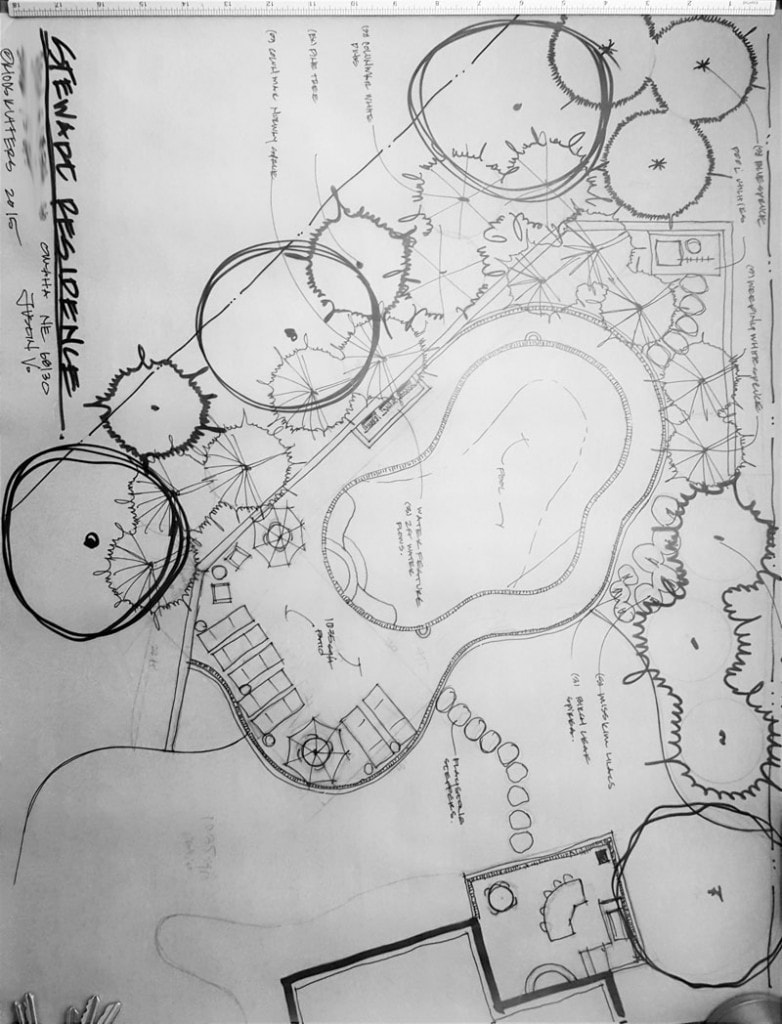 So, here is the new plans with the second wall idea, handrawn by me on my computer. Green = retaining wall placement. Red text = labels for orientation. Super fancy.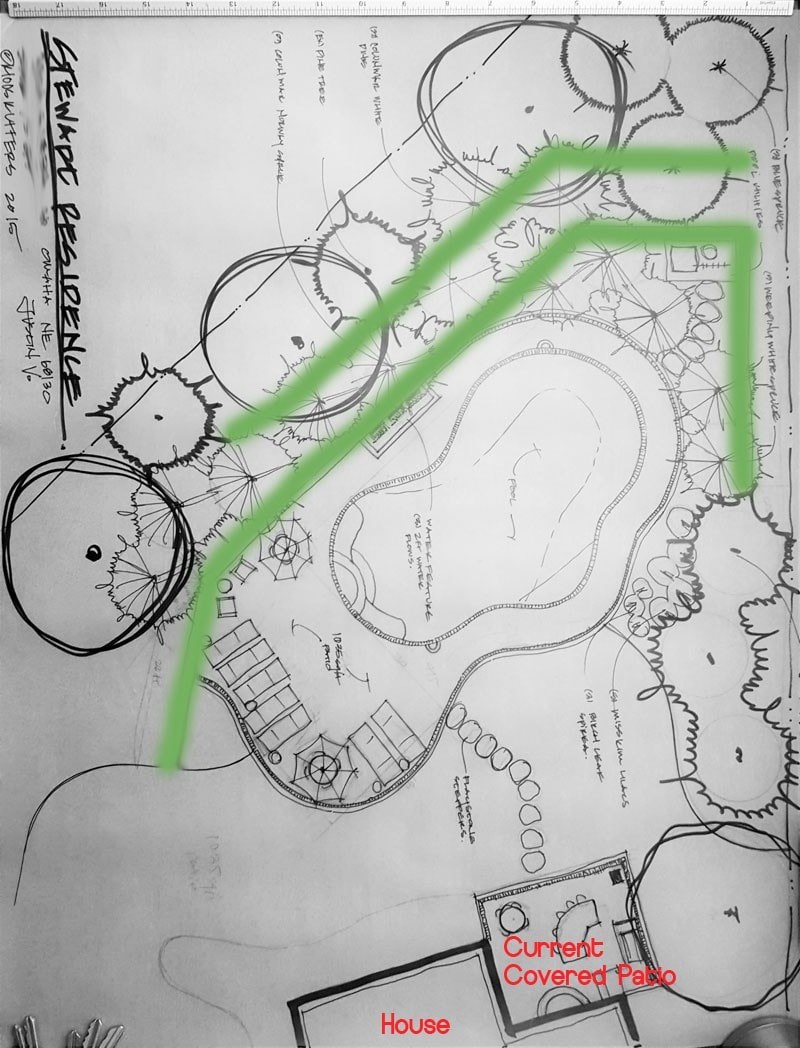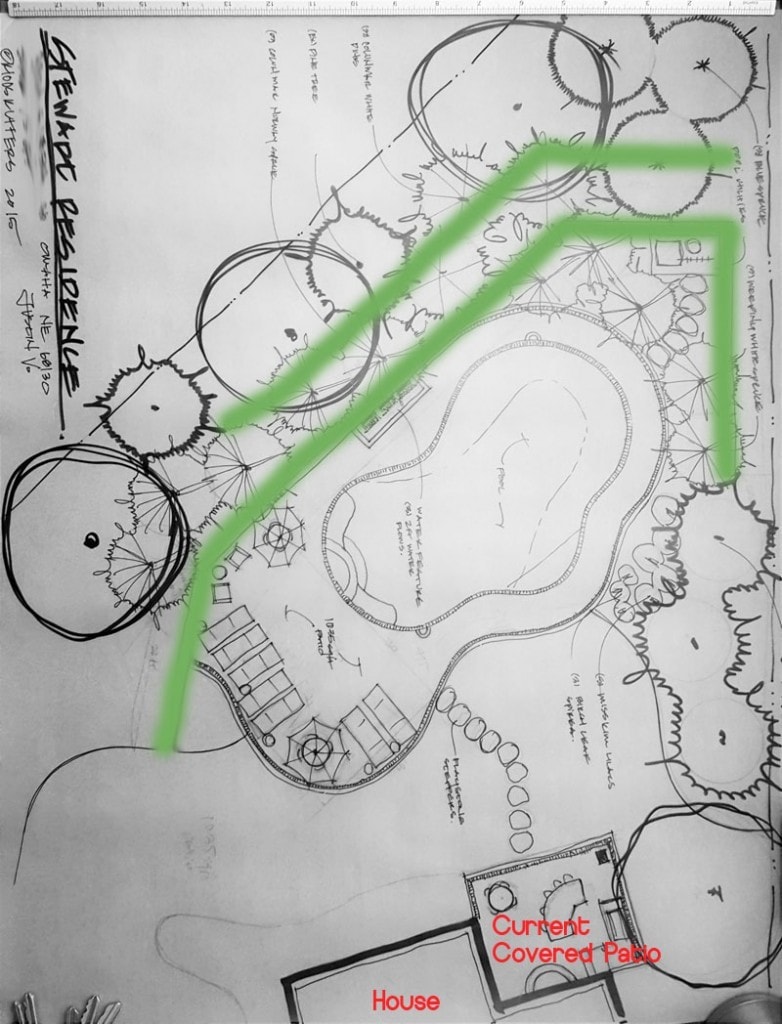 I tried to "draw" out the spray paint lines so you can see them in the photos below. White = wall, blue = water 🙂 Very crude "drawings" but I think it will ultimately help you envision the areas I'm referencing. The first photo shows a wider angle of most of the entire area, and then the last two are like a panoramic photo cut in half looking from left to right. The weird thing in the center represents the placement of the water feature and bump-out wall (the water feature does not land in the pool – there will be a 3-4 foot walking path in front of it).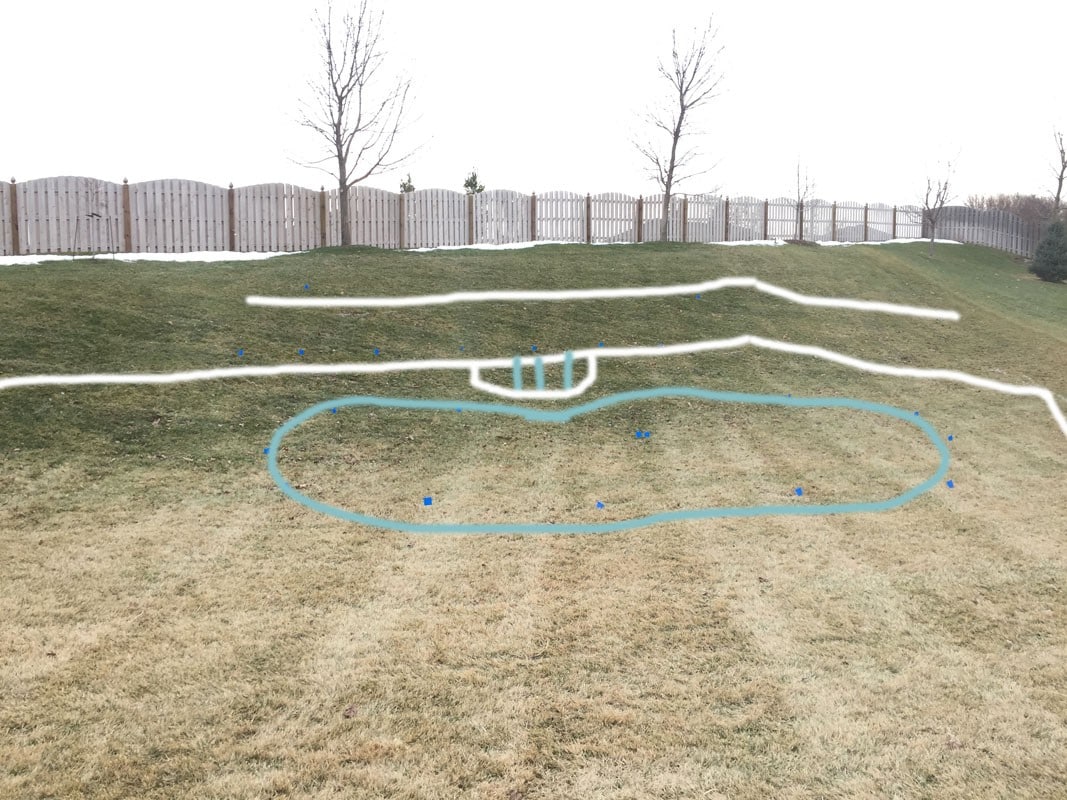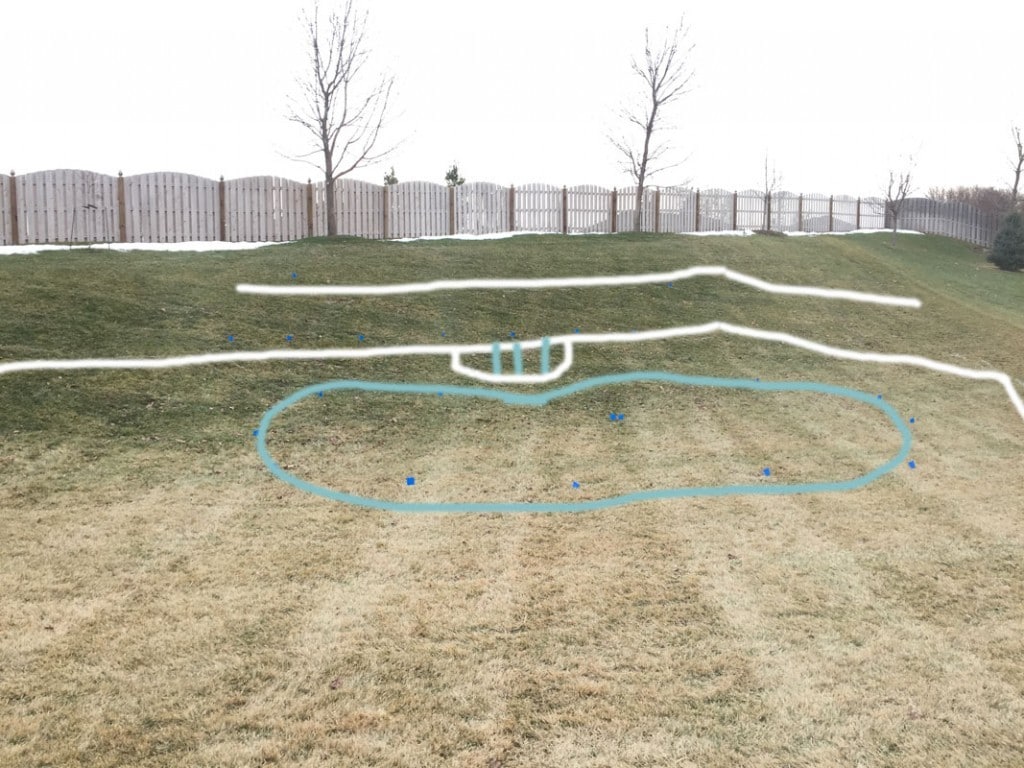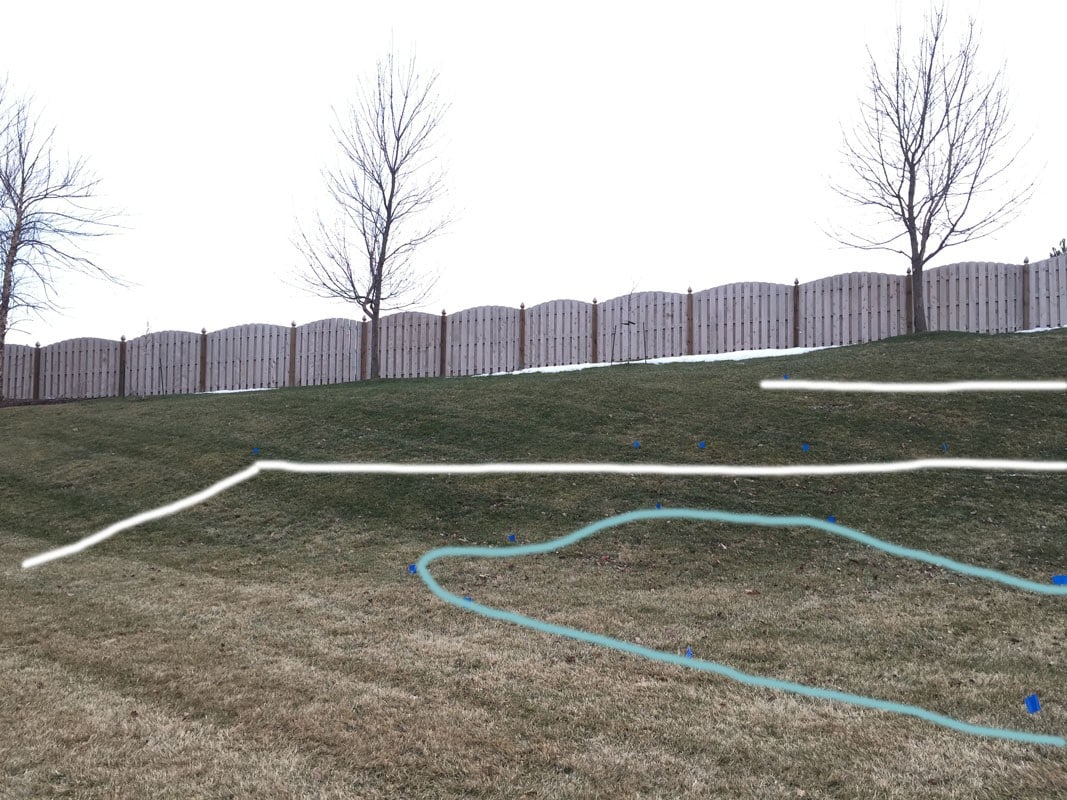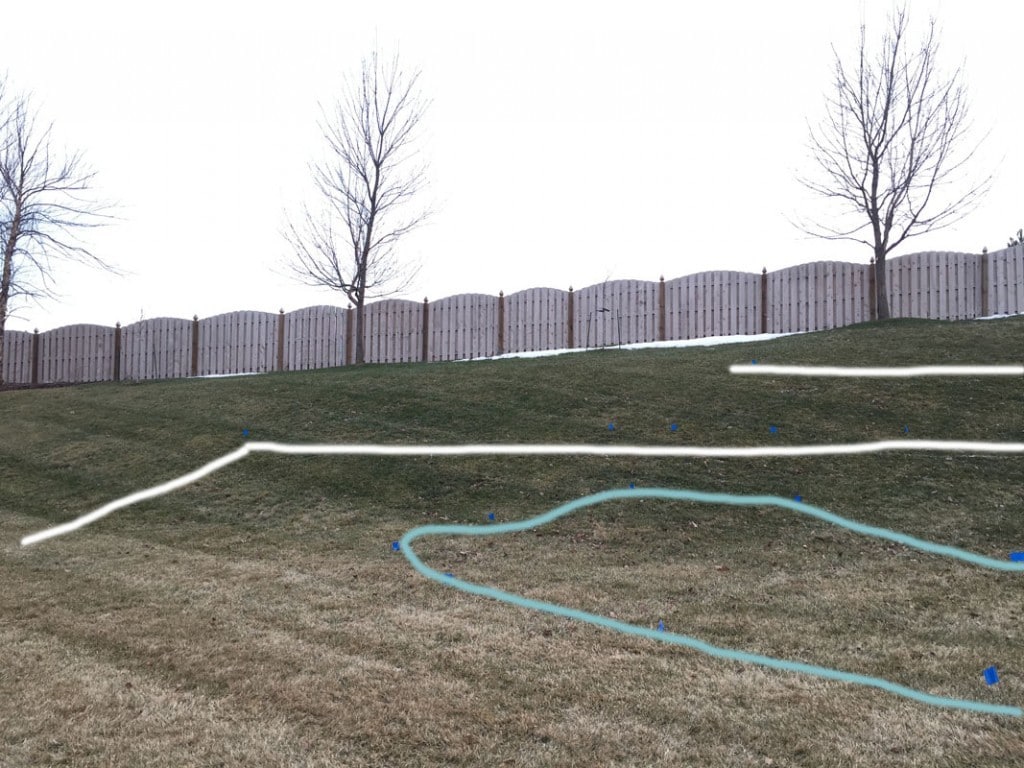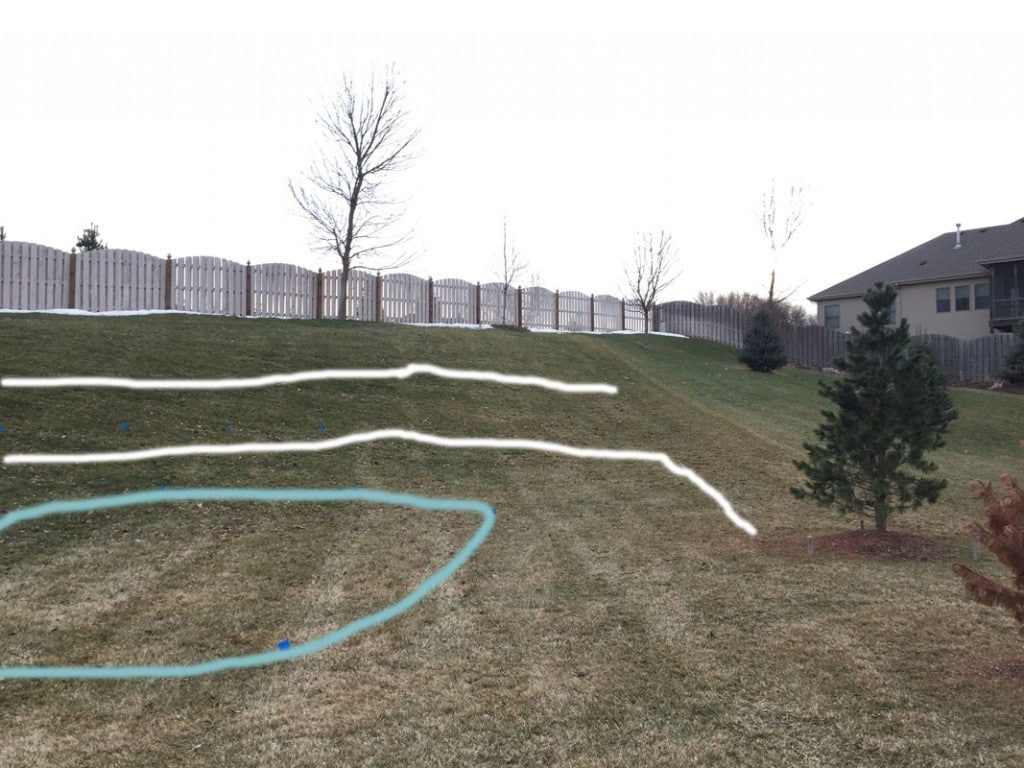 Bottom line. The hill is a lot steeper than we ever remember and quite a bit further back from our house than it ever feels like. When we saw just the lines for the four foot wall, it seriously looked like it was about two feet tall against the remainder of the hill. I totally get that such a deep yard is not a bad problem at all to have, but it certainly complicates the plans a bit (and ups the required budget). We just want to make sure that we aren't kicking ourselves down the line if we can't manage the grass/weeds/landscaping if it's too steep to navigate with only the one wall. You can see this old picture of our backyard below, when I was standing at the top corner of our lot line.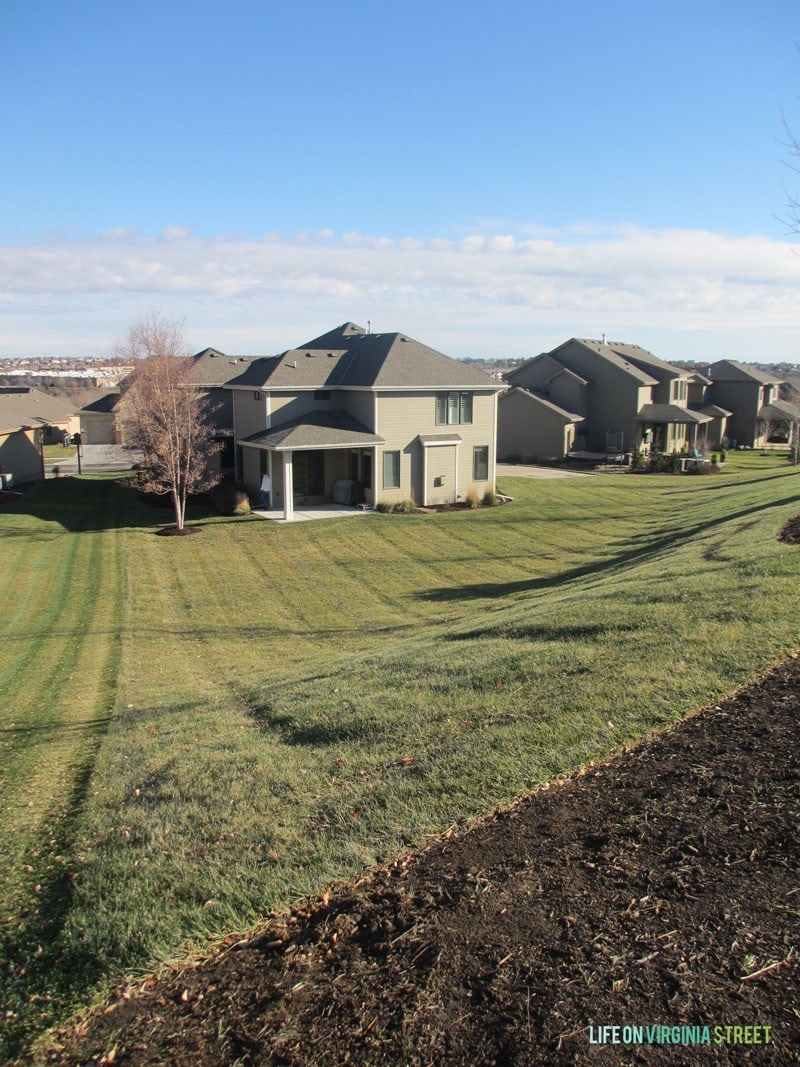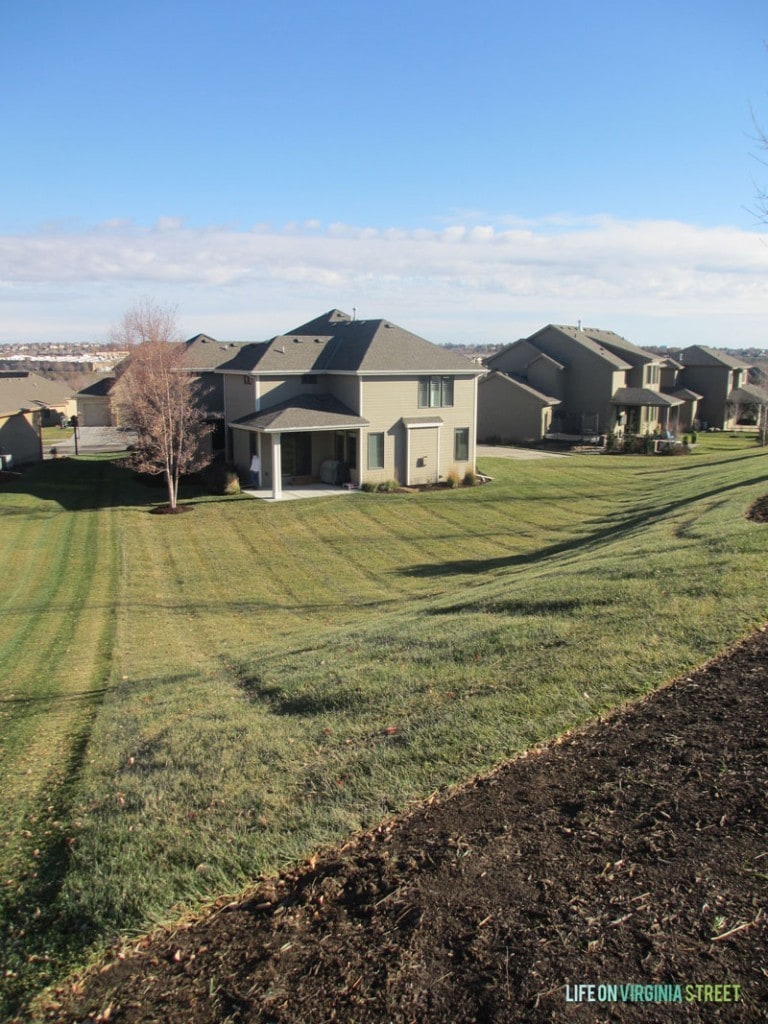 The two tiers will allow for tiered landscaping (which will be much easier than trying to work on the slope) and should help prevent mulch and plants/trees from basically washing down the slope of the hill. I think visually it is going to look a lot more finished in the end, as well. We still need final pricing confirmation for the second wall, but it sounds like it should be doable.
We found an affordable veneer (shown below) that we'll likely be using to face the concrete retaining wall. After talking it through with our designer (Justin at Kloos Kutters in Omaha) and the stone company, it sounds like a DIY project we may try to tackle on our own :/ A little scary, but it sounds like it is really easy to install and will save us almost $7k+ in labor, so it seems like a no-brainer. But, did I mention the lower wall is 4ft tall and 145 ft long?!? Not to mention the new upper wall?!? Let's hope it's really, really easy or we may be installing the next three summers! In person, the veneer looks a lot like limestone.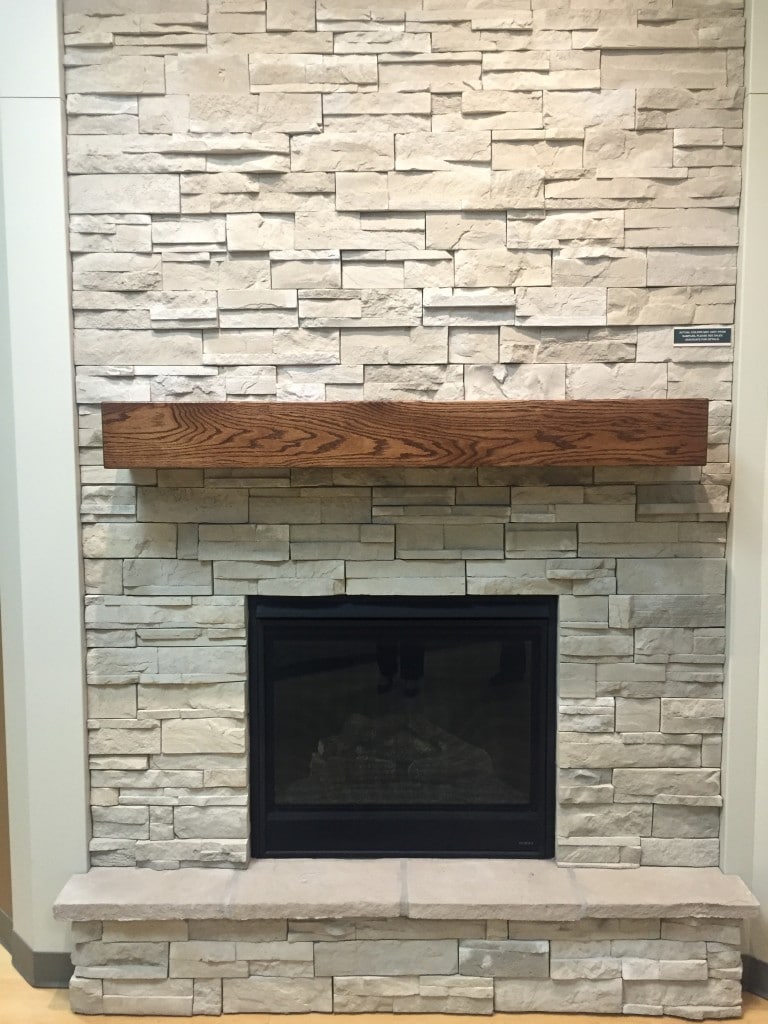 Even with the items we still have to finalize, we're still hoping to get the wall started in March. Possibly even in the next two weeks!
The next big decision we ultimately haven't finalized is the paver situation. We want something light, in the largest pieces possible.
Right now, we're contemplating the Unilock Umbriano Pavers in the Summer Wheat color. It has a non-slip surface and is completely stain resistant (even to red wine and acid – because everyone spills acid on their pool deck 😉 ). Here's an example of how the pavers would look: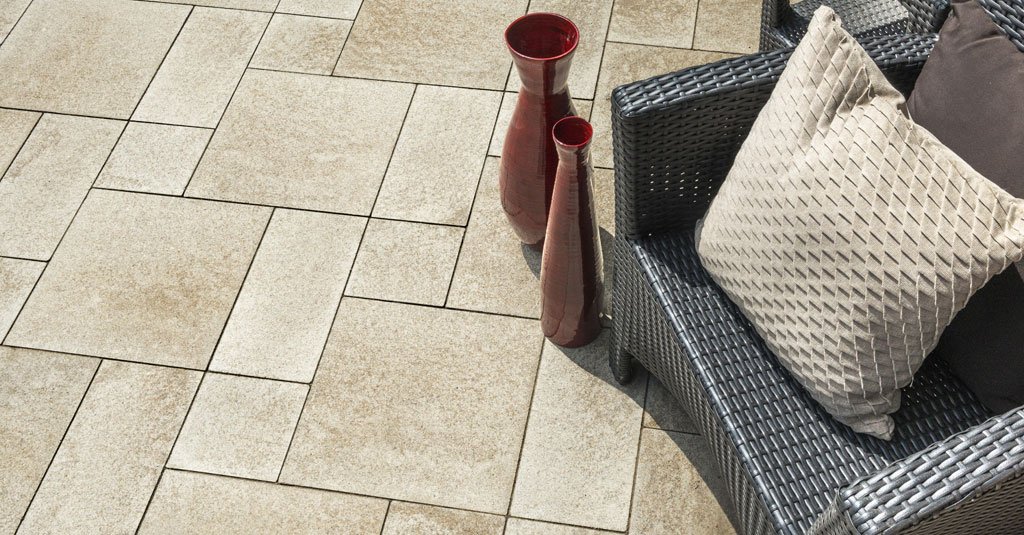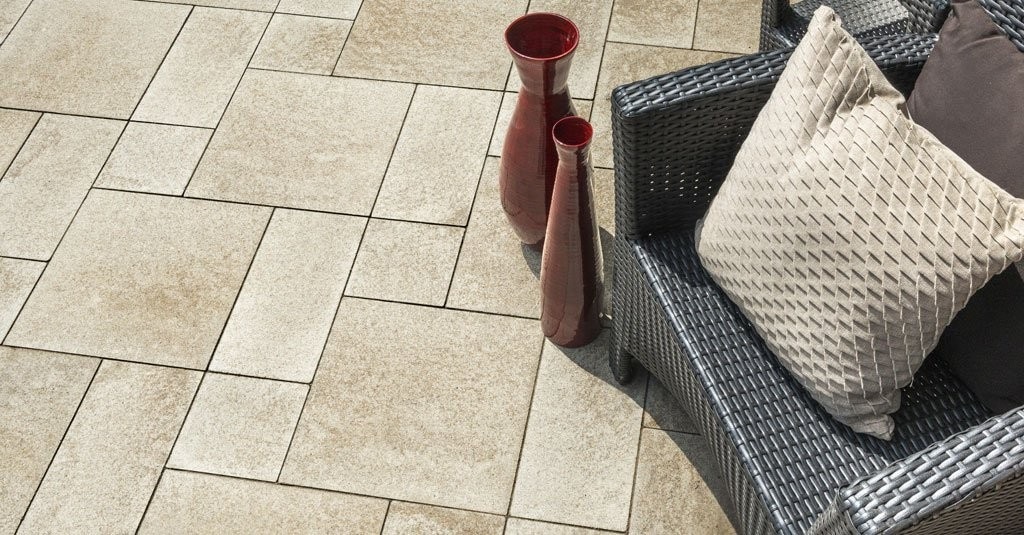 The one thing I'm not 100% sold on is the pattern (you can only buy it in the grouping shown above). I'm a much bigger fan of the following look (same paver, just larger). But it sounds like it would add quite a bit to labor costs because of how many cuts we'd have with the rounded pool if we just went with the larger blocks that are sold invidually.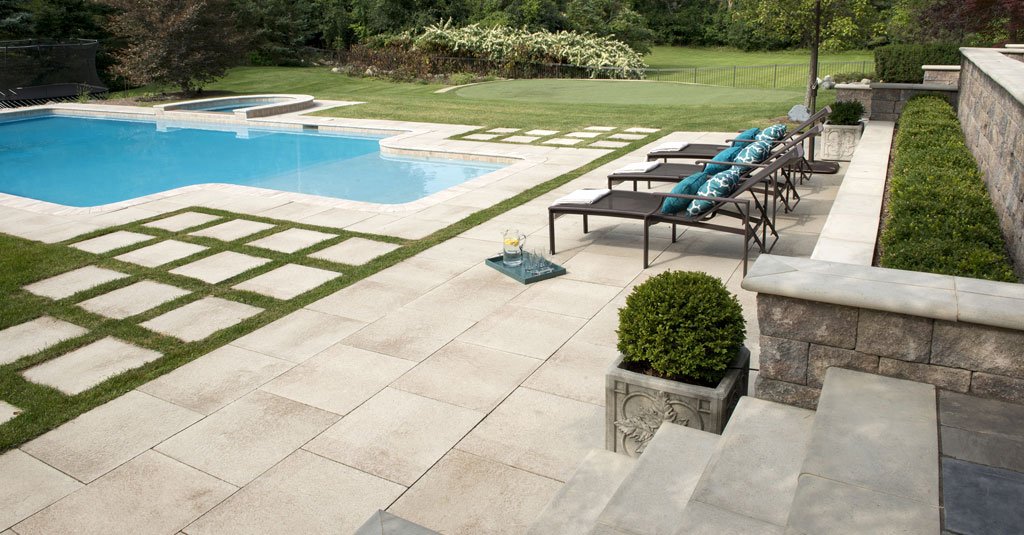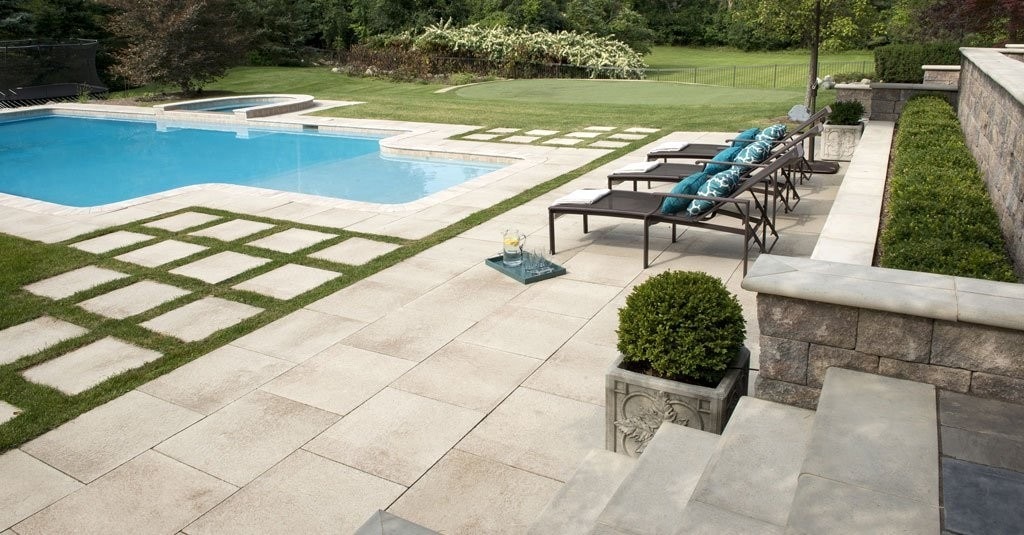 You may remember, the original "stone" we were looking at is a concrete product that looks like travertine, called antique travertine. It by far is still our favorite, but it is pricey. But I do love that it doesn't have to be laid in a specific pattern like the other product so it is still a contender. The look of the retaining wall holding the grass below would be very similar to the look of ours when everything is done.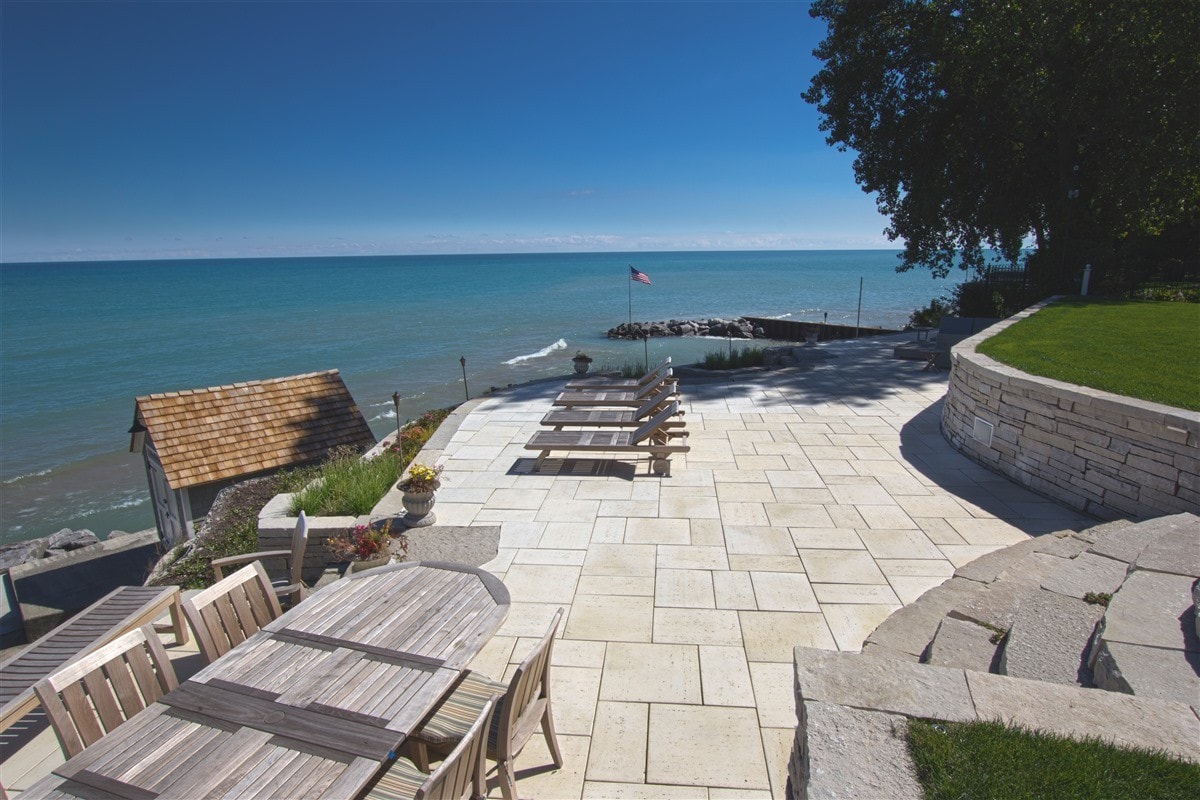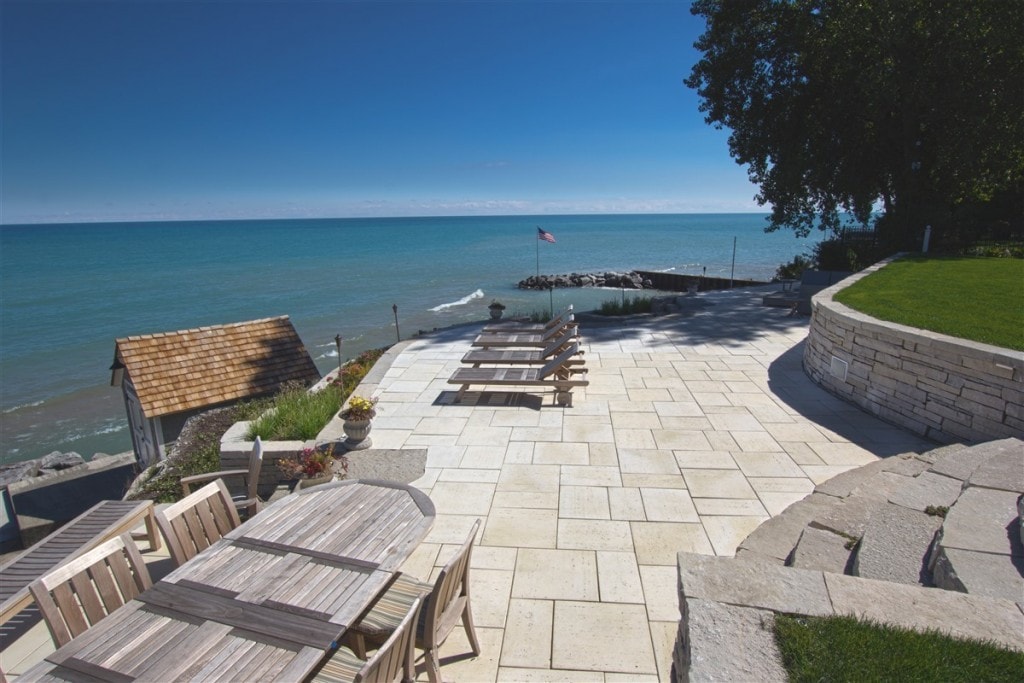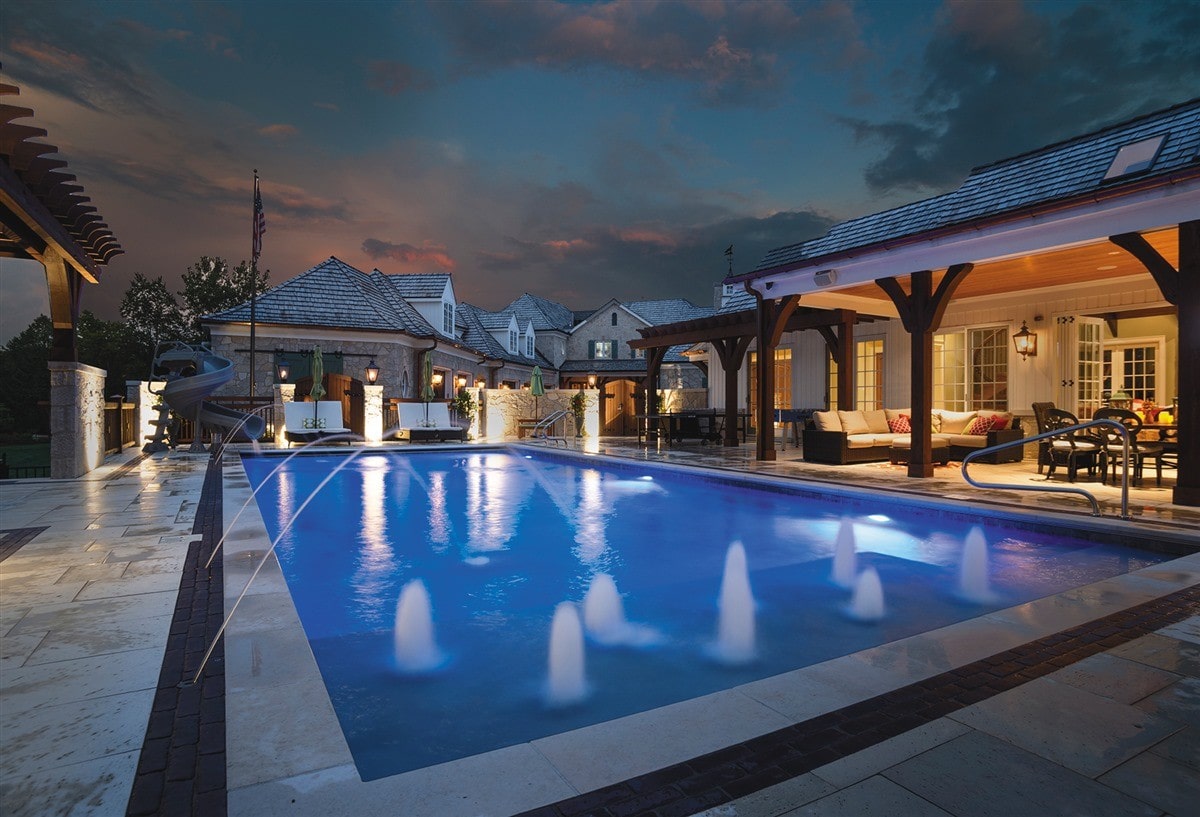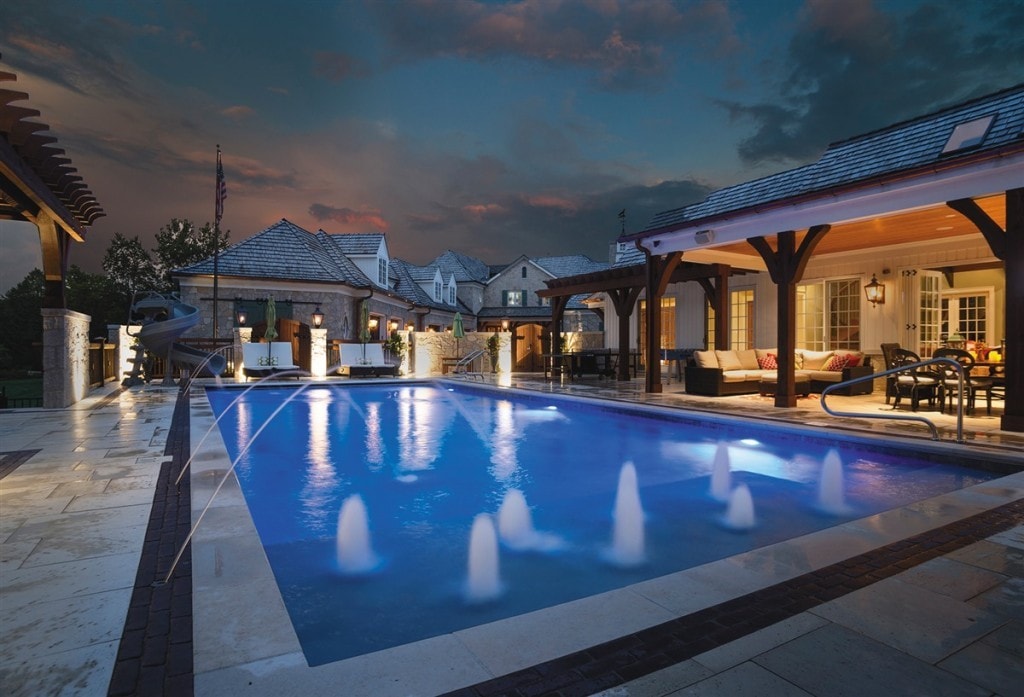 I realize from far away, they don't look significantly different, but up close, you can see there is so much more texture to the look: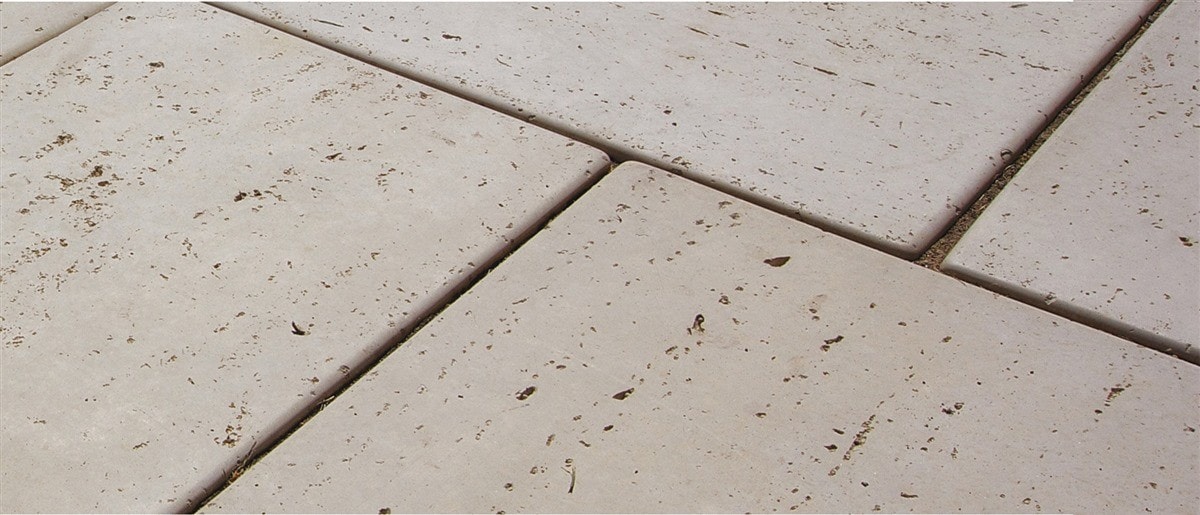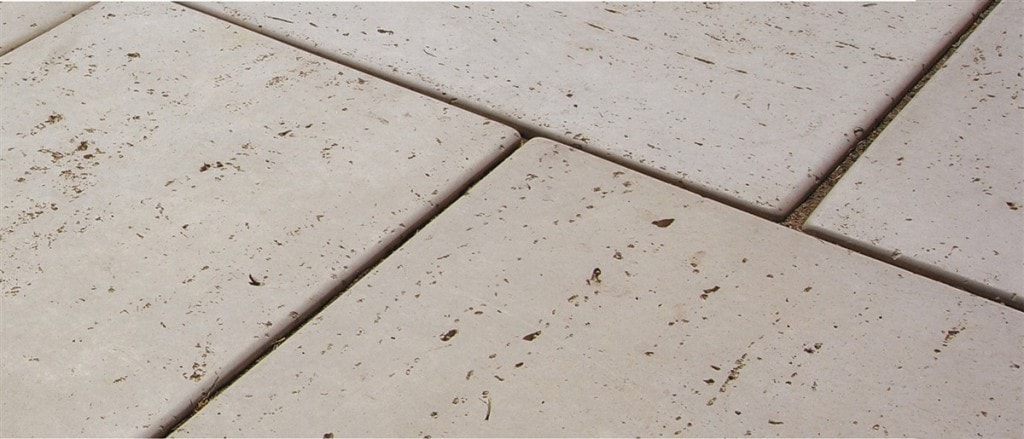 See what I mean? It looks like actual stone, but with the durability of concrete. Again, this one is our number one option, but labor costs go up quite a bit with it. The sample we currently have in our backyard is the older version, so we're waiting for a new one to arrive to make sure we still like it.
Other than that, the pool itself is easy. We're hoping once the wall gets complete, the pool company can start shortly after with the pool excavation. Ultimately, we'd like to have everything wrapped up by Memorial Day, weather permitting, and by mid-June at the latest.
I've really tried to limit my "design" plans for the space outside of the basic architecture of the pool, landscaping, hill, etc. But, I have managed to look at some pool furniture. It is likely we'll have to add it all in stages (it's so expensive!) but our number one priority at this point are the chaise lounges, as we know they'll get use immediately. Following are a few looks I have in mind, but it's so hard to decide on a route to go! Please note that I'm only looking at the shape and color of the chair itself – not necessarily the pillow/accessory colors they are styled with.

Of course the chairs I love most are also the most expensive. As far as the overall look goes, I think ultimately I'll go with blues and greens (shockers) in addition to neutral cushions. Do you have any other chaise recommendations? They are all so expensive, but I also want to ensure they can hold up to the Nebraska elements!
Wow! That was a long post. I guess I shouldn't have gone quite so long in between updates 😉 I'll continue to keep you posted as the project progresses. Like I said, the wall excavation may be starting really soon – and I can't wait!
If you would like to follow along on more of my home decor, DIY, lifestyle, travel and other posts, I'd love to have you follow me on any of the following:
Pinterest / Instagram / Facebook / Twitter / Bloglovin' / Google
disclosure: some affiliate links used