I wanted to share our new kitchen faucet with a build in water filtration system.  Plus it's a great looking faucet!
I'm excited to share that we got a new kitchen faucet! And we installed it ourselves! And it doesn't appear my husband is filing for divorce any time soon!
I've mentioned it a while back in other posts, but the drinking water in Omaha is gross. Not only do we get a lot of build-up on our faucets (especially our shower heads), but the water doesn't taste great. I grew up in Utah where I felt like the water always tasted fresh (I'm guessing that mountain water really is legit), so we've been long-time bottled water drinkers in our house. Our Keurig was also rather telling, as the build-up from the water would continue to mount (rather quickly) and we were having to clean it much more often than we felt should be necessary.
Since our much needed kitchen renovation is still a few years down the road, we thought it would be wise to address the water issue immediately. When we heard about the Pfister Clarify Xtract Faucet, it seemed like the ideal solution. Not only is this a beautiful faucet, but it also has a built-in water filtration system.
Here was our kitchen space before the install. At first glance, the faucet obviously isn't too offensive, right?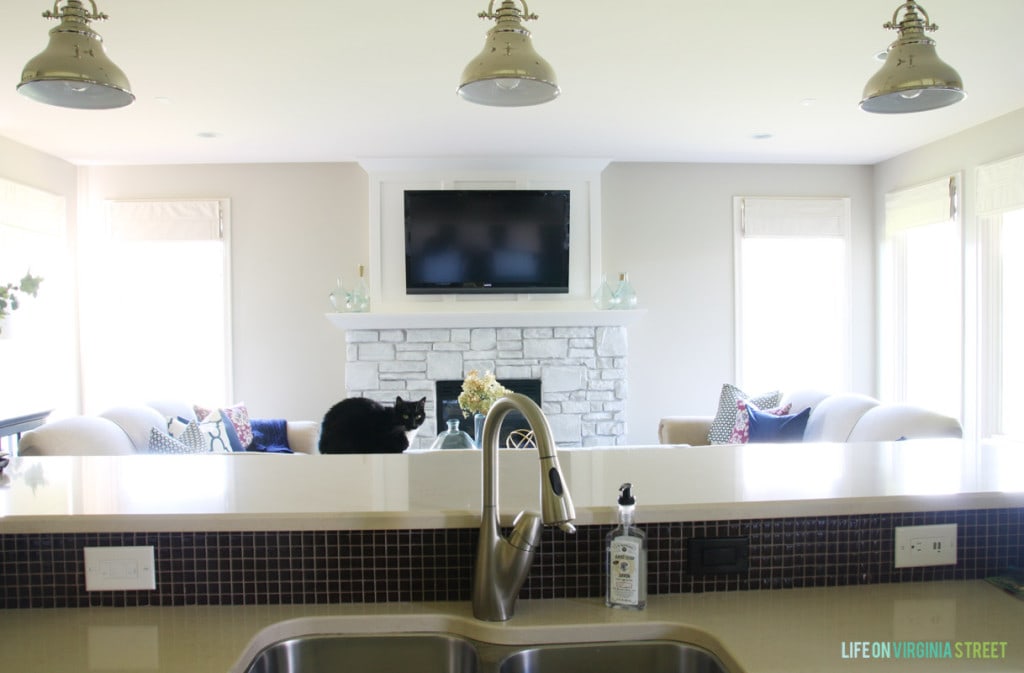 Now, if you promise not to judge, I'll show you our faucet head close up. I promise our sink and faucet get cleaned regularly, but the build-up in our water is nasty. And sometimes you forget just how bad the build-up can be until you flip the head over (if you have a removable head) to look that ugliness.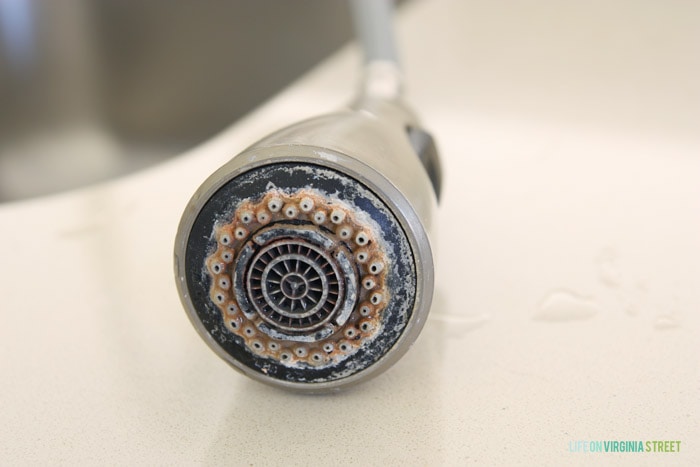 Before installation, we performed a drinking water test on our water. My husband and I are a bit nerdy, so for us, this felt like fun little science experiment as we followed the instructions to complete each test.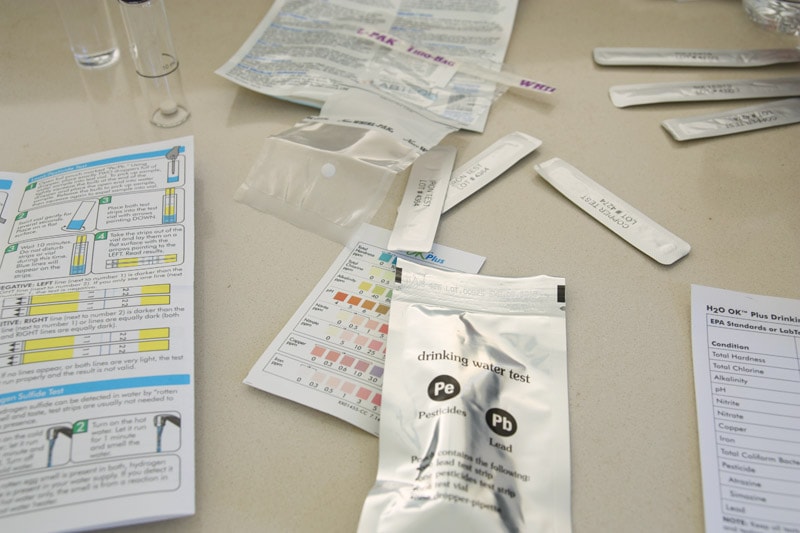 After running the water tests, the only area that was off the charts 'abnormal' was our total hardness count. The acceptable range is to be under 50 ppm and we were around the 450 mark! Our chlorine was a bit on the high end, as well as our alkalinity and iron, but they were just in the acceptable standard zone. And regardless of all the tests, we just didn't love the taste of our tap water.
Being the DIY-ers that we are, my husband and I decided to try the installation of the faucet on our own. We had never installed or worked on any sort of plumbing before, so it didn't go without its challenges. BUT, once we made a few trips to the hardware store to arm ourselves with the proper tools, it went off without a hitch. We are really proud of ourselves for not calling in the professionals. My husband was a total rockstar throughout this process.
And now, the new Pfister faucet, after install!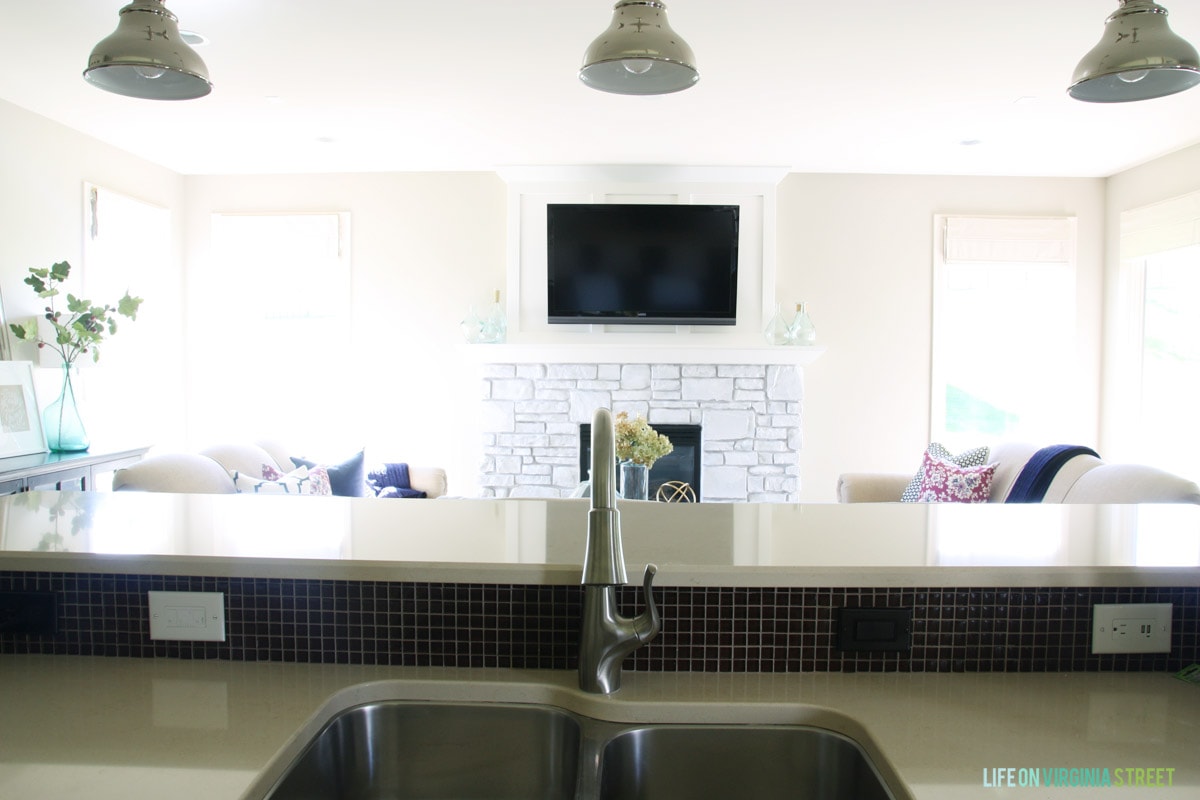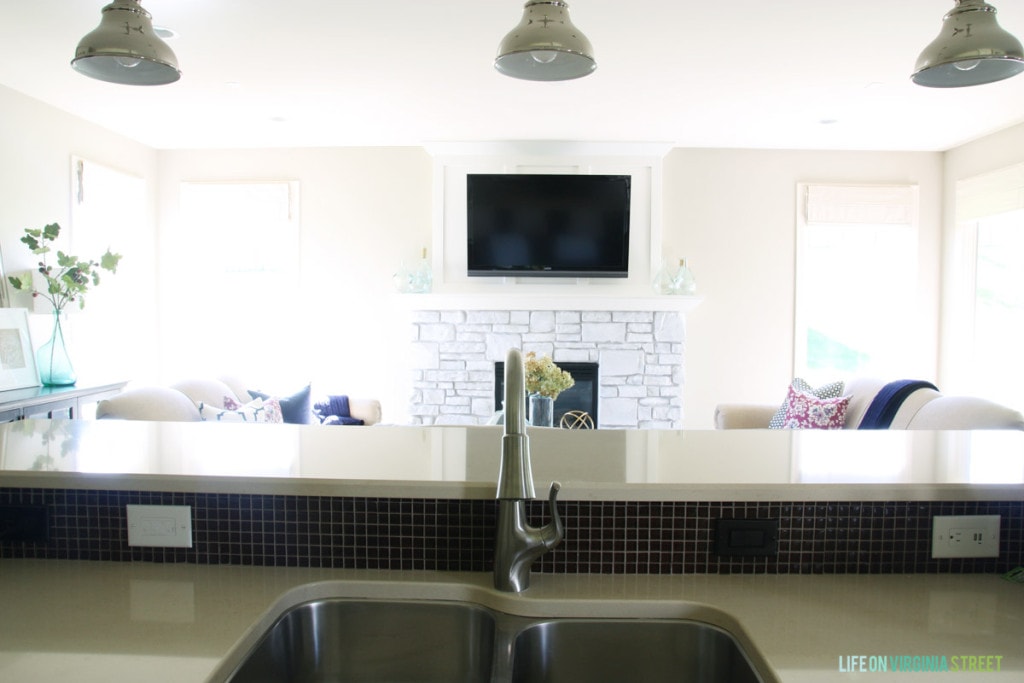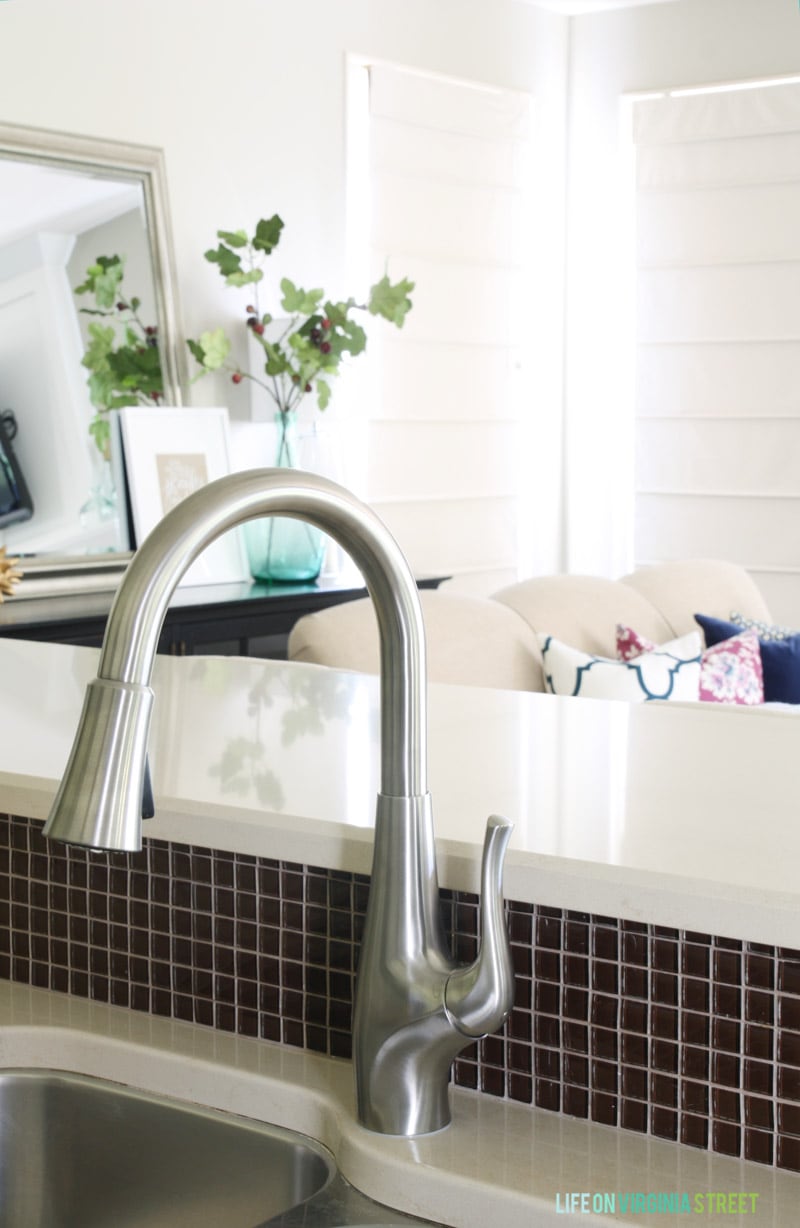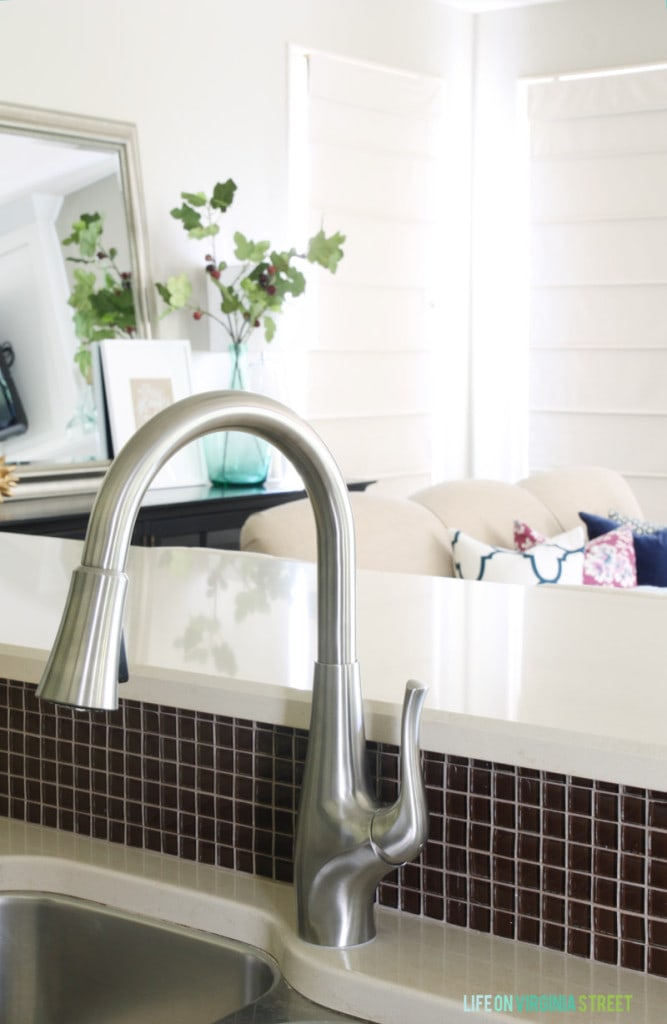 So, it obviously looks good, but did the new faucet perform as expected?
With this faucet, you can still use "traditional" tap water by pulling the faucet forward. To access the filtered water, you simply push the handle backwards. I love that the pressure on the filtered water is so much stronger than on old-school water filters I used to see attached to faucets. It really is amazing to me how far technology has come and we can now have the bottled water taste right out of the tap! But, now, for the science side of things. Is our water actually cleaner?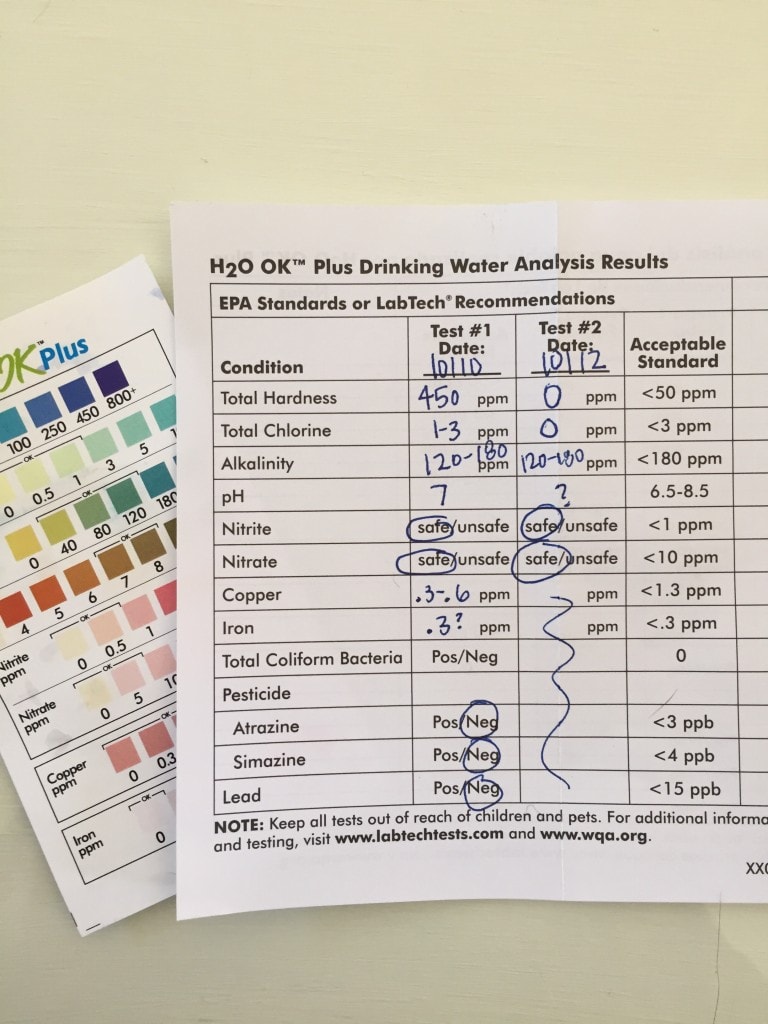 We ran six of the drinking water tests again, and let's just say we were blown away by the test results. We expected the levels to improve, but the total hardness and total chlorine were completely wiped out to zero! Plus the filtered water on the faucet tastes so much better too!
I see a few less bottled water Target runs in our future (but let's be honest – I'll still find a reason to make a Target run). 😉
We are so happy with the Pfister Clarify Xtract Faucet! And secretly, I'm also loving that my husband may now be more willing to swap out other faucets in our home now that we know how!
Thank you to Pfister for sponsoring today's post and encouraging me to switch to the Xtract filtration technology. As always, all thoughts and opinions are my own.
If you would like to follow along on more of my home decor, DIY, lifestyle, travel and other posts, I'd love to have you follow me on any of the following:
Pinterest / Instagram / Facebook / Twitter / Bloglovin' / Google
disclosure: affiliate links used