Happy Monday! I hope you all had a great weekend! We spent most of the weekend in Iowa and had a great time with Kurtis' family. Following is a bit more detail on what we did there and some projects we completed at home over the past week.
AROUND TOWN (AND IOWA) & FOR FUN
Kurtis and I headed to Iowa bright and early Friday morning with our brother-in-law. The guys were working on re-shingling the parents' shed, and the girls worked on getting everything ready for my niece's graduation party.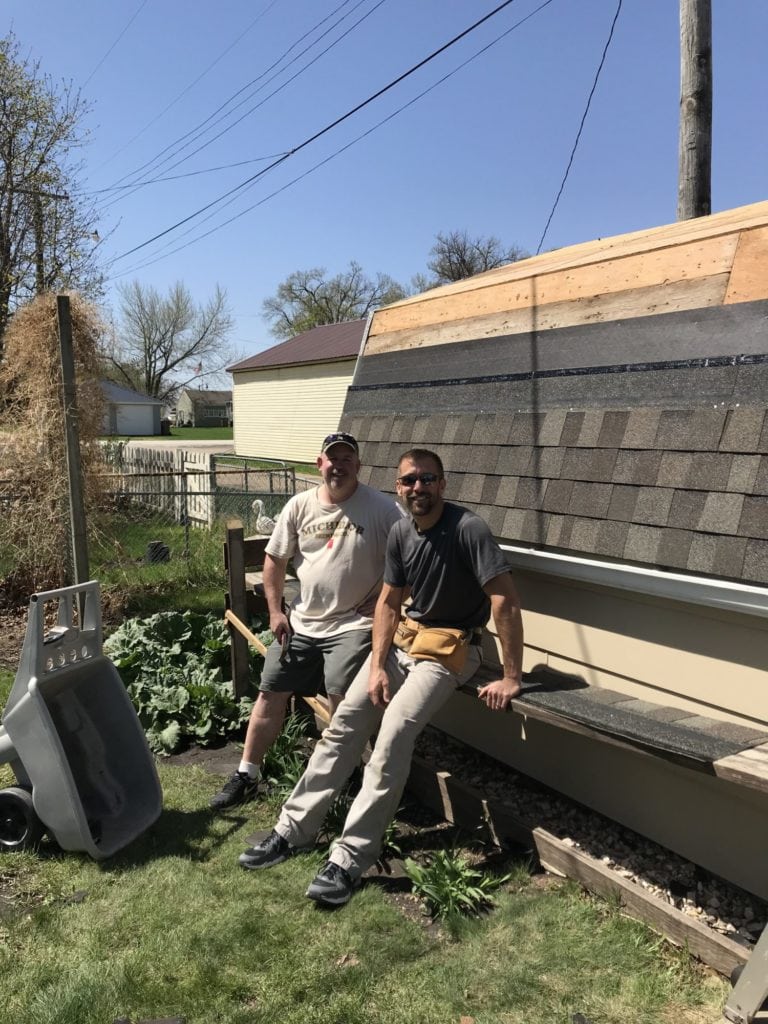 After a running a bunch of errands, my mother-in-law and I went to Thistledown, a cute nursery they have in Lake View, IA. They always have such gorgeous geraniums there! I didn't pick up much this year, but did get some colorful petunias and a few herbs for my herb garden. I plan to share my flower planter tutorial later this week!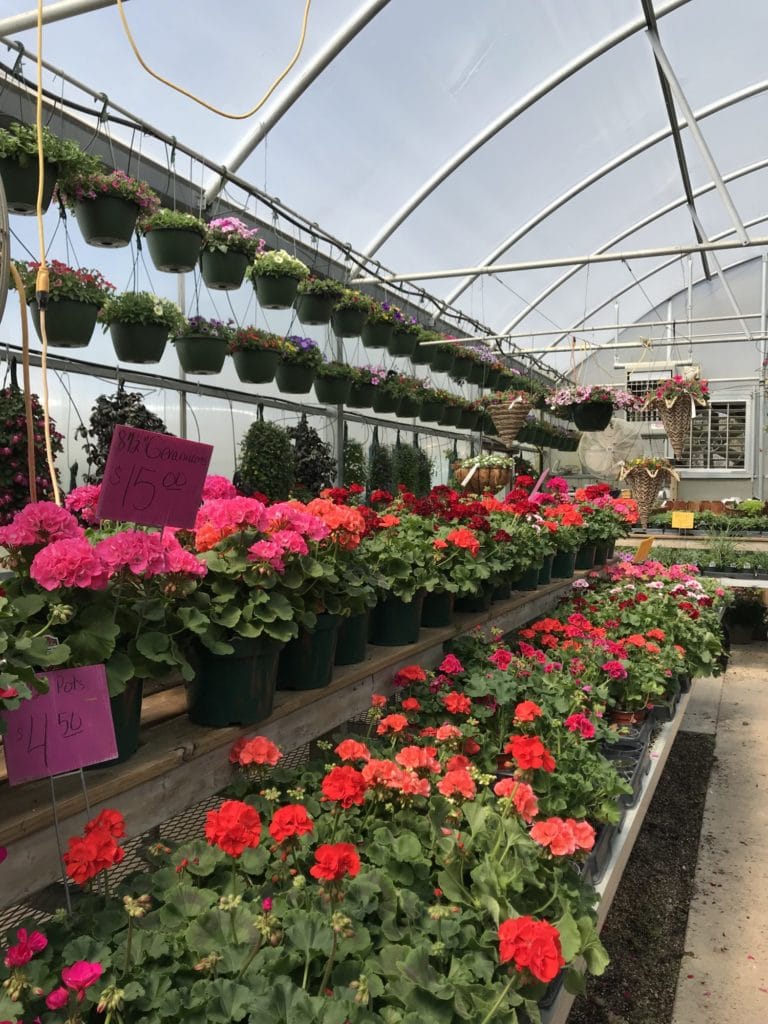 Friday night, my niece had a track meet. So, while the guys wrapped up their roofing project, my mother-in-law went to the meet to watch her do shot put and discus. I honestly had never watched either of those sports and I'm still not sure I fully understand either, but it was a lot of fun to cheer her on!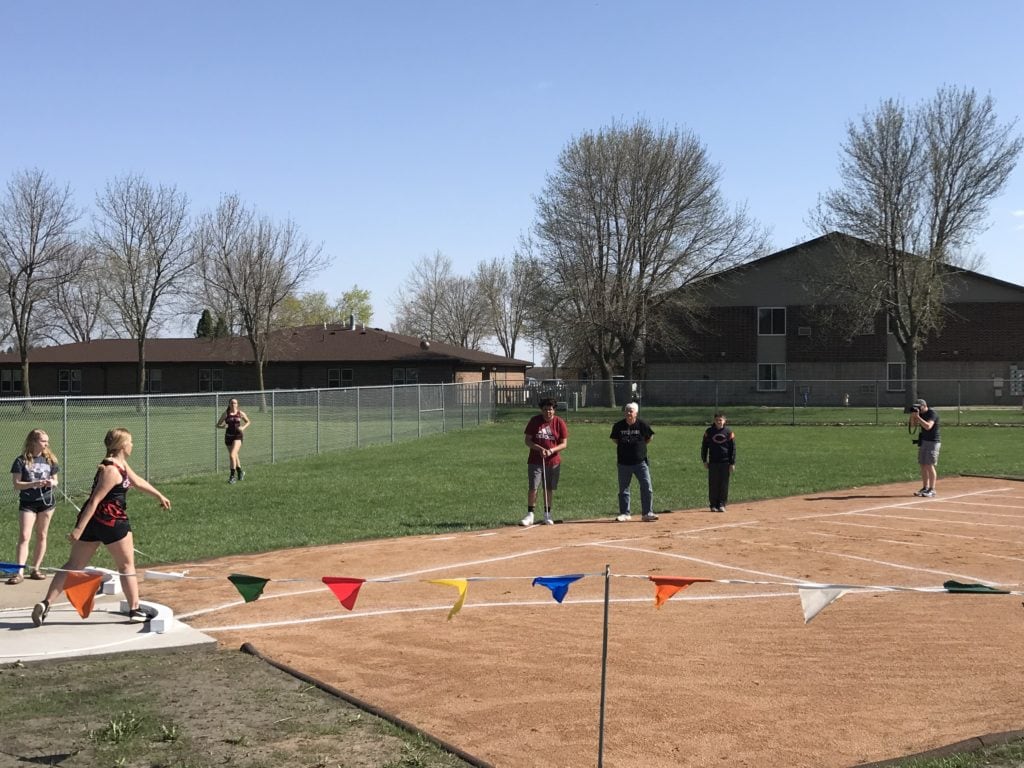 Sunday morning, the girls all cleaned and cut 12 lbs of strawberries, 12 pounds of grapes, seven cantaloupes and four watermelons. So much fruit! But we were pretty efficient and got it all done pretty quickly while still managing to squeeze in a little fun along the way 😉
Here's my beautiful niece the morning of her party! She was our flower girl when we got married nearly thirteen years ago, and it's so hard to believe she's graduating high school now! She chose to do a brunch for party, so my sister-in-law rented out the shelter house at their local park for the festivities. We couldn't have asked for better weather!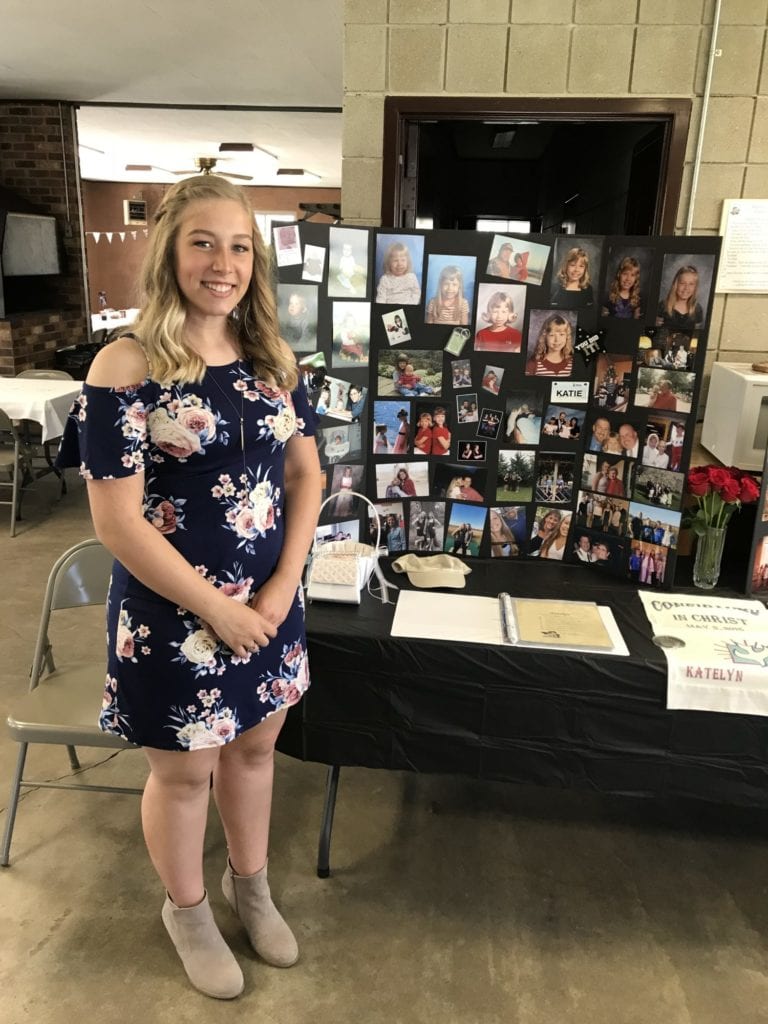 Here are all the Stewart "kids": Kurtis and me and then his two sisters and their husbands! I'm wearing this top, these shorts, these sandals and these earrings!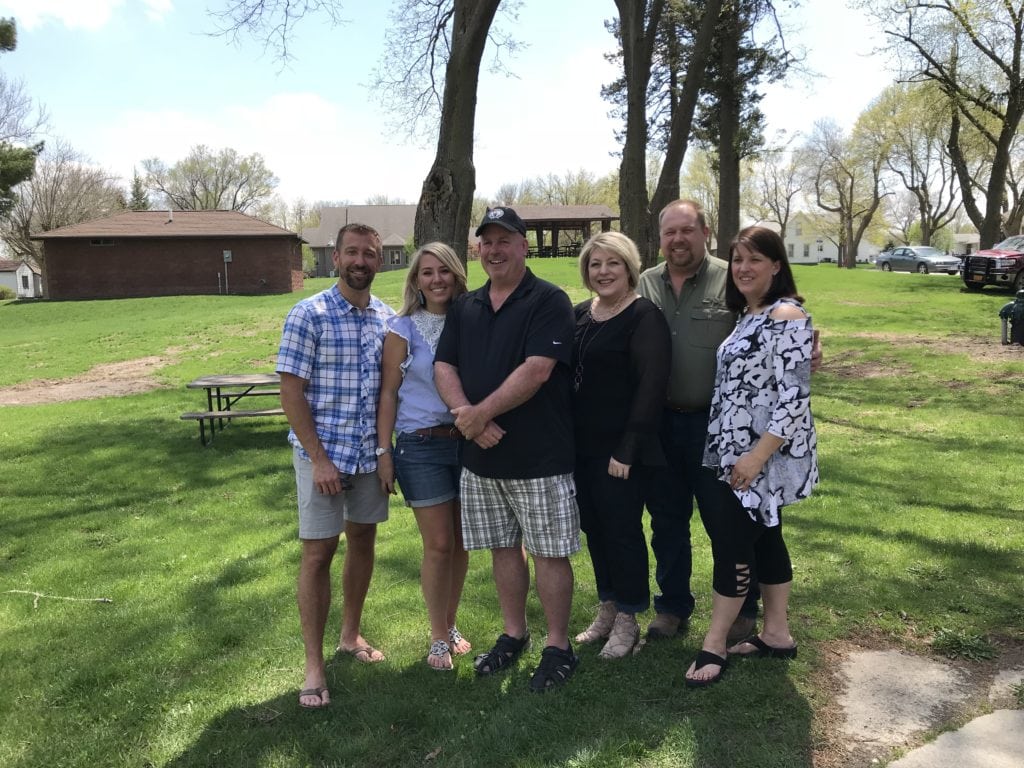 We ended up leaving Iowa late afternoon on Sunday and came home and had dinner on Lazlo's patio. The weather was so gorgeous all weekend that we had to take advantage of it!
HOME UPDATES & PROJECTS
On Thursday, I spent a few hours painting the entryway again. It's the last coat and I only have a tiny bit left. I'm definitely in the home stretch now!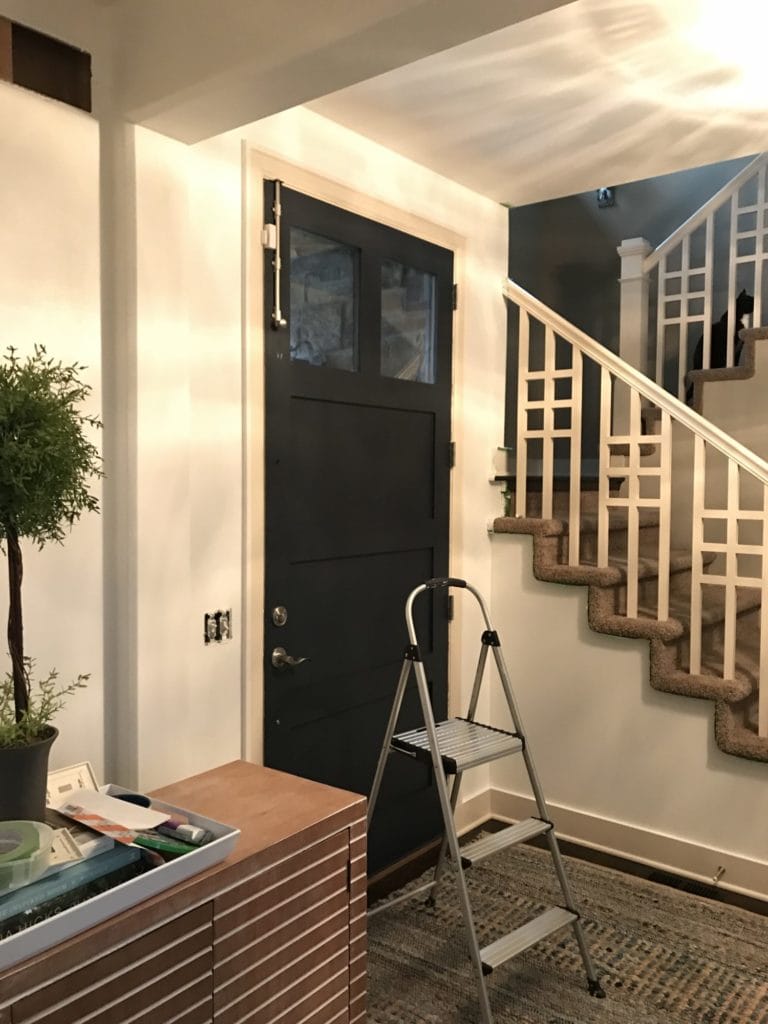 I met Kurtis Thursday for lunch at Nebraska Furniture Mart to review appliances again. It's currently the Berkshire shareholder meeting, so they offer killer prices this time each year. We are 99% sure at this point we're going with Monogram appliances and we basically only have until tonight if we want to take advantage of a special they are offering right now. We'd basically get a free dishwasher with a range or a free beverage center with a refrigerator, etc. You guys all gave such great feedback on the great "new appliance" debate and we definitely took it all very seriously!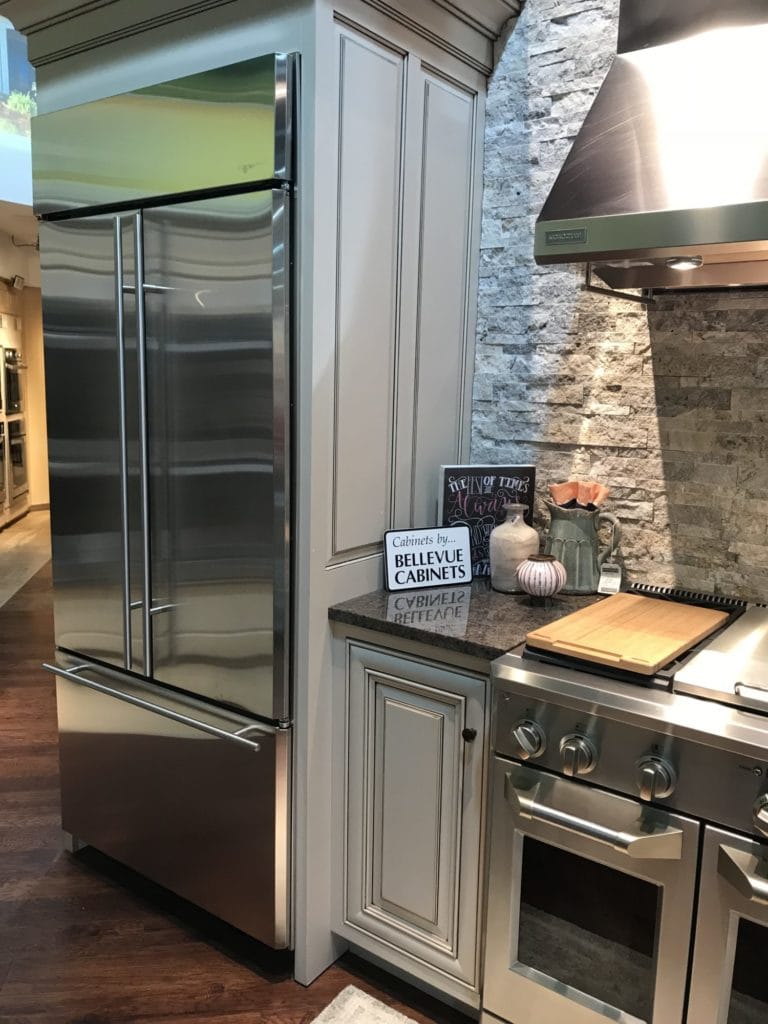 With spending the weekend Iowa, we didn't get much else done around our home. But, I finalized our countertop order on Friday from Iowa and I can't wait to share all the details with you soon!
We came home from Iowa to six new trees! If you recall, we bought them just last weekend and they told me there were at least two weeks out. But, I had a feeling before we left they may come early so I had all the flags ready. Sure enough, they were planted on Saturday! Unfortunately, they mixed two of them up (I thought maybe I did, but realized they left all my flags in the ground so I can definitely tell it was their mistake). I may have to see about getting them swapped due to size differences, but we'll see. But, I'm super happy with how much more finished everything is starting to look now! The new trees are the five evergreens you see in the back row (around the limestone ledges and then further to the left). We also had a bald cypress added to our side yard. The trees are little now, but knowing our history with both VanderWolf pines and white pines, they'll grow quickly! Our pool also cleared up quite a bit while we're gone, but the pool company never came back to finish everything (including installing the ladder as you can see below), so hopefully that happens today!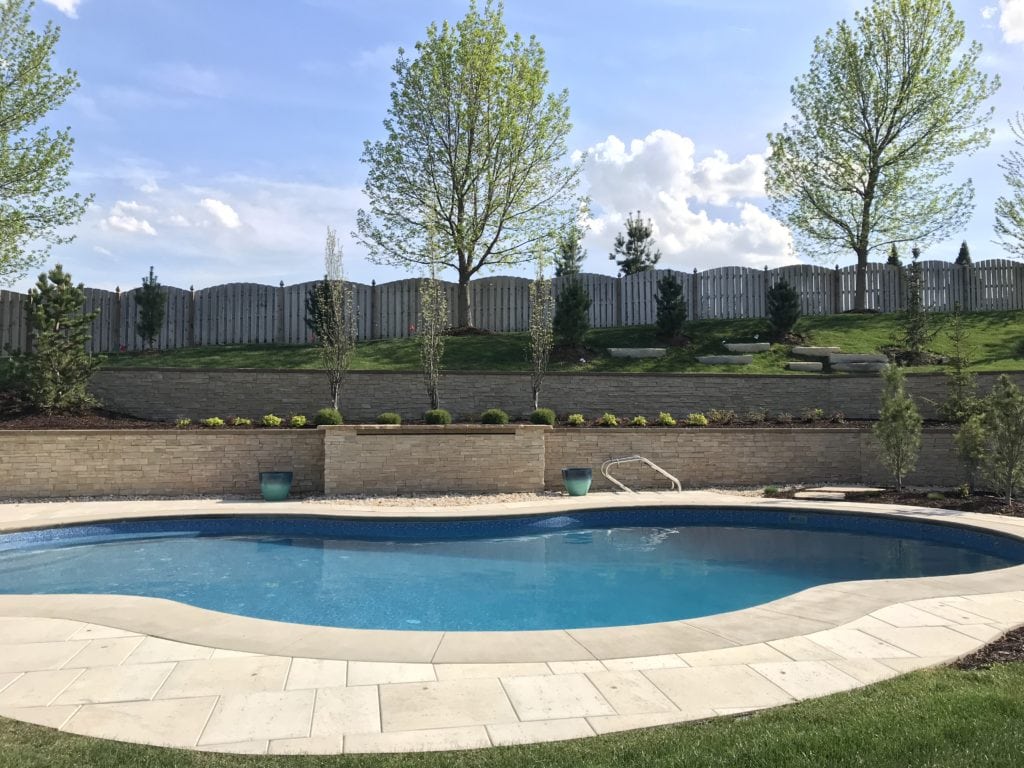 RECENT BUYS & SALE ALERTS
I ordered a handful of new clothes over the past week or so for the changing seasons. The striped faux wrap top below may be my favorite yet! The top is super flattering and makes your stomach look good! It's definitely not on the cheap side, but I think it's one I can get a lot of mileage out since it's easy to dress up or down. And the wedges are by far my favorite find lately – they make your legs look super long, are the perfect nude color and are so comfy to wear! They come in four colors but the nude is my favorite.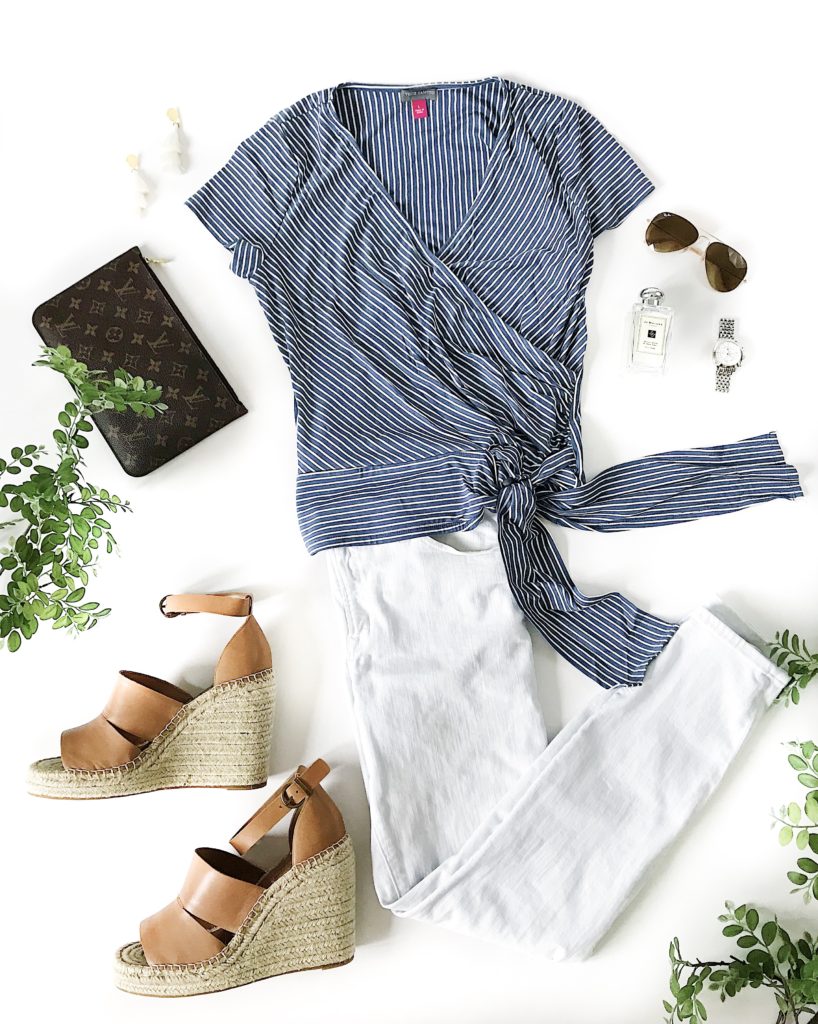 Striped Faux Wrap Top | Favorite White Jeans | Wedge Espadrilles | Clutch | Earrings | Cologne | Watch (similar style, same brand | Sunglasses | Faux Greenery
I wore this crochet top in Iowa Saturday and was so excited when I saw it went on sale that day for 50% off. I couldn't wait to share it with you – and then it sold out 🙁  I'm still going to include the link though, as it's not uncommon sizes will get re-stocked. Fingers crossed, because it's so cute!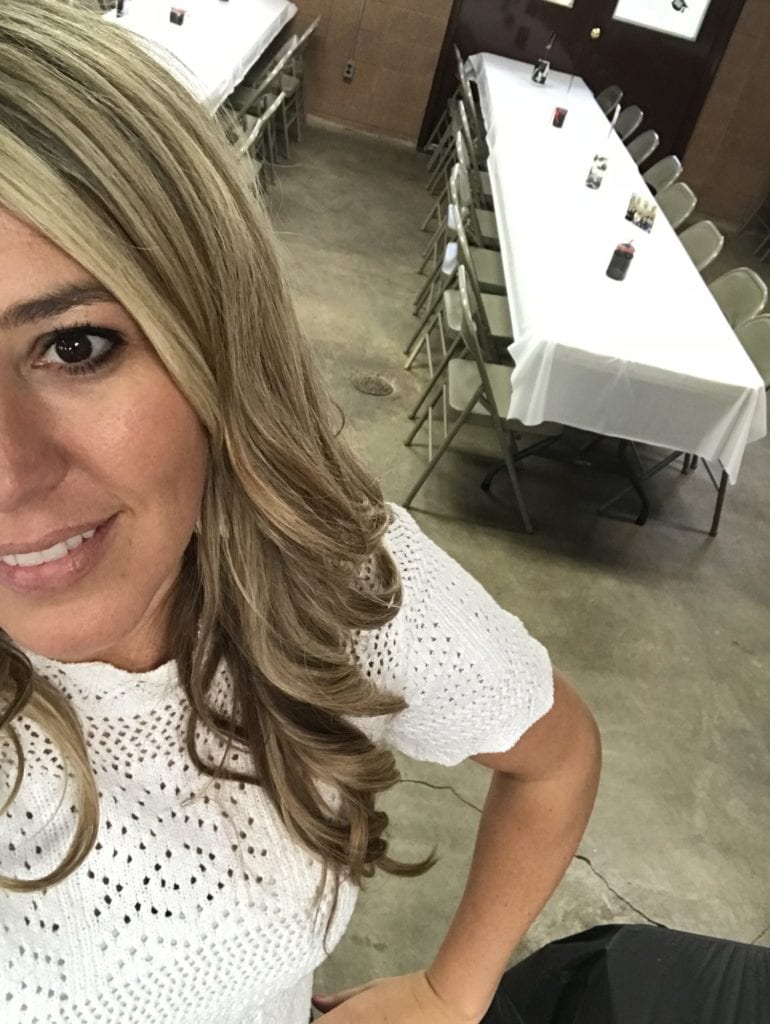 Following are a few great sales still going on today:
I hope you all have an amazing week!
If you would like to follow along on more of my home decor, DIY, lifestyle, travel and other posts, I'd love to have you follow me on any of the following:
Pinterest / Instagram / Facebook / Twitter / Google+
disclosure: some affiliate links used