Happy Presidents' Day! I hope you all had a great weekend. I know for some of you the weekend still includes today, so enjoy the day off! We had a pretty chill weekend around here, but we're in major trip-prepping mode for our trip at the end of the month.
Home Updates & Projects
The weather finally decided to shape up this weekend and I can now say that 95% of our snow has melted! I just won't mention that it's supposed to snow again a few times this week 😉
The pool cover had been so weighed down with snow this past month or so, that the weight of ice/snow had stretched it to water level in the pool. The pool is drained halfway in the fall, but obviously with snow and other precipitation it starts to fill back up. Kurtis spent some time yesterday trying to get the snow pockets off the cover and get it all tightened back up again. Here was how it looked after he had cleared most of it (and already tightened the shallow end). The remaining bit in the deep end was removed later in the day once the sun melted a bit more of the ice.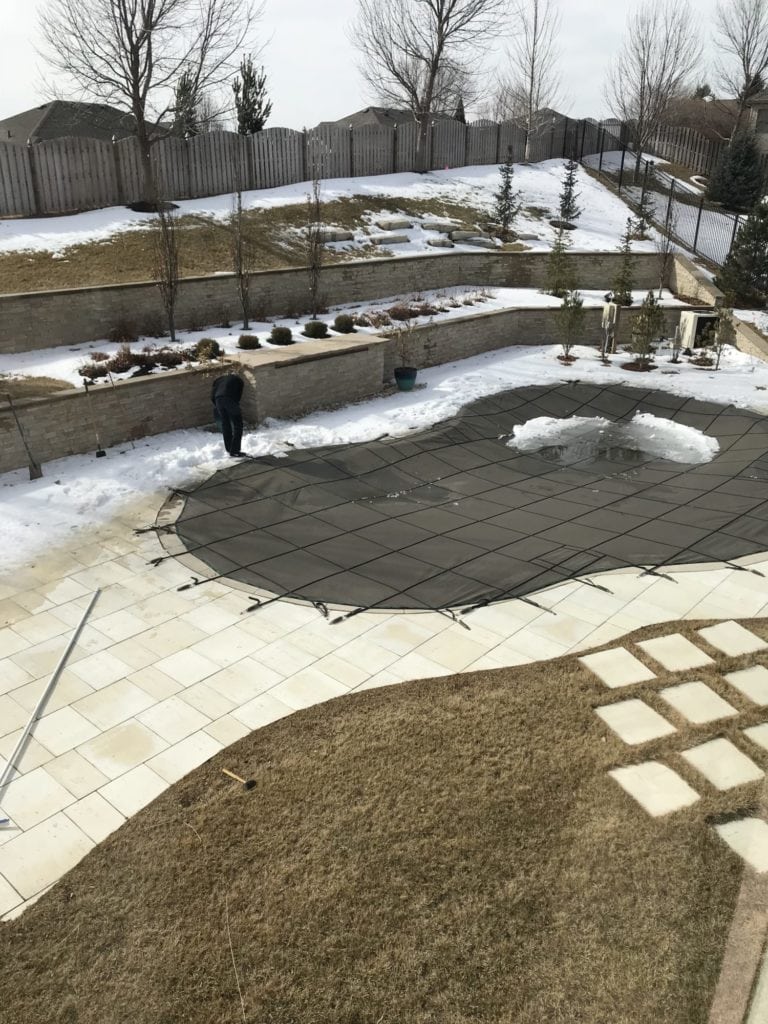 It's now good as new! We're just shocked at how much the pool has filled back up. But, we think it has just been so cold here this past month or so that the snow/ice hasn't melted and therefore hasn't had a chance to evaporate. Kurtis also got two out of the three remaining extensions cords from our Christmas lights out of the grass. They've basically been frozen there since December. At least we only have one trashy cord through our yard left now 😉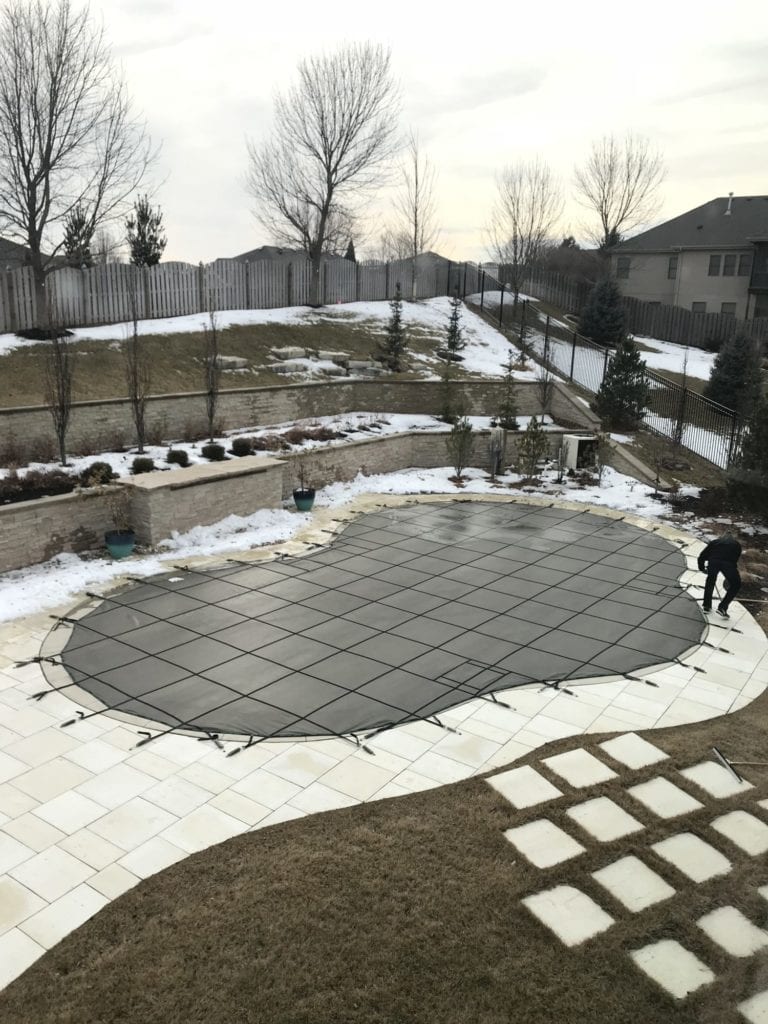 Since we will be traveling for eight days at the end of the month, I spent the bulk of my weekend prepping for two weeks worth of blog content, shooting some outfit layouts, and getting ready for a spring home tour and tablescape I need to have prepared before we leave. I'm also going to be taking over my friend Kelley Nan's Instagram Stories tomorrow and will probably do a walking tour of part of our house. Be sure to stop over if you're interested!
I ended up ordering this rattan mirror yesterday while it was on special price (it's still on sale today!). Although it's on back-order for about a month, I felt it was worth the wait based upon the size and the price. I have a few places in mind for it, so I'll make my final decision once it arrives and I can play around with it!
Yesterday afternoon, we finally disassembled the EXPEDIT that had been sitting in our upstairs hallway. It had been sitting here for well over a month, after I moved it out of our guest bedroom to make room for the desk. We basically took the top half off and then carried it down to the basement (so much fun!). So, now we'll have some storage down there. We had to cut a 2×4 out of the wall frame to get it where we wanted, but it made it!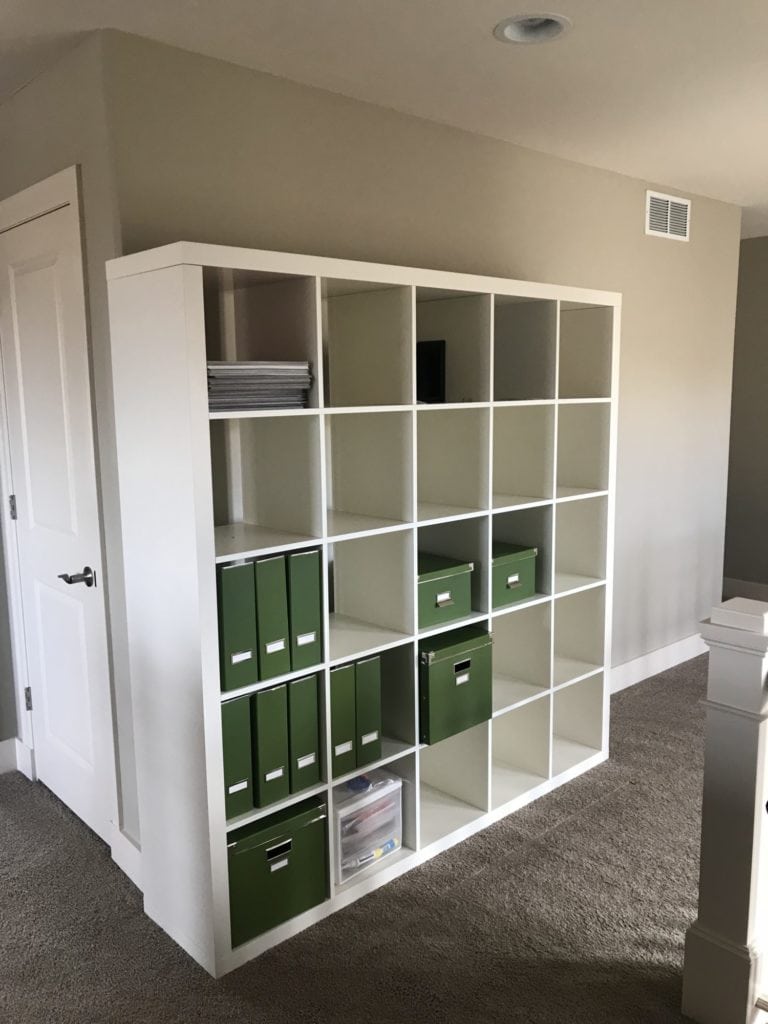 I rarely show pictures of our basement, because honestly, there's not much to look at. But here you can get a glimpse of the little gym Kurtis has set up (it's basically in the room directly under our living room). I took the picture when he was cutting down the framing board so we could squeeze the EXPEDIT into our storage room.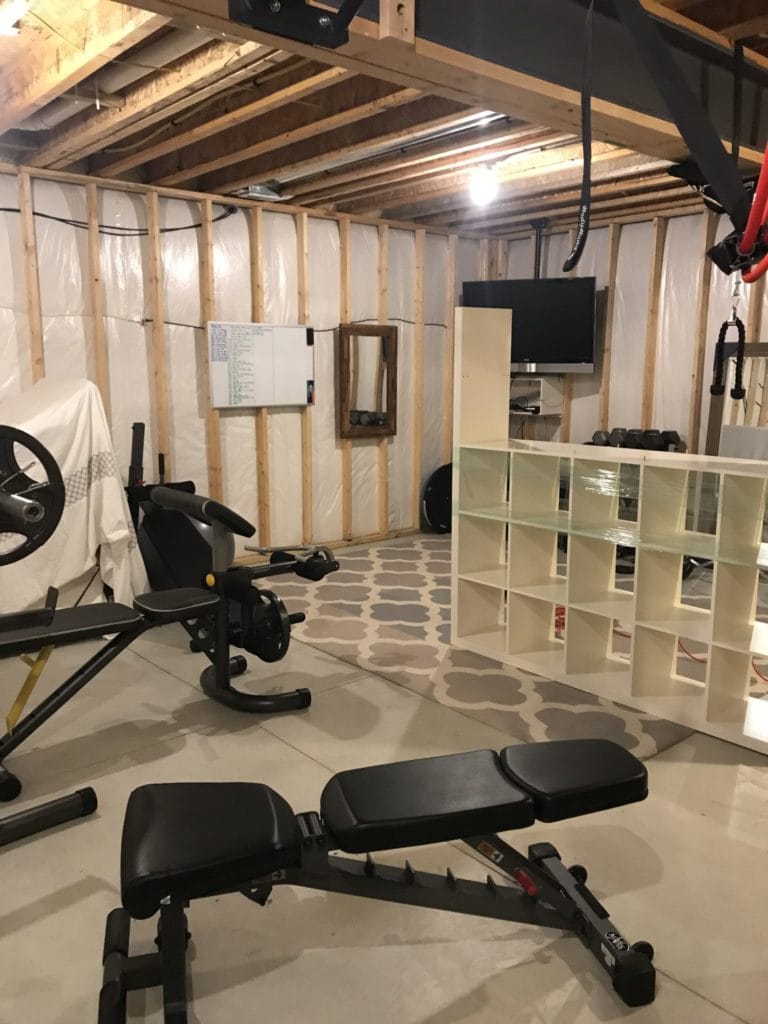 Around Town & For Fun
Wednesday I had to take all four cats to the vet for their annual check-up. They basically think I am torturing them the entire car ride and then they are fine once we're there. Bearcat and Henley always take it the worst and basically want nothing to do with me for a few days afterwards. They both came home and crashed. Little do they know, we take them in so they stay healthy and can keep living their sheltered, spoiled lifestyle 😉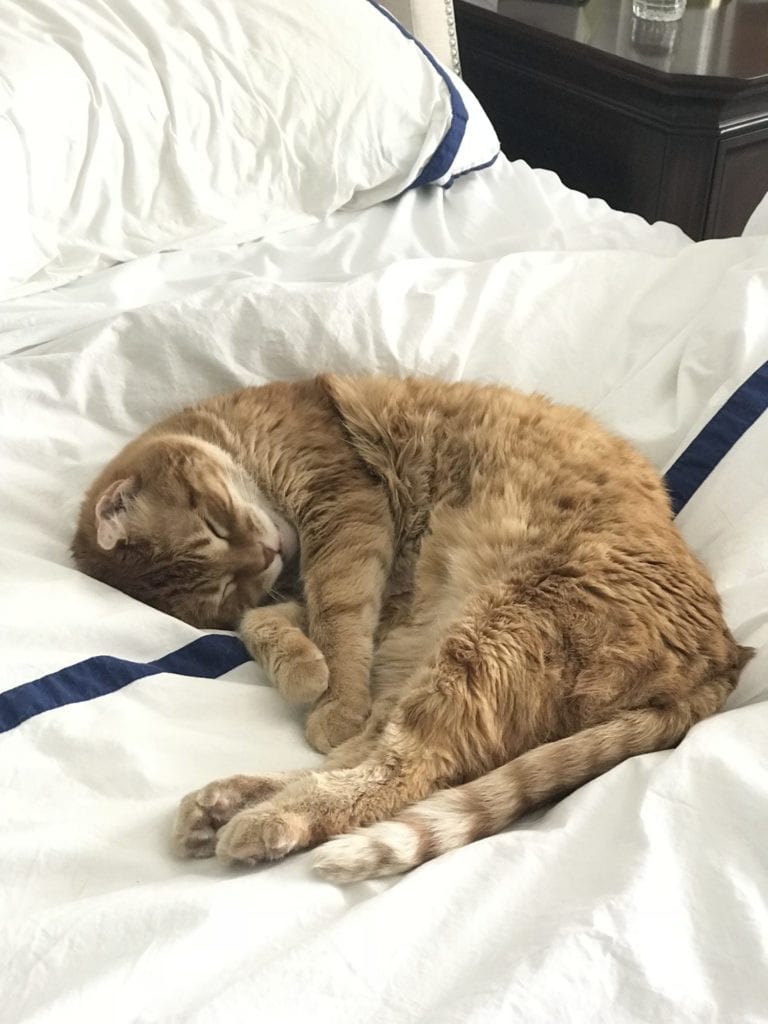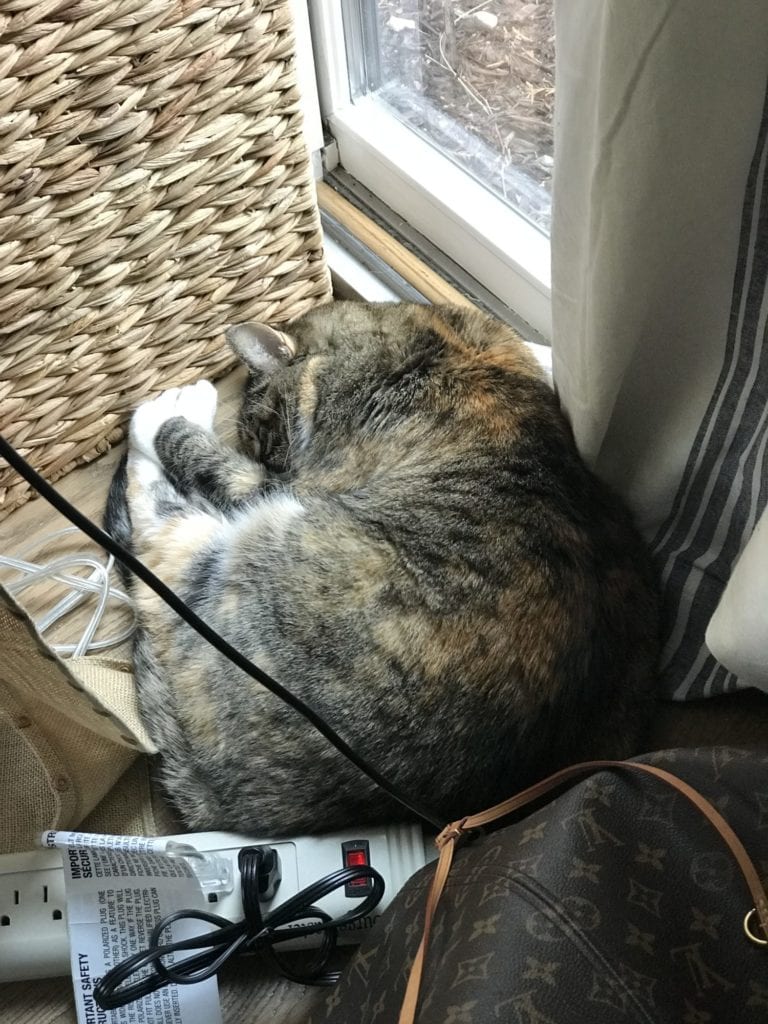 Random: I've mentioned this before, but I am so old-school when it comes to computers. I like to work at a desk with an actual computer in order to get my work done. I guess that's what nearly 20 years in corporate America will do to you 😉
But, after months of discussion, I finally decided to get a laptop. With the upcoming travel I have over the coming months and the fact that warmer months are near, I need to make my "office" more mobile friendly. I hate spending money on technology, but obviously, as a blogger, it really isn't optional! So, after some research, we headed to Best Buy Friday afternoon to buy a laptop. I didn't need many bells and whistles. I judge more on how loud the keys are and which mouse is the least obnoxious when I'm ninja clicking 😉 I still plan to use my desktop PC on a regular basis, but now I'll have the option to sit outside at times when the weather is nicer and I can take the laptop with me when I travel.
After the purchase, we headed to Firebird's for an early dinner. This is by far one of our top favorite steak restaurants, and we had a gift card to use from my mom and her friends from when we hosted them this summer at the pool. Appetizers sounded really good to us this time around and we indulged in their happy hour menu. Probably not the best idea a week before we have to be in bathing suits, but it seemed wise at the time! We loved everything we tried (admittedly way too much food). The beef sliders, jalapeno bacon deviled eggs, the fired up shrimp (basically like bang-bang shrimp from Bonefish Grill), and the buffalo chicken strips (not pictured). So good! After this splurge, we are now on major lockdown before our trip!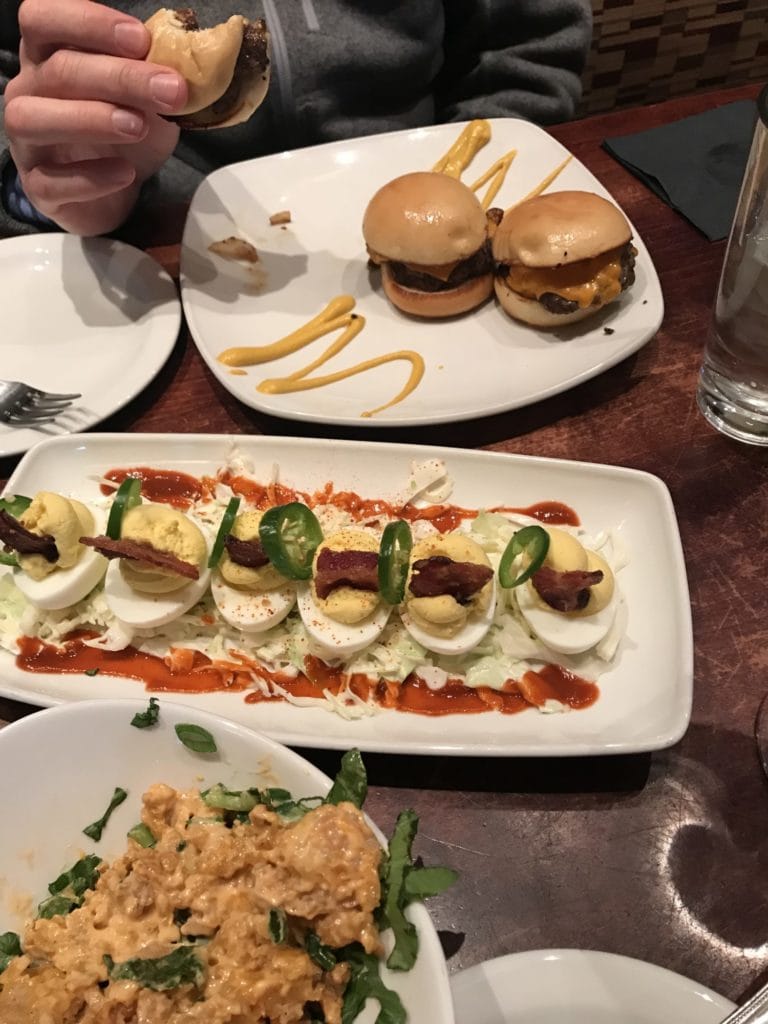 I ended up watching two movies on Netflix that night. I might be the only one left in America that didn't realize they have free made-for-Netflix movies. I can't say any have been amazing, but they are all pretty cute and it gives me something to do on a Friday night when Kurtis is "napping" on the couch by 7 pm. Haha!
Recent Outfits and Favorite Buys
It nearly hit 60 degrees here in Omaha yesterday, which means I'm basically considering it to be officially spring now. Especially since we're 2/3 of the way through February! I spent some time yesterday looking through a few favorite flower/gardening books. The one shown with my outfit below is Cut Flower Garden Book. I also enjoyed Gardenista, and since I was in the spring flower mood, I pre-ordered Color Me Floral written by my favorite floral account to follow on Instagram, Tulipina Design.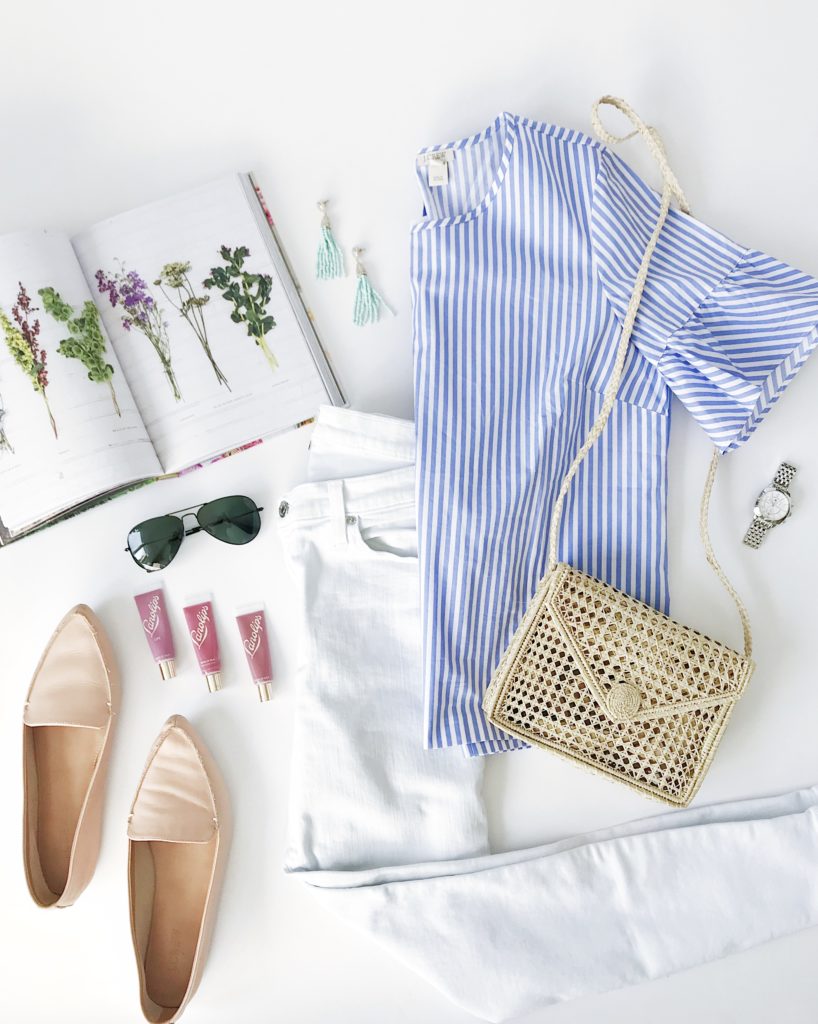 Blue and White Stripe Ruffle Top | Favorite White Skinny Jeans | Straw Cross-Body Bag | Watch (same brand, similar style) | Nude Loafers | Tassel Earrings | Aviator Glasses | Tinted Lip Glosses | Cut Flower Garden Book
I shared this outfit in my Wednesday Watch List last week. But, I thought it was worth mentioning again because the sweater is on sale and now an ADDITIONAL 60% off with code HAPPY. It makes it only around $20! They actually have an additional 60% off all sale items, and 40% off select full price items with so many cute new arrivals for spring!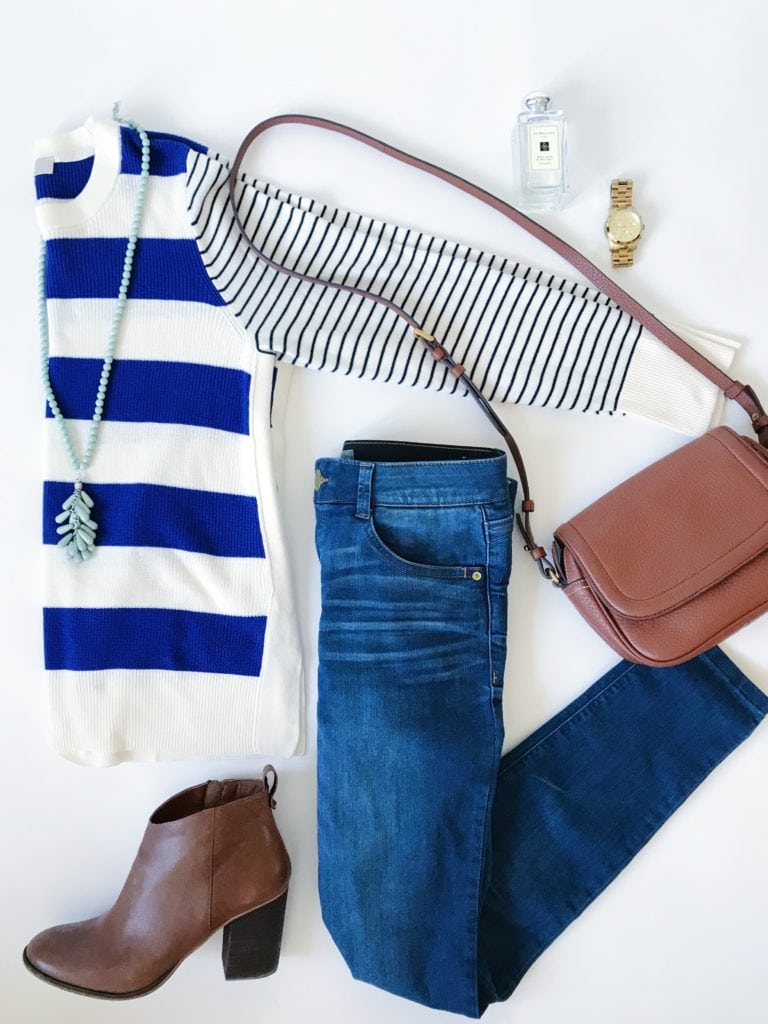 Sweater | Necklace | Jeans | Boots | Crossbody Bag | Favorite Perfume | Gold Watch
I had a bunch of orders arrive and spent time this weekend trying everything on, and getting all the returns ready. Last week on my Instagram Stories I talked about two dresses: this one and this one. You guys wanted me to report back and let you know how I liked them. Especially since they both get so many rave reviews. But, it seems like only smaller/more petite gals are sharing them.
So, for me, they are both being returned. Here's the details. I actually got messages from quite a few readers on  this dress from gals that were 5'10 to 6′ that are obsessed with it. I actually loved it on my in the front but from behind I was way to self-conscious with it on my booty. I have a big butt guys, so this form-fitting shape just didn't work for me. The length, which was a big concern for many, actually wasn't an issue at all for me. So, if you're okay with a more body-hugging fit, you'll probably love it. It definitely is very flattering with the ruching. It just isn't for me!
Okay, on to the shift dress. This one is also going back. I actually really liked how it fit, except for one area. It is definitely a bit short too. The one part I didn't like is that the drop waist seam falls right on the widest part of my hips. That's probably because of my long torso. But, it just seemed to really emphasize my hips, which I obviously didn't love. I think if I had ordered a darker color it wouldn't have been as noticeable since you wouldn't see the seam as well.
A few other thoughts. This dress is adorable but laughably short. As in, it looked like I was wearing a short tunic. But, if you're shorter, it could be a really cute option! If you're 5'6″ or taller, I'm guessing the length will not work on you.
The dresses I'm keeping for our trip: this chambray dress and this jersey knit maxi dress. Both are even cuter and more flattering than I expected. This skirt is also a winner and so cute on! I think I may finally be ready to pack for our trip!
Sales You Should Know About
Because of the holiday today, many of the weekend sales I shared on Saturday are continuing through today. Not only that, many have actually upped the ante with even better sales! For example, J. Crew is now offering 30% off with an extra 10% off at check-out with code SOGOOD. Pottery Barn is hosting another Premier Event with major markdowns on some items. For example, the bed in our guest bedroom is marked down $520-$600 off, depending upon size! So many great items to stock up on for next winter or pre-sales for the spring months ahead!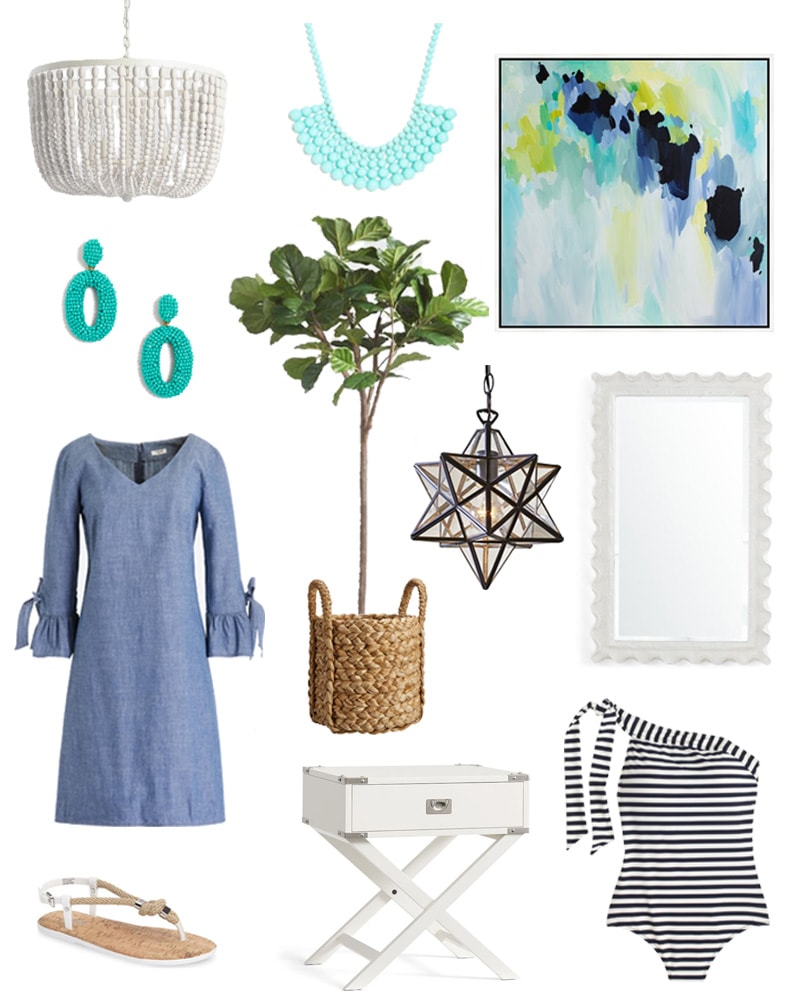 I hope you all have a great week!
If you would like to follow along on more of my home decor, DIY, lifestyle, travel and other posts, I'd love to have you follow me on any of the following:
Pinterest / Instagram / Facebook / Twitter / Google+
disclosure: some affiliate links used