Welcome to this week's Wednesday Watch List, where I share the random things that captured my attention and stole my heart over the past week!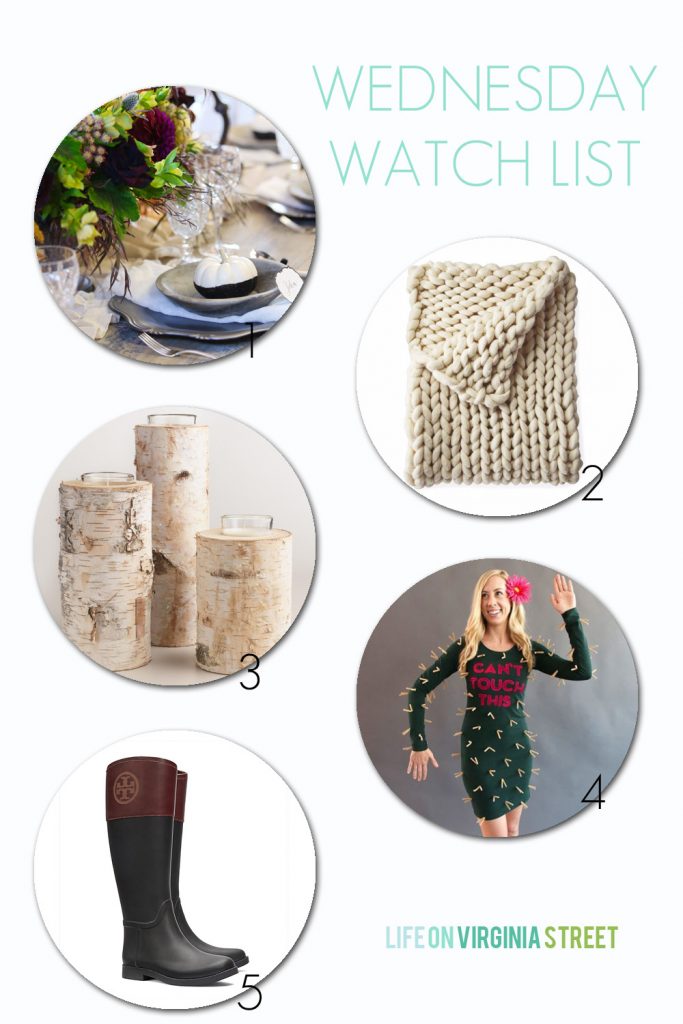 1 – My friend Tammy was just featured in the special Halloween edition of Better Homes & Gardens. Her Halloween inspired wedding shoot is beyond stunning (not usually a word you use with Halloween, right?). The photos are such great inspiration for more than just a wedding – a brunch, Halloween party, fall decor, and so much more!
2 – I came across this chunky knit throw recently in the Serena & Lily catalog and immediately knew I had to have one. Until I saw it was $598 (not a joke). I searched high and low and high again and for a regular throw size, the closest I can find runs at least $300, even on Etsy. Side note: you have to be careful on Etsy because many of the prices listed are for 20″ x 20″ which wouldn't cover much. I found this version that's just under $100, which is still a lot, but a lot closer to a real budget. I can tell in the photos (the one with the room) it's definitely an overscale cable knit.Has any one found other alternatives? I also found this tutorial if any of you brave souls wants to attempt to make their own (supposedly it only takes four hours)!
3 – These birch votive candle holders are so pretty and perfect for fall and winter months! They add so much great texture to a space!
4 – It's almost time for our annual adult Halloween party. This year's theme is simply 'the 80's'. I haven't finalized a plan yet, so I'm loving this round-up of 50 genius costume ideas for everyone from your pets to your kids to yourself. And if you're new-ish around here, I'd be remiss if I didn't share our couples costumes the past two years (2014 and 2015). Kurtis is starting to have way too much fun with his costume each year 😉 I found this 'Can't Touch This' Cactus costume particularly clever. Qas MC Hammer the 80's or 90's? Either way, I think my friend Jill and I are going to be My Little Ponies.
5 – Tory Burch is having a killer sale and although most of the sandals I wanted for next year are out of stock in my giant size, I am still contemplating these rain boots (that look nothing like rain boots). They are still available in almost all sizes and are so cute!
If you would like to follow along on more of my home decor, DIY, lifestyle, travel and other posts, I'd love to have you follow me on any of the following:
Pinterest / Instagram / Facebook / Twitter / Bloglovin' / Google
disclosure: some affiliate links used