It's week two of the One Room Challenge! Today I'm going to share my semi-complete inspiration board with you. I say semi-complete because I'm not sure if half of the items will actually be in the room for the big reveal. But, today I'm sharing what I think are most of my plans.
If you missed last week's post, you can see the current state of the room as well as my list of items that need to be completed.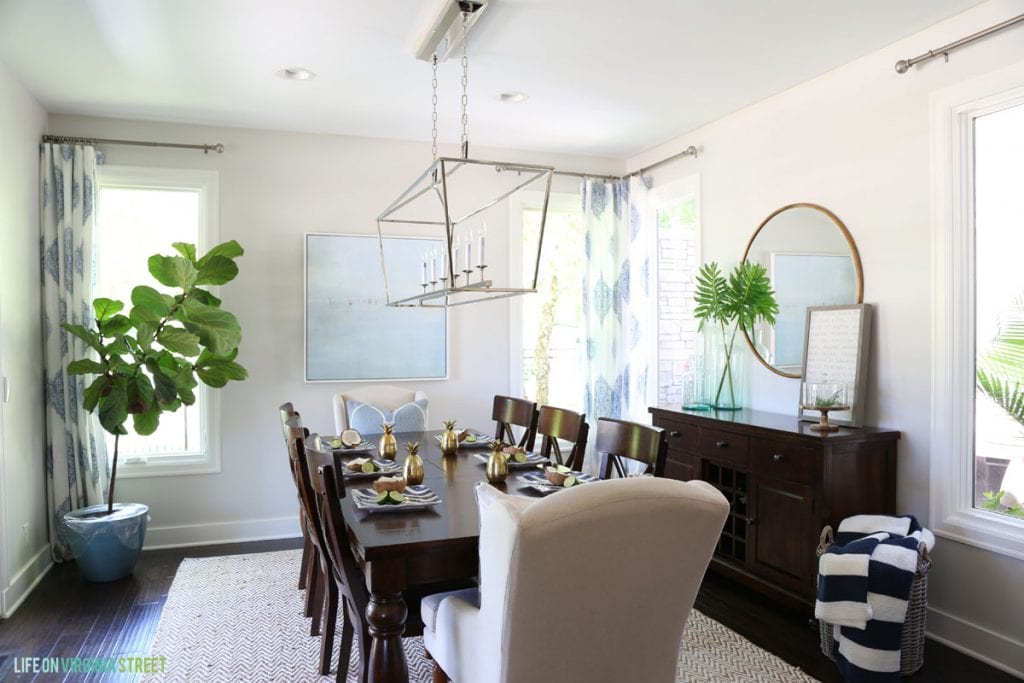 And below is my semi-complete design board. We're going for lighter furniture that flows better with the rest of the design and our house. This room also leads to our back covered patio and pool. So, even though it's our only official dining space, it has to be a transitional room from outdoors to our kitchen, be formal yet casual, and ultimately be usable and functional yet still pretty. Easy, right?!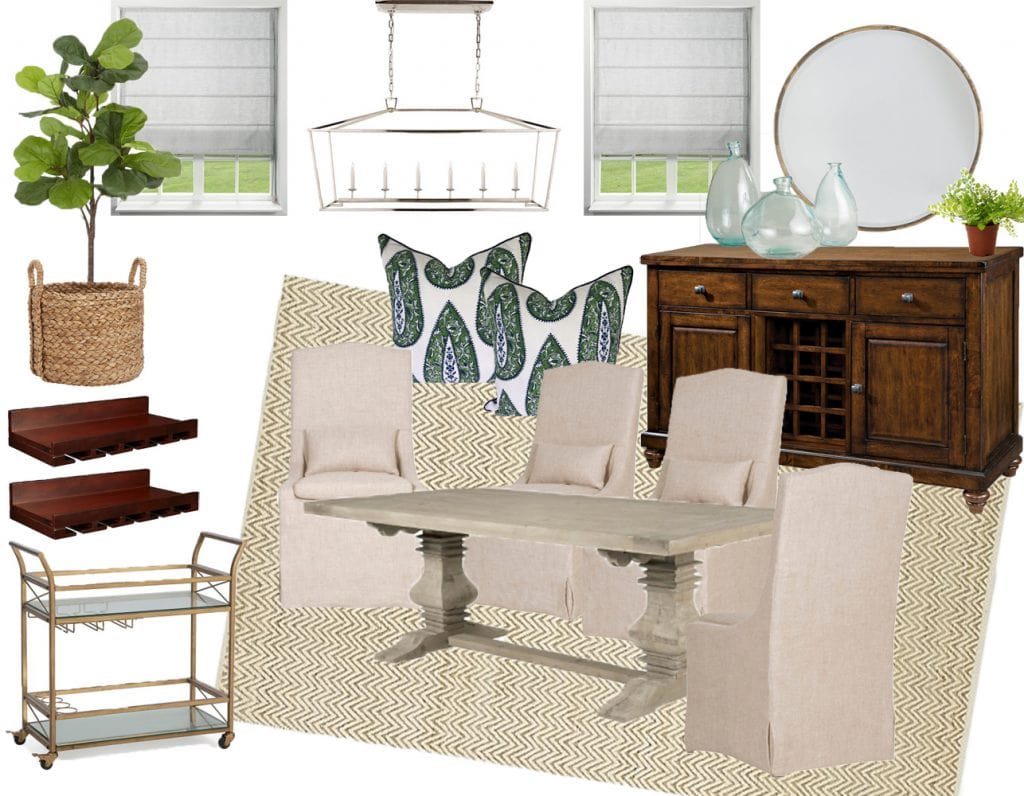 Dining Table | Chairs | Chandelier (existing) | Bar Cart | Wine Glass Shelves (existing) | Buffet Table | Rug (existing) | Mirror (existing) | Art (similar, similar) | Roman Shades | Large Basket | Maidenhair Fern | Glass Vases

A few things to note on the design:
Yes, it's a dining room, and yes I still want throw pillows in here. And that means throws pillows in addition to the pillows that already come with the chairs. There will be throw pillows in every room in my house someday (except maybe bathrooms).
I've left our current rug, current buffet table, current mirror and current chandelier in the plans. Only the chandelier is a 'must' stay, because obviously it's amazing 😉 The rug may go if I find the right new one, but honestly I haven't even started looking for a new one. As mentioned last week, the cats love to tear the current one apart, and I also think it might be a bit too neutral. The buffet table will go at some point (it matches our current dining set). I'd love to sell it and use the funds to buy a new one, but the problem is I haven't found one I really love. I'm in major need of storage (and would love to even have space for pool towels and other essentials), so a tall version may be in order like this one or this one. I just need to get to selling some stuff on our local Facebook page if I have a chance of ever making these a reality.
I'm working with Barn & Willow on some custom roman shades. I'm actually doing the flat roman shade but the one pictured above is the color (off-white) that I'll be using.
I have most of the furniture from my friends over at hayneedle and it is to die for. Like seriously. I should also note that the actual colors of the chairs, table and rug all look good together in real life (if a bit bland). The mock-up makes some look pink vs. yellowish, etc. I have to say the table and chairs might just be my favorite ever items and I can't wait to share them with you! They are definite investment pieces that I know will be so beautiful for years to come. I'll share more details on them in future posts. They are SO much more beautiful in person!
The Bar Cart is about a foot wider than the one I had previously. It fills the empty little wall so much better and obviously holds more booze. #priorities
As you can see at this point, the foundation of the new plans is super neutral. This is so that I can easily change the color scheme in the room down the road with easy (and cheap) accessories versus having to fully re-decorate. This is something I've had to learn the hard way in several rooms in our home in the past. But, the base pieces in this plan should last for years and years to come.
When I went to buy the fabric for the pillows in the plan, I always Google coupon codes (especially to try and find free shipping). But instead, I found this Groupon which was basically half of the order! Bad news is – I bought it, and then realized it can only be used in-store. IN NEW JERSEY. Lesson learned – always read the fine print. I've ordered from this fabric company several times in the past because I frequently find they have the lowest prices, and that was still the case on this fabric. I haven't pulled the trigger yet, but I've loved this print for a few years and know it will work in multiple rooms in my house if it isn't right for the dining room. If anyone is in NJ and is needing fabric, send me a message and I'm sure we can work something out 🙂 I'm just sad because I could have used the money to just buy these gorgeous pre-made versions (I'm loving that navy piping)!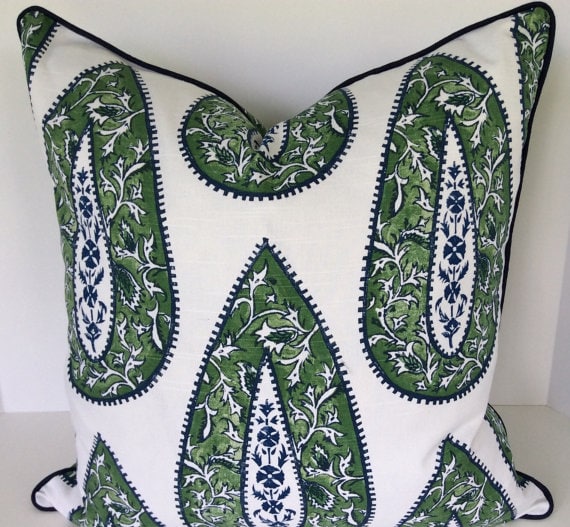 The design still lacks some of that 'wow' factor, but I think I'll get there by the end of the One Room Challenge. Fingers crossed!
So there you have it! The ORC is officially a third of the way over. Time to get my butt in gear!
If you'd like to check out all the other participating link-up projects, click the logo below!
Tomorrow I have a fun little makeover to share along with a giveaway for all of you!
If you would like to follow along on more of my home decor, DIY, lifestyle, travel and other posts, I'd love to have you follow me on any of the following:
Pinterest / Instagram / Facebook / Twitter / Bloglovin' / Google
disclosure: some affiliate links used