Welcome to this week's Wednesday Watch List, where I share the random things that captured my attention and stole my heart over the past week!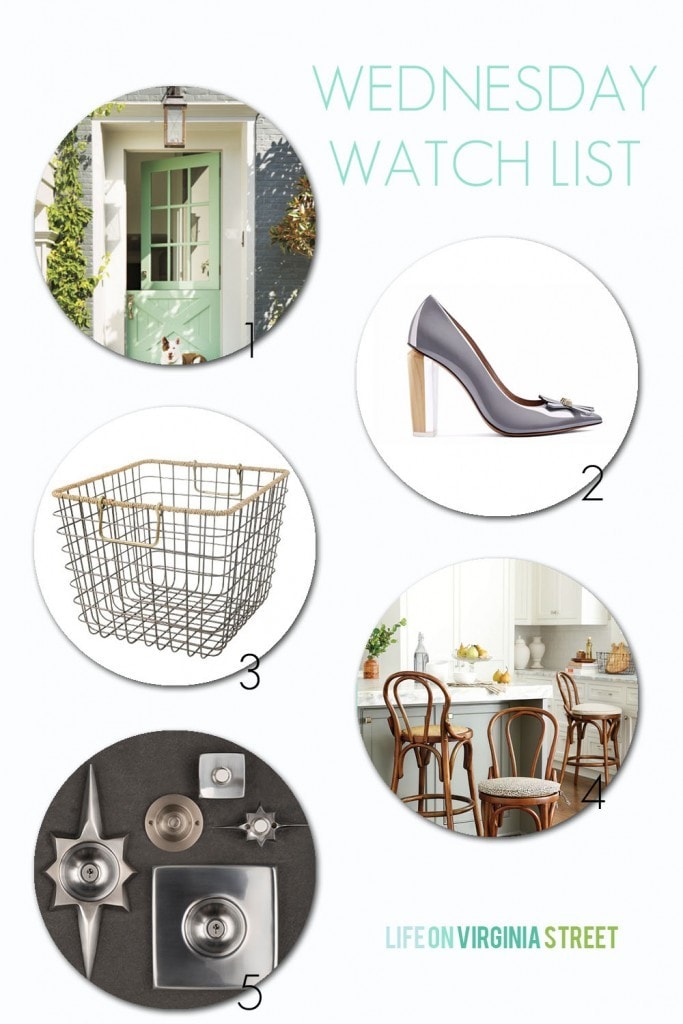 1 – A fun and colorful Manhattan Beach home tour. I'm  not sure if I love the exteriors (and that Dutch door!) more or the colorful spaces on the interior!
2 – Is it wrong to be obsessed with a shoe simply because it has the most amazing heels ever?! These Aurora Pumps with their wood and acrylic heels has me all sorts of googly eyes. Aren't they the prettiest? The slingback version is equally as pretty if you're a fan of a shorter heel.
3 – I have quickly fallen in love with this Large Wire Milkcrate with Seagrass Rim basket. I pretty much want to fill my linen closets, bookshelves storage units and everything else with these. Such a beautiful and polished way to organize and store items around your home!
4 – This post on 10 Home Decor Words You're Probably Mispronouncing made me laugh. Mostly because I knew I was pronouncing most of them incorrectly. I'll be honest – I only got three out of the ten right! Definitely helpful if you've ever been stuck on some of these (mostly) common home decor words!
5 – I've shared the star door handles before (with a second star shape here), but I just discovered that there is also a star doorbell button (and it's super affordable)!! I love that they come in three finishes and have several coordinating items. Definitely on my radar when we (hopefully/finally) swap out our porch lights this spring or summer. Update: the links aren't wanting to route to the exact items so you can also search Titan Tubelatch Door Set and Star Doorbell Button on the site if you can't find them.
And for those that haven't already done so, don't forget to enter the $1,000 Fab Shopping Spree giveaway!
If you would like to follow along on more of my home decor, DIY, lifestyle, travel and other posts, I'd love to have you follow me on any of the following:
Pinterest / Instagram / Facebook / Twitter / Bloglovin' / Google
disclosure: some affiliate links used