If you've followed my blog for long, you know that I am equally as enamored with updating our outdoor spaces as I am our indoor spaces. I am a firm believer that your yard should be "decorated" every bit as much as your interior spaces should be.
Now that our front yard, from a perennial standpoint, is where I want it, I'm excited to start adding some color to our front yard with annuals. Today I'm focusing on some Monrovia plants I added this past weekend.
Although we spent most of the weekend in Iowa for family events, I was so eager to get some color going in our yard that I planted several recently purchased plants as soon as we got home Sunday evening.
I know gardening is not on the top of most people's to-do lists, but a little bit of work and maintenance along the way can go a long ways to increasing your curb appeal and making your outdoor spaces areas you really grow to love. From a young age, I have always had a fascination with plants and gardening (I thank my parents for this trait). Aside from weeding, I actually find time spent in my yard to be very therapeutic and I love nothing more than pulling up to our house after a long day at work to see a beautiful yard.
Gardening and maintaining healthy and aesthetically pleasing green spaces can be quite easy, if you follow a few basic principles. And Monrovia is here to help with healthy plant growing tips. Monrovia brand plants are available at local garden centers and Lowe's home centers across the country – which makes it really convenient for me to purchase their products since we have a Lowe's around the corner from our neighborhood. Plus, the plants all looked SO healthy and hearty when I selected some for my yard this season. The high quality was unlike plants I've used in the past from various brands. Sort of made it a no-brainer!
I'm a firm believer that a little bit of color in flowers added to your landscape can do wonders for curb appeal. I opted to pick from the 'long bloom season' variety of plants that Monrovia has to offer because I love plants that don't just bloom for a week and then are done.
In the front beds, the existing plants don't do much to add bright colors, so this year I decided to add some Monrovia Harmony New Guinea Impatiens. I've had wild success with impatiens in planters in prior years (you can read more about those here), so I'm excited to see how these will thrive in the ground. The impatiens are supposed to get 10-18″ high by 10-18″ wide, so I took special care to space them a decent ways apart to allow for growth. I love that they will bloom from now through fall! I went with a rich magenta-like pink. Once these start spreading out in a few weeks I think they will look gorgeous from the street and will really shine!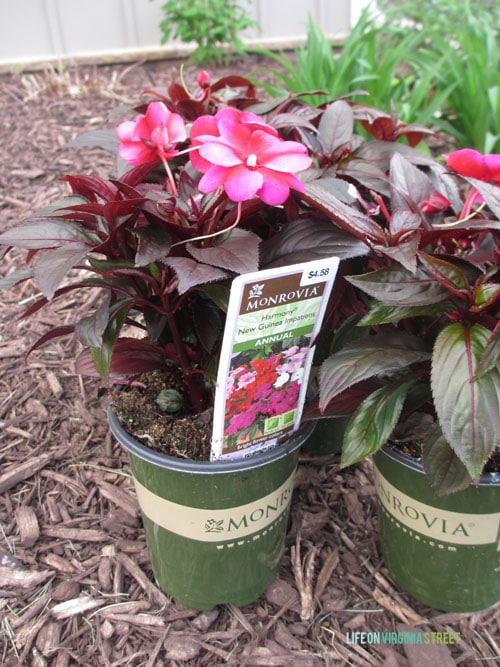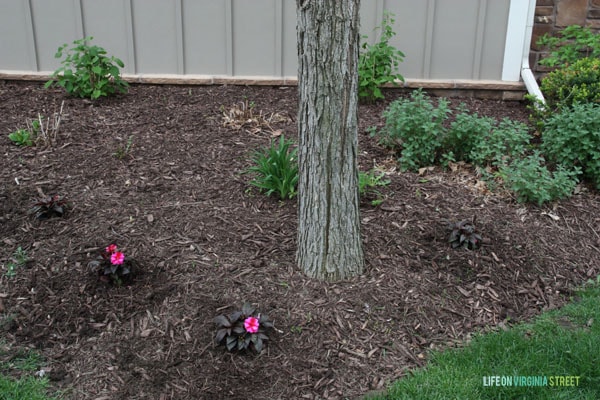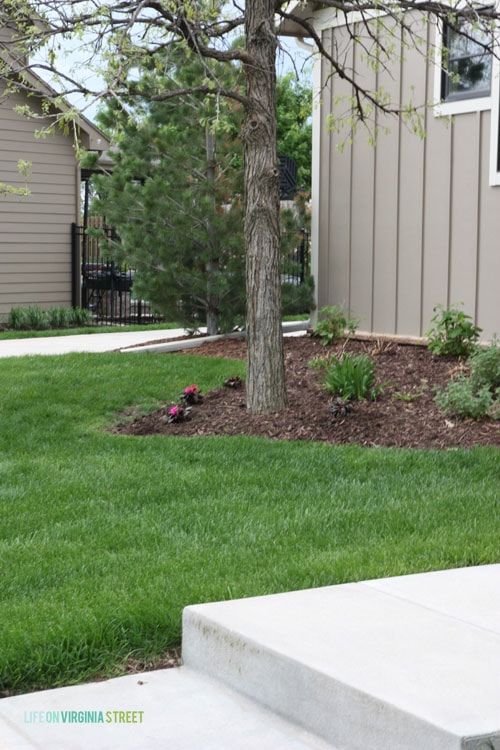 We also have a really cool feature in our front yard – a giant pedestal-like slab that holds three giant flower pots. I plan to do a full tutorial shortly on how I achieve flower planter success each year (you can read more in this post). But, for now, here is the start to my planters for 2015! I purchased three pots of Monrovia Cascadias Petunia (a type of wave petunias which are great for planters because they'll spill over the edges). These plants were monstrous! I feel like I'm already three to four weeks into the growing season with these bad boys and they already look SO good in the planters when mixed in with some green fillers.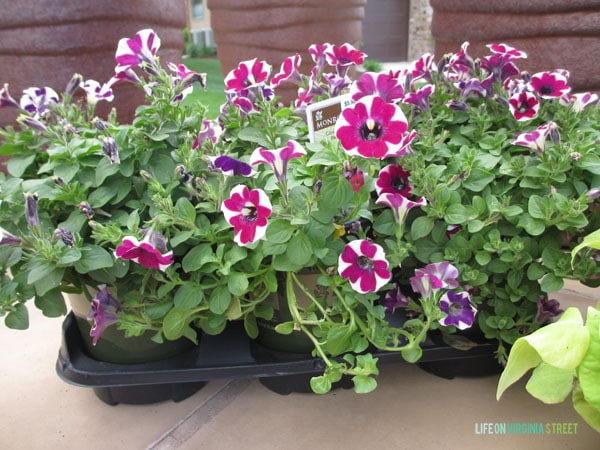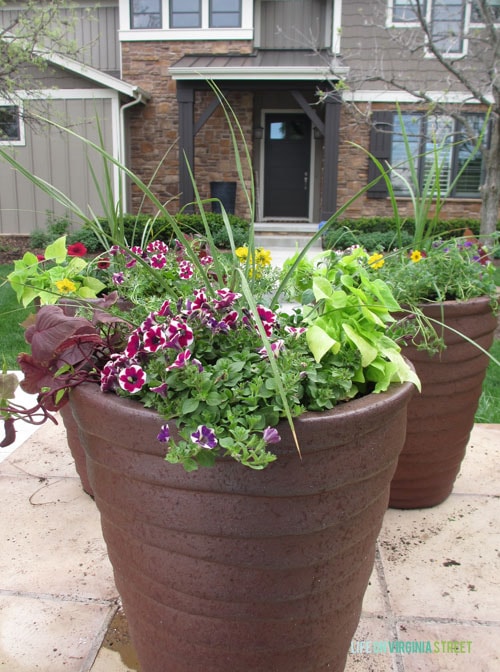 They're going to be stunning, right?! And yes – I only used one pot of the Monrovia Petunias in each of these planters. Mark my words – in a month, these things will be gargantuan! Can't wait for the wave effect to kick either. These planters are definitely the focal point of our home when cars drive by.
About an hour's worth of work for an entire summer's worth of color and curb appeal. So easy. This is exactly why I make such an effort each spring to get plants going in my yard.
What are some easy ways you like to add curb appeal? Are you a fan of planting flowers? I'll be sure to share updates throughout the summer so you can see the progress as these babies grow. I also have a few more planters to finalize this coming weekend so that I am ready to go for summer.
Thank you to Monrovia for sponsoring today's post and inspiring me to try their beautiful plants! You can see more of the gorgeous plants Monrovia has to offer here.  If you can't already tell, I'm beyond excited for summer to get here already!
If you would like to follow along on more of my home decor, DIY, lifestyle and other posts, I'd love to have you follow me on any of the following:
Pinterest / Instagram / Facebook / Twitter / Bloglovin' / Google