Today I'm sharing a collection of timeless and beautiful wood bed frame, cane bed frame, and upholstered beds. All of these options are perfect for your master bedroom or guest rooms!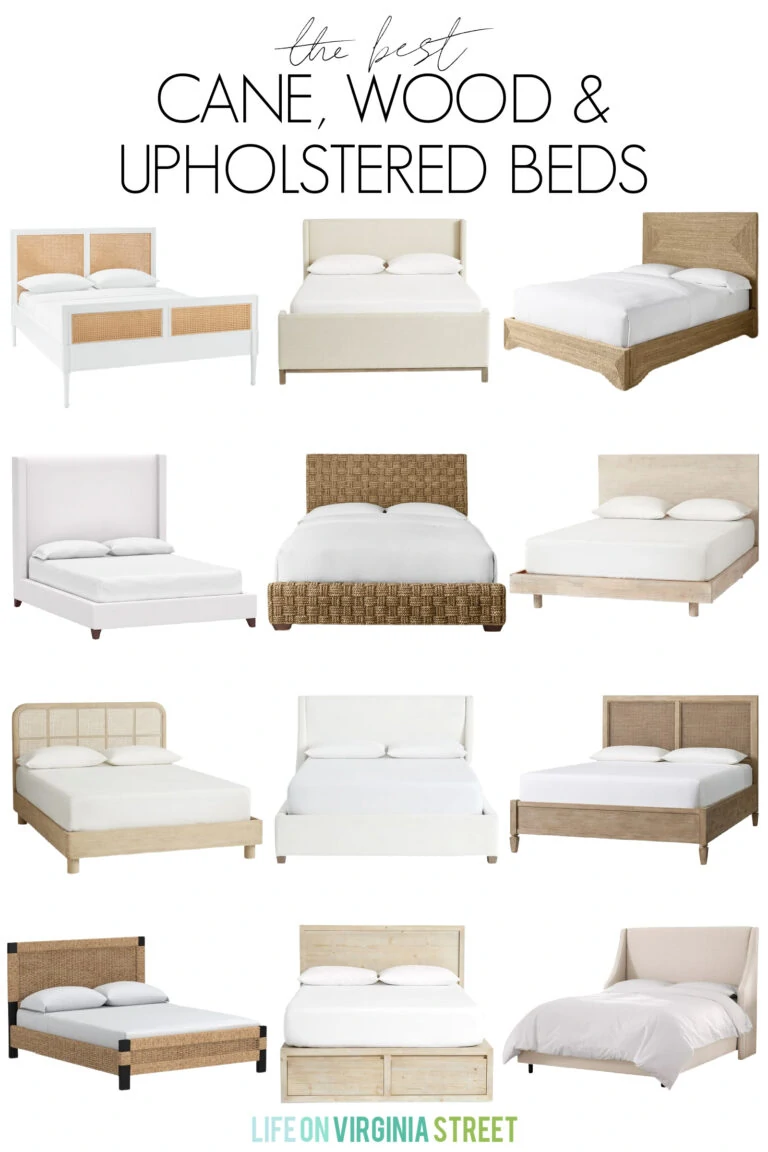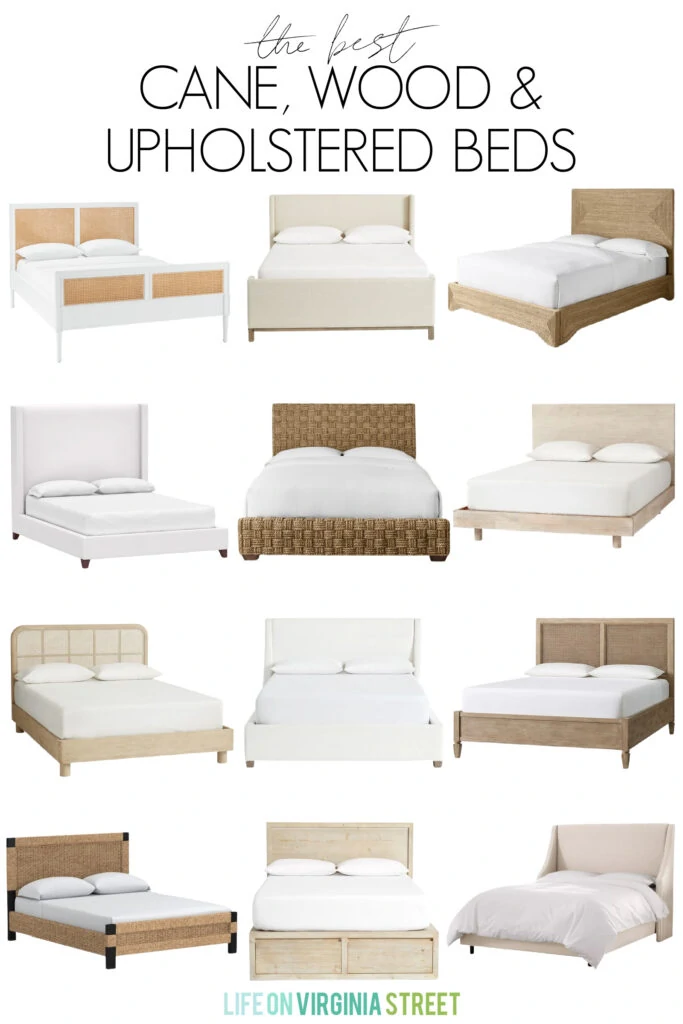 Happy Friday! Last week on the blog, I shared our guest bedroom mood board and plans. Today I'm going to dig a bit deeper into all of the bed options I looked at for this space. Although many of the bed frame options didn't work for us for one reason or another, I thought the pared down list may be helpful to others that might be on the hunt for a new bed! I'll also quickly touch on the specific characteristics (including bed height) that I was looking for. I'm including the best wood frame, cane and upholstered beds I found in my search!
This post contains affiliate links for your shopping convenience. Click here to read my full disclosure policy.
Before we jump into all of my bed finds, following is a quick reminder of the mood board I created for our guest bedroom. You can read more about all of the specifics here.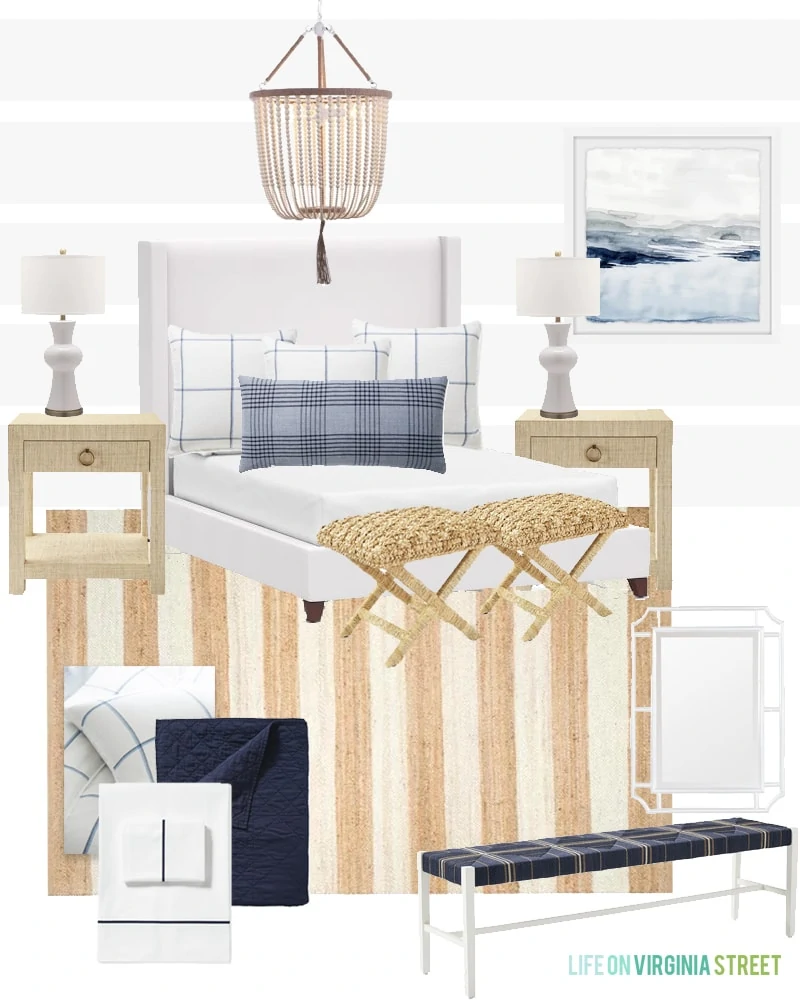 MOOD BOARD SOURCES: Upholstered Bed (Look for less here) | Raffia Nightstands | Pair of Ceramic Lamps | Bead Chandelier | Artwork | Striped Rug | Banded Sheets | Quilt | Windowpane Duvet Cover | Windowpane Euros | Windowpane Plaid Lumbar Pillow | X-Base Stools | Mirror | Woven Bench
My Ideal Bed Characteristics
What I was looking for specifically:
Neutral Upholstered Fabric or Natural Wood/Fiber or Cane. I prefer a neutral foundation so I can change my bedding seasonally or the entire vibe in the space by simply changing accessories and textiles!
Minimum of 50″ high. I based this off of this cane-back bed we have in our other guest bedroom. I wish the cane bed frames were a few inches taller so that the cane wasn't mostly blocked by pillows when made. If you don't use Euro shams, this likely wouldn't be an issue for you! If you're specifically looking for a cane option, you may want to check out this post on cane furniture and decor.
I wanted something timeless that can be used for many years to come. However, I also wanted to ensure it would pair well with our slightly coastal, beachy vibe!
A full-frame bed, not just a headboard. If you only need a headboard, I'd suggest checking out this post on stylish and affordable headboards I wrote a few years back. Many of the styles are still available!
California King Size Frame (to accommodate the mattress we already own and love). Most of the beds I found aren't offered in this size, so the search was more difficult than expected!
The Upholstered Bed We Ordered
We ultimately ended up ordering this upholstered bed for a number of reasons. I love the simple, classic design, and this particular upholstered bed was the tallest option I found for California King sized beds. It also helped that it was on sale and I had some rewards dollars and my designer discount to use. I went with the elegant white twill fabric (the cheapest option) and opted for no nailheads.
Also I love that the headboard sits 64″ off the ground (which will look better on ours than the stock photos, since we have a box spring under the mattress)! I always struggle with what to hang above beds, so I feel like this height may make it less noticeable if I hang nothing. Additionally, I love layering decor pillows, and this will allow me to use Euro shams without most of the headboard being covered. This other upholstered bed is a really great budget-friendly dupe I strongly considered, but it was still a bit shorter than I was looking for for this space.
Wood, Cane & Upholstered Beds
Several of the beds I found fell short in a few of the areas I listed above. However, that doesn't mean they may not work for one of you! Especially since I love all of these bedding options so much! Following are several other bed frames we considered for this room makeover! I honestly had such a hard time deciding among all of them! Click on any of the images below to learn more about each of the beds. Please also note: most of the upholstered beds shown come in a variety of textured fabric options and colors once you click through!

Although our new bed likely won't arrive for another month or two, I'm going to try and pop in sometime next week to share some of the other new decor elements in the space as we start preparing for some guest arrivals!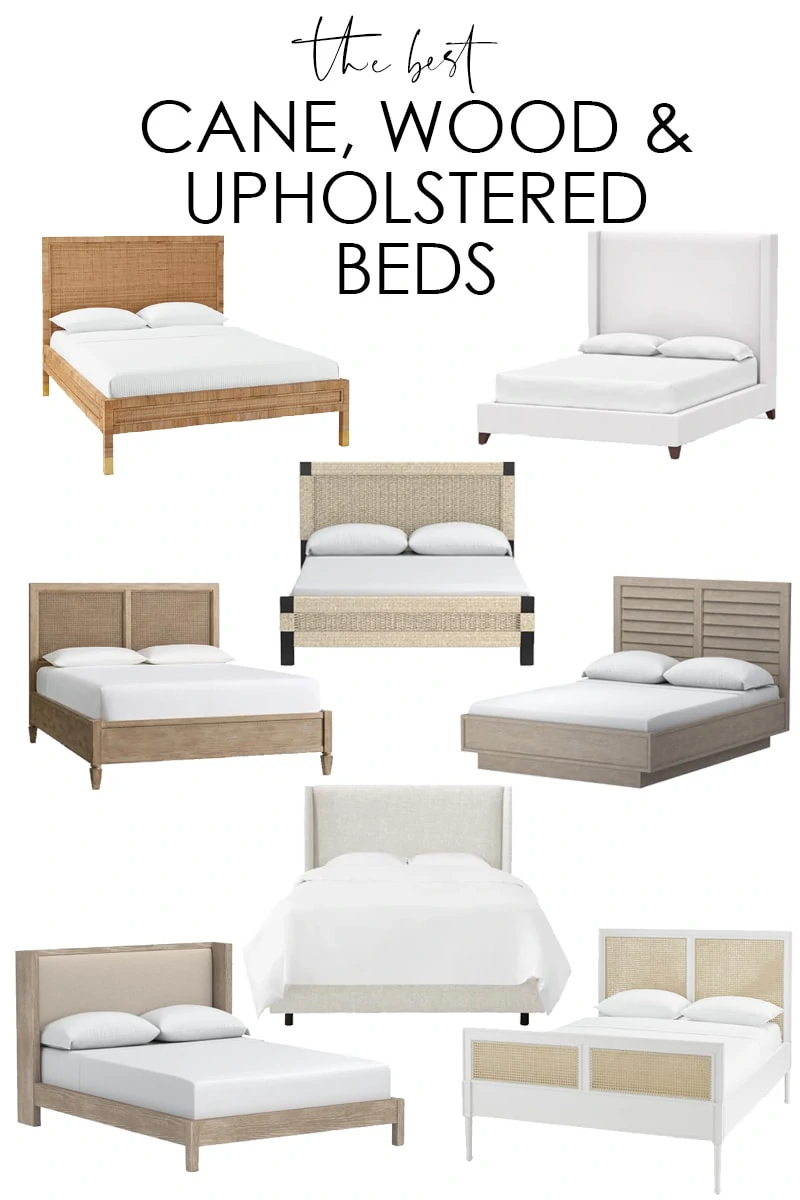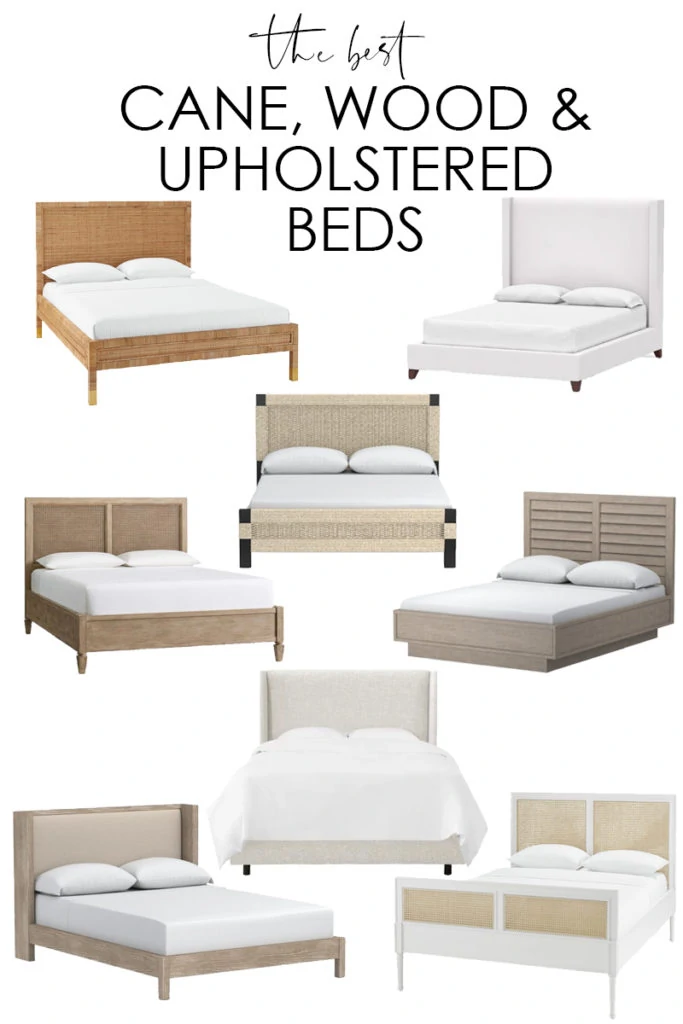 If you would like to follow along on more of my home decor, DIY, lifestyle, travel and other posts, I'd love to have you follow me on any of the following:
Pinterest | Instagram | Facebook | Twitter 
disclosure: some affiliate links used