I hope you all had a great weekend! As much as I dislike it getting dark so much earlier now, I am a major fan of the extra hour of sleep. I'm such a morning person, so I love that I've naturally woken up so much earlier these past two days! It makes me feel so much more productive the entire day! I feel like yesterday was one of the most productive days I've had in a long time, so it has me hopeful that productivity can continue the rest of the week!
This post contains affiliate links for your shopping convenience. Click here to read my full disclosure policy.
Home Projects & Updates
I mentioned this past week that I ordered a new Christmas tree since I donated most of our others earlier this year after the floods. I set up our new one and have yet to "fluff" a single branch (hence the crooked top) but I already love it so much! And for those asking about the Instagram Stories that had expired after 24 hours – I have now save the videos to my highlights on Instagram. You'll just tap the little circle that says Christmas tree. I also moved my DIY marble paint ornament video to the front of highlights, as well, after getting other requests for those!
Could Henley be a cuter model?! There's nothing like the bokeh effect that comes from Christmas tree lights this time of year!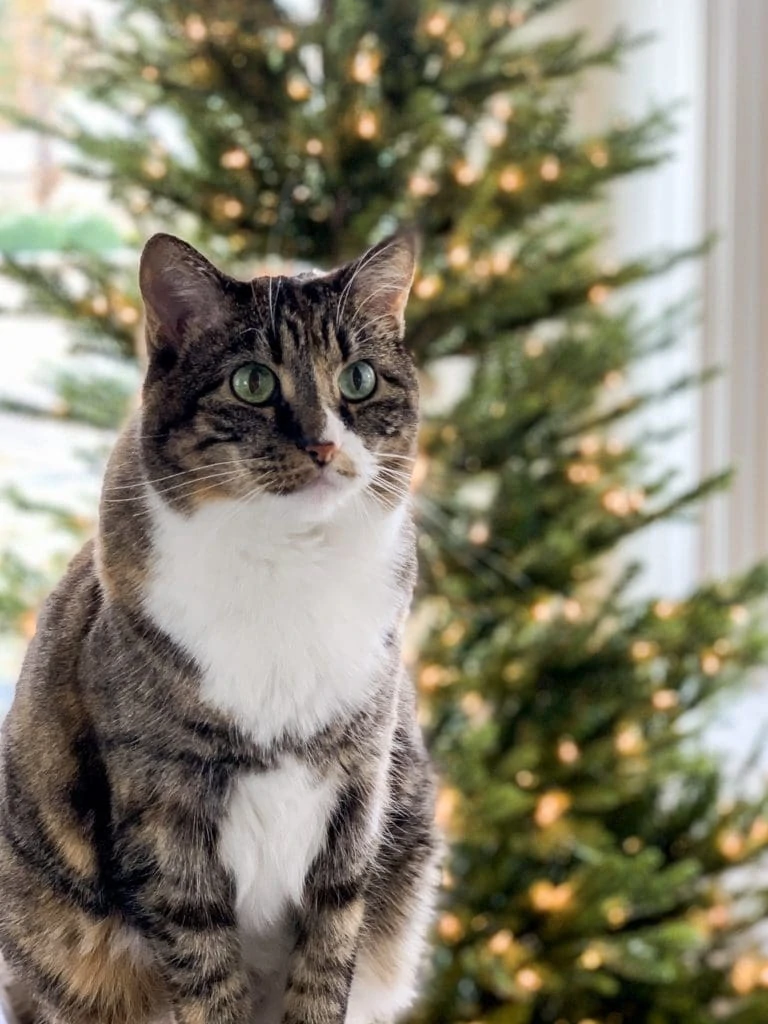 Tuesday was an exciting day because our new washer and dryer arrived! I got so much great feedback on brands on IG. I still need to compile all that for you. We ultimately went with a pair of LGs that were on sale, in stock, and could be delivered within a few days. Not super scientific, but we really needed some ASAP! We didn't get pedestals because we use the hanging rack quite a bit. But, with us both being fairly tall, we're now regretting that decision a bit after running several loads 😉 I'm also going to have to figure out a solution to hide all the ugly cords and hoses now that these are a few inches shorter!
Kurtis had a doctor's appointment Friday so he took the full day off to clean the garage. He needed that full day (and probably then some). Guys, our garage was a total embarrassment!!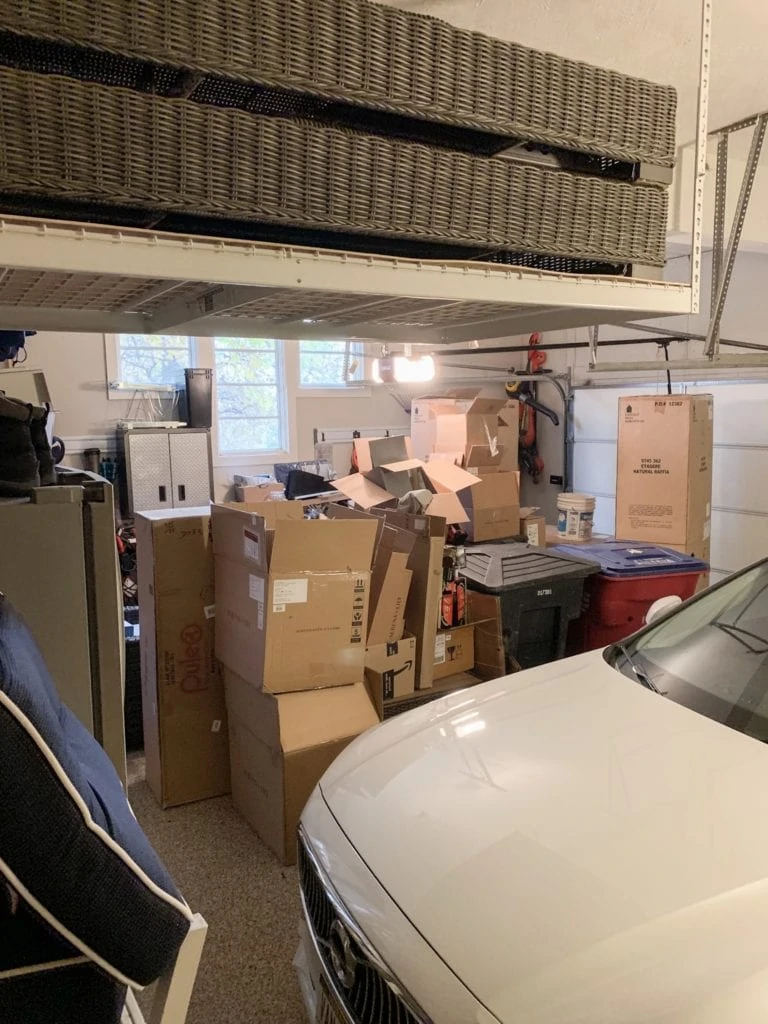 This "work bench" he had built a few years back had become a disaster. It was essentially dumping grounds for stuff he didn't want to deal with. So, he disassembled it and cleaned everything up. This also freed up quite a bit of wall space too!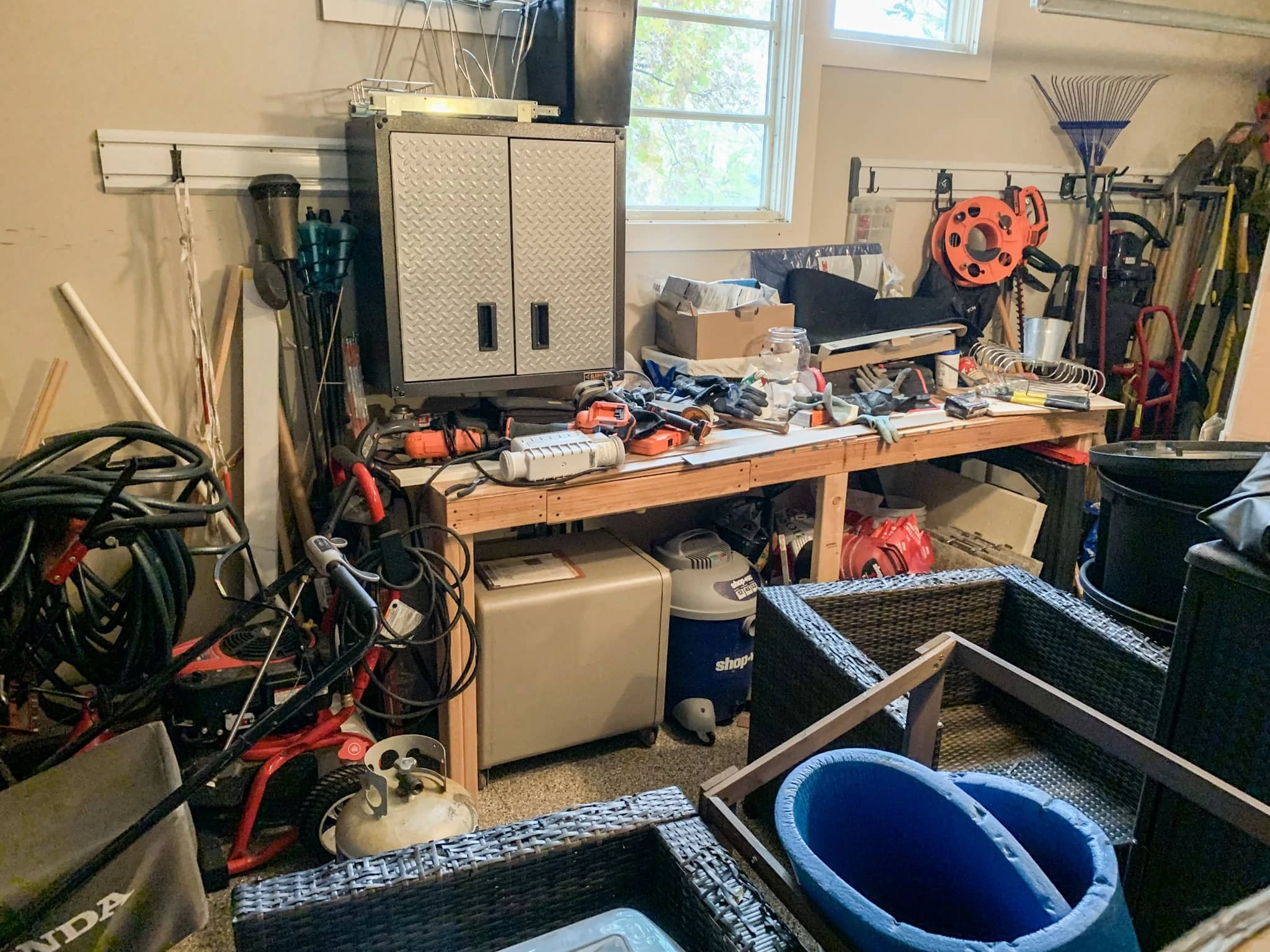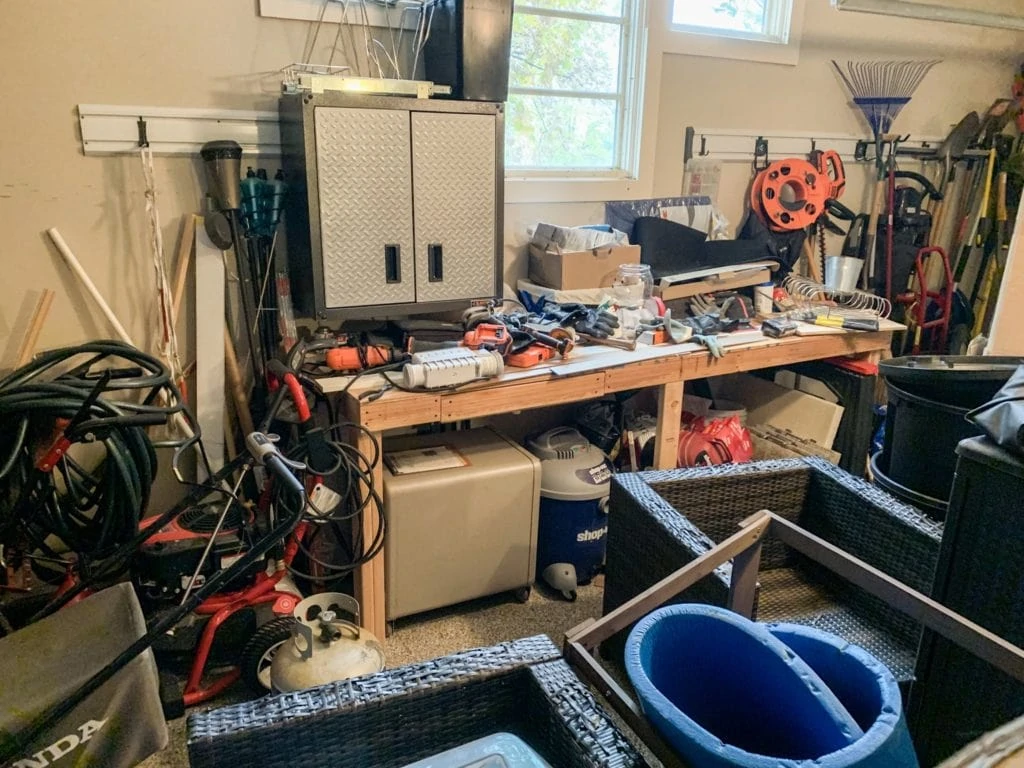 He was able to get it looking so good! We took a huge carload to donate on Saturday morning.The only thing left is basically stuff that needs to go out with the trash or recycling! Otherwise, the entire center is basically empty now! I'm pretty sure our friends and family won't even know who's house they're at any longer 😉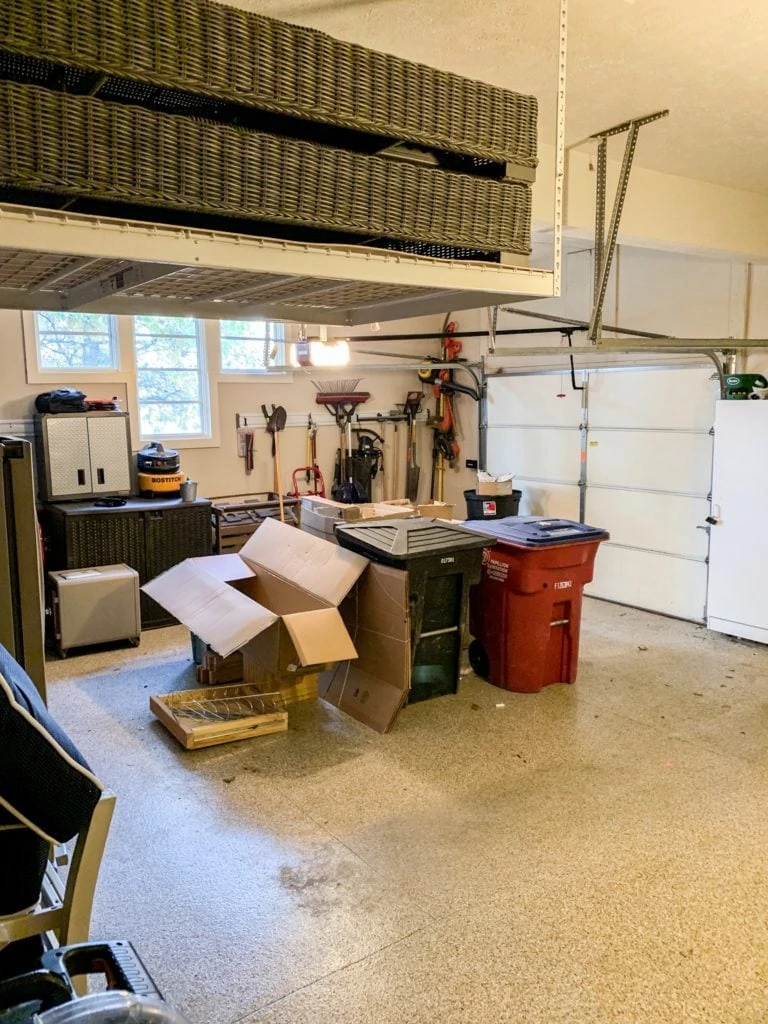 I spent most of Friday through Sunday listing furniture on Facebook and emptying dresser drawers, etc. for our new furniture arriving this week! I also was able to go through my clothes and get several bags to donate! I was most proud of this little jewelry center I added in my nightstand. I used to leave it all out on our dresser and it always looked so chaotic. I just re-used items I already had, purged the stuff I was no longer using, and moved it all to the top shelf of my nightstand so it's hidden behind a door! Our bedroom already feels so much better!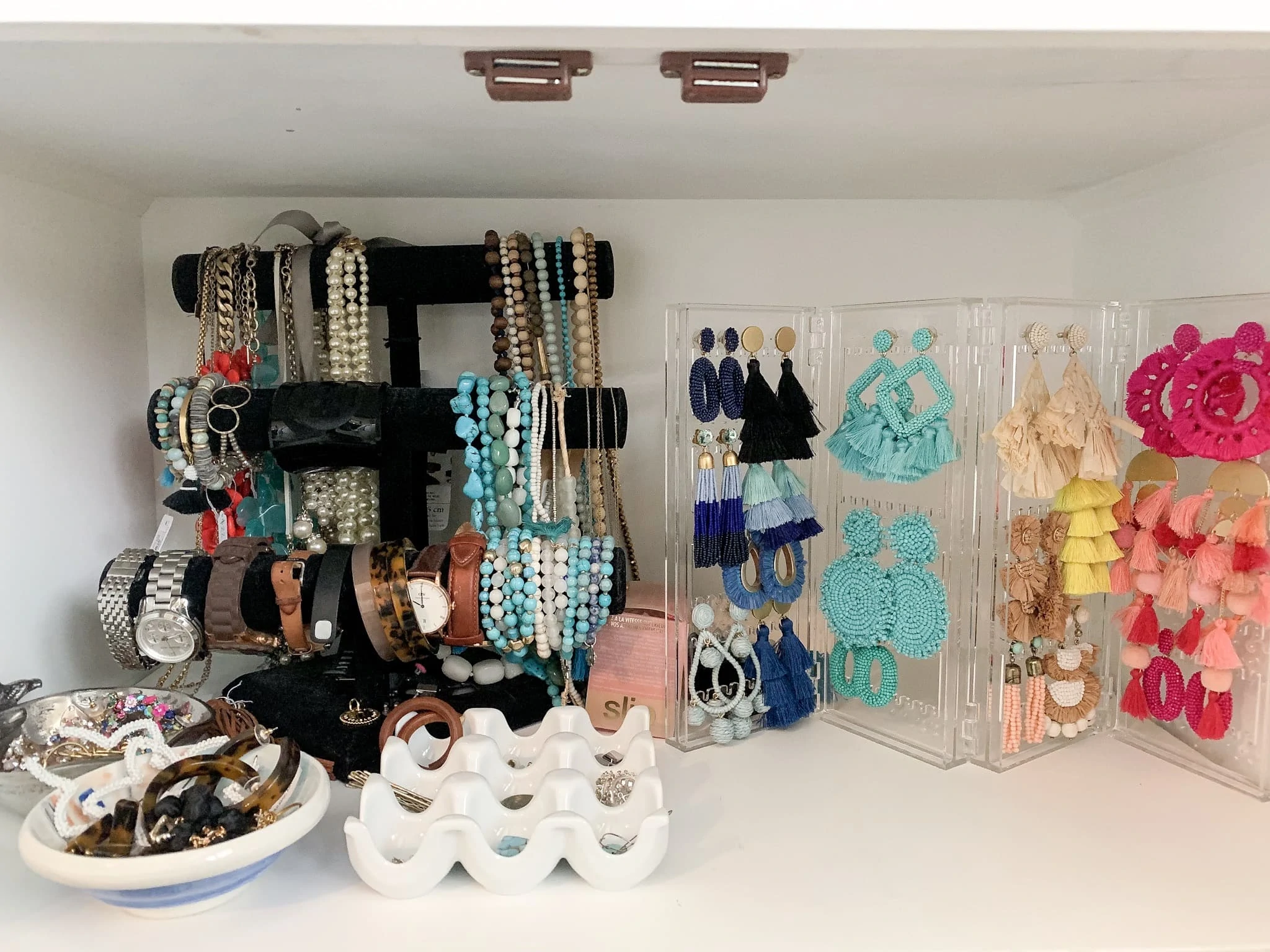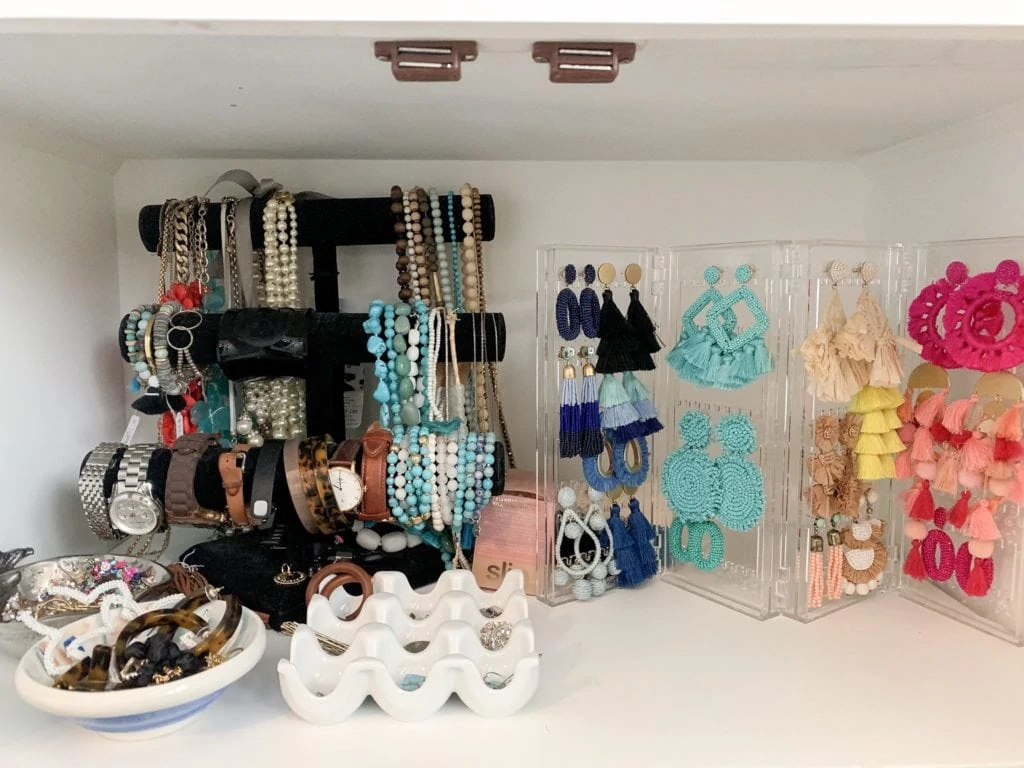 It was fun to get meet a few of you that saw my IG Stories about the sale and were able to buy things from me! Since I usually just decide rather spur of the moment to list items, I'll plan to continue to share on Instagram before I do so you guys have a shot at the items. The only item that hasn't sold is our guest bedroom bed. It's a California King size frame (it won't fit a king mattress). So if you're local and it will work for you, send me an email or message on Instagram and I can get you all the details on it!
Top Sellers Of The Week
Following were the top sellers across all of my channels for the past week!
I also wanted to quickly share some adorable pom holiday decor. Since I recently did a post on all things pom pom, I didn't think this warranted a separate post. So I thought I'd share it here!
Around Town & For Fun
Monday morning, we had to run Kurtis' car to the shop since they could finally get him in. It was such a beautiful morning on our street, I had to take a quick picture! I just wish I would have done it a few days earlier before the wind took out so many of the leaves!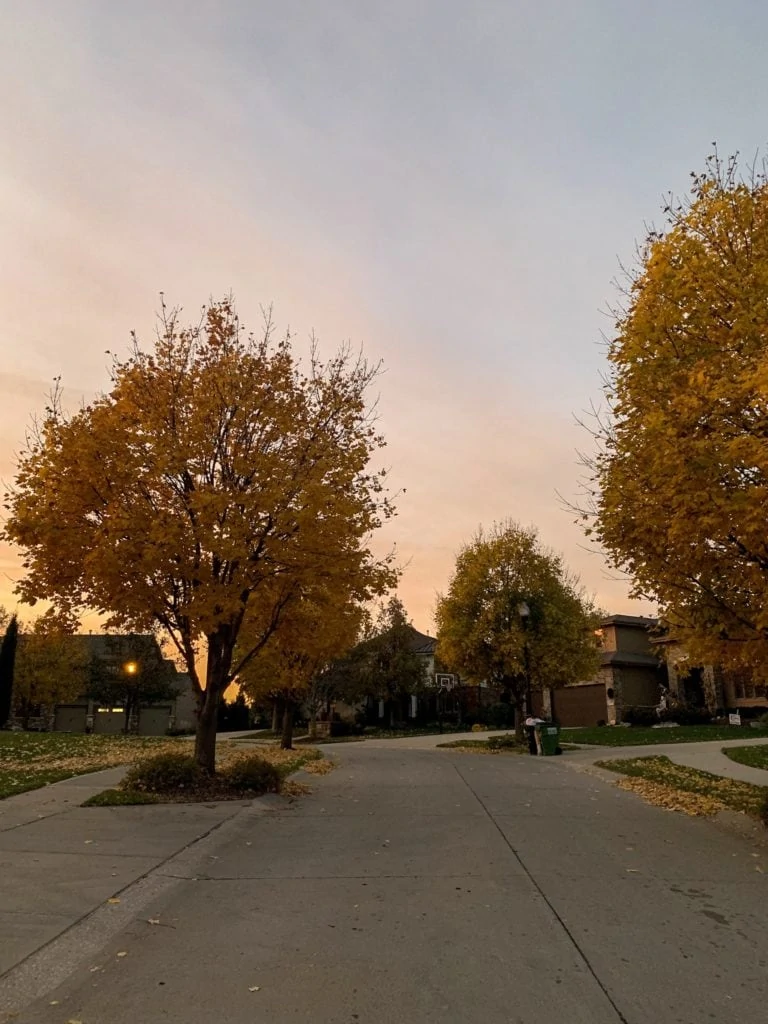 I took a quick outfit shot late Monday afternoon (I'm trying to be better about this) when we ran back to the car shop. Literally right after I took this cute fall look, it started SNOWING! But, I wanted to show a close-up of the cozy cableknit sweater I shared in my Wednesday Watch List a few weeks back. It's an additional 40% off today with code FRIENDS. I'm also wearing these earrings, old jeans, and these shoes. My lipgloss is the color 'All Things Magical'.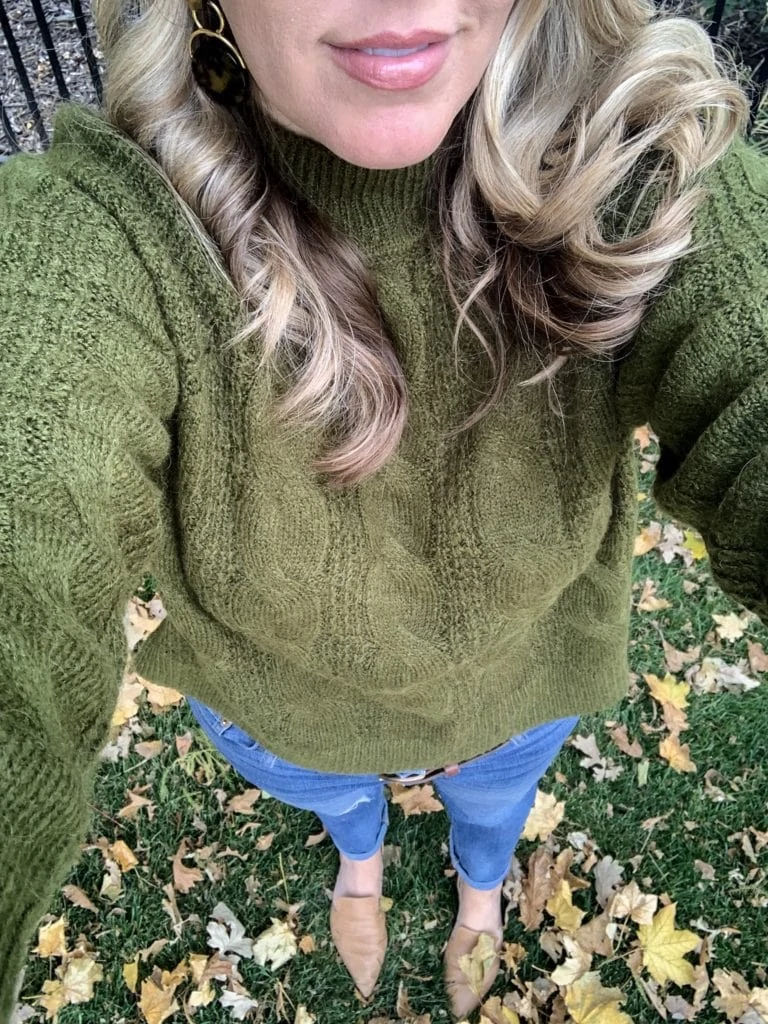 On Monday night, we celebrated Nick's birthday a bit late. We had wanted to try a new brewery in Elkhorn (Juke's), but apparently they aren't open on Mondays. So, we headed to the new Local at Village Pointe. It used to be Cheeseburger in Paradise, so I was surprised by just how much they changed the vibe. We really liked it!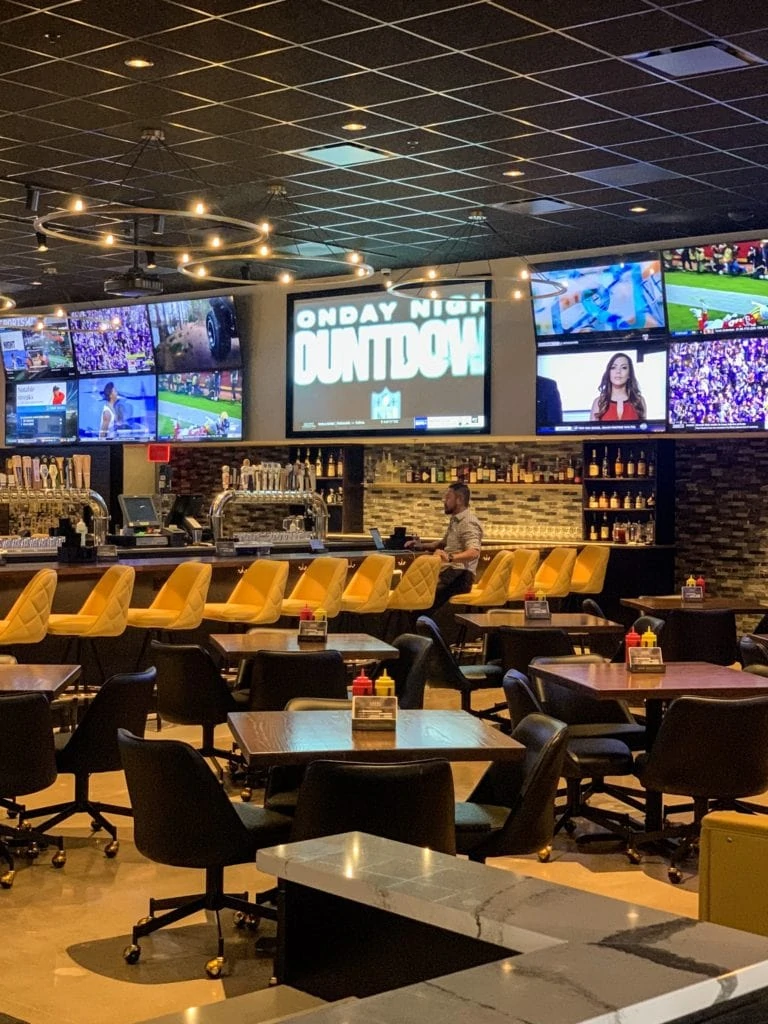 By the time we left dinner, the snow had accumulated a bit but wasn't crazy. It was just weird to see so much fall color on the trees covered in white snow!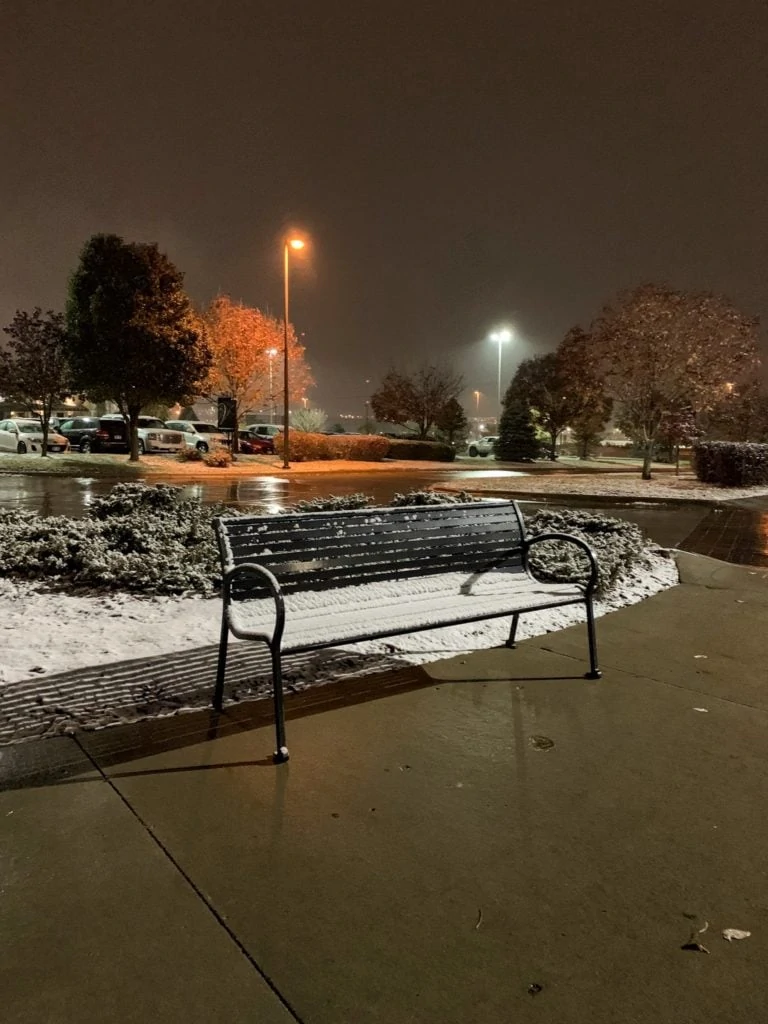 Wednesday night was confirmation class. For those new around here, we teach the seventh and eighth graders during the school year on Wednesday nights at our church. Since the school year started, it's forced me to get dressed a lot more frequently 😉 I wore my favorite pom sweater, these jeans, my favorite wedge Ugg booties, these chunky tortoise hoop earrings, and the same lipgloss as above. My warm boots were required because it snowed again most of the day!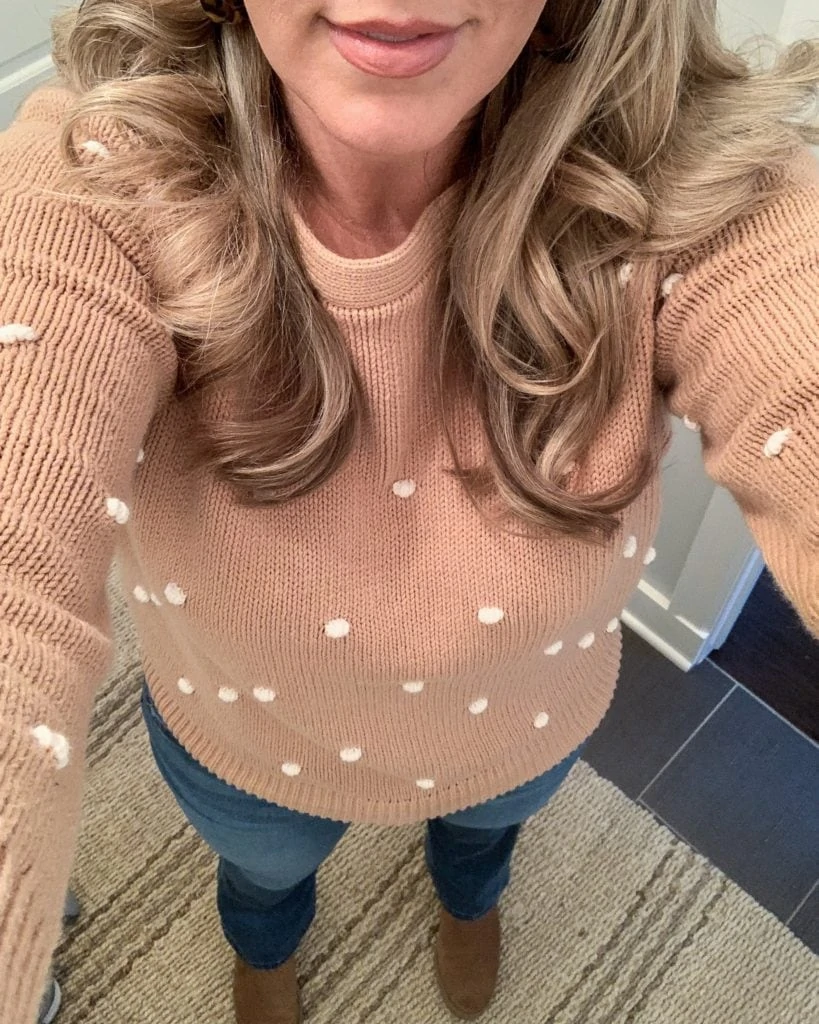 On Halloween, we went down to Jill and Nick's for dinner and to hand out candy. Zoe hated her puppy costume, and I told them it's because she's a cat lady at heart!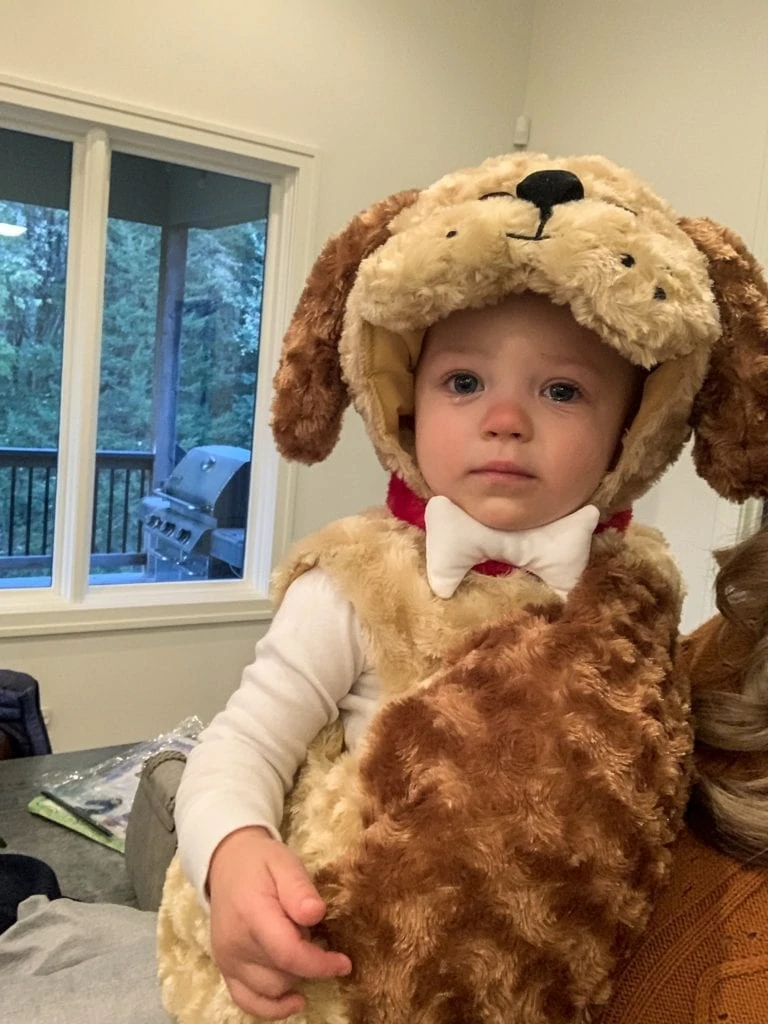 The colors have changed so much outside! And actually a lot of the leaves dropped, but our bald cypress are still going strong out front and outside of our kitchen window. I love the copper color they turn in the fall! Also wanted to note our kitchen barstools are $50 off each today!
The latter part of the week was honestly spent prepping for our new furniture that arrives this week so I shared most of that above. But we did get in some quality Netflix time in front of the fire! As much as we love summer, the cats prefer fall and winter. It means we're not out at the pool, and they get to lay by the fire all night.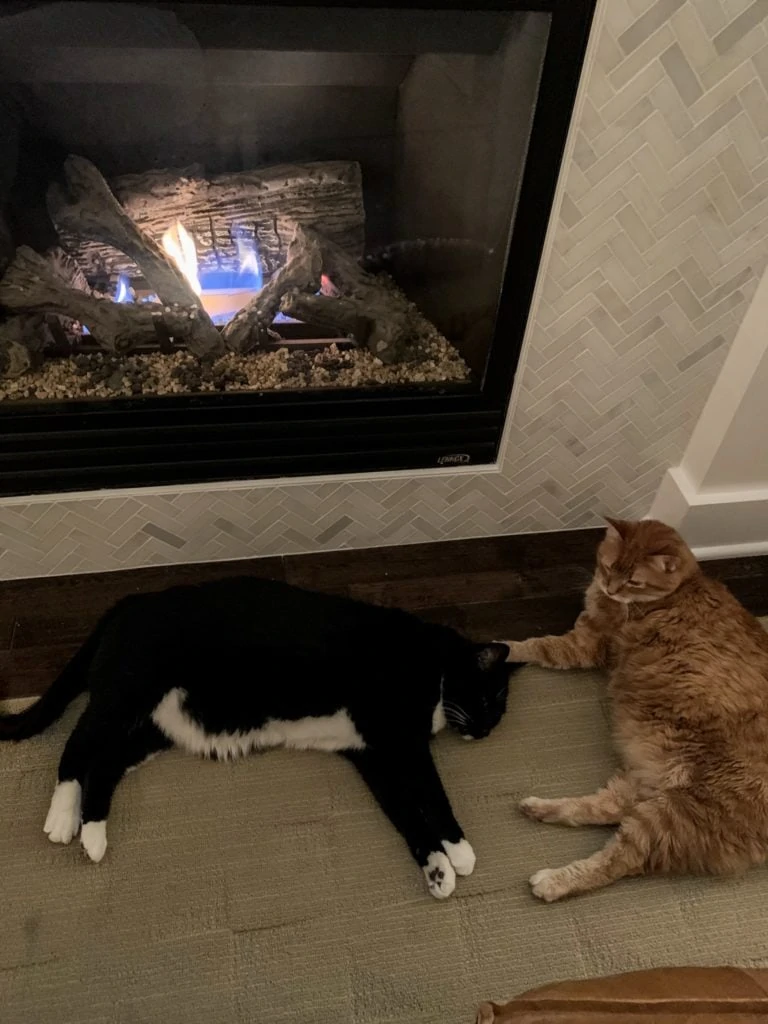 We also babysat this little nugget on Saturday night. She is becoming such a ham, and it's a lot more fun when she actually remembers who we are now 🙂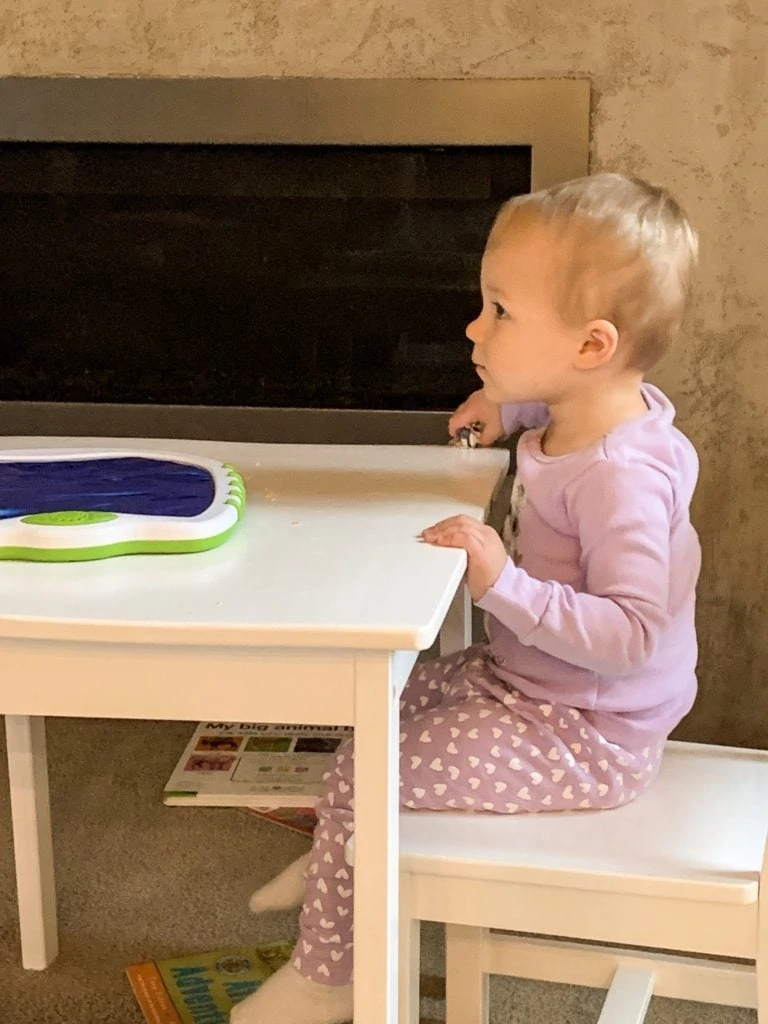 Recent Buys & Sales
I didn't do a sale post this weekend because I didn't find enough great things to share with you and a lot of my usual faves didn't have that great of sales. But then some good ones popped up as stores celebrated daylight savings time. And today even more popped up! Following are some of the sales that are going on today!
I hope you all have a great week! I'll be back tomorrow with my Thanksgiving tablescape!
If you would like to follow along on more of my home decor, DIY, lifestyle, travel and other posts, I'd love to have you follow me on any of the following:
Pinterest | Instagram | Facebook | Twitter
disclosure: some affiliate links used