Sharing a collection of stylish and affordable bathroom vanity lights to give your bathroom a quick refresh with big impact!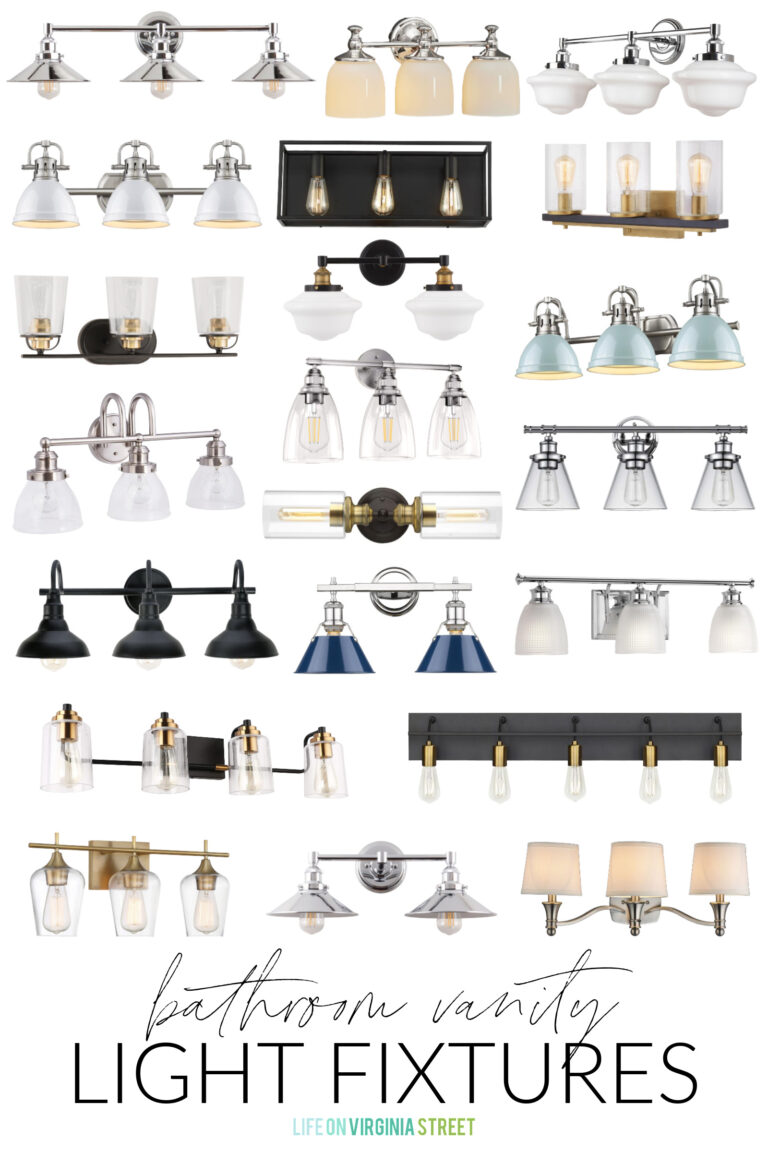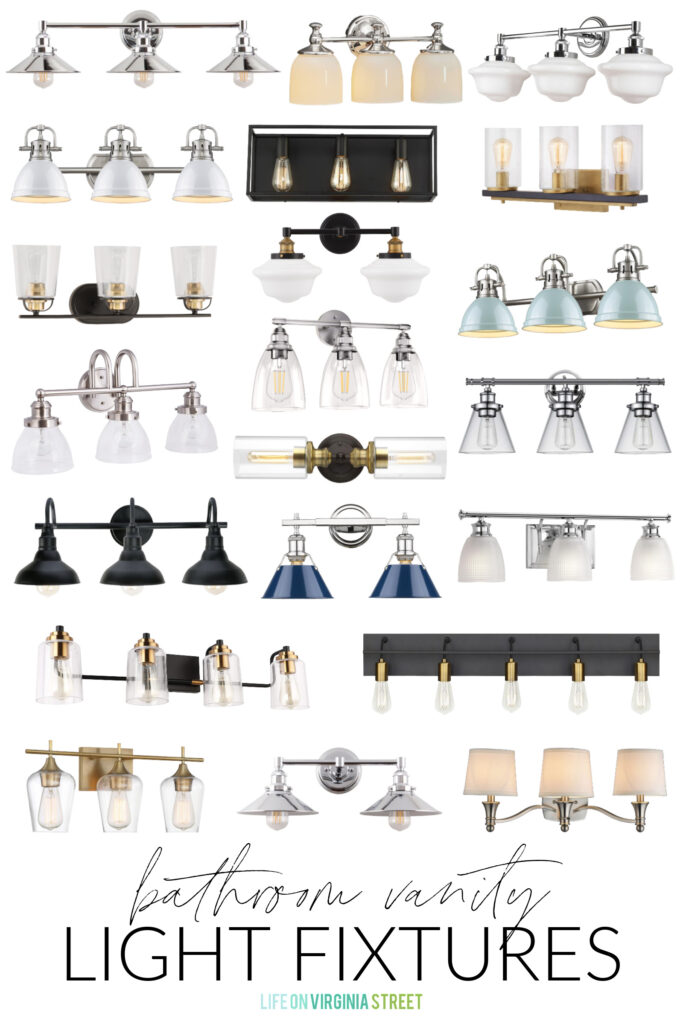 As we near the home stretch of our new build, I'm in a mad dash to order the items I haven't yet ordered. High on that list is a handful of bathroom light fixtures! All of the bathrooms in our home will have supplemental can lighting, but my goal is to have the decorative fixtures on site by the time the electricians start installing the other light fixtures. And that timing is likely next week or the following week. Eek! I'm excited, but still have a lot to wrap up.
As I've shared before, our builder gave us a lighting allowance to use at a local lighting store. They mostly carry high-end designer fixtures, so our budget was quickly consumed with some of the more prominent fixtures we'll be using. Spaces like the entryway, kitchen island lights, bedroom chandelier, exterior copper lanterns, etc. took up most of the budget. Since I don't entirely know the design direction to take a few of the bathrooms, I didn't want to immediately invest in designer fixtures. But, I also don't want us to move in and have to install a bunch of lights because of my indecisiveness 😉 So today, I'm sharing some stylish and affordable bathroom vanity light fixtures that I'm considering for a few of the spaces!
This post was originally published April 24, 2020 and has been updated today with current information and sources. This post contains affiliate links for your shopping convenience. You can read my full disclosure policy here.
For whatever reason, it seems like most builders skimp on the style and quality of bathroom lights almost more than any other! Additionally, so many homes from the 80's and 90's have the old brass bar vanity lights that date the home so quickly!
With a quick swap of a light fixture, you can quickly and cost-effectively change the overall style and vibe of your bathroom! In our Jack & Jill Bathroom Remodel Reveal we did a few years back, we used these affordable fixtures. The color wasn't 100% right when they arrived, so I just used some Rub'n'Buff (European Gold) on them to alter it slightly. So keep that option in mind if you have a fixture shape you love, but not the finish!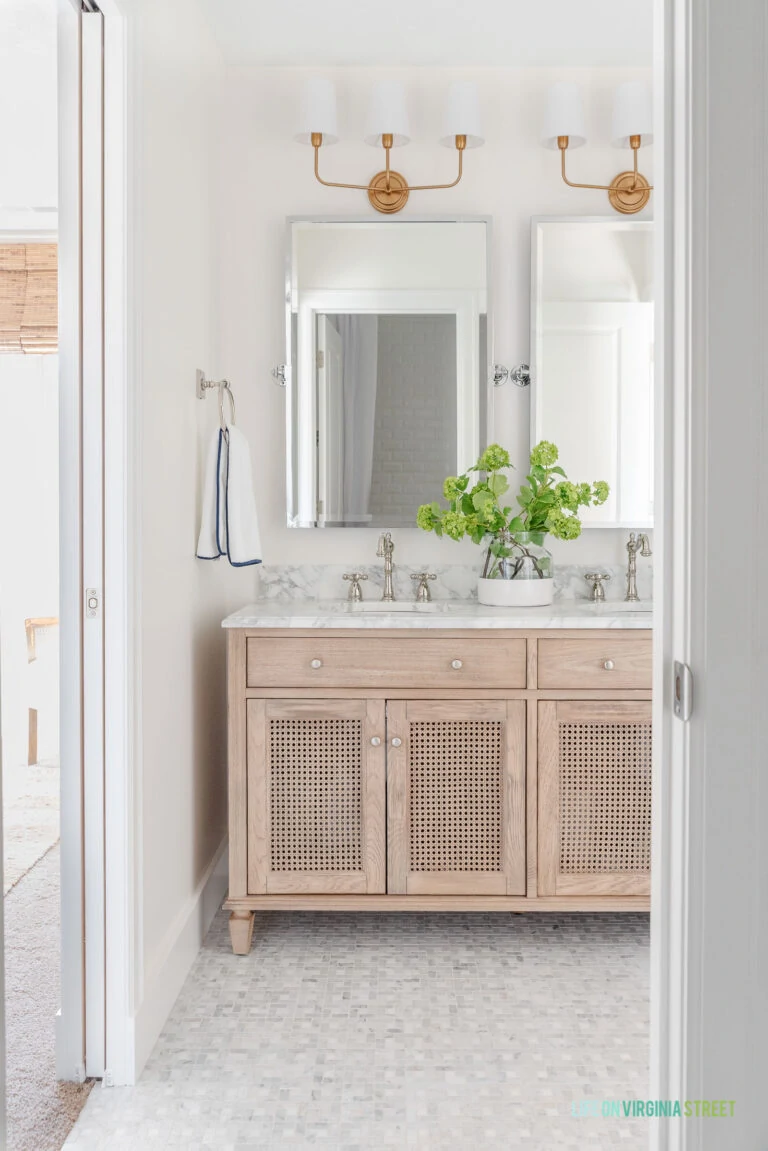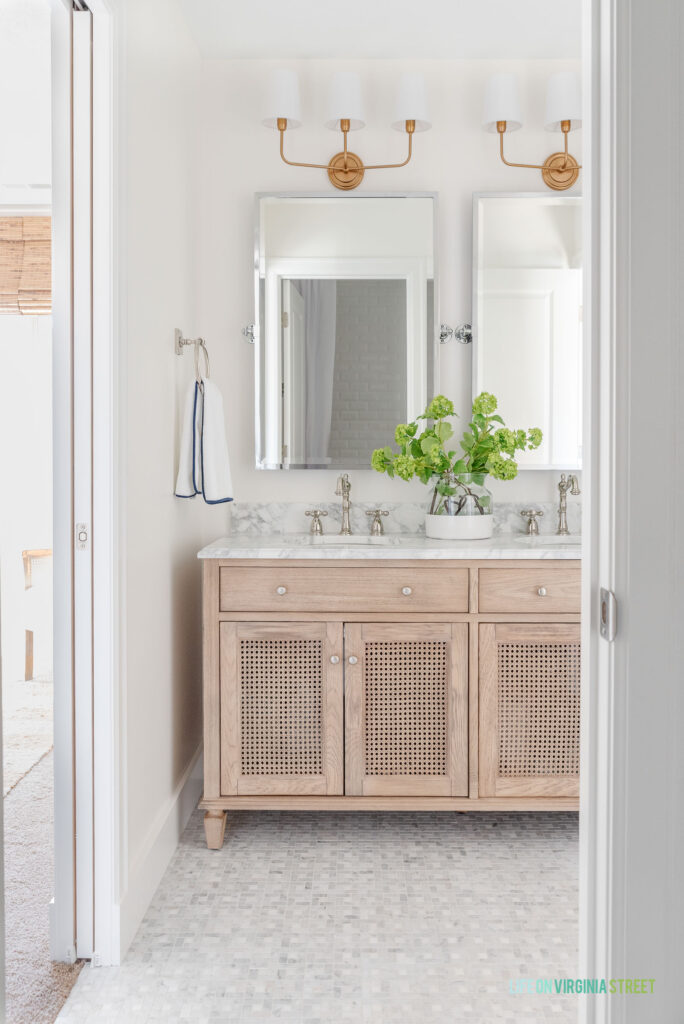 GUEST BATHROOM SOURCES: Cane Vanity | Pinwheel Carrara Marble Floor Tile | Sconce Lights | Pivot Mirrors | Faucets | Towel Bar | Towels | Paint Dipped Vase | Faux Viburnum Stems | Photo by Mandy McGregor Photography
Stylish & Affordable Bathroom Vanity Lights
Before we jump into all of my top picks for bathroom vanity lights, here are a few I'd like to call out.
Following are even more of my top bathroom vanity lights that could give a quick refresh to your bathroom! Simply click any of the images below to learn more about each of the selections. I've included options at several price points. Please note that most of these fixtures come in multiple finishes and/or number of lights!

Additional Bathroom Update Posts You May Enjoy
If you're working on a bathroom refresh, either large or small, you may find the following posts helpful. Simply click the title of any of the post below to read the full post.
Additional Light Fixture Posts You May Enjoy
If you're looking for additional light fixtures for your home, following are some of my favorite lighting-related posts. Simply click the title of any of the post below to read the full post.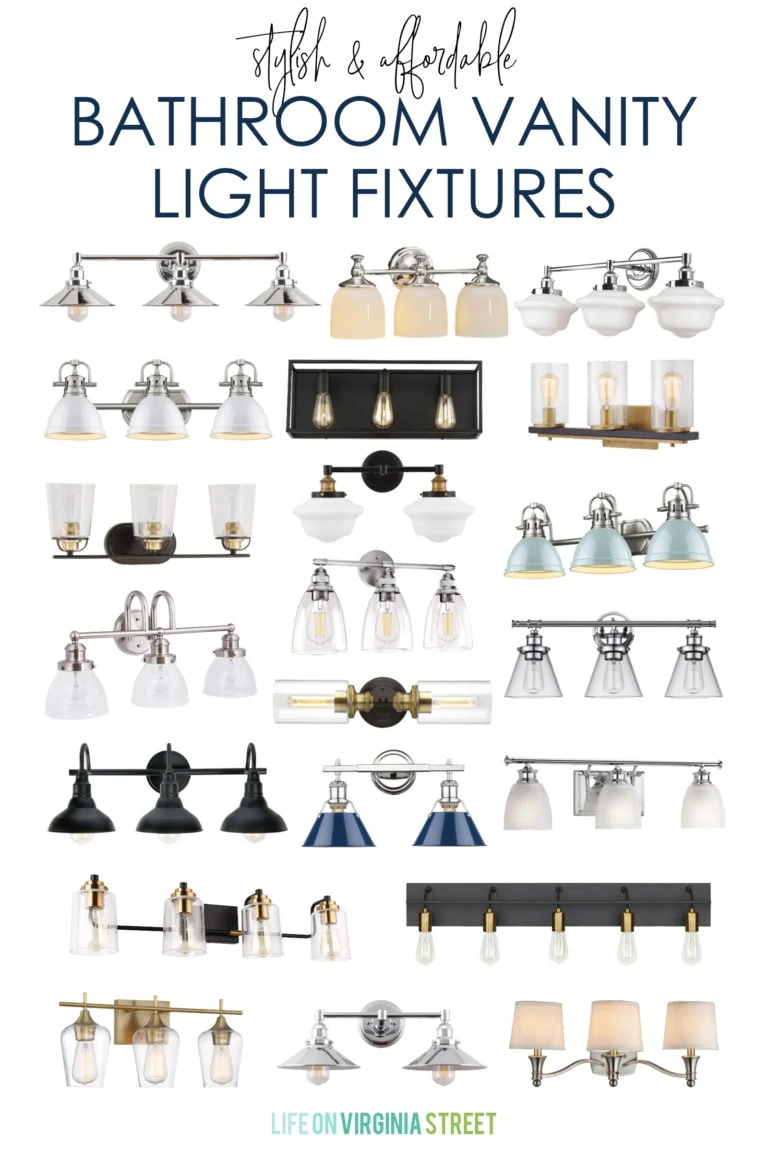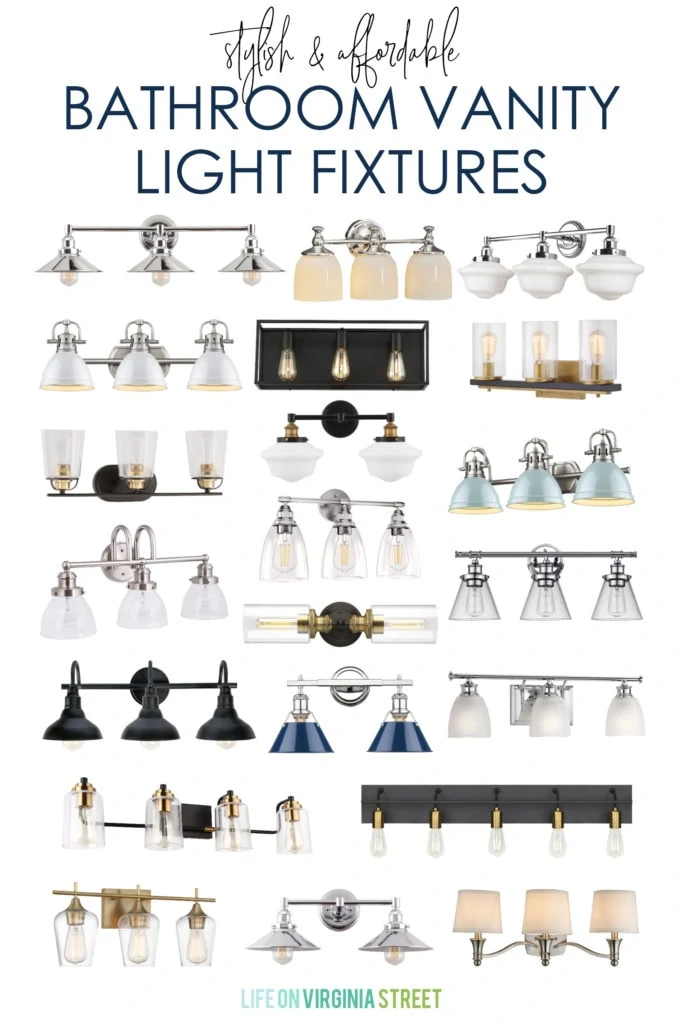 If you would like to follow along on more of my home decor, DIY, lifestyle, travel and other posts, I'd love to have you follow me on any of the following:
Pinterest | Instagram | Facebook | LTK
disclosure: some affiliate links used