We are in dire need of new bedding. The kittens were not so kind to our current set when we first got them (they are no longer allowed in our bedroom).
The last few months have been a little cold only using a sheet. We are over the duvet phase – they are such a pain and the duvet itself never lines up right with duvet cover. So, we are in need of an actual comforter. Unfortunately, there are not many cute ones out there in a California King size (and it is REALLY hard to find actual comforters/bedspreads rather than duvet covers), especially in the California King size.
Here are a few cute ones I have found. Let me know if you have any suggestions of stores or websites that carry California Kings (even a coverlet would be fine). We are looking for a pale blue/dark brown color combo (love how calming and serene it seems) but any other cute ones will do. Let me know what you think of these:
Kohls
(love the sheets that go with it too – and they are a bargain!):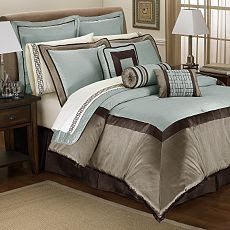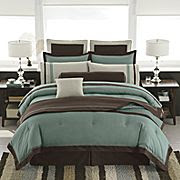 Dillards
: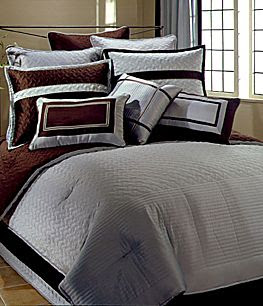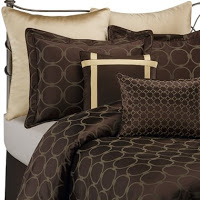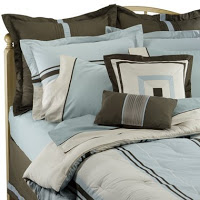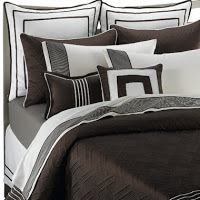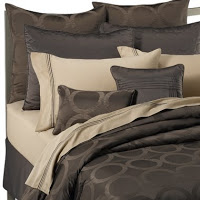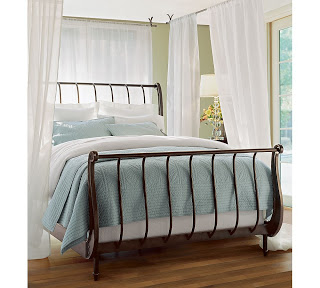 Dwell Studio (so cute but can't afford the price tag):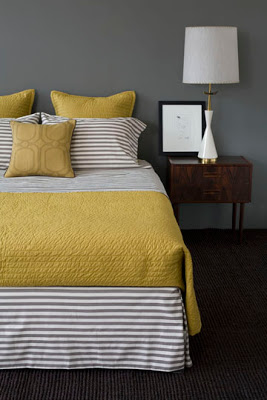 Here is an old pic of our bedroom so you can at least see what our bed and furniture looks like (the headboard, footboard and bench at the foot of our bed are all dark brown leather). I also included a shot of the real lamps that are in there as the ones in the photo from 11/07 are no longer there. We don't have the below bedding any longer either – the silk was so noisy and it was dry clean only so I never let us leave it on the bed. We are currently using a khaki linen Pottery Barn duvet cover minus the duvet. We still have nothing on our walls, so I am ready to give some personality to our room.
Also, do you think Navy Blue & White bedding would be cute? I have found tons of cute set in those colors but wasn't sure if it would look right with our bed. Any suggestions are welcome!