Sharing a collection of large storage cabinets with doors that work perfectly for adding storage to your home without sacrificing style!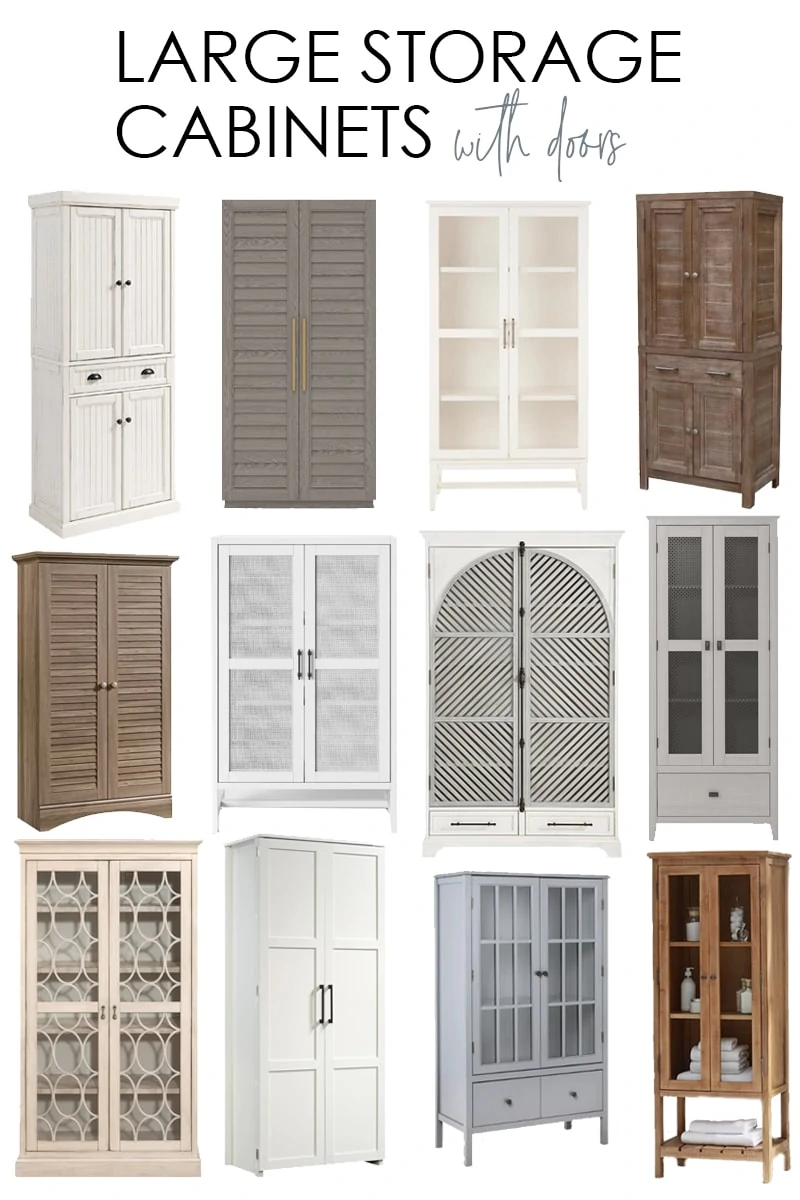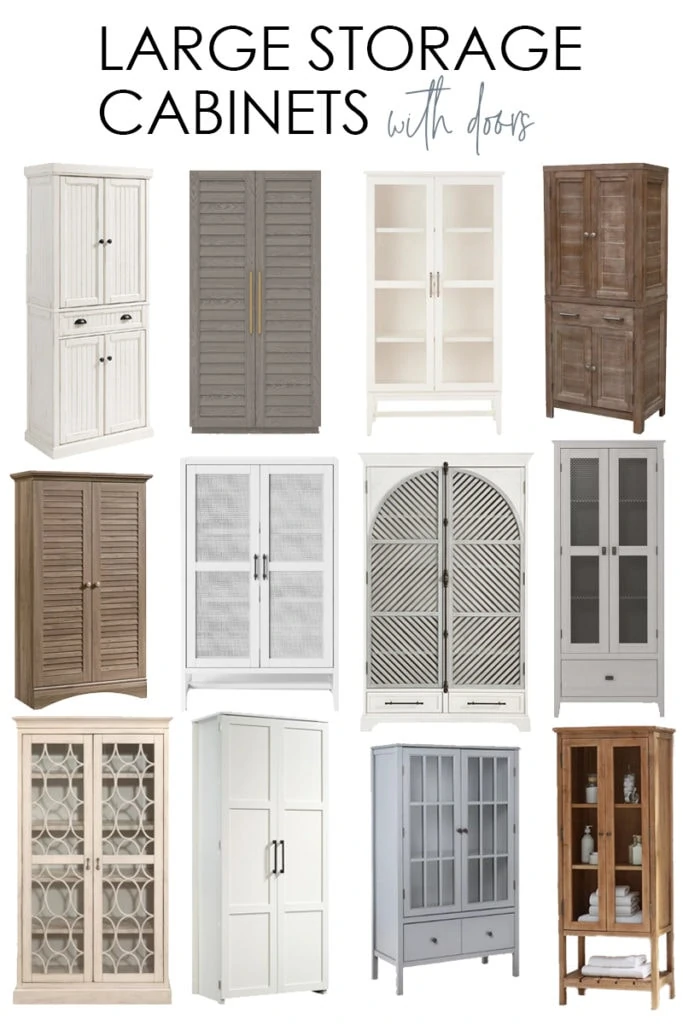 Over the past several weeks, with so many of us staying in our homes, I've received a bunch of requests for round-ups of items you're on the hunt for. One that struck a chord with me last week was a request for large indoor storage cabinets! So, today I'm sharing a collection of large storage cabinets with doors that will work well in a variety of room in your home.
This post contains affiliate links for your shopping convenience. Click here to read my full disclosure policy.
Storage Needs and Our Den's Dirty Little Secret
Aside from the fact that our Christmas tree was still in our den until Easter day, the den has another little dirty secret. Although I suppose it isn't too big of a secret since I have talked about it before a few times. But it kind of gets buried – conveniently 😉 Here is the den as you usually see it: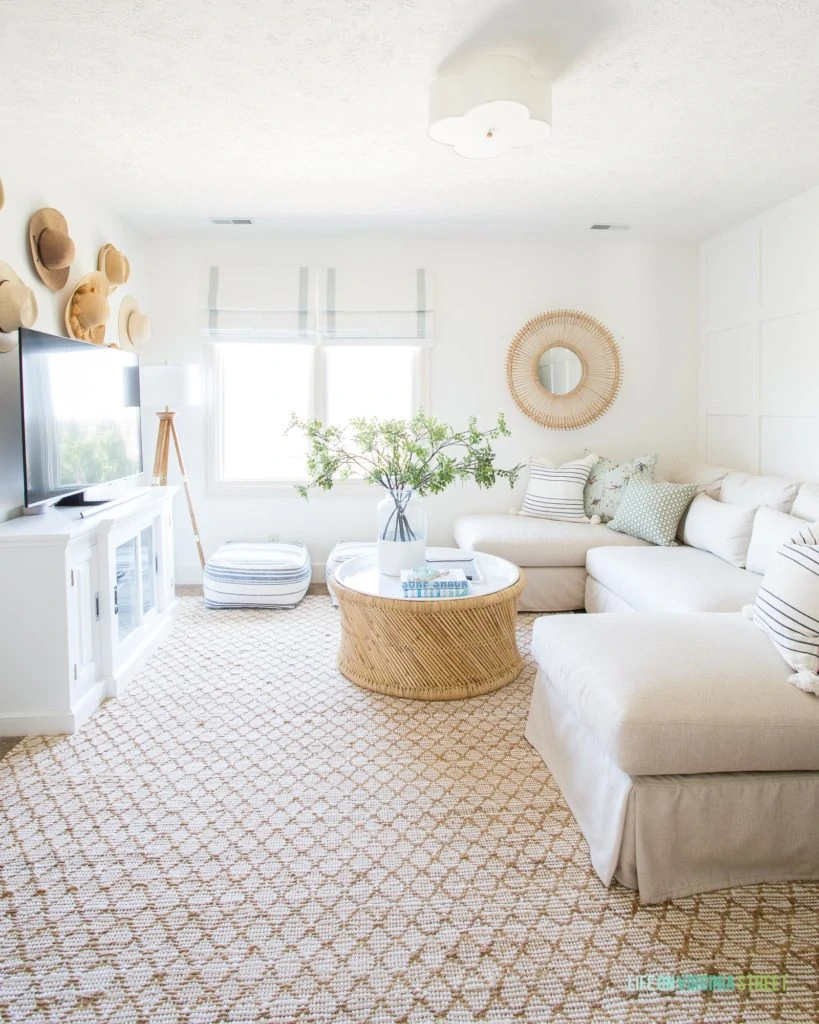 DEN SOURCES: Linen Sectional | Indoor/Outdoor Diamond Rug | Scallop Light Fixture | Similar Rattan Mirror | Coffee Table | Paint Dipped Vase | Faux Greenery Stems | Striped Pillow | Hummingbird Print Pillow (fabric available here) | Woven Geometric Pillow (fabric available here) | Roman Shades | TV Stand | Tripod Lamp | Striped Poufs: At Home
But, we also have this little spot between the door to the hallway and the adjoining guest bathroom. The corner has basically looked like this in one disastrous version or another since the room reveal last year. In my defense though, I took this picture the day I was sewing throw pillows so there are a bit more supplies on the floor than normal 😉 It's also basically a dumping grounds for things I don't want to deal with on our second floor. Side note: we don't usually have a hanging rack out in the hallway either, but I was doing some cleaning that day as well.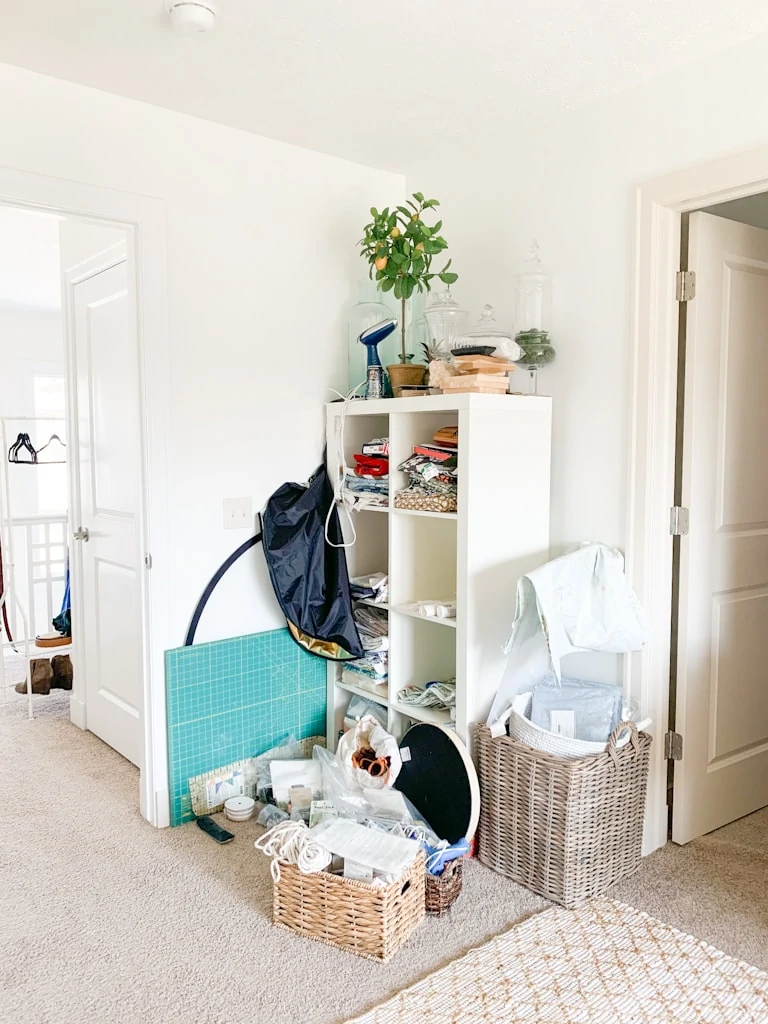 Among other things, this corner is where I store my fabric collection, sewing machine, sewing and craft supplies, some photography equipment, etc. Basically all the remnants of the craft room (which this room used to be), condensed into one little IKEA storage cube. It's time for a better storage solution!
Large Storage Cabinets with Doors
The ideal solution would be a large storage cabinet with doors so that I can keep this corner looking tidy and put-together at all times! Since it will be out in the open, I need it to look more like furniture rather than garage-storage-cabinet style. Finding the solution has been on my to-do list for over a year, and I feel like now is the perfect time to get it taken care of!
Following are some of my top indoor storage cabinet ideas at a variety of price points. They would work well in a home office, guest bedroom, as linen storage in a bathroom, and any other place in your home where you may need a little extra storage! I also included some with parameters that won't fit our needs, but I know may work for some of you based upon the requests I've received! Simply click any of the images below to learn more about each of the items. Several of these options come in multiple color/finish offerings.

This cabinet would be my dream option but I won't be spending nearly that much money on something for this space. I also really like this shuttered cabinet option – I just wish it also came in white!
Which of these indoor storage cabinets is your favorite?
If you would like to follow along on more of my home decor, DIY, lifestyle, travel and other posts, I'd love to have you follow me on any of the following:
Pinterest | Instagram | Facebook | Twitter
disclosure: some affiliate links used