Sharing a large collection of exterior window awnings as well as some viable alternatives to help shade your home!
Today is one of those days where I'm sharing an idea rolling around my head and I'd love to get your thoughts!
One of the best updates we made during our kitchen renovation was adding this huge window to a wall that used to be unused cabinets. A week or two back on Instagram, I mentioned that we were thinking of adding an exterior window awning over our kitchen (and possibly) pantry window(s). The countertop under the large window is the perfect spot for food when we host, however, during most of the day, the counter is bathed in tons of sunlight. Not ideal for serving conditions. Since day one, I've been avoiding adding a window covering to the inside of the window as I'd really like to avoid covering any of the light. Today I'm going to share some possible options that are beautiful yet functional and help block the direct rays!
This post contains affiliate links for your shopping convenience. Click here to read my full disclosure policy.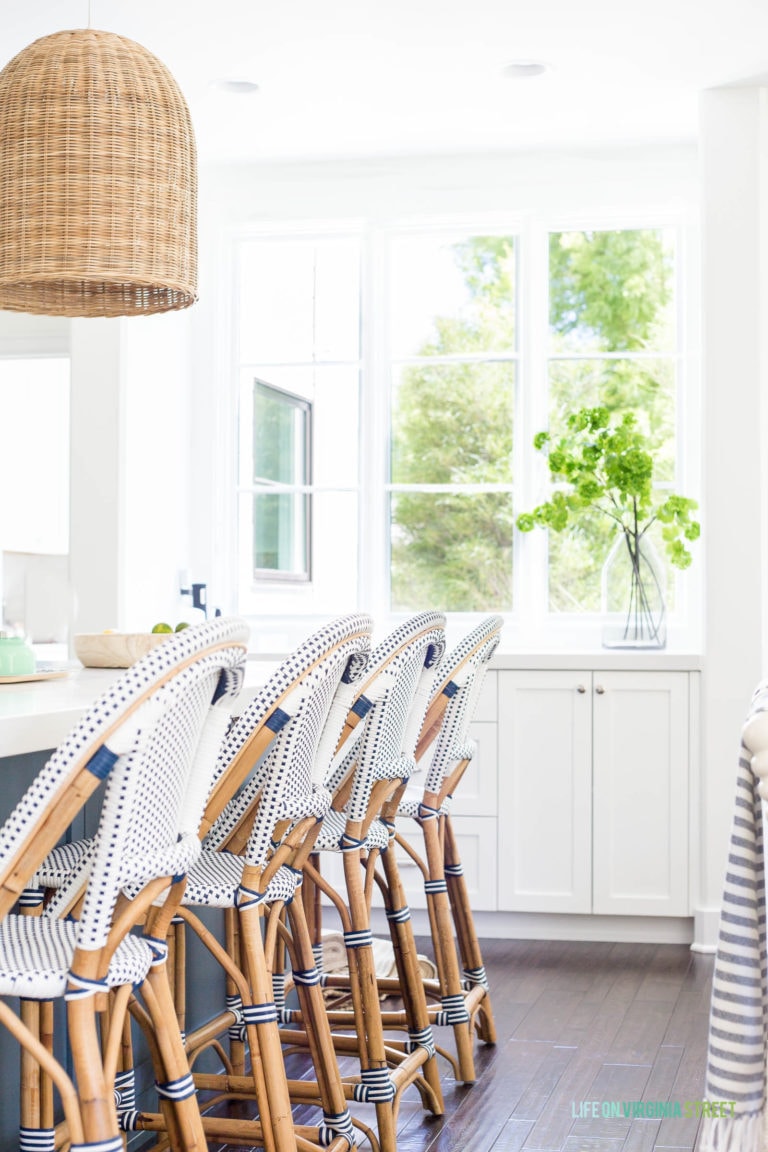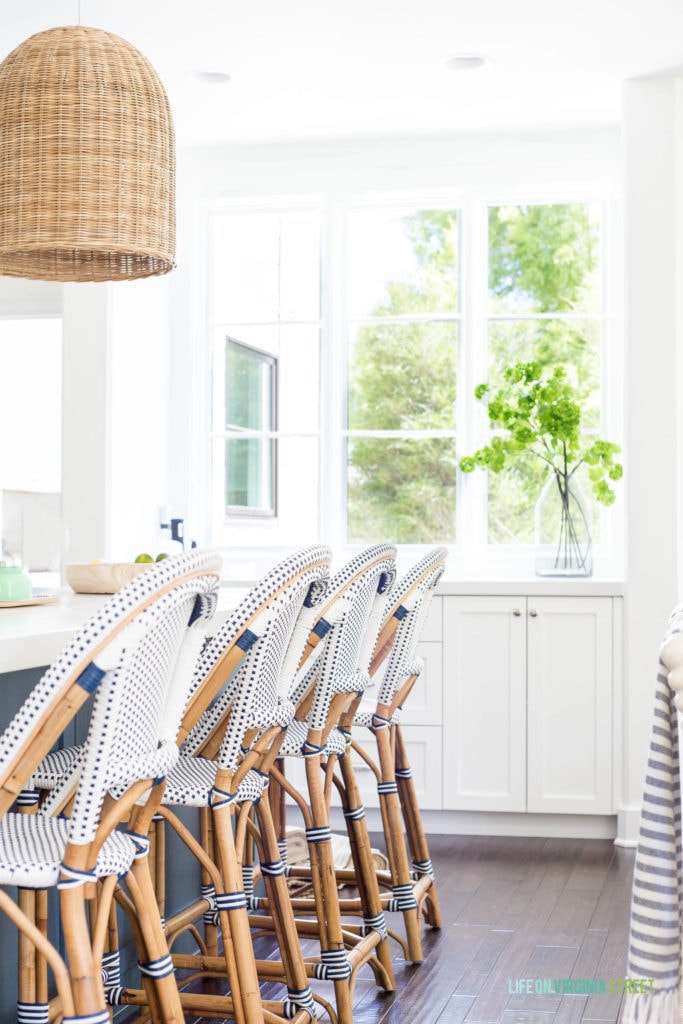 KITCHEN SOURCES: Basket Pendant Lights | Bistro Stools | Faux Viburnum Stems | Glass Vase
Our window is actually three separate windows that Pella then framed into one. It measures and 60″ x 70″, although it's hard to see in photos, has pretty deep framing in between the three columns of glass. So our options are certainly a bit more limited! Here's a look at the window(s) from the exterior. You can see the pantry window almost straight ahead (it measures 36″x36″) and the kitchen window off to the left.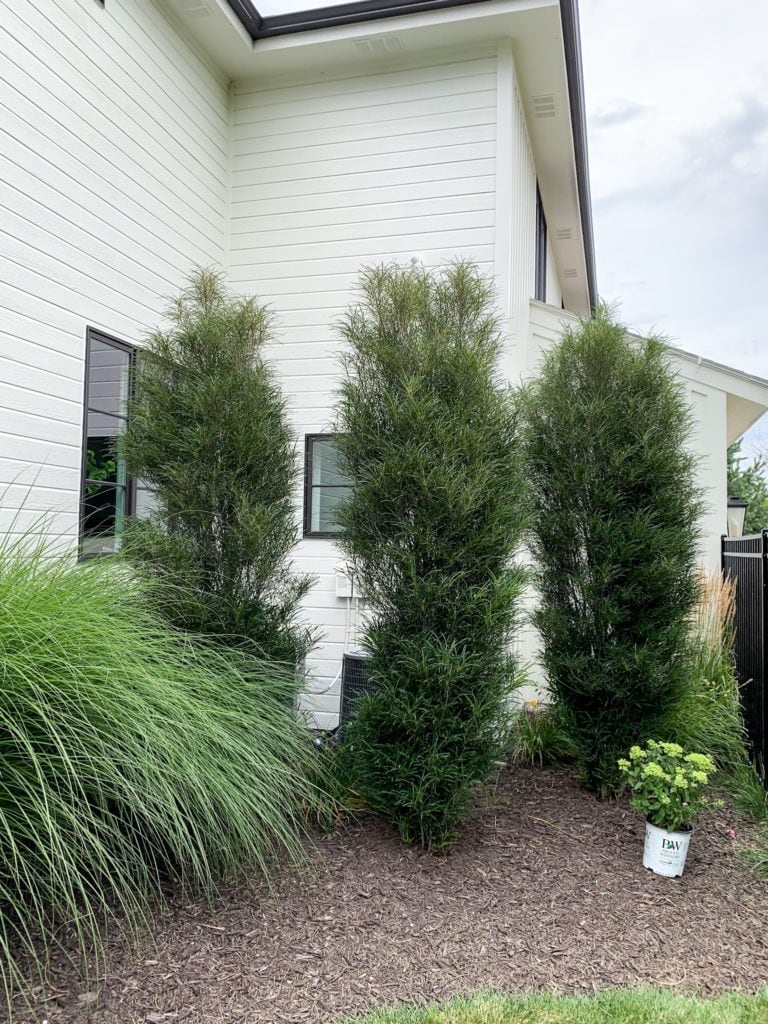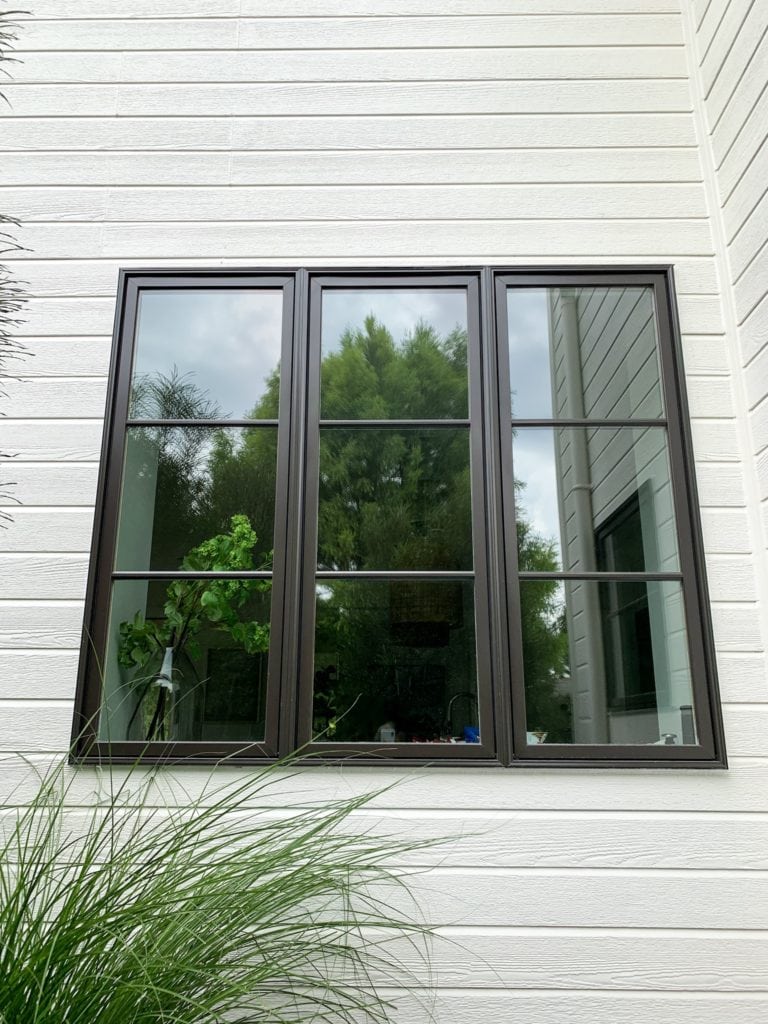 Following are a few ideas we're considering to help shade the windows.
Exterior Window Awnings
Since I would prefer something that doesn't block our view and (mostly) isn't visible from the interior, I've been considering an exterior window awning. Most of the options below come in a huge selection of colors, finishes, sizes and patterns, so don't let the colors in the graphic below steer you one way or another! Many also come in a variety of sizes (some list within the same listing, others are as a separate product).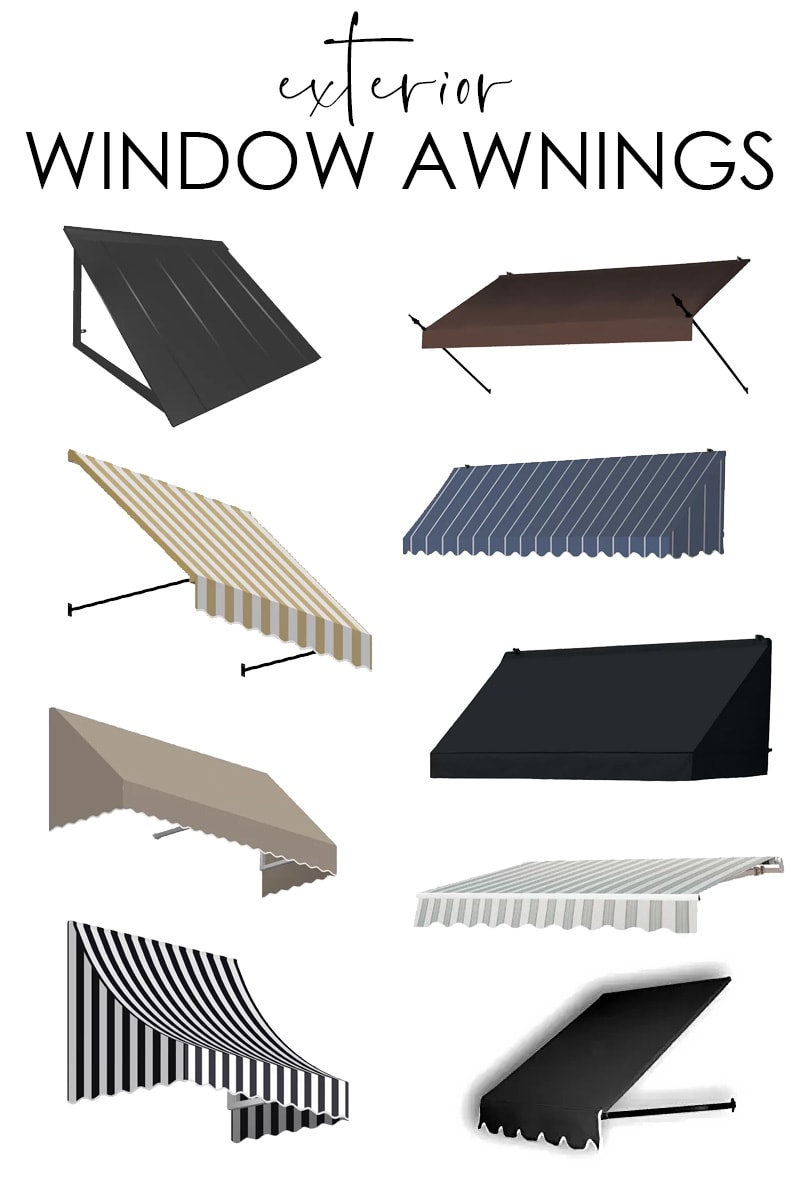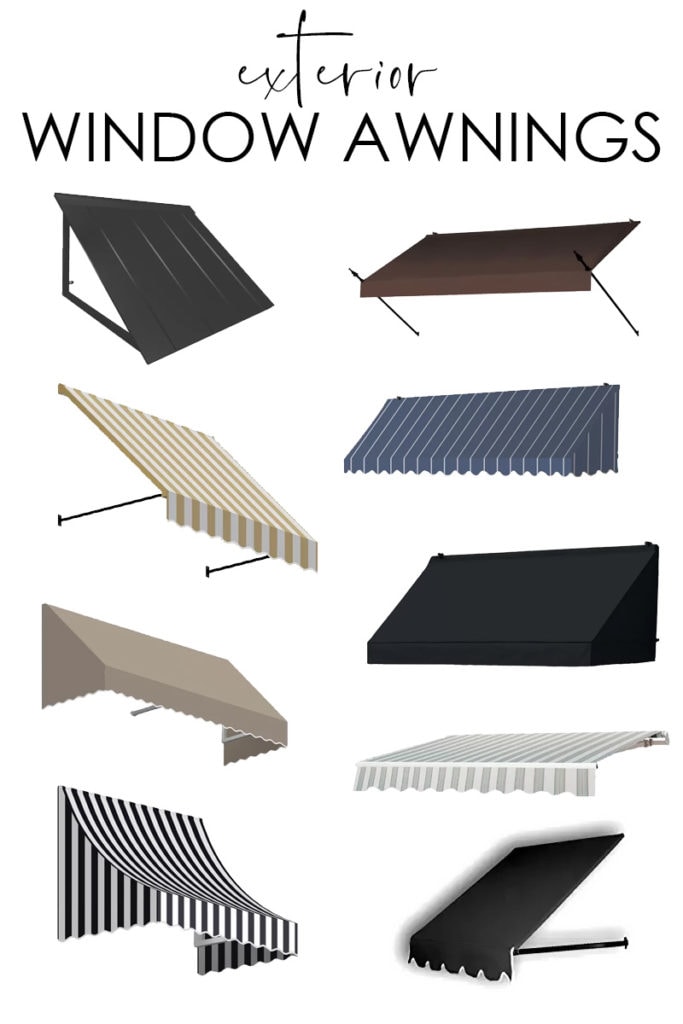 AWNING SOURCES: Standing Seam Metal Awning | Retractable Window Awning | Twisted Rope Arm Window Awning (Tan White Stripes) | Scalloped Window Awning (Blue White Stripes) | Wavy Window Awning (Tan White) | Box Window Awning | Arched Window Awning | White Striped Retractable Awning | Black & White Scalloped Awning
Following are even more exterior window awnings, again, that all come in multiple widths, colors, finishes and patterns! Simply click any of the images below to learn more about each of the awnings shown.

If we do go the awning route, this metal awning (in bronze) is the lead contender. I think it would blend seamlessly with our exterior (we have a few areas with metal roofing). I'm guessing it will also hold up much better in our climate.
Alternatives to Exterior Window Awnings
Following are a few other alternatives to window awnings recommended to me on Instagram (you can see the post here if you want to read through the comments).
3M film professionally applied to the windows
A roman shade on the interior
Sun screens
Hanging plants from the ceiling
White plantation shutters
Linen blinds that filter the light
A roller shade
Any other options we should consider (either exterior window awning options or alternatives to them)? I'm happy to add to the list if you have any other suggestions!
If you would like to follow along on more of my home decor, DIY, lifestyle, travel and other posts, I'd love to have you follow me on any of the following:
Pinterest | Instagram | Facebook | Twitter 
disclosure: some affiliate links used