I left off on Friday with a sneak preview of what I was working on that day. Painting the master bedroom Behr Atmospheric. And if you follow me on Instagram, you know that I started to get really nervous that afternoon as the overcast skies lifted and it became really sun and bright out. These first two photos show the room as I was working on it – still with fairly overcast skies. You can also see the contrast really well of the white shutters and the not-white ceiling and board and batten that desperately need to be painted.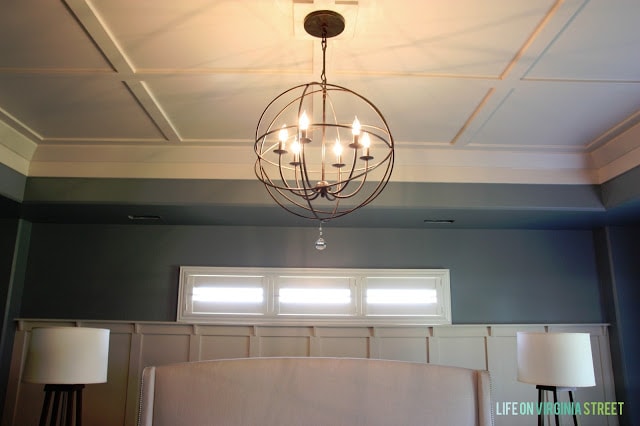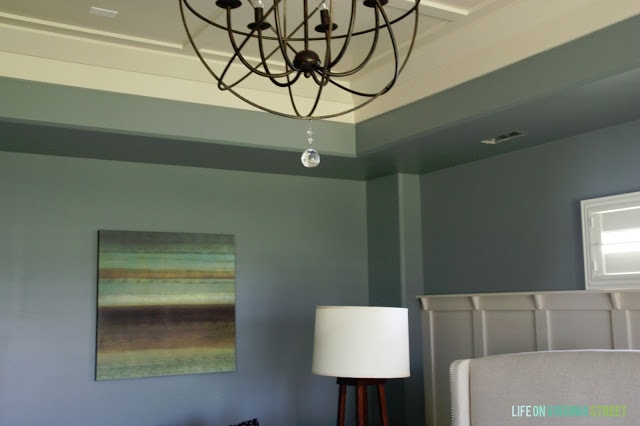 This is much closer to the shade I saw when the sun finally came out that afternoon. It was starting to look a lot bluer, with less gray/green tones.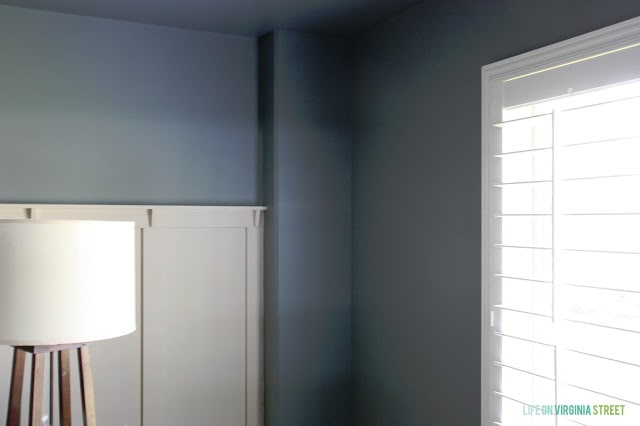 I actually really like the color itself, but by the end of the evening, I immediately knew it was a mistake for our house – and I knew I shouldn't have gone opposite of my tried and true light paints that are more me. Which was a total bummer since it took me over eight hours to get the first coat up – thanks mostly to the overhang part/ceiling that I also had to paint. Needless to say I was pretty frustrated at that point.
The good news? I found what I hope to be a new winner. I'm 90% convinced, but there is still entirely too much of the Atmospheric blue peaking through the first coat to know for sure. Check back tomorrow and I'll show you the new inspiration pics for the color I selected in less than two hours Saturday morning.
What do you think? Are you a fan of Atmospheric? If you're into bold colors, I think it really is a beautiful choice – just not for me.
If you would like to follow along on more of my home decor, DIY, lifestyle, travel and other posts, I'd love to have you follow me on any of the following:
Pinterest / Instagram / Facebook / Twitter / Bloglovin' / Google