Welcome to our 2020 spring home tour! I actually had the bulk of our home switched over to spring fairly early this year. But, then with all the craziness that ensued this past month or so, I never got around to finishing it or photographing it. So, I did a little "shopping" around our house and I finally forced myself to wrap it up this week! I figured if I didn't get to it fairly soon, I'd be making a few more updates for summer in the coming weeks 😉
This post contains affiliate links for your shopping convenience. Click here to read my full disclosure policy.
Our entryway hallway looks a bit different, though, from last year's tour! We finally replaced the old bench that had two broken legs with this pillowtop bench. The cats love sitting here and watching the birds in the trees outside the courtyard.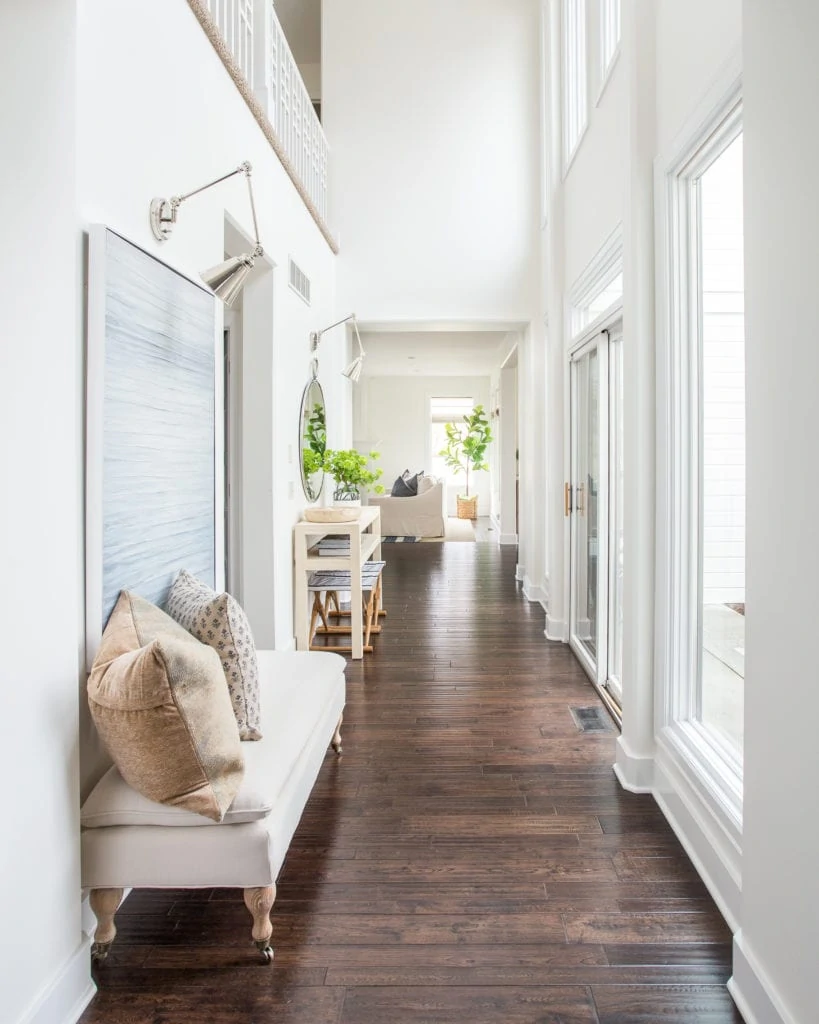 The block print pillow was one of my few purchases from the Studio McGee x Target line and I knew it would work perfectly here! I still plan to swap out the insert (love that they did a zipper closure!) but I really love the print!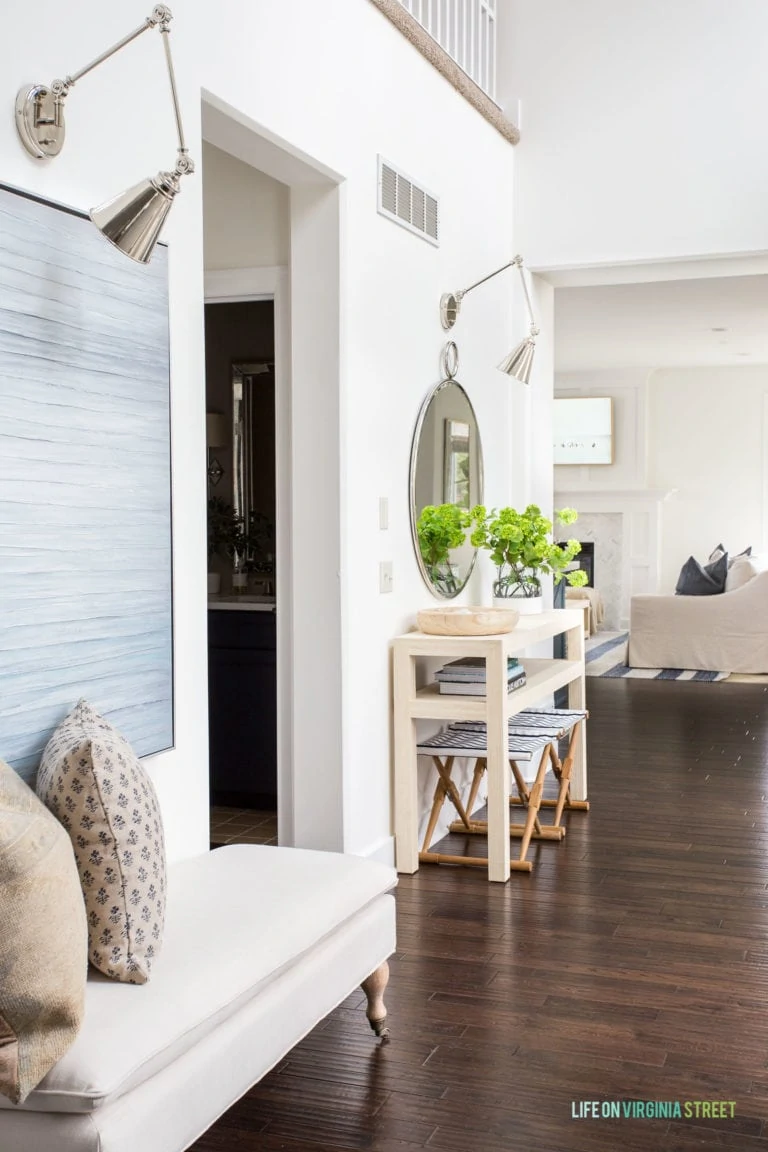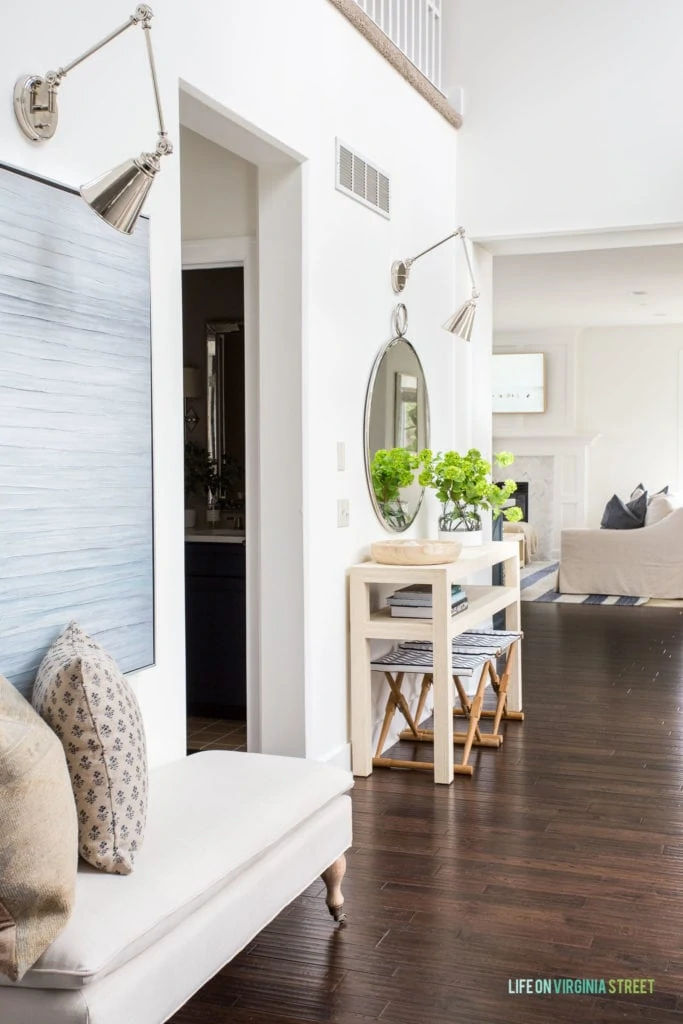 There's something about greenery (real or faux) that just makes me so excited for spring! It adds so much life to a space! These paint dipped vases are a splurge but are some of my favorite purchases in all of 2019!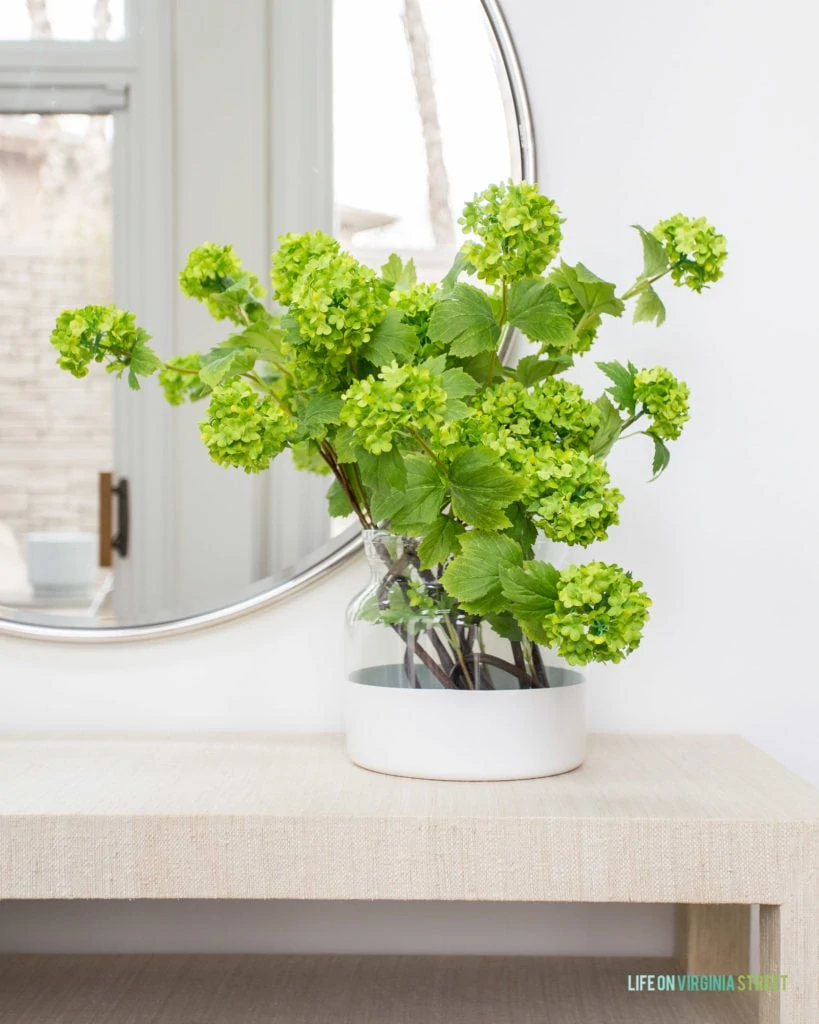 Now that our cane cabinet was moved to the office, this raffia console table has been the perfect replacement! I think the scale actually works a lot better here too. I still need to actually style that lower shelf area but for now, it totally works!
As we move into our kitchen, my one and only true change was adding this striped rug. I think it might be my favorite one I've ever used in here!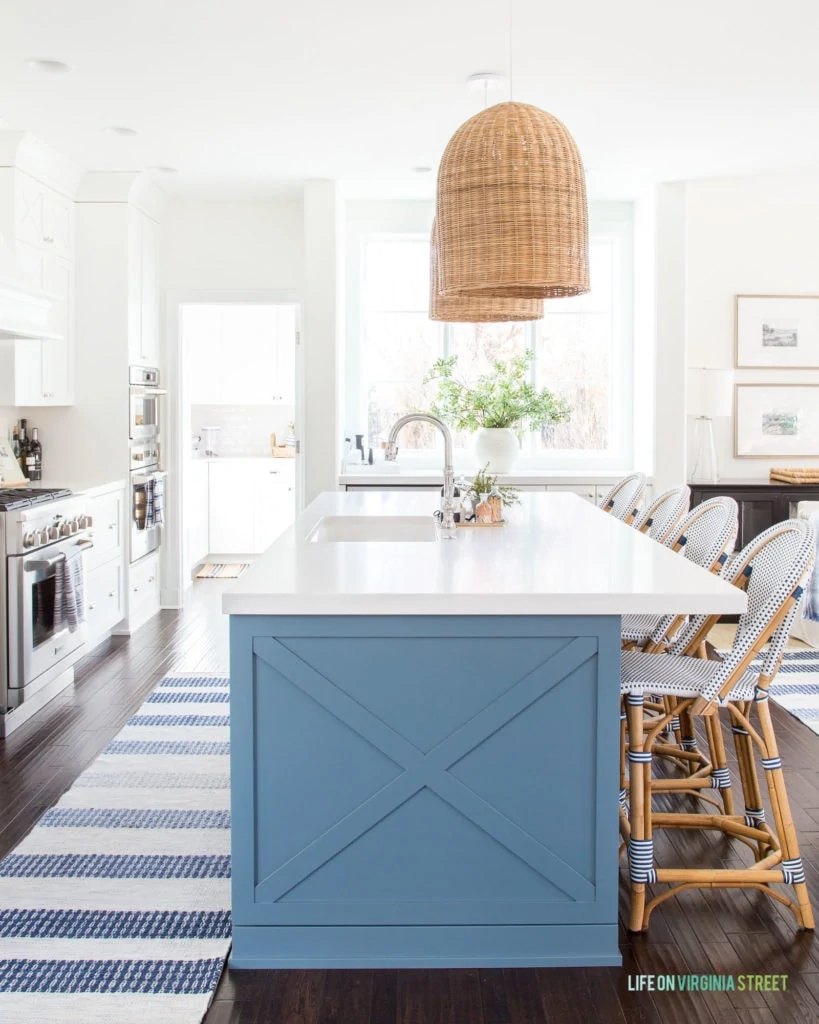 I can't wait until this view includes greenery and flowers outside the windows! We aren't that far away!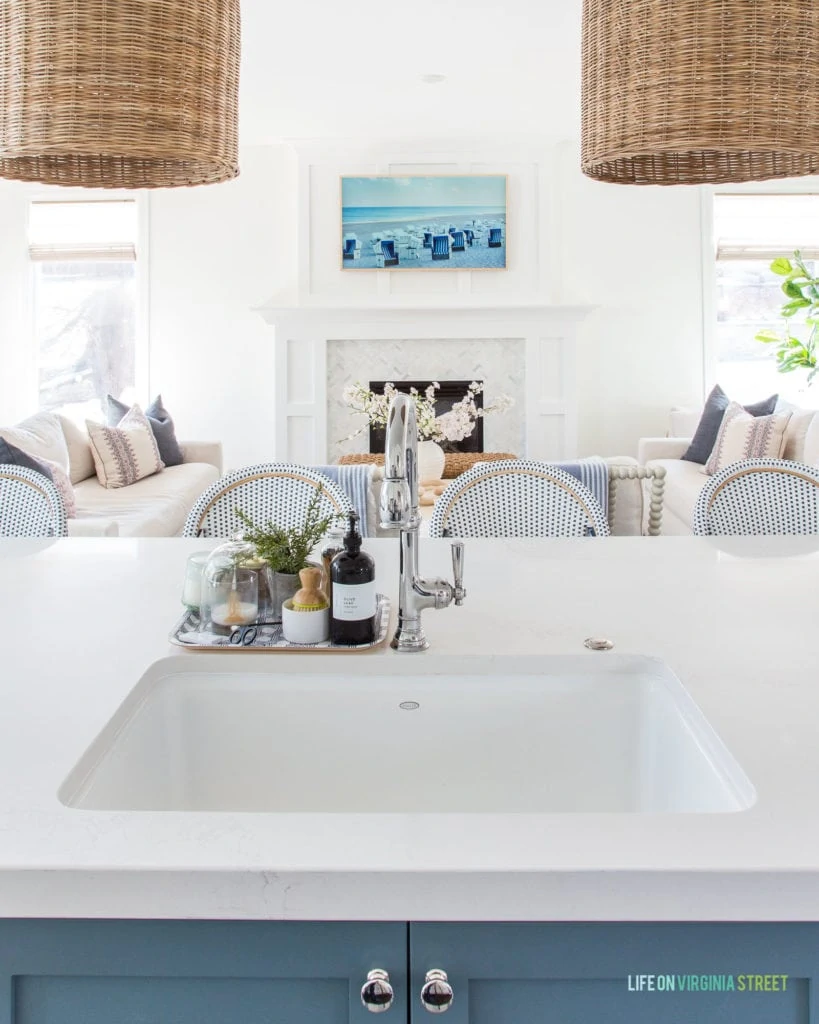 This little white dot vase was a fun addition to our countertops! I'm going to try and get some fresh basil at our local nursery and add it here soon!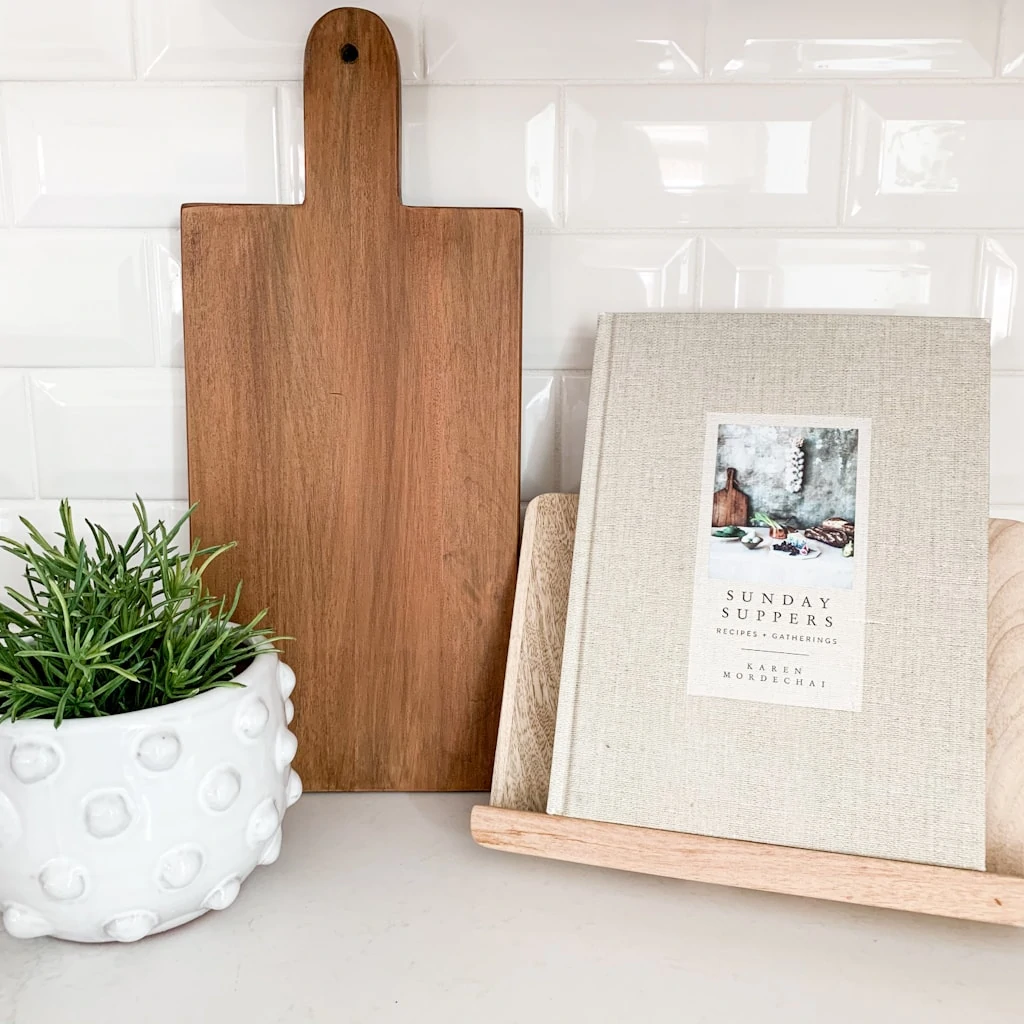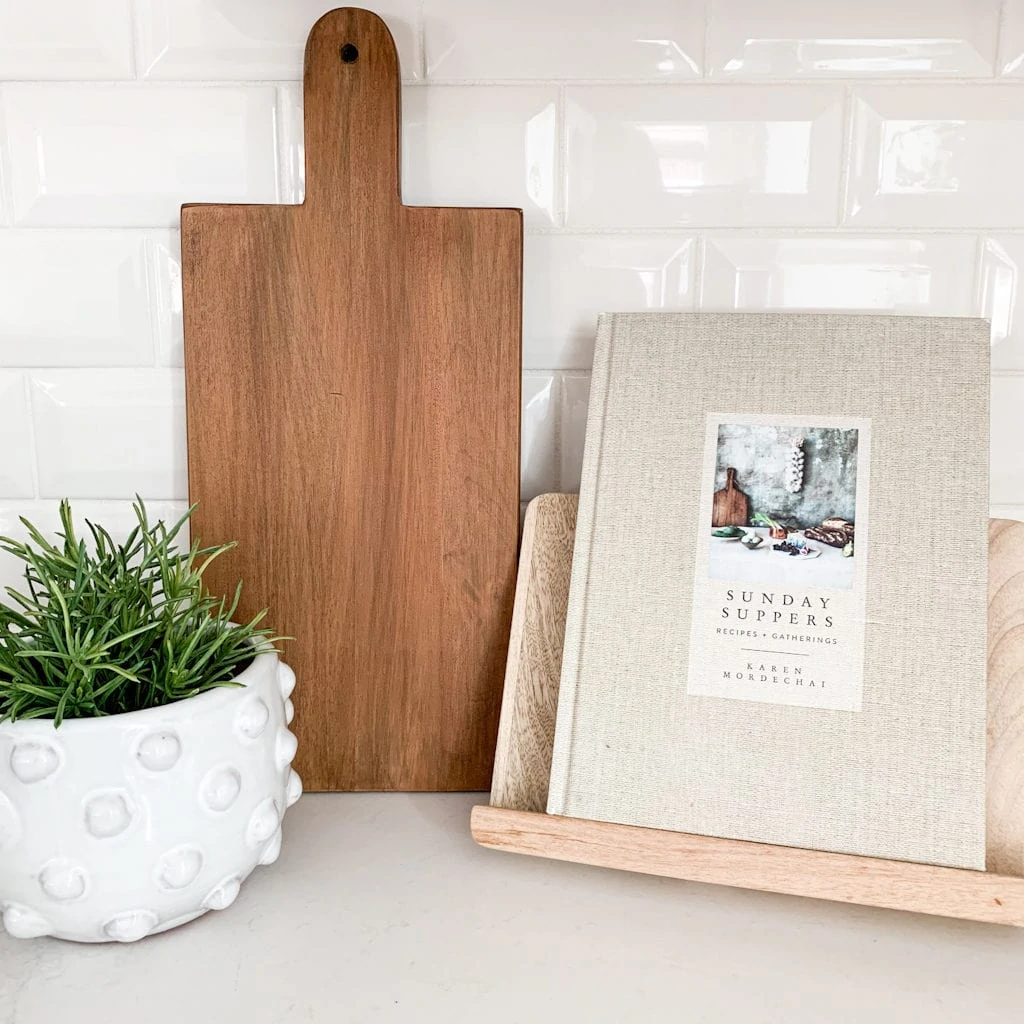 KITCHEN SOURCES: Counter Stools | Basket Pendant Lights  | Striped Rug | White Serving Board | Similar Ridged Vase | Faux Greenery Stems | White Dot Vase | Similar Faux Asparagus Fern | Sunday Suppers Cookbook | Similar Recipe Book Stand | Island Paint Color: Benjamin Moore Providence Blue
I haven't been able to show this angle of our pantry much since I never used to have a wide angle lens. It's been so fun to capture these "unseen" angles over the past few weeks. But that tall set of cabinets in our pantry is where we keep our small vacuum cleaner, mops, broom, cleaning supplies, etc. We call it our "locker".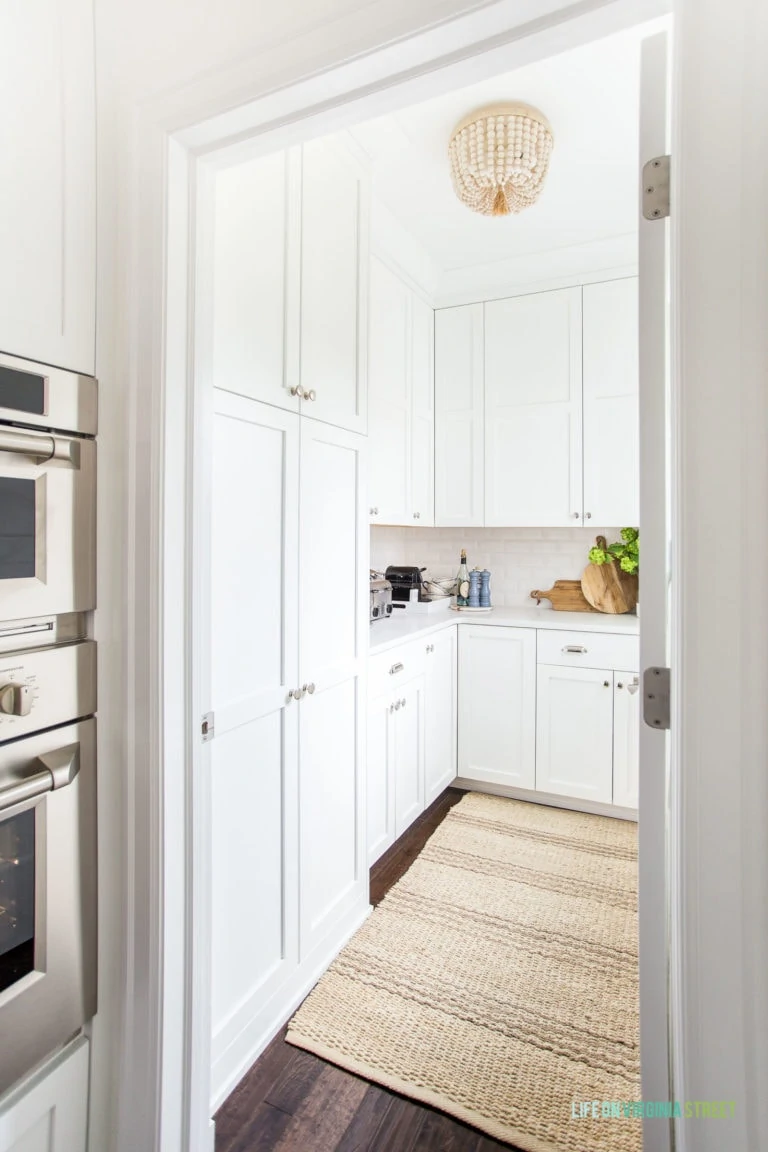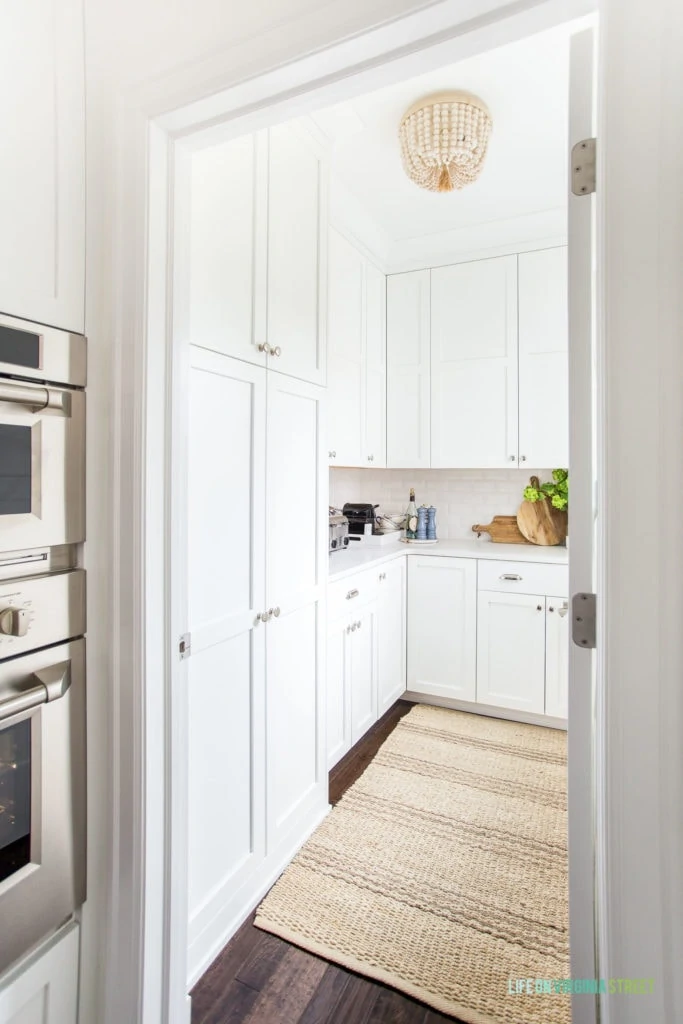 It was fun to refresh this space a bit for spring too!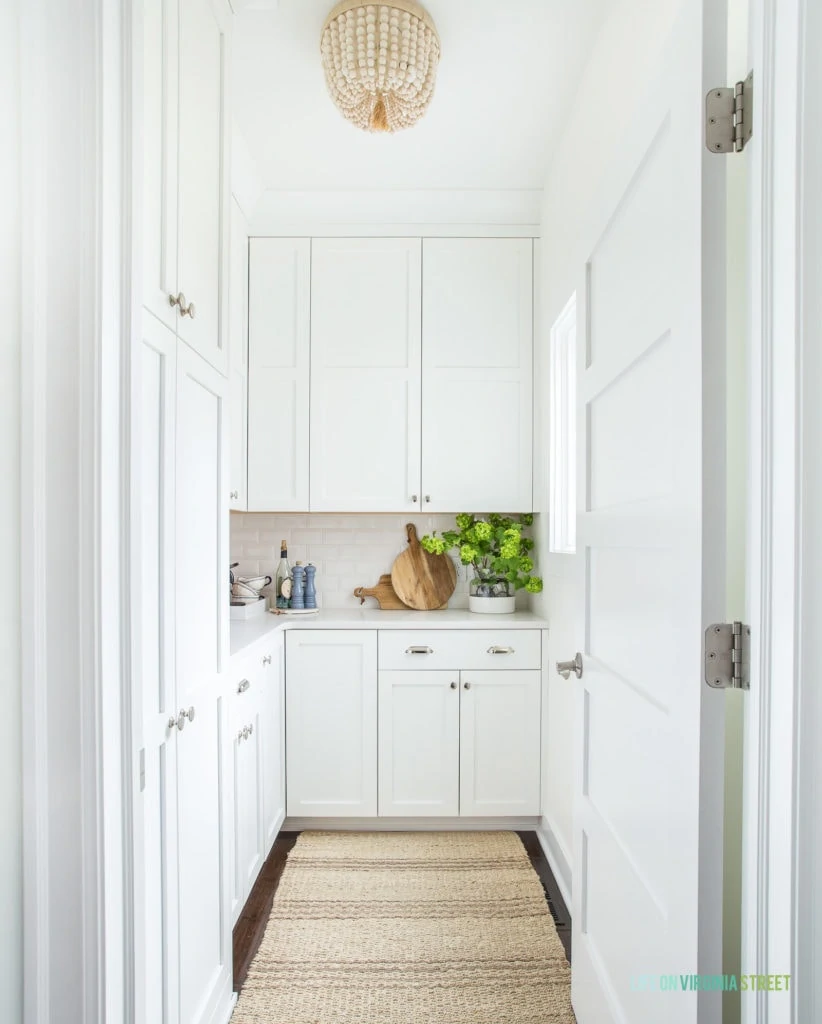 Like I said, it's amazing how something as simple as a bit of faux greenery or flowers can totally up the "spring" factor in a room! Fresh clippings from outside would just as easily do the trick!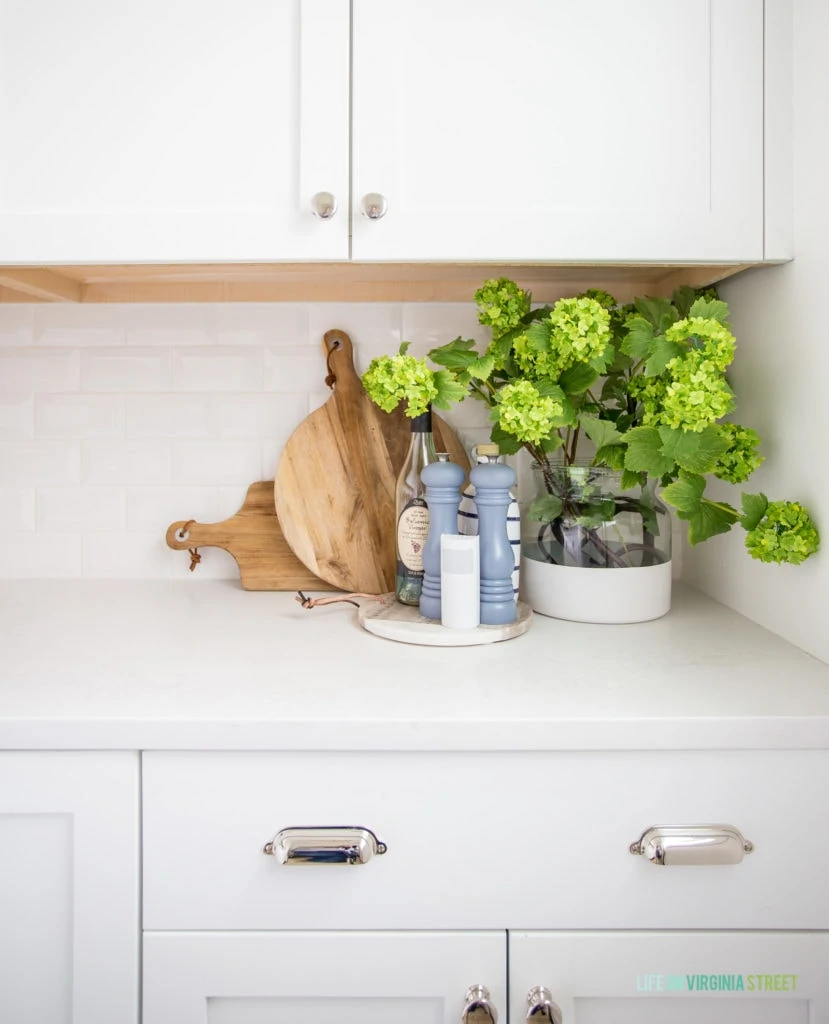 PANTRY SOURCES: Beaded Light Fixture | Cabinet Knobs and Pulls | Wood Boards (Homegoods – old) | Marble Tray | Paint Dipped Vase | Faux Viburnum Stems (similar here) | Motion Sensor | Blue Salt & Pepper Grinders | Rug (old Dash & Albert second-hand find)
Our living room was the first we tackled for spring this year. So I know you've likely seen many of these shots before. But adding the striped rug completely changed the overall vibe in here for the better!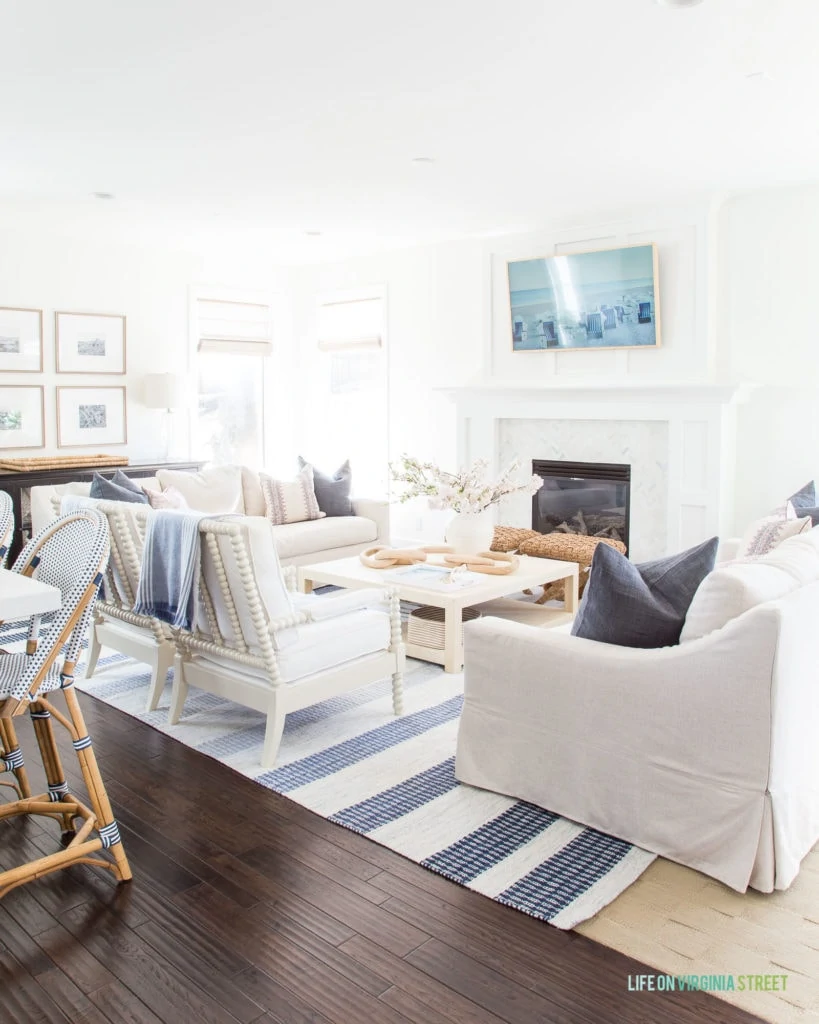 Since we're home a lot more now, I added these striped throws to the back of our spindle chairs. They're a great weight for spring, but also help protect the white fabric when Kurtis sits there. We're starting to learn his dark denim isn't a great combo for the fabric.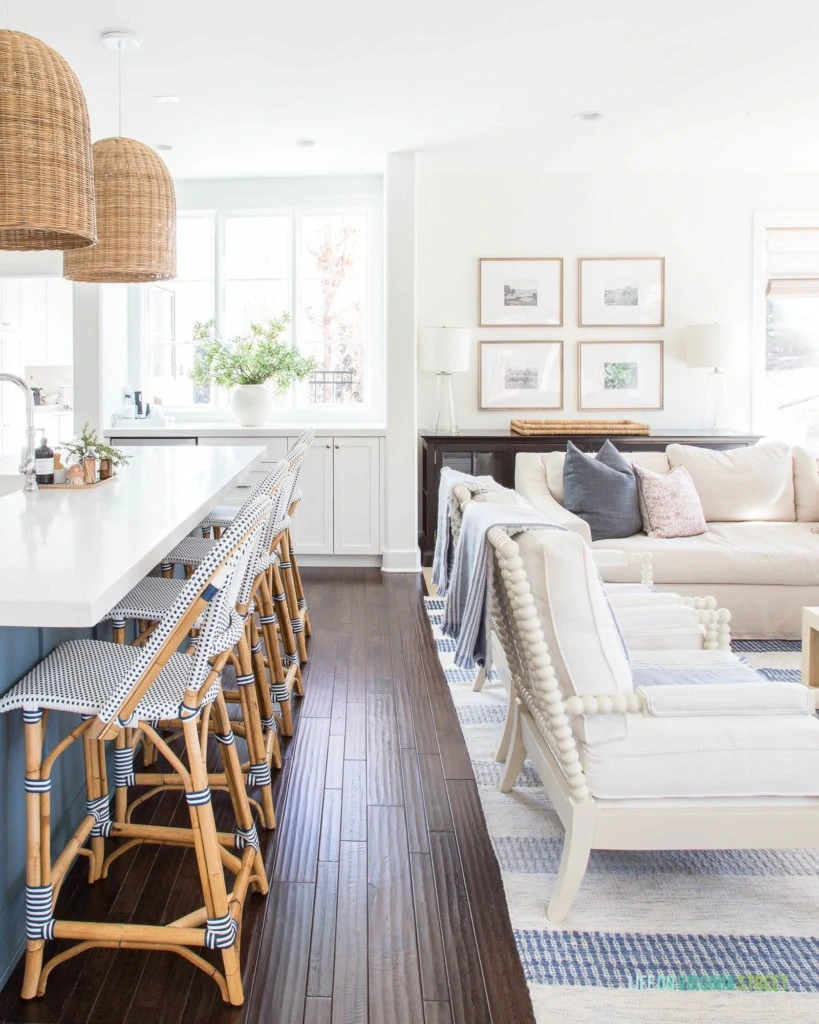 It's always so fun to change out the "art" on our Frame TV for the season. This one leans more towards summer, but I liked the colors and the beach vibe so I went with it!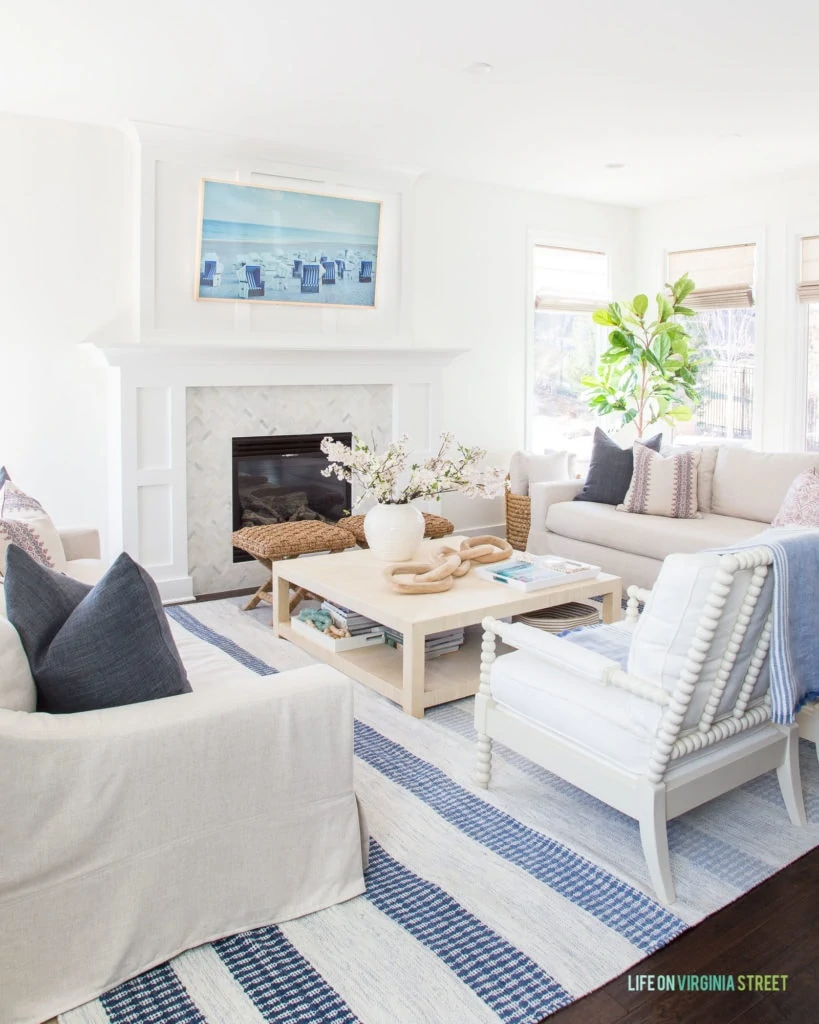 I shared our Easter dining room a few weeks ago but wanted to include it in our home tour as well! This is the last tour you'll be seeing those linen chairs in here, now that all of our cane chairs have arrived. I can't wait to show you the new look soon! These dining room photos were all taken by my friend Mandy McGregor Photography.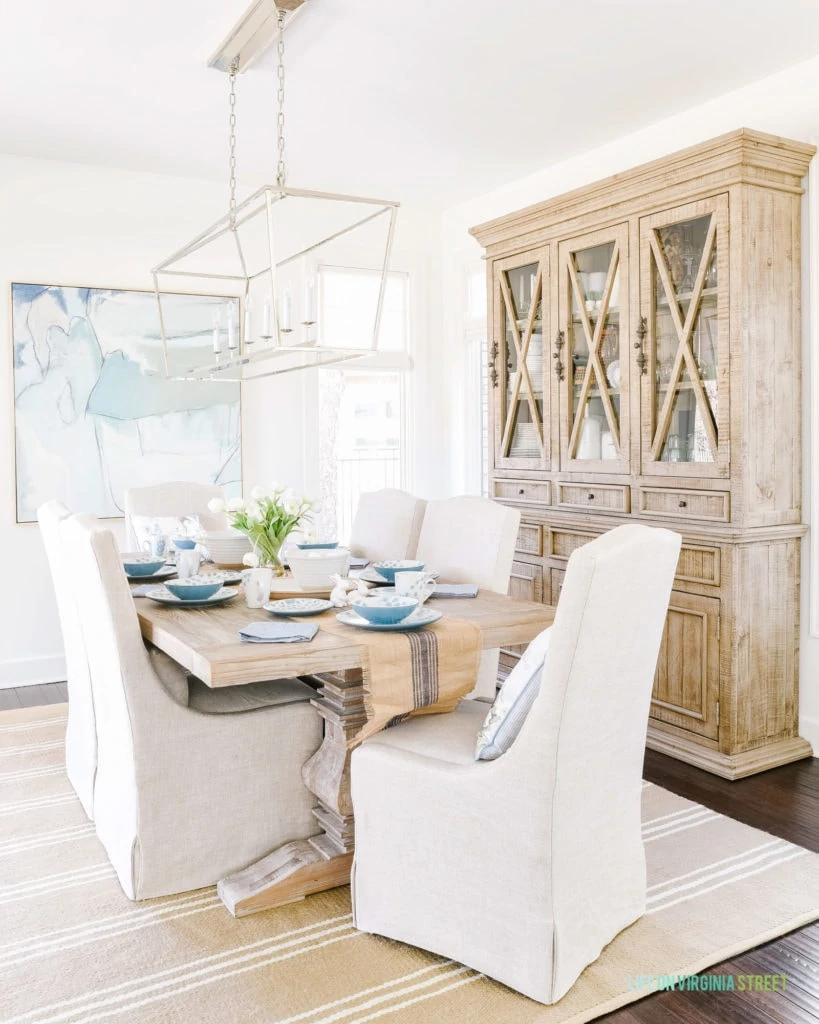 I'm so happy with my decision to hang our giant serving boards on the wall in here! Now I finally feel like I have a place to "store" them, but they also end up working as art too! Since we use them so frequently, this makes them super accessible!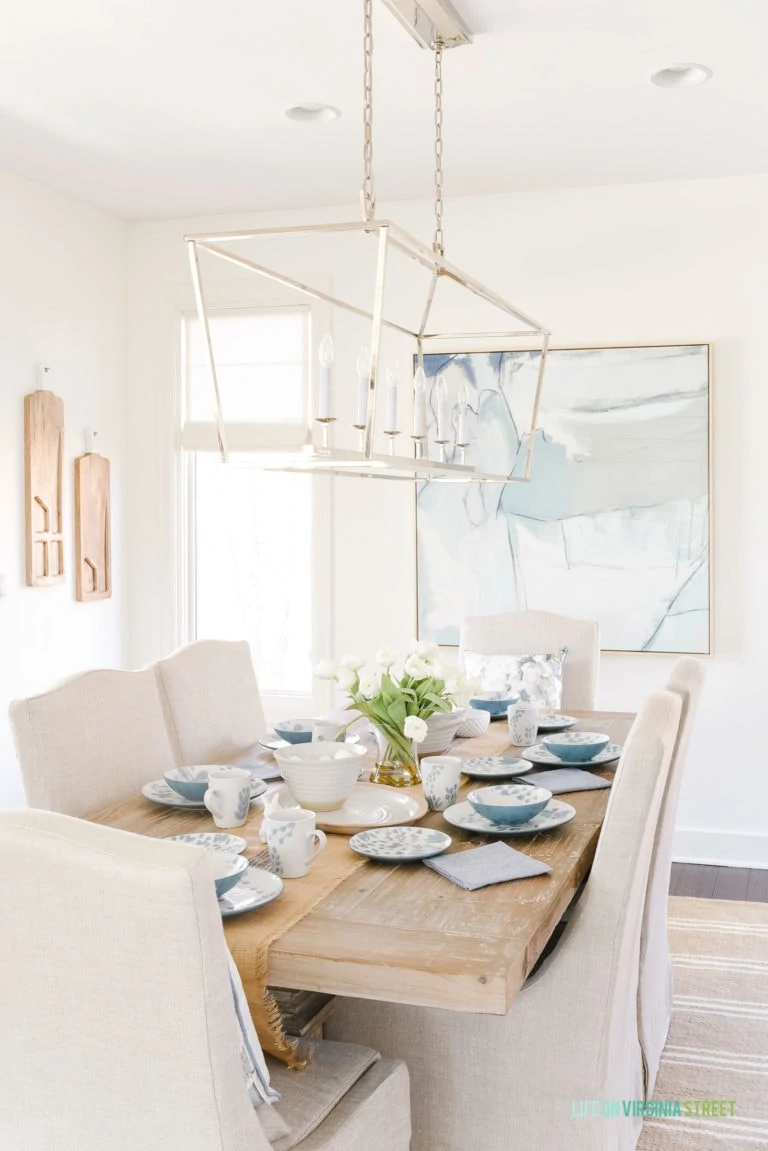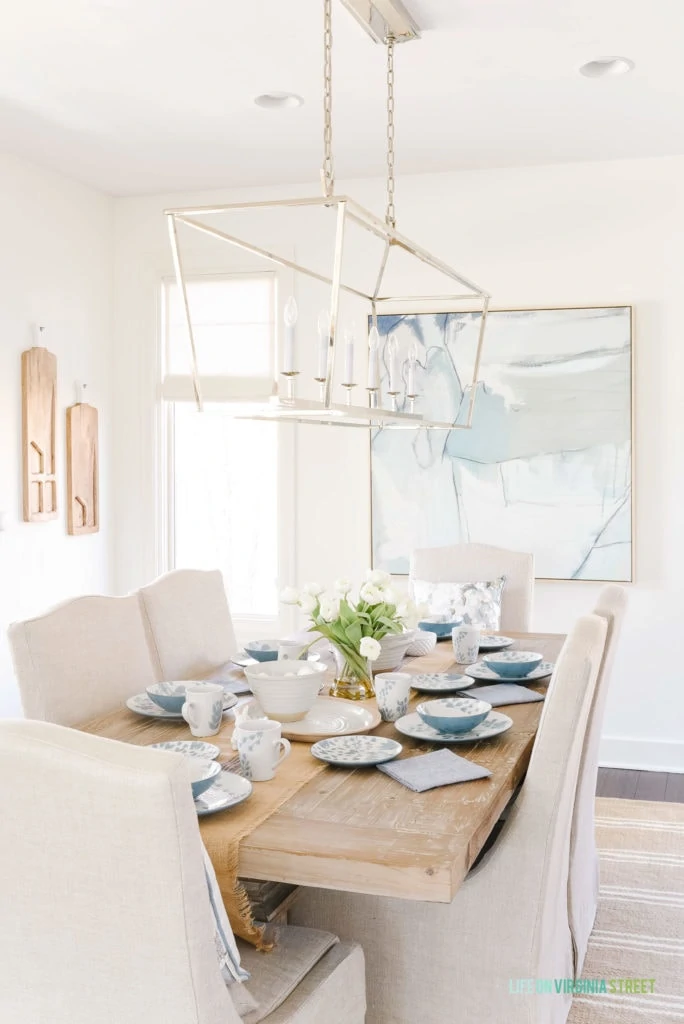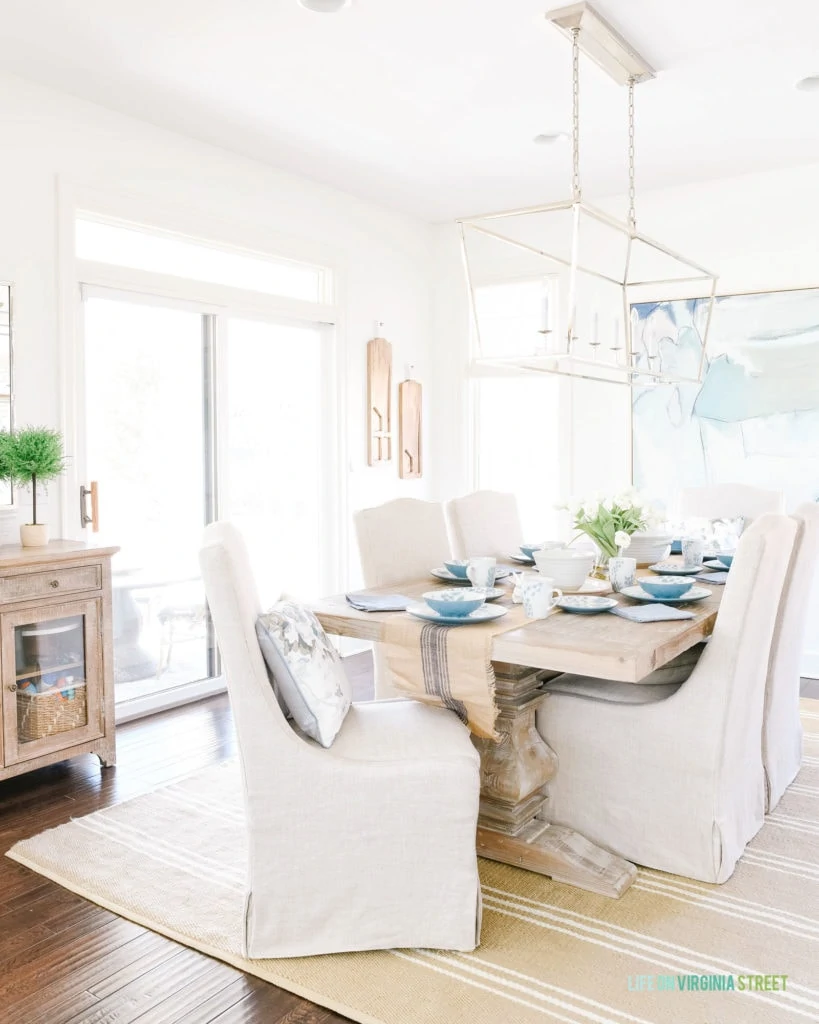 DINING ROOM SOURCES: Dining Table | Linen Dining Chairs | Striped Rug | Hutch | Chandelier (knock-off version here) | Abstract Art | Buffet Table | Mirror | Faux Cypress Topiary | Dipped Handle Serving Boards
As we head back down the hallway, I only made a few minor updates in our powder bath. I pulled this striped rug from storage last minute (hence the roll marks) but love the colors for spring!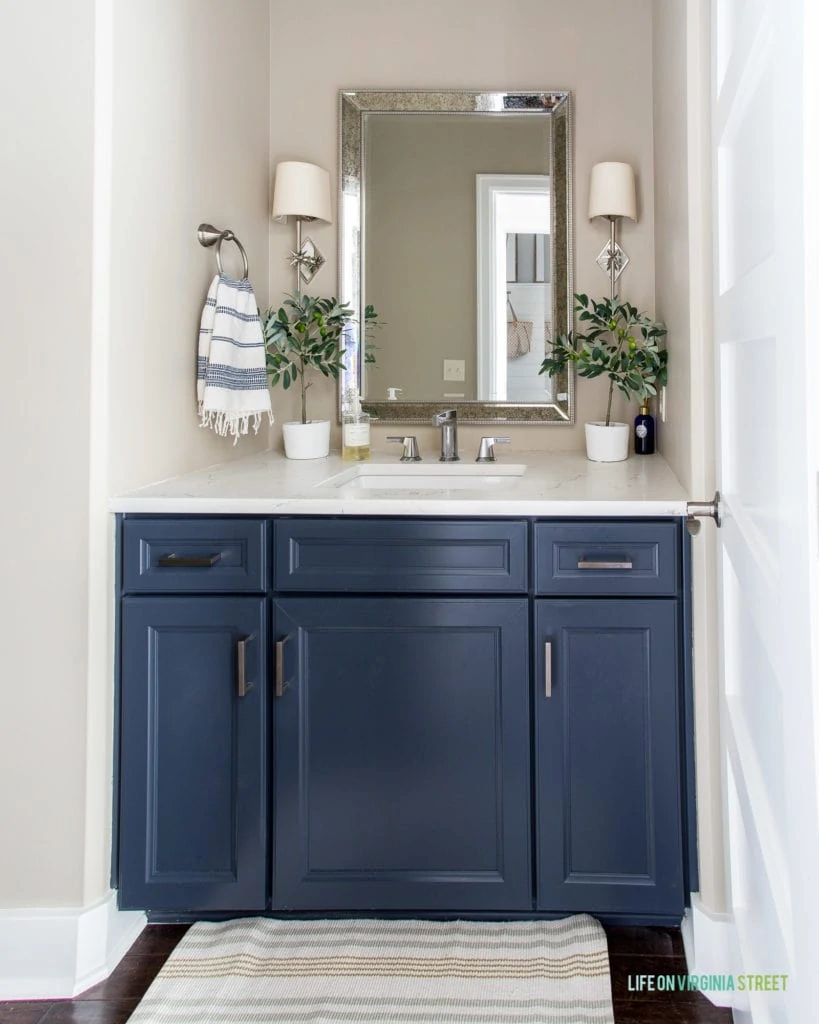 I was so excited to take a full shot of this room now that I have a wide angle lens. In fact, I was so excited, I didn't notice all the wet kitty paw marks streaked all over the cabinets until I went to edit photos. So we're keeping it real and I'm sharing it with paw streaks and all 😉
As we move into our mudroom, directly opposite of the powder bath, I'm loving the little updates I made in here earlier this year! I used more of my favorite gallery frames and filled them with some favorite vacation photos printed in black and white. The pillows are ones I've had for a few years and used in new ways!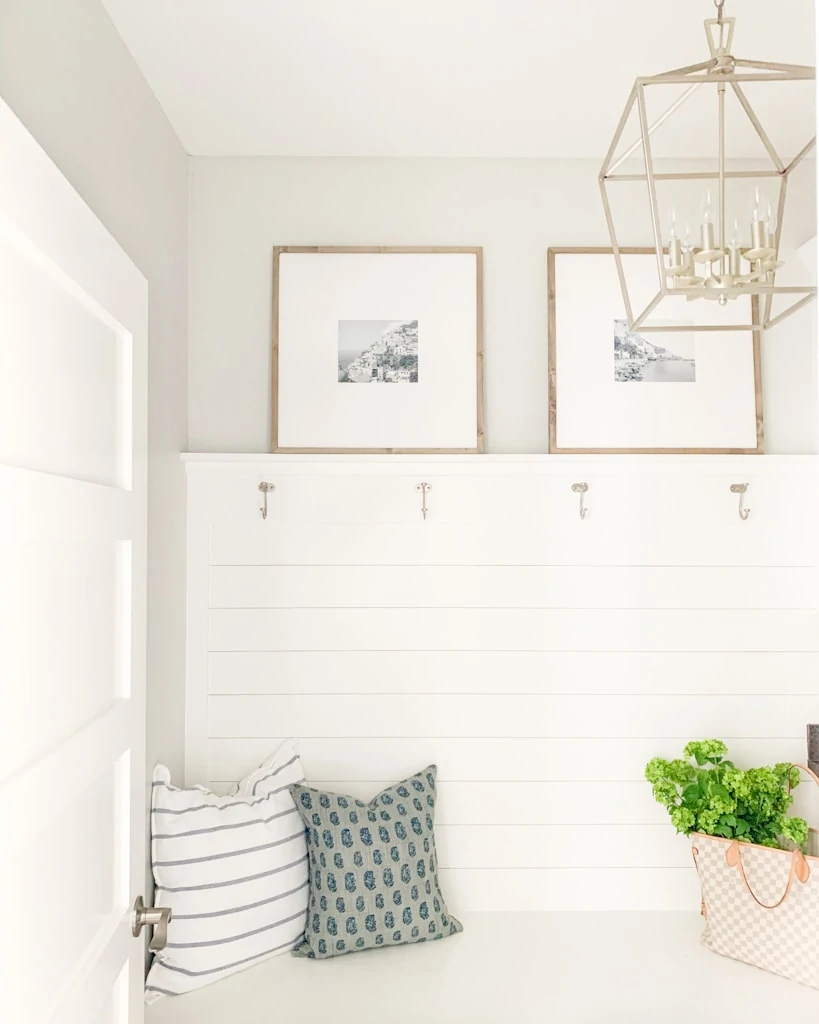 MUDROOM SOURCES: Lantern Chandelier | Striped Pillow | Similar Paisley Pillow | Gallery Frames | Faux Viburnum Stems (similar here)
Heading upstairs, I also made a few swaps in our den!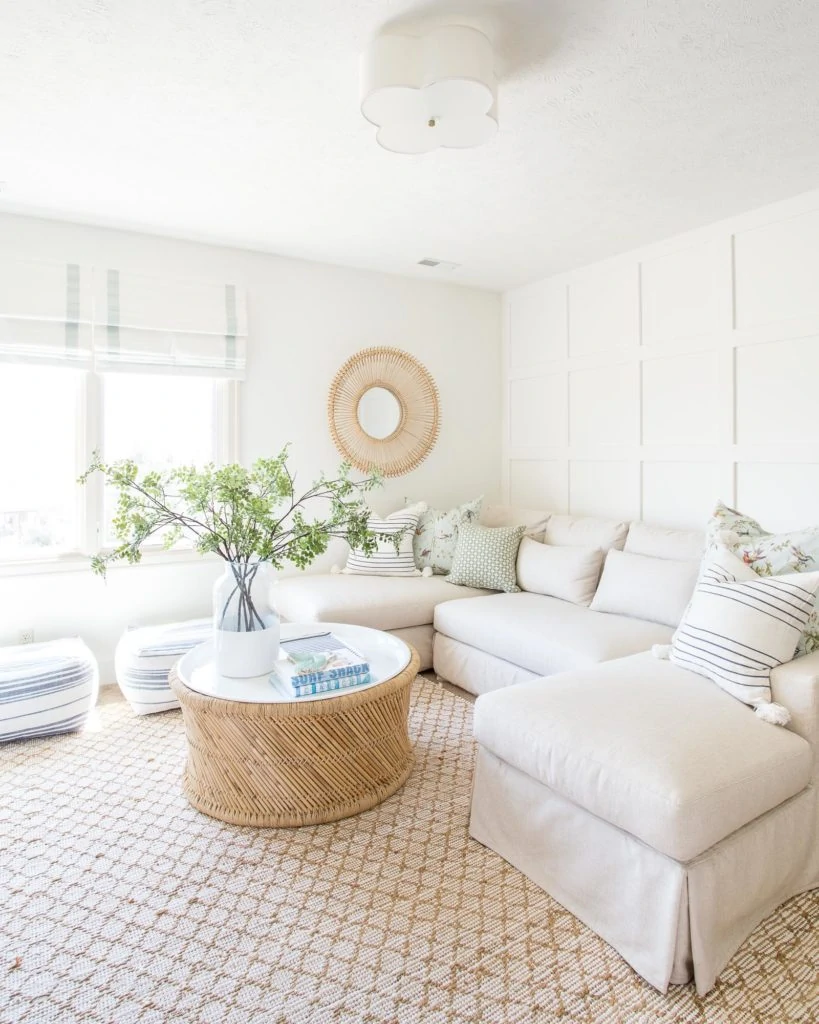 In my design boards, I had planned to use these hummingbird pillows in our guest bedroom. But I ended up loving them more in here! I mixed them with a few pillows I already had on hand and love the fresh new look! I actually found the fabric on eBay for a steal and made the pillows on my own. But you can buy them already made from this Etsy seller.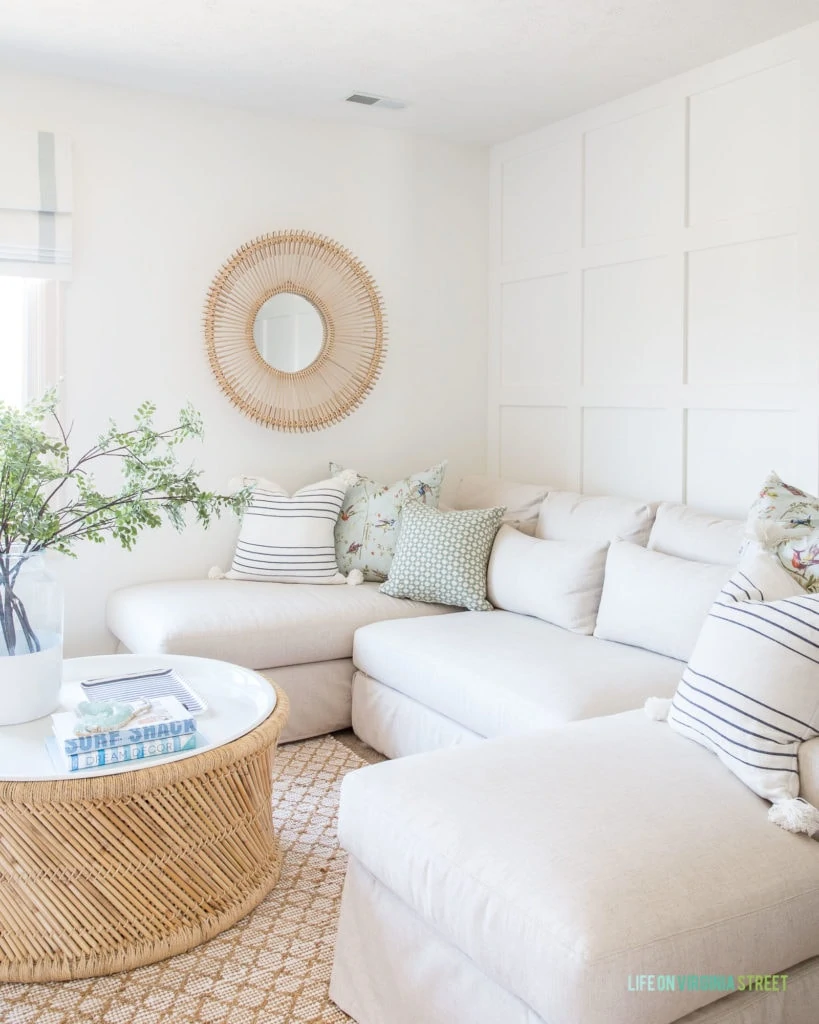 Three fun facts. I don't think I've shown this view below since the room reveal nearly a year ago. Second fun fact? The Christmas tree is still right behind me in this photo from yesterday. I told Kurtis this has to be the week we take it to the basement! Third fun fact? My sewing machine needle broke on me yesterday when I was trying to finish the last bird pillow. So, that pillow on the right is only half sewn and I had to fake wrap it around a pillow insert until a new needle arrives. I wasn't going to let anything else derail my spring tour post going live today!
I'm still loving my hat wall with hats from various vacations and memories! It not only looks cute, but it's an easy way to store them!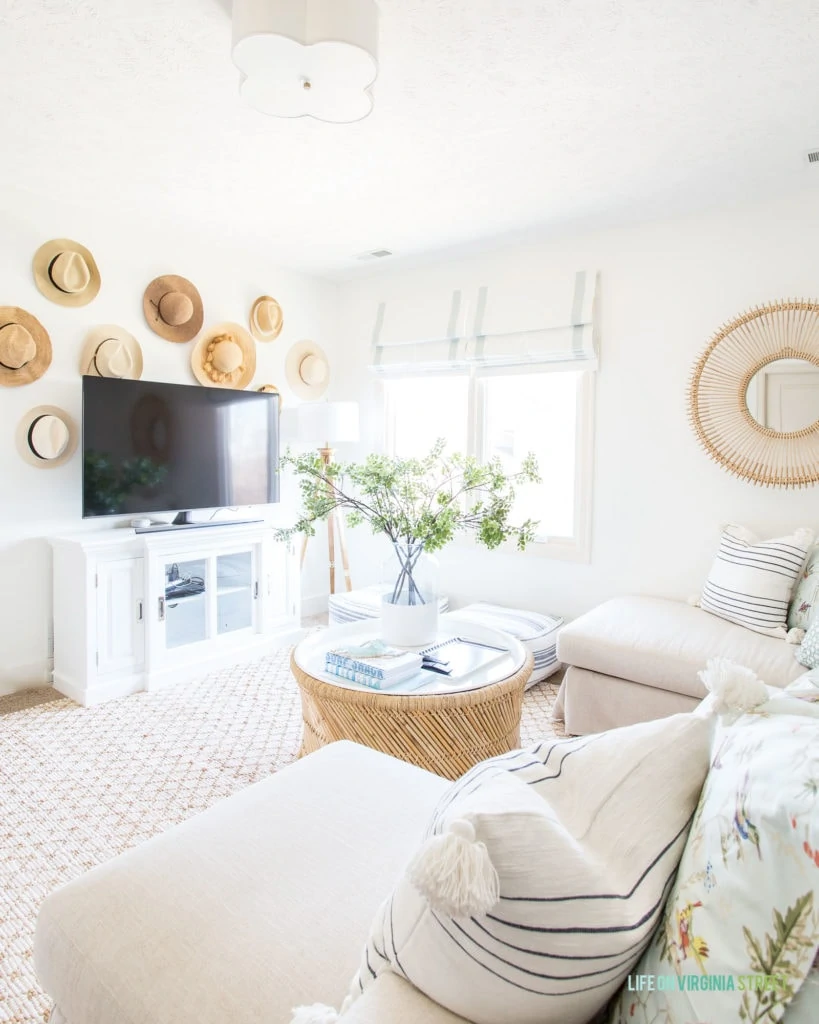 DEN SOURCES: Linen Sectional | Indoor/Outdoor Diamond Rug | Scallop Light Fixture | Similar Rattan Mirror | Coffee Table | Paint Dipped Vase | Faux Greenery Stems | Striped Pillow | Hummingbird Print Pillow (fabric available here) | Woven Geometric Pillow (fabric available here) | Roman Shades | TV Stand | Tripod Lamp | Striped Poufs: At Home
I kept most of the details in our bedroom the same from winter, but added this paisley lumbar pillow. The little pop of blue instantly makes it feel so much more like spring in here!
So excited we finally got the dresser last fall so I can finally show this side of the room again!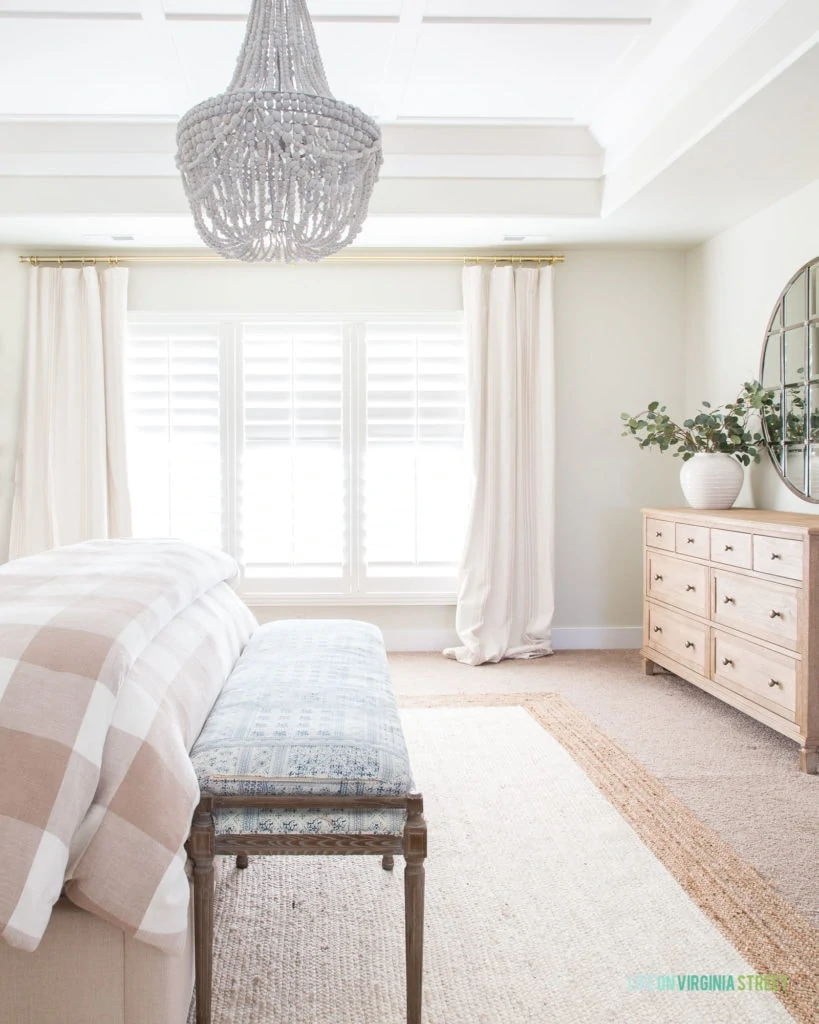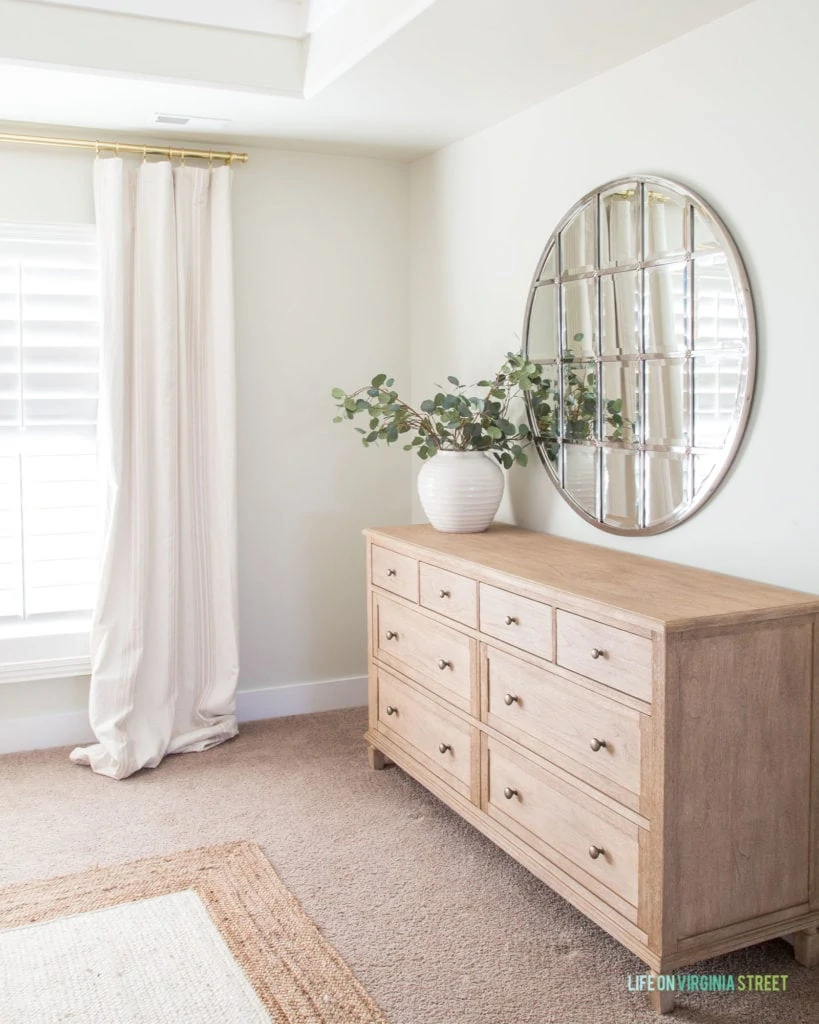 MASTER BEDROOM SOURCES: Similar Upholstered Bed | Buffalo Check Bedding | Paisley Lumbar Pillow | Wood Bead Chandelier | Bench | Jute Rug | Cane Nightstands | USB Ceramic Lamp | Striped Blackout Curtains | Gold Curtain Rod | Faux Olive Tree | Dresser | Round Mirror | Faux Eucalyptus Stems
In our main guest bedroom, I kept the winter plaid I used last year. But with a few other minor swaps, it seems to still fit the current season!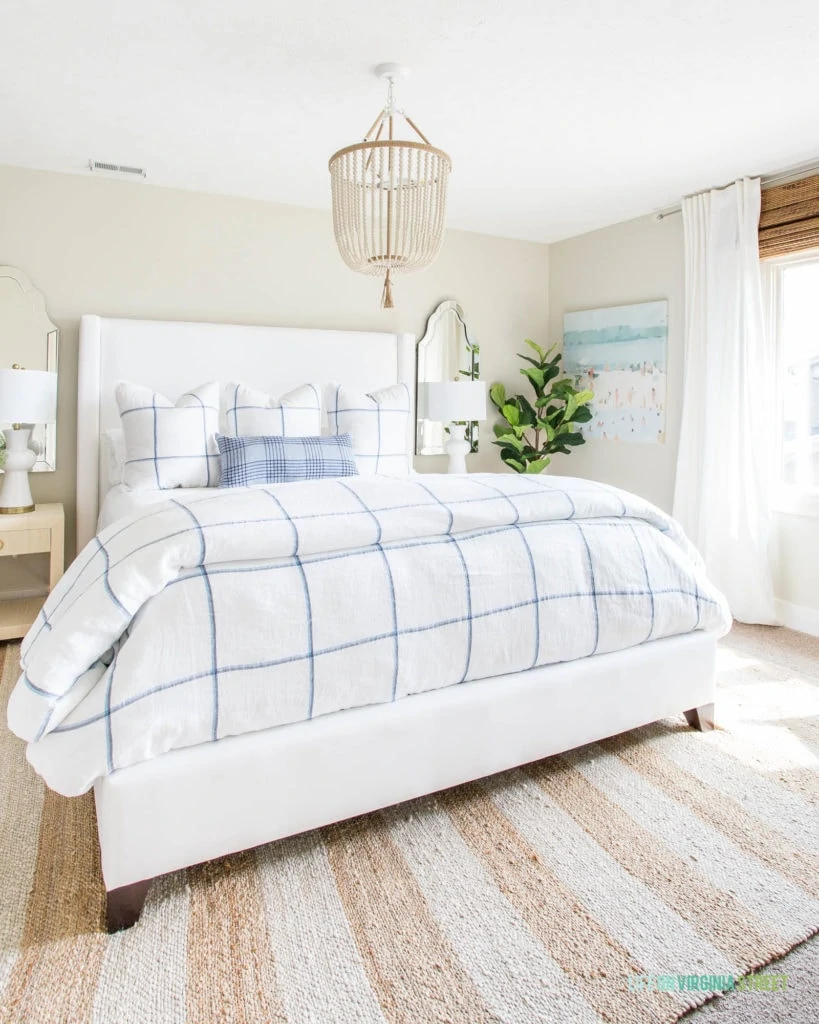 I feel like this beach abstract art was made for this room! I love it so much and couldn't be happier with it! I love the little injection of color it adds to this space!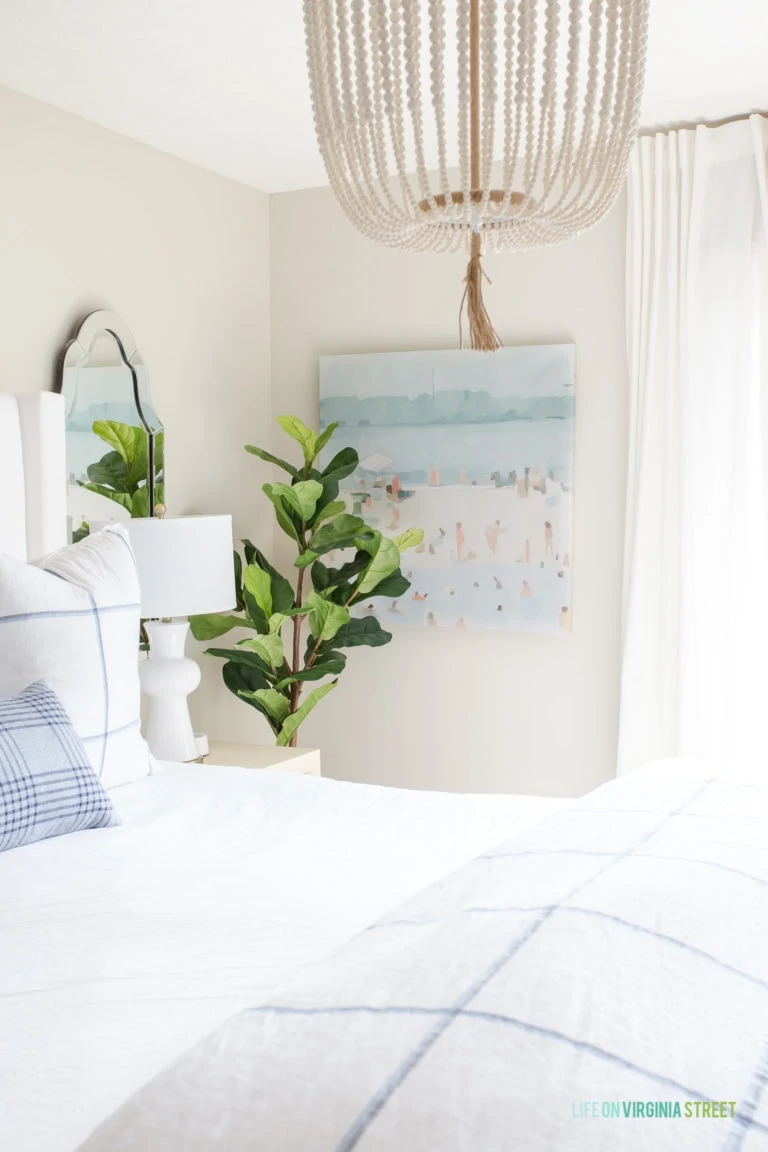 GUEST BEDROOM SOURCES: Upholstered Bed | Windowpane Plaid Bedding | Plaid Lumbar Pillow | Bead Chandelier | Striped Rug | Raffia Nightstands | White Ceramic Lamps (come as a set of two) | Abstract Beach Art | Faux Fiddle Leaf Fig Tree (this is the 5'4″ size) | Mirrors
And I'd love to show you our other guest bedroom but it is currently serving as Kurtis' temporary home office. I wince every time I peek in, so I figure it's just better to close the door and walk away for the time being 😉
I hope you enjoyed our 2020 spring home tour!
If you would like to follow along on more of my home decor, DIY, lifestyle, travel and other posts, I'd love to have you follow me on any of the following:
Pinterest | Instagram | Facebook | Twitter
disclosure: some affiliate links used