It's hard to believe, but it's almost been a full month since my last weekend recap! Hopefully things will be getting a bit more back to normal around here now that our travel is done and we're getting back into a routine around here.
This post contains affiliate links for your shopping convenience. Click here to read my full disclosure policy.
First and foremost, I want to thank you all again for your sweet words about Bearcat. It was a pretty rough week for both of us, but we find that each passing day gets just a little bit easier. We're all still trying to figure out our new norm without him.
I also wanted to give quick reminder that you can vote daily for our master bedroom makeover to help Orphan Grain Train win a $10,000 donation! I'm also taking over the FrogTape Instagram account today to share some affordable ways to add personality and decor to your spaces, so I'd love for you to follow along!
Now, here's what we've been up to the past month or so.
The cats are also trying to find their new norm as well without Bearcat. I'm not sure they've figured out their dynamics entirely, but it seems like Bailey is stepping into the role as the new boss of life 😉  She's also decided she'll take Bearcat's spot on the couch at night when she wants to cuddle. She's been hanging out with me in my office this past week and then Hawkeye decides he wants to sit with her, so he lures her into allowing him in her space by cleaning her. After a few minutes of cleaning, she'll relent and then he's allowed to cuddle her. It's a pretty cute routine to watch.
One day last week I heard Henley making a super strange cry coming from the living room. Turns out she had "killed" her motorized mouse and was bringing it to me in the office as a gift. She's so thoughtful! 😉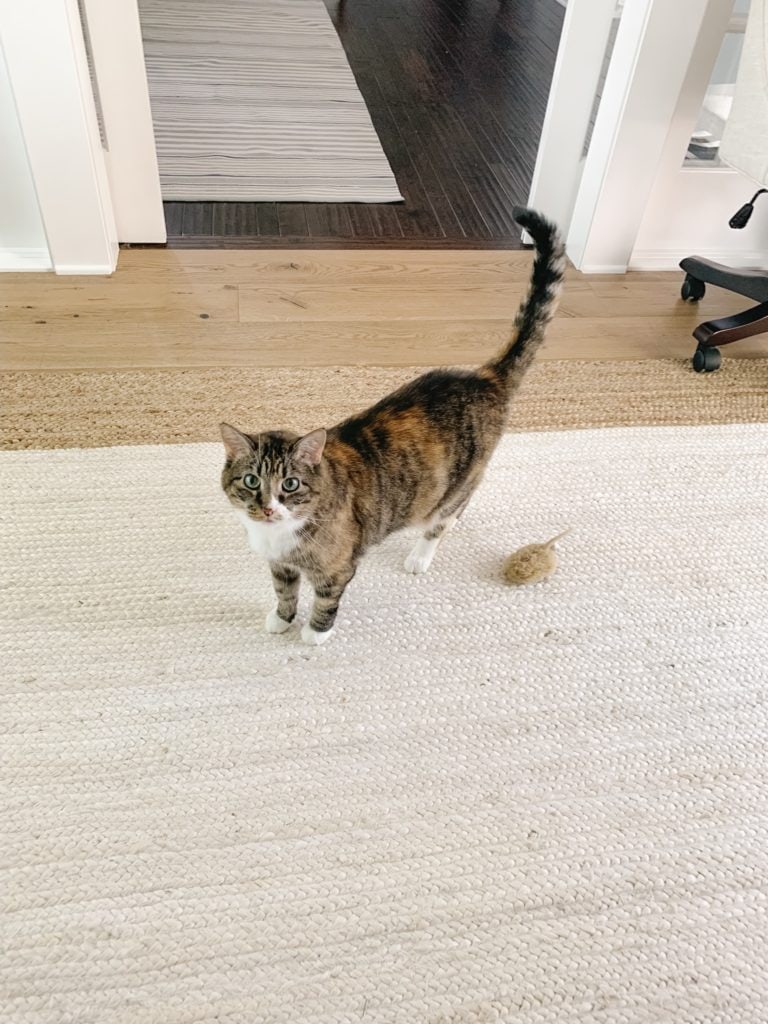 Our trip was unreal and we couldn't have asked for a better time! A few of the days were soured a bit by worries over Bearcat (our vet called every other day or so with updates). But we also tried to remember there wasn't anything we could do remotely and knew he was in good hands so we tried to enjoy the experience as much as possible. I'm hoping to have a trip recap ready by the end of the week, as I know many of you are leaving soon to similar locations and were waiting on tips and recommendations. This view of Santorini is one of my favorite photos from the trip! Kurtis actually took it and I just edited it but it captures the beauty of Oia perfectly! I'm thinking it may make an appearance in a gallery wall in our home in the near future.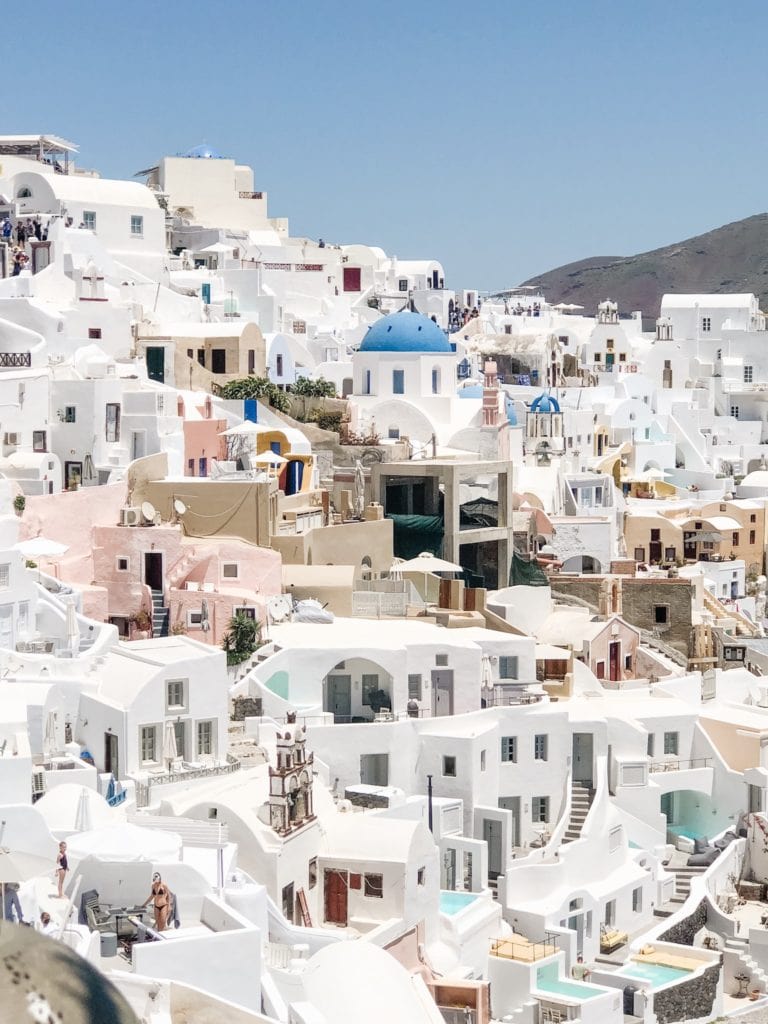 And because we didn't already have enough going on, we made an offer on an investment property the week before we left. I've been so scatterbrained these past few weeks I didn't even remember to take a photo of it when we toured it or when we did the inspection this past week. We had been wanting a new property after wrapping up our last one, but our market has been insane lately and we assumed we'd have to sit on the sidelines until winter. This was a unique situation and the house wasn't listed yet. Our realtor contacted us about it and the home already has a tenant (whom we will keep). We close the end of the month, but it should be pretty turnkey (thankfully)!
Not only that, we finalized a property manager and wrapped up all of that before we left on vacation, so our rental business pretty much consumed that week. The great news is, they were able to get our two vacant properties rented while we were out of town! The bad news is, the one we had to fully gut and renovate is already occupied, so I never got a chance to take 'after' photos to share with you guys. I know some of you had questions on it or wanted to see it, so send me a message and I can do my best to answer or send any images I did take.
I had a much-needed, unplanned pool day on Wednesday. My friend and photographer, Mandy, was here to shoot photos for my post tomorrow and we decided it was so hot and humid she needed to bring her kids back over once we wrapped up to have some pool time. It was a total blast and a great mid-week distraction!
We spent most of Saturday morning get our pool furniture set up, random plants planted, and other summer chores we hadn't yet done. We still have a little bit to do, but we're almost summer ready! As I mentioned in our summer courtyard refresh post yesterday, I'm hoping to share the other updated outdoor spaces soon! I just needed to get a few more flowers in my pots and finish setting up our chaise lounges! I ordered special covers for them, so they're taking a little longer to set up than I anticipated.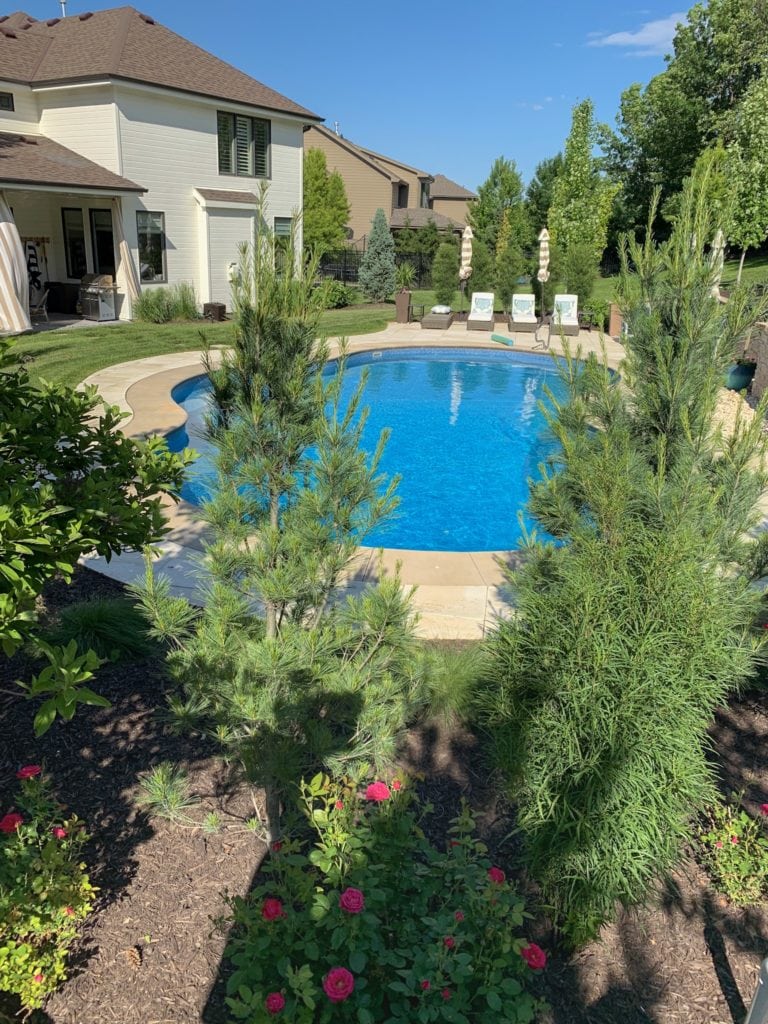 Chaise Lounge Chairs | Pillows | Striped Umbrellas | Outdoor Curtains
Saturday afternoon we planned a pool day with Jill, Nick and Zoe. I can't believe I didn't even get a photo! But Zoe seemed to have fun and her swim lessons are definitely helping with her comfort level in the pool. That night, we grabbed pizza for dinner and then head to their house for s'mores on their back patio. It was the perfect summer day!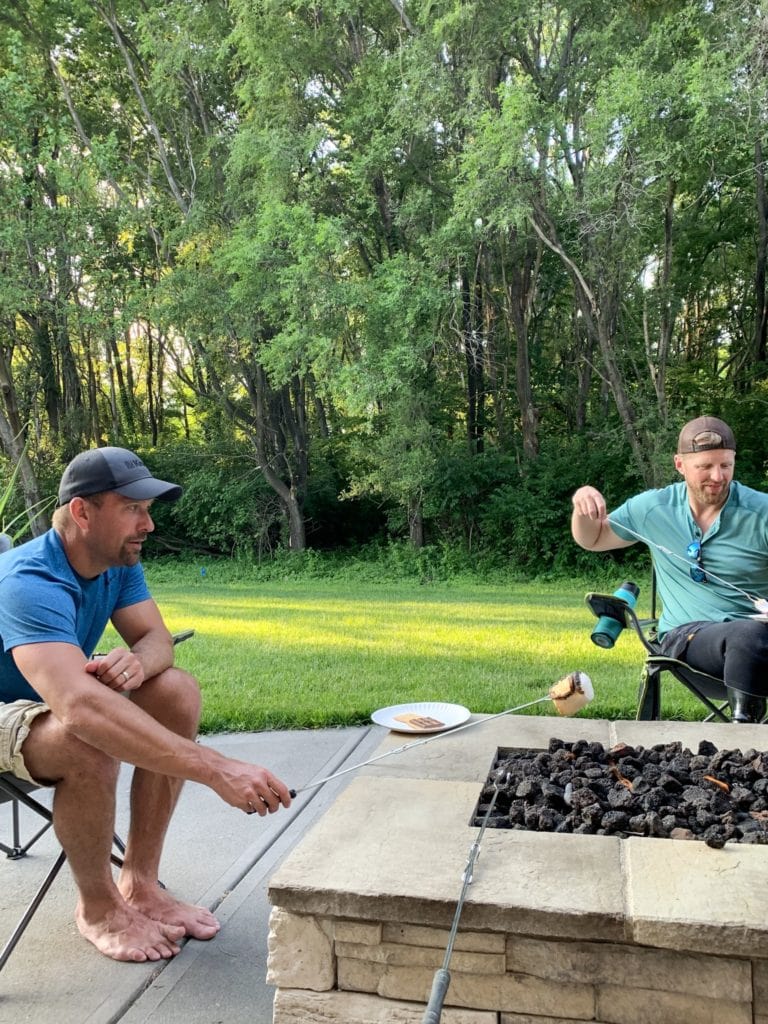 Sunday we had a lazy morning at home, and made our favorite summer breakfast. It's essentially just avocado toast with a sunnyside up egg, olive oil and sea salt. Surprisingly, it was too cold to eat outside after a drop in temps overnight. I then remembered that Lanoha, our nearby nursery, was having a Father's Day sale and you could play Plinko to win higher discounts. Last year I killed it and got a 40% discount. I was terrible this time around, but Kurtis managed to score a 25% off discount on our purchase which was perfect, because we had several things we needed this weekend.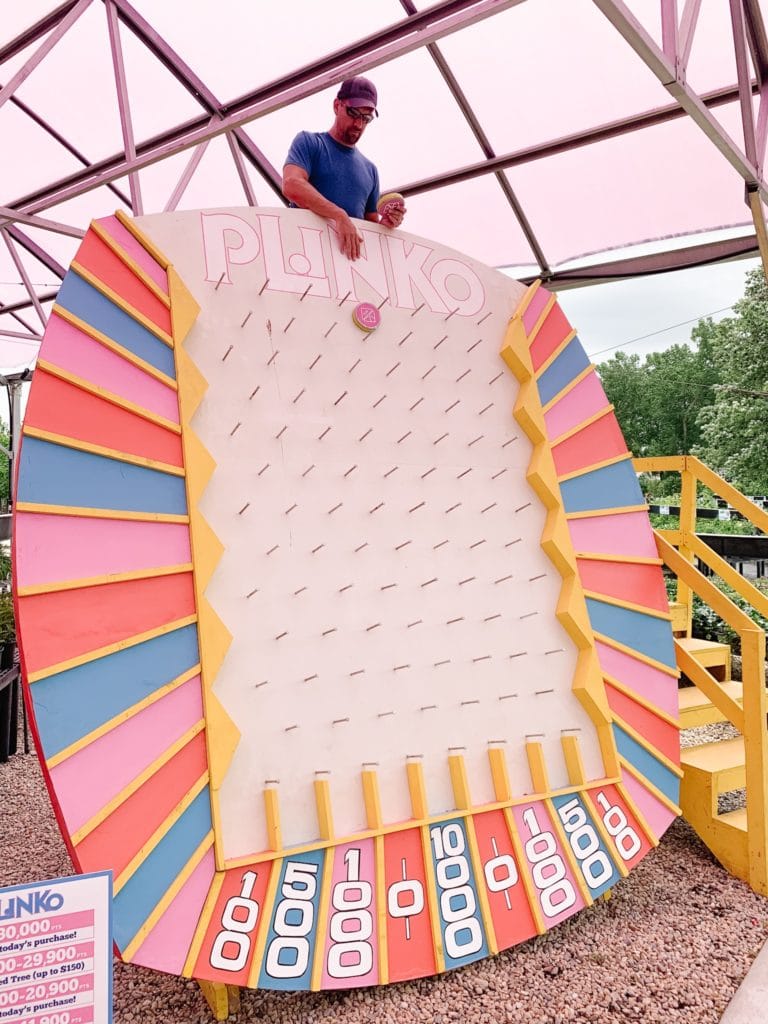 We ended up buying a small tree and some items I want to use to fill in up on our hill (along with treatments for six of our trees that are struggling). We have a random outcropping of limestone we used to terrace the steep hill in our backyard and I want to pull some of the grass and fill it in with various ground covers. It's been our plan to do so for the past three years and it never seemed to happen. I love the items we found (this was about half of it) and I'm excited to get to planting this week. We've got a slight break in temps this week so I think it will be a great time to get outside for some much-needed yard work. I actually find working in the yard very therapeutic when I'm not under a time constraint so I'm looking forward to it! Admittedly, I'm still in a funk after losing Bearcat and I think getting outdoors and doing something physical may help out with that. I'm also excited to add some of this pretty color and texture to our yard.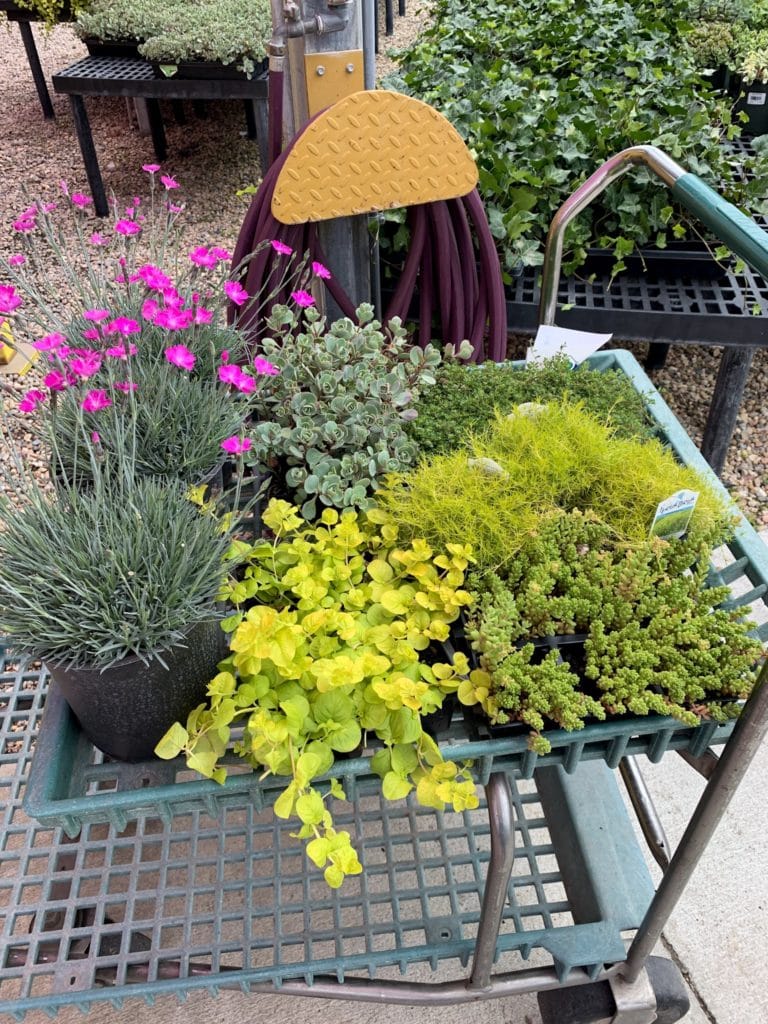 I can't believe it's already June 10th and I haven't even started decorating for summer! Hopefully I can squeeze some of that in this week, as well, and get some photos taken to share with all of you. We have a lot of family coming to stay with us in the next few weeks (and for most of July) so I have a lot to do around here to prepare!
Following are some of the weekend sales that are still going strong!
I hope you all have a great week!
If you would like to follow along on more of my home decor, DIY, lifestyle, travel and other posts, I'd love to have you follow me on any of the following:
Pinterest | Instagram | Facebook | Twitter 
disclosure: some affiliate links used