Happy Monday! I hope you all had a great weekend! Ours was jam-packed with a good mix of work and play.
This post contains affiliate links for your shopping convenience. Click here to read my full disclosure policy.
Home Projects & Updates
As I mentioned in my weekend sale alerts post, I fully intended on sharing our spring home tour with you last week. And then real life intervened (you'll see more below). But, I promise it will be up on Thursday! But, in the meantime, here's a little sneak peek.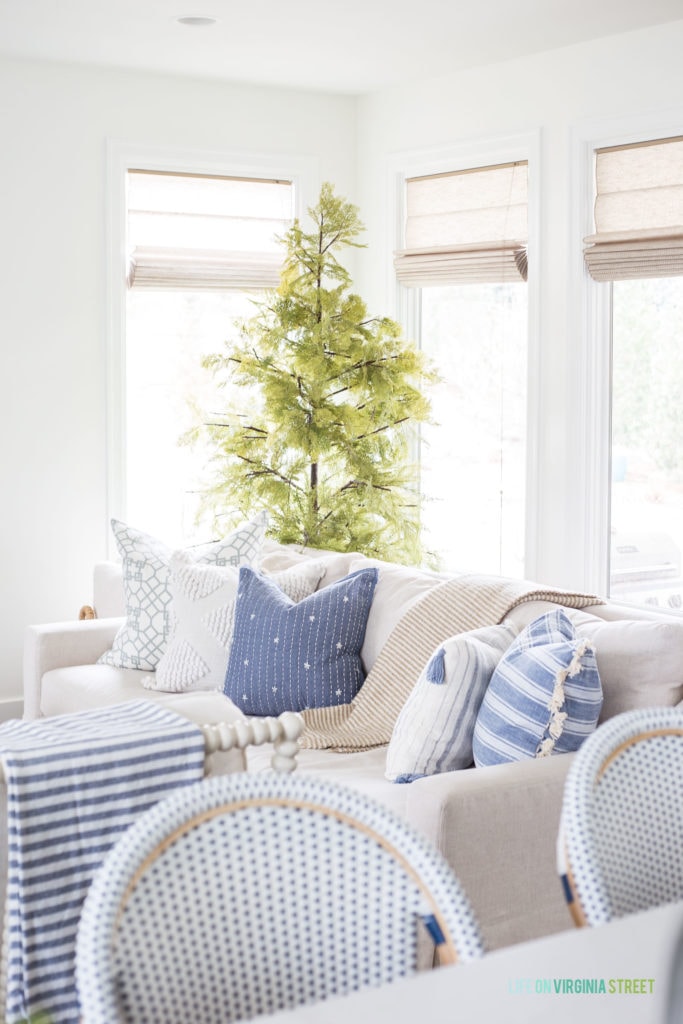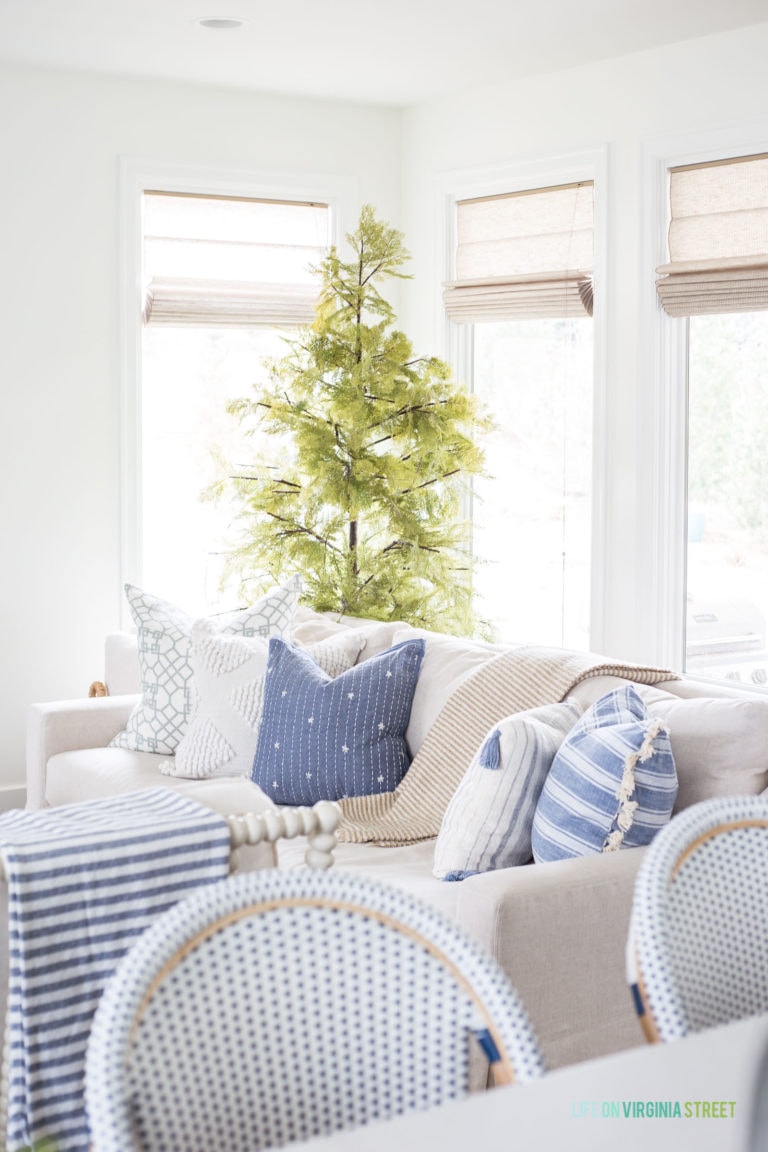 Sofa | Trellis Pillow | White Textured Pillow | Stitched Blue Pillow | Ticking Stripe Throw | Tassel Pillow | Striped Pillow | Bar Stools | Faux Cypress Tree
Saturday was delivery day!! Exciting but also a shock. I got a call on Tuesday that the Pottery Barn delivery crew wanted to deliver our sectional on Thursday. I won't go into all the details now, but it was already a month late and I'd been waiting on a manager's call (on both the delivery and PB side). So, to get the automated call they that were coming in two days was exciting but I was also a little freaked out because I hadn't finished the board and batten wall. Thankfully, on the automated call, it let me pick Saturday as a delivery date. Guys, I get way too excited for this stuff! Needless to say, starting Tuesday, I did nothing but finish caulking, sanding and painting the wall to be ready for delivery. This was all in addition to that secret project I'm working on that's due in a week!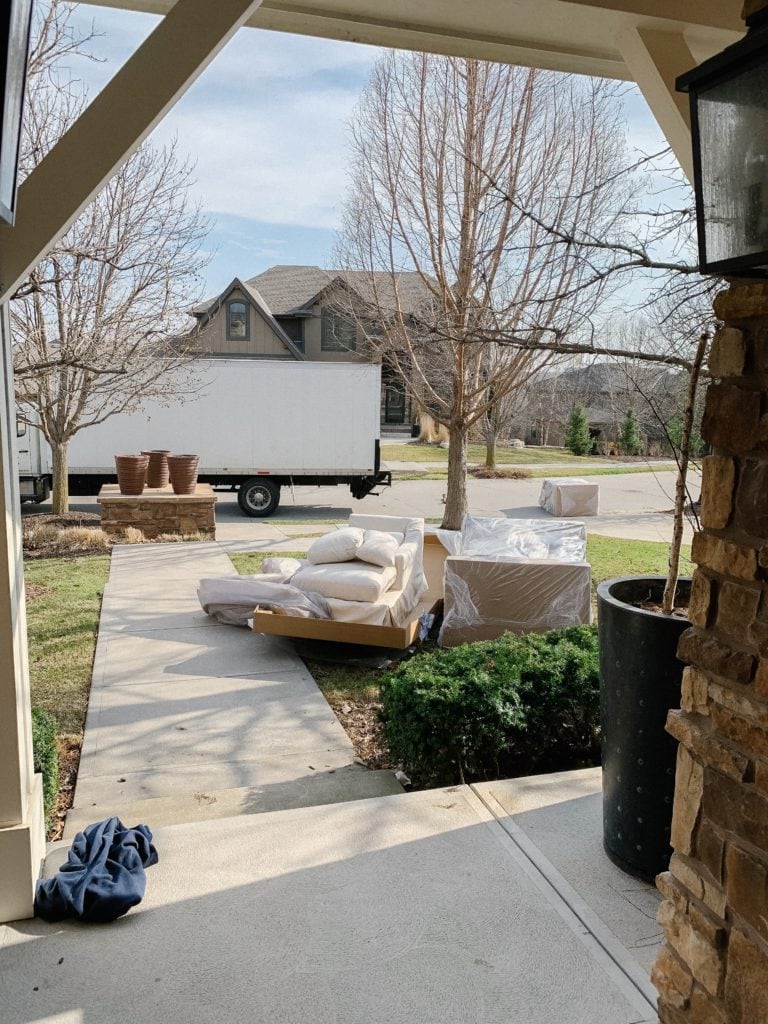 The sectional works perfectly in the space! Unfortunately, the middle section was delivered with legs that are about an inch and a half too short. I'll share more of the drama later, but basically I refused to refuse the delivery (which was suggested to me) and said I was not waiting another 12 weeks for a new sofa to be built, when the legs could be screwed off and longer ones screwed on. Kurtis and I even decided we could build a platform for that section if it meant we didn't need to wait 12 MORE WEEKS for a new couch to be built.
Long story short, I found someone at PB that agreed to ship me the longer legs and all will be good within the next week or so! I already took a nap on the sectional in my new favorite part of the house! The other items for the space will be arriving in the next few weeks, so I'm hoping to have a big reveal for you within a month! You can read more about the exact specification of the sectional we ordered here.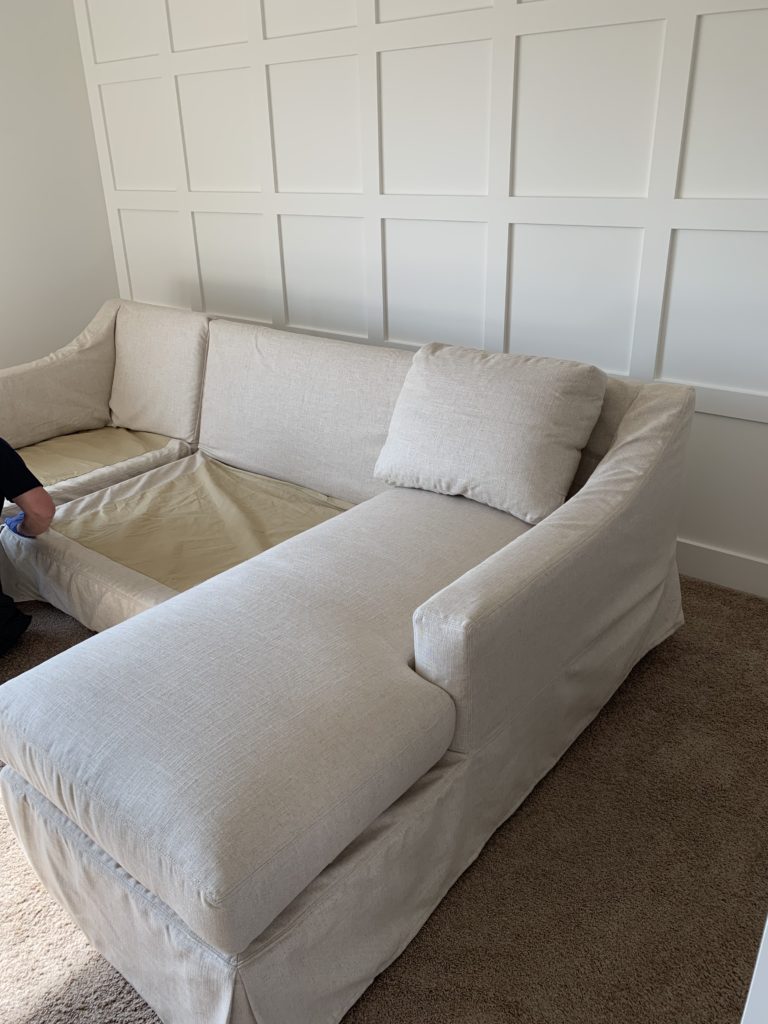 Sunday afternoon, we ran to our rehab rental. We got word that carpet went in this past week so we wanted to check it out. Since we're having to go with budget-friendly options in this house, I'm still really happy with how the overall look is coming together. Especially for a rental! It's so close to being done. It just needs a good cleaning, touch-ups and some serious yard work!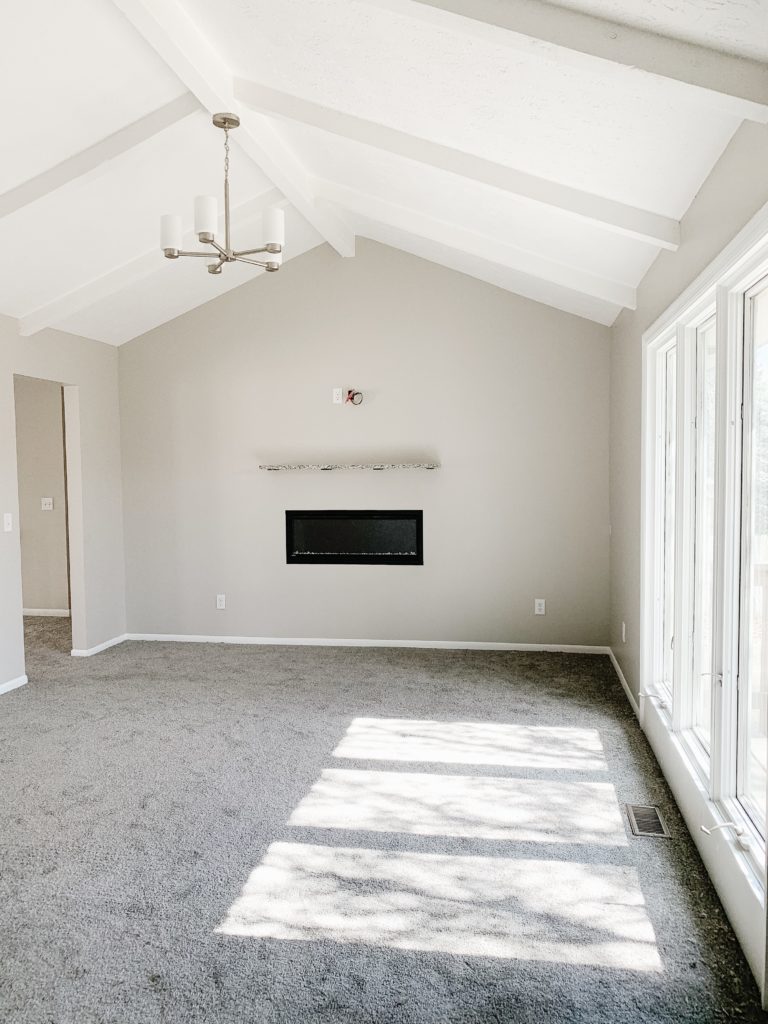 Okay, let's talk outdoor furniture. I mentioned last fall that our cushions on our chaise lounges literally started disintegrating last summer after three full years of use. It started as one spot and very quickly, the fabric literally turned to powder and dust. It was beyond crazy. After much research, I found that the fabric was Eddie Bauer outdoor fabric (the cushions included with the chaises).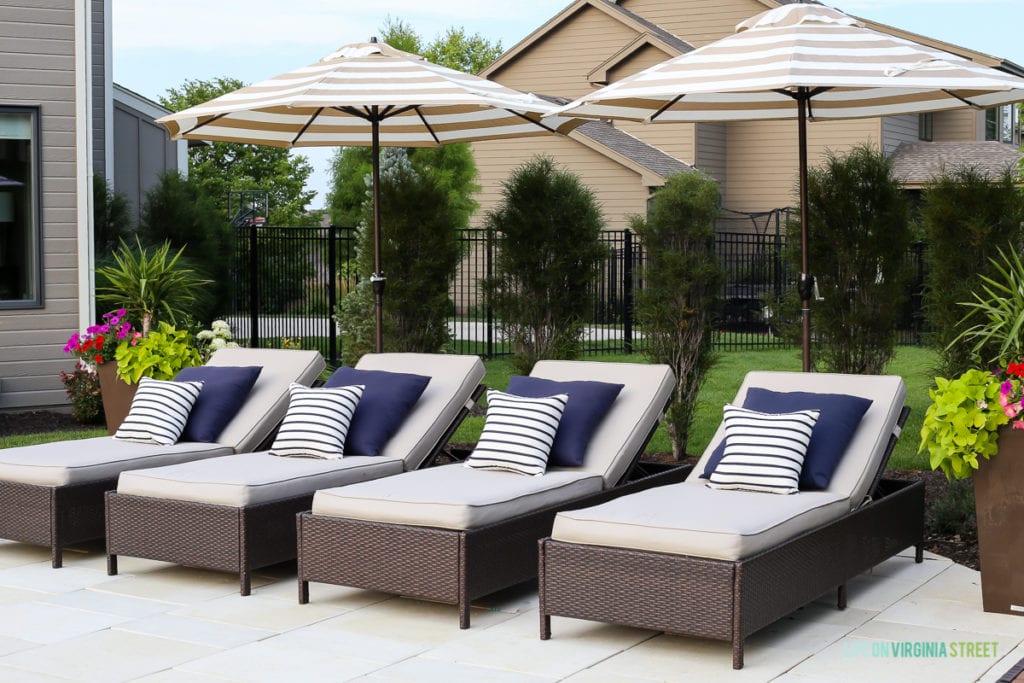 I've spent countless hours online trying to find the same dimension cushions to fit this chair. Basically, they don't exist and anything close really isn't that close. So, we can either go with cushions that don't fit right at about $300 per chair, we can have the existing cushions recovered (although we're not entirely convinced they aren't rotten at this point) and still spend about $300 per chair, or we can get all new chaise lounges with cushions. Surprisingly, this last option isn't all that much more expensive, depending upon the route we go.
So I'd love to hear. What brands have been your biggest success story with outdoor furniture? We actually LOVE the Serta base (and cushion) on the one we have but we'd really prefer a Sunbrella fabric or something similar. We leave our furniture out (uncovered) all summer so it has to do well in extreme heat (100+ degrees), rain, wind, and chlorine/salt water. I've heard Restoration Hardware is top notch for outdoor, but we're not really ready to spend that much money. I love some of the Pottery Barn options (these are my favorite), but still unsure of which route to go. I checked Costco's inventory but didn't love the chaises they currently have. I know powder-coated aluminum is the route to go to avoid rust, but we've really only had experience one time so far buying furniture like this. Help!
Around Town & For Fun
My friend Mandy invited me to a charity event on Friday night. As more info came out about the event itself, we quickly realized it was a bit fancier than we initially realized. But we were excited for a night out downtown and the chance to dress up. The photo below demonstrates what happens when your friend tells you to smile without teeth about a half second before the photo is taken…..Me basically saying I don't know how to "smize" 😉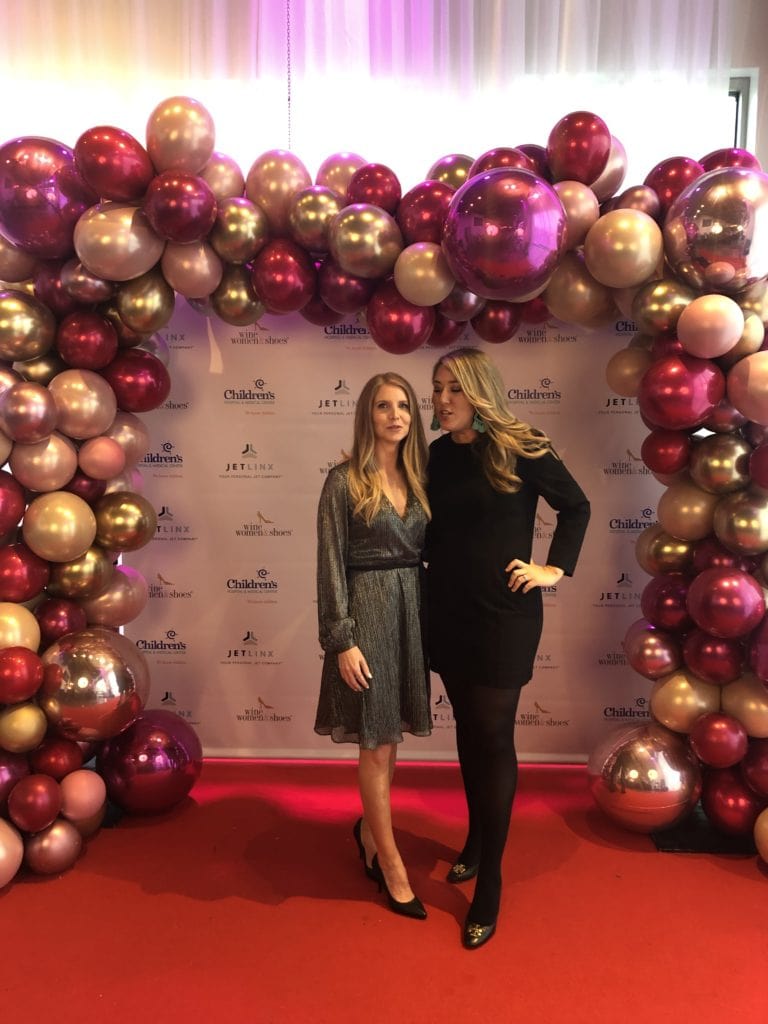 The event was for the Carolyn Scott Rainbow House at Children's Hospital & Medical Center. They hosted a Wine, Women & Shoes event and the turnout was pretty incredible. I think Mandy and I basically made an attempt to bid on every single thing that was up for auction, but walked away losing every single item. I can't say we didn't have a lot of fun trying though!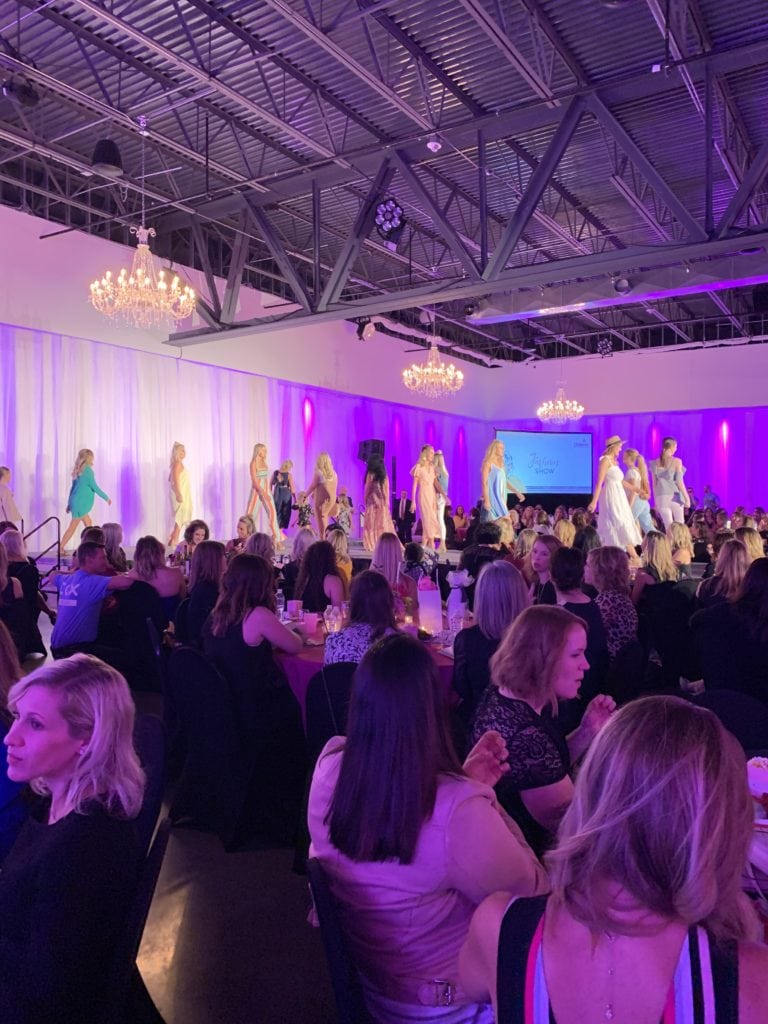 Saturday we worked on so many projects around the house that I didn't get out once.
Sunday morning, the confirmands that we taught this past year had their Confirmation graduation! We went to church to support them and celebrate a year of hard work and dedication. After that, we checked in on one of our niece kitties that we're babysitting and then headed to breakfast at First Watch. I'm not sure if I've ever mentioned this about Kurtis, but he could legitimately go out to brunch or eat breakfast-y food all the time. Me, I'm just kind of "meh" about all of it. But, it was fun to go out for the first breakfast in a long time!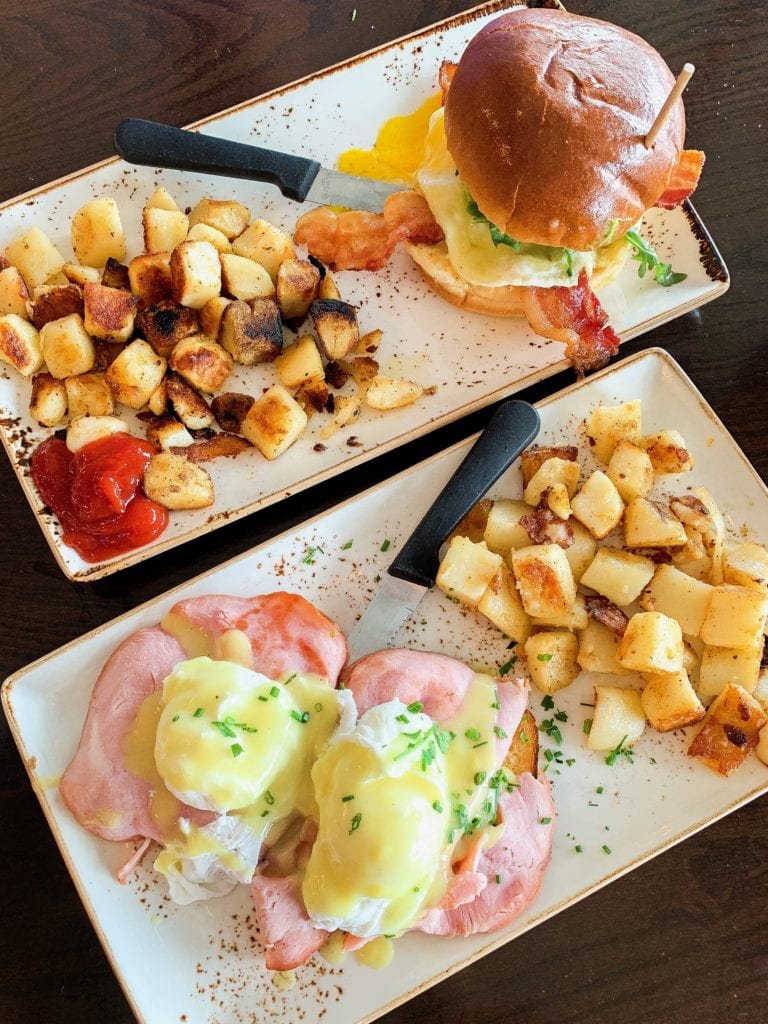 I spent much of the afternoon doing more painting for my project, and then had a local reader pick up a bunch of items from the old craft room/new den that she bought. She ended up taking the daybed, mattress and rug, so I know have funds to buy a TV stand for the space! The joys of local Facebook sales groups 🙂
We then headed to the rental house (as you saw above) and then went on the hunt for golf shoes for Kurtis. He's headed to the Masters for a few days this week for work, but sadly we only found a few golf shirts. Which probably wasn't a bad thing since all of his five+ year-old other options from TJ Maxx had seen better days 😉
We then met Jill, Nick and Zoe for sushi at HIRO 88. She's basically a teenager now, and wants to do everything the adults are doing. Who needs toys when you can play with plastic cups and lip gloss tubes?!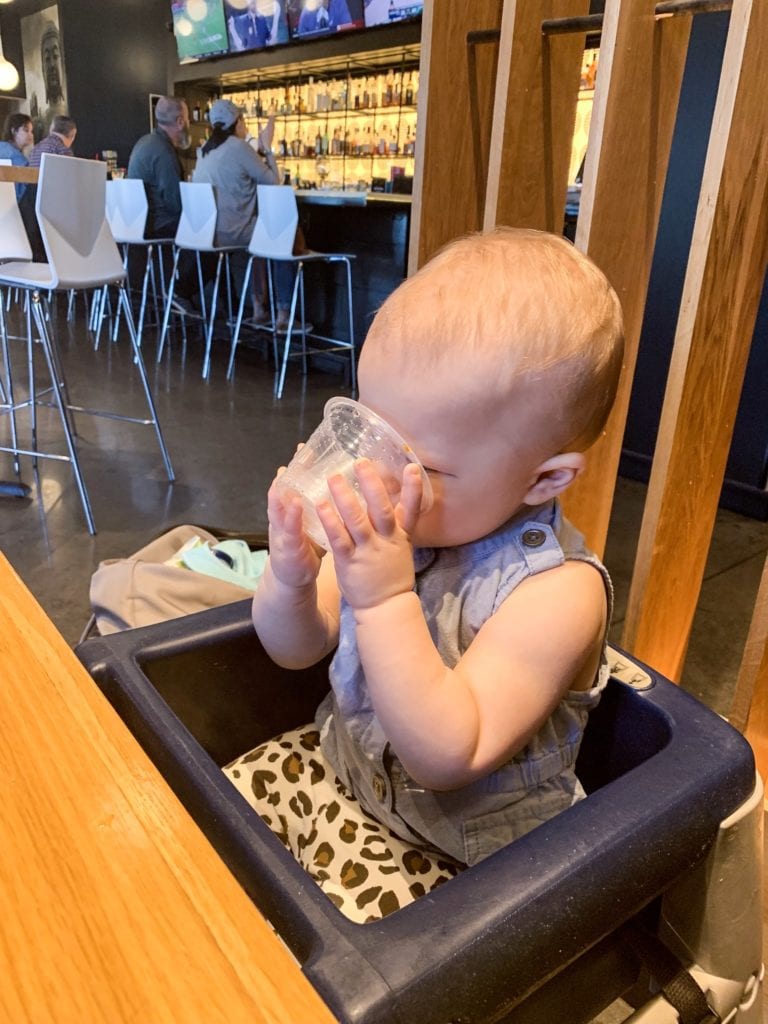 Recent Buys & Sales
I've had this outfit for nearly two years, but I still wear it just as much now as I did then! The best part is – all of the items are still in stock and many are on sale!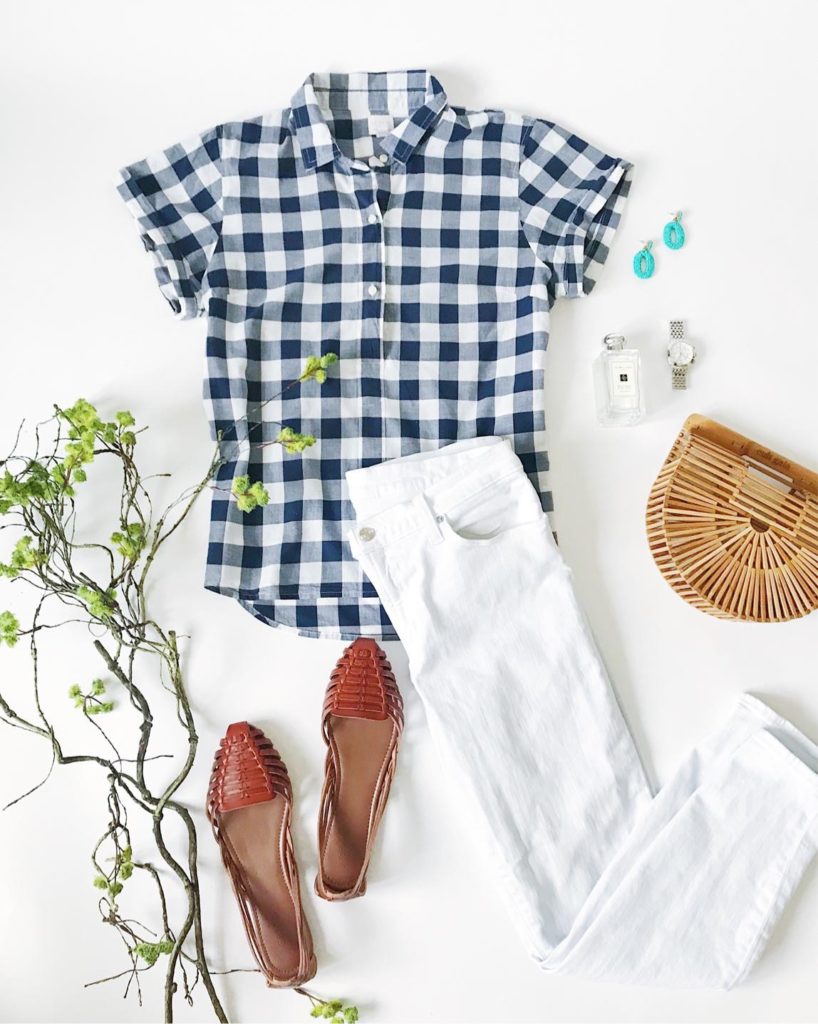 Gingham Check Top | Favorite White Jeans | Huarache Sandals | Bamboo Mini Ark Purse | Beaded Earrings | Favorite Cologne | Watch (similar) | Faux Greenery
If you were contemplating buying the dress I mentioned in last week's Wednesday Watch List, take note. My mom and I both got ours and we both agree they changed the pattern/material/everything. It's much shorter now, and we both feel like it runs 1-2 sizes too small. Ugh! So, ours are both going back – or I'll just ship her my size large (when she's normally a size small). It's still super cute and soft, but the sizing has definitely changed (at least in this sleeveless format). I actually wore my short sleeved version to church yesterday and remembered just how much I love it!
Following are some sales that have carried over from the weekend:
I hope you all have a great week!
If you would like to follow along on more of my home decor, DIY, lifestyle, travel and other posts, I'd love to have you follow me on any of the following:
Pinterest | Instagram | Facebook | Twitter 
disclosure: some affiliate links used