Happy Monday! I hope you all had a wonderful weekend! Lots of updates around here – including the one I'm most excited about. New paint in our entryway and hallway!
This post contains affiliate links for your shopping convenience. Click here to read my full disclosure policy.
Home Projects & Updates
Our painter started on our trim on Tuesday last week! I only had the trim and doors done in our upstairs hallway. We've wanted this done since we moved in over six years ago, but we've been slowly getting it updated over the years due to budget. You may remember we had the railing, windows and then the trim and doors done on the first floor with our kitchen renovation. Hopefully in the next year or so we can get the doors, windows and trim inside all the bedrooms finished and then we will officially be DONE! But, it feels so good to have all the main areas done now.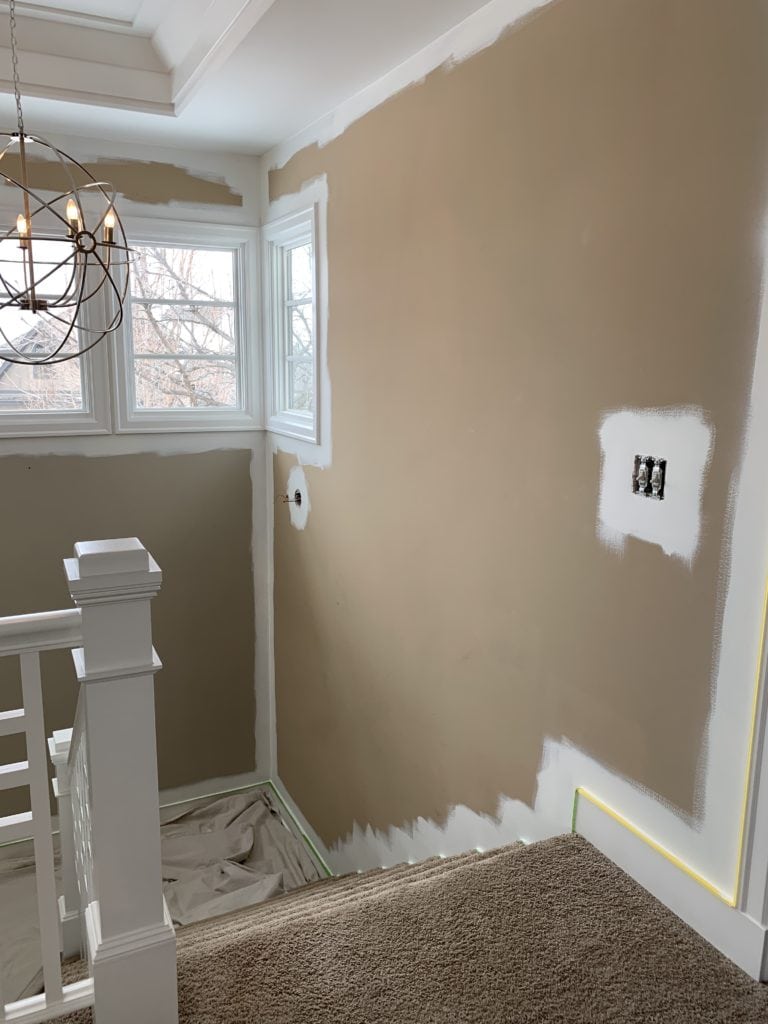 He then started the walls on Thursday and was able to wrap everything up yesterday. We did Benjamin Moore Simply White on both the walls and the trim (in eggshell and semi-gloss). As you can see in the image above, the wall to the right hadn't ever even been painted since the builder did it eleven years ago. It was still the flat original paint and in pretty bad shape – not to mention still pretty dark. It literally feels like a new house in the hallway and staircase now! I can't stop smiling or staring! I'll plan to do a full post on the updates in the next week or so!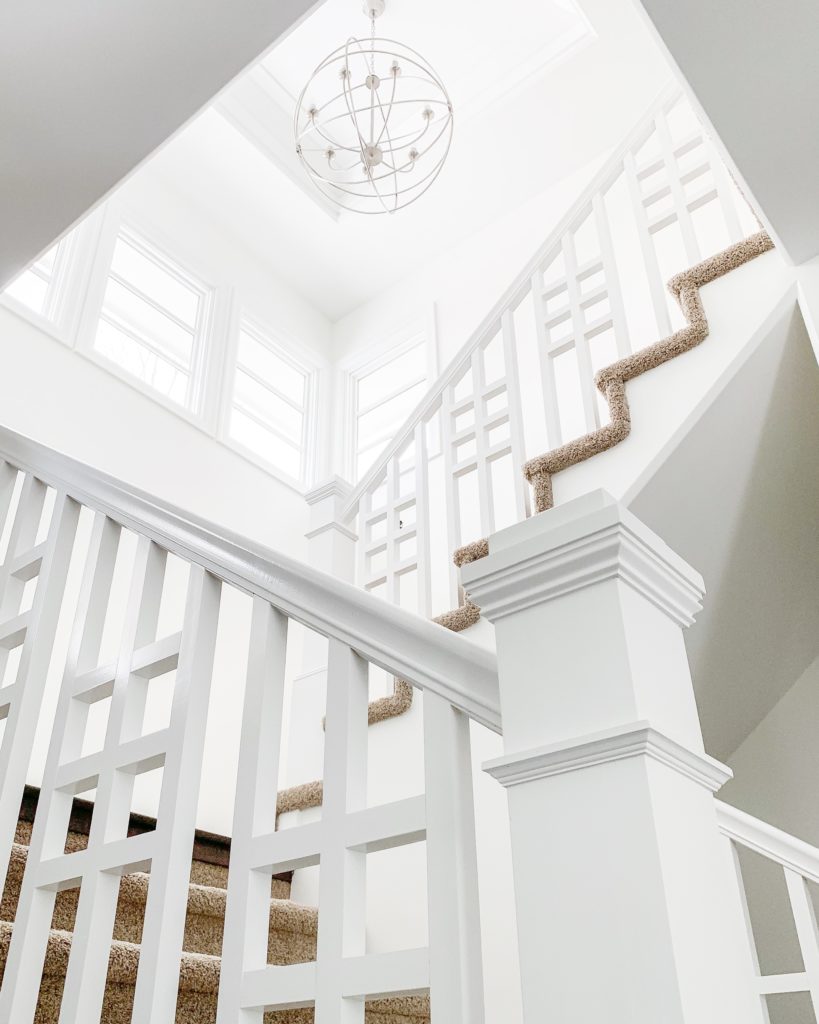 I felt pretty vindicated when Kurtis walked in our bedroom and said I had to come see just how bad our old color was. I mean, I'm pretty sure I have been saying this since the day we moved in our house and no one wanted to believe me! That color was our old kitchen cabinet color, trim, doors, windows, everything. Definitely not white! The funny thing is, Simply White (the new color on the doors) isn't a super bright white either, but next to the old almond colored trim it looks bright white! I now have a lot of trim to paint in our master bedroom (including the ceiling that is also the old color) because I'm hoping for a reveal before summer starts!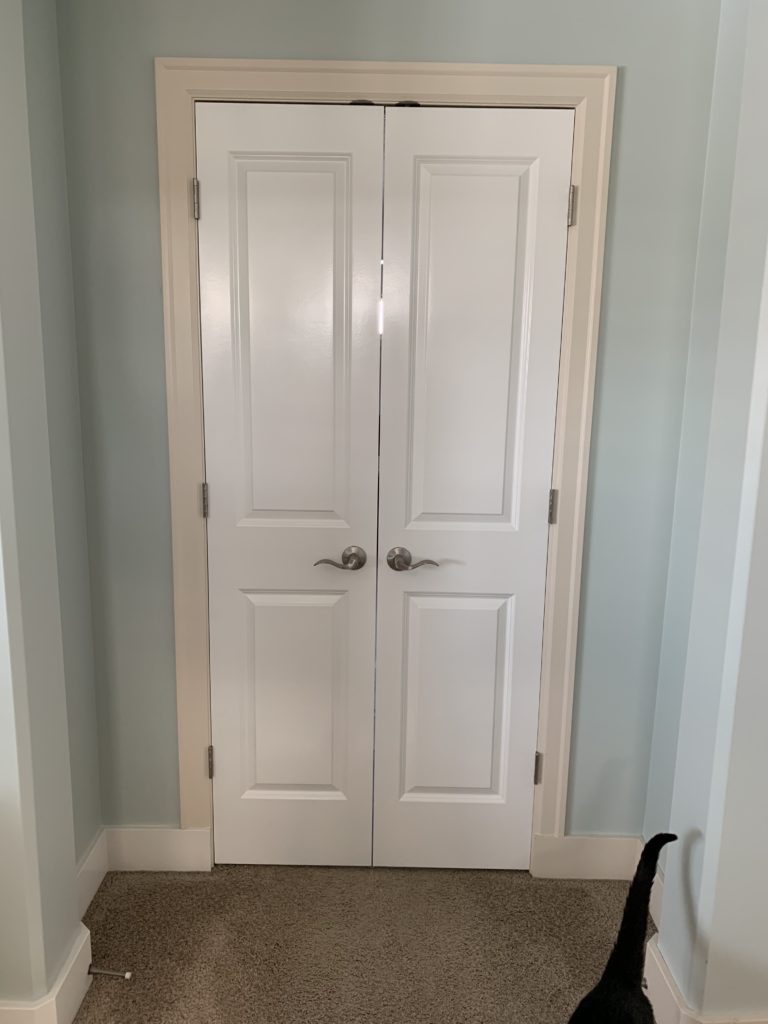 Saturday Kurtis and I spent some time disassembling the IKEA BESTA in the craft room/new den space. It has served us well over the years, but it's just too big for this room (and the shelves aren't quite deep enough for the type of storage I was looking for. I'm hoping to go with a simple, small media stand that takes up a lot less space. The wall below will actually be where the sectional will go and we're planning to add board and batten to it!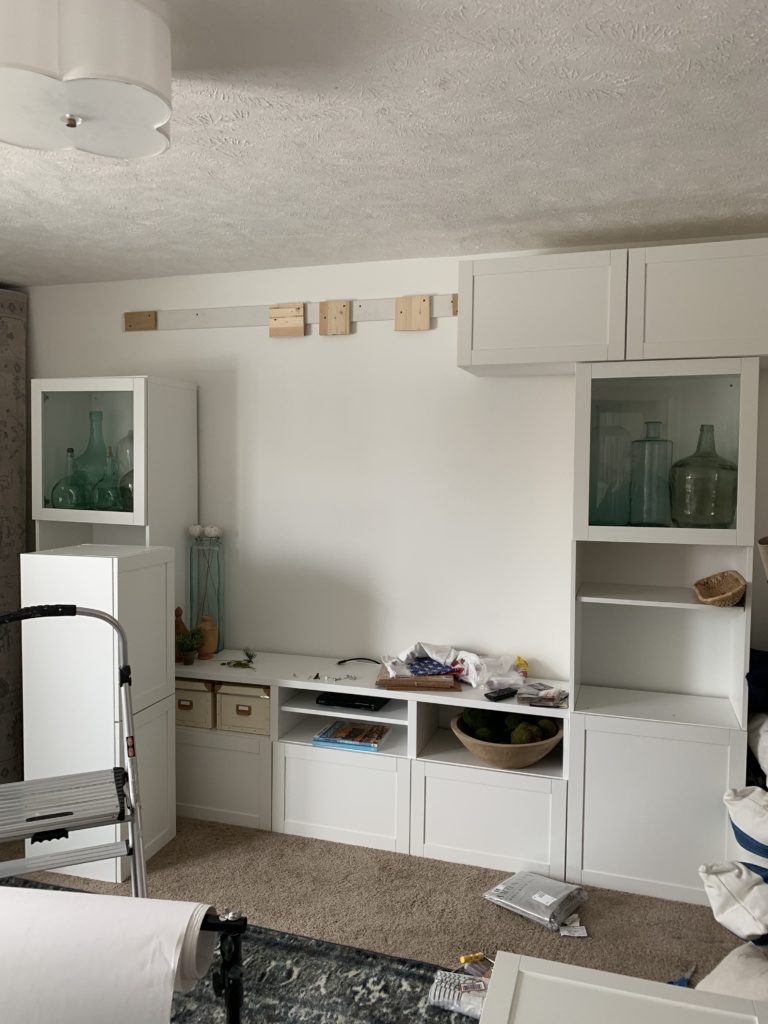 Sunday after brunch with our friends Nick and Jill, we headed to Lowe's to get the board and batten boards for the den. We needed nine 8′ boards and four 12′ boards. We're always keeping it classy in the neighborhood driving with the back end open and boards sticking out 😉 Thankfully Lowe's is just around the corner from our house!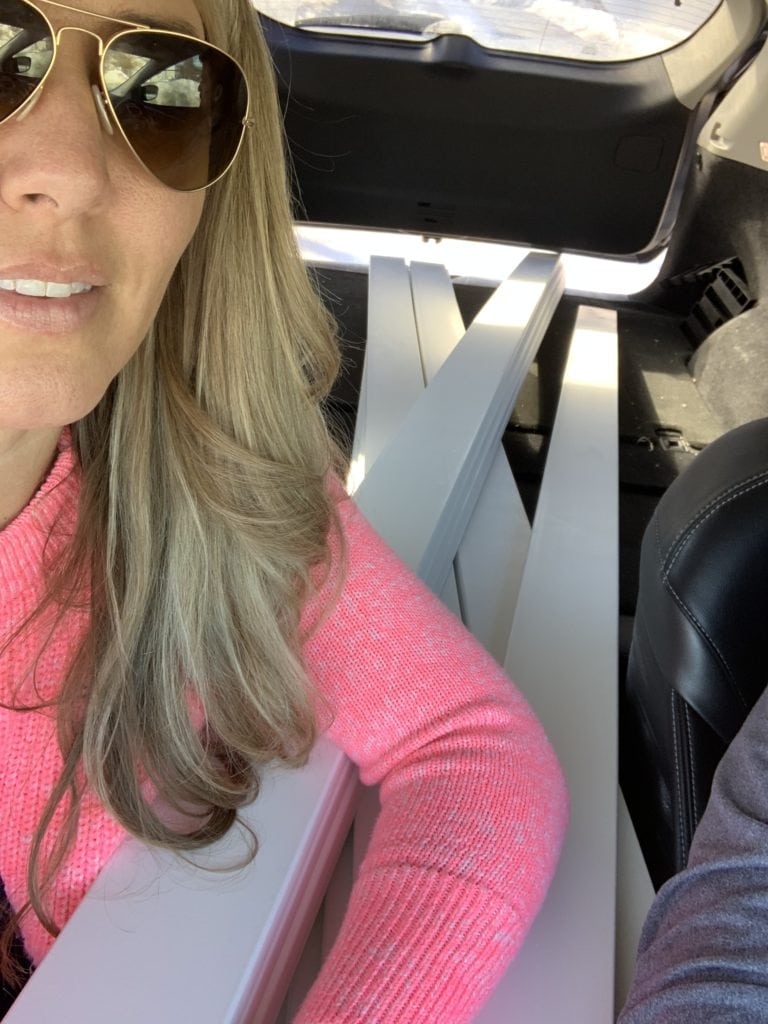 We also spent some time on Saturday getting the new rug down in the office. It required us to move some furniture before we could lay it which required lots of begging on my part over the past few weeks to get Kurtis to help me. I'm hoping to get some pictures of it this week so I can share it with you soon! I love how it looks and it was so hard to beat the price for a 9×12!
Around Town & For Fun
We spent Wednesday through Monday at Atlantis (The Cove) in the Bahamas. It was a much needed break from the cold and snow in Omaha. The water there is stunning!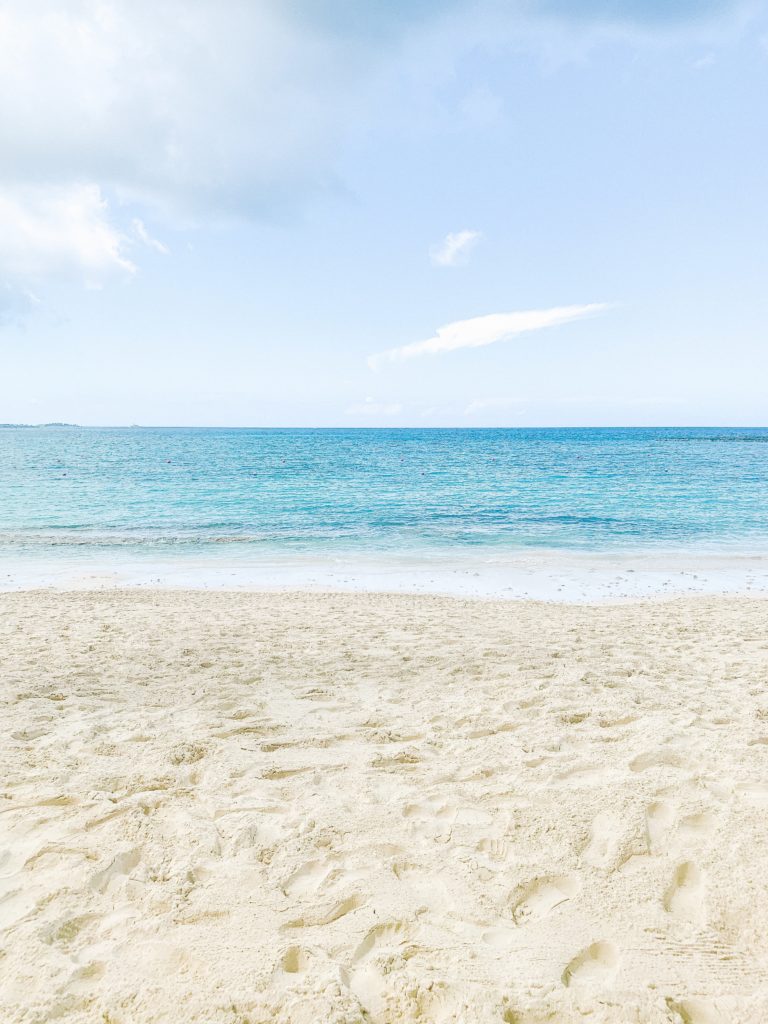 One of the highlights for me was getting to swim with the pigs at Sandy Toes on Rose Island. So much fun! I may do a more in-depth post on our trip soon. In the meantime, you can see what I packed for the trip here. My favorite swim shirts (shown below) saved me on this trip since the SPF 30 and 50 I was applying hourly just couldn't keep up!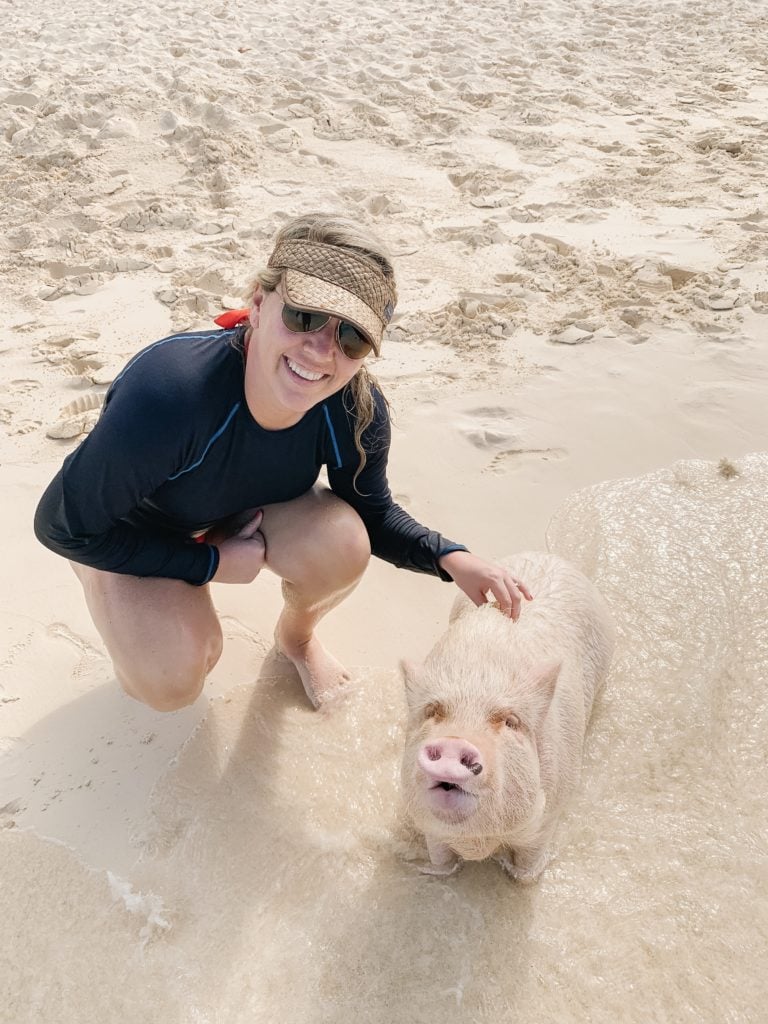 We arrived to a temp of 4 degrees Monday night. And then a huge snow storm Wednesday night into Thursday that brought another eight inches of snow. There's nowhere else for it to go at the end of our driveway! That's a six food fence in the background! Over the weekend we got a lot of rain, but thankfully no flooding for us (others in Omaha weren't as fortunate).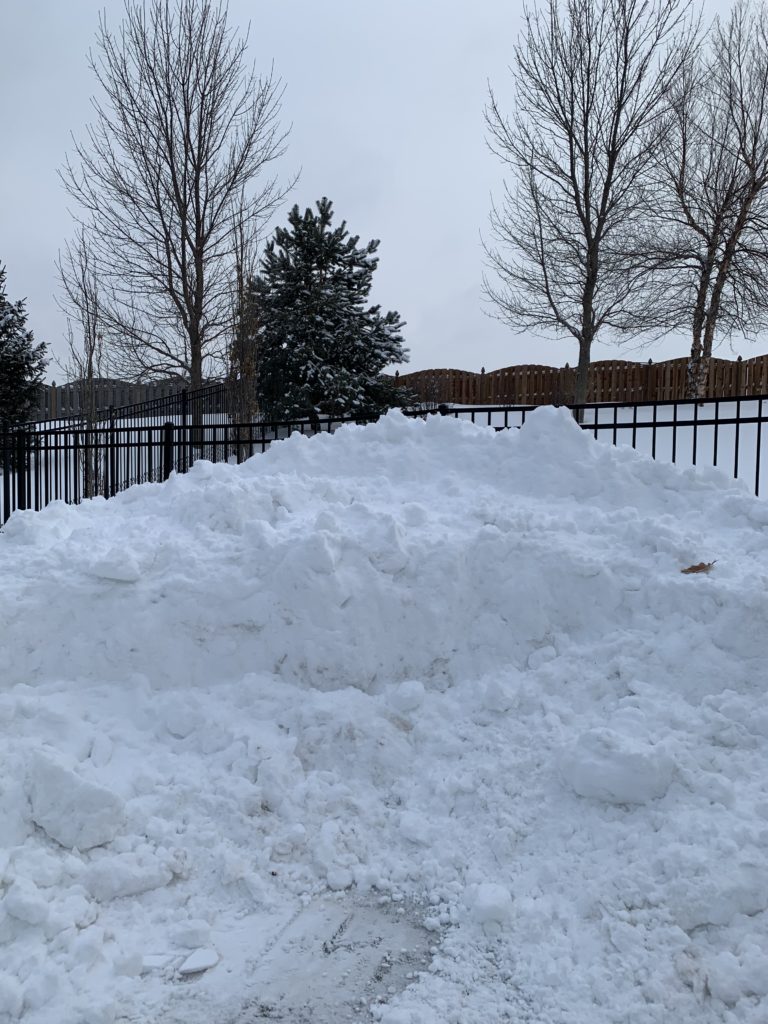 As I mentioned we did brunch will Jill and Nick (and Zoe!) on Sunday morning at their house. Here are our two chefs, and little Scout hoping they spill some scraps. Isn't his new haircut so cute?!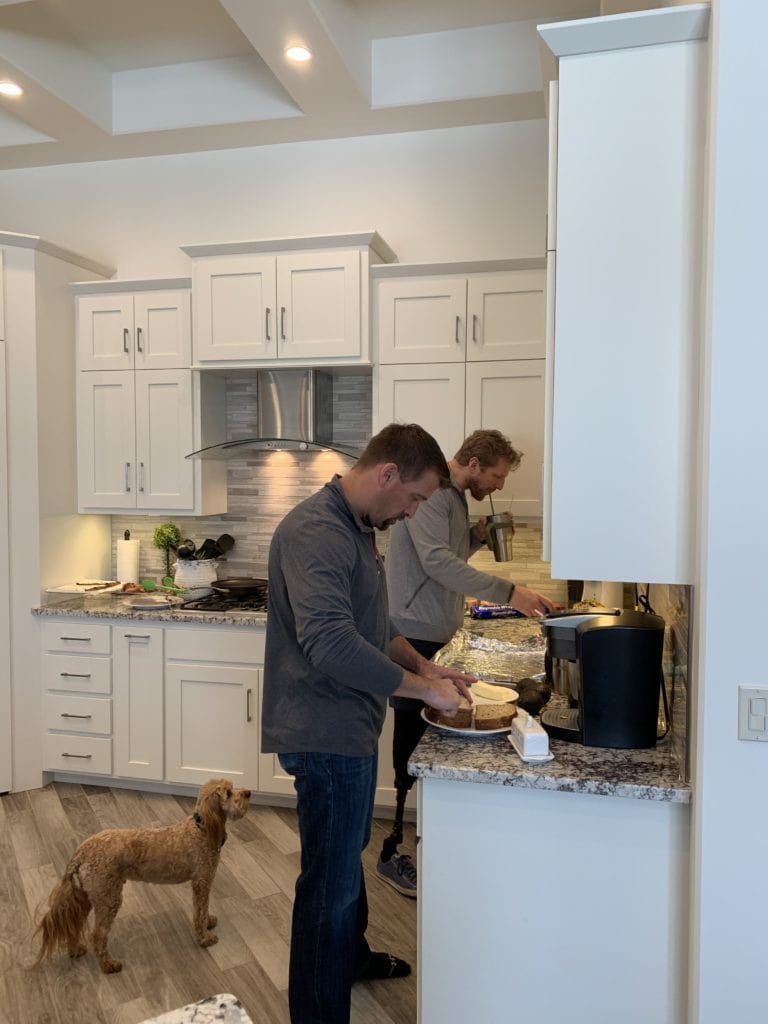 The sandwiches were even better than we remembered them being! So yummy! Even if Kurtis realized once we got home they were over 900 calories each once he plugged them into My Fitness Pal. Oops! They use bacon, avocado smash (with garlic salt and pepper), sunny side up eggs, gouda cheese, arugula and the bread. The combo is so good!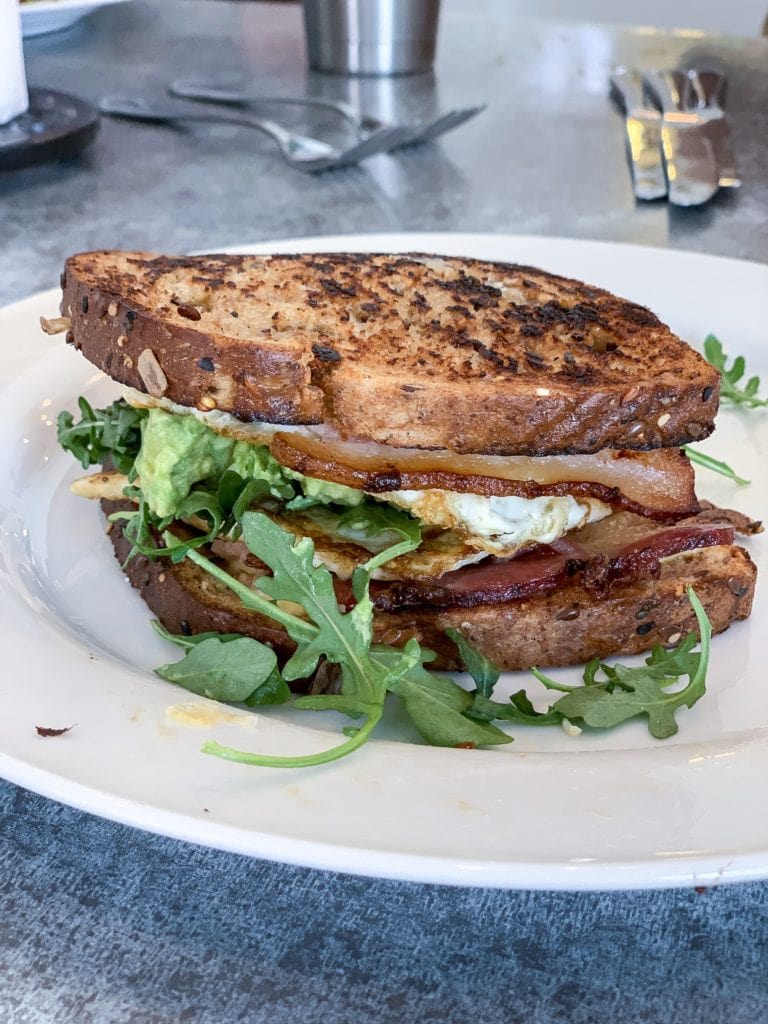 We had some fun with Zoe after eating. She was getting a kick out of playing "catch" with the football. Her little personality is coming out so much and she couldn't be cuter!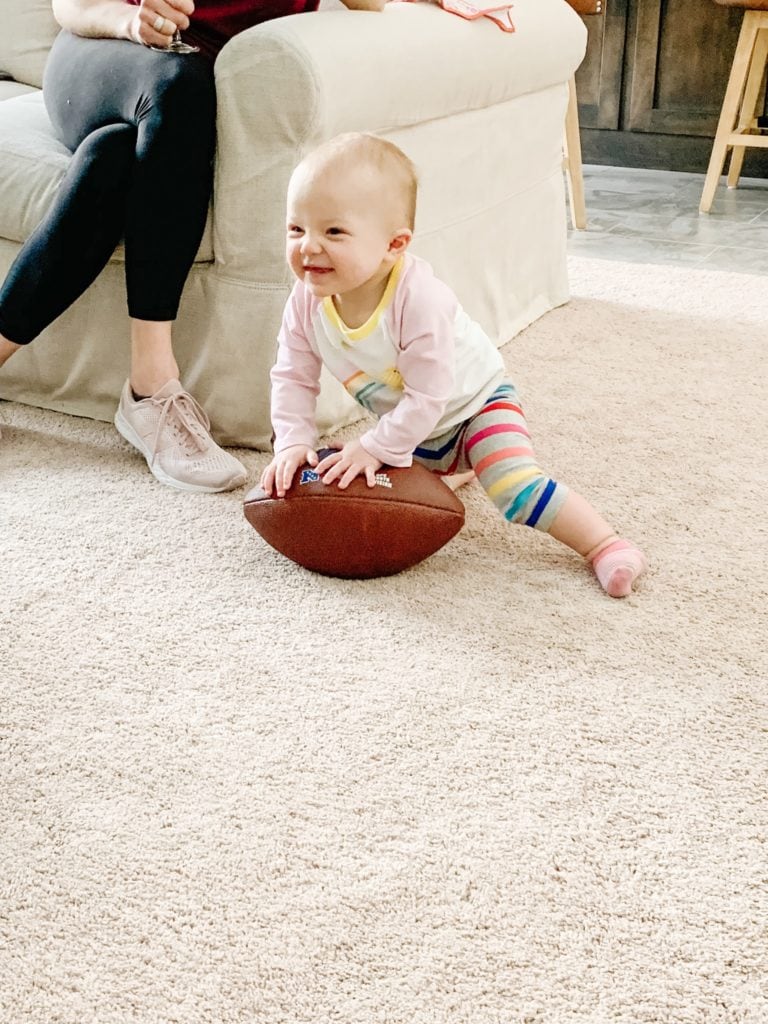 The time change really seemed to mess with us more than we thought it would! After heading to Lowe's for the boards for the den project, we watched Parks & Recreation. We finished Schitts Creek before we left to the Bahamas and really need a new show. For now, Parks & Rec is fun to watch again until we decide to dig into some other options. Let me know if you have any good recommendations!
I'm starting round 2 of the FASTer Way to Fat Loss program! I was really happy with my results (and dedication) in the first round so I'm back it. I've had almost two weeks off with our time in the Bahamas and then having a prep week this past week so I'm hoping to hit it hard again today. I have some serious goals before summer so I'm excited to keep at it. I plan to wrap up my photos and post soon for those of you interested in learning more about it. So far I've been loving it!
I have to take all four cats to the vet today for their annual check-up. That always proves to be loads of fun! 😉 The car ride for the twenty minute trip each direction is filled with all four of them meowing as loud as they can. Major mom guilt sets in with that, but little do they know it's for their own good! And thankfully it's only once a year!
Recent Buys & Sales
There were a lot of great sales this weekend, and several have carried over to today!
BALLARD DESIGNS is offering 20% off sitewide, plus an extra 5% off orders of $500+. The sale includes our entryway mirror! You can shop their sale here.
BANANA REPUBLIC is offering 50% off regular priced items when you use a BR, Gap or Old Navy card with code BRCARDFF. Plus get an additional 10% off with code BRCARD! I ended up buying four of these t-shirts because I was due to replace my other basics that were several years old. They fit better than any tee I've found in a long time (they're true to size, fitted and a bit longer)! Shop the sale here.
J CREW is offering 40% off women's full-priced styles with code 23HOURS (this sale was supposed to end last night but appears to still be live as of the time I published this). This includes the cute bathing suits I packed for Atlantis! I'm sharing a few other favorites below. You can shop their sale here.
J CREW FACTORY is offering 50% off everything – prices as marked. I added these shoes and these raffia earrings to my cart over the weekend! You can shop their sale here.
NORDSTROM has tons of markdowns, including these sandals that I'm loving in all the brown tones (but they offer five colors and most are fully stocked). You can shop their sale items here.
OLD NAVY is offering 30% off your order at checkout – no code required. You can shop their sale here.
POTTERY BARN is hosting their buy more save more sale, with 15-30% off your purchase and free shipping with code SAVEMORE. I'm obsessing over this new chandelier and it's always the best time to buy our sofas and sectional (you can read my review here)! The sale also includes my favorite fiddle leaf fig trees (you can read my tips from yesterday on them here). I'm sharing a few other favorites below. You can shop their sale here.
Have a great week!
If you would like to follow along on more of my home decor, DIY, lifestyle, travel and other posts, I'd love to have you follow me on any of the following:
Pinterest | Instagram | Facebook | Twitter
disclosure: some affiliate links used