Happy New Year's Eve day! I hope you've all been able to enjoy the holiday season – and also take some time off and slow down. I've made a concerted effort to stay off social media as much as possible and to not feel the need to read emails the exact second they come in. It's been a challenge, but a good one!
This post contains affiliate links for your shopping convenience. Click here to read my full disclosure policy.
I haven't done a weekend recap for two weeks, so I thought I'd get you caught up on our life lately.
Kurtis was in Maine for work the week leading up to Christmas. And as always seems to be the case when one of us is out of town or the holidays are near, the rental properties seemed to be a source of constant activity. A washing machine that wouldn't open, a kitchen faucet that broke and needed to be replaced, a fireplace pilot light that went out, to name a few. It's always fun to try and find repairmen around the holidays! 😉 But, in addition to all of that, one of my jobs was to pick the carpet color for the other property we're renovating. Since we're using a company that handles it start to finish, they basically show me the options for our budget and I point to the color. It definitely makes life easier! We're using the luxury vinyl plank shown and then I picked the carpet color "Warm Slate" to go with it. I don't have any brand/product info at this time, but once I do a reveal of the space, I'll be sure to get all the sources to include for you!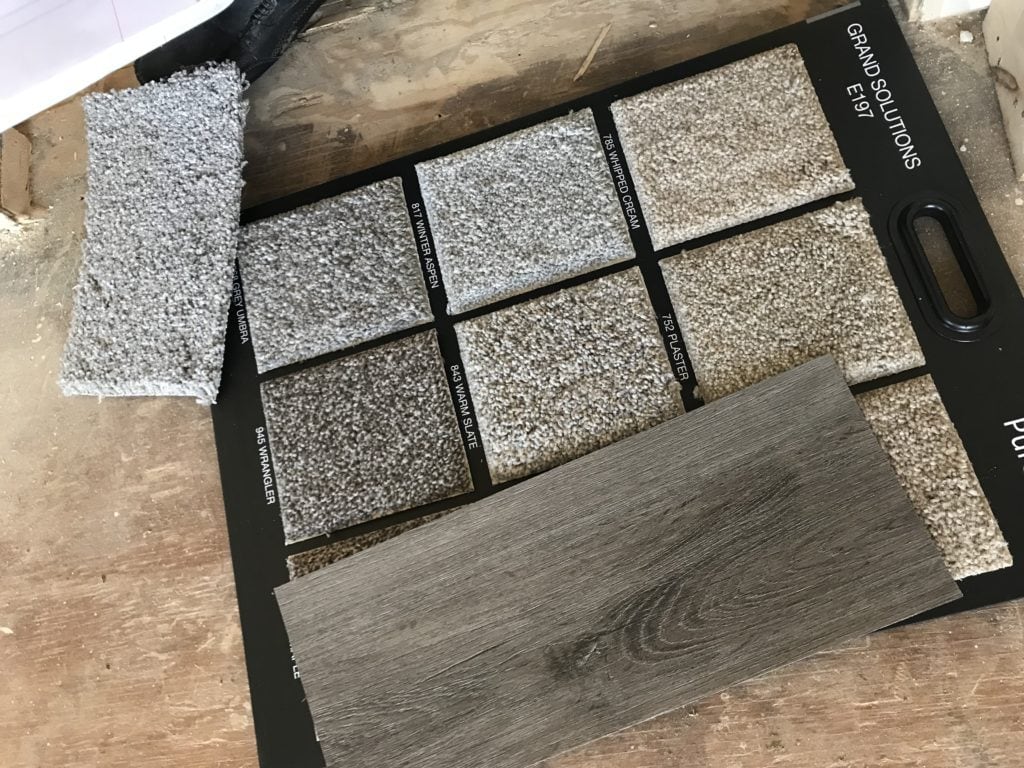 A few days before Christmas, I also decided our pantry needed a little Christmas cheer. I know it's irrelevant at this point in time, but I thought it was cute and still worth sharing! I need to decorate it earlier in the season next year because I loved how it turned out! I actually went back and added the image to my Christmas home tour, as well, so it will be easier to find down the road.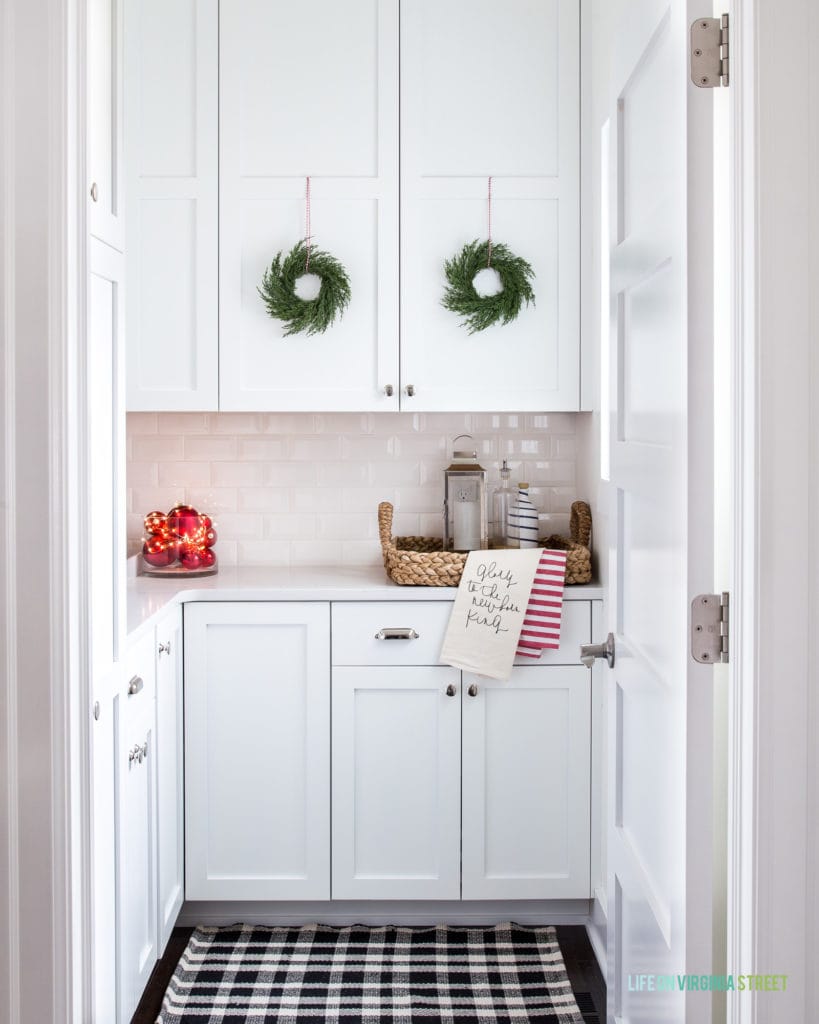 Kurtis officially went on vacation from work starting Friday the 21st and doesn't go back until Wednesday this week. It's a major first for him to be gone this long, but it was nice he only had to take four days of vacation to get that much time off based upon his company's holidays! We kicked the holiday "week" off right with pizza and smoked old fashioneds at Timber Creek on that Thursday night.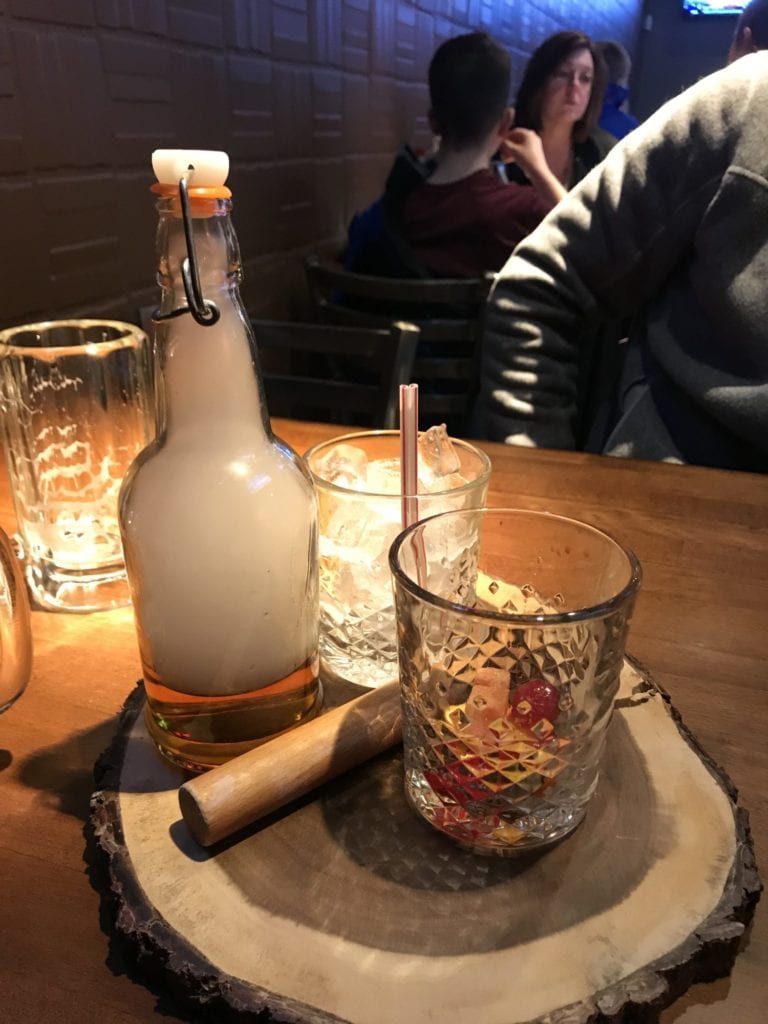 We headed to Kurtis' home town in Auburn, IA on Saturday morning to celebrate Christmas with his family. Because their town has to share a pastor with other towns in the area, they had their Christmas Eve service Saturday night. It's by far my favorite service of the year. I love singing Silent Night by candlelight!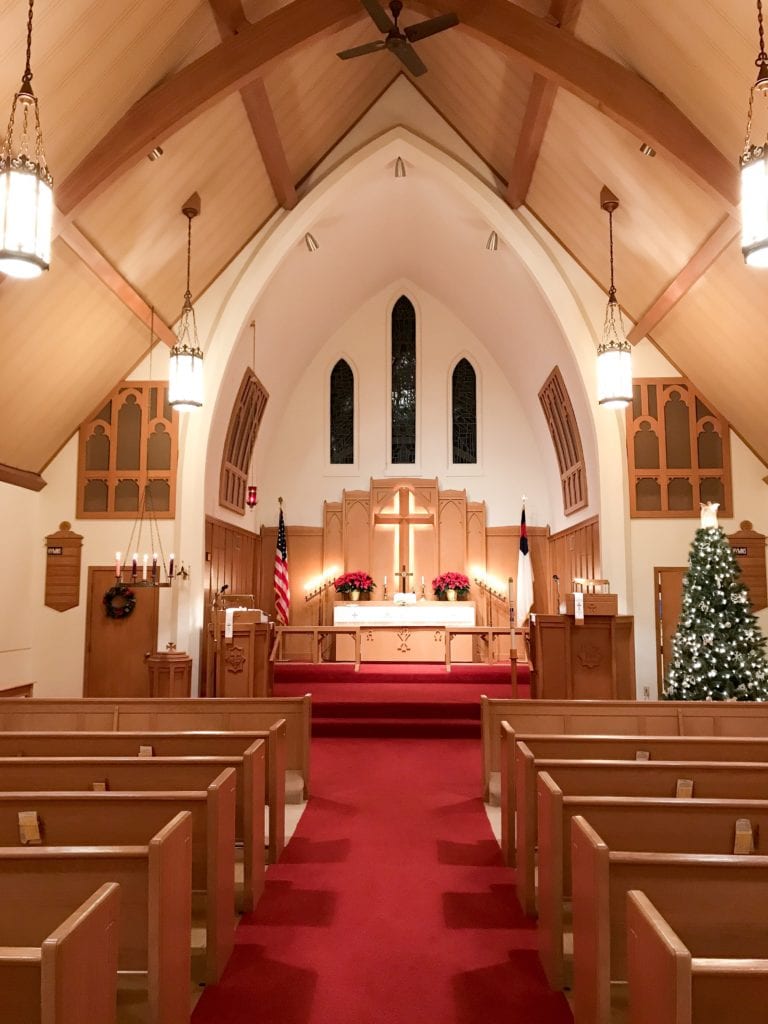 We had a wonderful two days with Kurtis' family and ate way too much and had a lot of laughs. We came home Sunday night, because we were very limited on how long we could leave Bearcat without his Prednisone. (Thank you for all the thoughts and words of encouragement you offered about him. He seems to be doing much better!!) Crazy enough, Henley and Hawkeye had also gotten a bug that same week so we didn't love leaving them either. Neither of them had really been sick before, and it was sad to see them not feel well. Thankfully, it seemed to only last about four days and Bailey never seemed to catch any of it! When they were sick, neither Henley nor Hawkeye wanted to eat or drink (likely for fear it would come out of either end). Ugh. But, I was able to get them to drink water if I put it in this little tiny dish on our kitchen counter. Whatever it takes – even if it meant I had to fill that dish a thousand times a day! 😉 They couldn't be cuter when they'd drink at the same time from it.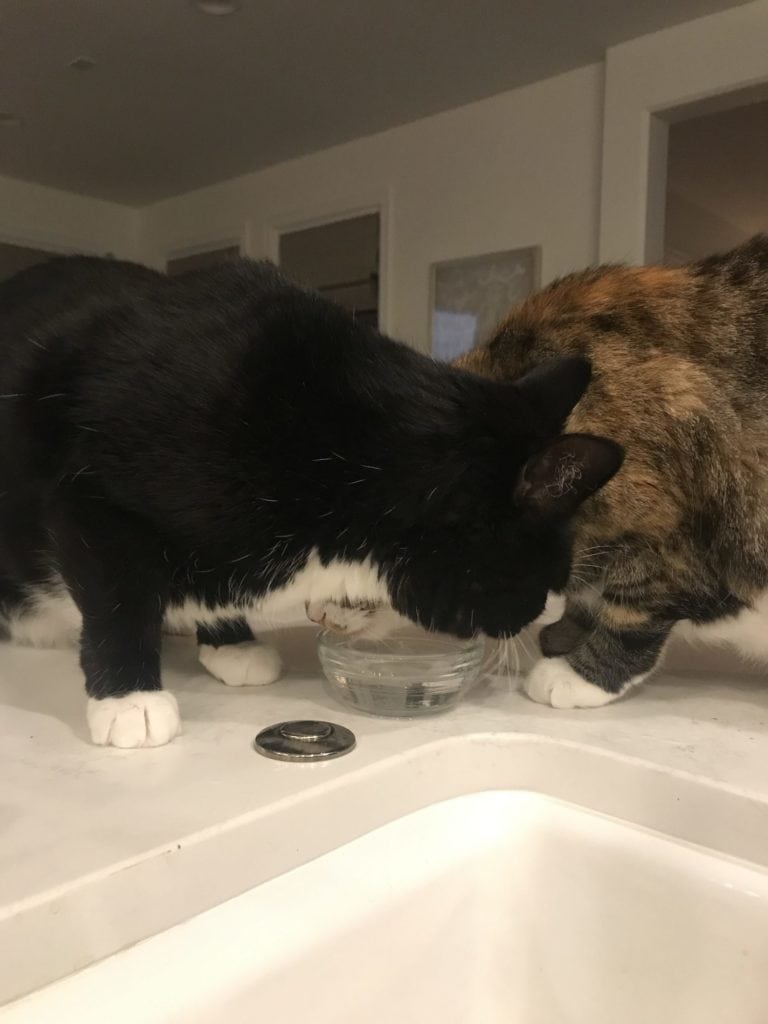 Christmas Eve night, we went to Kurtis' sister's house since we were all back in Omaha. We brought a yummy charcuterie spread and my sister-in-law made her famous baked brie. It's to die for! I'll get the recipe to share, but it's essentially a pastry puff, jalapeno jelly, walnuts and brie. Its amazing with apple slices or crackers! We played games all night including cards and darts. We ended up just sleeping over because we were all having so much fun!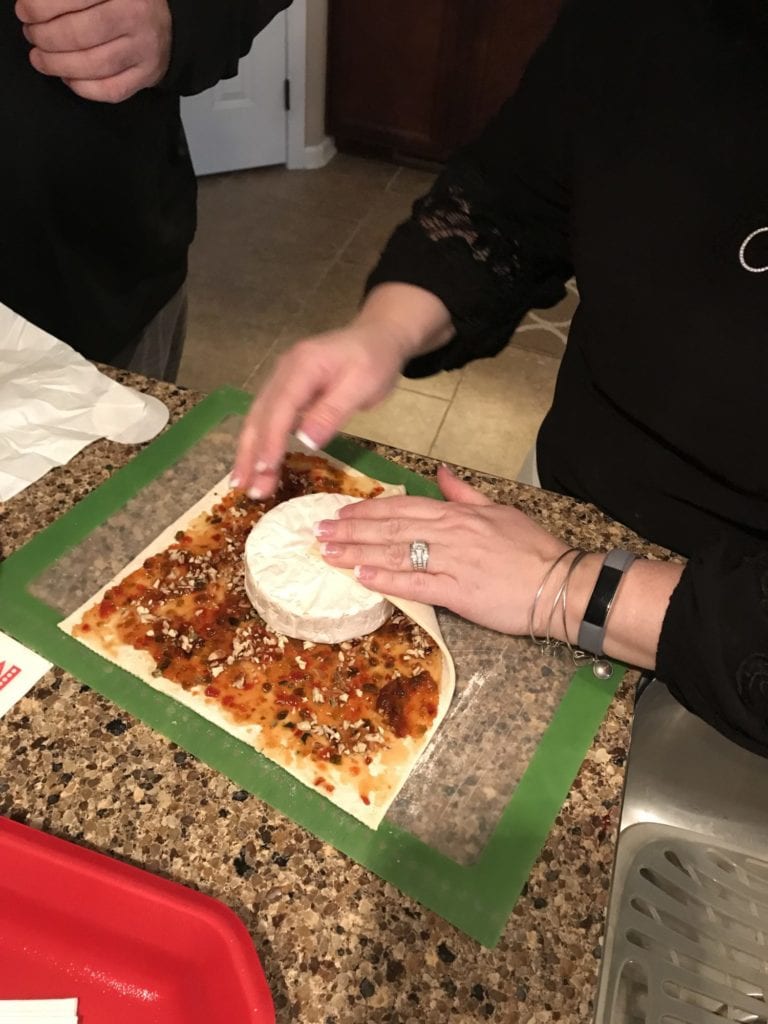 Christmas morning, we headed to Nick and Jill's house to have Christmas Day brunch with her family. We can only ever remember be home on Christmas once in our 13 years of marriage so they didn't want us home alone! We got Zoe and Scout a few little gifts, and Scout proudly carried his new duck around with him most of the day.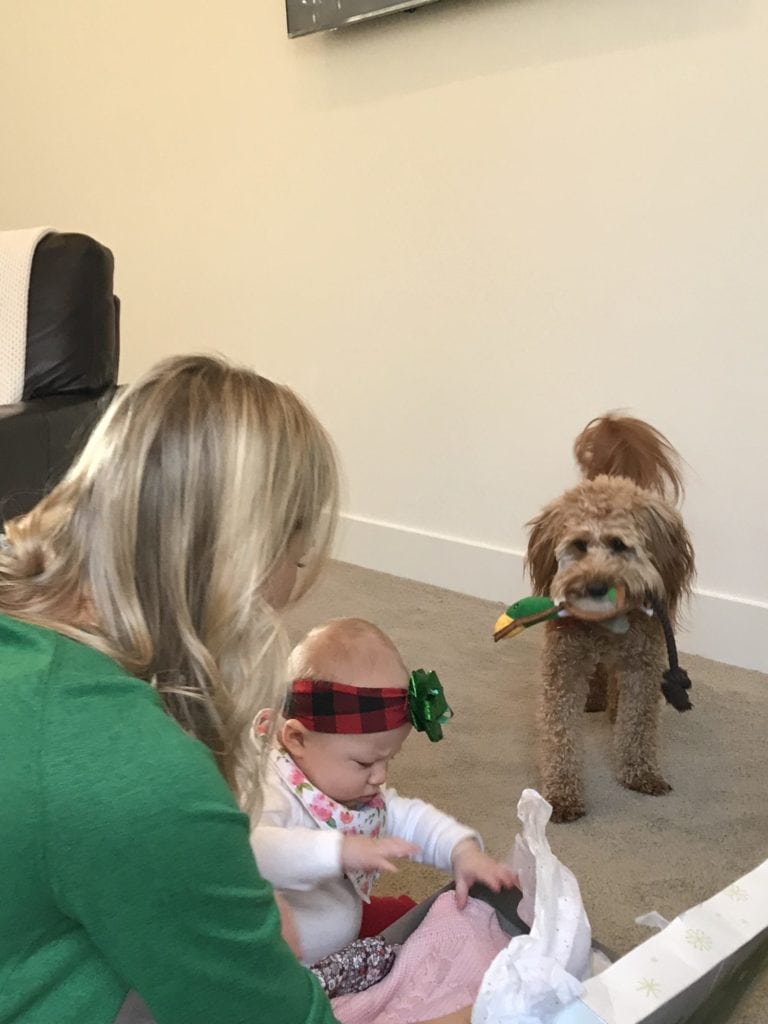 The day after Christmas, Kurtis started to not feel well. He thought he was just getting a cold, so I made a giant batch of random soup. I basically just threw in chicken broth, shredded chicken, and veggies we had on hand (onion, spinach, zucchini and some canned tomatoes). It was surprisingly really good, and turned out pretty brothy once the veggies cooked down (which I love). Kurtis finally went to the doctor Friday and it turns out he has a double ear infection in addition to his cold. So, things slowed down for us quite a bit after that (and I've tried not to be in the same room as him for too long).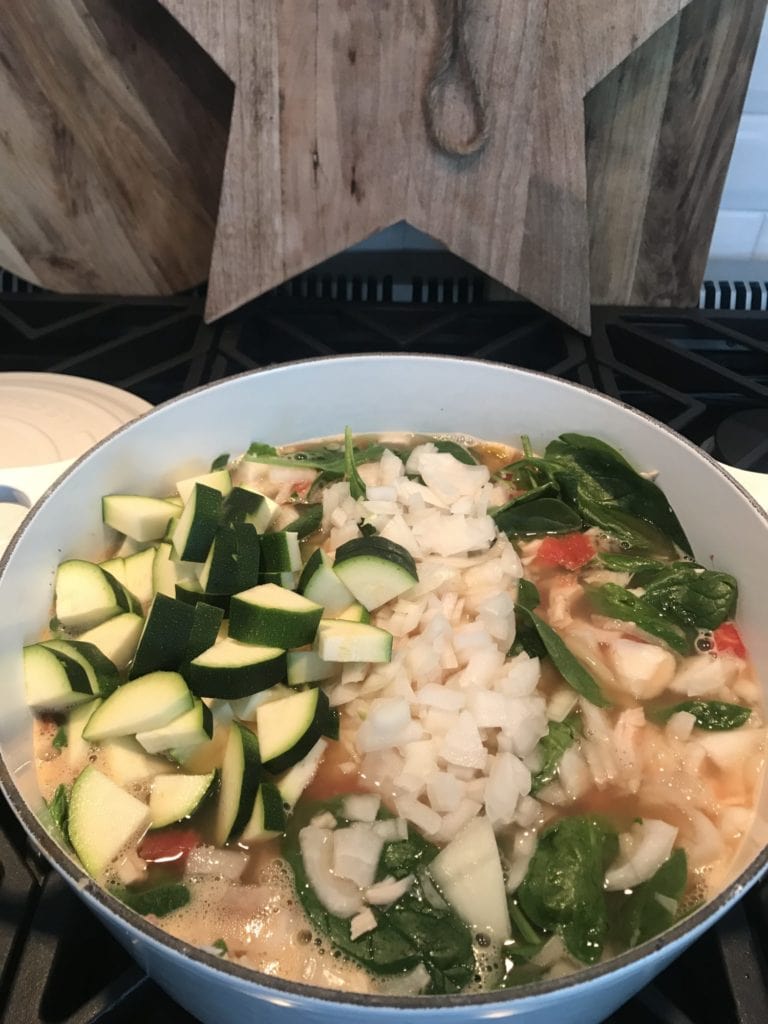 The cats have been loving all the couch time they've been getting with us over the past week.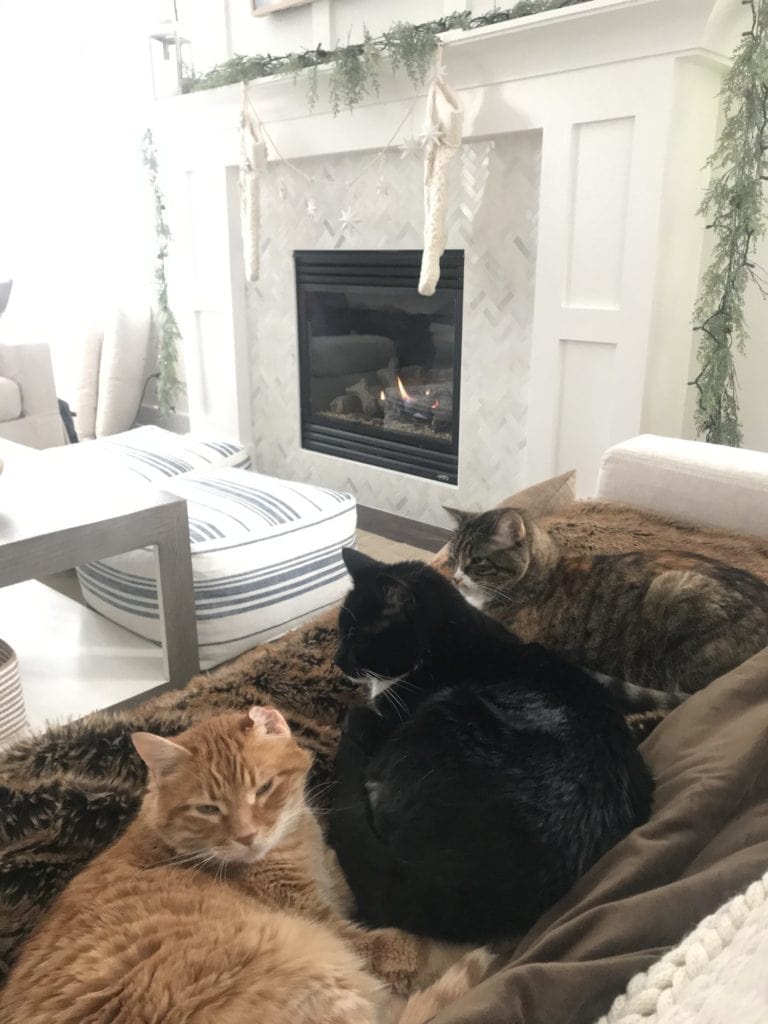 We also tackled some areas in our basement we've been avoiding for so long. This pic is actually when we were closed to done. But, we have this random little jog in our basement and the builder had left all the leftover carpet, linoleum, tile, hardwood, paint, stain, etc. from our house. Most of the paint was no longer relevant since we've painted over most of the original colors in and outside of our home. So, I rounded up all of those (as well as other paint cans in our house we didn't need) and loaded up the car. We then moved the paint cabinet I mentioned here into this space (along with all the paint cans we needed to still keep). It now looks so organized and clean (I forgot to take a pic)!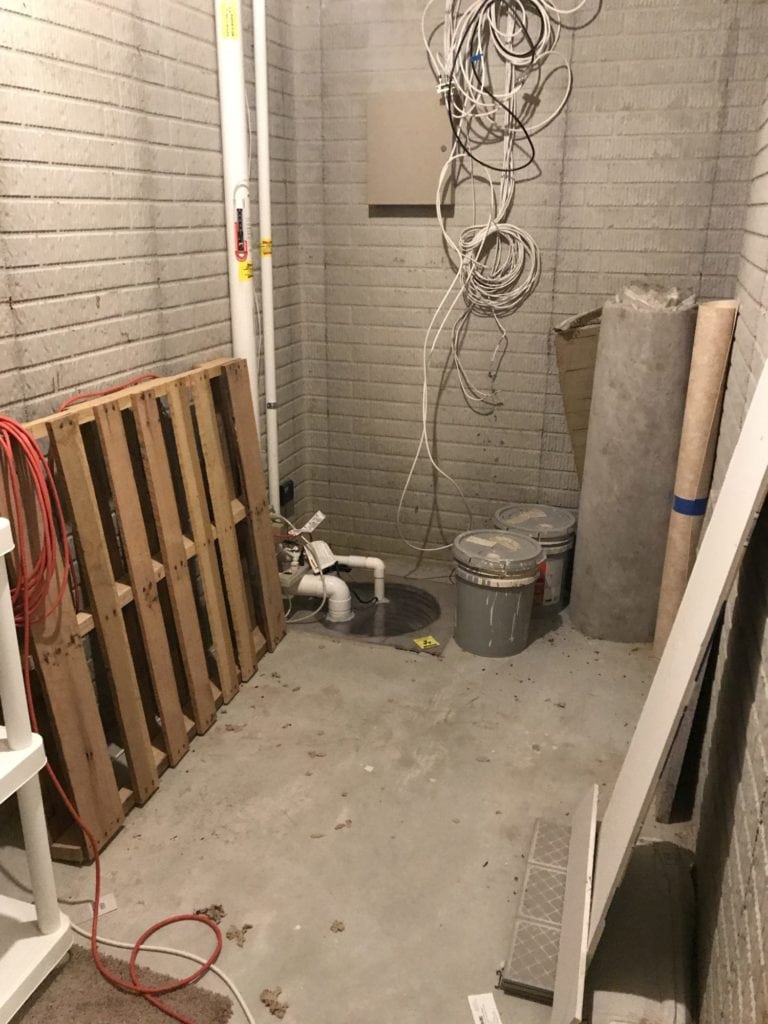 After we went through all of our paint, this is how full the back of my car was! The box on the left even had cans two to three layers deep! When I talked about this a bit on Instagram Stories it sounded like a bunch of locals had no idea where they could take their old paint either. So, if you missed it, we got to Under The Sink off of 120th and I Street. It's free for all Douglas and Sarpy County residents. They have really odd hours (only a few days a week), so be sure to check their site before you load up your car. But it's a great service if you're local! They make you stay in your car too, so you basically pop your trunk/hatch open and they unload everything! Not only that, they try to re-use as much of the paint as possible and it's free for anyone that wants it! So I love that paint we aren't using can be used elsewhere and doesn't end up in a landfill. It's a win-win for everyone!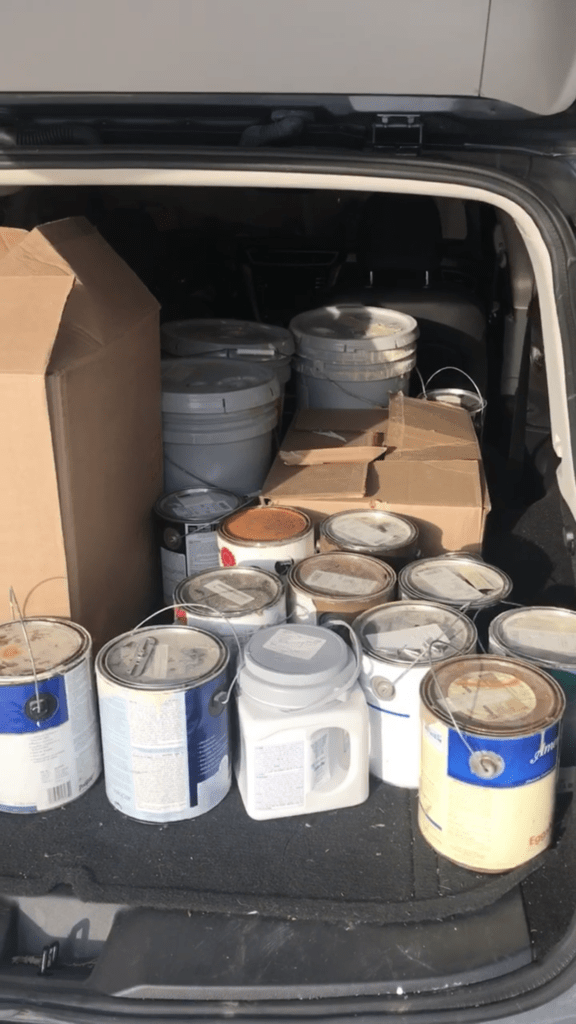 Now for the deep dark secret in our house. The basement storage room. Guys, it had gotten completely out of control. We both agreed that half of the items were placed down here the day we moved in six years ago and never touched again. Who knew you needed a collection of 20+ empty boxes? Or speaker systems from the early 2000's in case you wanted surround sound?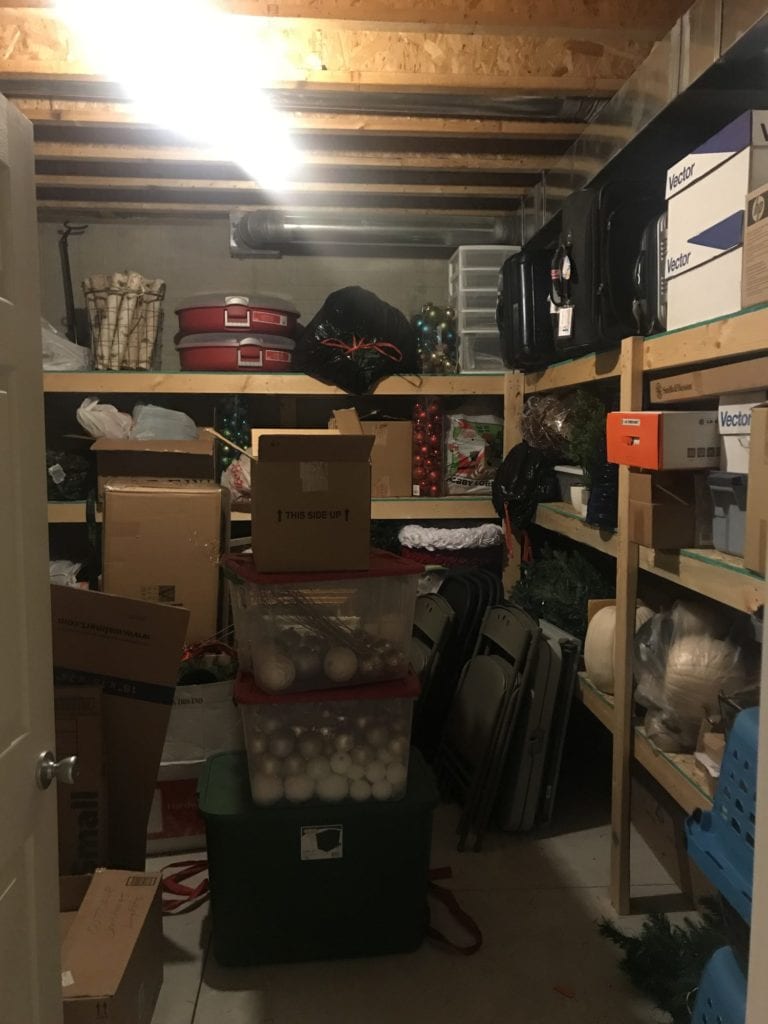 This was off to the left of the entrance.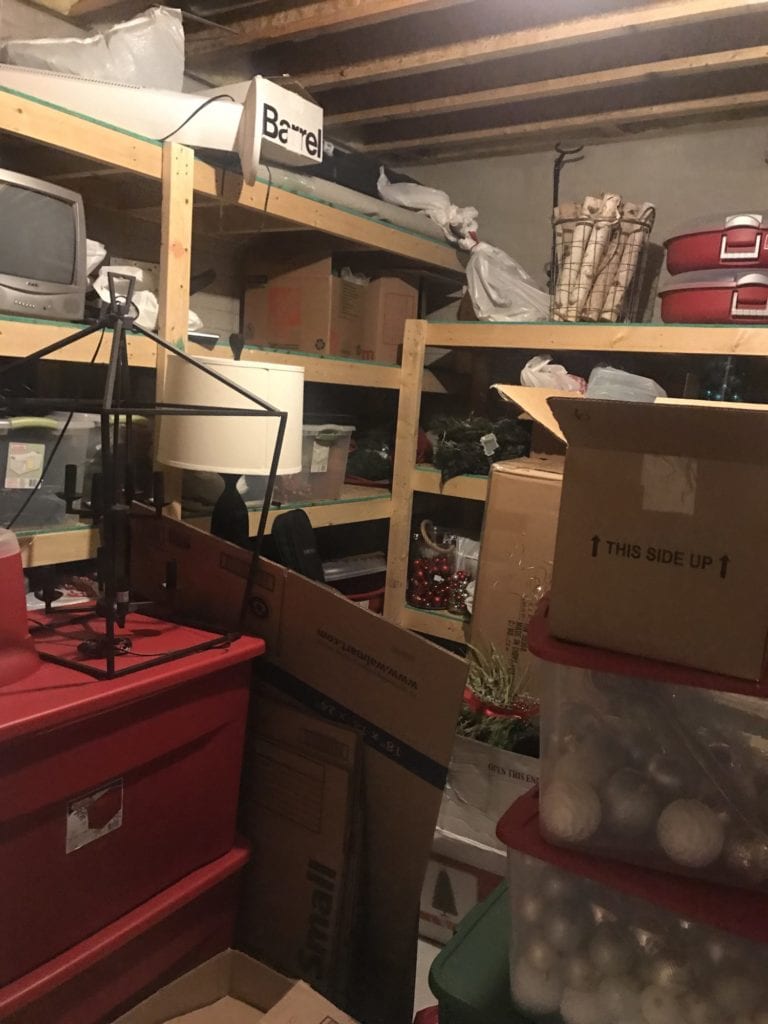 And behind the door. We could barely even walk in here!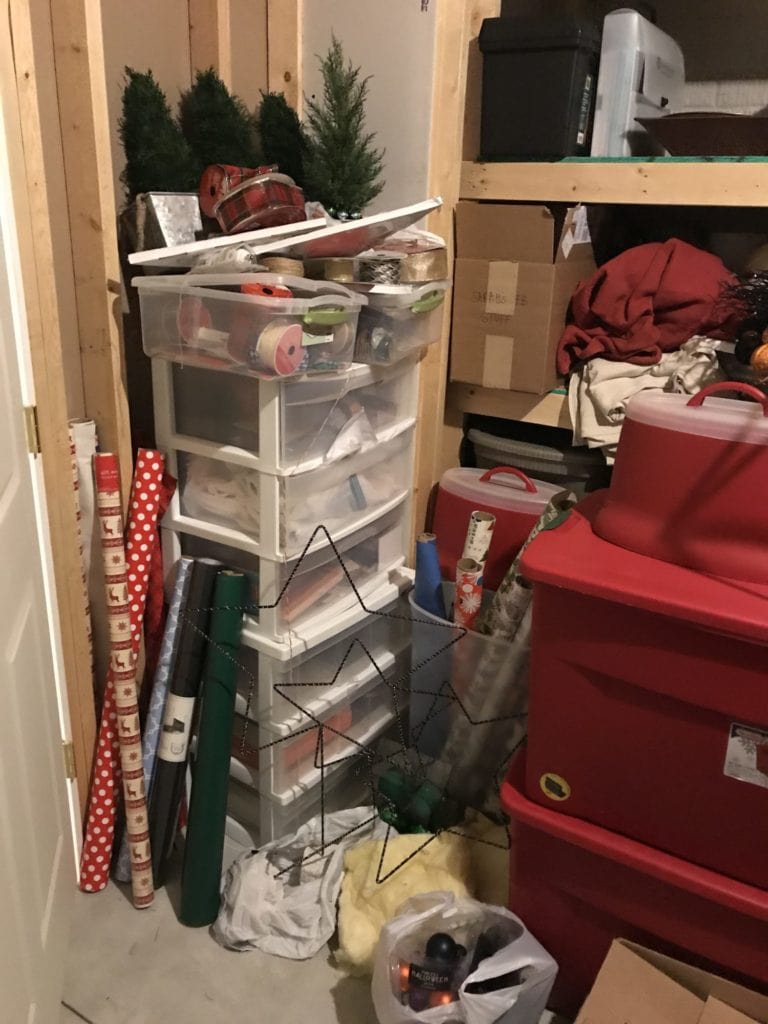 The boys decided to come in and help for awhile. It was all fun and games until they borderline got stuck in the duct work, so we had to boot them out.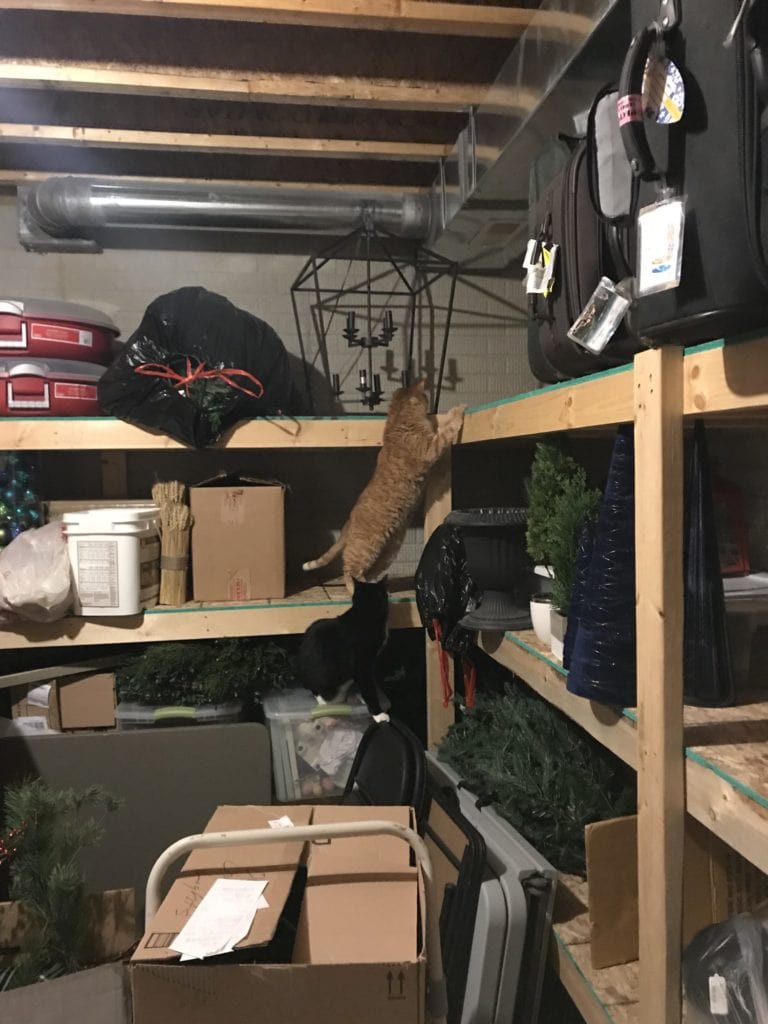 We ended up making some really solid  progress but still have a few hours left of work to do. We had to stop because Kurtis was starting to not feel great again, and basically my car was already entirely full of donations. I plan to make a drop-off this morning and then we can load it back up again for another drop-off this afternoon! I was able re-use clear totes that were holding items we tossed or donated for some of my seasonal decor. Previously they were in random bags, containers, and boxes and I had no idea what was where. Now I'll be able to quickly see the contents and you can see I tried to sort by color tones to make everything even easier!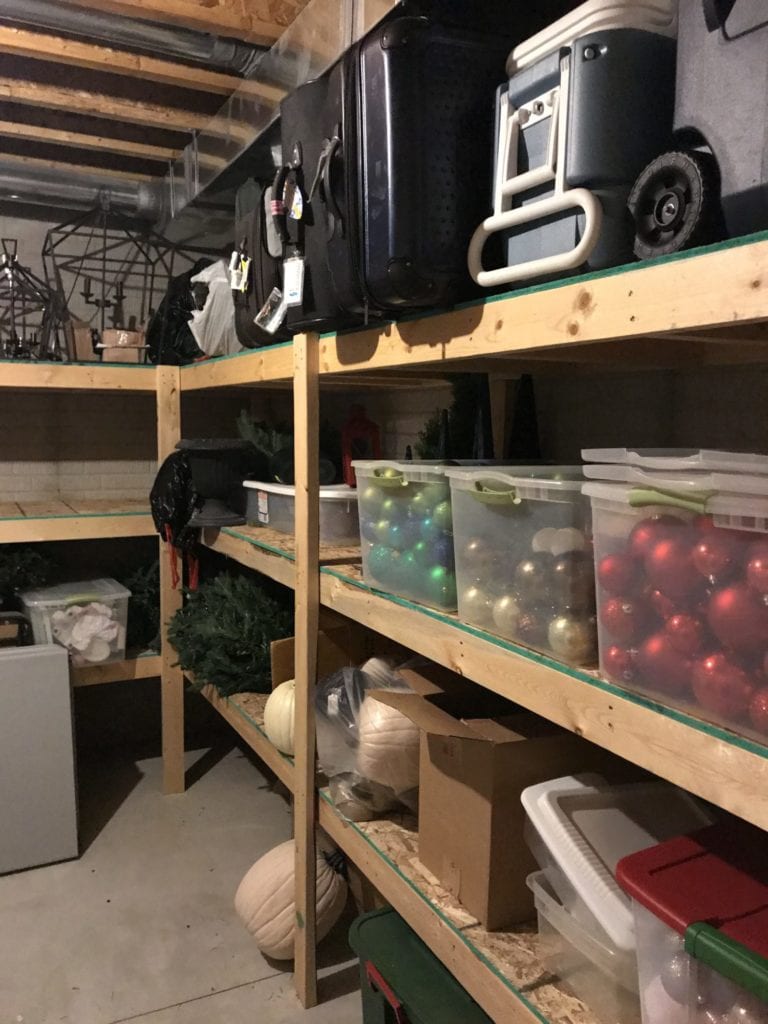 I collected all of the red ornaments from around the house a few days ago in hopes I could make our holiday decor hang around a little longer with a bit more of a neutral vibe. It helped, but I think I'm ready to tackle more of it today. I just feel like everything starts to look cluttered by this time of year and I want it all gone!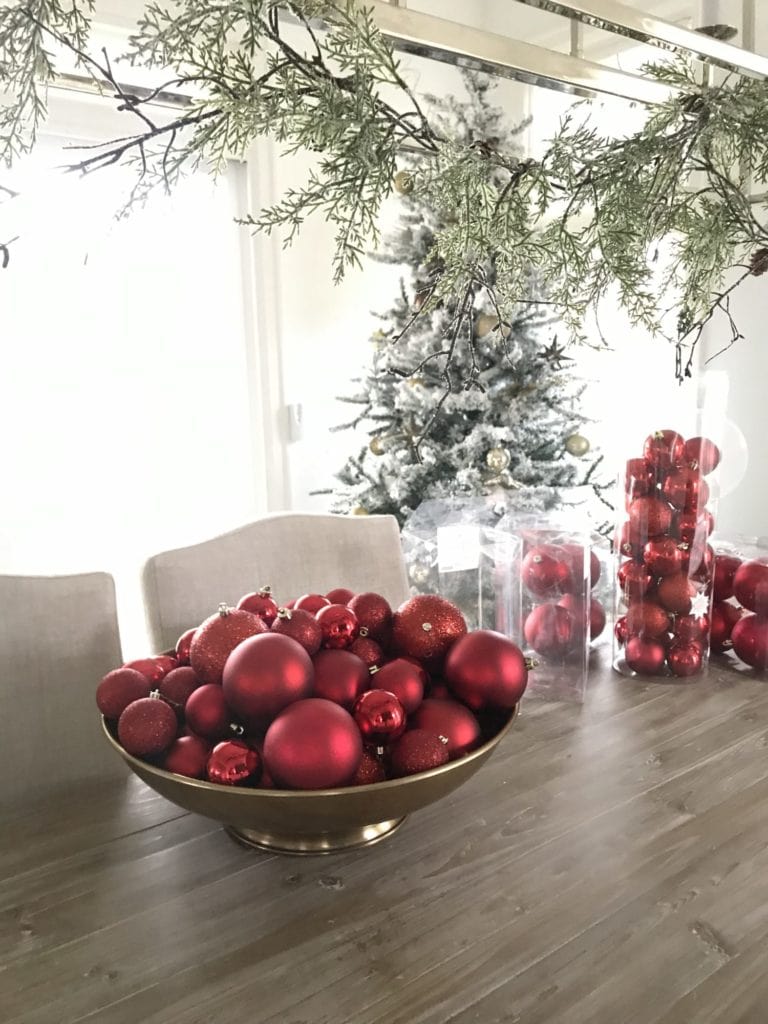 I will miss this view from my office when the lights kick on each night!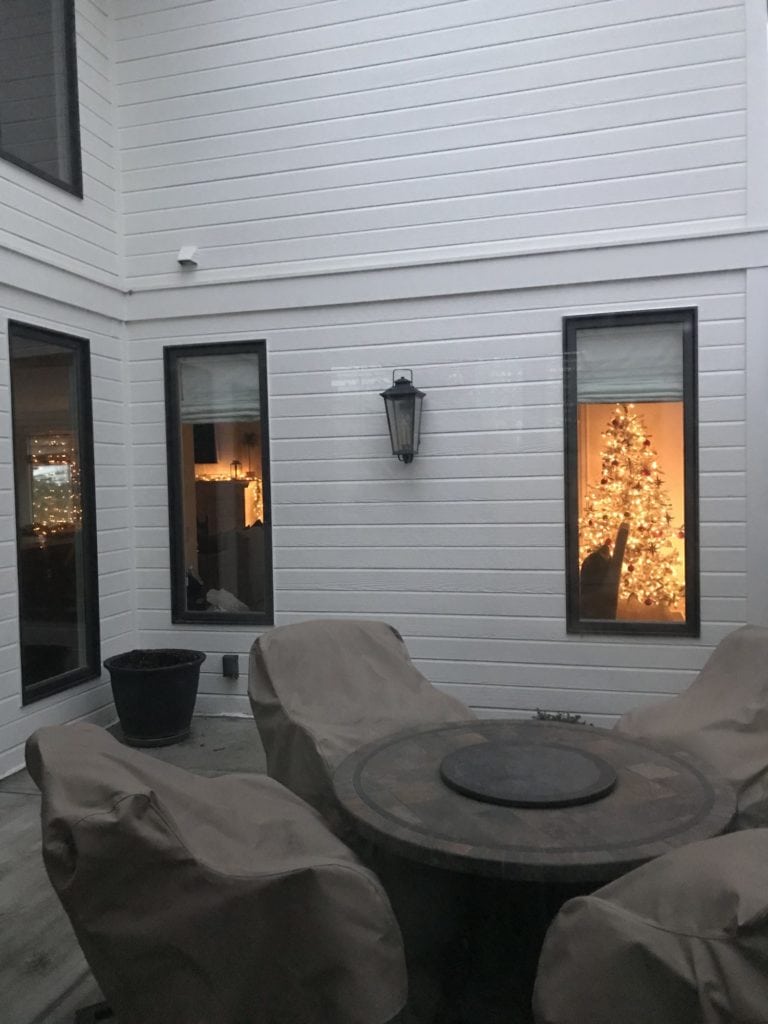 With Kurtis still being sick, we've had to cancel our New Year's Eve plans. But hopefully it will make me extra productive today so that we can relax his last day home tomorrow!
Following are a few holiday sales you may be interested in!
Have a happy and safe New Year's Eve and Day!
If you would like to follow along on more of my home decor, DIY, lifestyle, travel and other posts, I'd love to have you follow me on any of the following:
Pinterest | Instagram | Facebook | Twitter
disclosure: some affiliate links used