Happy Monday friends! I know posting has been a bit sporadic around here, but I'm happy to say all of my travel is now complete for the foreseeable future! It will be nice to get back into a routine again.
I spent the latter half of the week in Dallas for a blog conference and I'll share more about that below. Needless to say, the blog and my social media took a back seat while I was out of town and it was nice to unplug for the most part.
Home Updates & Projects
The countertop fabricator came to our house to measure countertops for our kitchen. I'll be meeting with the designer sometime to this week to review all the final estimates and making some final selections and then hopefully we can give the green light to move forward! At this point I feel fairly confident in our tentative selections, but I really need to start look for the pendant lights we'll be using over our island. There are just so many beautiful options out there!
All of our roofing material got delivered Friday, so it looks like we'll have a new roof by the end of this week! The roof plays such a pivotal part in so many other projects that it will be great to have it done. We can't open the pool until the roof has torn off, and we can't have our pavers sealed and textured until the pool is open. We also can't have the remainder of the mulch added or our house painted until the roof and gutters are installed. So it's definitely an exciting week since we will be able to kick off so many things. Crazy enough, we've asked for our pool to be opened in the next week as well (mostly to beat the crowd). We many not have green grass or any leaves on our trees, but we could have blue water by the end of the week 😉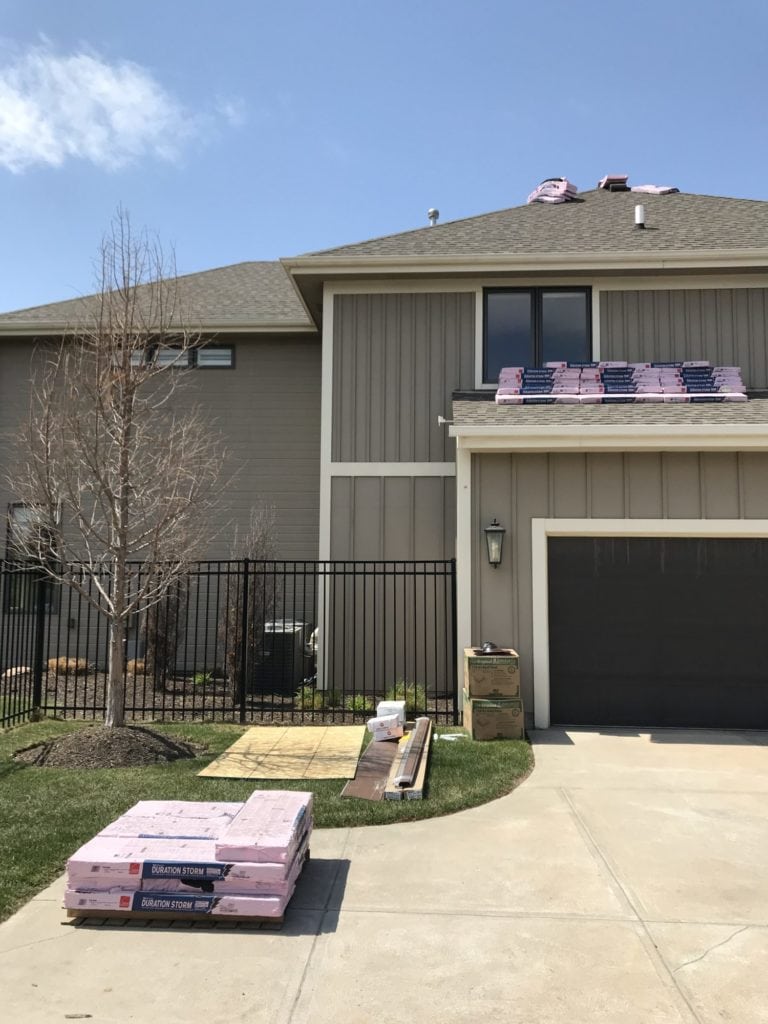 Sunday afternoon was so beautiful in Omaha. The wind was basically non-existent (rare around here) and we hit 70 degrees. It was the perfect time for me to work outside (actually writing this post) and Kurtis to take the tree wrap off our trees. Because of the crazy freeze/thaw we get each winter and spring, we've been advised to wrap our newer trees (around the trunks) around Halloween and take them off at tax time. Trees are not a cheap investment so we take the advice pretty seriously! The good news is, we finally have some tiny buds on all of our trees. I feel like we had full-blown leaf situations around here this time last year. This winter has been insane!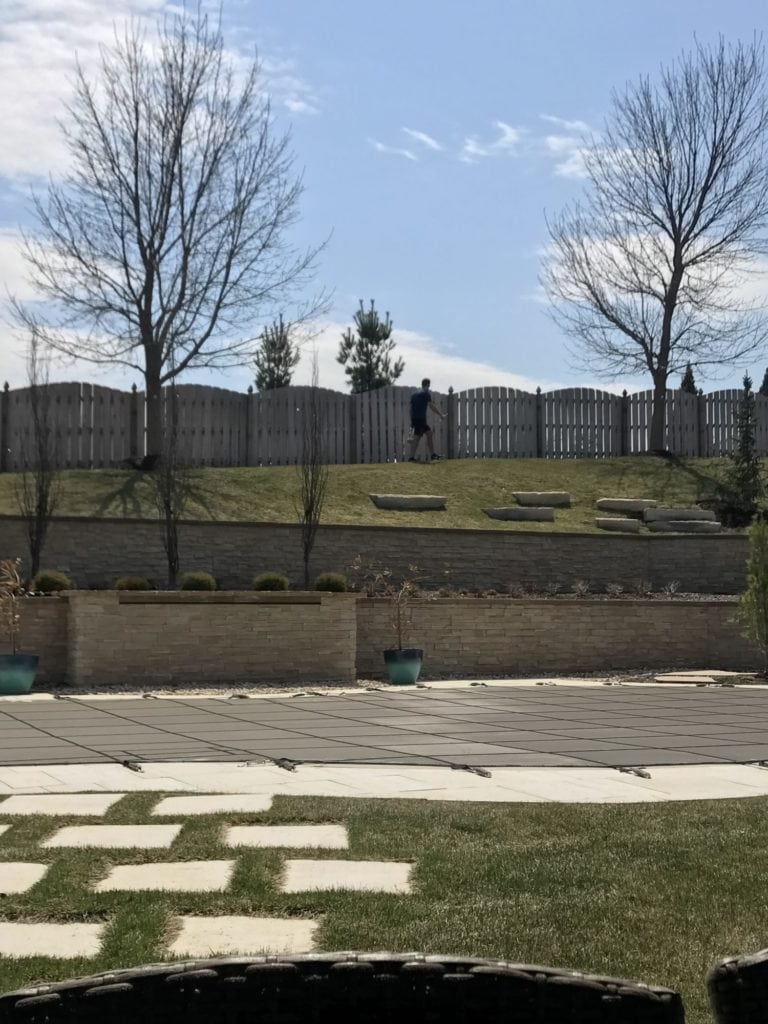 The cats are never happy when we go outside without them – especially if we leave the screen doors open! Here are Henley and Hawkeye smelling the fresh air. It's hilarious how high they'll stick their noses just to smell everything outside.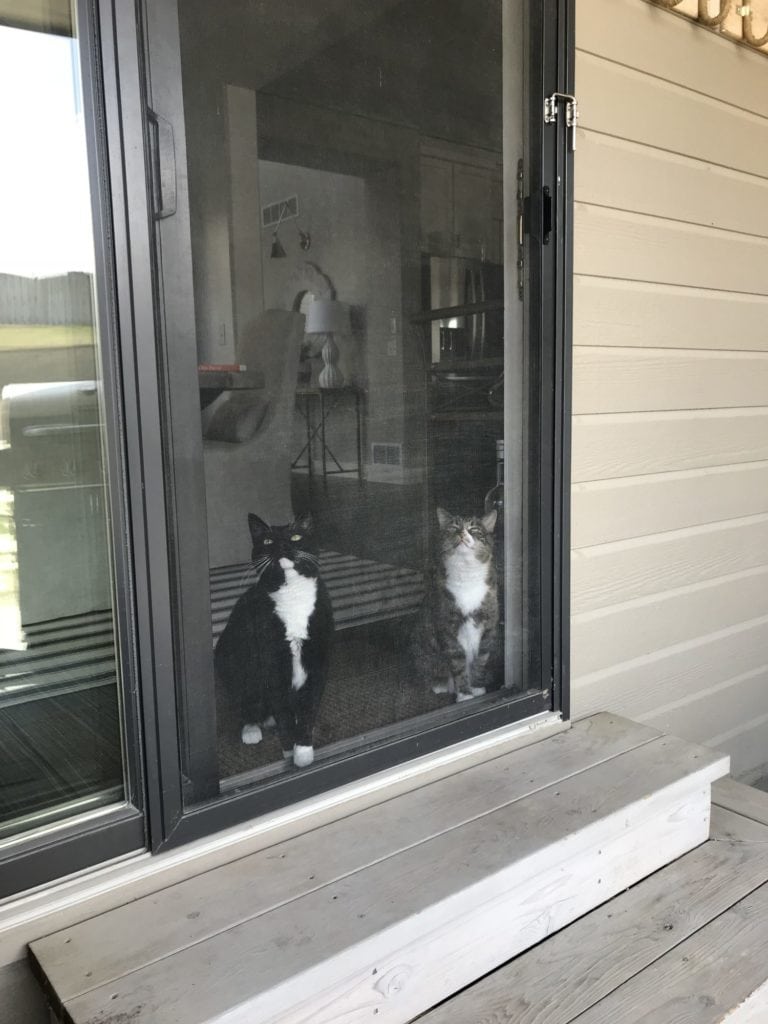 I have to wrap up the entryway painting this week because I'm so sick of looking at green painters tape. So, I hope to share that with you soon!
Dallas Blog Conference
I spent the later part of the week in Dallas for a blog conference. Although this conference has historically been known more for fashion bloggers, it's also grown for the home decor, food, a lifestyle areas. It's definitely an investment for us to attend, but after talking with a lot of my friends there, we feel the info we gain and contacts we make are well worth it. Not to mention we managed to squeeze in a lot of fun while learning. I was so bad at taking photos, but I'll share some of the ones that were texted to me. If you read even a handful of other blogs, you may see some of your favorites. These women are all so down to earth and such great people. I'm so happy to call them my friends!
I roomed with Elaine from House of Hargrove. I was so happy we roomed together (I usually stay alone because a lot of times I just need to decompress). But she's amazing and so sweet and it was so fun to spend extra time with her.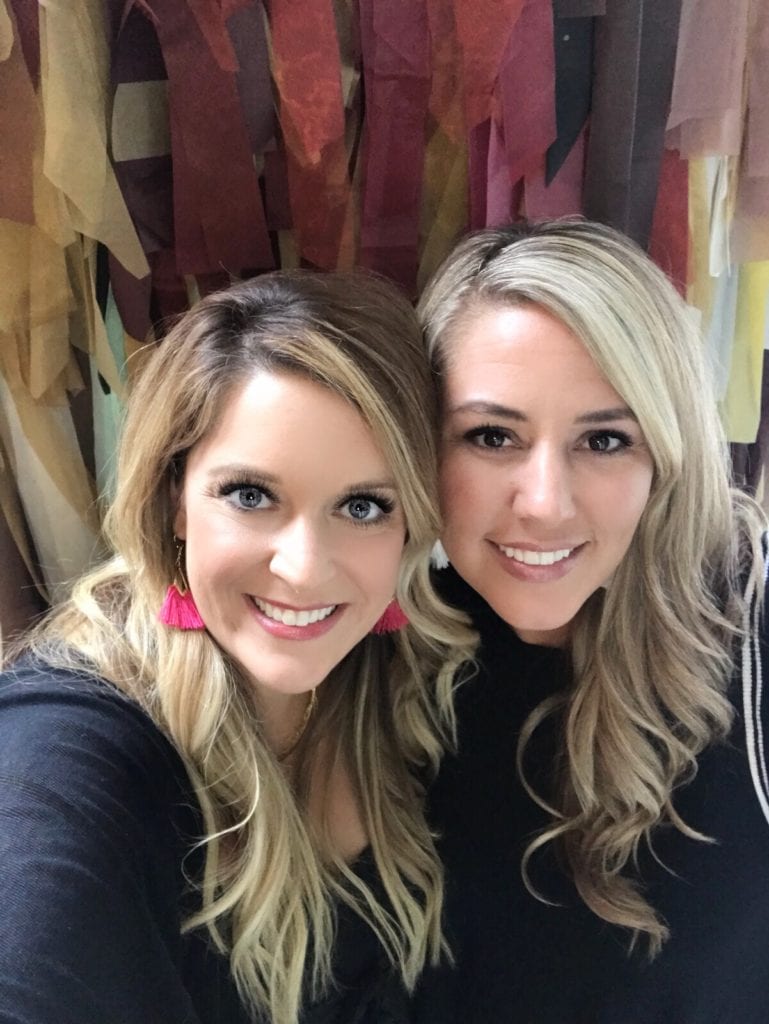 The first night there was a pool party (thankfully not including our bathing suits). Afterwards I went to dinner with some of my fashion/lifestyle blog friends and met a few new ones along the way! Leave it to me to be wearing a dress that's nearly a year old (from J. Crew Factory) when I go out with the fashion bloggers 😉
Cassie (Hi Sugarplum) | Sheaffer (Sheaffer Told Me To) | Megan (Honey We're Home) | Ashley (Fancy Ashley) | Me (with straight hair for a change) | Mallory (Style Your Senses)
This next set of ladies is my "home" girls – meaning they are mostly home decor focused like me. I'm wearing this striped dress, these wedges (similar here), and these earrings.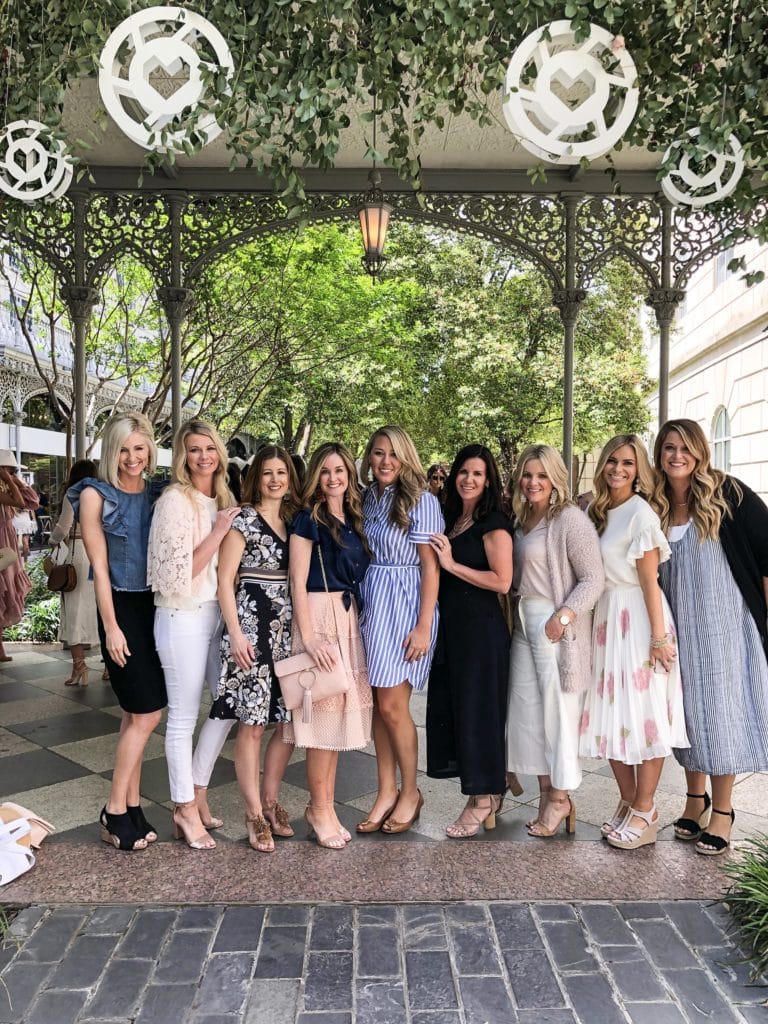 Vanessa (Sunflower State of Mind) | Randi (Randi Garrett Design) | Kris (Driven By Decor) | Erin (The Sunnyside Up) | Me | Jen (Decor Gold Designs) | Bree (ZDesign At Home) | Erin (My Texas House) | Elaine (House of Hargrove)
Also, I met Jillian Harris!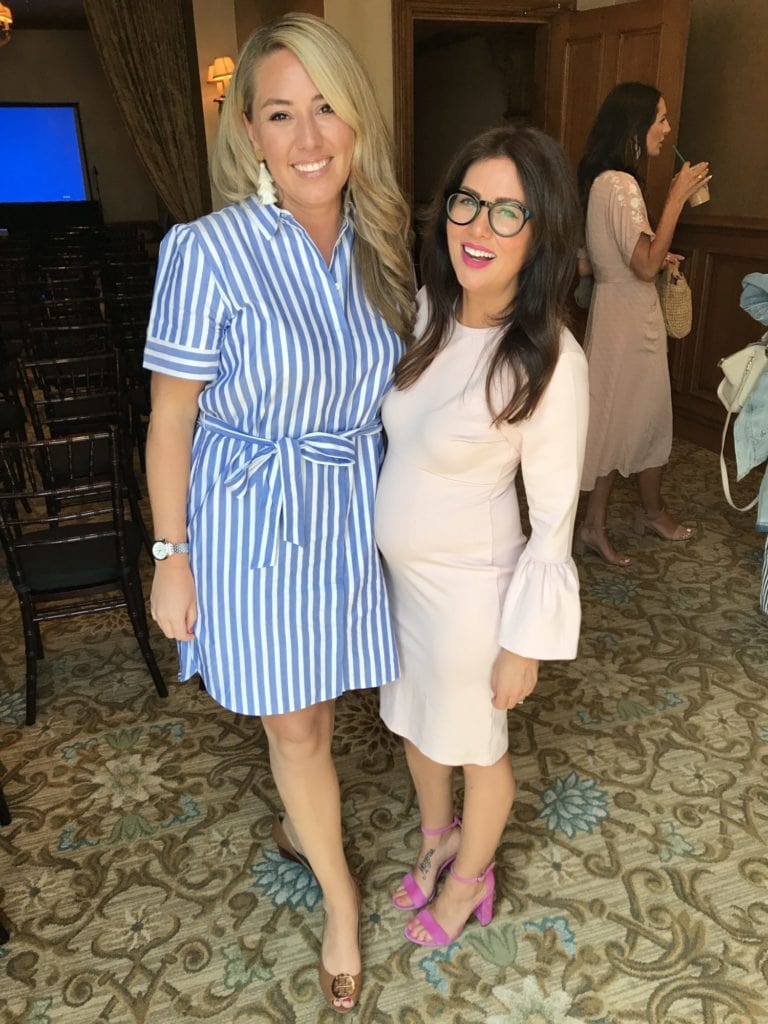 Saturday night, a bunch of the home girls were in our room until close to midnight. We had so much fun chatting and laughing and sharing stories. It's not uncommon to get more out of these late night conversations than anything else at the conference. I had a 7 am flight, which meant leaving the hotel at 5 am, so I had to be the mother kicking everyone out of our room 😉 Here's a shot of our dinner crew at Mi Cocina.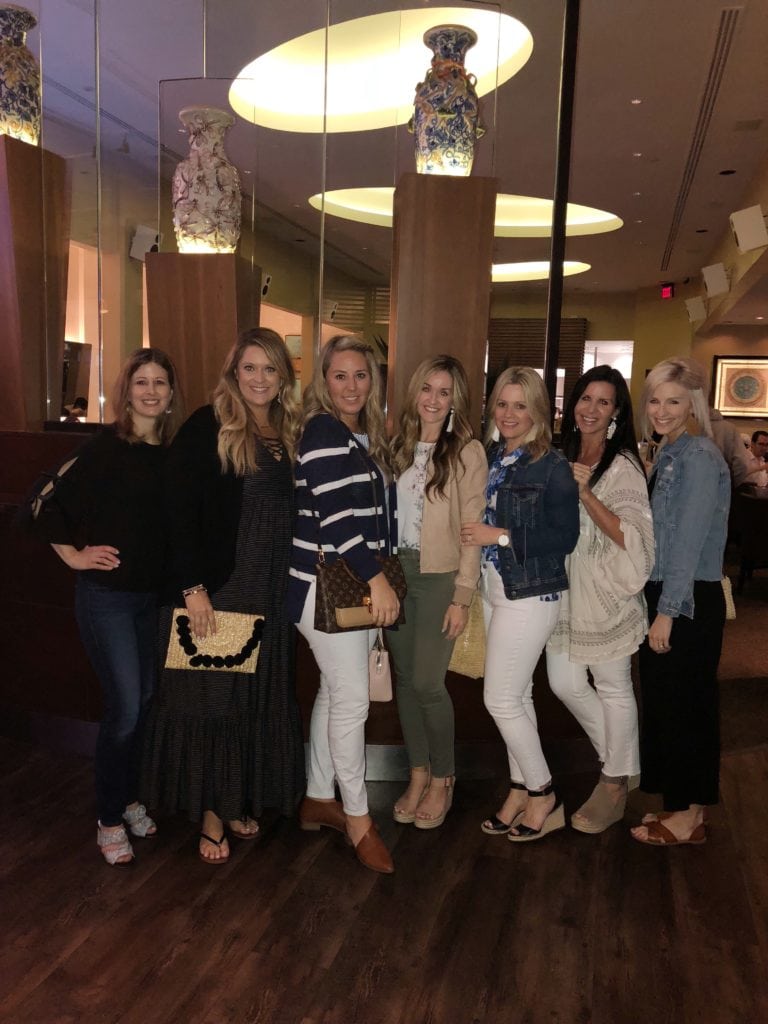 Kris | Elaine | Me | Erin | Bree | Jen | Vanessa
Around Town & For Fun
Because I took such an early flight out of Dallas on Sunday morning, I made it back to Omaha by 8:45 am. I had Kurtis take me to the airport and pick me up (this actually may be a first ever) so we decided to grab brunch. We tried a new-to-us restaurant called Railcar. The exterior is basically an old strip mall, but the inside was cute and designed to look like you were actually in a train car. The food was really good and to be honest we were a bit nervous rolling in right when they opened and they asked us if we had a reservation. But thankfully we got seated right away. They serve all tables a fresh croissant with brown sugar and cinnamon and I think it's something we may both be dreaming about for a long time to come. It was so good!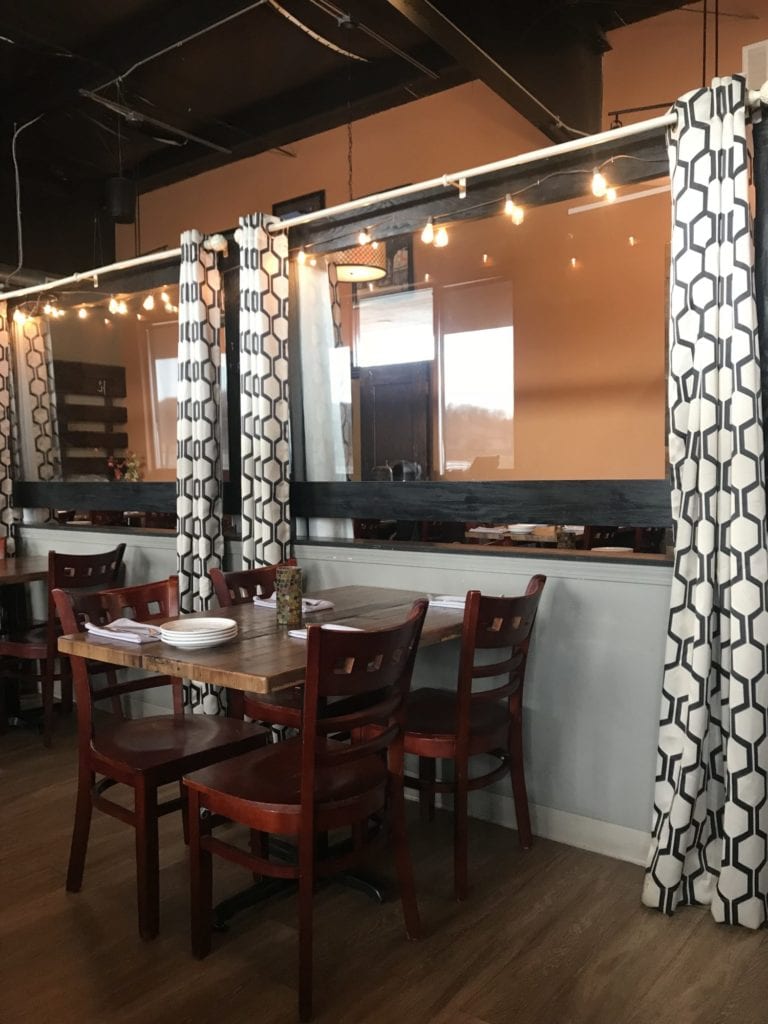 Recent Buys & Sale Alerts
I picked up this cute top last week and it's perfect for spring. I share it on Instagram last week and it sounds like a lot of you bought it and love it too!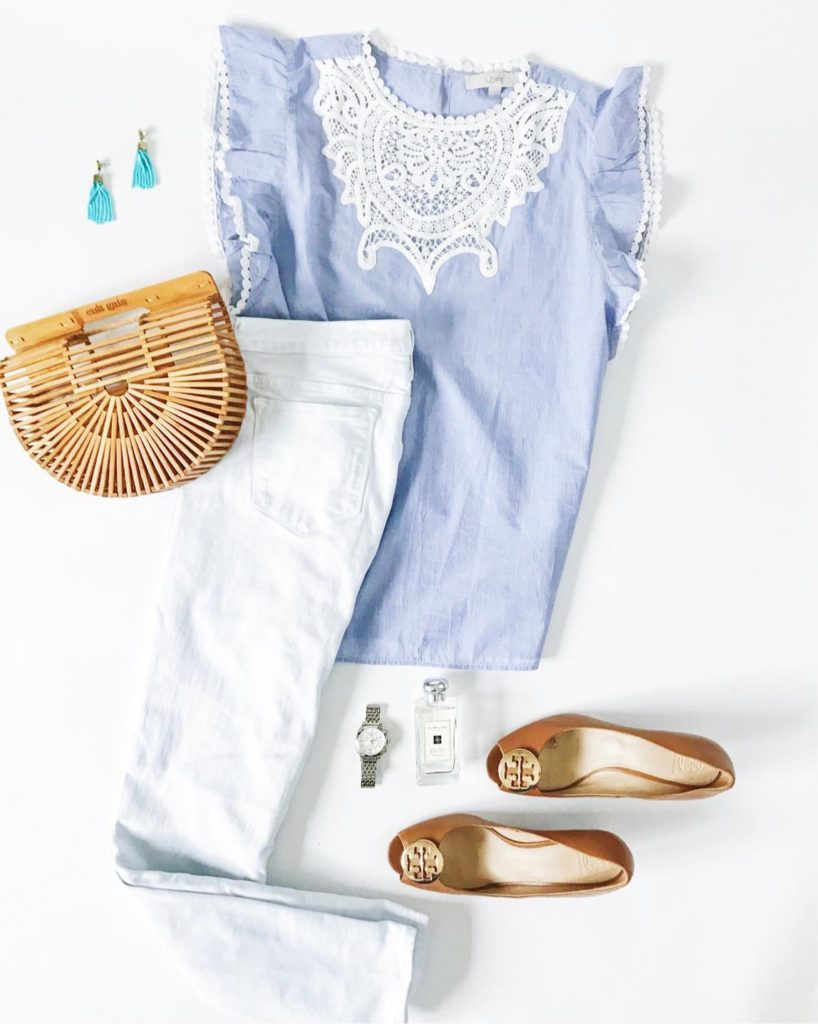 Crocheted Lace Flutter Sleeve Top | Favorite White Jeans | Tory Burch wedges (similar) | Ark Bag(more affordable dupe) | Watch (same brand, similar style) | Favorite Cologne | Earrings
LOFT is actually having a really great sale today with an additional 50% off sale items and 40% off regular priced items so a bunch of the clothes I wore in Dallas are on major sale! I wore this dress one night and got a bunch of compliments on it – just not a good picture to share with you 😉  Following are some of my favorites. Just click on any for more information.

Sephora is still holding their beauty insiders event! You can get 10-15% off your entire purchase depending upon your level. This includes so many items that rarely go on sale – like my favorite Jo Malone cologne (Wood Sage and Sea Salt)! You can shop the sale here.
I'm excited to announce I finally bought a curling iron that isn't from 1985 (or somewhere near that era). While in Dallas, Elaine my roommate let me try her T3 curling wand/irons and I was instantly hooked (I used the 1.25″ wand). Even after being rained on and then sleeping on it and travel back to Omaha, I felt it still looked better than any curling iron I've ever used. So, twenty minutes later I bought one of the trios with the interchangeable barrels. The funny thing is, apparently the same conversation was happening in our friends' room. I think a lot of T3s were sold at our conference! They are definitely a major investment. But, given that I curl my hair every day (with a fifteen year+ old curling iron) I felt like it made sense, especially since I finally had a chance to test it out. It helped that it was their friends and family sale this weekend with 20% off (it runs through midnight today). Elaine said this is about as cheap as you can get them (other than Black Friday or Cyber Monday). You can see all of their items here. I'd love to know if you have one and if so, what your favorite attachments are! I'll plan to try out the heads I bought and maybe do a side-by-side comparison to show you guys one of these days!
Pottery Barn is hosting their Spring Furnishings Sale with up to 40% off bedding, rugs, pillows, throws and drapes. They also have a lot of furniture marked up to 40% off. You can shop the sale here. Also, be sure to use code FREESHIP for free shipping on most items (excludes furniture and a few other things).
Banana Republic, GAP, and Old Navy are offering 40% off your purchase exclusively online. You once you get to the screen (click any of the name links in the sentence before this) you then click the offer at the bottom to activate the code. It's been awhile since I shopped at either Banana Republic or GAP but I actually picked up a few items there last week for the conference. Click below to see more on each of the items.

Tory Burch has a major buy more/save more sale today with 20% off purchases of $200, 25% off purchases of $350, or 30% off purchases of $500! There are a few select exclusions, but you can shop the sale here.
I hope you all have a great week!
If you would like to follow along on more of my home decor, DIY, lifestyle, travel and other posts, I'd love to have you follow me on any of the following:
Pinterest / Instagram / Facebook / Twitter / Google+
disclosure: some affiliate links used