Good morning! I hope you all had a great weekend! I know it's been a few weeks since I've done a weekend recap. We left for Maui on 2/24 for Kurtis' work incentive trip and didn't get back until 3/4. We had a wonderful time and are just now getting over our jet lag – right as day light savings time hit 😉 I'll plan to write a Travel Files post soon to share our highlights from the trip!
Home Updates & Projects
For the last month or two, I had felt like I was in a bit of a creative slump around our house. But, this past week, Kurtis was out of town and I felt like I had a few design epiphanies. So, over the next few weeks, I'll plan to share some of my plans and updates.
Over the past few weeks, we've been in talks to host several parties this summer. We're excited for all the house guests that will bring, but it also makes we want to get all the projects on our to-do list done ASAP. The problem is, I still need to finish the painting in our living room and other miscellaneous projects, so I really shouldn't be starting something new. And to be honest, I think that's partially what was stifling my creativity – knowing I had to  paint the ceiling and trim in the living room, as much as I didn't want to do either. Kurtis would also love to see how kitchen done before summer, but given we haven't talked to anyone or even have an idea what we're doing yet, I'm thinking that may not happen. I have made some progress specifically in our main guest bedroom though!
But, after removing the stripes and painting our guest bedroom, I finally have decided how I want to make a few other tweaks in the space. It's rather liberating to have the stripes off the walls so now I can finally incorporate stripes into some of the textiles 🙂 Below is how the room currently looks. I finally ordered some proper night stands yesterday (I was able to get them 25% off with the sale). We had been using over-sized end tables from our living room in our last house. Not only did they not match, the space but the size was awkward and they weren't really that functional since they're basically just an open table. I also have plans for a rug and a minor swap in textiles. Once I wrap up my design board, I'll share it with you (hopefully this week)!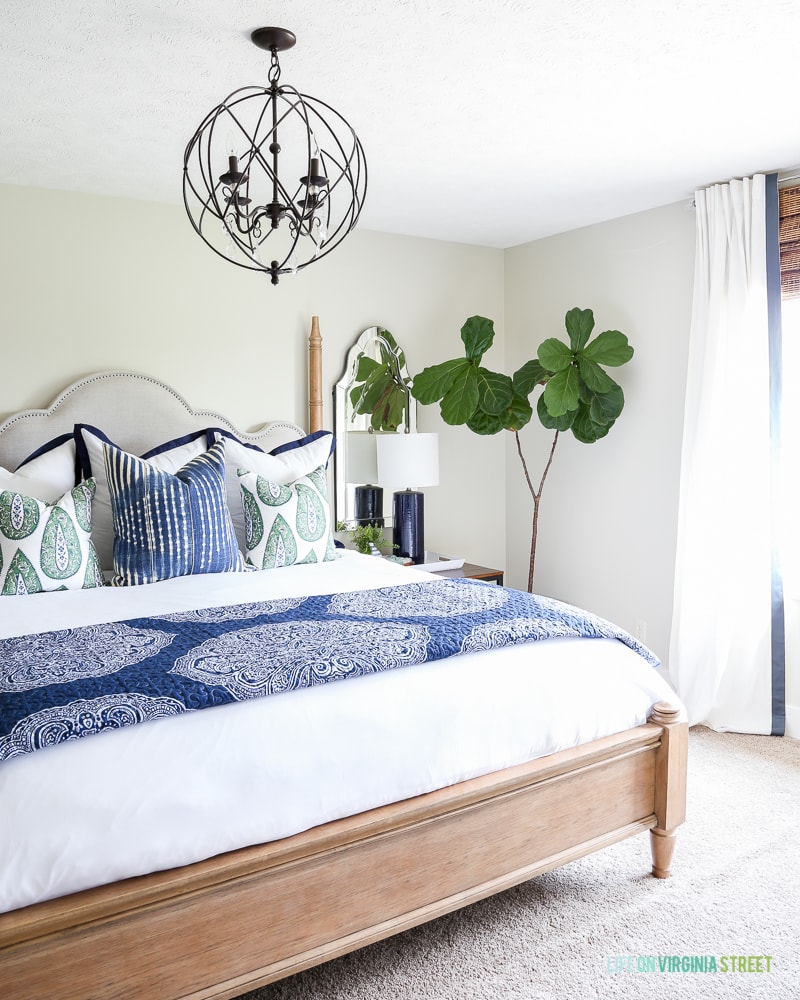 I have two blog conferences and a mini-vacation for us coming up over the next five weeks, so I'm sure that will impact my time for projects. However, I'm hoping to crank some of these out soon before the really nice weather gets here!
I wanted to thank all of you that took the time to comment on my Pottery Barn York Sofa review post. If you read the post early in the day and found it helpful, it may be worth your time to go back and read all the comments on the post itself. So much great insight (good experiences and bad) that you may find helpful as well!
Around Town & For Fun
While we were in the Maui airport eating dinner before our flight home, my back molar completely cracked and broke eating a french fry. It was so crazy! Obviously there but have been something else I bit on but I was a little panicked. Thankfully I didn't have any paint, but I had to get into the dentist first thing Tuesday morning for my first crown. After two hours in the chair, I now have the temporary crown in place. Ugh! I hate having issues with my teeth!
Kurtis spent most of the week in Milwaukee for work, and I seriously didn't leave our house after my Tuesday dental appointment until after he got home. We also had two days with blizzard-like conditions and it was horrible out. Needless to say, after being inside and only being around cats for four days, I was ready to see some people! We went out for Mexican food at Roja Friday night.
On Saturday, we made buffalo chicken wings in our air fryer for the first time. Kurtis had bought a bag of frozen wings at Target, put them in frozen with a little Cookies flavor enhancer on them. He then "fried" them at 400 degrees for 28 minutes, rotating every 7 minutes. I hate when buffalo wings get slimy and don't have any crisp to them. But these were amazing! We made a mixture of Frank's hot sauce and ranch dressing to dip them in, since we didn't know how well it would work to coat them in buffalo sauce to fry them. The combination was so good! Definitely recommended!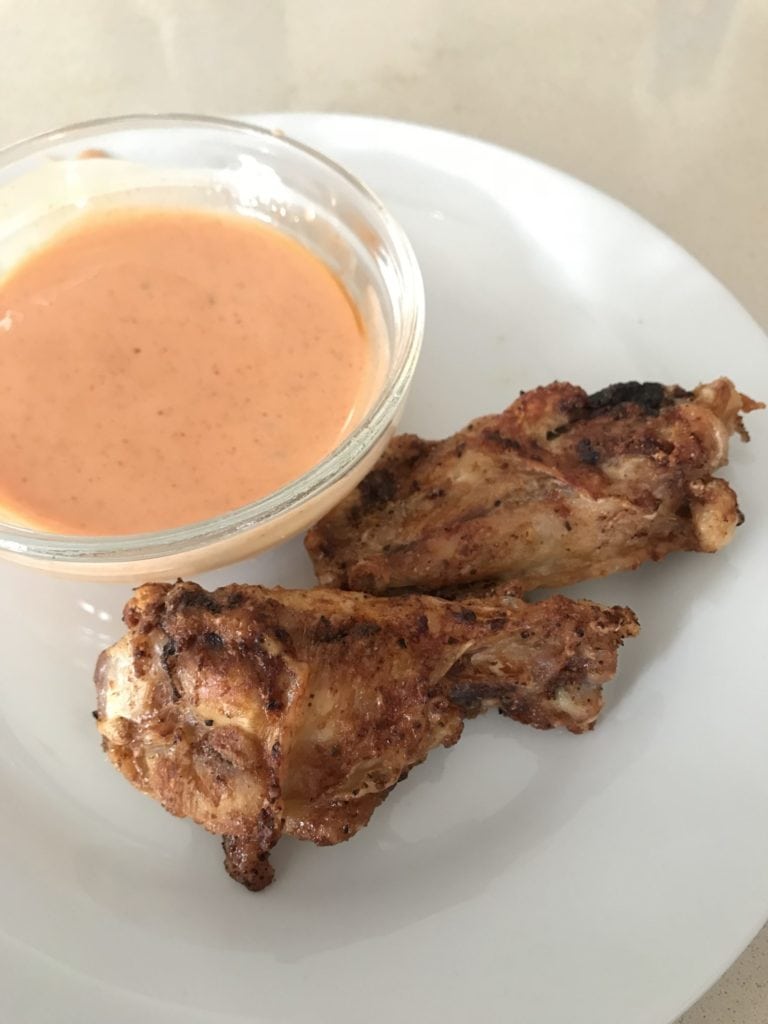 Saturday night we watched some TV and Netflix. Four months into the season and the cats still don't get tired of the fireplace!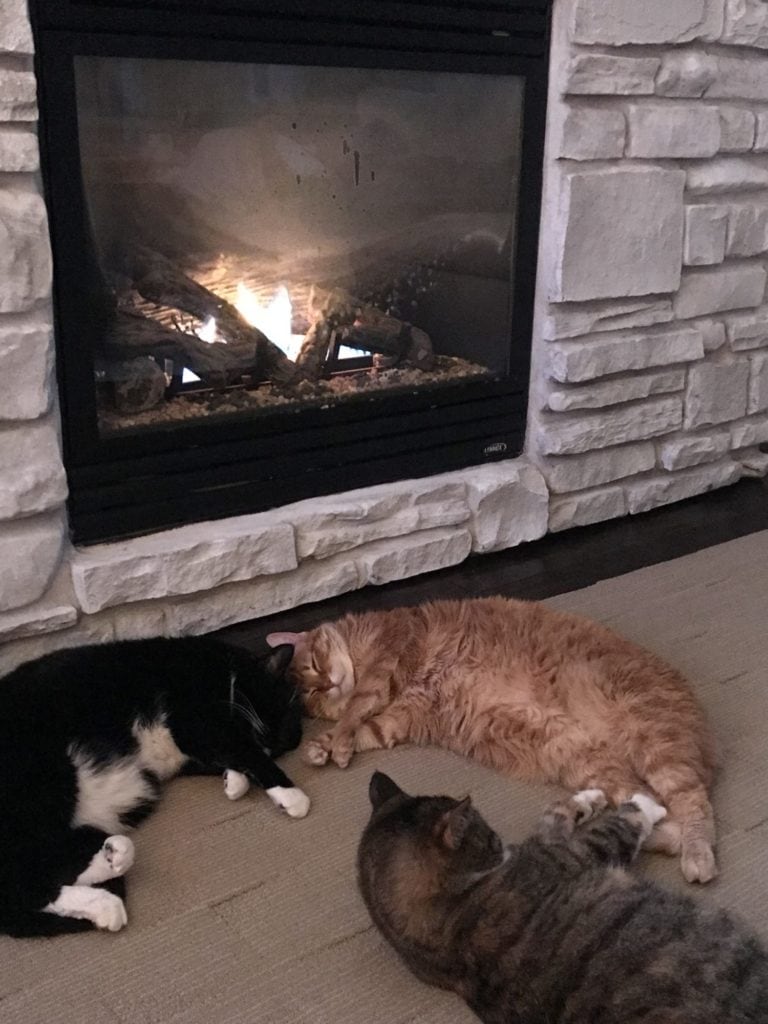 Sunday night was our 16th annual Selection Sunday dinner with Kurtis' sister and brother-in-law. I always head to a sports bar to watch the announcements and then the guys talk about their upcoming fantasy baseball drafts, and the girls talk about anything except those things. It's pretty amazing we've been able to carry on this tradition as long as we have without missing a single time! This week is one of the favorite of the year for the guys – March Madness, St. Patrick's Day and the upcoming start of spring and baseball season.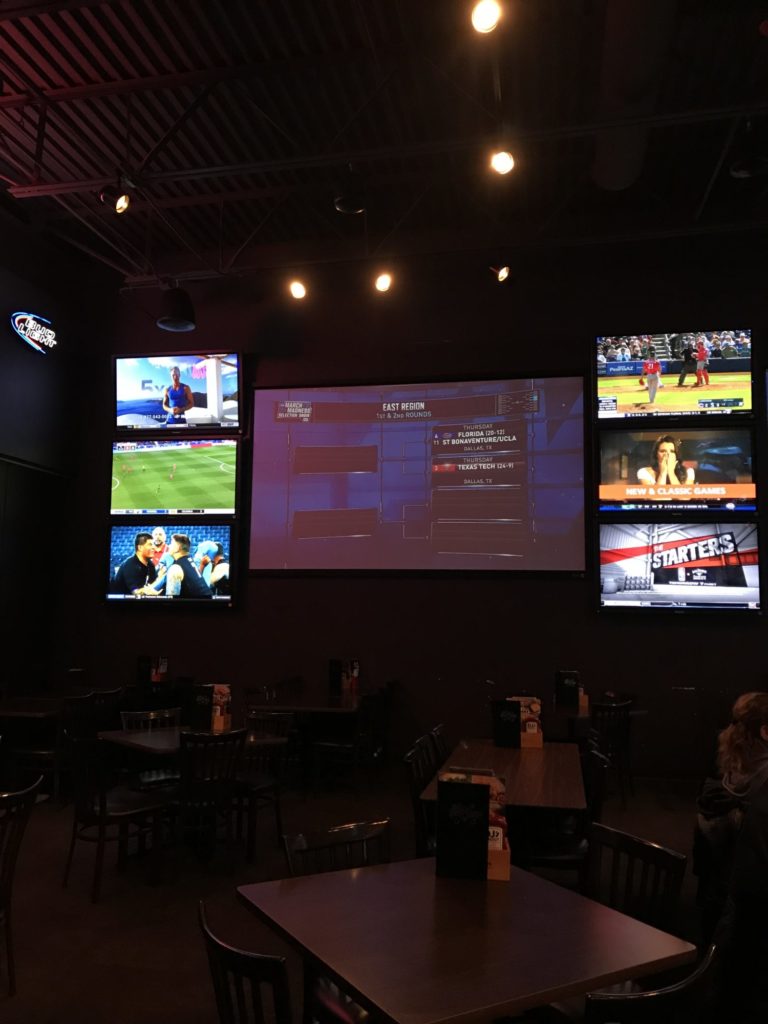 Recent Outfits & Favorite Buys
I've posted quite a few new outfit ideas on Instagram in the past few weeks. A lot of that had to do with our trip to Maui, but I can't wait to wear these here at home over the next few weeks and months. Spring and summer clothes make me so happy!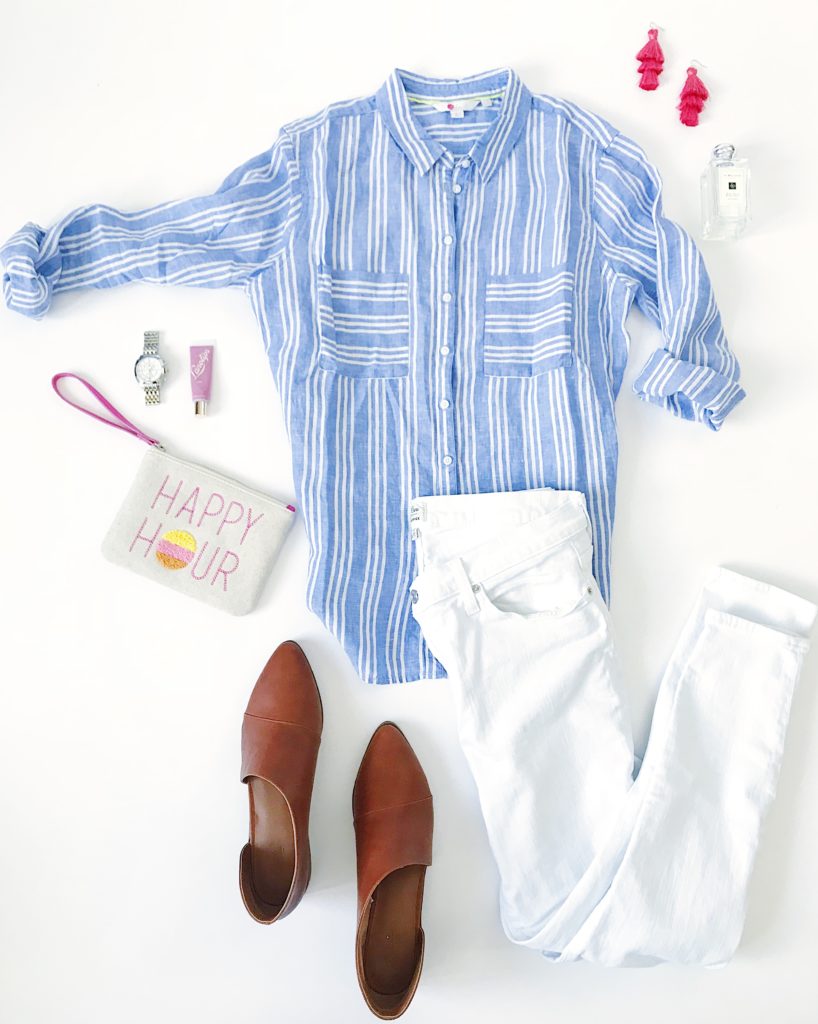 Striped Linen Shirt | White Jeans | Booties (Knock-off of these) | Happy Hour Clutch | Watch(similar) | Lip Gloss | Tassel Earrings | Cologne
I shared this look in last week's Wednesday Watch List, but it was one of my favorite casual looks from the trip!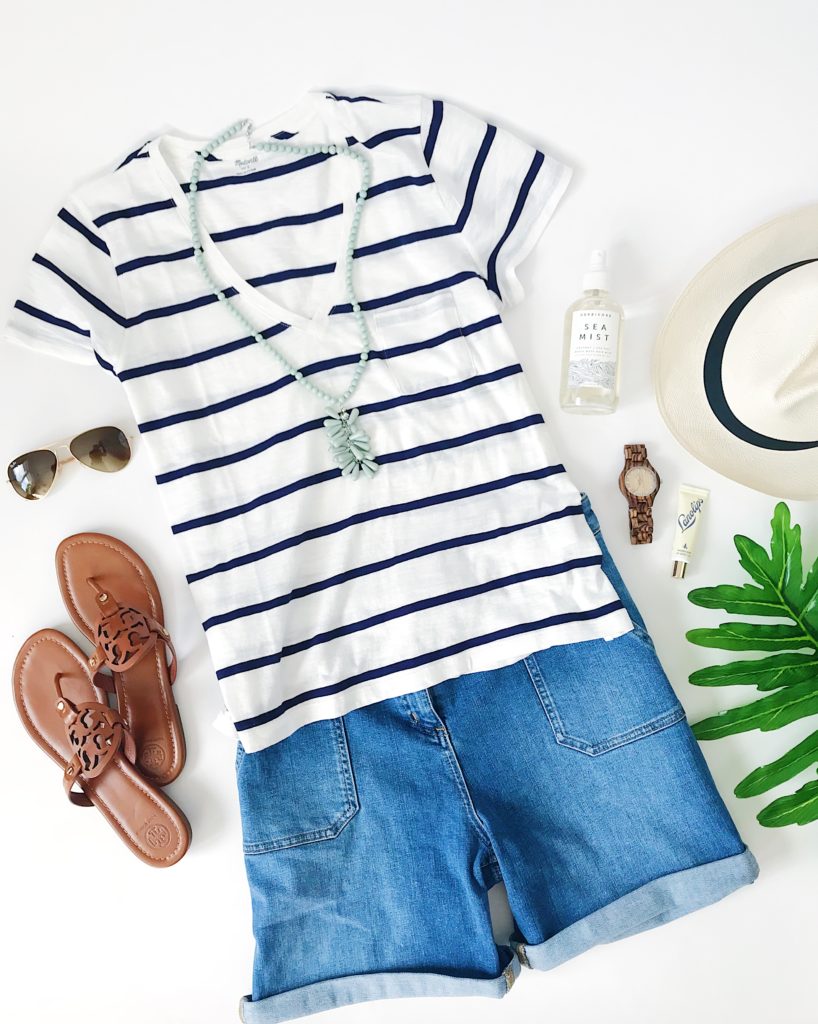 Striped V-Neck Tee (also available here) | Denim Shorts | Necklace | Leather Sandals | Hat | Wood Watch | Banana Lip Balm | Sea Salt Spray | Aviator Sunglasses
This was one of my favorite looks on the trip! The dress is super comfy and everyone that has messaged me that bought it says they love it! I'm also loving the beaded earrings that are a dupe for a much more expensive version. They are a bit heavy but they are super cute on!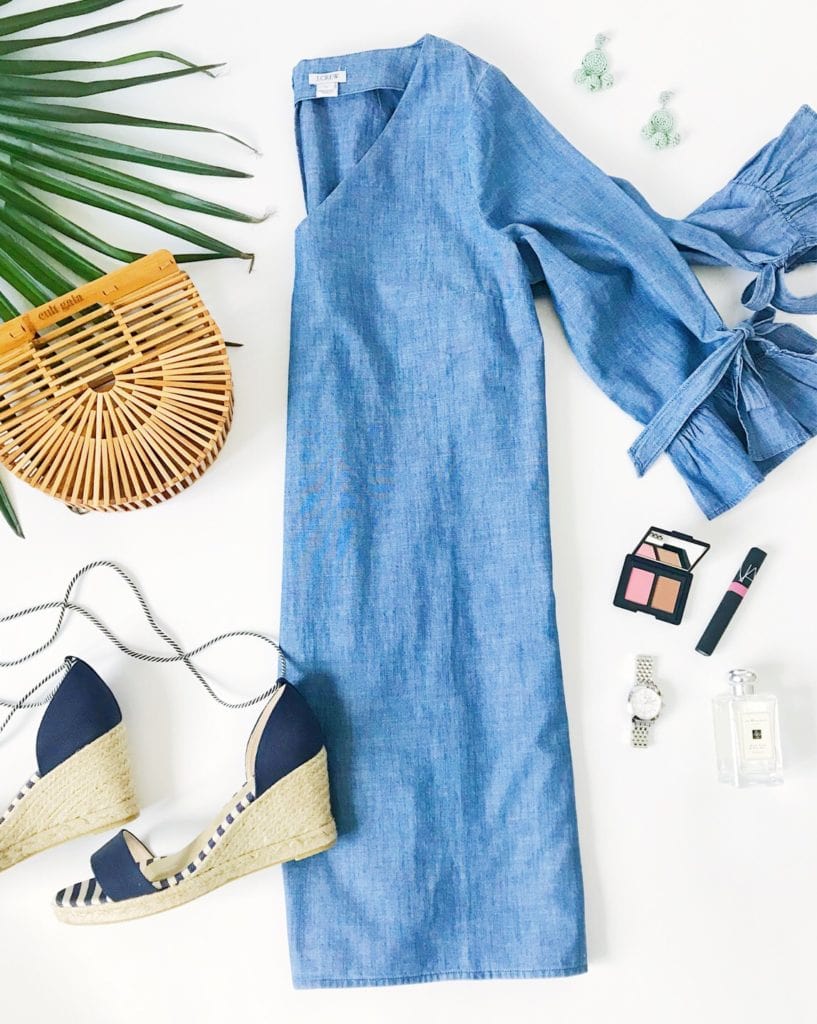 Chambray Ruffle Sleeve Dress | Navy Blue Striped Espadrilles | Cult Gaia Mini Ark Handbag(great knock-off here) | Beaded Disc Earrings | Watch (same brand, similar style) | Favorite Blush/Bronzer Combo | Lipgloss  (color is Summer Fire) | Favorite Perfume
This tankini suit fits like a dream and is on major clearance right now. It also comes in other color and pattern combinations! I'm also sharing all of my favorite sun skin care products below.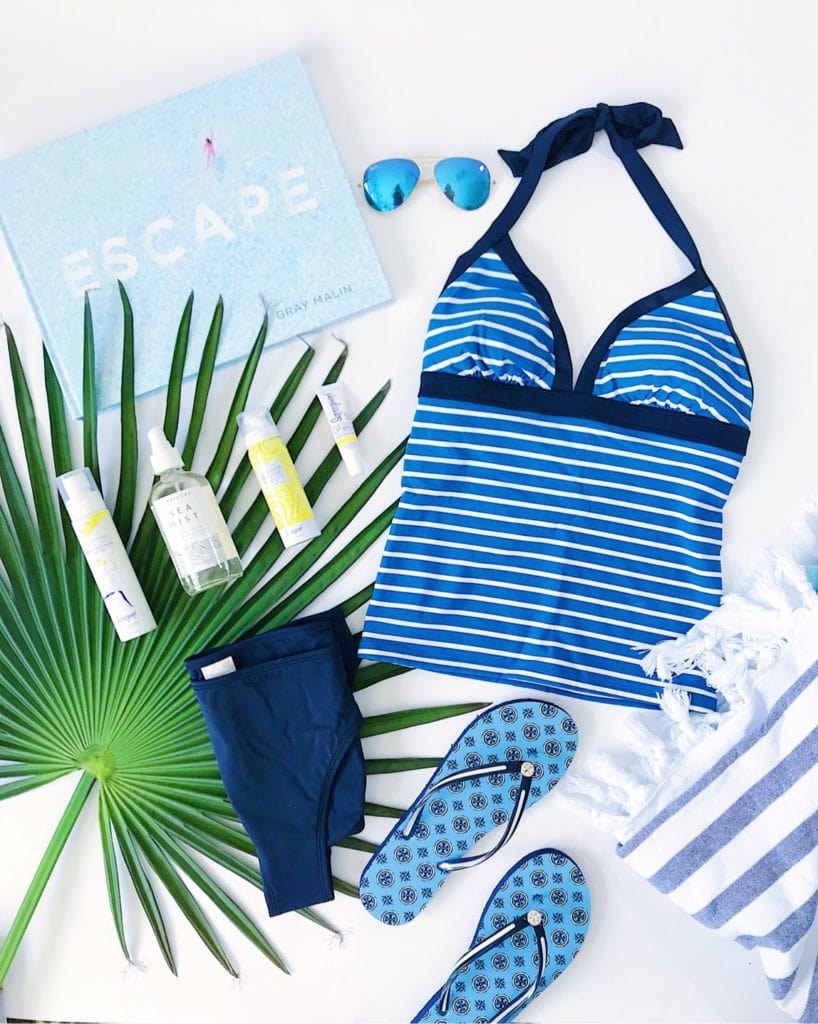 Striped Tankini Top (on clearance!) | Bikini Bottoms | Flip Flops | Escape Book | Aviator Sunglasses | Fan Palm | Make-up Setting Mist | Sea Salt Hair Spray | Mousse Sunscreen | SPF Lip Balm
As a reminder, you can check out all of my outfit ideas I've shared on this dedicated page.
Sales You Should Know About
It looks like many of my favorite weekend sales carried over into today, so there's still time to take advantage of all the new spring items at great prices!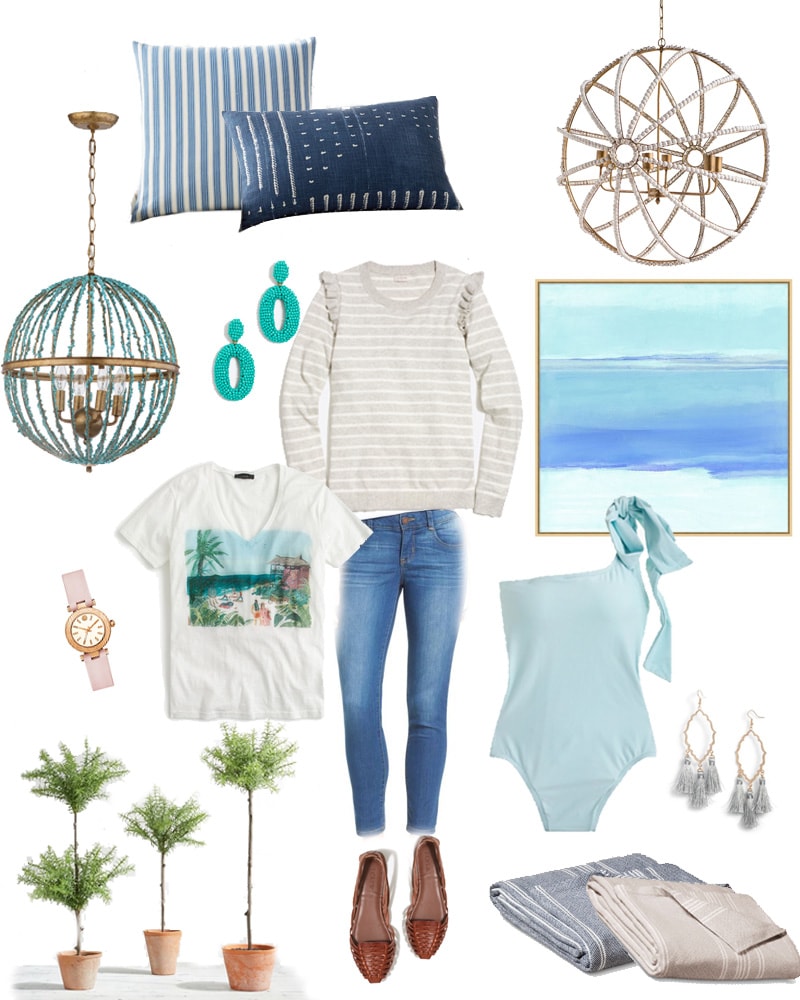 I hope you all have a great week!
If you would like to follow along on more of my home decor, DIY, lifestyle, travel and other posts, I'd love to have you follow me on any of the following:
Pinterest / Instagram / Facebook / Twitter / Google+
disclosure: some affiliate links used