Good morning! I hope you all had a great weekend!
Last week was unique because I actually left the house five times. It had gotten to the point where I was only leaving once or twice a week and that was basically just to grocery shop and then teach our class at church. Not good! So, it was a breath of fresh air to get out and do some things.
Thursday I devoted to checking out some new stores or ones I hadn't visited in awhile. My goal was to get everything I'd need to wrap up prep for an upcoming spring home tour. I first swung into Amethyst Home (in Countryside Village, for you locals).  I've known Monica, the owner, for a few years. She's the one that helped coordinate this beautiful home tour I shot a few years ago. She opened this store late last summer and she carries some really beautiful pieces and lines that you can't find many other places in Omaha. She also has a killer selection of rug swatches to order custom rugs.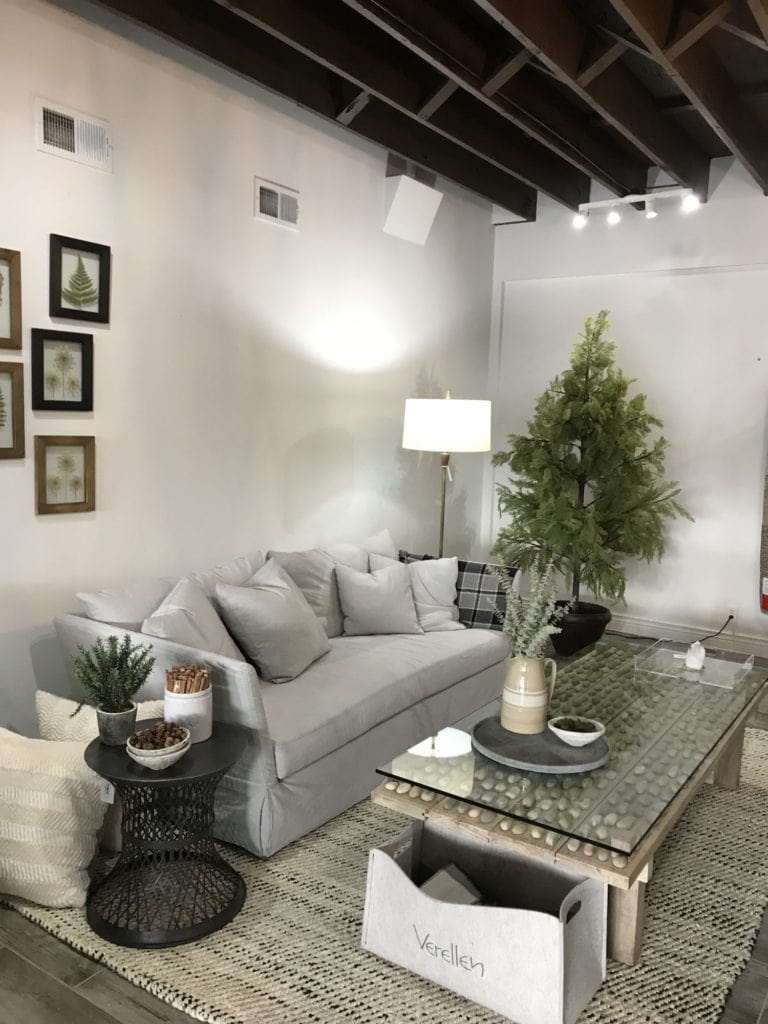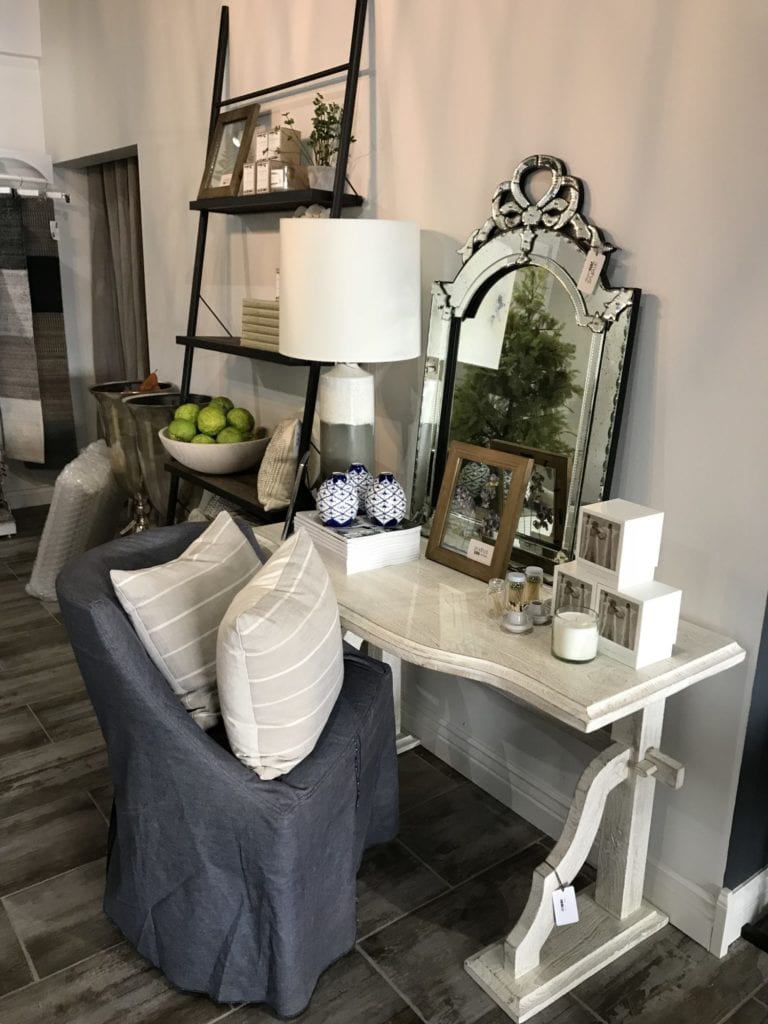 I picked up these cute planters, some faux herb greenery, and two amazing smelling candles!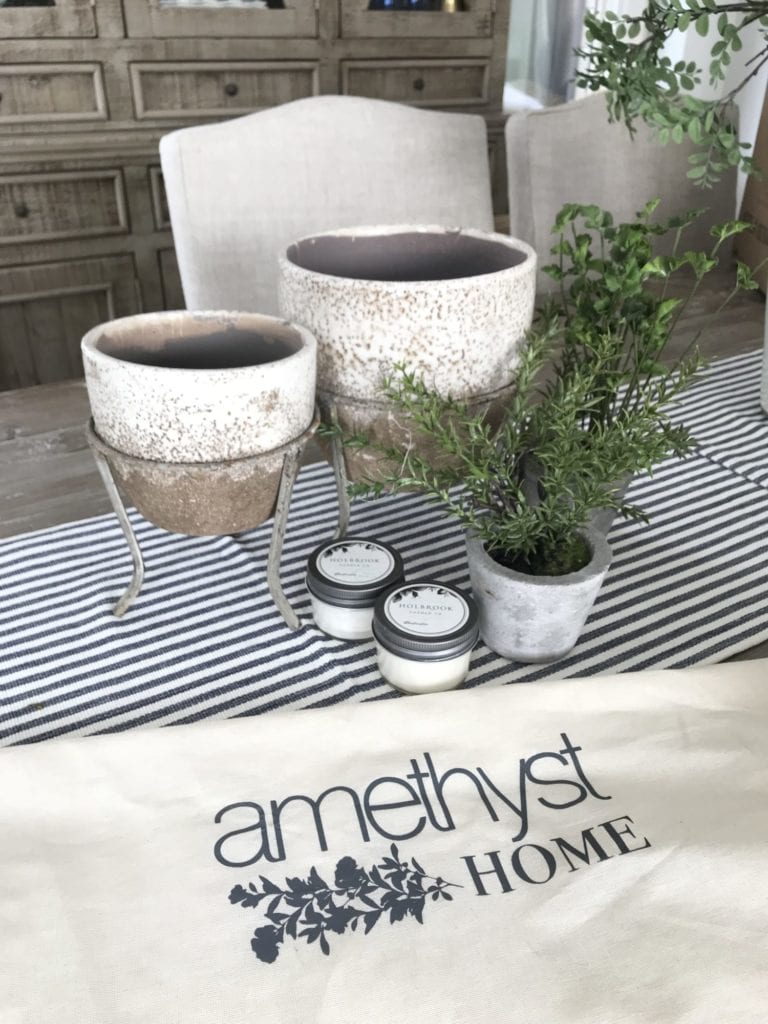 I then headed to both locations of Rush Market. Again, I'm not 100% on where they get their items. I have a feeling their buying returns from somewhere like Wayfair or Amazon, but they have an amazing selection of furniture, lighting, rugs, curtains, etc. and really low prices (and it's brands you've seen before). If you're local, it's definitely worth swinging in. You have to sign up on their site to be a member (it's free) but then you can shop both locations. If you saw me on my Instagram stories this weekend, I talked a lot about these lanterns because I finally saw them in person in all finishes. I'm hoping to have a full, detailed post on them tomorrow as well (by the end of the week at the latest).
While I was out running around, I picked up these blue and white pots at Pottery Barn to go with my topiaries, and I'm loving the look! I also brought out the paisley pillows I've had for a few weeks. I'm slowly trying to get my spring home tour ready to share with you in the next two or three weeks! As a side note, you can still get all of these items for 20% off today if you use code FAMILY at check-out!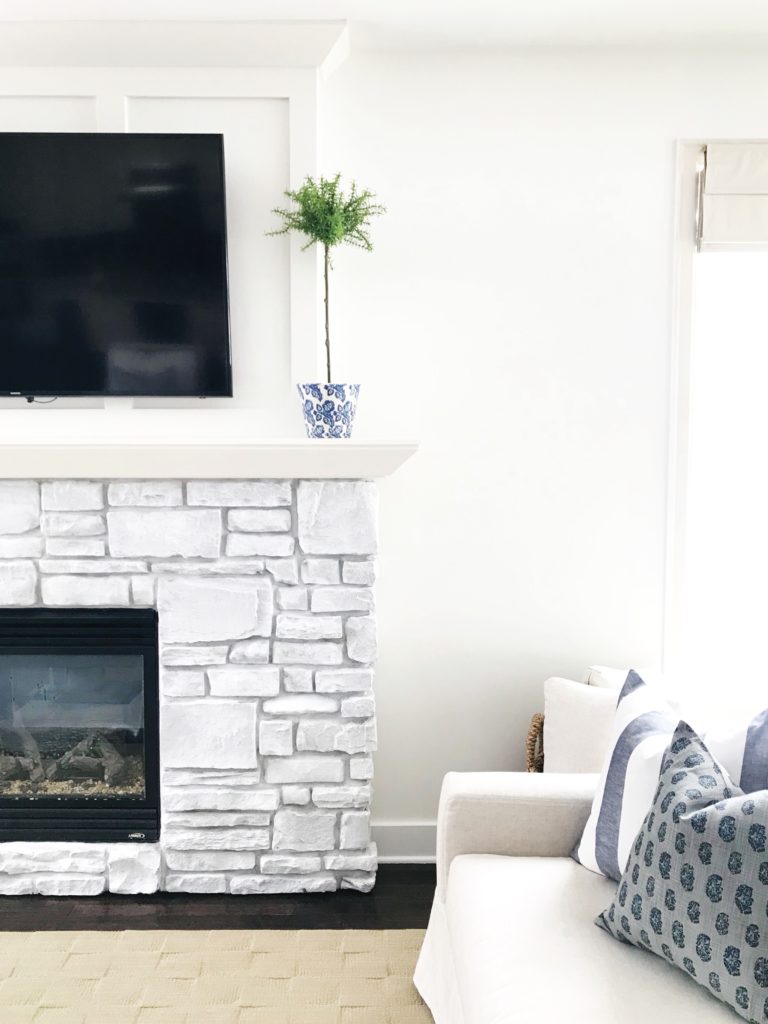 I had a sushi/blog date with my friend Jen from The Striped House on Thursday night, and we both thought the bathroom wallpaper at HIRO88 (out west) was pretty spectacular. And I'm so random that it reminded us of several blog friends.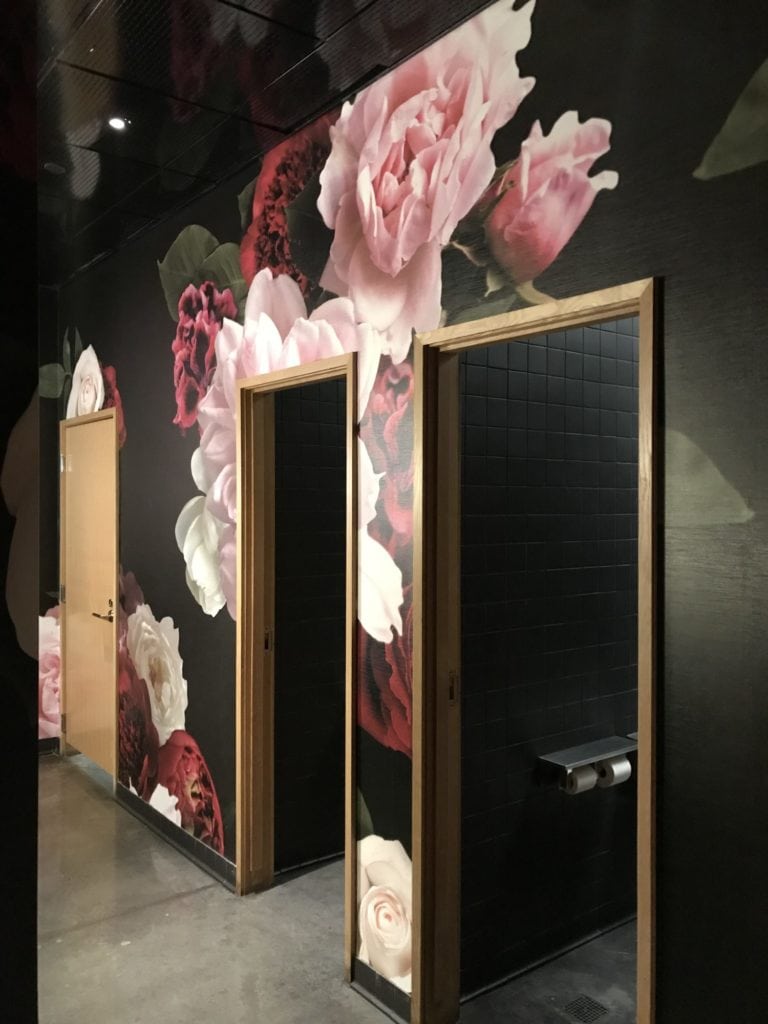 Kurtis had to swing into Lowe's for some random hardware, so I perused the tile selection. I really love the white handmade subway tile below (marked B37) and thought it was a fun alternative to traditional subway tiles. They're a bit larger and I love the handmade quality with the somewhat rippled surface. They were $.98 per tile for those that may be interested.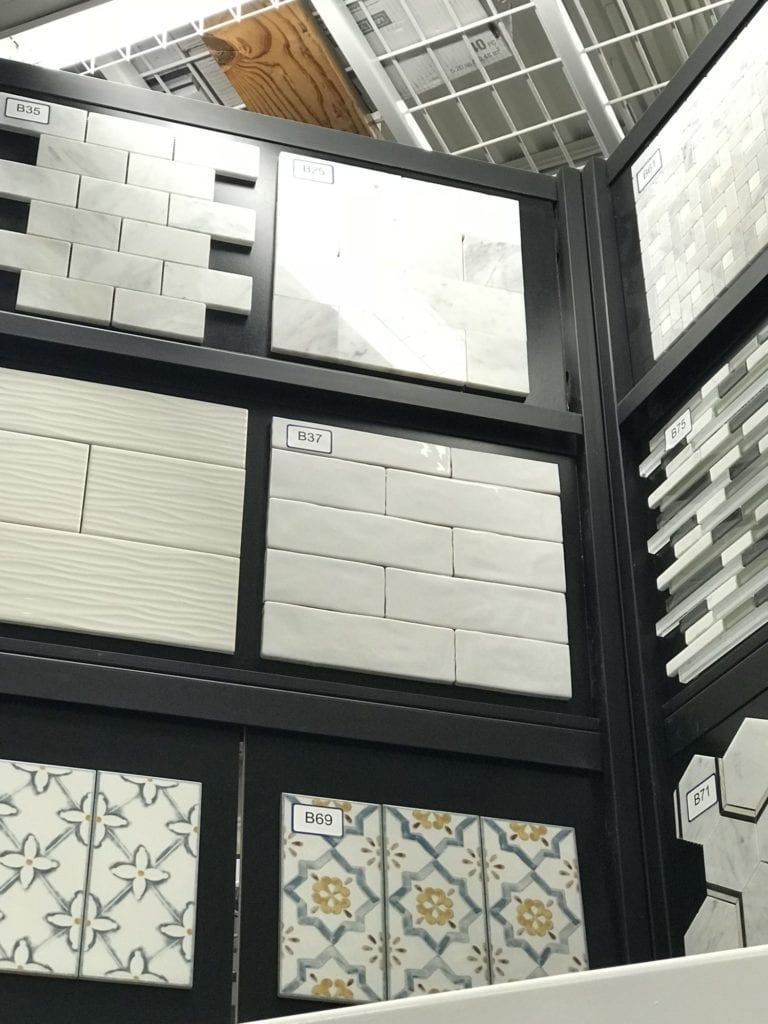 I also really liked this mini blue and and white mosaic tiles (that looks like cement tile). It was $13.98 a sheet. It would be way too busy for us to do our entire kitchen backsplash with it. But I think it would make for a really pretty range accent or even an inset in a shower or something like that!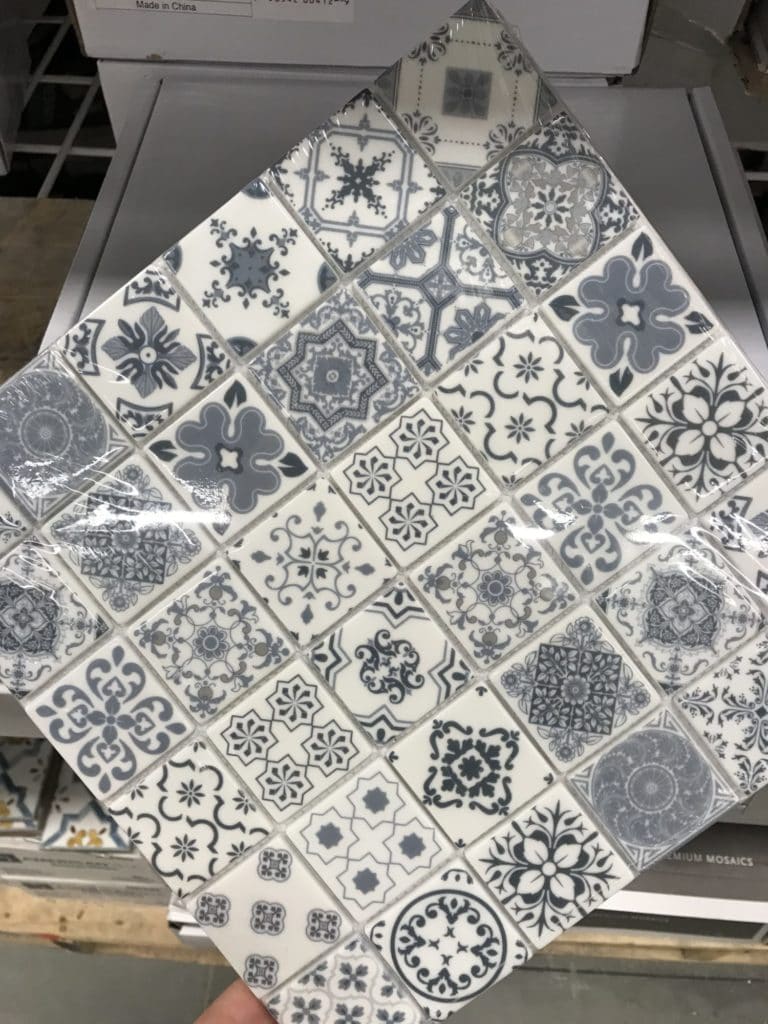 While we were out running errands on Saturday, I picked up these pieces of art at HomeGoods. I fell in love with them in the store, but I think they may be too large and too blue for our living room. But, I still love them, so I may try them in our upstairs hallways or somewhere else that needs a little personality.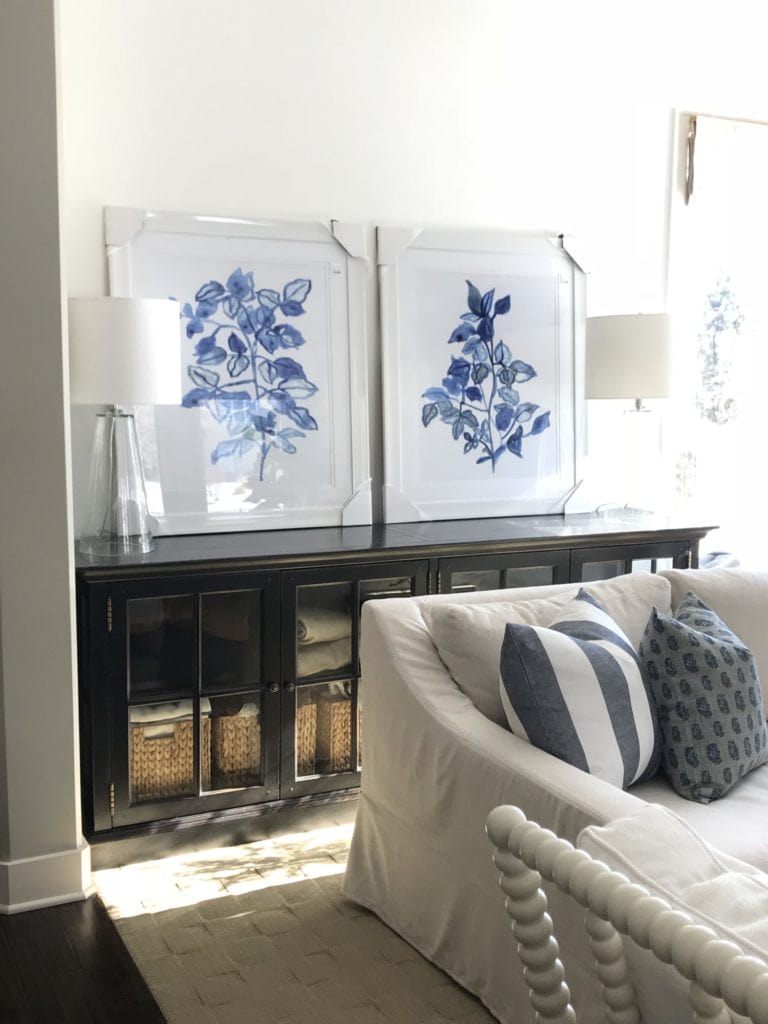 Kurtis' parents were also in town this weekend, so we had dinner with the family on Friday and breakfast after church on Sunday. We always have a lot of fun when we all get together!
I'm hoping to get some reviews written shortly about our new sofas and spindle chairs in our living room. The cats sure are putting them to the test, and trying their best to ruin the cushions every single day of their lives!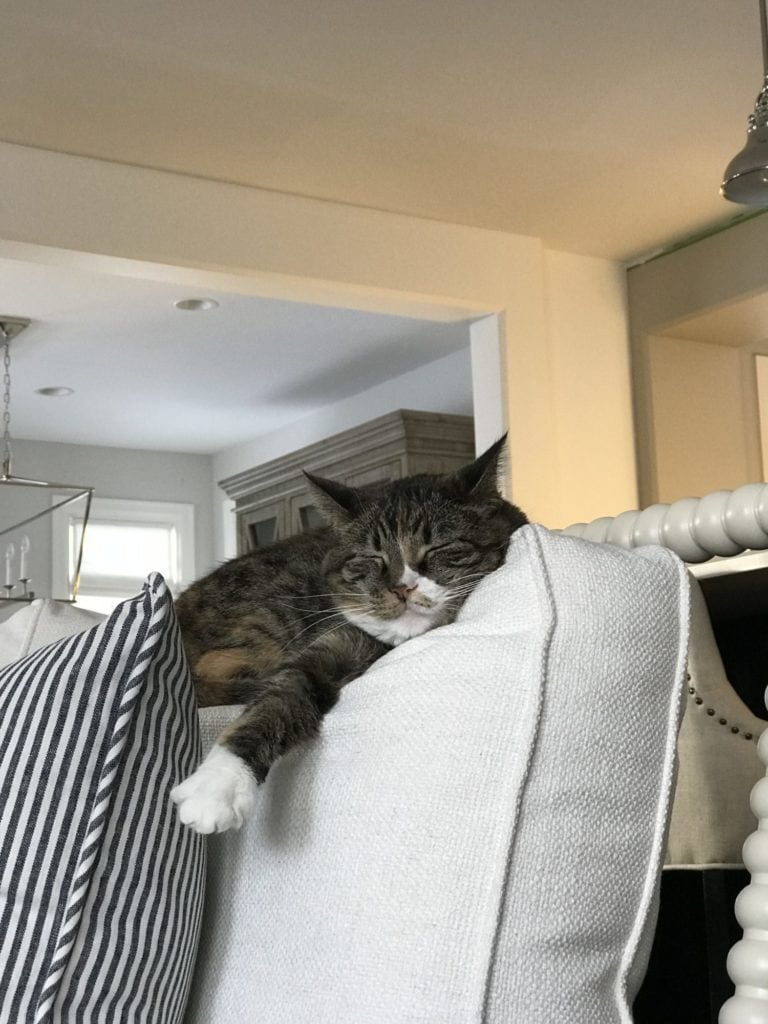 Since they're 20% off with the FAMILY code, I had a few people ask about the differences in the fiddle leaf fig trees that we have (5ft vs. 7 ft.). Obviously there is a 2 ft height difference, but here, side-by-side you can see their differences. I feel like the quality is the same, the trunks are just a bit different. I like that the 5 ft one can look fuller because of the two trunks, but I definitely prefer the height of the 7 ft one. Hopefully this image helps a bit!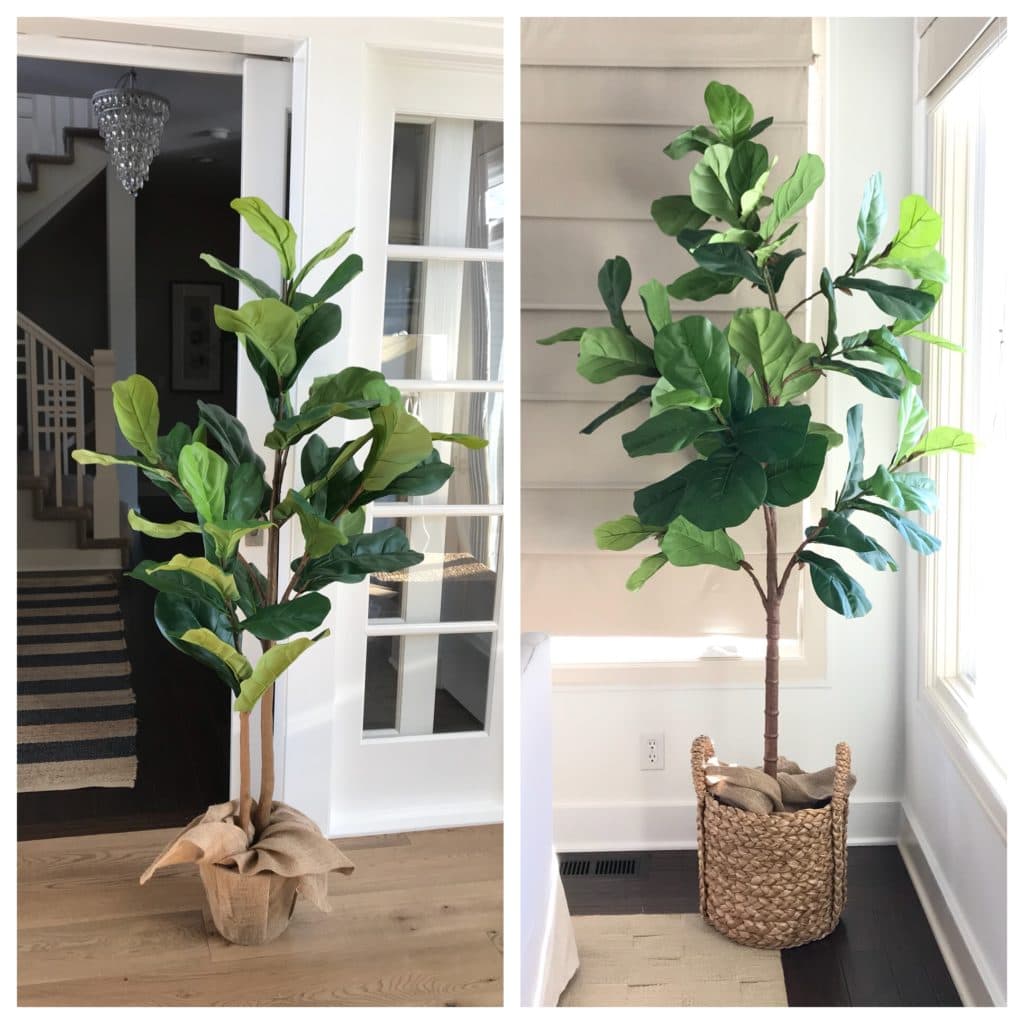 Lastly, if you missed my weekend sale alerts post, many of the sales are still going on! So many fun finds for spring!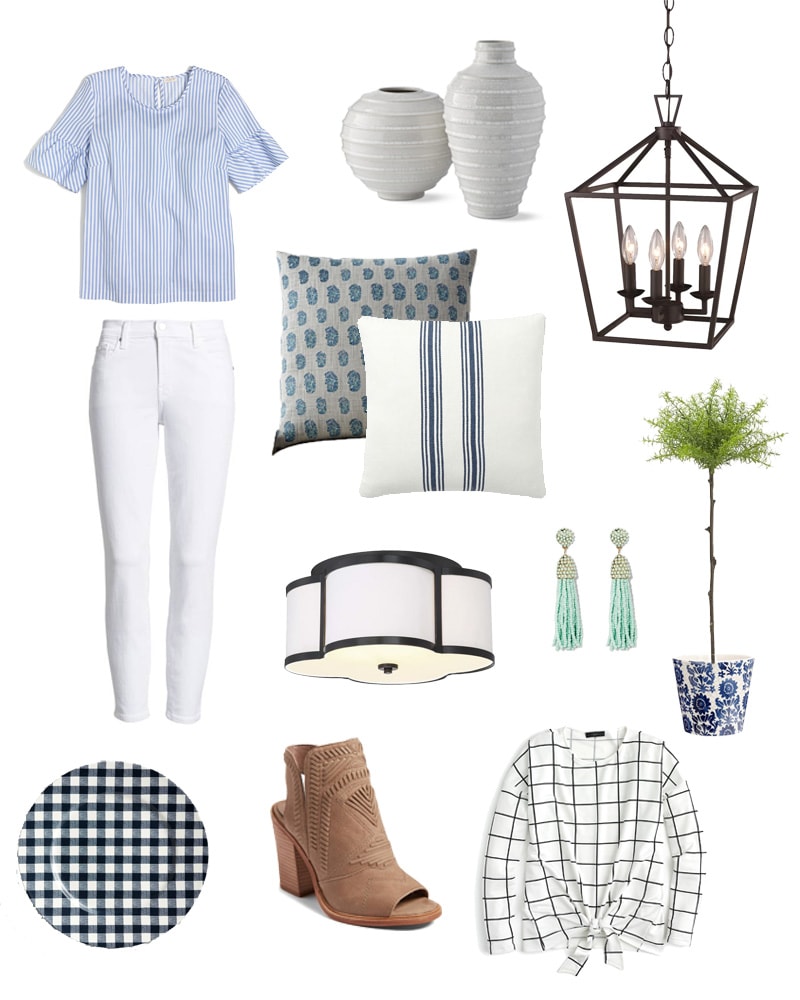 Striped Top | White Jeans (similar here – not on sale but they're cheaper and my favorite pair) | Striped Vases | Lantern Pendant Light | Paisley Pillow | Striped Grainsack PIllow | Scallop Light | Tassel Bead Earrings | Topiary | Blue and White Vase | Gingham Plates | Booties | Windowpane Tie Top
It was definitely a busy, but great weekend! I hope you all have a great week!
If you would like to follow along on more of my home decor, DIY, lifestyle, travel and other posts, I'd love to have you follow me on any of the following:
Pinterest / Instagram / Facebook / Twitter / Google+
disclosure: some affiliate links used