HAPPY NEW YEAR! I hope you all have made an amazing start to the new year! I always love the fresh new start when a new year rolls around. I haven't officially set any resolutions or goals but my plan is to do so this week.
We got more snow over the past week. Definitely nothing too intense, but it sure made for a pretty view out our bedroom!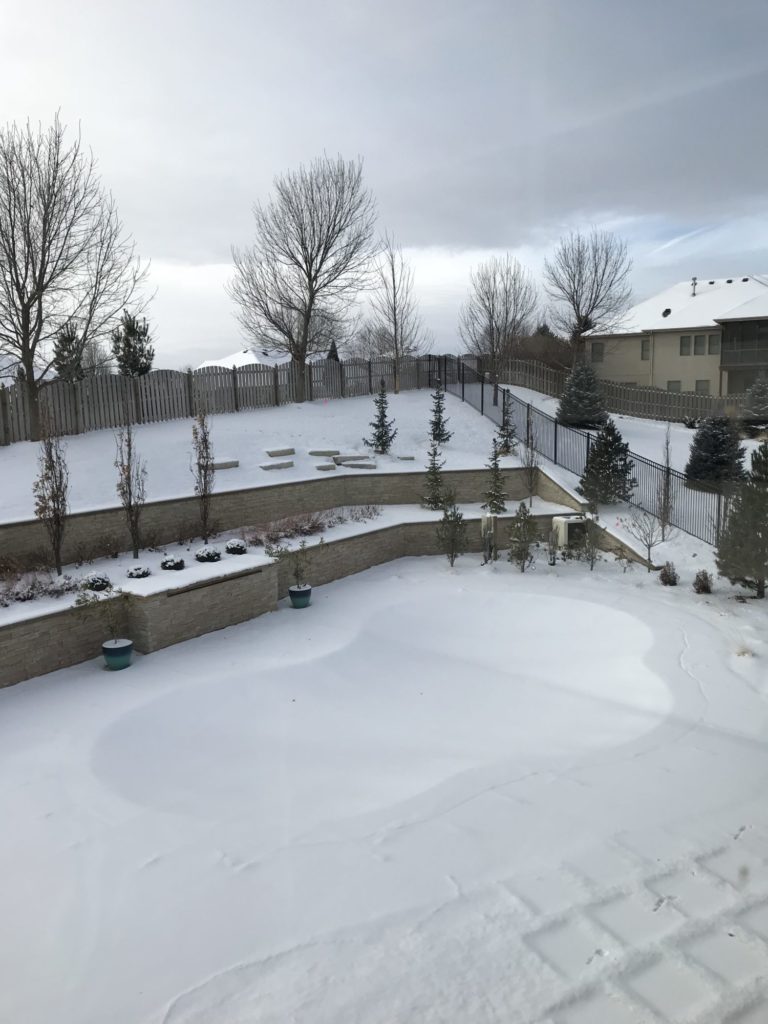 Friday we spent most of the day pulling, sorting, and counting our items for donations. We had quite a bit that we had accumulated but just hadn't dropped off. Don't worry, we didn't donate Henley and Bearcat. They just need to be involved in whatever we're doing.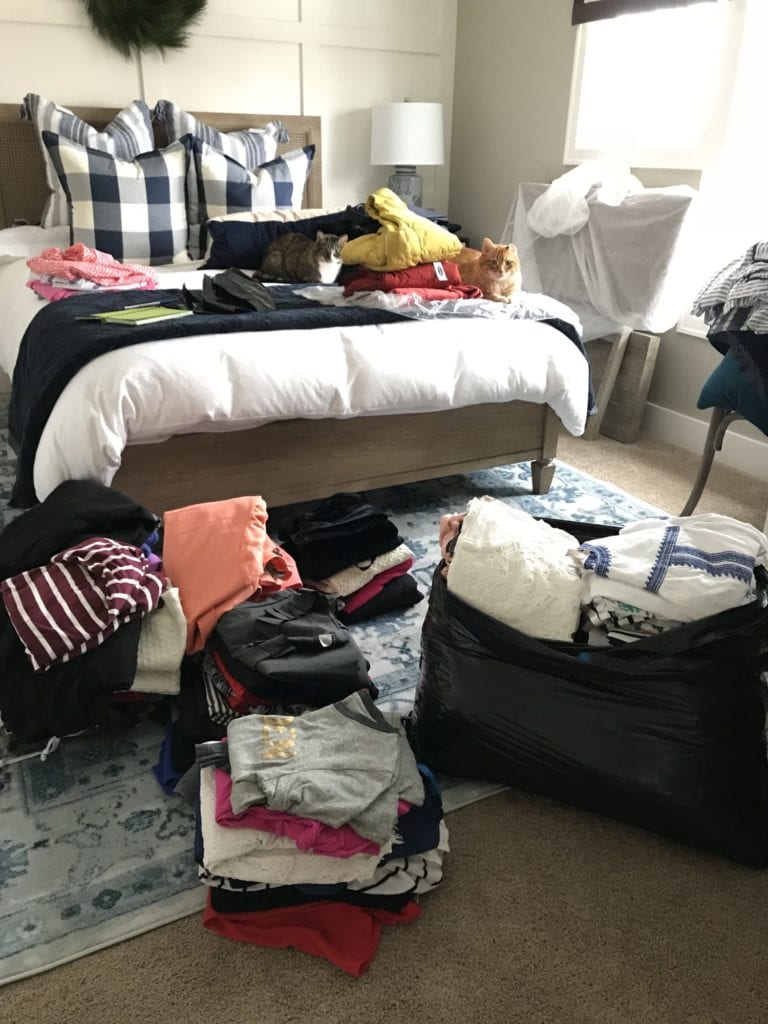 It's become pretty clear to us that our prior form of entertainment/hobby was eating out. SO lame! We've been hard-core eating well, avoiding alcohol, and not eating out for about three weeks now. As in, I'm not sure we've been to a restaurant in a month now which may be the longest we've ever gone in our 16 years together. So, with the long holiday weekends and the extreme cold around here, we decided to invest in a puzzle. We already act like 80-year-olds in other ways, so why not go full force 😉 We actually really enjoyed working on it together and have it about 95% finished at this point. We'll definitely be getting some more!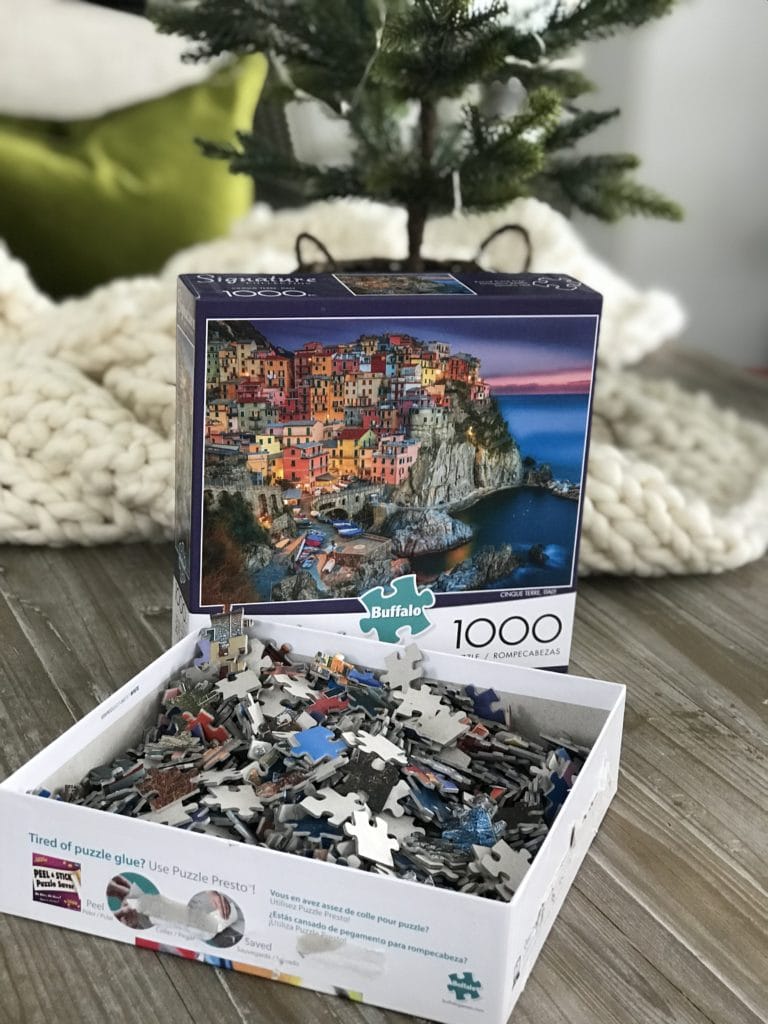 The cats are so used to being around us all the time, they really didn't know what to do when we spent hours in the dining room – a room we rarely use since we eat at our kitchen bar. Henley made a bed in my new chunky table runner (which is crazy gorgeous by the way, and on major sale right now).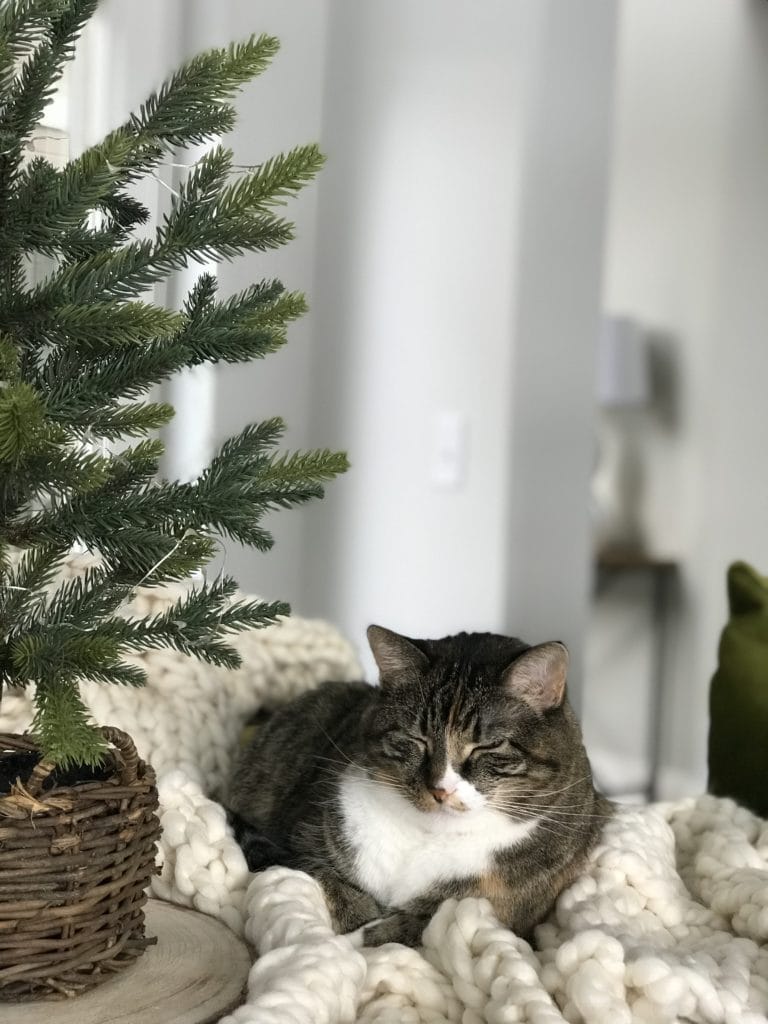 I wore my favorite new outfit on New Year's Eve day. We were headed to Jill and Nick's for the night and were told to wear comfy clothes so I pulled out my favorites! My parents gave me the slippers for Christmas and I basically haven't taken them off since. They are so warm and comfy! My mom ordered me a full size bigger than I typically wear based upon the reviews, and they fit like a dream.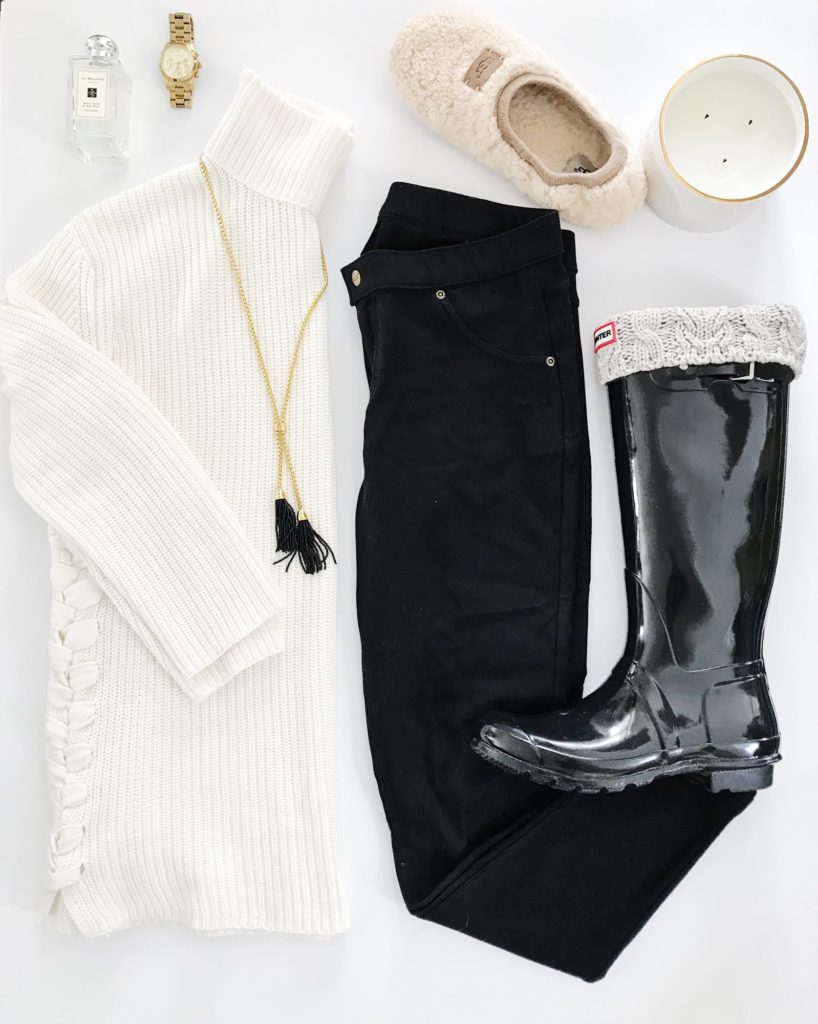 Sweater Tunic | Fleece Leggings | Boots | Boot Socks | Slippers | Favorite Winter Candle | Perfume | Watch | Similar Necklaces here and here
I took down all the Christmas decor in our dining room. It was sad to box it all up, but it's always so amazing how open and clean the room feels without all the decor! This year, I also bought two clear totes at Target for my ornaments, rather than using old boxes we had around the house. I don't know why, but this felt like a total game changer. Definitely worth the $5.99 I spent on each tote! I have a feeling I'll appreciate it even more next year when I go to pull out the decor and don't have to dig through boxes to find what I'm looking for!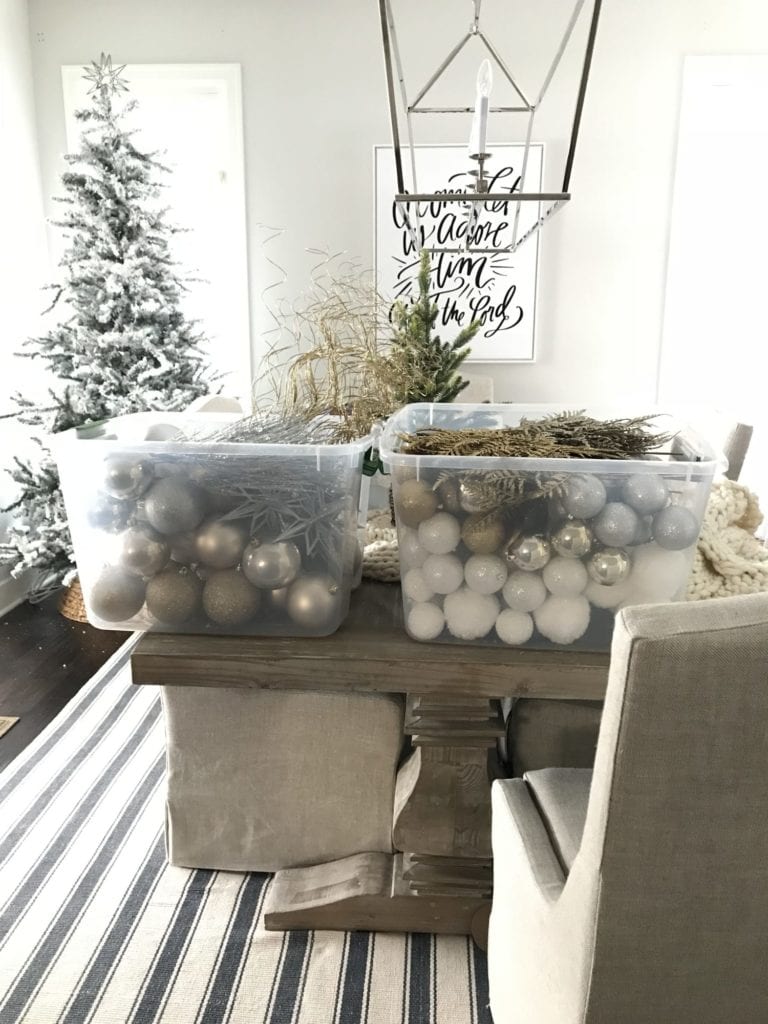 I still need to finish taking down the living room Christmas decor. We were really enjoying the glow from the Christmas lights all weekend, so I took the ornaments off the tree and the wreaths off the windows, but left everything else. Once I get everything put back together, I'll give you an official non-Christmas version of our updated living room!
We tried to keep our New Year's Eve meal relatively healthy. Salad, shrimp and pizza rolls. We played a few games at Nick and Jill's and Scout kept us entertained the whole time. Side note: how great is this wood ottoman topper Nick made? I lieu of a coffee table, they have a leather ottoman which makes it tough to set things on. So he made this board (with carpet on the backside) to allow for a solid surface in the living room when needed!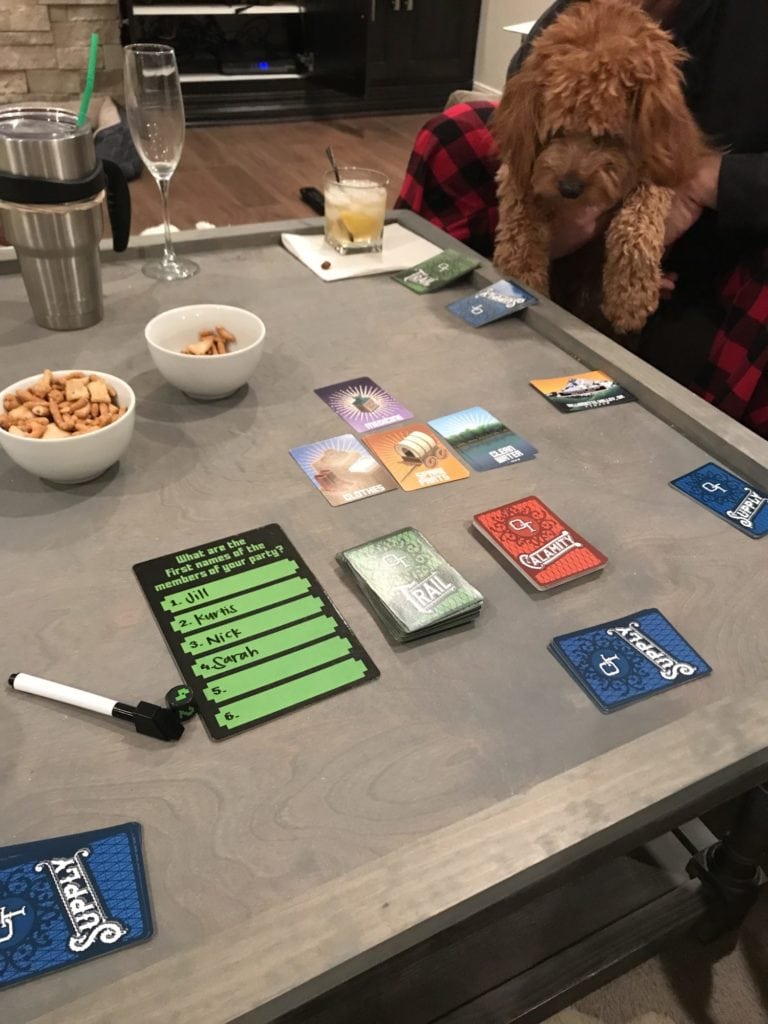 He really is the cutest little guy! We were at their house for about five hours, but we all agreed we were okay not making it to midnight. I was asleep in bed by 10:30 pm and I was totally good with it!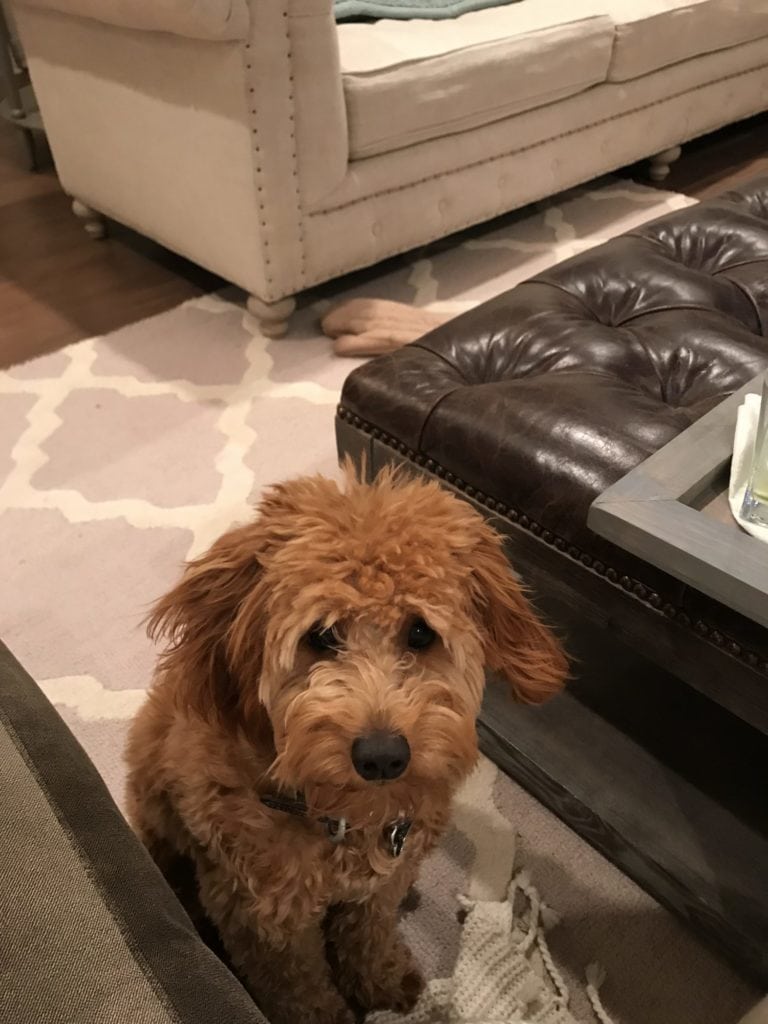 I woke up on New Year's Day to this. Actually, this was in improvement over the -24 that was initially projected (with about a -40 wind chill). Needless to say, it was a pajamas-all-day kind of day.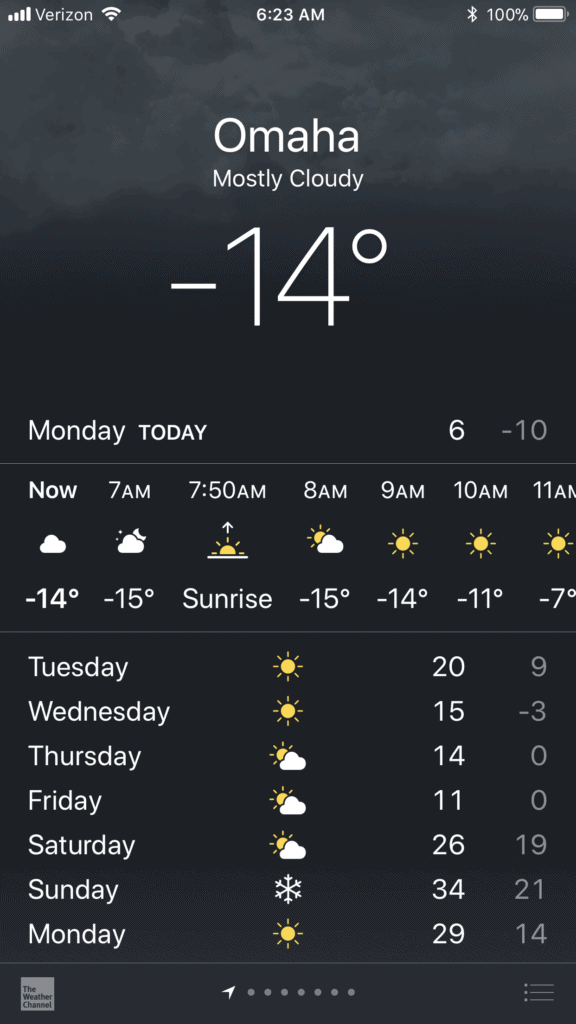 I actually read in bed for about four hours and it was pretty glorious. After that, we worked on our puzzle and watched some TV. Sometimes, a lazy day is just what you need and it was the perfect end to an already great weekend!
A couple sale items to note: Today is the last day of the Nordstrom half-yearly sale, with savings up to 50% off site-wide. You can see that sale here. Pottery Barn extended their buy more/save more sale through today, so you can still save up to 30% off your purchase. You can check out the sale here.
Side note: to those of you subscribed to my newsletter. I'm going to be changing the format (hopefully this week) so you may see some changes. Rather than the email automatically going out based upon when I post, I'll be manually creating it each day, customized for that post. It may through the timing off a bit, but I'll try to keep that bit as consistent as possible. If you're not already subscribed to my newsletter, you can do so at the end of this post under the "NEVER MISS A POST" section! I'll begin adding some subscriber only content in the newsletter along with the notification each day a post goes live.
Have a great week!
If you would like to follow along on more of my home decor, DIY, lifestyle, travel and other posts, I'd love to have you follow me on any of the following:
Pinterest / Instagram / Facebook / Twitter / Google+
disclosure: some affiliate links used