Welcome to this week's Wednesday Watch List, where I share the random things that captured my attention and stole my heart over the past week! I hope you all had a great holiday weekend! Although it wasn't intentional, I sort of unplugged the past six days and it actually felt really great. It's going to be hard to get back to reality today!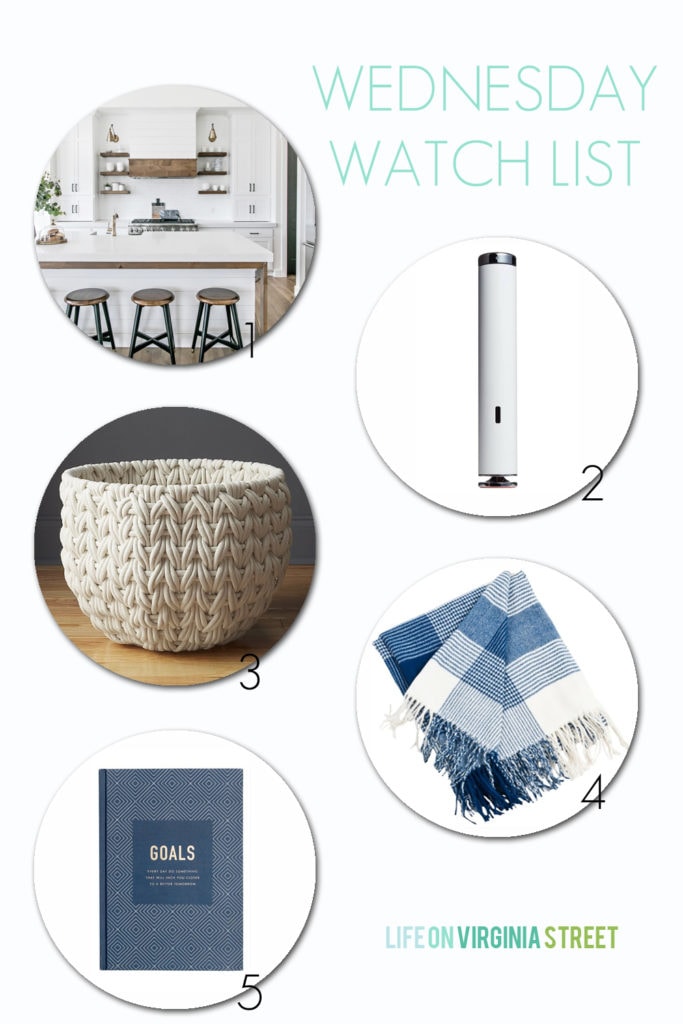 This post contains affiliate links for your shopping convenience.
1 – This modern farmhouse kitchen and dining nook is so beautiful. Really the whole home is, but the kitchen stopped me in my tracks. It was designed by my sweet friend Sita Montgomery. Sita was the first blogger or person I ever met in real life via social media (nearly four years ago) and she is so sweet and talented. Each and every project she does continues to impress me!
2 – This may be old news to all of you, but I figured it was worth mentioning. My parents have a sous vide and we literally had never heard of it until we visited them last. My mom almost packed it for her recent girls trip in Omaha because she is that obsessed with it. It's honestly the craziest thing I've ever seen and cooks meat perfectly every time (regardless of how you like it). You will never under cook a well-done or overcook a medium rare again. It cooks more than meat, but I believe that's what made it famous, because it legit works. With veggies, you don't lose the vitamins and minerals you do in the boiling are steaming process. You can also cook food a bit ahead of time and it keeps the food hot, but doesn't continue cooking. It really is amazing!
3 – I'm in love with this super chunky rope woven basket I came across recently. It reminds me of those gorgeous large-weave throws that were so popular (and crazy expensive) last fall and winter. It's not cheap, but I think it could add so much beautiful texture and character in a room! It also comes in a smaller version. If you love the look, check out this gorgeous woven rug, as well!
4 – A blue and white plaid throw that will work equally as well in the summer as it will in the fall! Love the cobalt blue with the plaid print.
5 – It might be super cliche to say this, but I am literally in awe that this year is already half over. Like, how is this even possible?! But, now that we're in the second half of the year, I always make a conscious effort to evaluate my yearly goals and see where things stand. I'm a firm believer in writing down your goals and evaluating them frequently. It makes a huge impact in actually achieving them! And when I have a cute and organized journal (like this one) to do so, it helps me stay motivated and even more focused!
If you would like to follow along on more of my home decor, DIY, lifestyle, travel and other posts, I'd love to have you follow me on any of the following:
Pinterest / Instagram / Facebook / Twitter / Google+
disclosure: some affiliate links used