I hope you all had a great weekend! Fall has officially arrived in Omaha (although the weekend was actually warm and humid).
Our pool is officially closed for winter. Womp womp. A few of you asked to share detail on how this process works, so I have a brief summary below.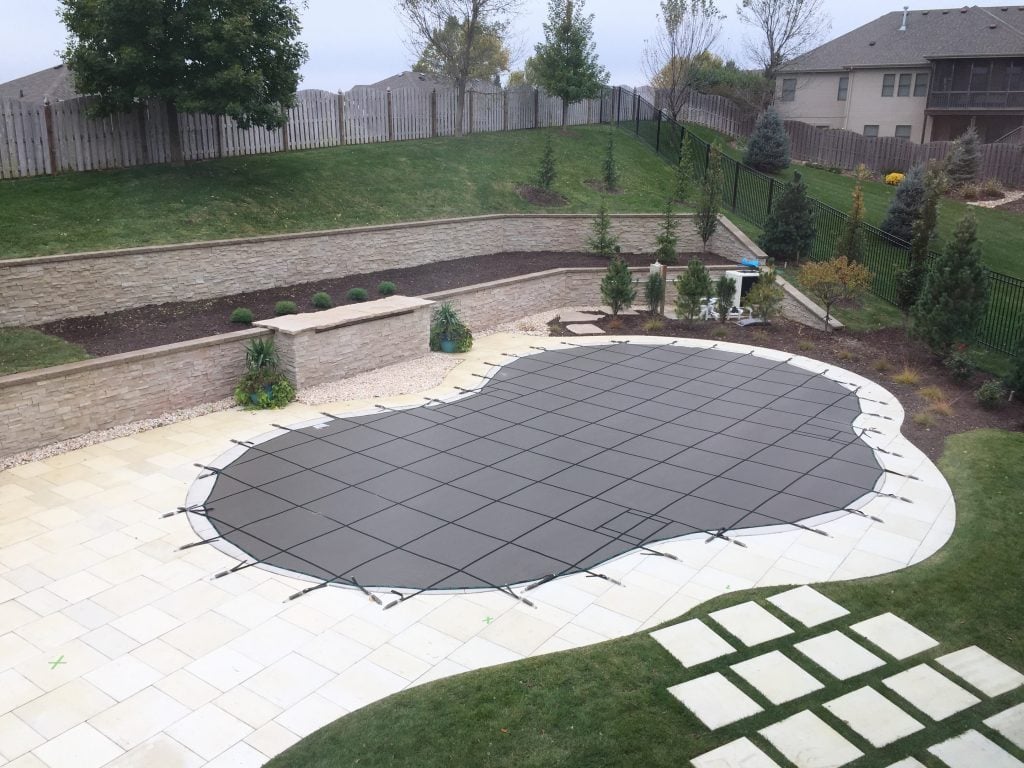 To close the pool for the fall/winter, they drain it half way. The water lines are all then blown out and winterized. I meant to take a pic before they actually covered it, but they were in and out in a day. This year, since our pool was new, they also had to drill holes for all the cover clamps. Ugh. I knew it was coming but it still was painful.
You can see the metal rods they have to insert chipped some of the pavers in areas. I obviously don't love it, or the fact that we will have these holes all over, but obviously a cover is kind of a must 😉
Our next door neighbors have the same style of cover and as I thought about it, I've never noticed their holes in the summer months, so I'm not really stressing about it too much. When summer rolls around, they will pull the cover and then that brass rod (it actually sticks up about 1/2″ right now). The silver tube and holes will remain. I'd say each hole is about the size of a nickel and I would liken the cover fabric to a bit thicker than a trampoline (it's a thicker but breathable net-like material).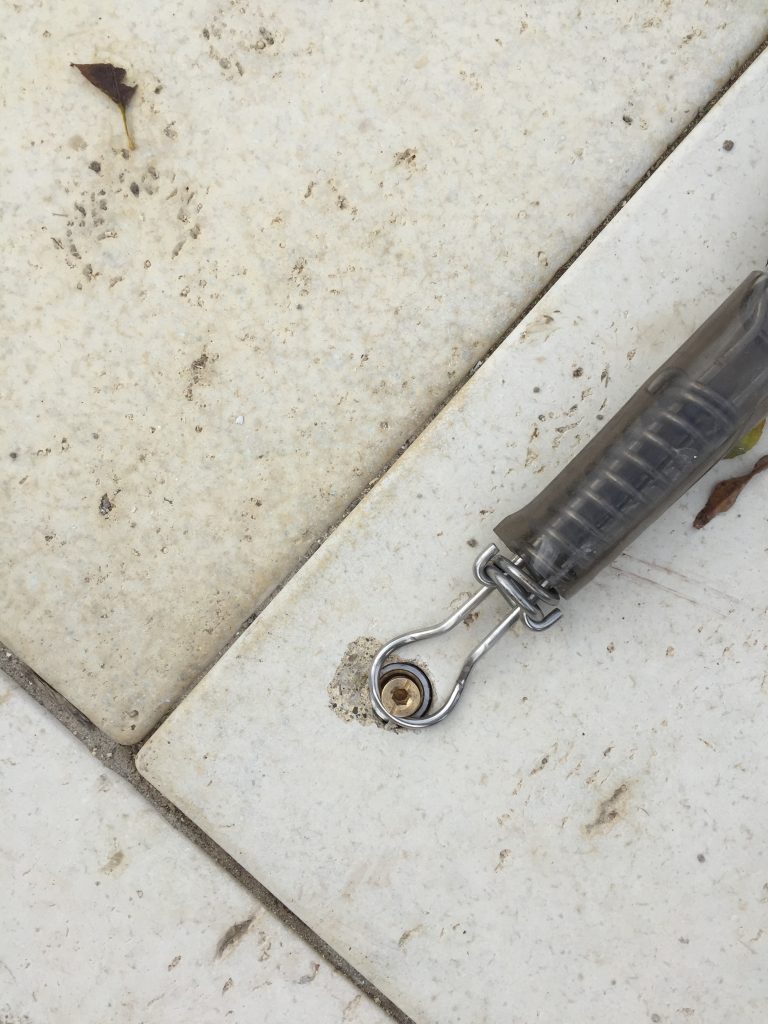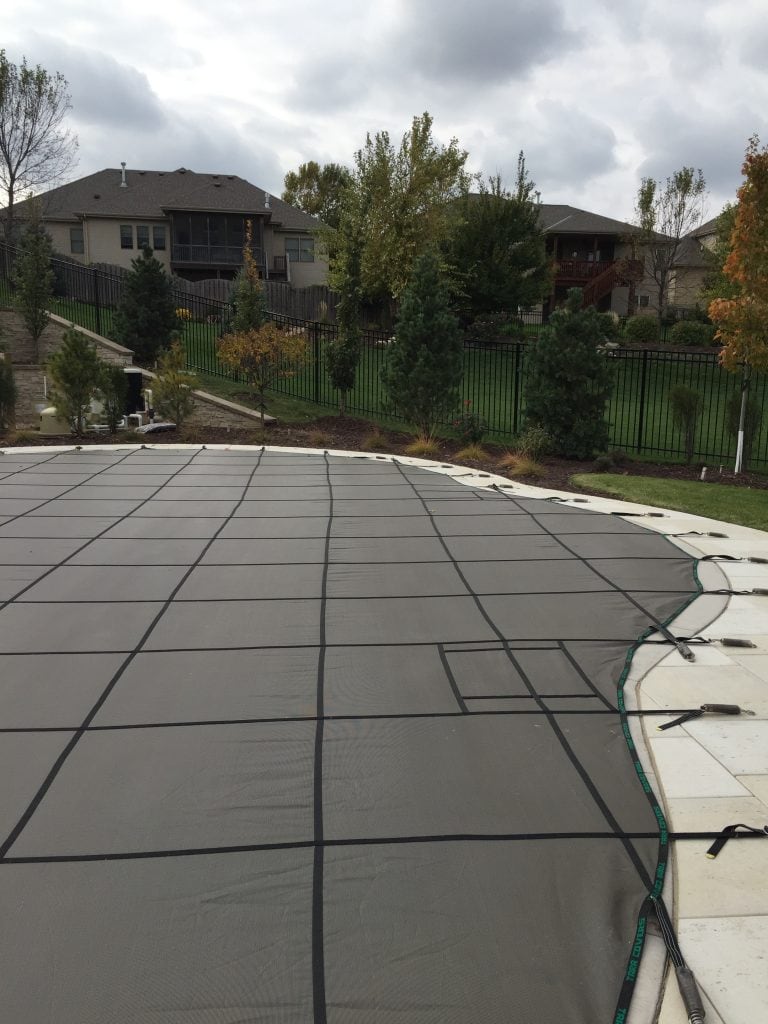 It's so sad to look out and no longer see blue!
Friday I headed to Target to get groceries and conveniently wandered around the home decor section. I was actually pretty impressed with the selection they had.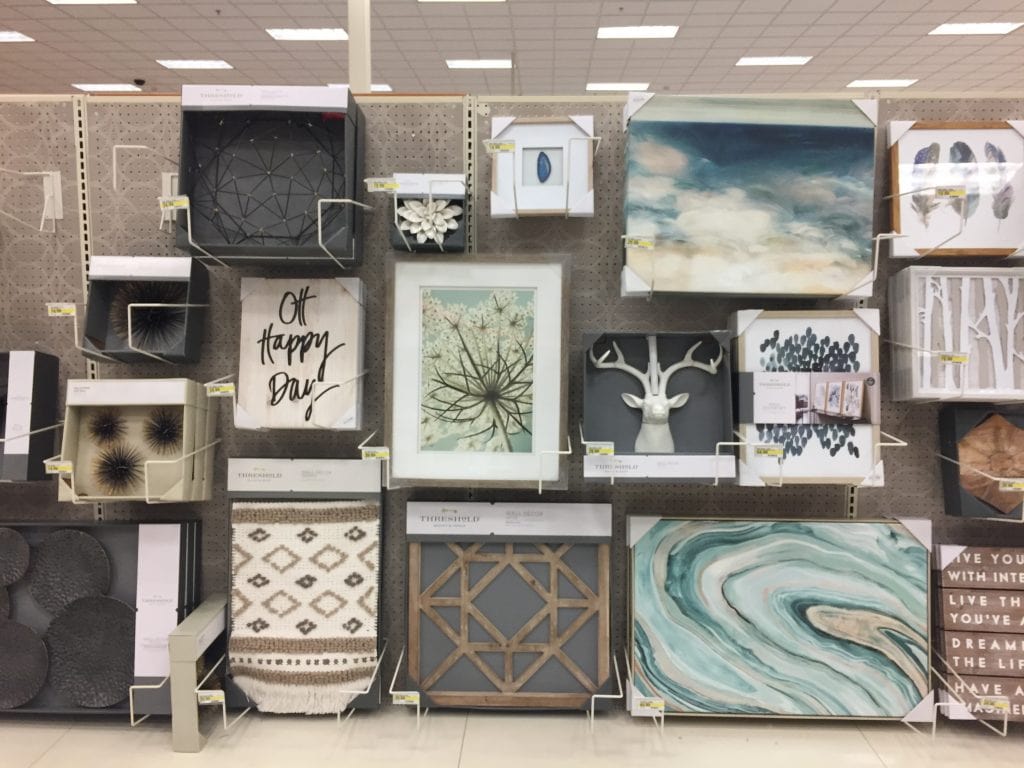 This pair of indigo artwork stopped me in my tracks. It's pretty large scale and I can guarantee if this were in stores at the beginning of summer, I would have for sure purchased it. But, I'm still thinking it over since I feel like the Shibori look feels a bit more summer-ish (especially in indigo and white).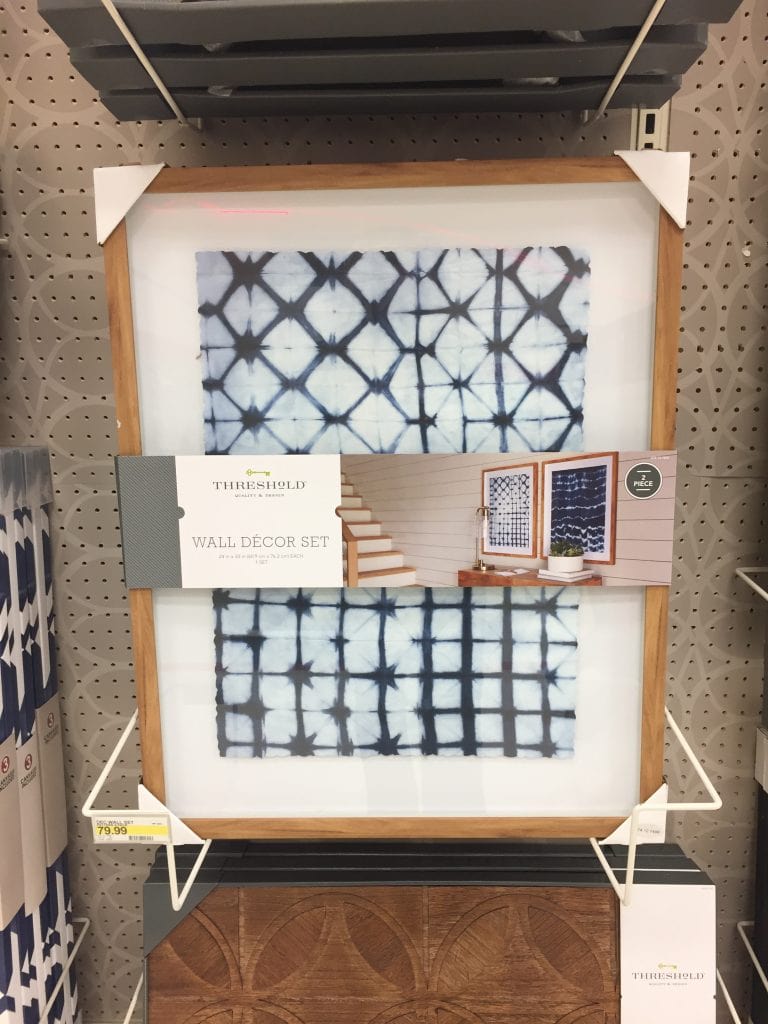 I also saw the cute wood, brass and linen-like upholstered stool I shared on my Wednesday Watch List a few weeks ago. They are seriously cute and I would have bought them but they weren't on sale in store (or on Cartwheel) but they were online.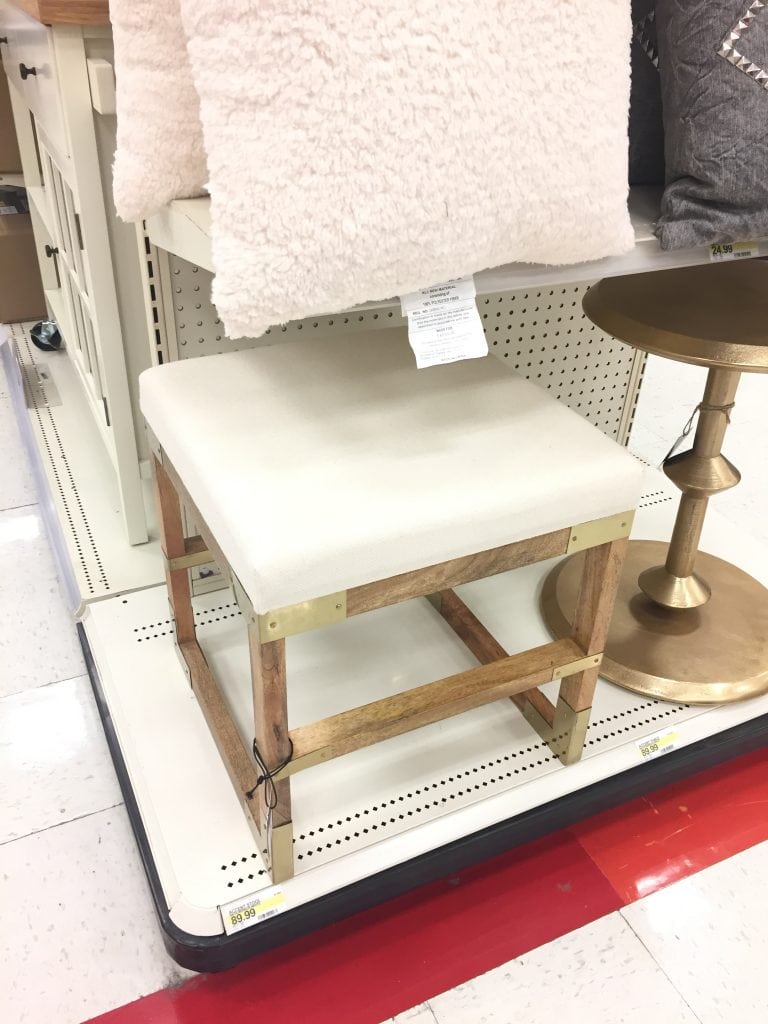 Friday night Kurtis' sister and brother-in-law had us over for homemade pizza and cards. We had a total blast, even if the girls lost.
Saturday I was a listing maniac on our local Facebook page. I was determined to get our old dining set sold since we had been living with it in the middle of our walkway from our kitchen to our living room for about three weeks. Once I started posting things, I couldn't stop! What I sold: ten mirrors, four lamps, three chairs, an end table, three chandeliers, a headboard, a pendant light, and our dining set (including the linen head chairs). I brought in over $1,000 which was insane to me. Although if you ask Kurtis, he'd tell you all the transactions actually resulted in a $4,000 loss. Not true, but sometimes he just doesn't get it 😉 One girl that came over came for one mirror and ended up leaving with a car full stuff I hadn't even posted online yet. Clearly I was having a hard time parting with stuff I wasn't using any longer, but now it feels so good to have all of this out of our house! Here's just a small sample of the items I sold.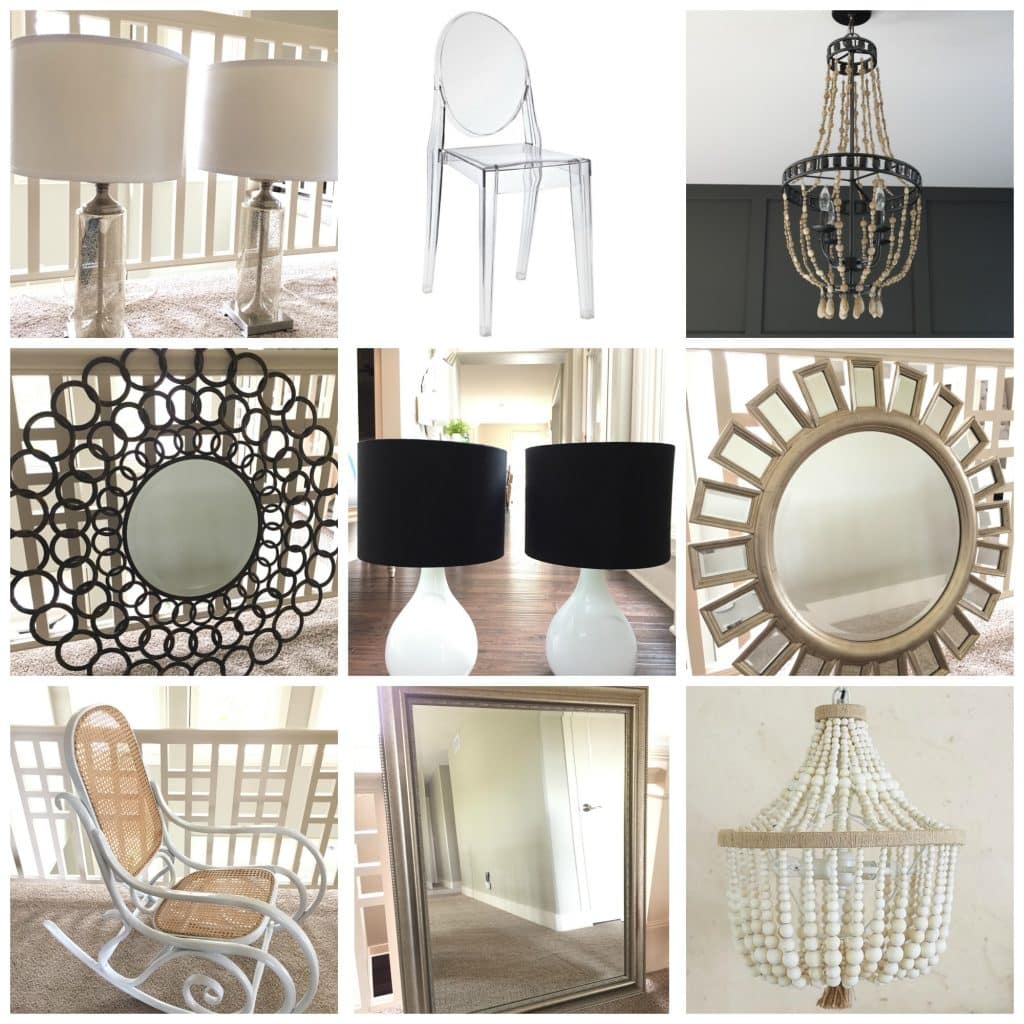 Fall definitely made it's presence known over the past week. We've started to lose leaves and we have a few that are turning colors. Like this one random columnar oak tree. Notice the other two identical oaks on the side of it are as green as they look in the summer. So weird.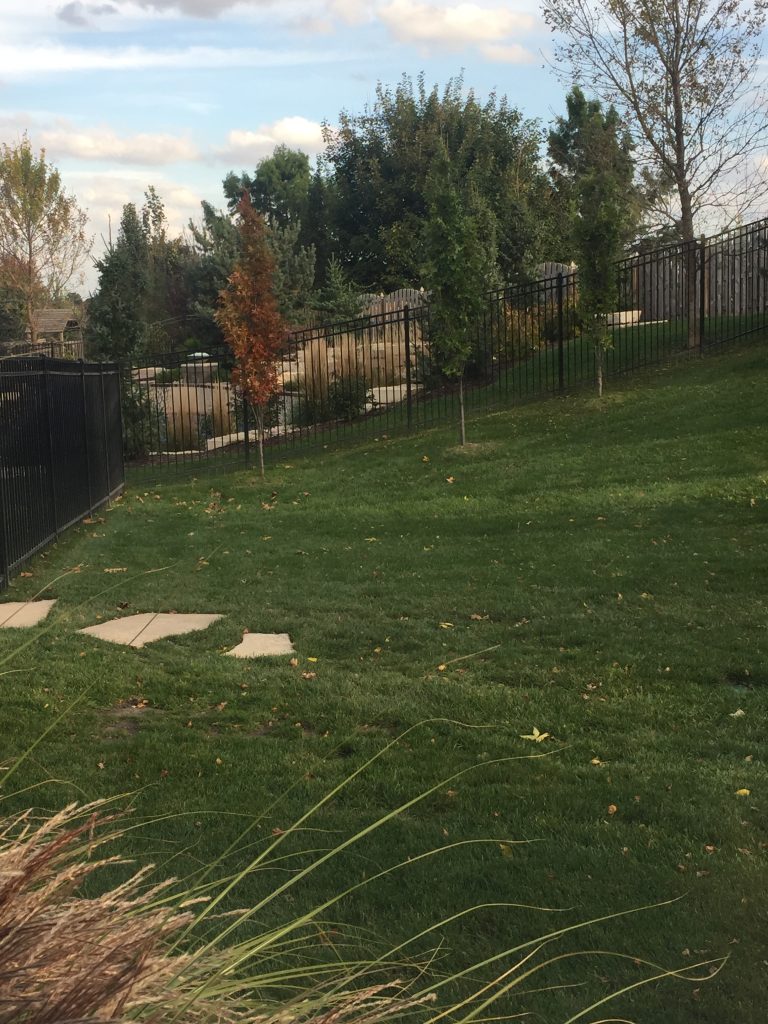 Sunday after church, we went and looked at three potential rental properties. I don't think I mentioned it previously, but we made an offer a few weeks back on a townhome next door to the one that we already own. Our offer was pretty low because we felt like it needed some work, and it wasn't accepted. But, it got us talking again about another property. Because the Omaha market is a bit pricey (for the area) still, we decided to expand our search and include homes further away from us and that may possibly need some work. We saw a foreclosure and two other homes and they each had their pros and cons. We'll probably make offers on two of them, but we're going in really low because we feel like the both need some work. One actually had a kitchen where you couldn't stand in front of the sink because the refrigerator stuck out so far and the kitchen was so tiny. We'd have to move a wall, etc. so definitely a major project. I'll keep you posted.
Sunday afternoon, I finished out a few more Facebook sales, and then worked on my Christmas dining room. Although I'm still working on everything for the One Room Challenge, my photos are do later this week for a Christmas project. I have to admit it was so hard to get excited when it feels like fall just started and it was 80 degrees outside. But, I'm really happy with how it's turning out and I can't wait to share it with you once it's actually a whole lot closer to Christmas!
Quick question though. Now that I sold so much I'm really considering moving forward with a new buffet table since I have cash on hand. Plus, I could sell our current one. I really love it but I think it doesn't look quite right with the new linen and driftwood set. If I got a new one, I may actually try to find something tall that has storage on the bottom for pool towels, etc. What would you do?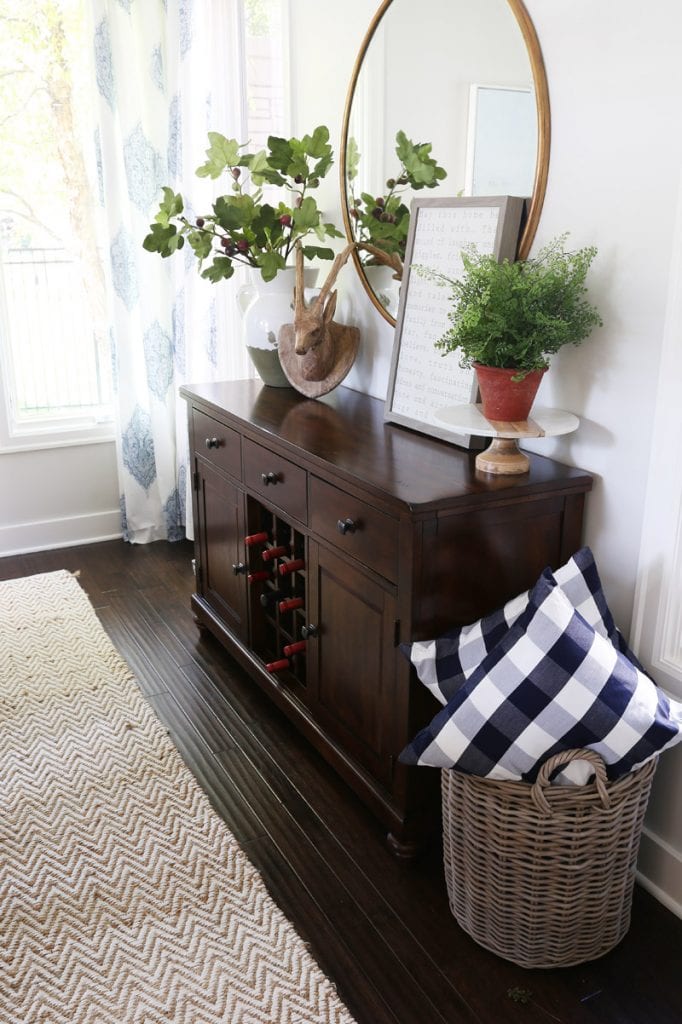 Have a great start to your week!
If you would like to follow along on more of my home decor, DIY, lifestyle, travel and other posts, I'd love to have you follow me on any of the following:
Pinterest / Instagram / Facebook / Twitter / Bloglovin' / Google
disclosure: some affiliate links used