This is a sponsored post written by me on behalf of P.F. Chang's Home Menu. All opinions are 100% mine.
Knowing we all lead busy lives, stress levels tend to rise when the to-do lists seems to grow quicker than we are able to accomplish them. From busyness at work, to keeping up our homes, to tackling the family agenda, sometimes at the end of the day, it can be all too easy to eat on the go or in front of the TV in an effort to simplify some of the chaos. Our meals become an afterthought or sometimes a nuisance because it is just one more thing to add to the to-do list. But, it doesn't always have to be that way!
Today I'm sharing my tips on how to make everyday meals feel special, regardless of just how simple that meal is.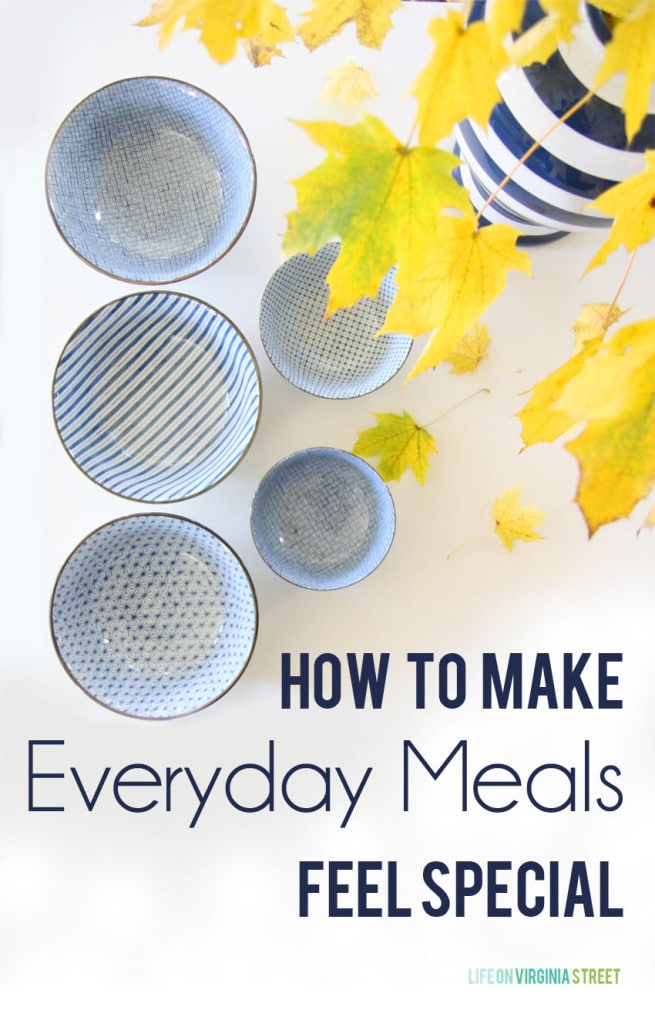 Use the extraordinary for the ordinary. Just because it may be a quick weeknight meal, it doesn't mean you have to use your everyday plates or flatware. Pull out the dishes you save for a special occasion. Sometimes that one simple touch will immediately up the glam factor of an otherwise day-to-day meal. If you don't have fancy china, check out your local thrift shop or hit up HomeGoods (which is where I found these fun blue bowls on clearance). You can also add fun napkins to your everyday dishes to change things up a bit! Or try drining out of goblets instead of your regular drinking glasses. Something to change the vibe of your day-to-day meals.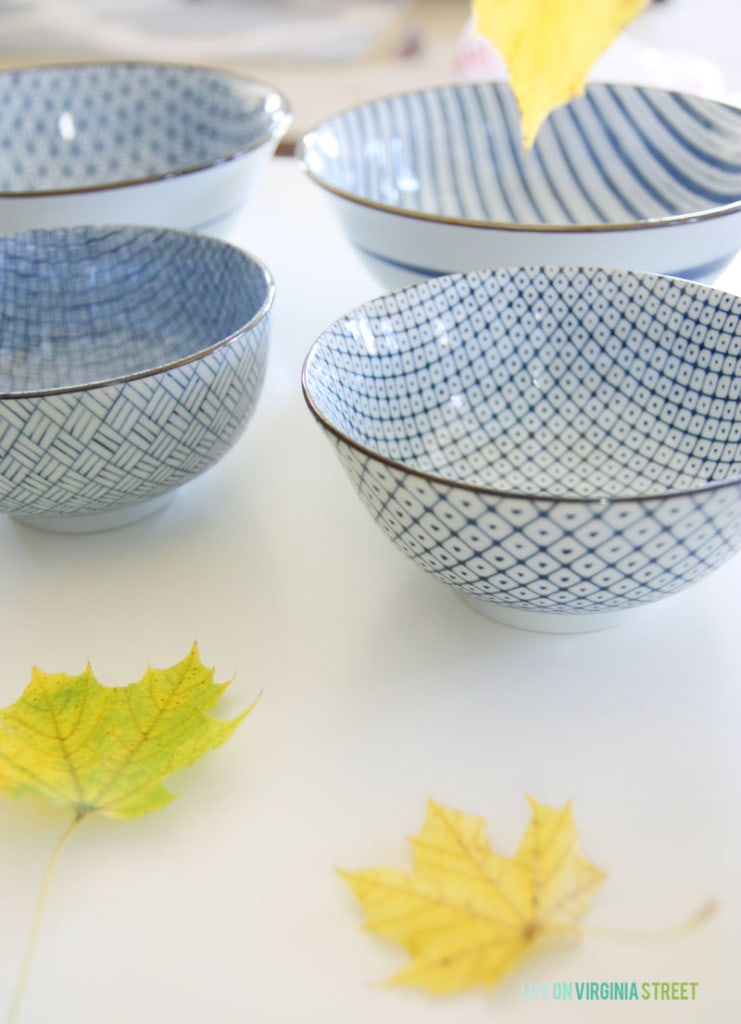 Bring the outdoors in. You don't have to spend money on fancy floral bouquets to dress up your tablescape. Dependent upon the season, step outside and simply clip what's available. A hydrangea bloom, wildflowers, a branch from your fall trees, or sprigs of evergreen. Throw your clippings in a vase and you instantly add seasonal flair and beauty to your dining experience.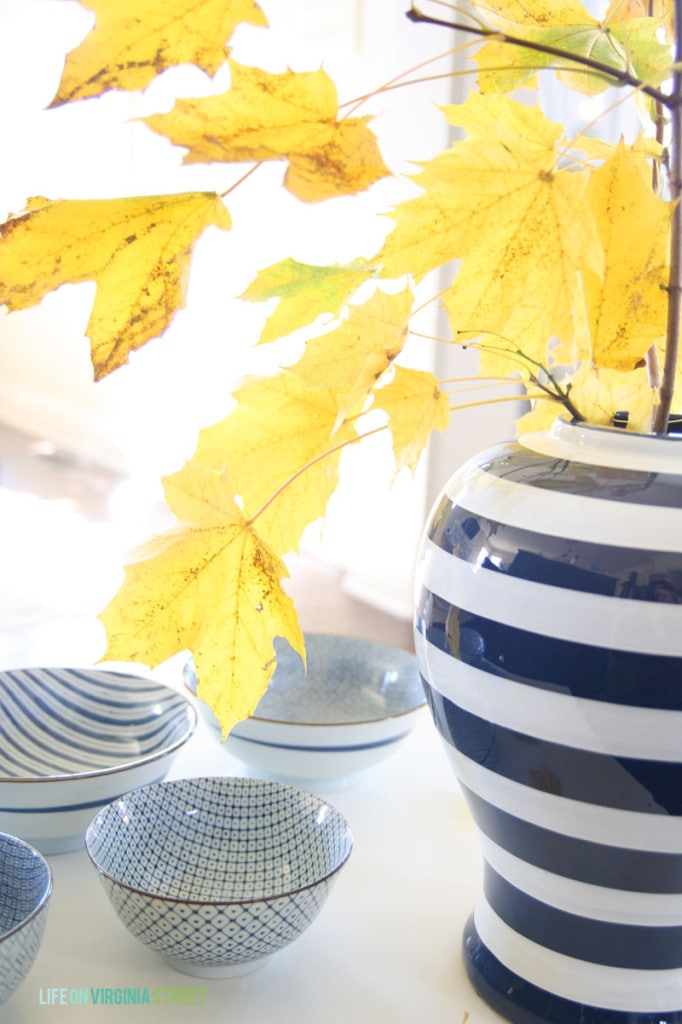 Simplify. Granted, some of the tips above seem opposite of this tip, when in fact, they go hand-in-hand perfectly. The meal you serve doesn't have to be fancy in order to make a special occasion out of an everyday occurrence. If you don't already have a quick signature meal, find a new recipe or check out your local grocery store for options. I picked up these frozen P.F. Chang's Home Menu meals and rice from our grocery store. It was fun to mix up the monotony of weeknight meals and have a little Wok Wednesday at home. The meals I selected (Grilled Chicken Teriyaki and Beef with Broccoli) are made with quality cuts of meat and white chicken and signature sauces. Something that doesn't always occur with all frozen meals that I typically steer clear of. They seemed perfect for simple, yet special meal.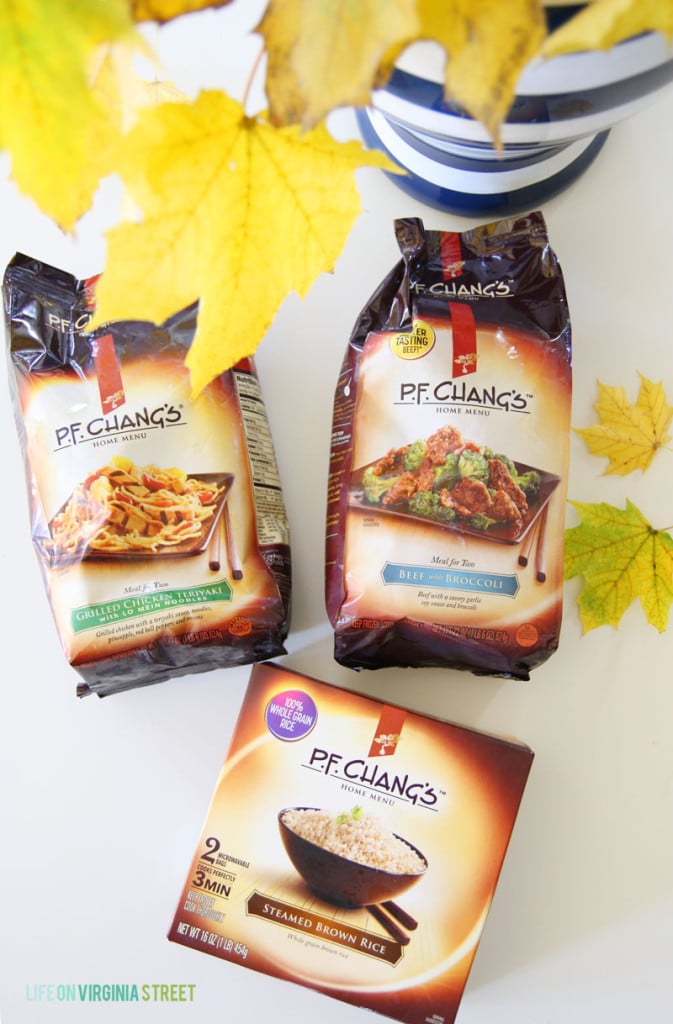 The reality is we have been eating out far to frequently lately, and we're eager to get some more meals in at home. I don't love to cook so these meals were perfect. I heated both of the meals in skillets on the stove (you can also microwave) and then nuked the rice – it was all ready in about 12 minutes. My kind of cooking and the perfect weeknight meal when we come home hungry from work.
Make a signature drink. Find a drink recipe (or pre-made drink) that pairs perfectly with your simple meal. Simple meals immediately seem more special if you step out of your usual drink zone and try something new that you think would pair well with the food. If you're needing a quick option? Pop a cork on a bottle of wine you already have on hand. Or just drink your usual mealtime drink (even if it's water) out of a fancy glass!
Enjoy! Put away the cell phone, turn off the TV, sit at your dining table (not around the couch or your kitchen counter), and enjoy. Enjoy your food, enjoy your company and enjoy the beauty in the everyday. Whether it's an intimate night in or you have neighbors or friends over, take time to really enjoy the experience.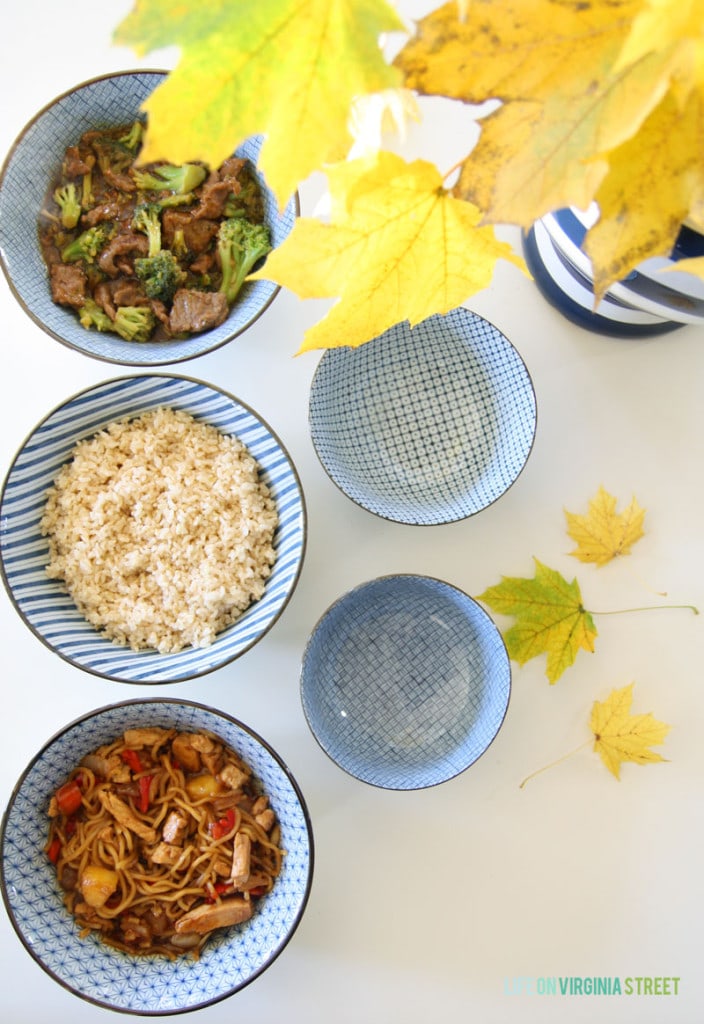 What other tips do you have for making everyday meals feel special? Do you like to make a fun evening out of ordinary meals?
Break up the monotony of weeknight dinners by hosting a Wok Wednesday. You are eligible to enter to receive a Wok Wednesday Kit Giveaway (which includes branded woks, chopsticks, tableware, etc.) simply by leaving a comment on this post and sharing your own #WokWednesday celebration ideas. It's that easy!
**THIS GIVEAWAY IS NOW CLOSED AND THE WINNER HAS BEEN NOTIFIED**
If you would like to follow along on more of my home decor, DIY, lifestyle, travel and other posts, I'd love to have you follow me on any of the following:
Pinterest / Instagram / Facebook / Twitter / Bloglovin' / Google