This past weekend, my parents were in town and we were able to celebrate Mother's Day weekend with them. With that, I knew I wanted to get my landscaping and planters updated since it was officially "green light" time in terms of planting in our region. My parents were good sports and helped out with miscellaneous things we needed to get done.
As I mentioned last week, I absolutely love getting my hands in the dirt and "decorating" our outdoor spaces. So, today I thought I would share some landscaping and planter ideas that I used in my yard this past weekend.
On the front porch, I really wanted to use a large palm, like I did for last year's planter, but I found that availability wasn't great and/or prices were much higher than I was willing to pay for a seasonal plant. I found this tall Dracaena spike plant at a local nursery and decided it would be a good substitute. I then added some purple wave petunias, two potato vines (one green and one purple) some asparagus grass and a few bright pink impatiens. There's more color than it appears, as the impatiens I used had very few visible blooms at this point.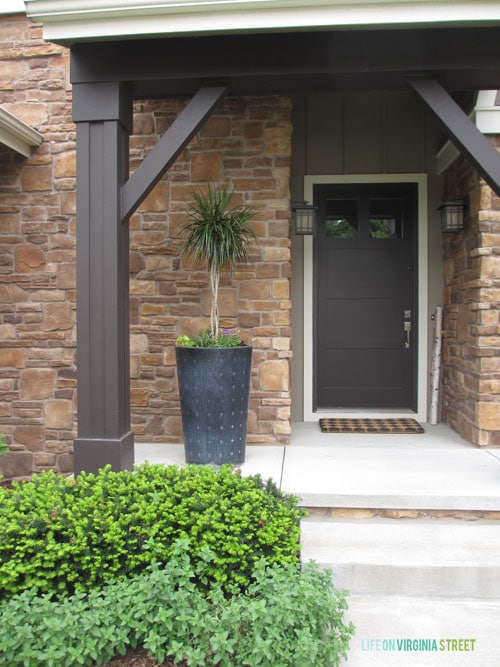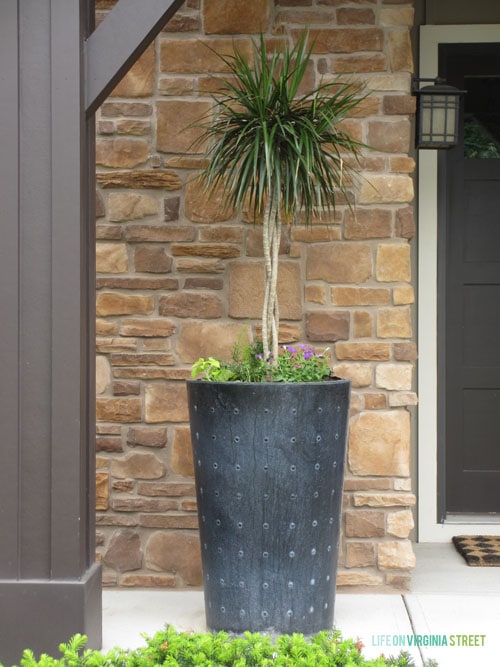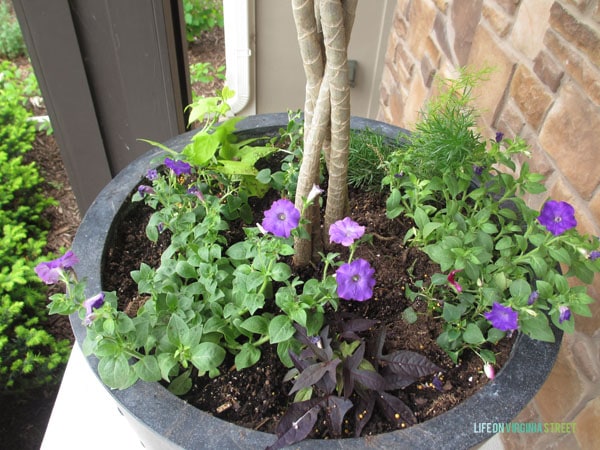 From the street view, the tall plant definitely packs a punch. The flowers on the other hand need a little extra time to grow before they look good. But, I'm convinced after a month or so, they are going to look great.
On both sides of the porch, we have long rows of yews (an evergreen-like hedge). There a lot of dead areas throughout the bushes after the cold, dry winter we had. A few weeks ago, I tried to cut out as much of the dead spots as possible and now there is a lot of new growth on them! You can tell in the image below – all the brighter green is new growth and you can see the orange dead spots are nearly non-existent! I also added several more impatiens to the side to the left of the front porch – although you have to squint to see the new ones. They are much smaller than the Monrovia ones I added last weekend.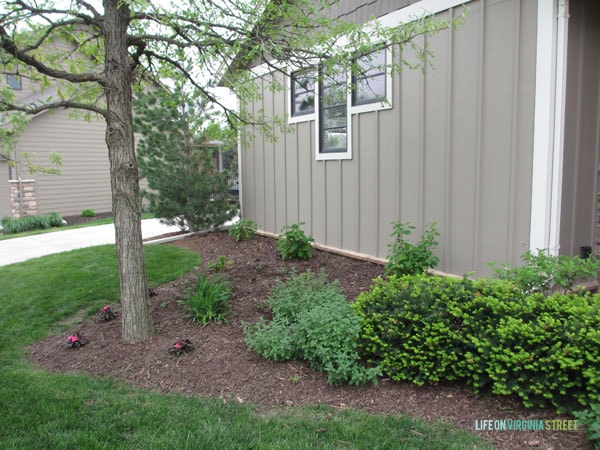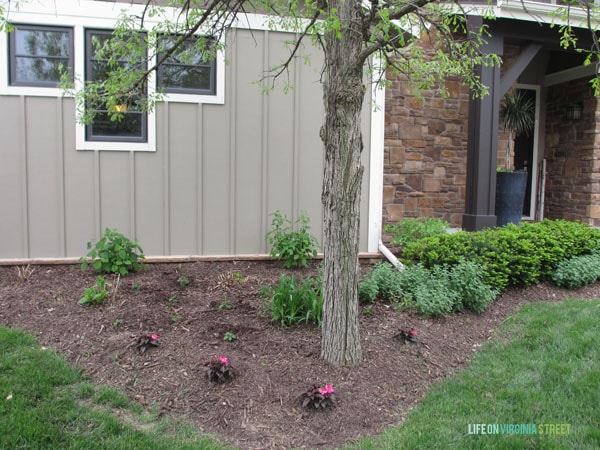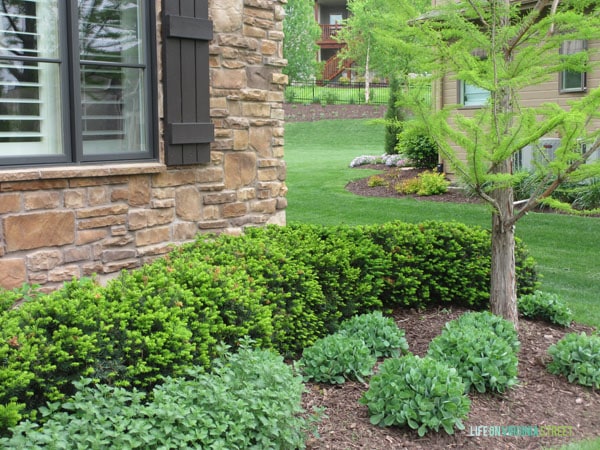 In the courtyard, a.k.a. my favorite space on earth, my mom and I planted my two planters and then I planted some impatiens on the side that is in the shade (you can see this space more summer "developed" in this post from two years ago). I'm still trying to determine what to do on the "sunny" side. I also got my dill and basil planted in pots. By far one of the best decision is for us to have fresh herbs. I can pay for one perpetual summer plant what I do for one tiny pack of basil in the stores. It is SO worth having a plant on hand!
The planters look pretty puny at this point, but as I've mentioned in the past, when I added a few shakes of this fertilizer, they can look amazing (see more before and afters here). In the big planters, I used Impatiens (Super Elfin Lipstick color and a more purplish hue), potato vines, asparagus grass and yucca (the large spiky portion). I picked everything up at Lowe's. In my planters, I always try to add some height, some spillers (potato vines, wave petunias, etc. that will hang over the edge) and some really full-growing colorful flowers.
I also added a small planter of two impatiens next to our DIY Outdoor Couch that we made out of 2×4's.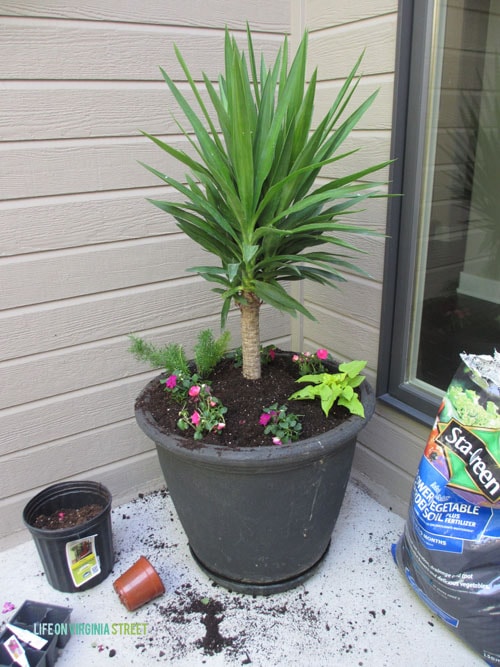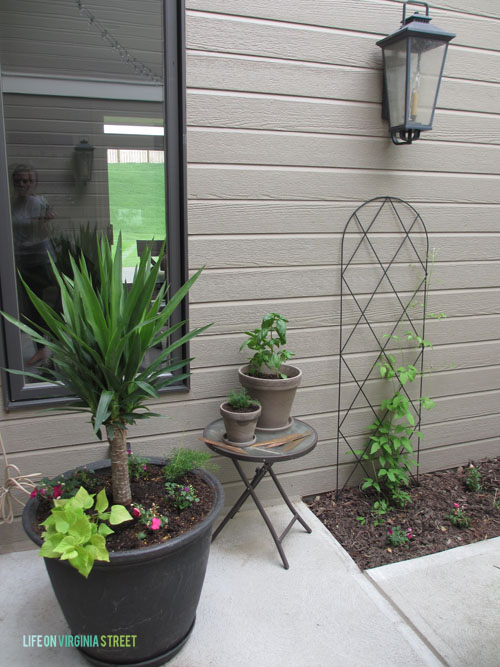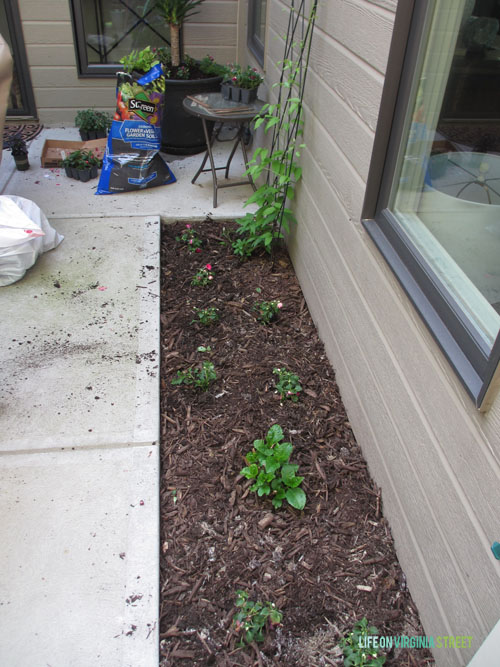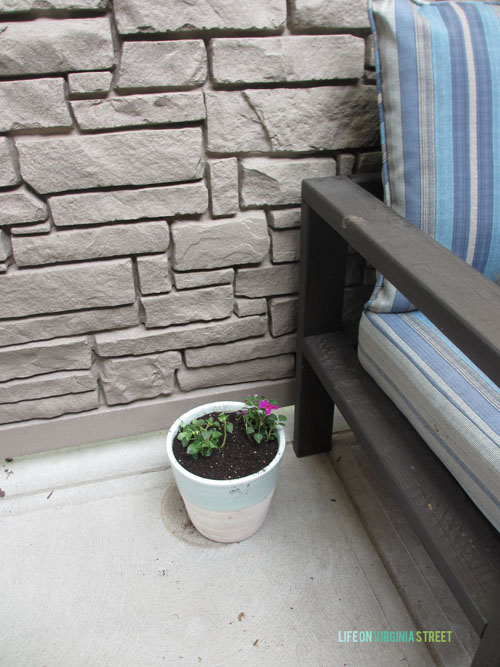 In the flower bed opposite the courtyard wall, I added five Elijah Blue Fescue grasses that I picked up at Lowe's. I'm a big fan of pretty perennials = low maintenance plants, and these are exactly what I needed to fill this area that already houses knockout roses, limelight hydrangeas and honeysuckle. Once everything really gets going for the summer, I think this area may prove to be one of my favorites!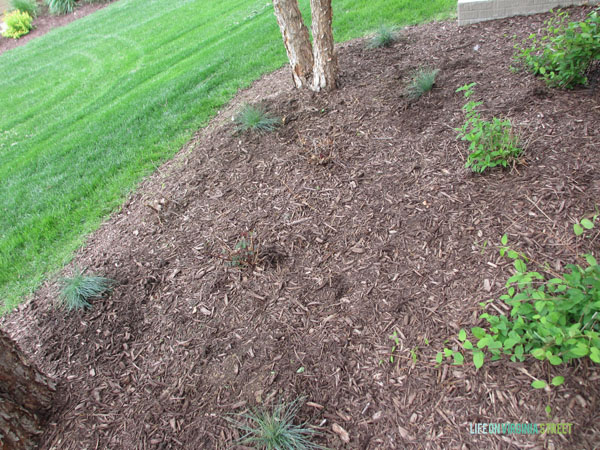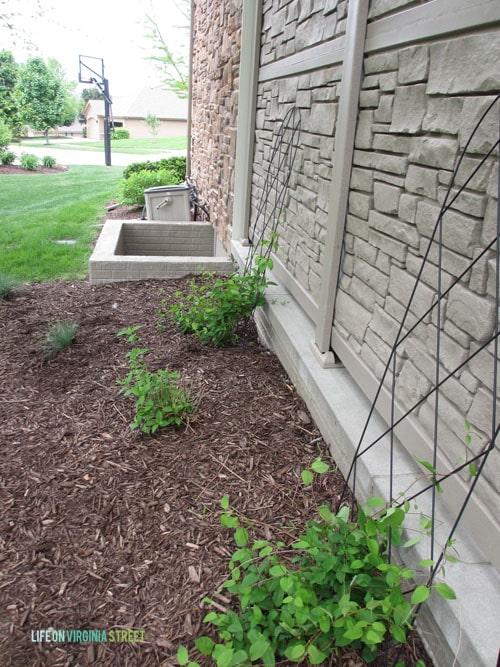 All our hard work paid off, because, as you may have seen on my Instagram feed, we hosted our first "party" of the "summer". We hosted my parents and a couple that is our close friends for our first smoke-out of the summer. My husband made ribs and we had S'mores for dessert with the firepit roaring and the twinkle lights sparkling (the lights are from here for all those that asked on IG and Facebook). Such a great kick-off to summer!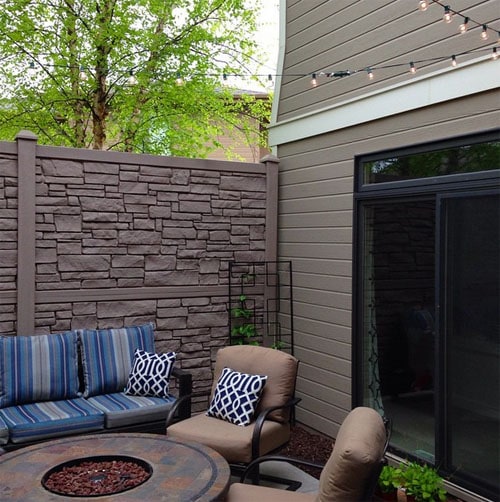 If you're looking for more landscaping and planter ideas you can click the tags on this post to see related posts. I also have four boards on Pinterest dedicated to Planters and Plants and Flowers, Courtyards, and Outdoor Spaces.
I'll be sure to post more updates throughout the summer as these plants begin to mature.  Lastly, don't forget my designer fabric sale ends this Friday!
If you would like to follow along on more of my home decor, DIY, lifestyle and other posts, I'd love to have you follow me on any of the following:
Pinterest / Instagram / Facebook / Twitter / Bloglovin' / Google
disclosure: affiliate links used