Today Krista from The Happy Housie is here to share an easy envelope style lumbar pillow tutorial. Krista has one of the most cheerful and happy looking homes I've seen. She does an amazing job of incorporating neutrals with bright, bold colors and I love her style!
Hello readers of Life On Virginia Street!
I'm Krista from The Happy Housie and I am so excited to be here today sharing a simple sewing project for making your own Envelope Style Lumbar Pillows. These are the perfect shape for using as a featured pillow on a sofa or a bed.

I am beyond thrilled to be here at Life on Virginia Street today sharing this project. I have been a big fan of Sarah's stunning decorating style for many months now. As I said, I spend most of my bloggy time over at The Happy Housie . I called my blog this because I think of myself as a "housie"; someone whose hobby and passion is all kinds of house related stuff like decorating, crafting, organizing, and DIY projects… like these easy DIY Envelope Pillows.
The pillow below that I am showing you how to make was made for my son's twin bed as part of an ongoing bedroom revamp for our boys' bedroom.
To make this pillow I used:
– piece of fabric – rotary cutter and mat (you could also just use a straight edge and scissors) – sewing machine, sewing scissors, and thread – iron and ironing board – measuring tape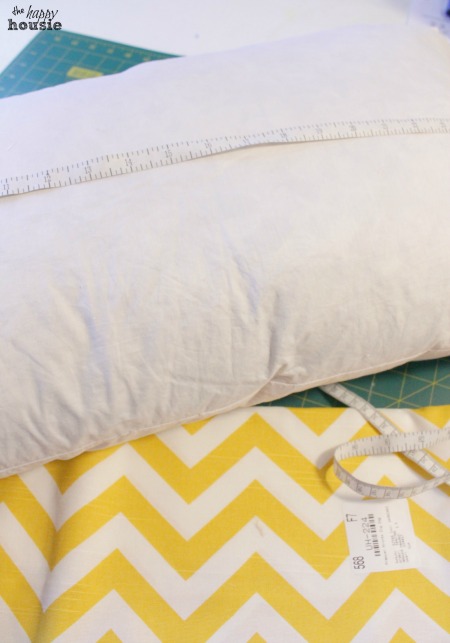 The trickiest part is figuring out the size that your fabric should be. First measure your pillow form. Mine was 14″ x 24″ so I cut my fabric to 15″ x 56″. You want to add about 1/2 inch for the seams along the non-envelope part and you add about 8″ for the overlap for the back.
Choosing your fabric size also depends on how full the form is you are using. For a full discussion of this, see my other envelope pillow tutorials
here
and
here
.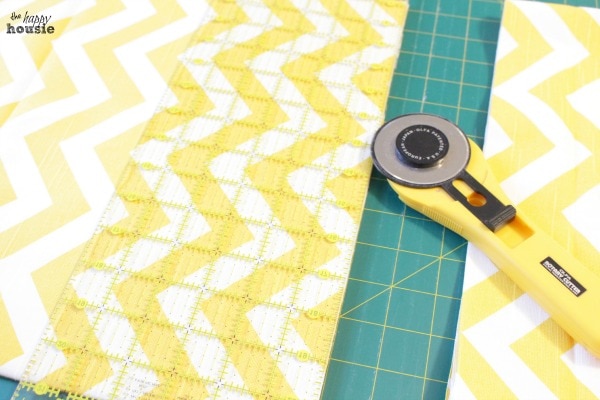 I used my rotary mat and cutter to help me slice up my fabric but you can just as easily measure it with your measuring tape, use a straight edge or ruler to mark it lightly on the back and cut it with some sewing scissors.
Next, you may wish to take the ends and iron a hem and run it through your sewing machine so that you will have nice clean edges on the back of your envelope pillow where the fabric overlaps..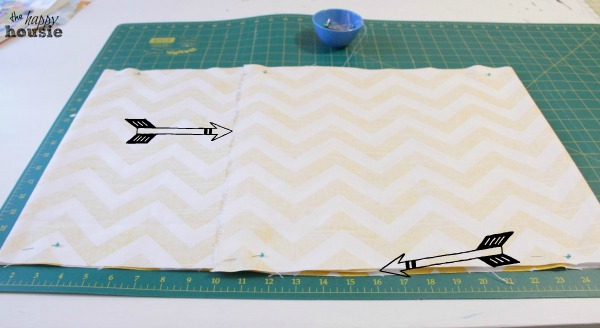 I actually skipped this step and just used the rough sewn edge that the fabric came with as it was a 56″ width of fabric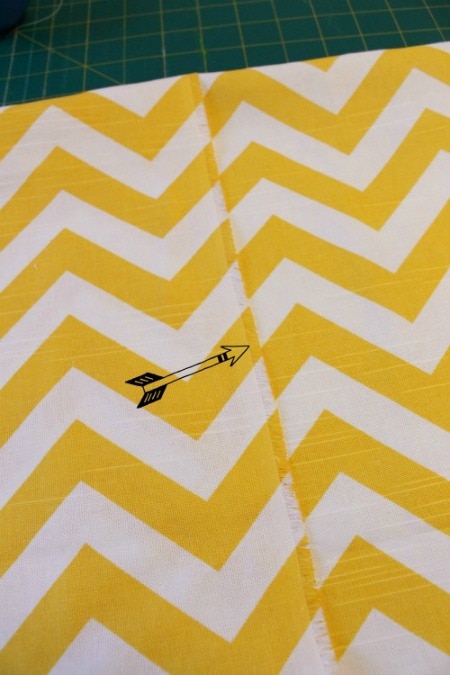 Once my piece of fabric was cut (and you have hemmed the two edges if you are doing so) lay the fabric out the right side (or pretty patterned side) facing IN on itself. I measured to make sure it was the dimensions I wanted (15″ x 56″) and then pinned it lightly.
I ironed it lightly to the correct size…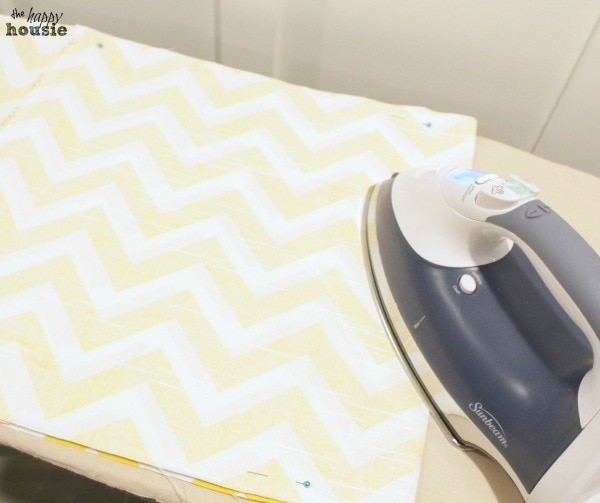 And then ran the open, pinned sides through my sewing machine…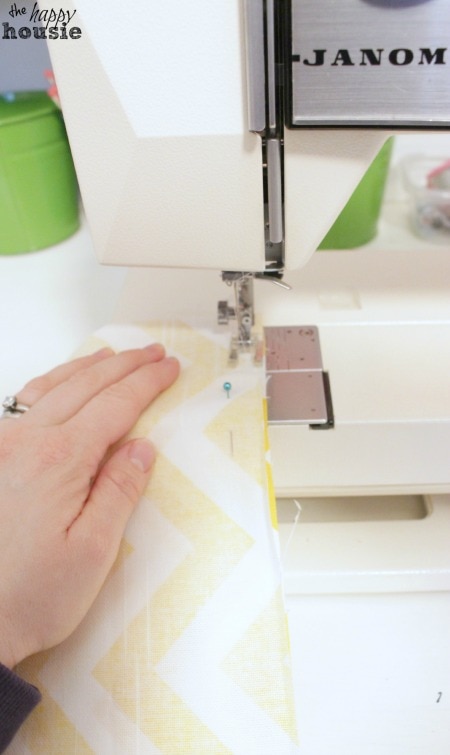 Flipped it inside out…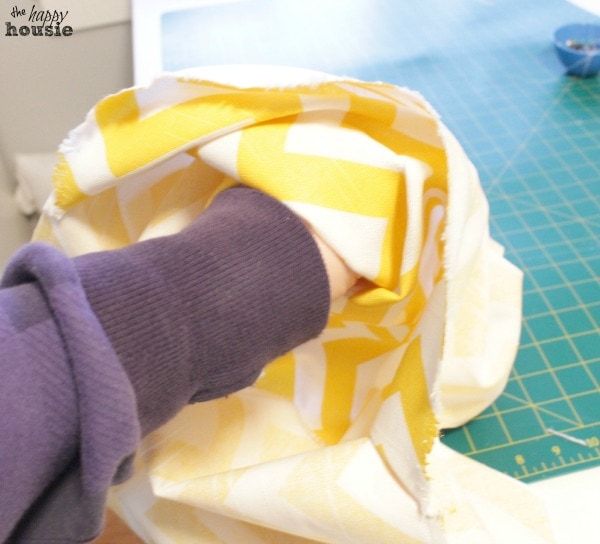 And stuffed the pillow form inside of it.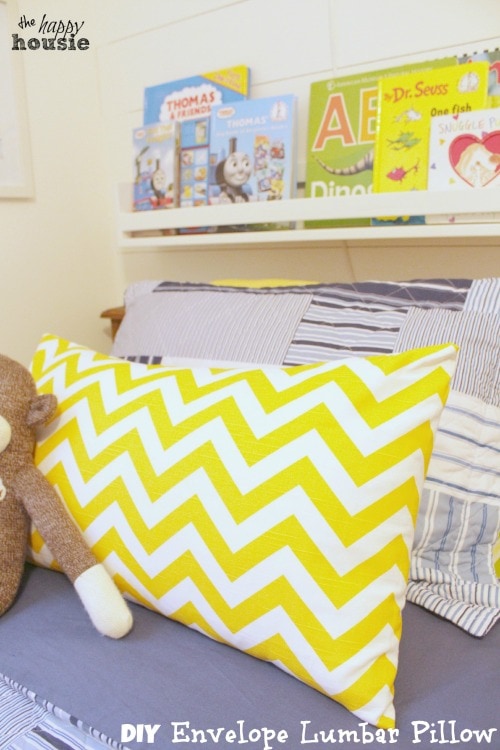 These, literally, take minutes. I love making new pillows for all around our house. This is another lumbar pillow I made last spring…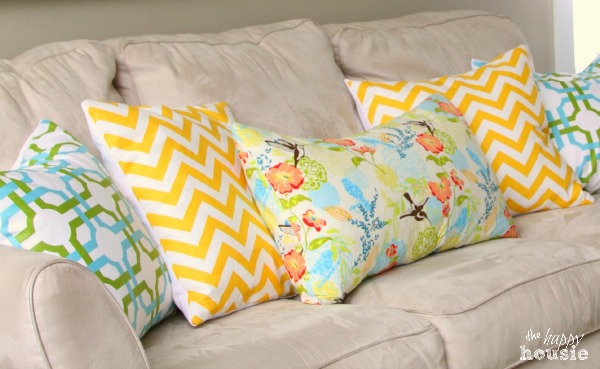 Or the ones I made this spring…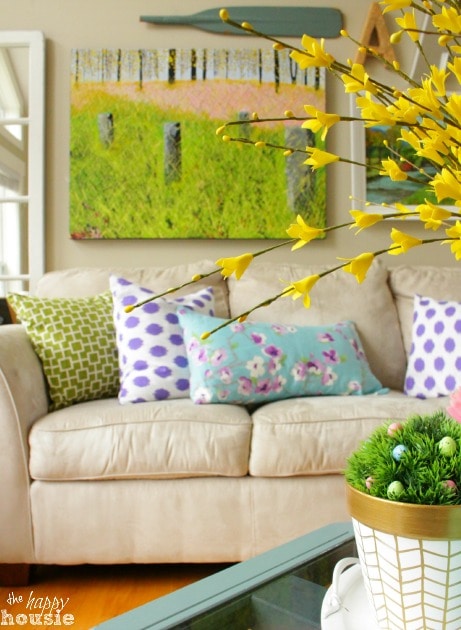 Over on my blog I shared the tutorial for making the regular ol' square envelope pillows the other day… I'd love it if you swung by for a visit!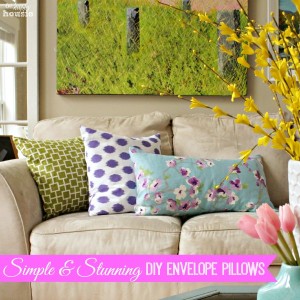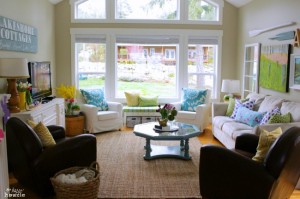 Thanks again to Sarah for having me here today!! I always love to sign off with…
Thanks for reading. And remember, my housie friends, HOME isn't built in a day. Enjoy the journey.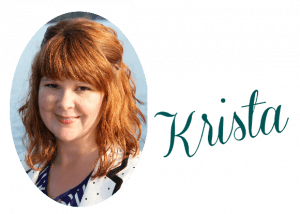 Thank you so much to Krista for sharing this tutorial! You all know I'm a pillow junkie so I always love to find new ways to simplify the pillow making process. Definitely giving this a try!